There's nothing like stepping into a studio and unrolling your mat next to fellow yogis, moving and breathing as a community.
However, it's not always possible to get to the studio or a gym.
Perhaps your busy schedule won't allow it, maybe you're traveling, or have a new baby at home that demands all of your attention.
While I love to flow on my own, I often prefer to practice with an instructor guiding me.
It pushes me further than I would go on my own and allows me to get out of my own head.
So whenever I can't get to the studio I take my yoga practice online.
This post lists all of the best online yoga programs I personally use to practice anywhere, anytime.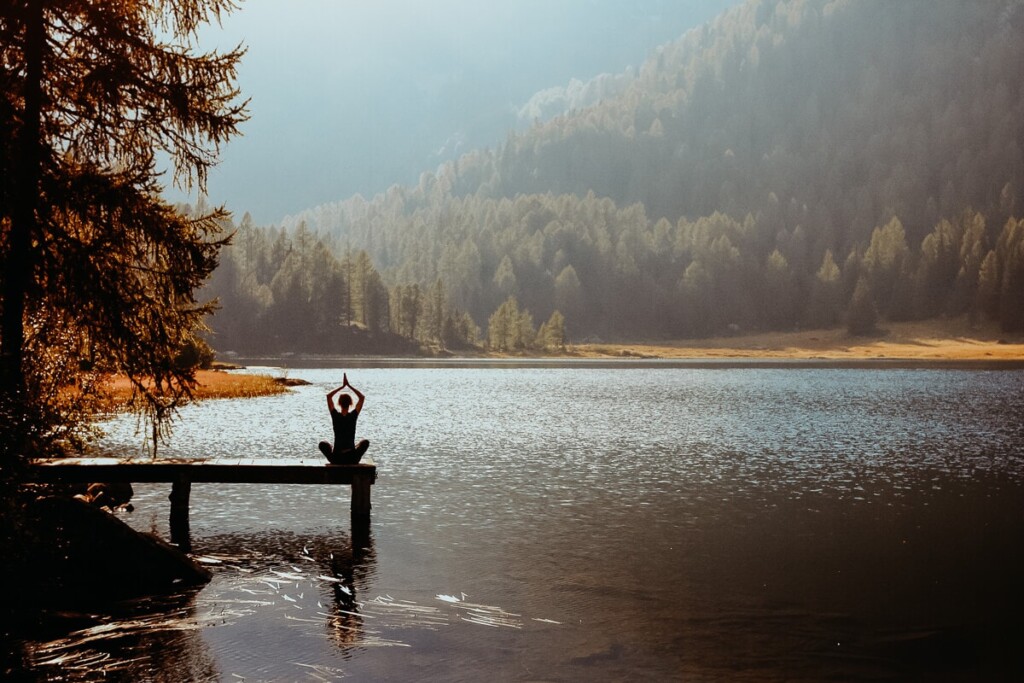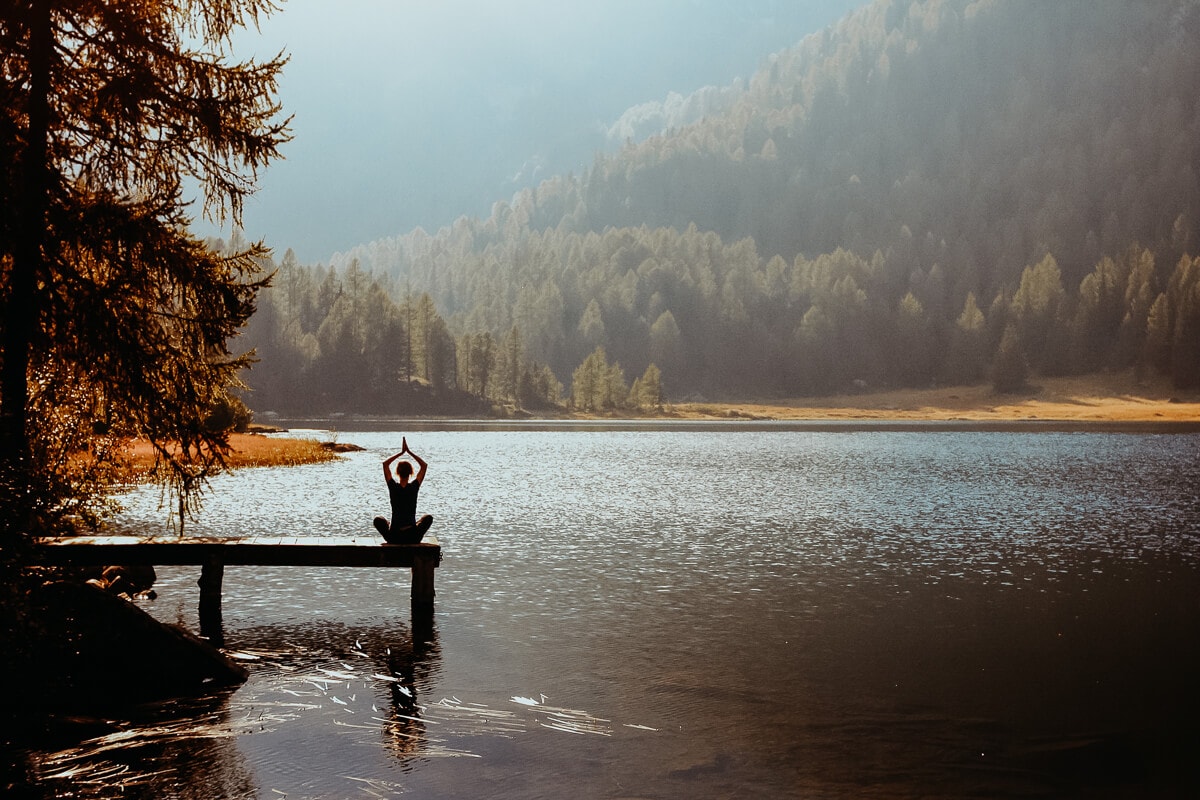 QUICK NOTE: This post contains affiliate links and Sol Salute may receive a commission for purchases made through these links, at no extra cost to you.
Practice Anywhere: The Best Online Yoga Programs & Subscriptions
With the internet at our fingertips everything is now available virtually. Of course, this includes yoga.
Due to tight schedules and wanting to follow English language classes while living in Argentina, I've been practicing with online yoga classes since I started practicing yoga five years ago.
The following are the best online yoga programs I've found.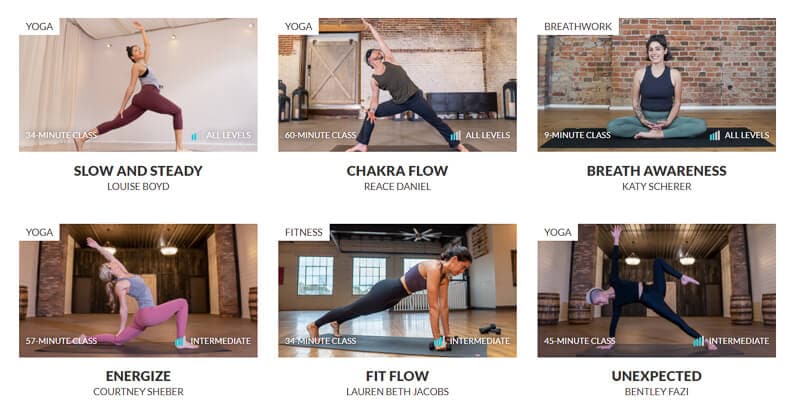 Yogi Approved
Platform: Website & App
Cost: $14/month or $120 for the year (they also offer $5, drop-in classes)
Class Type: Vinyasa, Yin, & more
All levels
YogiApproved is a new (to me) platform that I really love. This platform is a website and app filled with useful content and an affordable subscription-based platform of online yoga classes called YA Classes.
Pros to YogiApproved:
Huge range of classes to choose from (9-minute breathwork? 90-minute vinyasa? They have it all).
Programs: Along with one-off classes, they offer programs, a series of videos that build on each other to lead to a certain goal or theme, like chakras, flexibility, or pre-natal. I've never seen this option on an online yoga platform before.
They plant a tree for every class you complete (just make sure you let it play through to the end! Don't skip savasana and cut the video out or the system will miss it).
I've really enjoyed practicing with YogiApproved.
If you're wondering where to start, give Bentley's Unexpected class a try. The sequence was so creative!
Yoga with Adrienne
Platform: YouTube
Cost: Free
Class Type: Vinyasa, Hatha
Great for beginners
If you've looked for online yoga programs, I'm sure you've stumbled across Adrienne's YouTube yoga channel.
Adrienne Mischler's platform is huge and once you practice with her it's easy to see why.
Her classes are accessible, great for beginners and her personality is contagious.
I followed her free YouTube videos religiously when I was just starting out. Her classes are slow paced and easy to follow.
She also has a number of tutorials for complex poses (I remember her breakdown of half moon pose helped me immensely when I was working on my balance!).
If you're new or looking for an incredibly positive yoga teacher who speaks from the heart then find what feels good with Yoga with Adrienne.
Fightmaster Yoga
Platform: YouTube
Cost: Free
Class Type: Vinyasa, Hatha, Ashtanga
All levels
As I got more confidence in my practice, I started to graduate from Adrienne's slower pace to Lesley Fightmaster's vinyasa flows, also free on YouTube.
Her classes are great for all levels and she has TONS to choose from.
There are classes of all lengths, so you can easily find a class to fit what you're looking for both for time and for focus (vinyasa or ashtanga inspired, hips or heart-opening, etc).
Update (March 2021): In November of 2020, Lesley Fightmaster unexpectedly passed away, leaving behind her husband and two sons.
She made a huge impact on many lives in the yoga community and I know I will miss her calming voice.
The way she taught helped me as a new yogi and I still love to take her classes today. The way she taught yoga was inclusive, welcoming, and full of love.
I hope you continue to take her classes as her family maintains her legacy online.
BSY.tv
Platform: Website & App
Cost: $8/month
Class type: Vinyasa
All levels
BSY.tv is the online platform of my favorite Austin studio, Black Swan Yoga.
Black Swan's many studios offer donation-based hot Vinyasa flow classes.
Their top teachers offer the same good vibes and challenging flows online as they do in person. I may be biased (I completed my 200 hour teacher training with BSY Austin), but I love love love Black Swan, both in person and online.
The classes are challenging while accepting and the teachers let their personalities shine through in their videos, filmed in unique locations around Texas.
The online app easily lets you take your yoga practice with you by allowing you to download videos.
Ideal for when you may be traveling somewhere with spotty Wifi.
Between the fun teachers, the app, and the price point, BSY.tv is a great online yoga platform. Sign up here.
Read Next: The Best Travel Yoga Mats
YogaGirl.com
Platform: Website
Cost: Free to $16/month
Class type: Vinyasa
All levels
Rachel Brathen is a Swedish yogi based in Aruba. I (and two million others) follow her on Instagram, where she made yoga approachable for me.
She actually inspired me to finally start my own practice many, many moons ago!
Rachel has a physical studio in Aruba called Island Yoga but you don't need to get to the Caribbean to practice with her.
Her online platform is home to yoga classes by teachers from around the world. There are also meditations, horoscopes, pranayama practice and even classes in Spanish.
YogaGirl.com offers a diverse, complete experience for the yogi looking to advance their practice beyond asana.
There are free resources available as well as a $16 a month membership for full access. Sign up here.
Venture Om
Platform: Website

Cost: $36/month (or try for free with 6 day free trial)

Use code solsalute for 10% off

Class type: Vinyasa, Power, Yin, Meditation

All levels
When the girls from Venture Om reached out to me they said we had a lot in common and they weren't lying. Two Texan women who love to travel the world and love yoga? Too girls after my own heart.
Morgan and Carrigan founded Austin based Venture Om, focusing on worldwide yoga retreats.
But recently their platform has grown to also include an online wellness studio.
Classes are mostly full length, hour long flows but there are also a few 30 and 45 minute classes.
While Venture Om is one of the pricier options on this list, their many full length classes (most online classes on YouTube are around 30 minutes) are the closest you'll get to flowing in an actual studio at a fraction of the cost of a monthly studio membership.
Sign up here with my code solsalute to save 10% on your membership.
Online Yoga Platforms for a Flexible Practice
These are the five best online yoga platforms that I personally use all the time.
Practicing online is an excellent way to take your yoga practice along with you on your travels and it has helped me keep a consistent practice despite living abroad and traveling frequently.
Of course there are plenty more online yoga classes out there, but these are the five I love.
I can personally vouch for each of them as I use them every single day, both at home and on the road.
Roll out your mat and flow where ever you find yourself.
I hope you enjoy these resources!
Tell me in the comments if you try one of these classes and how it went! Or if you have a different platform you love. Cheers!
PIN IT FOR LATER