Yogis who travel may want to bring their mat along for the ride but let's be honest, baggage fees are no joke and yoga mats are not compact.
That's why travel yoga mats exist and why, as a constant traveler, I love them.
I have a few, and of them, my YOGO mat has become the one that I use the most.
I've been living abroad and traveling for 14 years and doing yoga for 7 of them.
When I started practicing yoga I even bought a travel yoga mat as my first mat.
I was too cheap to invest in a proper mat and learned quickly the difference between travel mats and daily use mats and what to look for in each.
Over the years I've owned three different brands of travel mats that I still regularly rotate through and have trialed a few others that belonged to friends.
YOGO kindly sent me one of their travel mats to test out and it quickly became one of my favorites.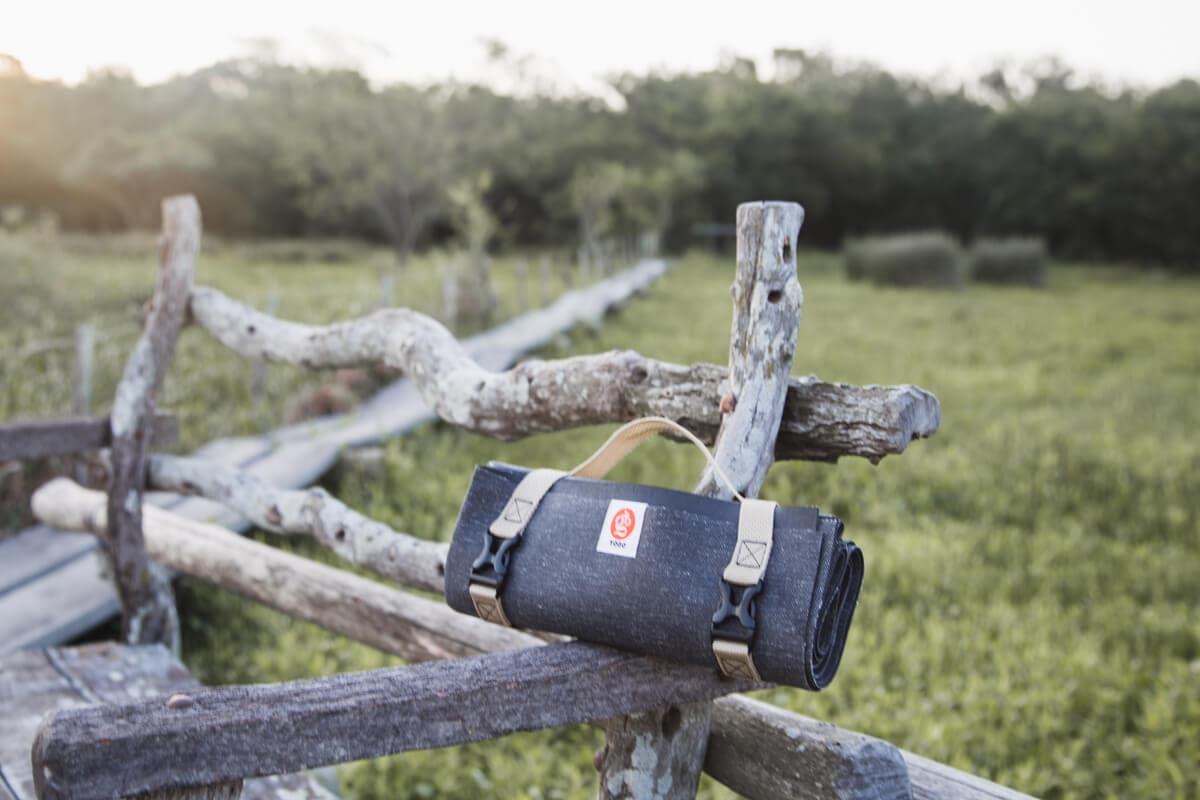 QUICK NOTE: This post contains affiliate links and Sol Salute may receive a commission for purchases made through these links, at no extra cost to you.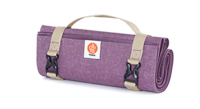 Price: $68
Weight: 2.1 lbs (0.91 kg)
Thickness: 1.5 mm
Size: 24" x 68" (61 cm x 173cm), they also offer a longer version for $91 for those who need it
Top Feature: Built-in folding design and carry system folds to the size of a newspaper (12" x 2" x 4.5") and keeps the practice surface sanitary
What to know about the YOGO Yoga Mat
I may have been gifted my YOGO mat to try out, I was never under any obligation to promote the mat. In the end, I loved using it and gladly included it in my round-up of the best travel yoga mats.
Now, after a few years of using my YOGO mat I decided to write this more detailed guide to help fellow detail-oriented Type-A Yogis like myself decide if it's right for them.
Here's a quick glance at why I always find myself packing the YOGO mat over other choices.
Compact Folding Design
The main feature that sets this mat apart is its built-in folding system.
To fold up you simple fold the mat in half long-ways then fold up until you can buckle it closed. It comes folded and the folds always leave minor creases that make it easy to always re-fold.
With this system it folds down more compactly than most travel mats, down to the size of a newspaper (just as they advertise). It barely takes up any room, even in my carry-on or a large tote.
It's Sanitary
Weird but important, am I right?
The way the mat is designed to fold ensures that the bottom of the mat never comes into contact with the top.
The germs from the ground will never end up on the surface where you rest your face.
This is something I'm not quite so careful about with my normal daily mats but appreciate with my YOGO mat.
Easy to Clean
I always procrastinate when it comes to deep cleaning my regular Manduka mats but with the YOGO mat it's very easy to give it a regular scrub.
The carrying strap hangs from my shower head, just as designed. I just use a neutral soap to give it a quick wash while I shower then leave it there to drip dry.
Easy as pie.
stickiness & Comfort
These mats are made out of renewable tree rubber and are very sticky mats.
My feet never slip on this mat. They advertise it as one of the stickiest mats and I'd have to agree with them.
It does lose stickiness when I'm dripped sweat, so this mat isn't great for hot yoga. For hot yoga you'll need to add on a yoga towel (I use these).
If you primarily practice hot yoga, however, you should consider getting a mat like this MIKKOA mat. It's a towel/mat combo and is both gorgeous and comfortable!
This mat is very, very thin but that's true for all good travel mats since being compact is the entire point. I always bring a t-shirt or hand towel to fold and put below my knees in poses like anjanayasana.
They Give Back
Saying you plant a tree for every purchase can sound very easy but they really do deliver. YOGO partners with an NGO that has 30 years in forestry experience.
"YOGO has planted over 28,100 'forest garden' trees through our "one for one" Food Trees program. With every yoga mat you purchase, YOGO provides a food-bearing tree plus restorative agroforestry training for a low-income family in Africa. "
Cons & Solutions
As I mentioned earlier, the mat isn't ideal for hot yoga practice. I love hot vinyasa so if I'm using a mat like this I always use my hot yoga towel or simply pack my MIKKOA mat instead.
The straps can get a little annoying so I recommend placing them at the back of your mat and facing the end without them. This way you won't even notice them.
Also, since the mat is constantly folded, the creases do stay in the mat when you practice. It doesn't affect your practice in any way but maybe it would annoy you. You'd need to decide what's more important: the amazing folding system or the creases.
And finally, like all travel mats it is very, very thin. This is tough on the knees so just use a folded towel or shirt for added cushion if on a hard surface.
YOGO Travel Mat Alternatives
Manduka Eko Superlite
Manduka is one of the most well-known yoga brands and I personally own 5 of their mats (I'm a fan). Their travel mat is nearly identical in texture to the YOGO mat (both sticky made out of tree rubber). It is more affordable if you're on a tight budget.
MIKKOA Travel Mat
Mikkoa sells this gorgeous travel mat (I have the color pictured left)! It has the texture of a hot yoga towel and unfolds to zero creases. It's a good alternative if you primarily practice hot yoga or are a heavy sweater.
The Bottom Line
Of my travel mats, my YOGO Ultralight mat is a favorite. I love how tiny it folds down to because despite decades of travel, I never mastered packing light. I NEED that extra space.
While it might lose stickiness with a sweaty practice, I rarely practice that hard while I travel. It's a non-issue. For what I use it for, getting a relaxing stretch in on the road… it's perfect.
If I use a rental mat at a studio I also like to use this mat on top of the travel mat for an added level of sanitation.
I'd happily buy this mat again or buy it for friends as gifts!