Typically when I see photos pop up on social media of Argentina beach vacations I see overcrowded beaches, a sea of people, and towels covering every inch of available sand.
Private cabanas divvy up the beach into something unrecognizable, like a miniature city on the sand.
Needless to say, it never tempted me.
Then in 2020, I discovered Mar Azul (notably: in the off-season).
It was peaceful.
Then… in 2022, Chapadmalal was everywhere. You couldn't open Instagram, Facebook, or even a magazine without seeing its rugged beaches.
People were surfing, sipping yerba mate at sunset on dramatic cliffsides, and best of all, it felt rustic and pristine.
Where had this beach been my entire life!? How had I heard nothing about Chapadmalal?!
As soon as the summer rush ended (read: school was back in session), my husband, toddler, and I were in the car on our way to a relaxing week in Chapadmalal.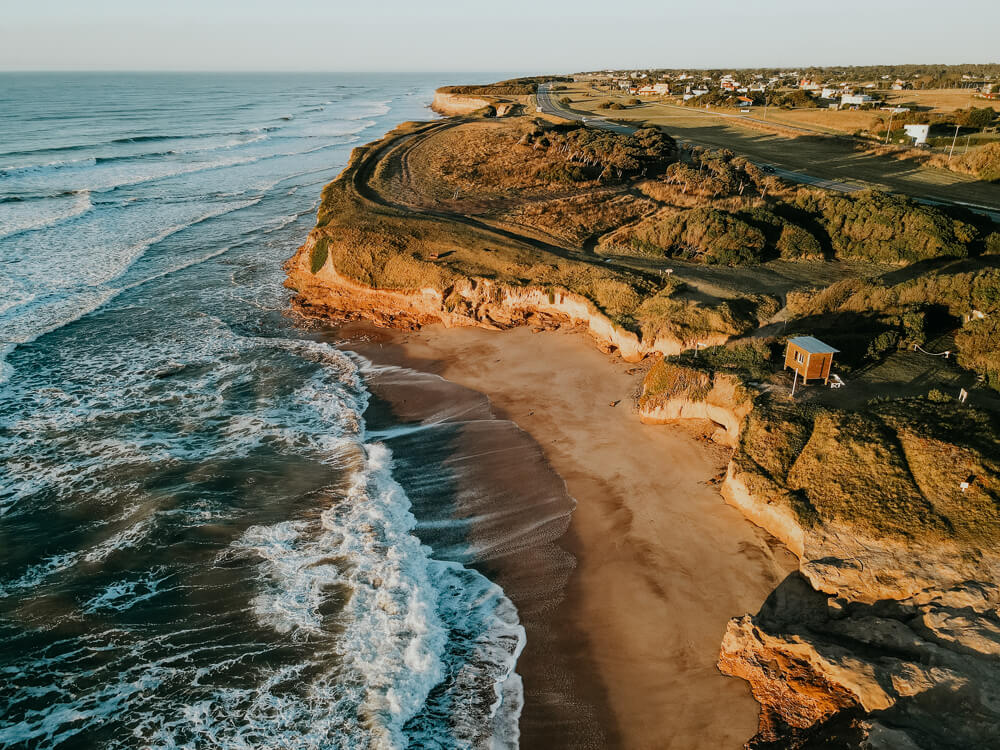 QUICK NOTE: This post contains affiliate links and Sol Salute may receive a commission for purchases made through these links, at no extra cost to you.
How to get to Chapadmalal
Chapadmalal is just south of Mar del Plata. By car, it takes around 5.5 hours.
If you have a toddler who refuses to fall asleep and screams instead, it takes 7.5. Whew.
If you don't have a car but want the freedom to move when you get there, click here to check rental car rates in Buenos Aires.
From Buenos Aires by Train (via Mar del Plata)
But there IS a way to get there by public transportation. The passenger train from Buenos Aires to Mar del Plata takes only 6 hours (the same as the drive) and at 600 pesos (as of 2022) it's cheaper than buying gas to drive yourself.
It departs from Estación Constitución (take Subte line C to reach the terminal). For full information on current prices and schedule, click here.
Tickets are 10% cheaper online but I have heard some people had trouble purchasing tickets online without a local ID/DNI.
If you run into trouble, you may have to go to a sales point in person, I apologize in advance for the backwards inconvenience. The website is modern but it IS still Argentina.
How to get from Mar del Plata to Chapadmalal
Once in Mar del Plata, arrange a remis or take the public bus to Chapadmalal. It is very close to the city. Despite feeling miles away, it's a relatively short drive.
To take the bus from Mar del Plata to Chapadmalal, from the Nueva Estación Ferro Automotora you can take two lines:
Plusmar (which goes all the way to Miramar)
Línea 511 CH – A public bus that takes about 50 minutes
If you're on the beach in Mar del Plata already, you can take the Línea Costa Azul.
Where to Stay in Chapadmalal
Since a lot of homes were being built during our time there, a lot of the rental houses in Chapadmalal are modern and stylish (compared to the heavy 1980's brick chalets of Pinamar).
We drove by these modern container houses every day on the way to the beach. The location is great. You'd be able to walk to my favorite beach, La Redonda.
The container homes are unique but admittedly, a bit narrow. They'd be great for a couple. If you need more space to stretch out, check out this house that has a massive yard, pool, and swing set for the little ones.
The GaTe Beach House is another great option. It's a small complex of small rental houses that are comfortably equipped.
You can also get creative and search on MercadoLibre for rental homes (but typically this is easiest for locals who speak Spanish and have a local bank account to transfer the payment).
We actually found our rental home on Instagram. It's the first time I ever rented a house that way and I honestly just stumbled across it. It ended up being a great experience! But again, Spanish and having a local bank account made it possible, but you can always try!
TIP: Avoid what you'll see in Colonia Chapadmalal, which is just south of Chapadmalal. The beaches aren't as nice, the hotels are the original union hotels from the mid-1900's and rental houses are mostly older.
The Best Beaches in Chapadmalal
Now that you've got your route to Chapa marked out on the map and your stylish beach house booked, let's get to the good part.
Shall we?
La Redonda – The BEST Beach in Chapadmalal
My favorite Chapadmalal beach was by far La Redonda.
We ended up spending most of our time here. It's rustic in that there are no installations on the beach. No rentable tents and no restaurant. There was nothing on the beach but people and their towels, just as God intended.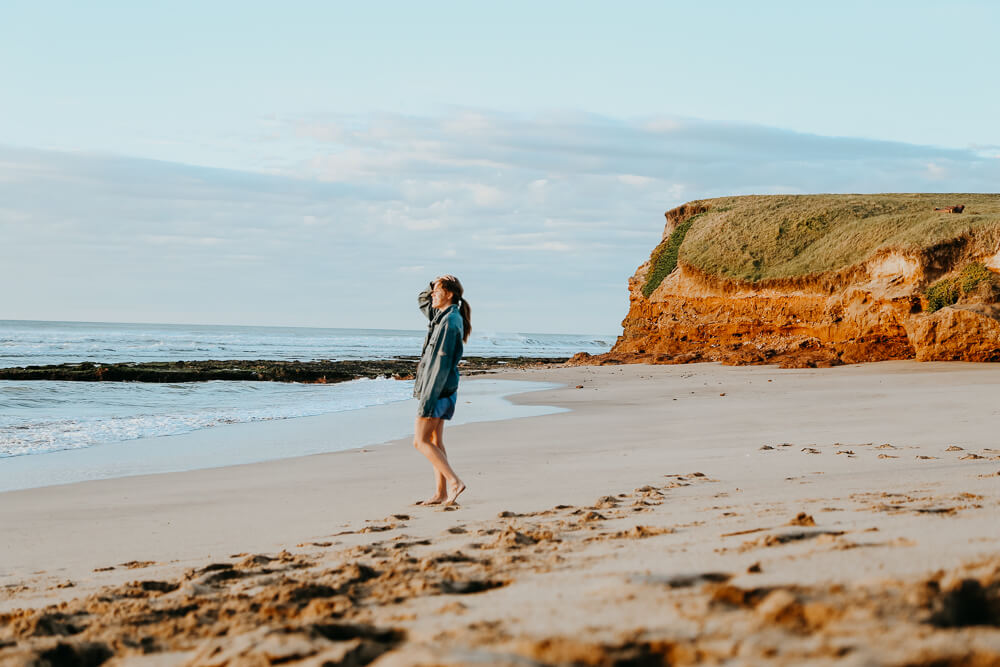 La Redonda is a campsite so there is a playground and toilets just above the beach. We took our son to the playground often, enjoying the view of the ocean while he enjoyed the slides.
For parking, you can park across the highway (turn onto road 749 and park on the tiny dirt road that is your first left. Or park on the cliff itself by turning left onto a blink and you'll miss it road just after the playground. There is a tiny sign that marks it. This is where the locals park so you'll see plenty of cars up there.
PRO TIP: I 100% recommend waking up early and coming to La Redonda for sunrise. I did, twice, and had it to completely to myself for a peaceful start to the day. This is also a MUST if you're passionate about photography. The lighting at sunrise is incredible, with the early morning light making the rocky cliffs appear a glowing red.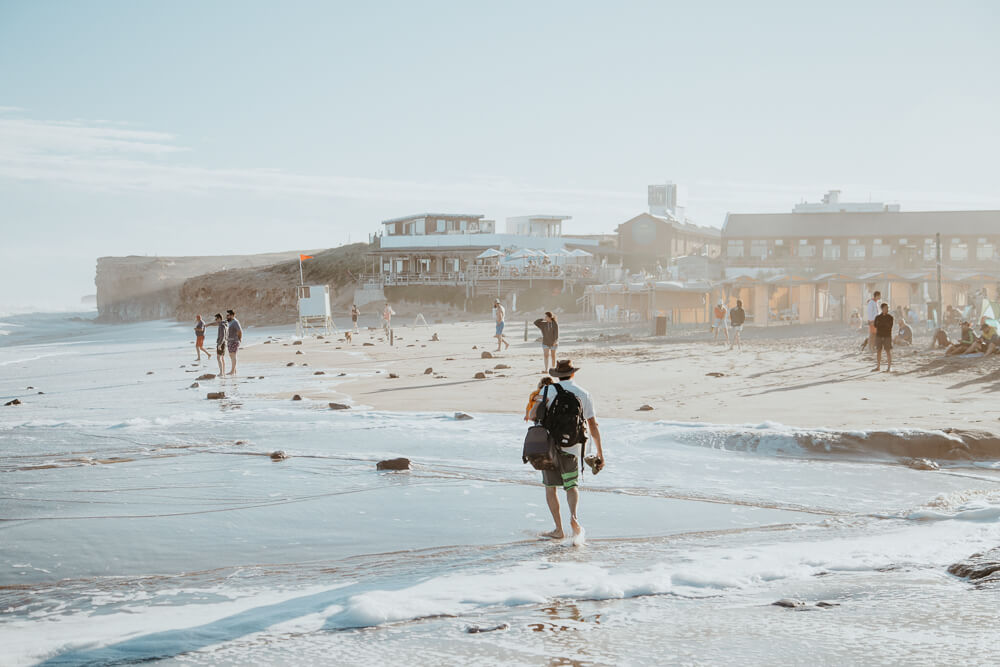 Playa Luna Roja
Luna Roja was a close second and if you want a beach with more infrastructure, go to Luna Roja.
It's a big closer to downtown (which really doesn't mean MUCH in tiny Chapadmalal) and it was very popular.
There's a parking lot with security that cost $1,000 pesos at the time in March 2022 (or about $5 US) for the day. But even though $5 isn't a lot, you can get a lot for 1,000 pesos and parking just across the street is free and safe. Park across the street and walk over.
There are clean public restrooms, a restaurant, and even cabins you can rent. Aside from the large restaurant, there's a small chiringuito selling burgers, hot dogs, fries, and cocktails just down the beach.
I really enjoyed Luna Roja. It had a younger, fun vibe (compared to the old fashioned vibes of Cruz del Sur). I highly recommend it for days you want a little more service like a cleaner toilet nearby or cocktails and fries at the ready.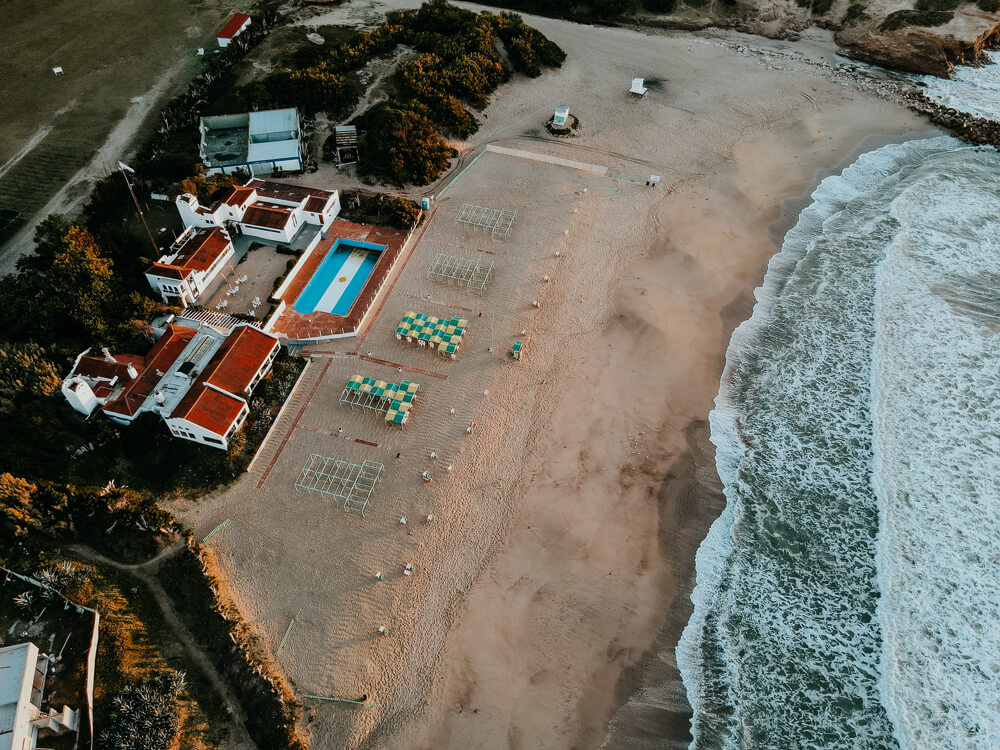 Playa Cruz del Sur
We also spent a morning and lunch at Cruz del Sur. It felt very vintage, like I had travelled back in time to 1970's Argentina. The menu, the décor of the restaurant, and even our waiter had probably all been there, unchanged, since 1971.
And, to be honest, I kind of loved it.
That said, the beach itself is a bit small so I'd go early to avoid a crowd. It felt very family oriented and in high season I imagine it explodes with crowds (but then, don't they all?).
I'll admit it wasn't my favorite beach and we didn't return. But I did sincerely enjoy the unchanged restaurant because it was so authentically Argentina. Sometimes you just need a milanesa, rabas, and a Quilmes.
Other Things to do in Chapadmalal
I'll be honest, there isn't a lot to do in Chapadmalal. That's why I loved it.
But there was enough to keep us entertained and fed.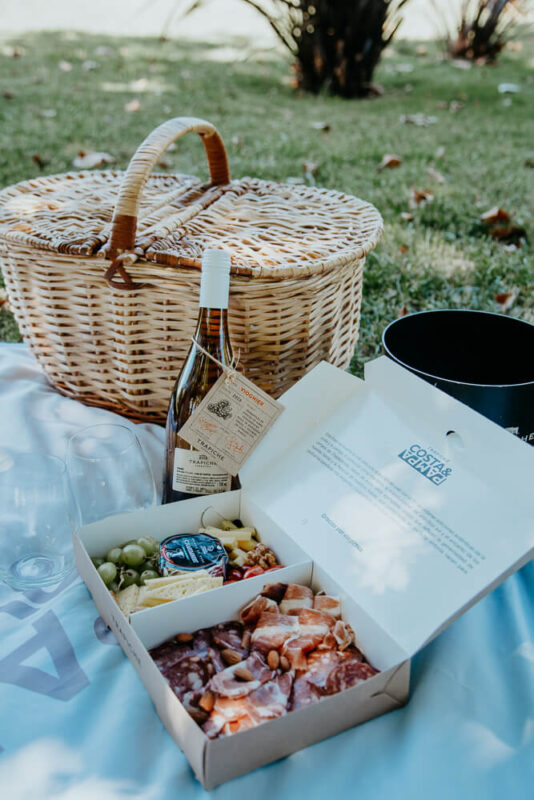 Visit the Winery
Yes, the winery.
Trapiche, one of Argentina's most well-known names in wine, has a bodega here in Chapadmalal.
It's called Costa & Pampa and specializes in light, fresh white wines.
They offer tours and tastings as well as picnic lunches on the grounds. Reservations are made easily via their website here and they have a PDF online detailing their tourism activities with current pricing.
It's a twenty minute drive inland down road 749. The road itself is more pothole than it is pavement, so prepare for a bumpy, slow ride. At least there is wine waiting at the end.
Admire the Sunflowers
Argentina produces its fair share of sunflower oil and you'll see fields and fields of beautiful sunflowers all along the highway down Ruta 2 on your drive from Buenos Aires.
There's a particularly large field begging to be on your Instagram feed on C. 749 on the way to Costa & Pampa.
The sunflowers bloom in summer and you'll see them in January and into February.
Sadly for me, we visited during the second week of March and they were already dried up.
Shop in the Market
On the weekend in the evening, there is a tiny market selling curated books, jewelry, and clothing out of beautiful refitted campervans.
I'm not sure of the hours during season (mid-December through February) but I would imagine the vendors open more throughout the week. We visited in off season and it was only open at night on the weekend.
Spend a day in Mar del Plata
If it's raining and you're out of options, you can always head into the big city for a day in Mar del Plata.
Museums, cafes, and its own fair share of beaches await you.
We spent a day there and I surprisingly enjoyed it! I had always had preconceived judgements about Mar del Plata and I'm happy for the day to see it for myself.
I enjoyed the retro vibes, the sea lions at the port, and the museums.
Where to eat in Chapadmalal
La Audaz Pizzeria | Owned by the same people as La Epica in Buenos Aires (a place in my barrio that I love!), they dish up basically the same menu as their city counterpart. It's affordable and great quality.
La Audaz is in a mountain cabin-style complex housing a number of restaurants, including Mexican food, a burger spot, and ice cream. There's also a nicer restaurant downstairs that required reservations.
LUVA café | Get specialty coffee and pastries in LUVA's beautiful patio.
There was a very cool food truck across Ruta 2 from Cruz del Sur that was open in the afternoon into early evening serving sandwiches, smoothies, and cocktails.
NOTE ON OPENING HOURS | I can't speak for in-season, but during off-season when we visited, things were very much shut down during the week. Restaurants only opened on the weekends at night. During the day everything but what was on the beach was closed, then everyone migrated into town and things there opened to welcome them. If you're visiting in off-season, prepare to eat at home a bit more.
Read Next: Things to do in Mar del Plata
Supermarkets in Chapadmalal
There is one "large" supermarket that has all the basics you could need as well as a larger despensa in town.
But, if you're passing through Mar del Plata on the way into Chapa, it's not a bad idea to stock on groceries there.
Pick up fresher fruit and vegetables, cheaper meat, and all the staples you'd need if you plan on cooking most of your meals.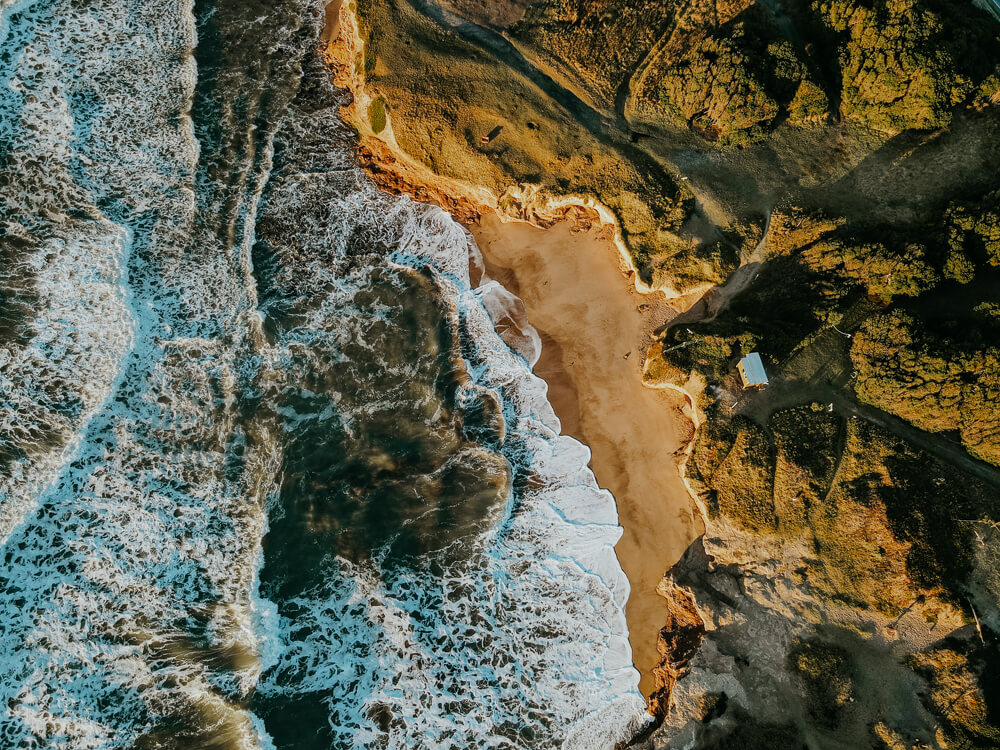 When to Visit Chapadmalal
Busy summer peak season is from mid-December through February, with January being the absolute peak of the peak.
Personally, I'd avoid that at all costs.
Prices will be at their highest and beaches will be at their busiest. You won't get the rustic, abandoned beach vibe in January.
In 2020, we went to Mar Azul for the first ten days of December. We enjoyed warm weather with no crowds, it was idyllic.
This time in Chapadmalal, we visited in March. Nights were cooler but the afternoons were still very hot for the beach. Crowds were minimal and we loved it.
The only downside to visiting Chapa in off-season would be the limited restaurant openings. But in all honesty, this isn't the sort of town you visit for its gourmet offerings. It's a place to disconnect, and off-season suited me just fine.
Also, don't discount winter on the beach! You won't get a tan but Argentina's beaches can be incredibly relaxing in winter for those looking to escape the city. Just dress for the cold and bring a good book.
Visit Chapadmalal: A Summary
The winds of change seem to be at Chapadmalal's door.
It's becoming increasingly popular and it's easy to see why. It was one of the most beautiful beaches I've seen in Argentina.
If you have any questions about visiting Chapa, let me know in the comments below!
Pin It For Later