Marfa is a quirky artist's oasis in the West Texas desert.
It's home to modern art galleries, unexplained mystery lights, art exhibits in the desert, and unexpectedly gourmet food.
This tiny desert town is unlike anything you've seen before.
This post is a complete guide on visiting with all the best things to do in Marfa.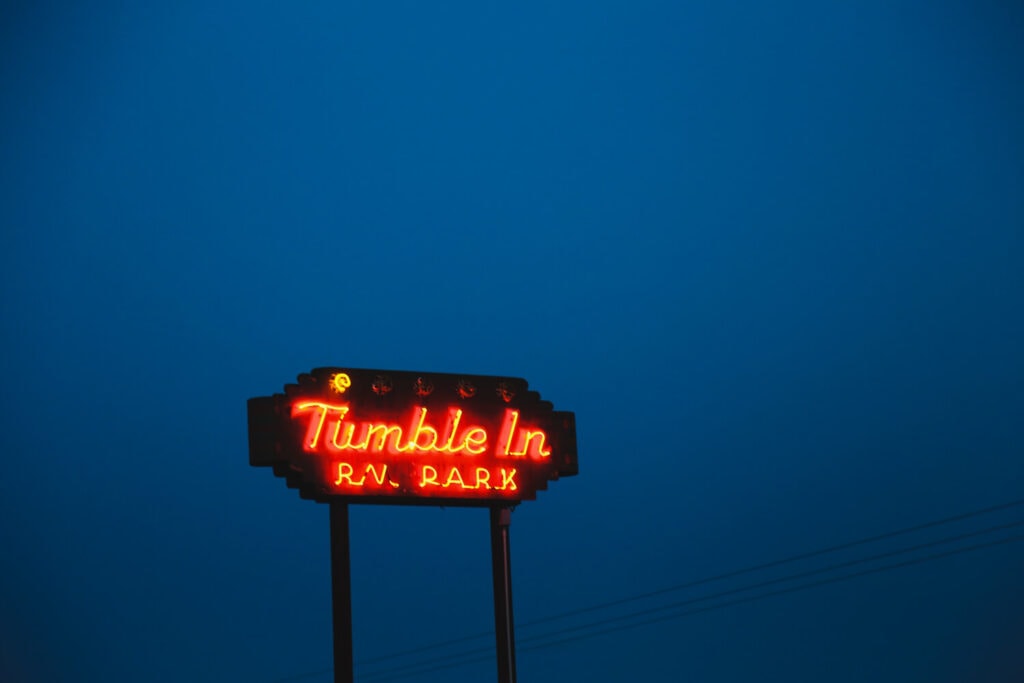 QUICK NOTE: This post contains affiliate links and Sol Salute may receive a commission for purchases made through these links, at no extra cost to you.
Things to do in Marfa: What to Know Before You Go
Visit on a weekend. The best time to visit Marfa is from Thursday through Sunday. Most restaurants and attractions are closed during the rest of the week (sadly, I know this from experience since we visited on a Tuesday).
Cell service is unreliable. You're in the middle of nowhere, so of course, cell service is spotty. I recommend downloading a map and anything you need (podcasts, shows, etc) before you leave home just in case. Most of all, relax and enjoy the disconnect.
Book in advance. West Texas is a popular destination among Texans, especially Marfa. Make your accommodations in advance during busy seasons like summer and school holidays.
Pack layers. This is the desert. Afternoons can be scorching with temperatures dropping after sundown.
Stay awhile. Stay for at least two nights, ideally three. On our tight schedule, we only had one night and it was nowhere near enough time to do Marfa and its surroundings justice.
How to get to Marfa
The only way to explore West Texas is by car. If you're driving from elsewhere in Texas it will take 6.5 hours (from Austin) to 8.5 hours (from Houston).
The most convenience airport is in El Paso (check Skyscanner for flights) and from there it is a 3 hour drive, check rental car rates here.
We drove from Austin and chose to drive Highway 90 on the way there, which hugs the border for most of the drive.
We returned via I-10. I-10 was much faster if you're in a hurry (and I get it, it's a long drive), but we really enjoyed our scenic pitstops along Highway 90. I highly recommend it.
We drove straight through until we reached Bracketville, visiting Ft. Clark and a Barton Springs like a spring-fed pool. From there we stopped in Del Rio for damn good Mexican food for lunch.
We made our last stop in Langtry to see the Judge Roy Bean Museum (a relic from the truly wild, wild west!).
Marfa Road Trip Resources
There is so much to see in this region of Texas. Take advantage by planning a full on West Texas road trip.
Here are all of my West Texas resources to get the most of your time in Marfa.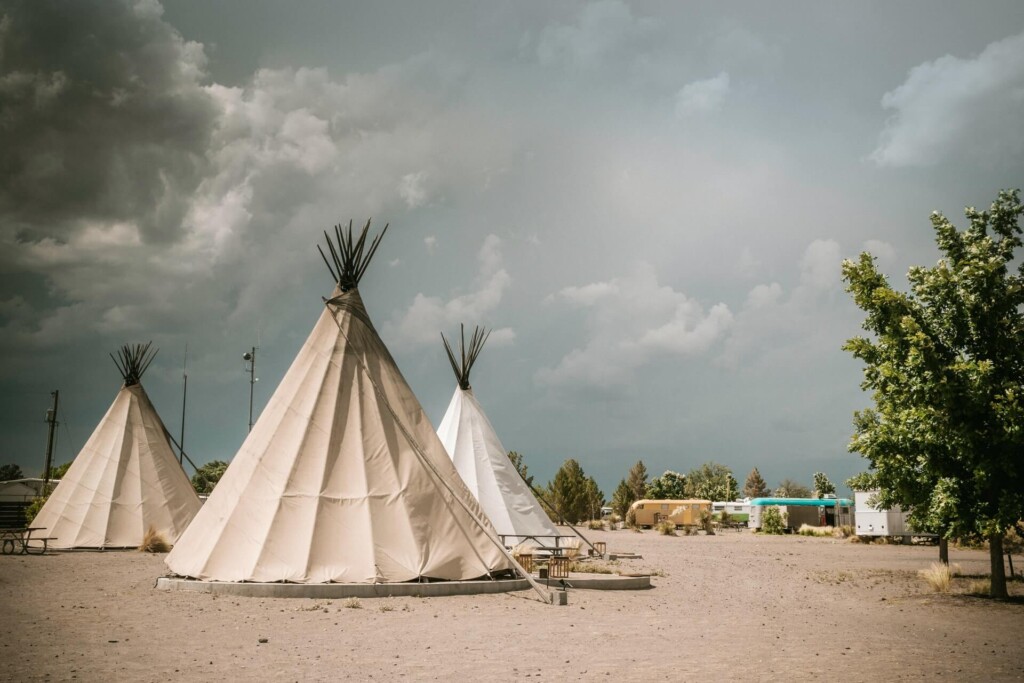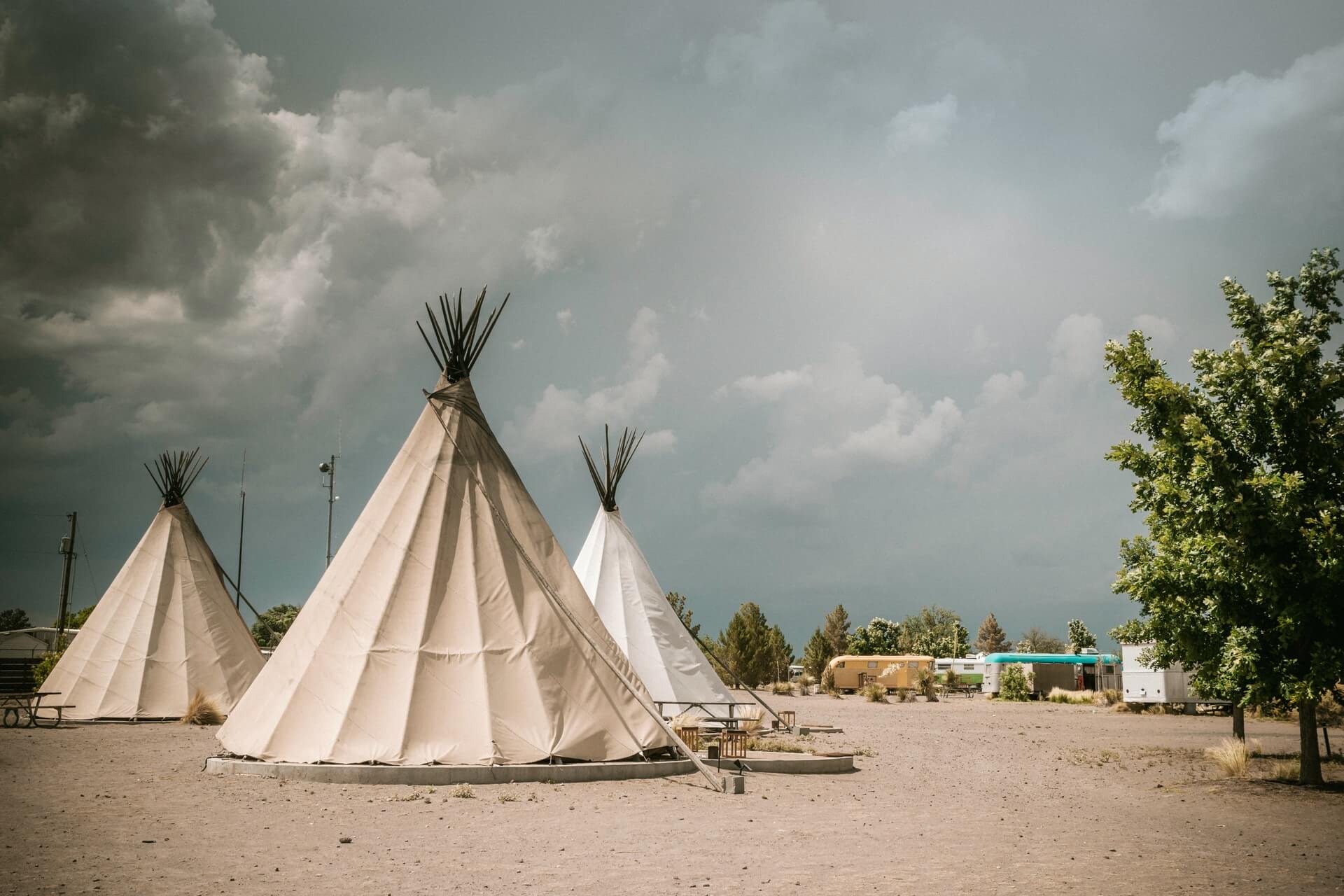 Where to Stay in Marfa
From yurts to container homes, here are the best places to stay in Marfa.
El Cosmico & Alternatives
The most iconic Marfa accommodation is without a doubt El Cosmico.
They rent out funky renovated trailers, teepees and perfectly decorated yurts in the middle of the desert.
Of course, with Marfa being such a rising star El Cosmico now has its fair share of competition of boutique hotels and rental homes.
Hotel Saint George is a great option right downtown. Wee didn't stay here but we did visit the lobby/shop area and it is very stylish and modern.
The pool is the best place to spent a hot, desert afternoon and the hotel's amenities are very hard to beat. Check rates here.
Vacation Homes in Marfa
Due to tighter purse strings this trip, I rented a trailer on VRBO.
You can stay in a classic adobe home like this a stone's throw from the courthouse or this Instagram worthy studio with the best back patio view for wine and dinner.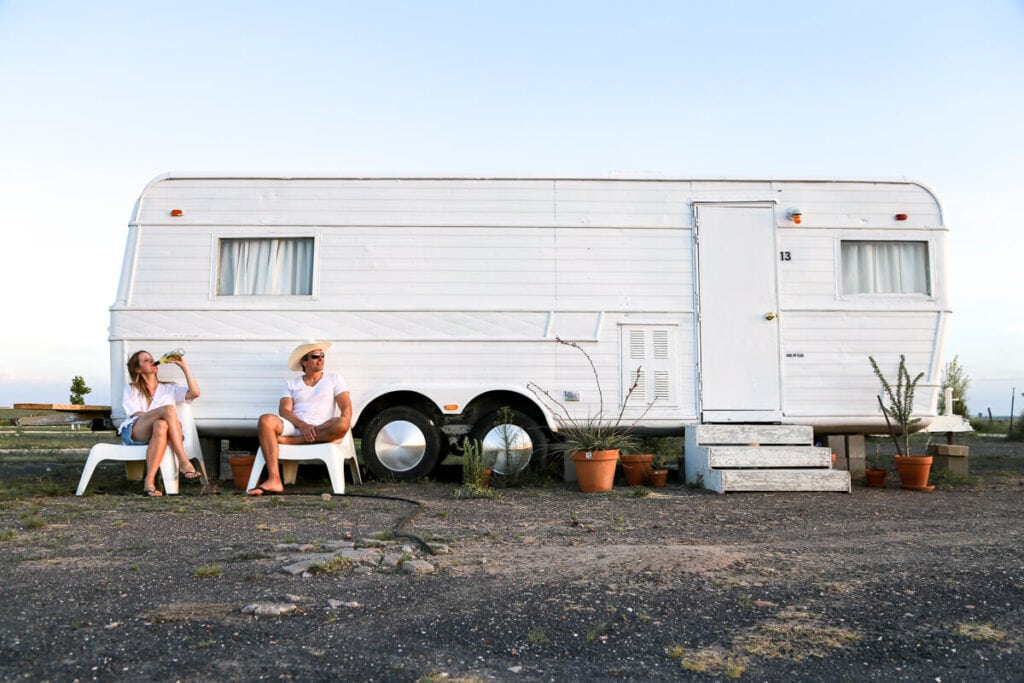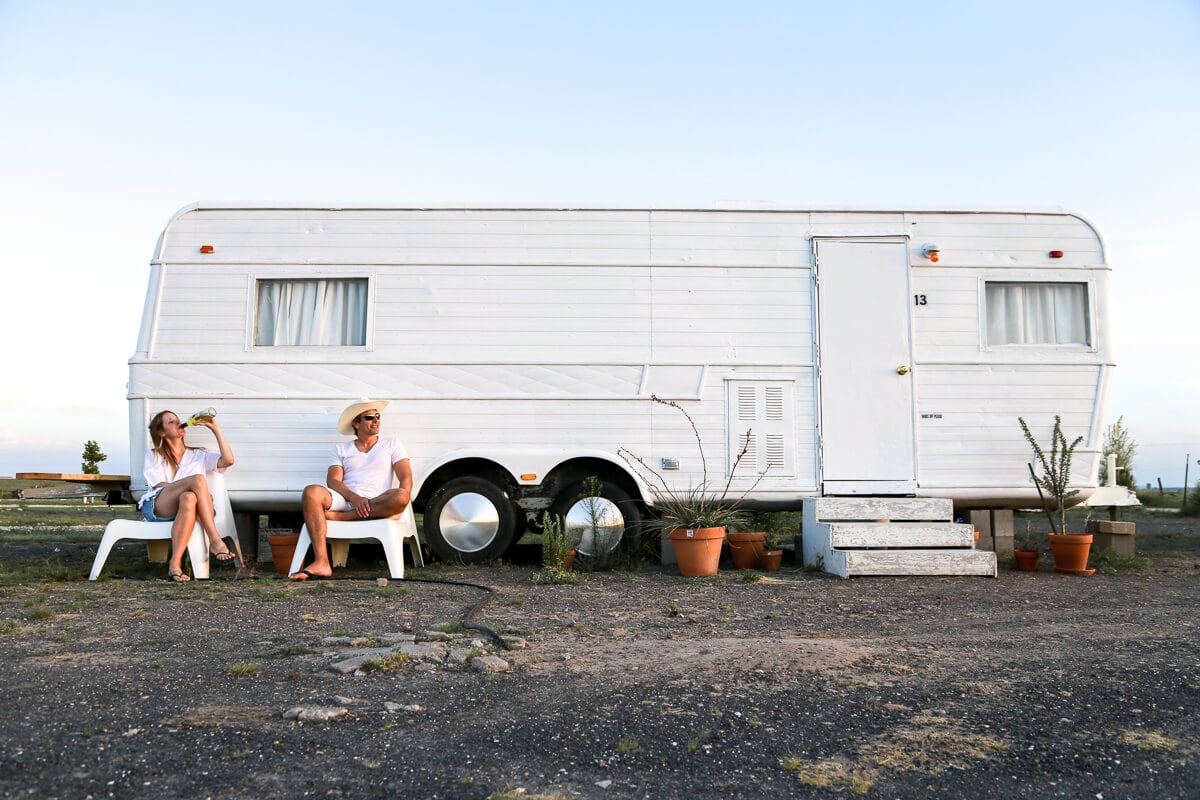 Things to do in Marfa, Texas
For such a tiny town, there are a ton of things to do in Marfa, from modern art galleries and contemporary art installations in the desert to gourmet restaurants and mysterious lights in the night sky.
Here is what to do in Marfa, how we spent our too short time in this quirky West Texas town.
1. Presidio County Courthouse
300 Highland St
Visit the courthouse downtown and climb to the top of the cuppola for a panoramic view of Marfa and the surrounding countryside. 
This courthouse was built in 1886, take a minute to look around inside before you go.
It has been impeccably restored and maintained and is a beautiful stop for architecture lovers.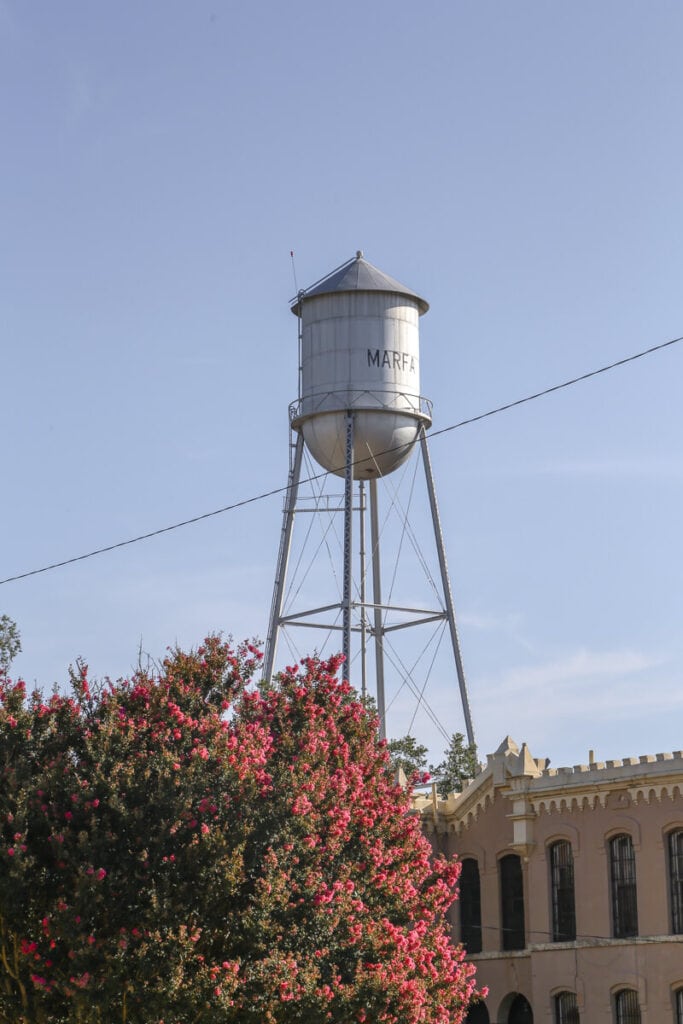 2. Prada Marfa 
14880 US-90, Valentine, TX 79854 
By far, Prada Marfa is one of the most popular things to do in Marfa and it isn't even in Marfa.
Drive 20 minutes down Highway 90 to tiny Valentine to find this road side art installation. 
It was built in 2005 with the intention of naturally decaying into the natural landscape.
To deter thieves all of the purses inside are bottomless and the shoes are all for left feet.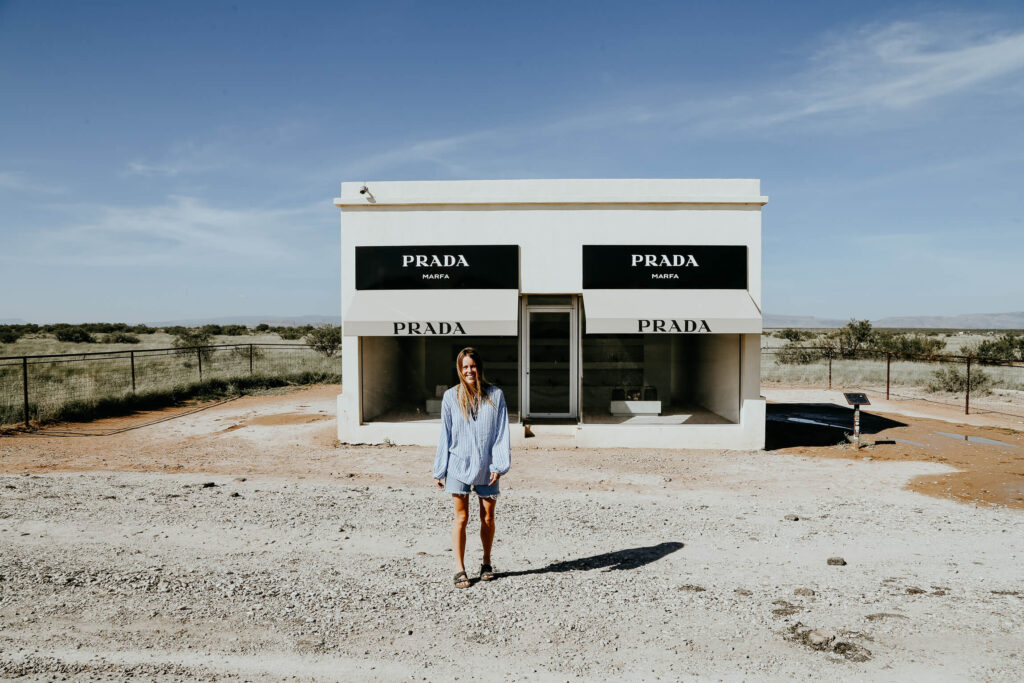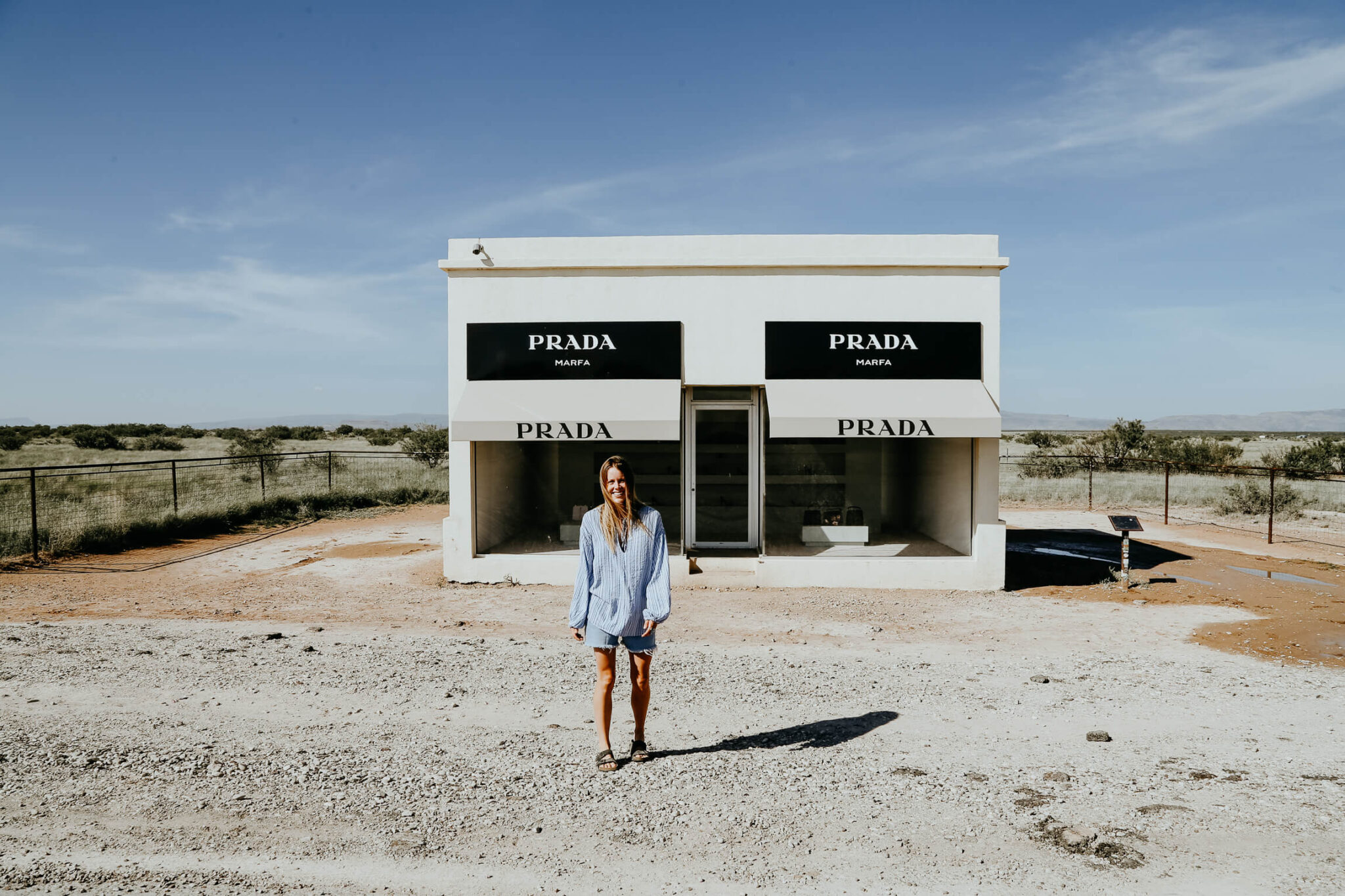 3. Marfa Mystery Lights 
Marfa Mystery Lights Viewing Center on Highway 90, 9 miles outside of town in the direction of Alpine 
These mysterious lights have been confounding locals since the 19th century. First reported by Native Americans and ranchers, these dancing orbs of light continue to confuse us Marfa tourists today. 
They appear sporadically in the distance and range in color, reportedly sometimes white, red, or blue. 
Sceptics blame campfires and headlights but eye witnesses will disagree.
The lights sometimes dance and sometimes zoom at unexplainable speed before dissolving into the night sky. 
Visit the viewing center on a clear night. Bring a drink to enjoy as you sit and wait.
There are restrooms here for your convenience. 
4. The Wrong Store 
110 Highland St
The Wrong Store is a quirky art gallery and boutique owned and operated by local artists. The items for sale are off the wall, ranging from oddly tempting carvings (think ice cream cones and guns) and embroidered vintage shirts to beautiful jewelry. 
The building originally served as Marfa's first church.
The original stained-glass windows were removed and moved with the church but the rest remains.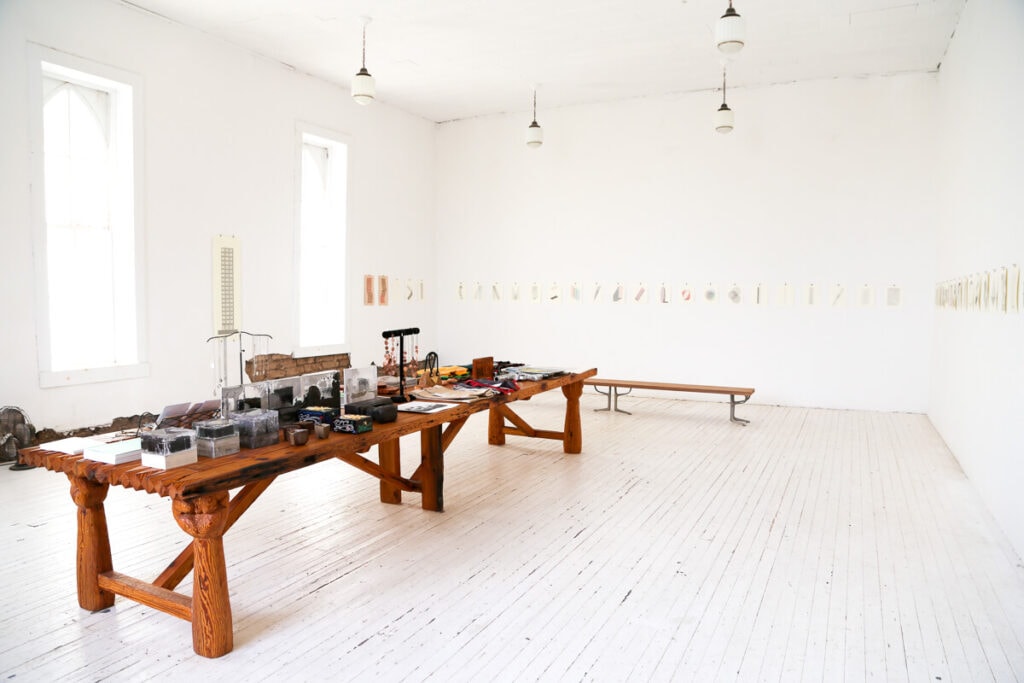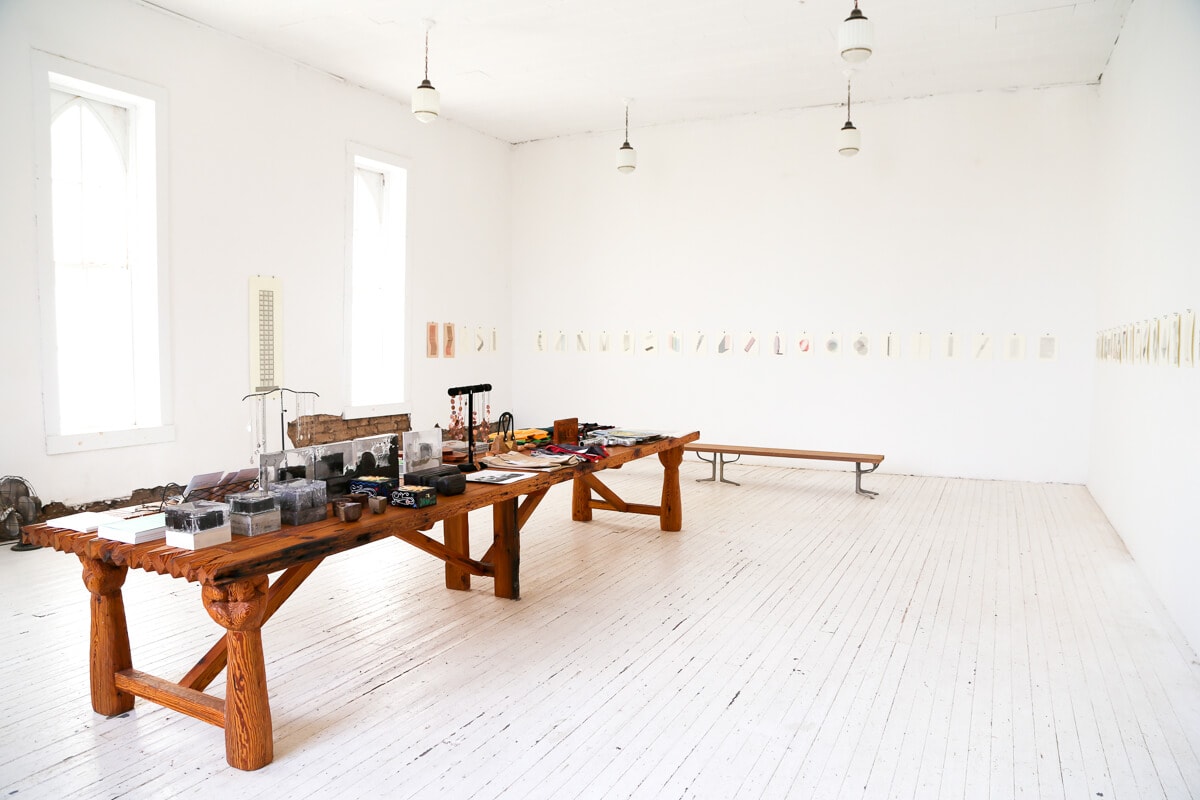 5. The Judd Foundation 
104 S Highland Ave, Marfa 
The art scene that dominates Marfa today is all thanks to Donald Judd. You can visit his permanently installed working and living spaces in downtown Marfa.
Book in advance on their website. 
My personal experience with The Judd Foundation: I honestly didn't enjoy it.
We visited his home and workspaces.
I don't feel like it was worth the hefty price tag so unless you're a diehard Donald Judd or modern art fan (I am neither but we met a few who had flown to Marfa specifically for it).  
Skip it and go to The Chinati Foundation instead (where I actually thought I was buying tickets for when I bought the block tour. Facepalm moment). 
6. The Chinati Foundation  
1 Cavalry Row, Marfa 
The Chinati Foundation is an open-air contemporary art museum in the middle of the Chihuahuan Desert. 
It's based on the Donald Judd's ideas that art is fragile and should be permanently installed and never moved again to preserve its integrity.  
There are a number of artists who have their art permanently displayed here along with Judd's pieces.  
Reserve your tickets online here ahead of time as space is limited. Check the special events for special sunset or sunrise viewings.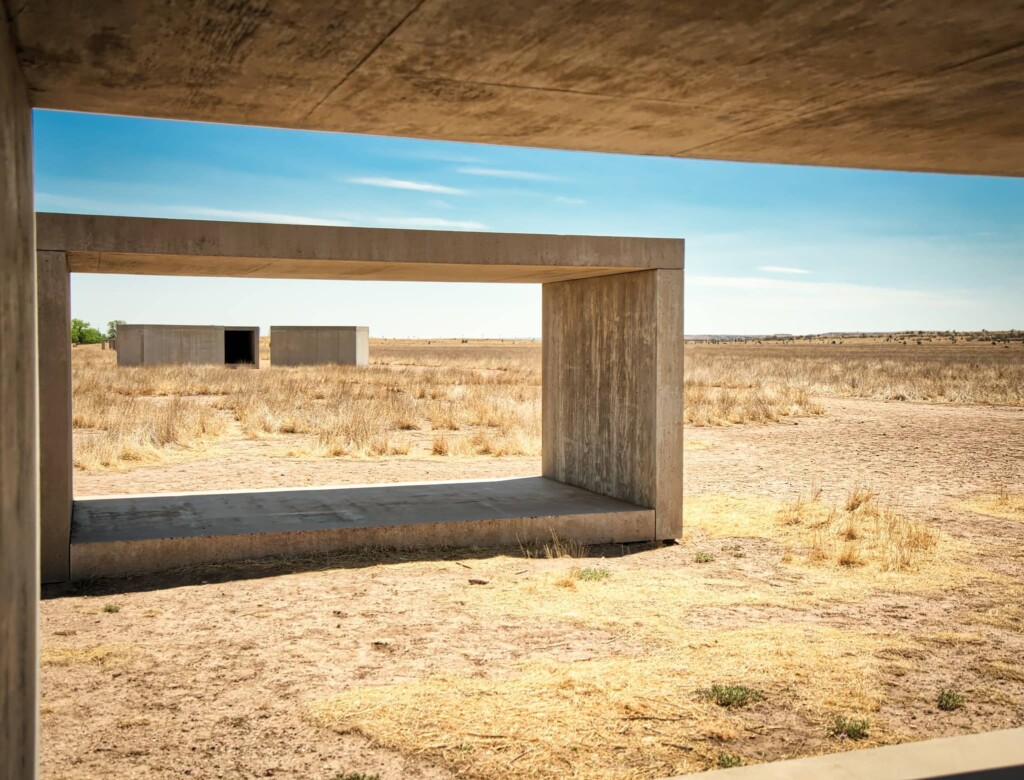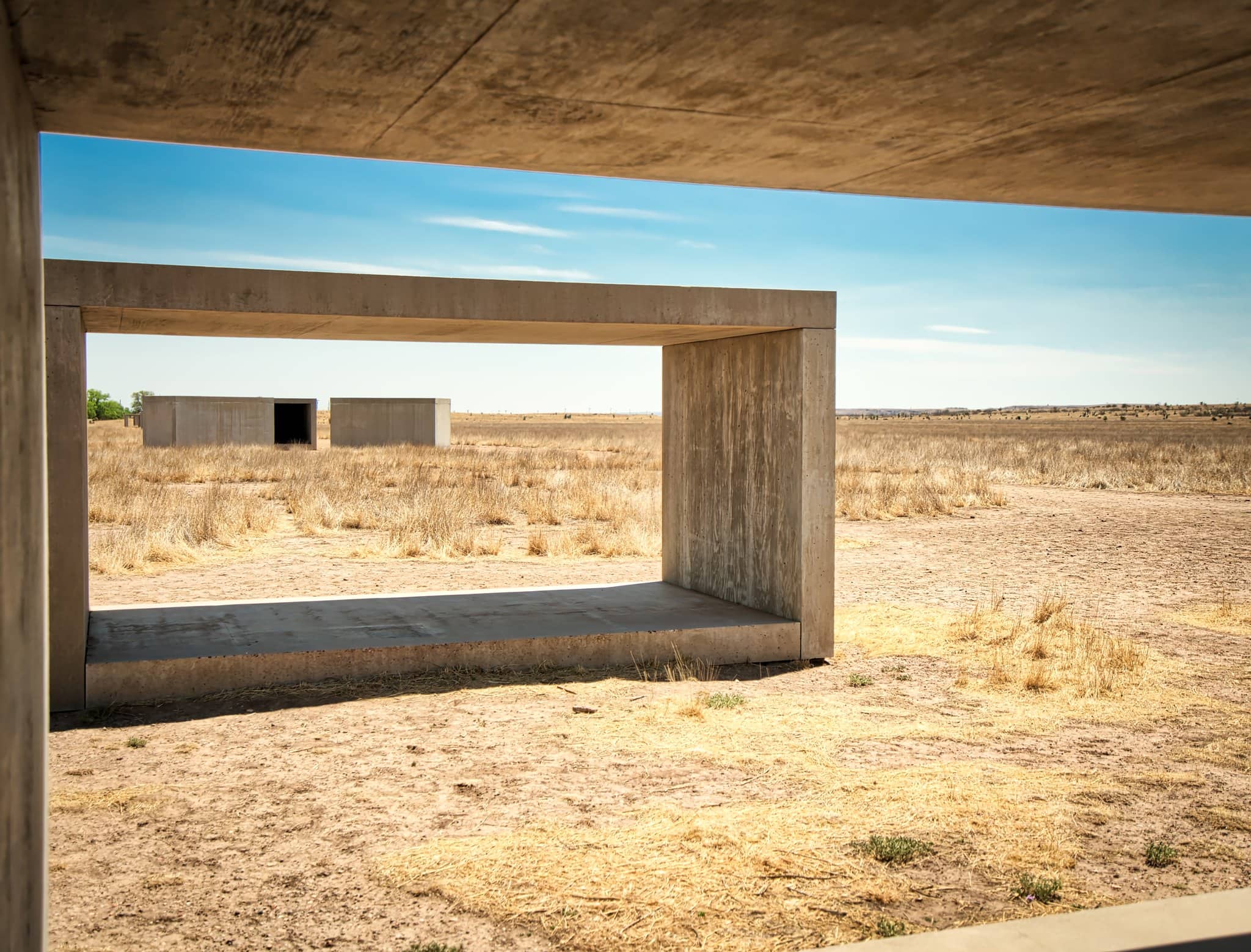 7. Food Shark 
909 W San Antonio St, Marfa 
Get lunch at the Food Shark food truck, serving up in Mediterranean cuisine with a West Texas flair. 
I had a falafel wrap with bacon, jalapenos, and pickles, my husband ordered lamb and a couple melon agua frescas.
It was amazing and complete unexpected in the middle of nowhere Texas. 
Food Shark is right next door to Moonlight Gemstones, next up on the list, so make sure to save time post-lunch treasure hunting!
8. Design your Dream Jewelry at Moonlight Gemstones 
1001 W. San Antonio St
Design your own custom silver jewelry at Moonlight Gemstones by silversmith Paul Graybeal. 
Moonlight Gemstones specializes in West Texas agate and Graybeal has been collecting them since 1985. 
I picked out a guitar pick-shaped agate and flipped through his photo albums of past work to choose a design, then I chose a band and he made my custom ring that very day! 
He rushed to make it for me in time, since we were leaving for Argentina the next morning,
I recommend allowing him more time or having him ship the finished product to you back home.  
9. Hotel Paisano  
207 Highland St
Experience Hollywood history at this Spanish colonial style hotel downtown. Elizabeth Taylor, Rock Hudson and James Dean called Hotel Paisano home in 1955 while filming their famed film Giant. 
Today it still operates with 41 historic rooms and a welcome pool for hot summer days.
They have a memorabilia room where you can learn all about Elizabeth Taylor's stay here as well as art exhibits. 
Dine at the property's restaurant Jett's Grill or simply stop by for one of Marfa's best margaritas at their happy hour. 
10. Ballroom Marfa 
108 E. San Antonio St
Ballroom Marfa is a dancehall turned contemporary art gallery.
It is free to the public (donations optional) with no reservations required. 
Check out their site for current exhibits ranging from film, photography to live music and educational programs.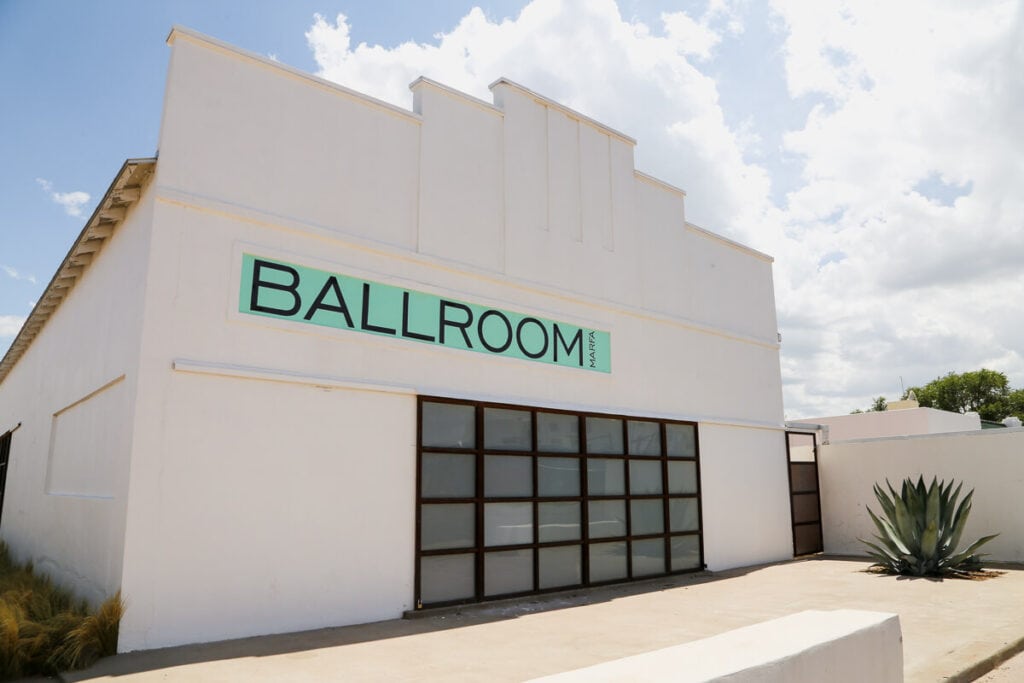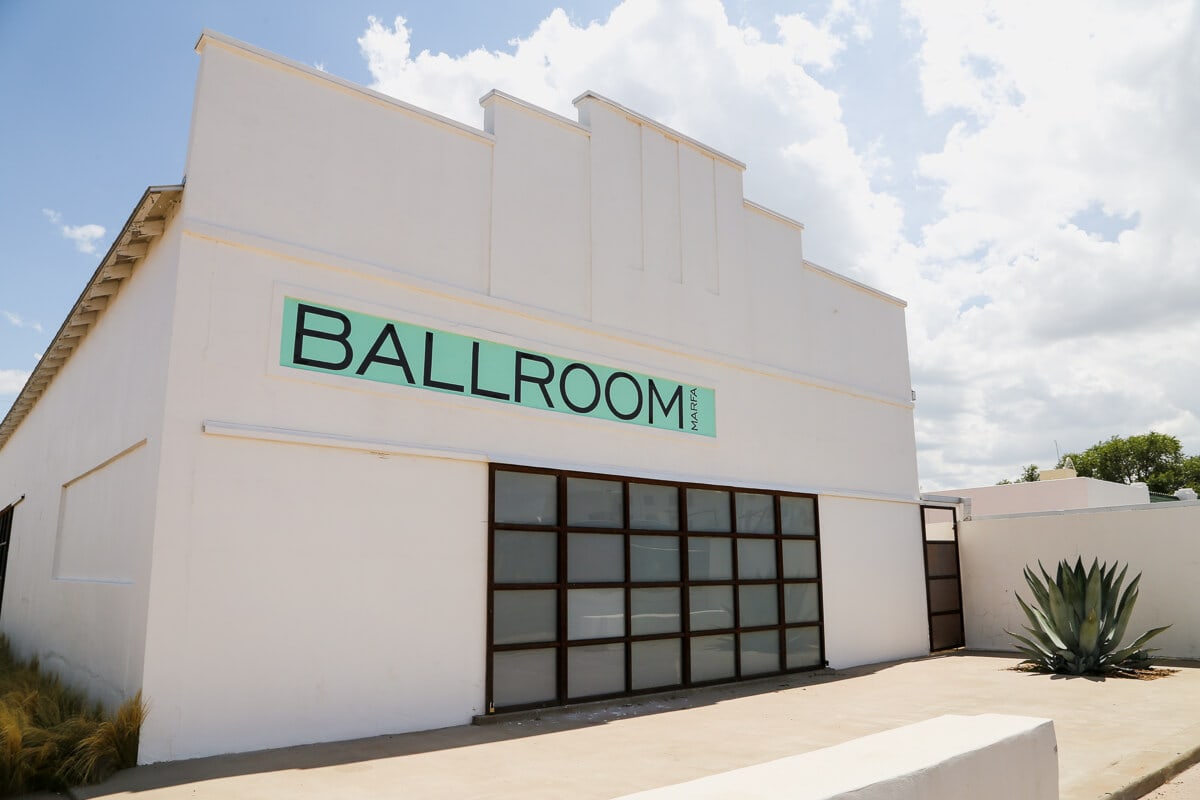 11. The Get Go 
208 S. Dean St
The Get Go is the best supermarket in town, not only for its unique stock of local goods but for its hours.
They are open 7 days a week from 9 am to 8 pm.  
The Get Go was our saving grace when wandering on a hot summer afternoon when most shops had shut their doors for an impromptu siesta. 
Shop small and support local business at The Get Go. You'll find high quality, curated ingredients and food stuffs.
If you plan on cooking or preparing your own meals in Marfa or simply want a quick snack, get to The Get Go. 
12. Restaurant Cochineal 
107 W. San Antonio St. 
For a West Texas fine dining experience make dinner reservations Cochineal downtown.
The award-winning chef, ever-changing menu, and modern design would easily fit in in New York City rather than small-town Marfa.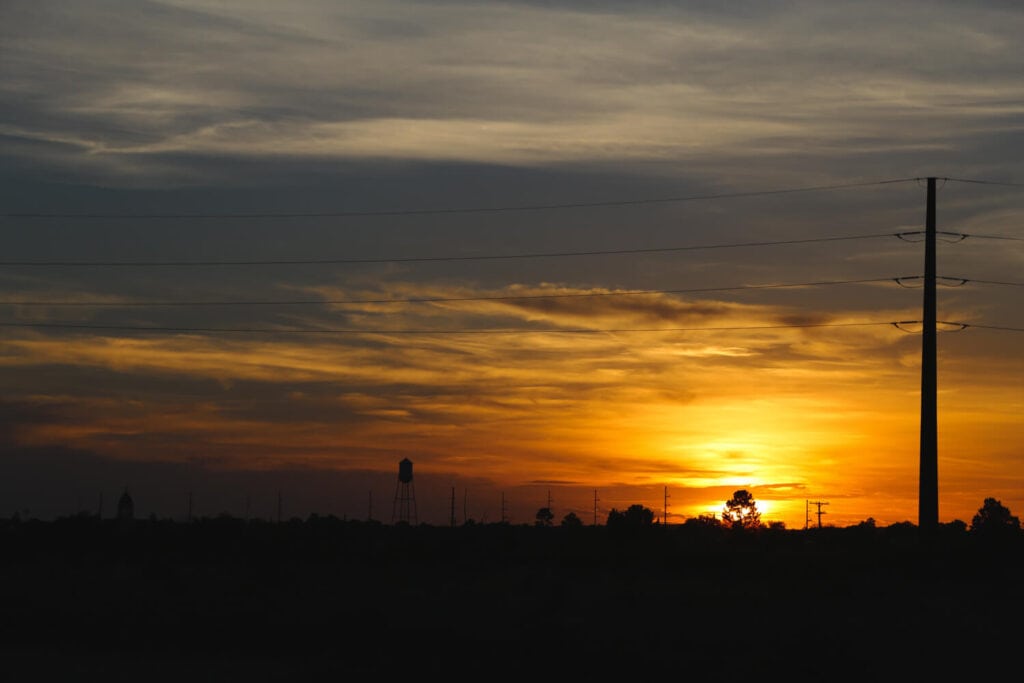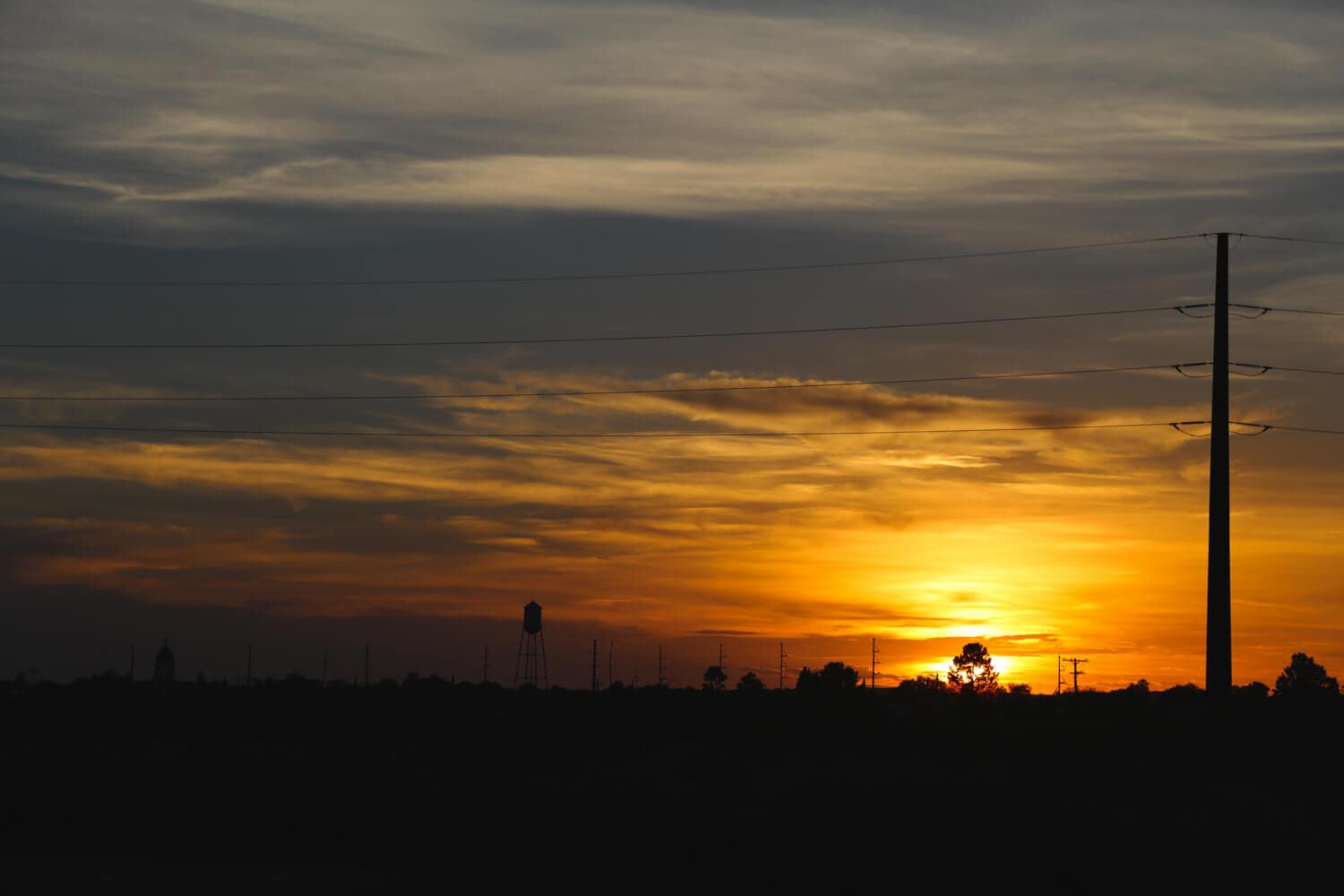 13. Watch the Sunset & Go Stargazing
While there are enough boutiques, art galleries, and bars to fill your weekend with non-stop things to do in Marfa, if I'm being completely honest, my favorite activity was doing nothing at all.
We spend our evenings drinking chilled wine outside our trailer watching the sunset turn the desert sky countless shades of pink.
Talking in hushed tones while looking at the horizon for the mystery lights and stargazing at the Milky Way overhead were experiences I will never forget.
Enjoy all that Marfa has to offer but don't forget to slow down while you're there.
Enjoy this piece of West Texas paradise and disconnect.
Things to do in Marfa
I hope this city guide to small town Marfa helps you plan your time out west!
We fell in love with this entire region, from Big Bend to Marfa, and can't wait until we can return!
Let me know in the comments if you have any questions or if I missed your favorite thing to do in Marfa!
Pin It For Later