Growing up near Houston, I remember friends who would drive to West Texas with their family.
To me, it seemed insane to drive so far!
8 hours in a car as a kid sounds like absolute torture.
I was even grateful we didn't go.
Now I wish I'd been so lucky.
As an adult, I've fallen in love with road trips. West Texas is one of my favorite places on the planet (travel goals now even include parks like Zion and Yellowstone).
Now, I can't wait to load my kids in the car and visit Big Bend National Park.
This post is a complete guide to visiting Big Bend with everything you need to know from accommodation to when to visit Big Bend National Park.
Last Updated: September 2022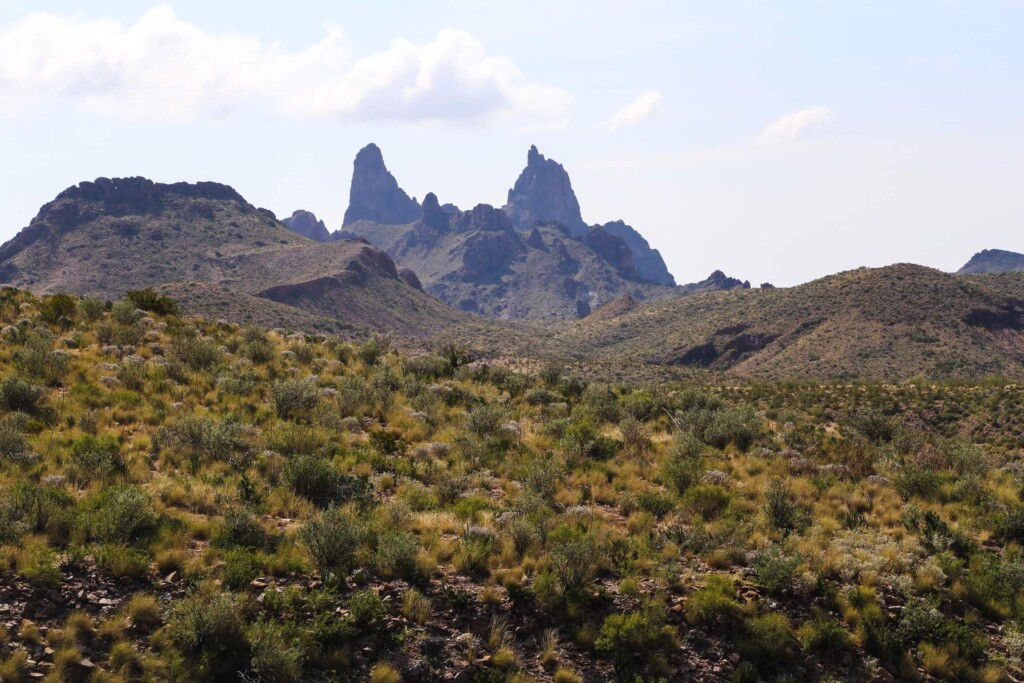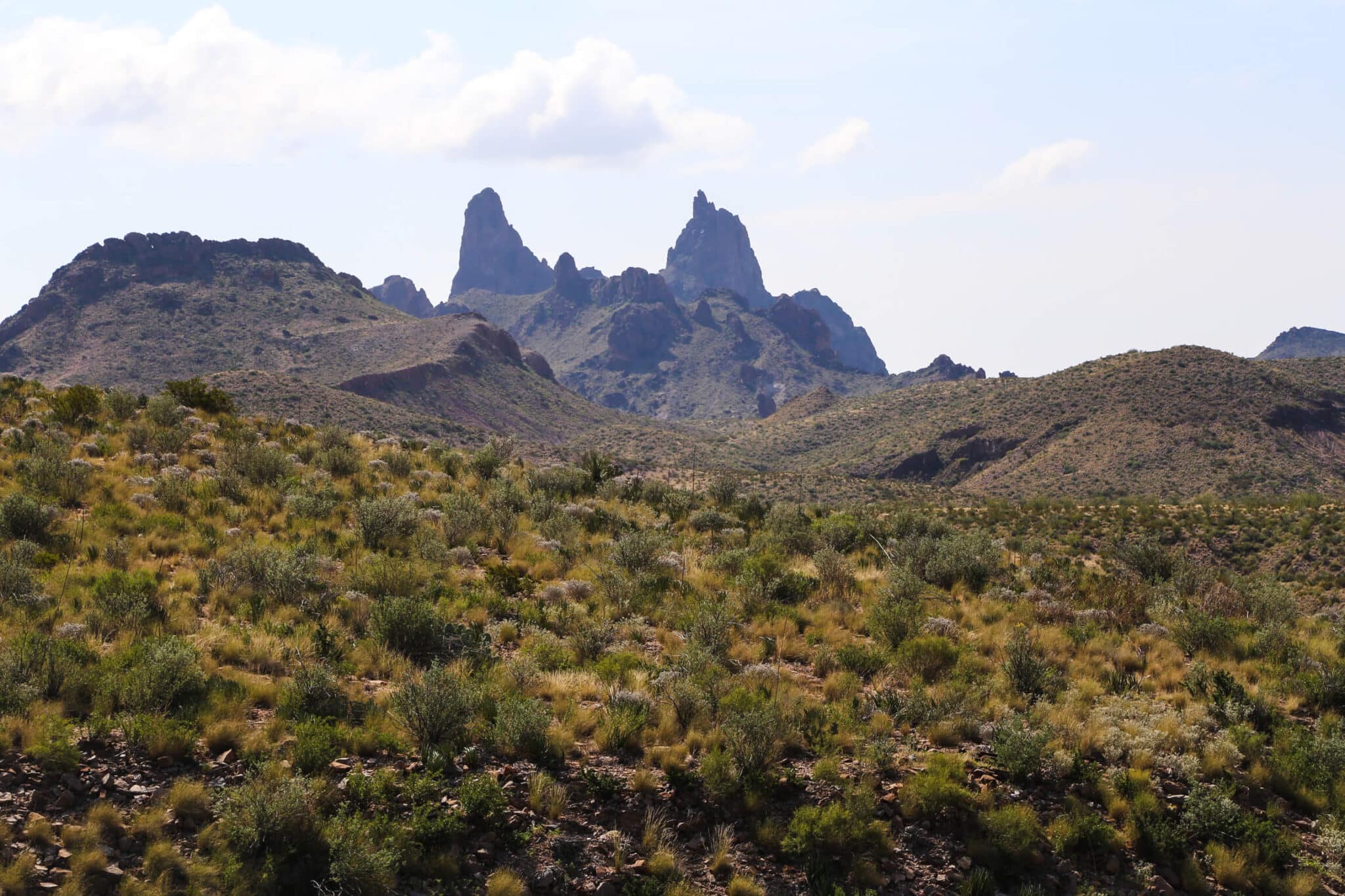 QUICK NOTE: This post contains affiliate links and Sol Salute may receive a commission for purchases made through these links, at no extra cost to you.
A Complete Guide to Visiting Big Bend National Park
Visiting Big Bend National Park is now one of my favorite things to do in West Texas.
I have completely fallen in love with this under-appreciated tiny park in the desert.
This post has everything you need to know if you're planning on visiting Big Bend National Park.
When to go, what to pack, and what to do once you're there.
At the end of the post you'll find a quick F.A.Q. to help resolve any further doubts but if you have any unanswered questions, ask away in the comments and I'll get back to you!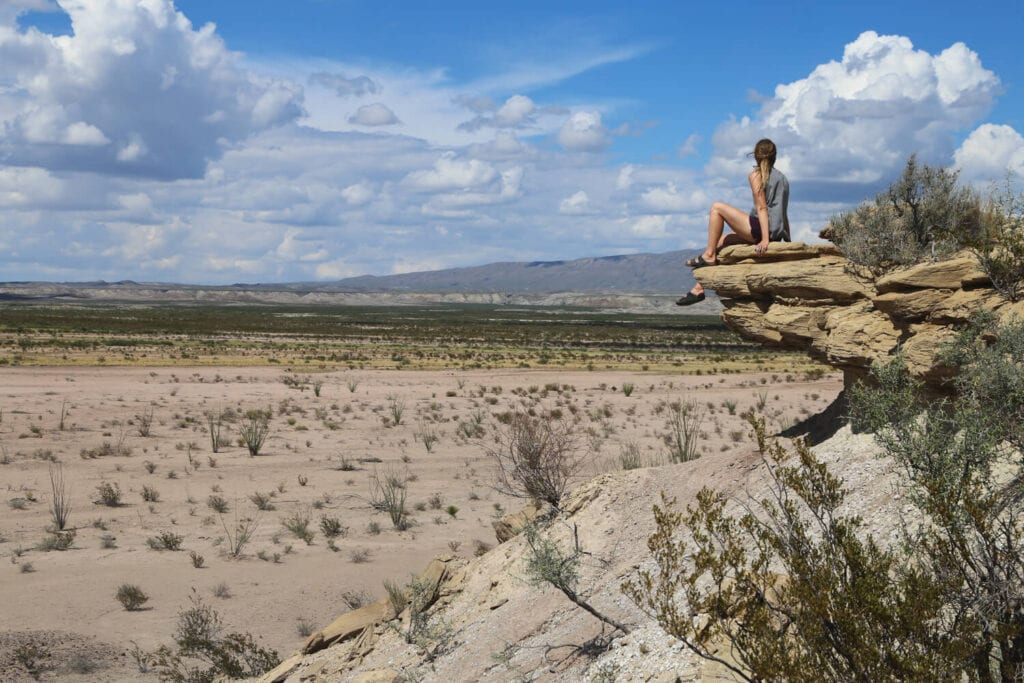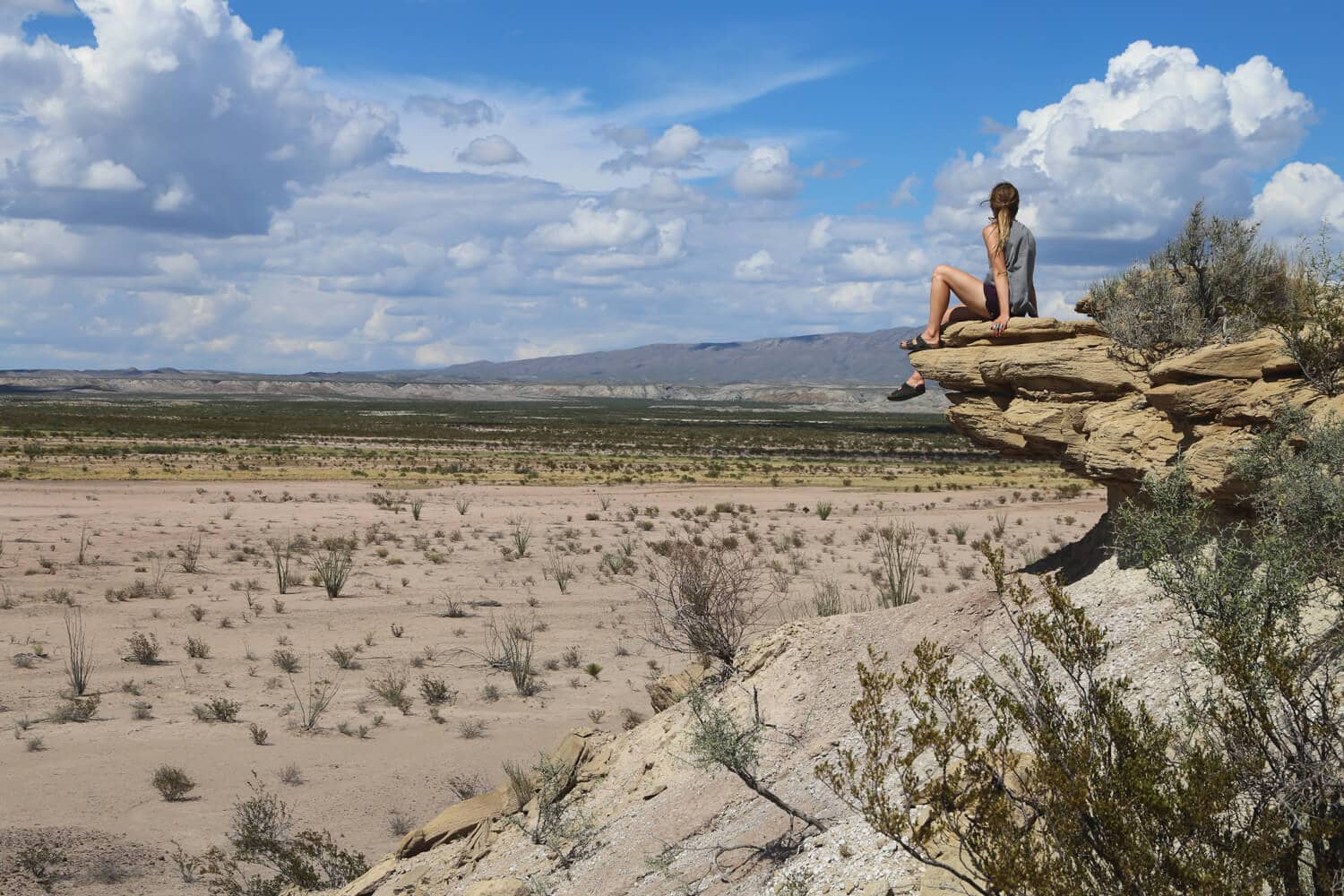 Best Time to visit Big Bend National Park
When to visit Big Bend?
The best times to visit Big Bend National Park is in spring and fall.
Temperatures will be mild: not too hot for long hikes, and not too cold for camping under the stars.
Summers are sweltering, with temperatures regularly surpassing 100 degrees, and winters can be harsh and freezing in the desert.
Big Bend is busiest during Spring Break, Thanksgiving weekend, and the winter holiday break in December.
School holidays combined with comfortable temperatures draw the crowds.
If you'd like to avoid the multitudes, avoid those major days off.
Big Bend in Summer
Everything told me visiting Big Bend in the summer was a bad idea because, obviously, it's a desert in the summer.
But with the choice of going in summer or not at all, we accepted our fate.
In the end, it wasn't insufferable.
There is a mountain range in Big Bend, The Chisos, that is home to the best hikes in Big Bend and offers a cool respite from the desert heat.
We were limited when it came to the desert. It was far too hot to even consider doing the popular desert treks like Mule Ears. Summer is also monsoon season.
Heavy rains had flooded other popular trails like the Santa Elena Canyon and the Hot Springs.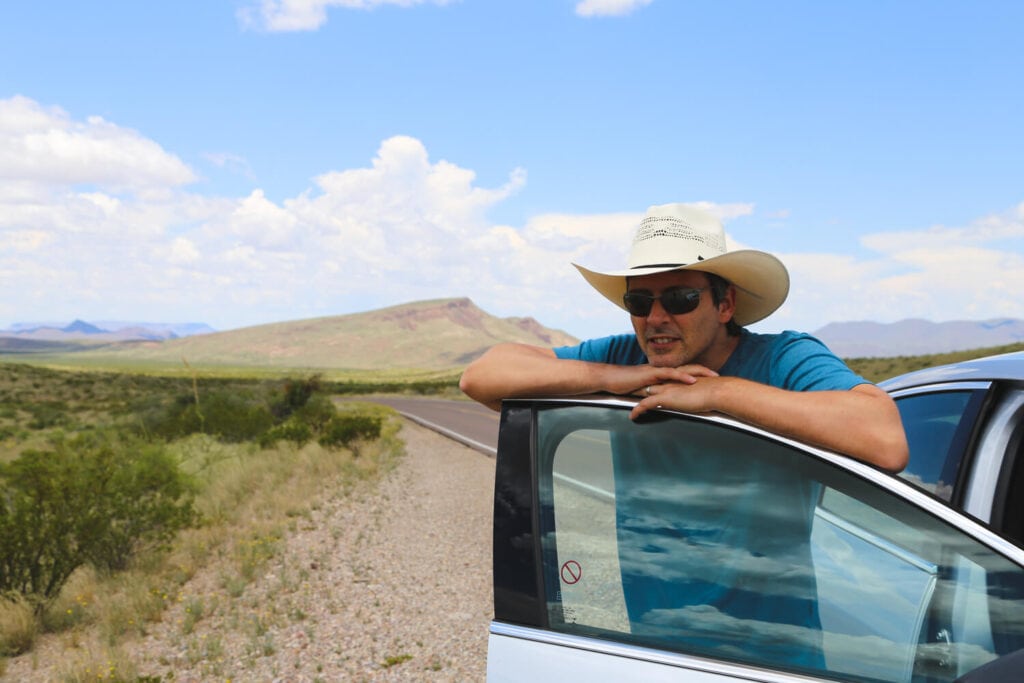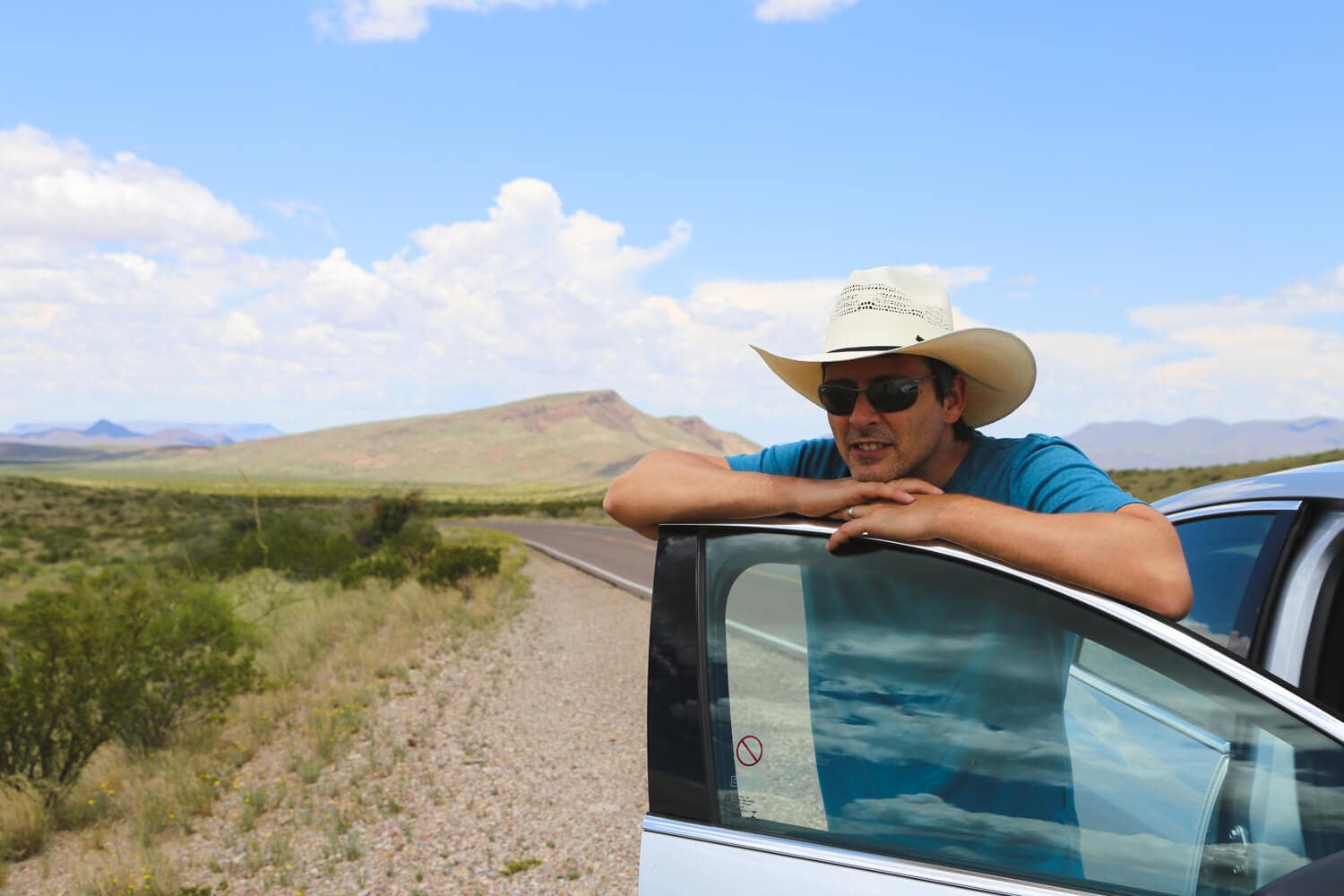 How to get to Big Bend National Park
Big Bend is not the easiest national park to get to.
This is both a blessing and a curse.
The curse is the hurdles you have to jump through but the blessing is not many are willing to make that effort.
Big Bend is one of the least visiting parks in the National Park Service, offering you a unique opportunity to be truly alone in nature at a time when our parks are inundated with visitors.
Willing to make the effort or you're planning a big Texas road trip?
Here is how to get to Big Bend National Park, including our road trip route from Austin to Big Bend and the closest airports.
Our Austin to Big Bend Road Trip
We drove to Big Bend from Austin. There are two routes to choose from: south along the border on Highway 90 or north via I-10.
Since we were returning to Austin afterward we decided to do both routes, driving along the border on the way there and taking I-10 home.
Southern Route | Hwy 90
The drive along the border was my favorite and we made a lot of stops along the way.
From Austin, drive south through San Antonio (if you are road tripping through Texas, spend a couple of days here!).
We drove straight through until we reached Bracketville, visiting Ft. Clark and a Barton Springs like a spring-fed pool. From there we stopped in Del Rio for damn good Mexican food for lunch.
We made our last stop in Langtry to see the Judge Roy Bean Museum (a relic from the truly wild, wild west!).
Northern Route | I-10
We saved I-10 for the drive home because we knew we'd be ready to get home and the interstate speed limit is 80 mph.
However, since we made a few stops, I found the difference in total drive time to be minimal.
We made a couple cliche road trip pit stops like the giant road runner, Paisano Pete, in Fort Stockton and the Alley Oop comic strip park in Iraan.
While those stops aren't a must, I do recommend stopping for a tour of the Caverns of Sonora. They were stunning!
It will take around 6-7 hours without stops. It took us nearly 9 hours with all our pit stops.
Read Next: 50+ Scenic Places in Texas to Get Outdoors
Dallas to Big Bend
From Dallas, take I-20 straight through to Big Bend. It takes about 8 hours.
But if it were me, I would add a few days to the trip and make a detour to Marfa (read about our Marfa itinerary).
Stop in the Davis Mountains for Ft. Davis and the McDonald Observatory on the way. If you time your trip right you can go to a Star Party.
Read more about why Big Bend is one of the best road trips from Dallas.
Closest Airports to Big Bend
The closest airports are in El Paso Midland, with close being relative.
They are not close.
But if you're flying into Texas and want to shorten your drive you can get a connection from Austin, Houston or Dallas to El Paso or Midland.
Rent a car from there and drive 4.5 hours from El Paso or 3 hours from Midland.
Big Bend Entry Fees
$30 will get you a week's entrance for one vehicle (regardless of the number of people in said vehicle)
$25 for a motorcycle
$15 for individuals: those daring enough come by bicycle (this actually sounds fun given the right weather), or pedestrians (are you crazy?)
All of these passes last 7 days.
You can also purchase an annual pass for $55. If I lived in Texas I would buy one of these in a heartbeat!
Tip: Check out the America the Beautiful Pass for a yearly pass to visit all of the national parks in the United States. $80 will get you an annual pass to more than 2,000 federal recreation sites.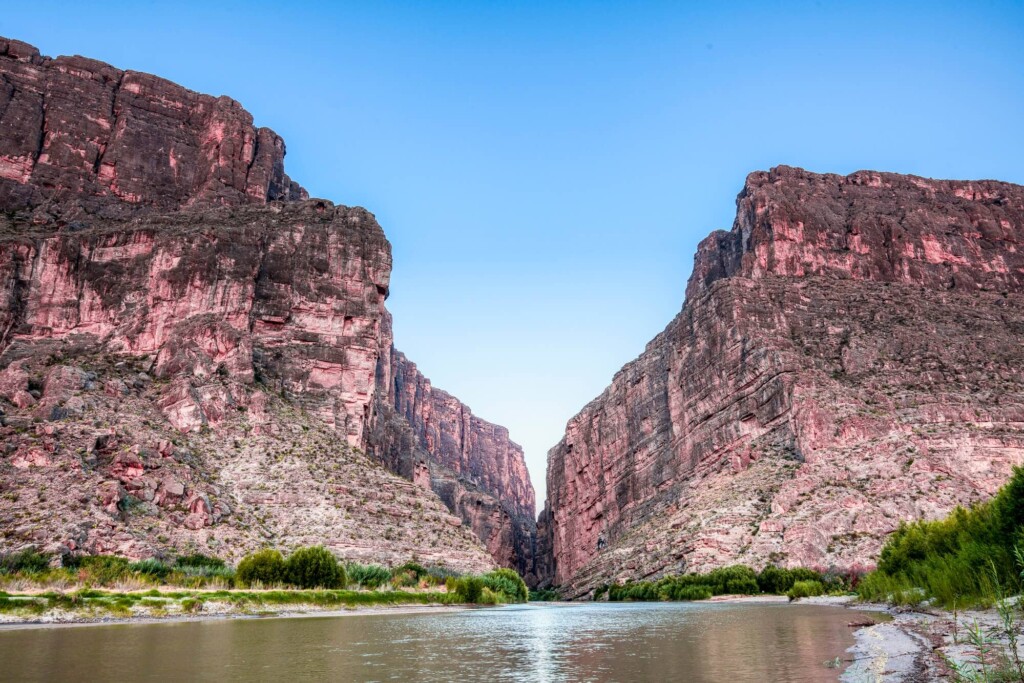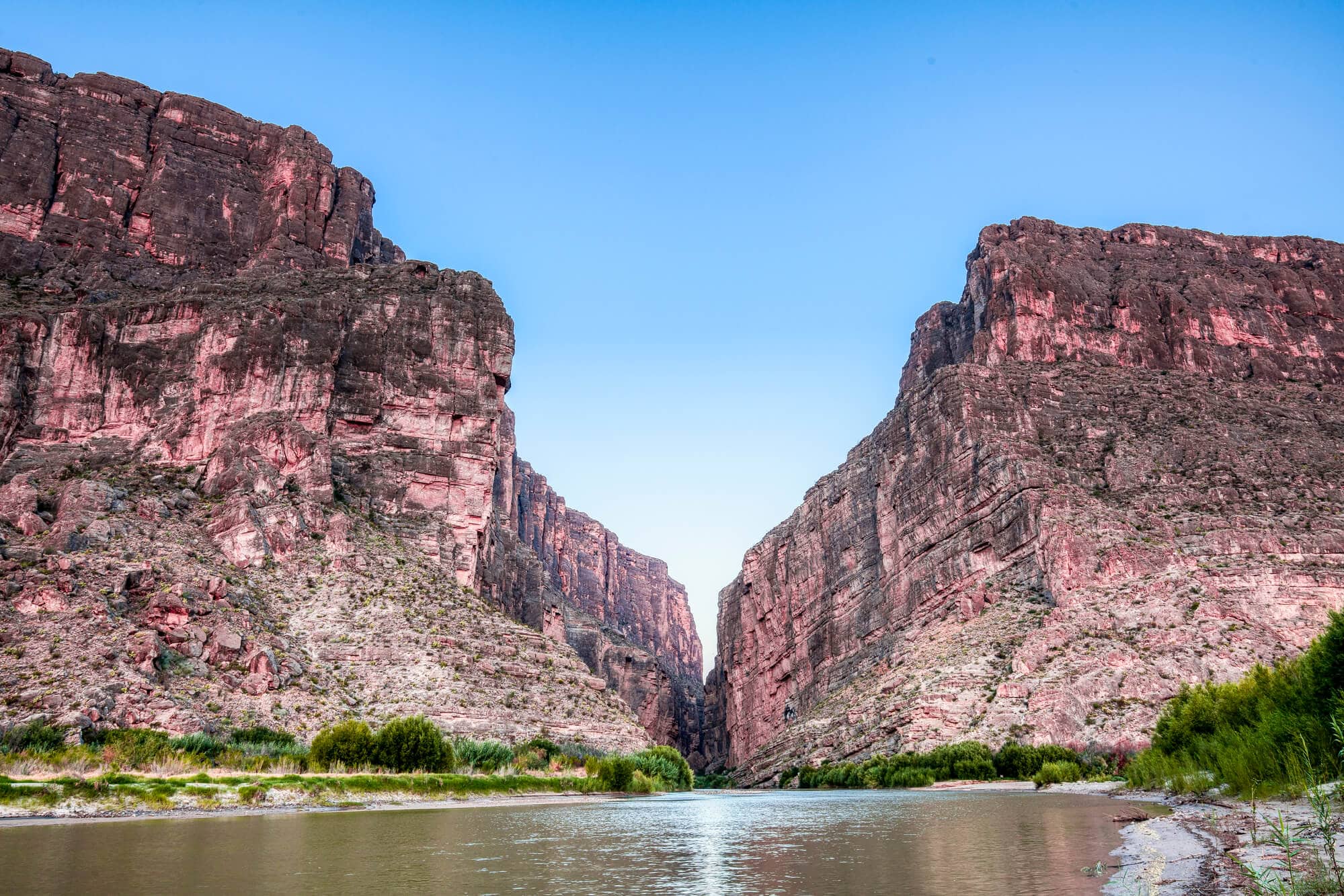 Big Bend Packing List: Come Prepared
Big Bend National Park is very isolated, so it's best to come prepared.
What to bring to Big Bend? Prepare yourself for heat and sun!
Water- They recommend 1 gallon per person per day. We had large bottles that we refilled at every camp or visitor site we passed.
Sunscreen
Clothing to protect you from the sun: a hat, sunglasses, a light but long-sleeved shirt for example
Lunch and salty snacks to eat on the trail
If you'll be camping, bring all your equipment. Consider that you'll probably be hiking a long distance to get to the campsite. Pack light, like these lightweight sleeping bags and this lightweight one-person tent.
Passport if you plan on crossing the border
Comfortable shoes for walking all day on the many hiking trails.
Gas Stations in Big Bend
Always keep an eye on your gas tank. Don't be a gambler with that last quarter tank. I never let myself dip below a quarter tank, just to play it safe.
Outside of the park, there is a gas station in Terlingua. In the park, there is a gas station at Panther Junction.
There are also convenience stores located through the park (with snacks and provisions, but not fuel) at the Chisos Basin, the Castolon Historic District, and the Rio Grande Village.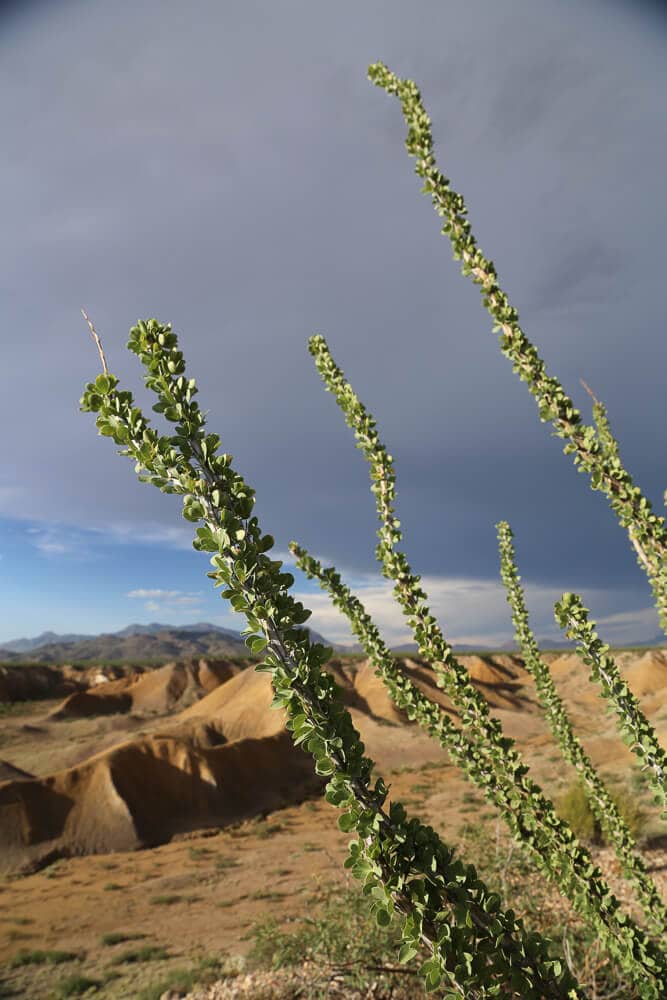 Where to Stay in Big Bend National Park
You can stay inside the park itself at either the Chisos Lodge or by camping. For more affordable Big Bend accommodation, look at Airbnb's and motels in the nearby ghost town, Terlingua.
For a more comprehensive guide, read my post Where to stay near Big Bend National Park
Chisos Mountain Lodge
The best Big Bend accommodations are within the park at the Chisos Mountains Lodge.
This lodge is perfectly located in the Chisos Basin and the trail heads to some of the best hikes are right outside your room.
Read reviews on TripAdvisor here.
Camping in Big Bend
There are developed campgrounds within the park if you plan on visiting Big Bend with an RV or something similar.
Campgrounds are limited and they take reservations from November 15-April 15. They book up quickly during the busy season.
For more information, check the official NPS website here. There are also campsites along many of the hiking trails in the Chisos and camping along the South Rim is very popular.
If you want to pitch a tent in the Big Bend backcountry, read the official site here.
Terilngua Accommodation
The nearby ghost town Terlingua is just 15 minutes from Big Bend entrance gates. Use it as your base if you don't want to stay inside the park.
Unique vacation homes like yurts and teepees in the desert and these remodeled mining ruins and this house made from shipping containers are the best places to stay for a memorable trip.
Things to do in Big Bend National Park
Big Bend consists of three different sections: desert, river, and mountains.
I'd recommend having at least three days in Big Bend but, as always, the more the better.
More time will allow you to fully explore all three portions of the park, as well as cross the border into Mexico and/or do a river excursion.
Our 4 Days in Big Bend National Park Itinerary
In four days we covered a lot of ground. But by visiting Big Bend in summer, we were restricted to the mountains for our hikes.
The desert was too hot and monsoon season had flooded the river trails, so we still have plenty left for future trips.
Here is an outline of our Big Bend National Park itinerary:
DAY 1 | Checked in to our Airbnb in Terlingua, hiked the Lost Mine Trail
DAY 2 | Hiked the South Rim Trail
DAY 3 | Drove the Ross Maxwell Scenic Drive (seeing Mule Ears and Elena Canyon), Visited the Fossil Discovery Exhibit
DAY 4 | Crossed the border to Boquillas del Carmen, Mexico (read about that here)
Start at Panther Junction
The Panther Junction Visitor Center is a great starting point.
Get a good look at the map and ask the park ranger any questions you have.
You have access to WiFi, fuel, bathrooms, and can re-fill your water bottles here.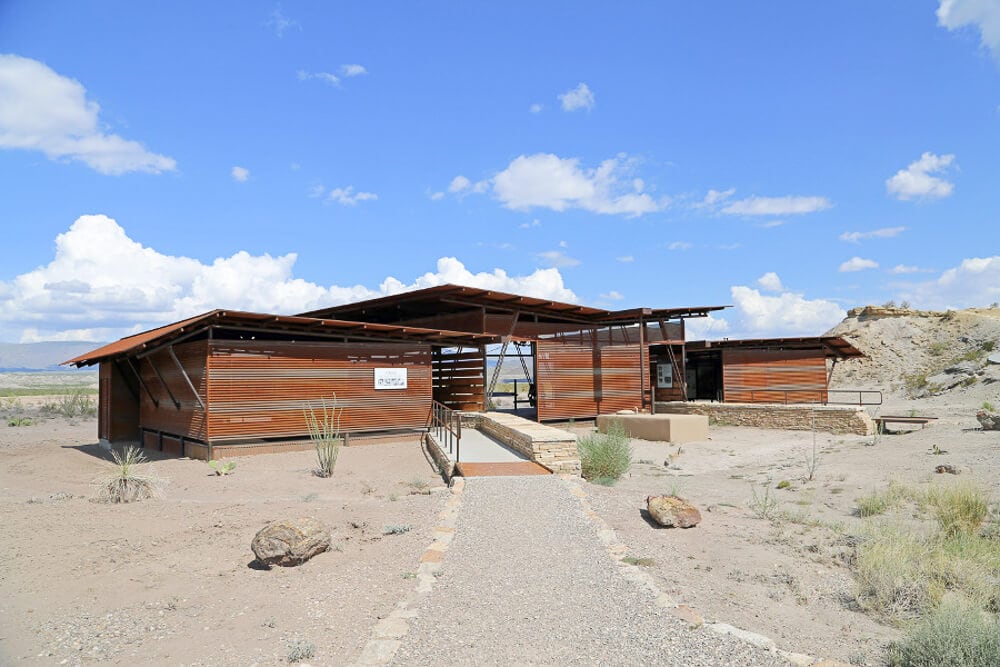 See Dinosaurs at the Fossil Discovery Exhibit
Not far from Panther Junction is the Fossil Discovery Exhibit.
I had no idea that the land Big Bend occupies is home to one of the nation's richest deposits of fossils.
The new museum pavilion (above) was really interesting.
I admit that I originally went for a break from the sun but ended up enjoying the museum quite a bit.
Texas at one point, millions of years ago, looked similar to what the Maldives look like today.
This area was an ocean bed and was home to ancestors of today's alligators that were the size of a large yellow school bus and horse ancestors that were the size of a small dog.
Volcanic activity, lush forests, fish that make sharks look tame, and enormous dinosaur fossils, Texas has a lot more to it than I knew.
You can see models of these fossils at the pavilion.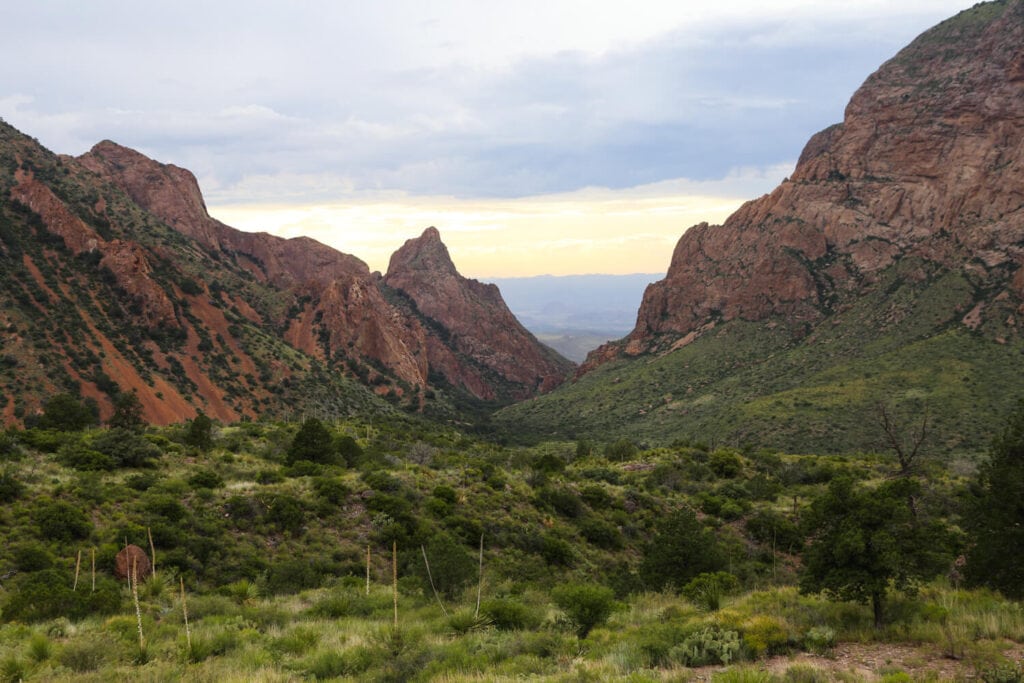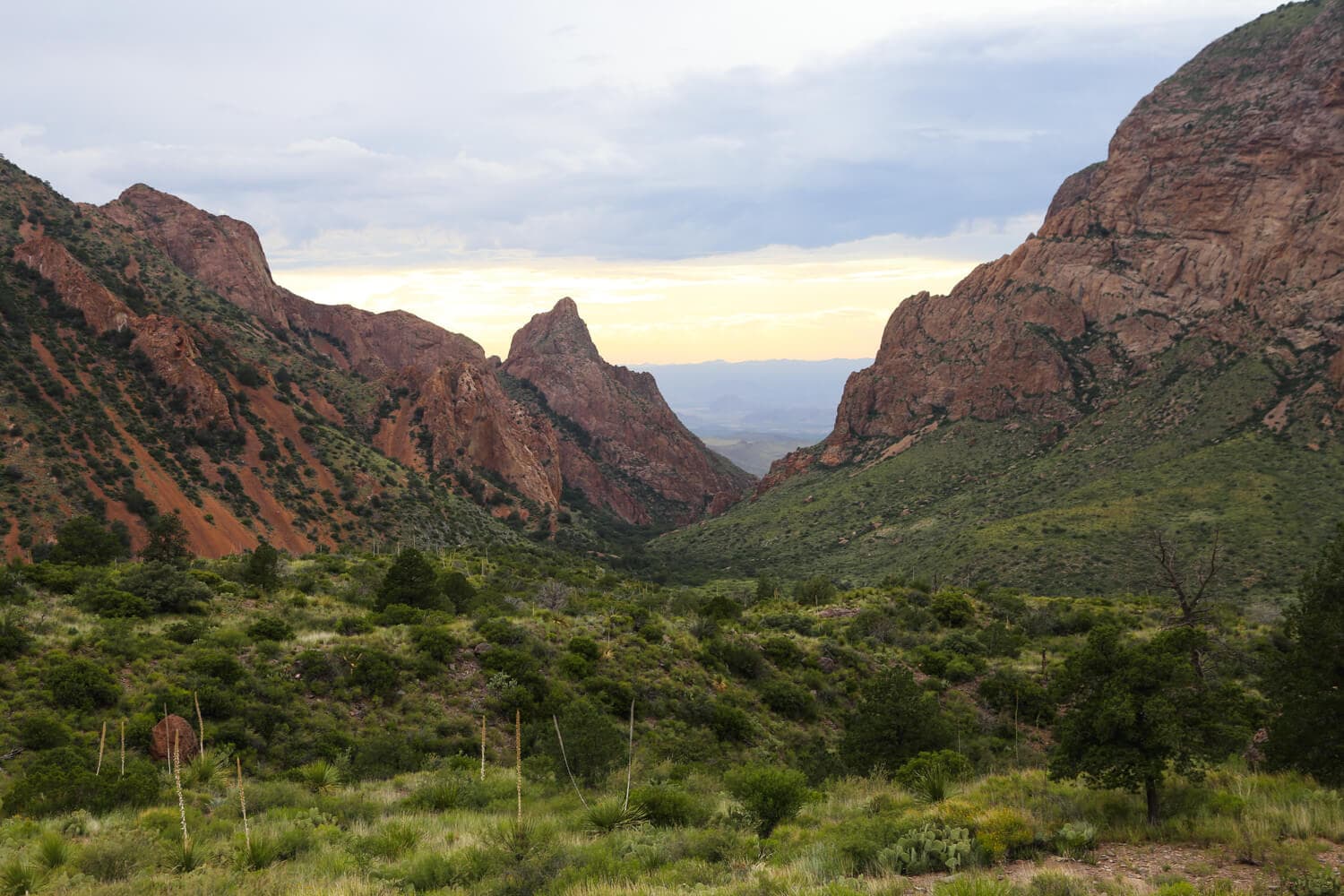 Explore the Chisos Mountains
We visited in August, at the peak of summer, and the advice we got over and over was to find the Chisos Basin and not look back!
It really is a stark contrast from the flat, hot desert to suddenly be gaining altitude surrounded by pine trees and signs warning of black bears.
Big Bend is the only national park in the US that houses an entire mountain range within its borders and it is stunning.
The hikes in the Chisos are some of the most beautiful in the park so be sure to set aside a solid chunk of time to spend there.
Watch the Sunset in the Window
Watch the sunset from the Window View Trail (above), just steps away from the Chisos Mountain Lodge. This "trail" is a short quarter mile paved path with benches to enjoy the view.
Grab a snack or a drink and enjoy the view as the sunsets, it's breathtaking (cliche alert).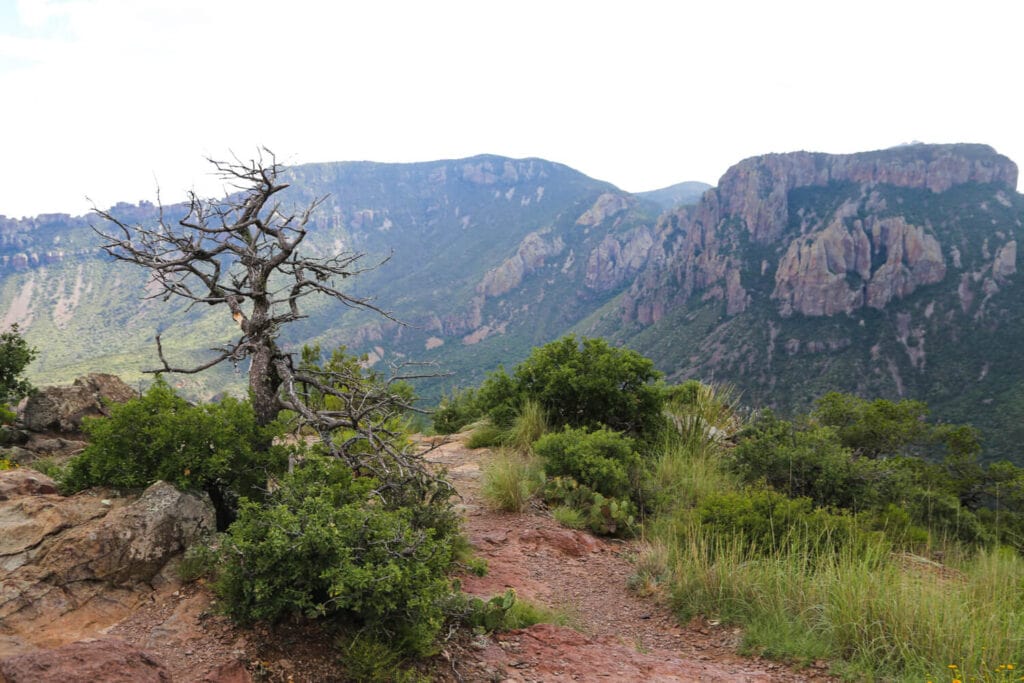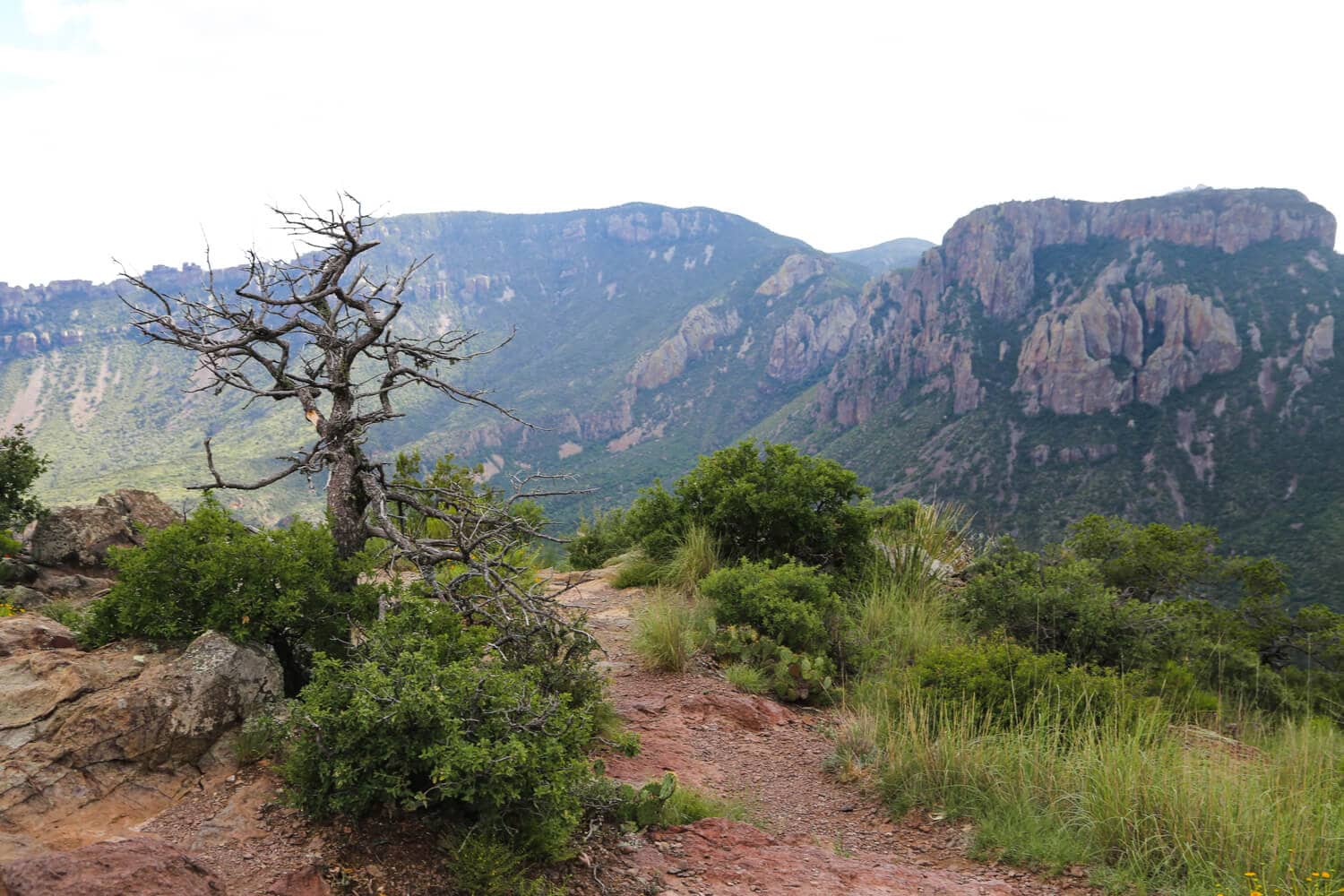 Go Hiking
There are more than 150 miles of hiking trails in Big Bend. In three days we only covered about 20.
There are iconic hikes in each of the three regions including the Lost Mine Trail and South Rim in the mountains, Mule Ears in the desert, and Santa Elena along the river.
Hiking is the best thing to do in Big Bend so set aside as much time as possible and pack your boots.
Read Next: The Best Hikes in Big Bend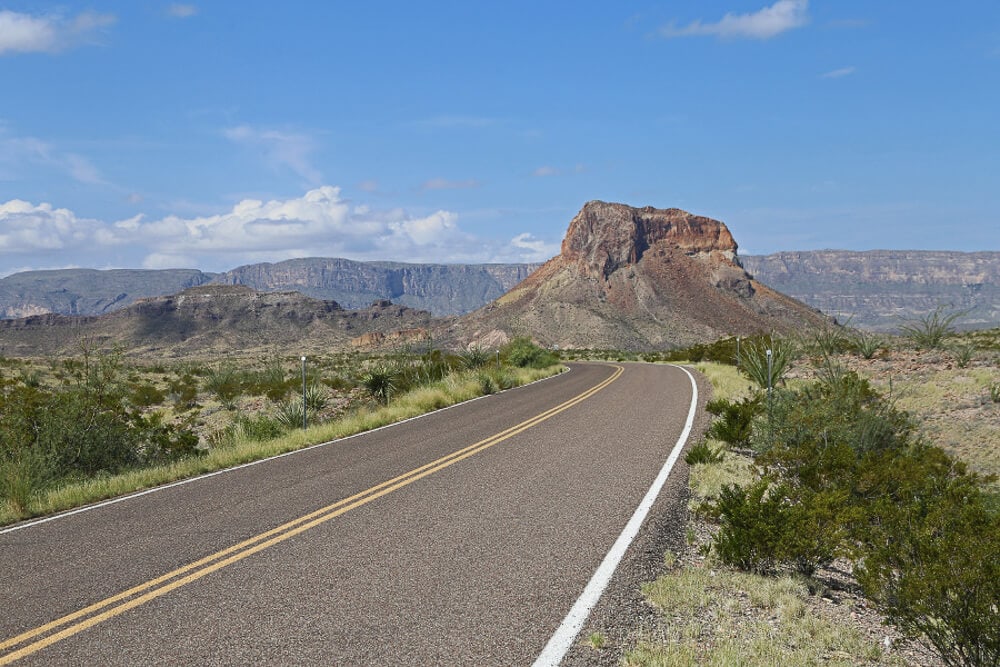 Drive the Ross Maxwell Scenic Drive
This 30-mile drive through the desert towards the Santa Elena Canyon is quite the stunner.
Stop at the Sotol and Mule Ears viewpoints for picture-worthy views.
If you have the energy, hike out to the Mule Ears, or take one of the other shorter desert hikes (you'll see plenty of signs marking the trailheads along the road).
Drive to the Castolon Historic District, amidst these turn of the century cavalry buildings you'll find a rest stop and a camper store.
Fill your water bottles and continue from here onward to the Santa Elena Canyon, you can take a short hike into the gorgeous canyon.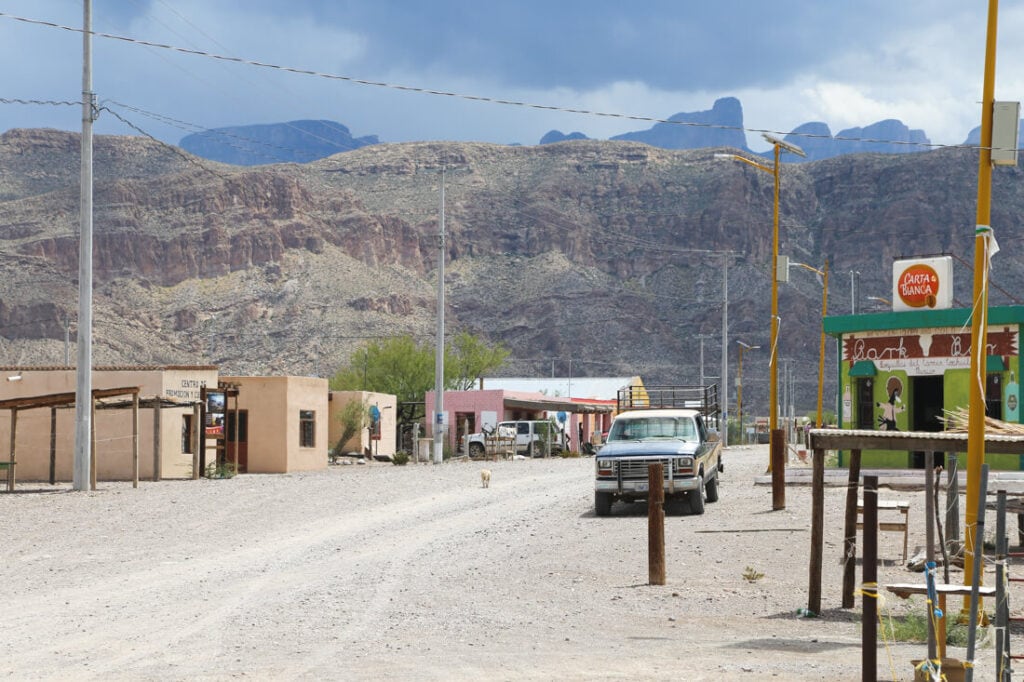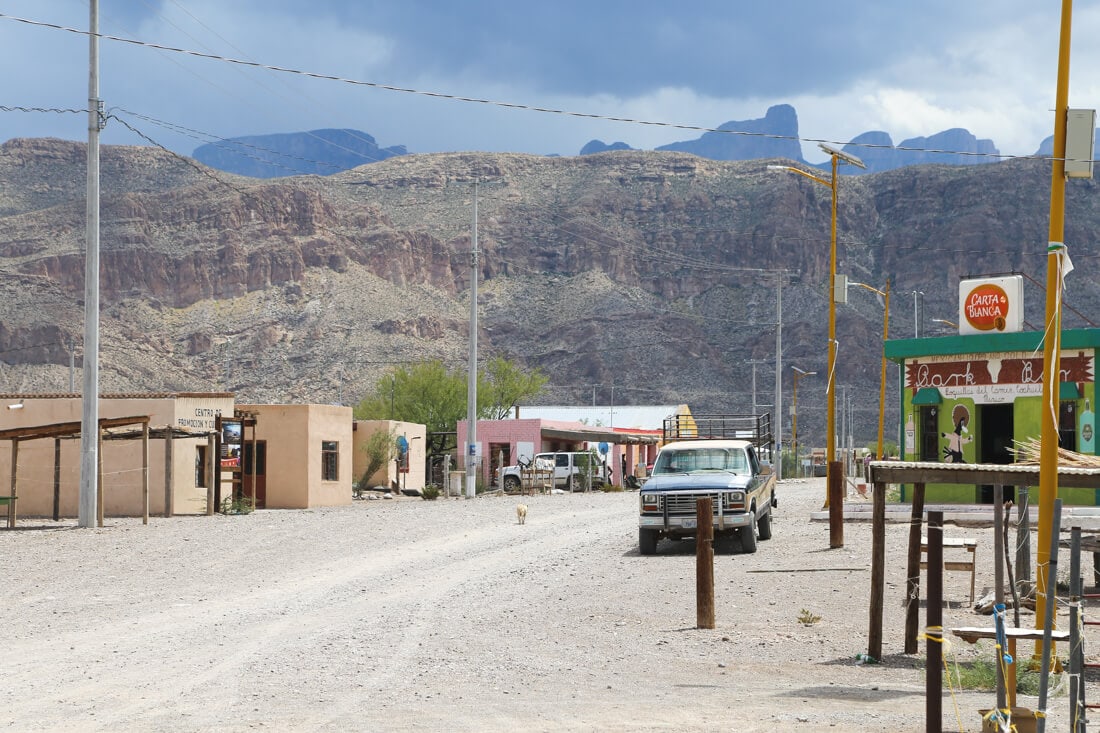 Visit Boquillas del Carmen, Mexico
For a unique day trip, cross the border into Mexico and visit Boquillas del Carmen.
It's easy, safe and you only need half a day for the visit. Besides our hikes, this was my favorite thing we did in Big Bend.
We crossed the border at around 10 am and enjoyed a relaxing lunch of homemade enchiladas overlooking the Rio Grande.
Read my post with all the details to visiting Boquillas del Carmen.
Go on a Desert Safari
At first glance, a desert may seem barren but keep your eyes open because it's teeming with life.
We saw coyotes, three rattlesnakes (from the safety of our car), jackrabbits, kangaroo rats, and more.
We saw animals mainly in the mornings (coyote) or in the evenings (snakes), rather than in the heat of the day.
On our hikes in the Chisos, we came across deer and jackrabbits, but we weren't lucky enough to get a rare mountain lion or black bear sighting.
Canoe the Rio Grande
There are many options to go on guided canoe trips down the Rio Grande.
Choose what works best for your skill level and time limitations.
You can go on an easy half day trip or more extensive full day, overnight, or multi-day trips.
We didn't have time for this, so I don't have any particular tour I can personally recommend. However, most seem to offer generally the same thing in regards to half-day and full-day trips, with prices starting at around $79.
Offerings seem to differ when it comes to multi-day trips, so if you're yearning for more adventure be sure to compare your options.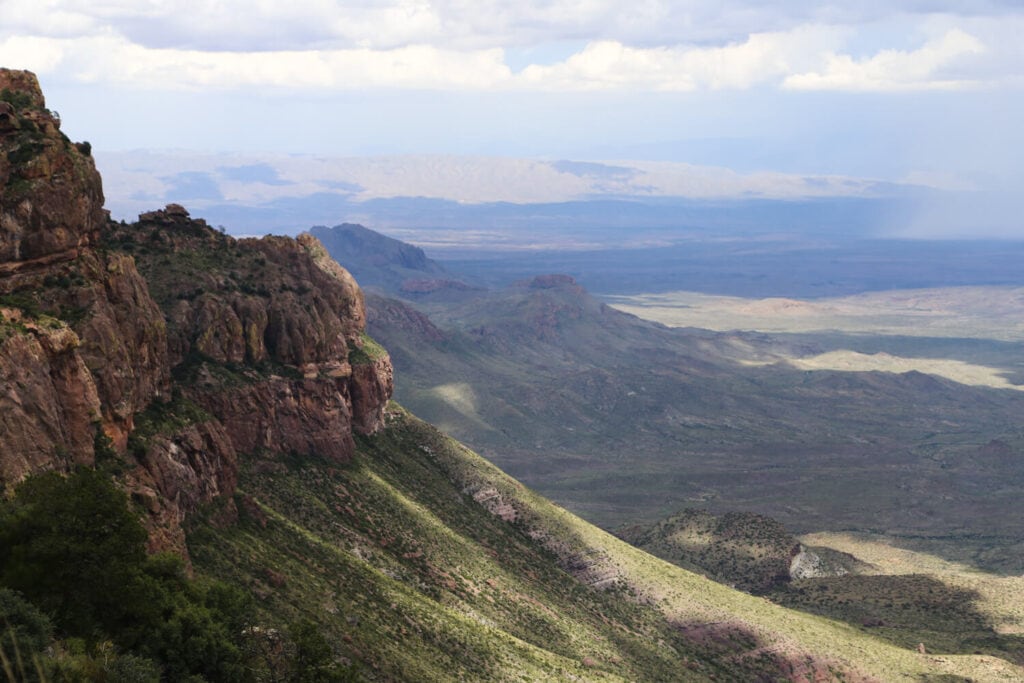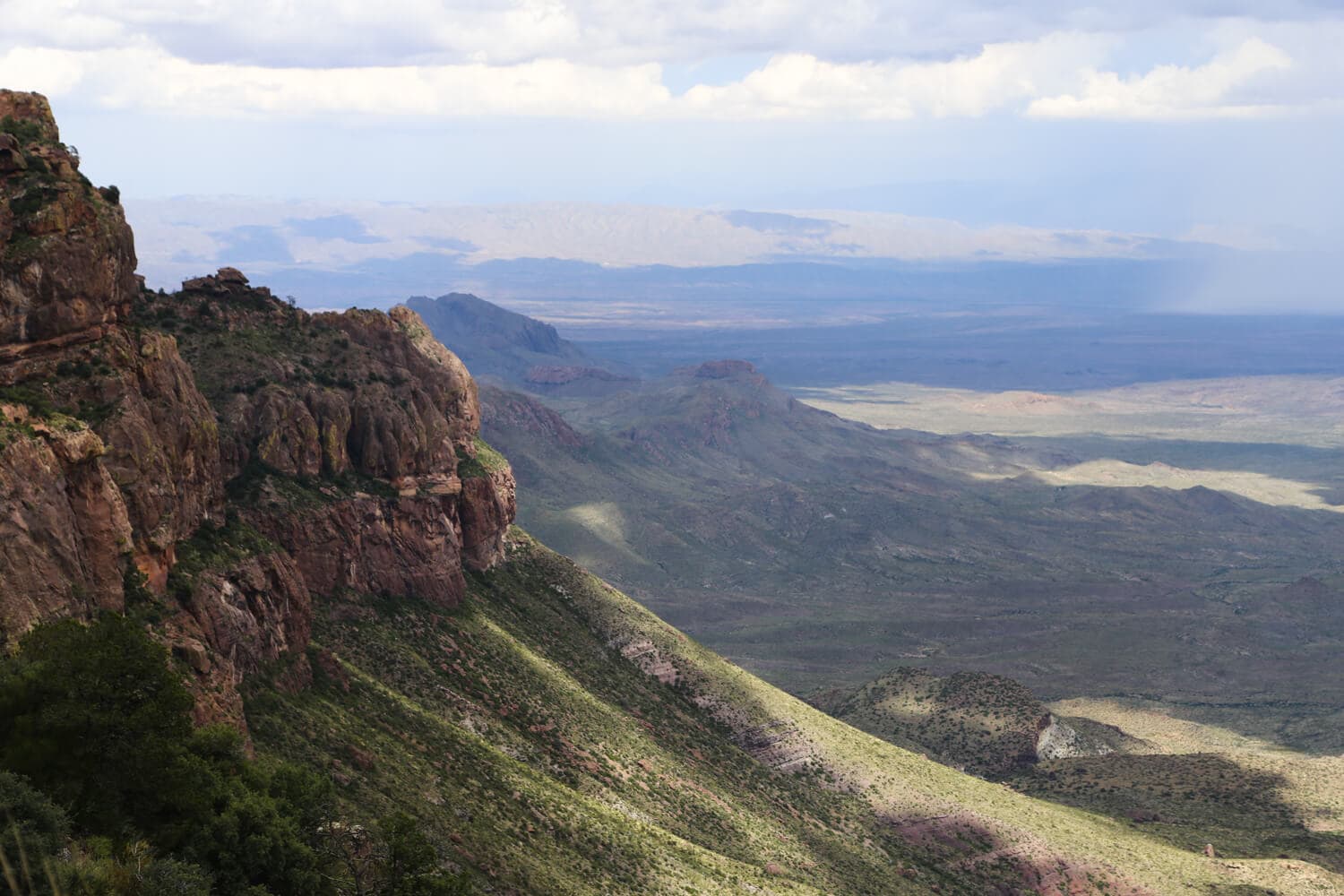 Big Bend F.A.Q.
Here are a few frequently asked questions about visiting Big Bend. Let me know if you have any further questions in the comments and I'll respond!
Is Big Bend National Park worth visiting?
YES!
It may be hard to reach but Big Bend is 100% worth the effort. It is the only national park to house an entire mountain range within its borders. It is also diverse, with mountain, desert, and river landscapes to explore.
The desert is not a wasteland, it is filled with beauty and life. Visit Big Bend, you won't regret it.
Is there cell phone service in Big Bend National Park?
Cell service in Big Bend is spotty at best. You'll have the most luck at Panther Junction and at the Chisos Basin.
I recommend downloading anything you may need ahead of time: a map (a must!), as well as music, podcasts, etc.
What is the closest city to Big Bend National Park?
If you're looking for the closest city to Big Bend with an airport then look at El Paso or Midland.
Each is a three-hour drive.
For accommodation, look at either Terlingua, the gateway to Big Bend (just 10 minutes from the gates). For more luxury and comfort, look at Marathon (40 miles north).
How many days do you need in Big Bend National Park?
Spend at least 4 days in Big Bend.
You'll have a few days for hiking the different regions of the park and one day to cross the border into Boquillas del Carmen in Mexico (one of the most unique National Park experiences out there!).
What is the best time of year to visit Big Bend National Park?
Spring and Fall are the two best seasons to visit Big Bend.
In summer, temperatures can surpass 100 degrees and in winter they plummet to freezing.
West Texas is a harsh environment so shoulder seasons offer the mildest weather so that you can hike, camp, and spend time in the desert without suffering.
Do I need a passport for Big Bend?
This may sound like a dumb question but, in fact, YES.
Bring your passport so you can cross the border.
Boquillas del Carmen is a small town just on the other side of the Rio Grande. It is the perfect day trip.
Visit Big Bend National Park
People who love Big Bend, LOVE Big Bend, and it's easy to see why! After one trip to the Chisos and the Rio Grande, I can say I have fallen head over heels for Big Bend.
I'm a Texan born and raised. It may have taken me thirty years to get out west, I anticipate many more trips in my future.
Embrace the adventure and plan a visit to Big Bend. You won't be disappointed.
pin it for later