I was never very outdoorsy.
Even as a girl scout my biggest "camping" adventure was sleeping on the floor inside the lodge.
And while I've still never camped (one step at a time, please), I love hiking.
And what converted me?
These amazing hikes in Big Bend National Park.
After one trip to Big Bend and three days exploring these stunning trails, I'm a total convert.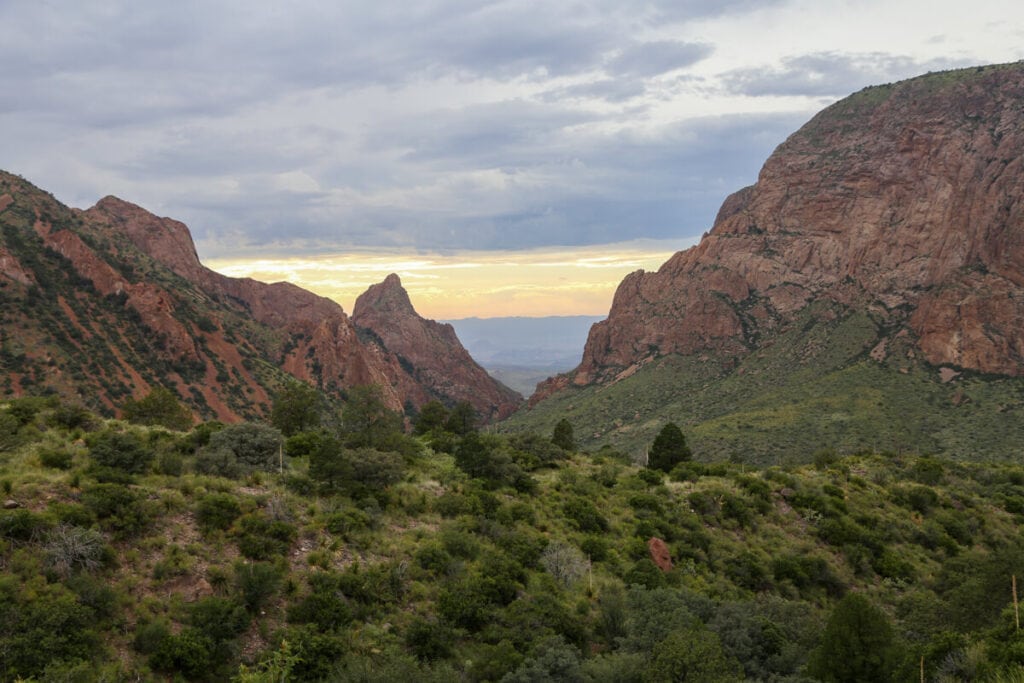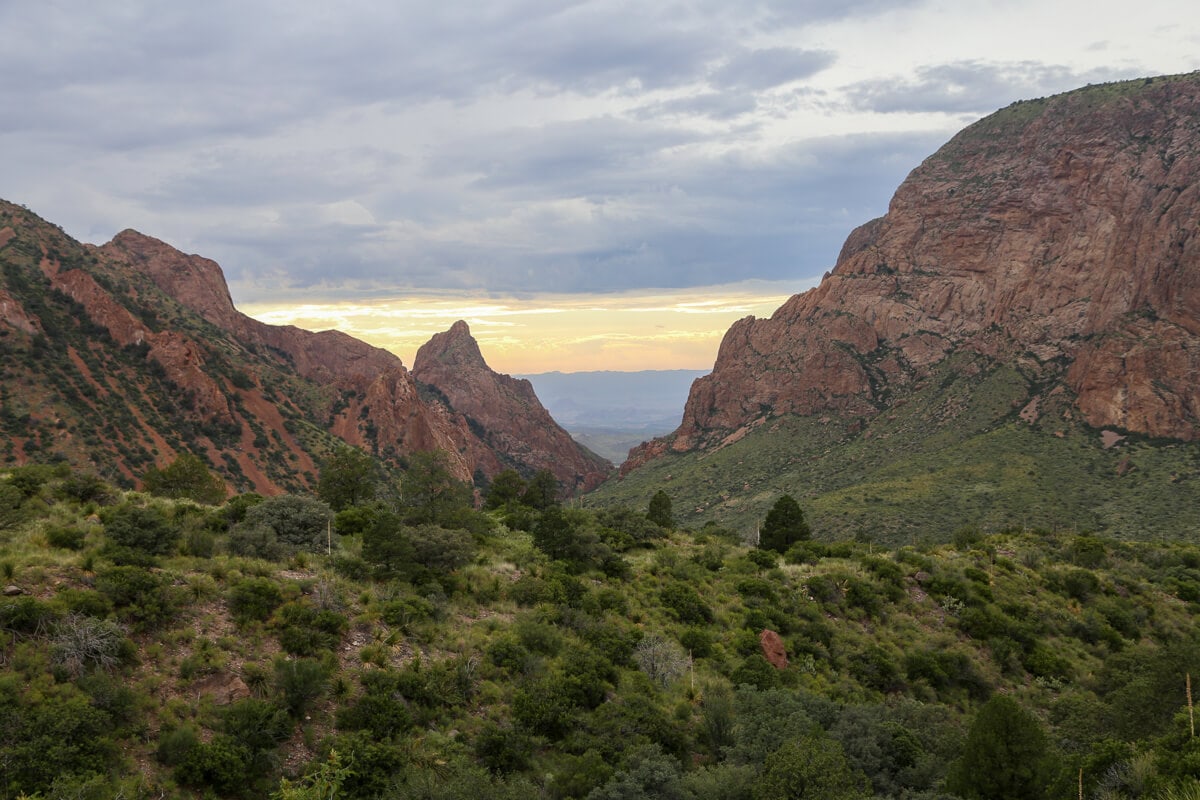 QUICK NOTE: This post contains affiliate links and Sol Salute may receive a commission for purchases made through these links, at no extra cost to you.
The Best Hikes in Big Bend National Park
We spent four days in Big Bend National Park and went on four hikes.
Two of these were moderate and strenuous and two of the best Big Bend trails.
The other two were shorter trails and much easier on our tired bones after tackling the challenging South Rim loop.
In this post I write about my personal experience on the best Big Bend hikes we did, as well as the hikes left waiting for my next West Texas vacation.
No matter which hikes you choose, I guarantee you'll fall in love with this tiny national park in the Texan desert.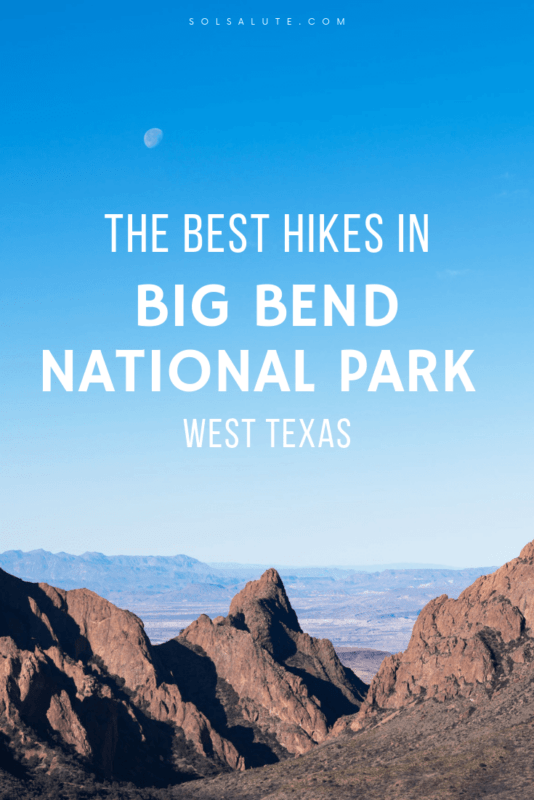 Things to Know Before Hiking in Big Bend
There are more than 150 miles Big Bend trails, we only covered 20. (All the more reason to return!)
Big Bend National Park is divided into three parts: mountains, desert, and river. A lot of the most popular trails are located in the Chisos Mountains but there are magnificent Big Bend hikes in the desert and along the river as well.
When to go hiking in Big Bend? It's in the heart of the West Texas desert which makes for hot summers. Thanksgiving and the winter holidays are busy season. The cooler temps make long hikes and camping more comfortable. However, that doesn't mean summer is impossible. We visited in August and we kept our hikes in the Chisos Mountains to escape the brutal desert heat.
Big Bend is the only park to contain an entire mountain range within its borders. It's a stark contrast to be driving through flat desert plains and then suddenly be surrounded by a forest of pines, ears popping from altitude change and warning signs for bears.
That's right, bears. Big Bend is home to mountain lions and black bears in the Chisos.
Stay in the park or in nearby Terlingua for the best experience, read this post for more information: A Big Bend Accommodations Guide
Read Next | A First Timer's Guide to Big Bend National Park
The 13 Best Hikes in Big Bend: Mountain, Desert & River
Ok, let's get to it!! Here are my favorite trails in Big Bend.
1. Lost Mine Trail
Moderate Level Hike
4.6 miles in-and-out hike
Elevation Gain: 346 meters
Trailhead: The parking lot for Lost Mine is just off Basin Junction Road before you reach the Chisos Basin. The lot is small, with space for 20 cars, so get there early to beat the crowds and get a space.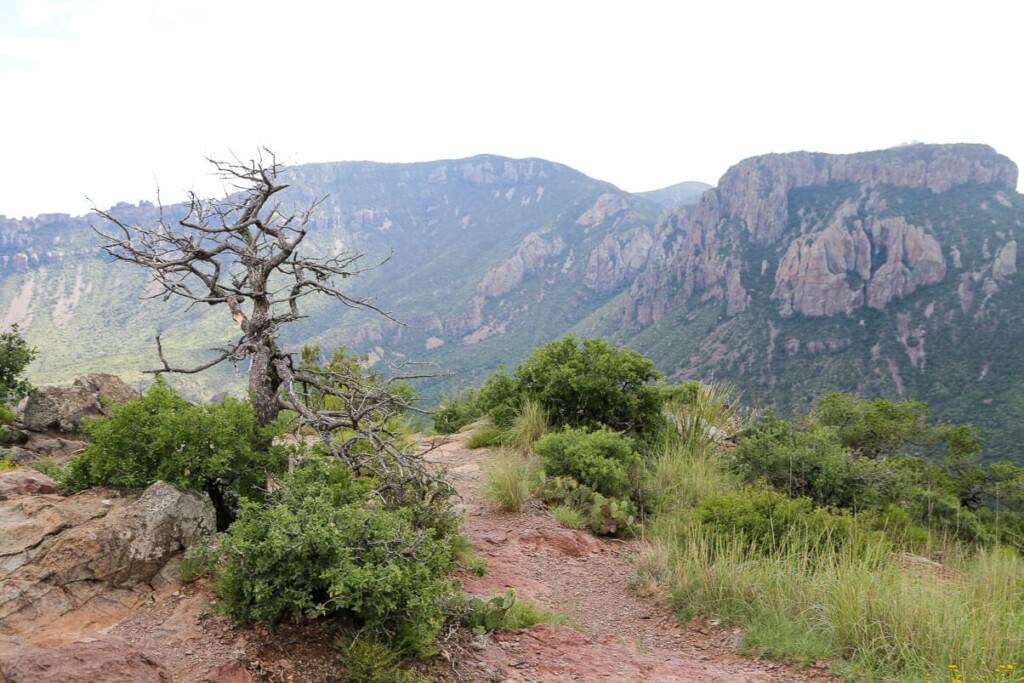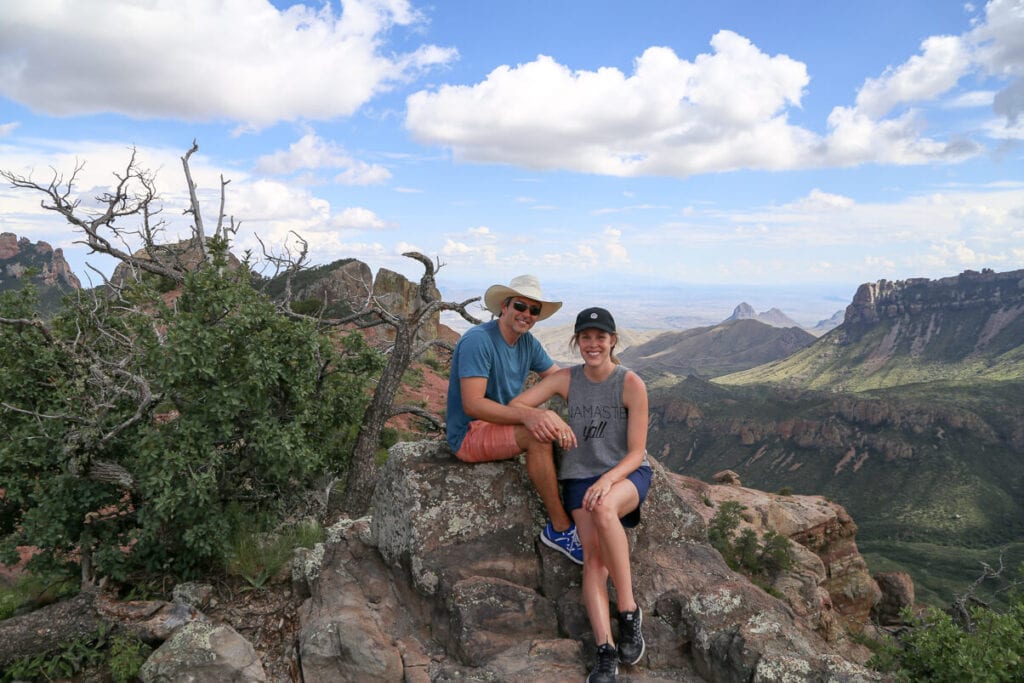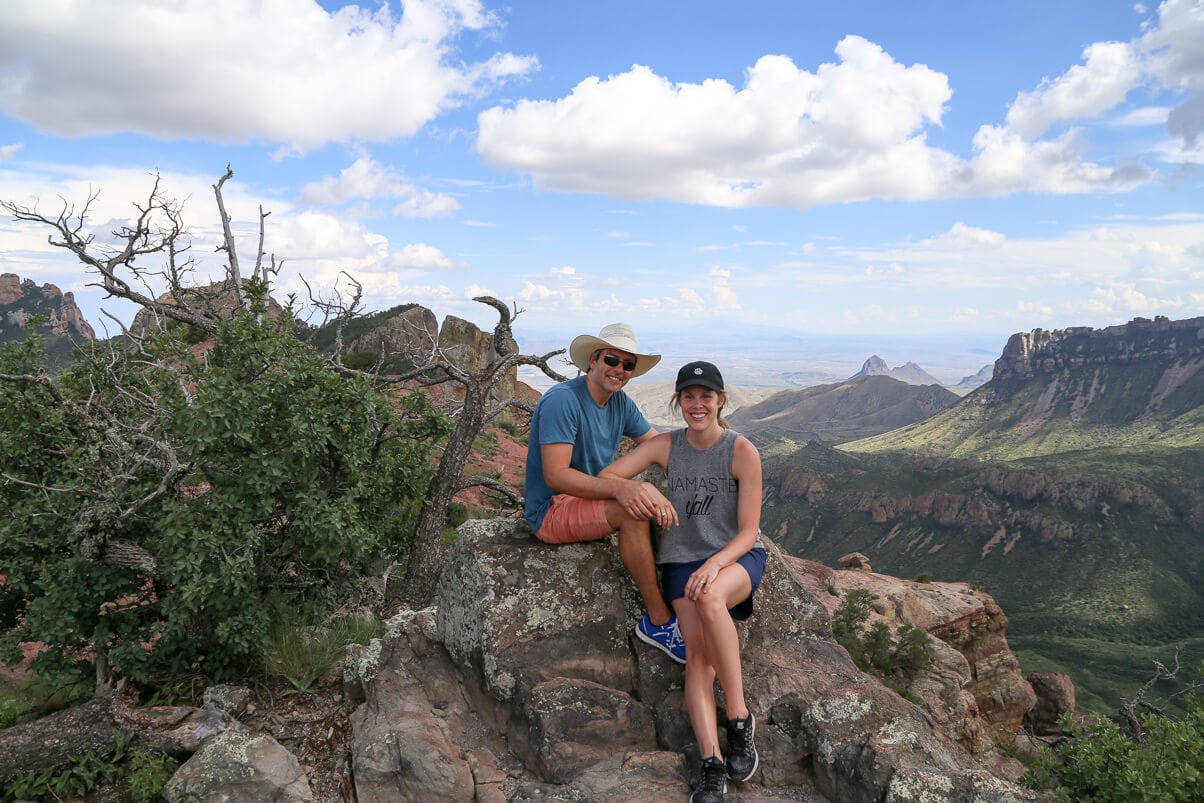 Lost Mine is one of the most popular hiking trails in Big Bend National Park and heavily trafficked.
This moderate level hike is uphill to the peak, returning downhill the way you came.
If you only have time for one hike in Big Bend, I recommend the Lost Mine Trail. Budget around 3 hours for this trail to allow time to enjoy the views at the top.
There is a small parking lot at the trail head with limited parking available.
I didn't find this hike to be too difficult but did find myself huffing and puffing on the way up.
Luckily, there are benches placed strategically along the trail. We took advantage of nearly all fo them, not just for the rest but for the views they offered as well.
I recommend starting your day early with the Lost Mine to capture that early morning sunlight bathing the canyon below.
Read my complete post about The Lost Mine Trail to plan your hike.
2. South Rim Trail
Strenuous Level Hike
12 – 14.5 mile loop trail
Elevation Gain: 2000 feet
Trailhead: Next to the parking lot and convenience store in the Chisos Basin.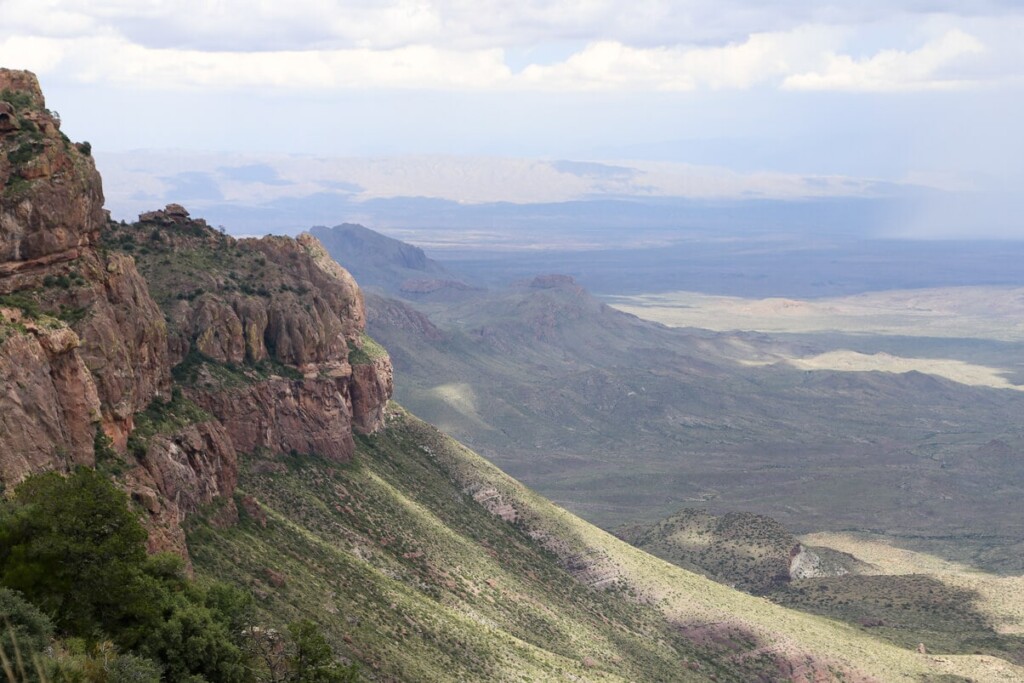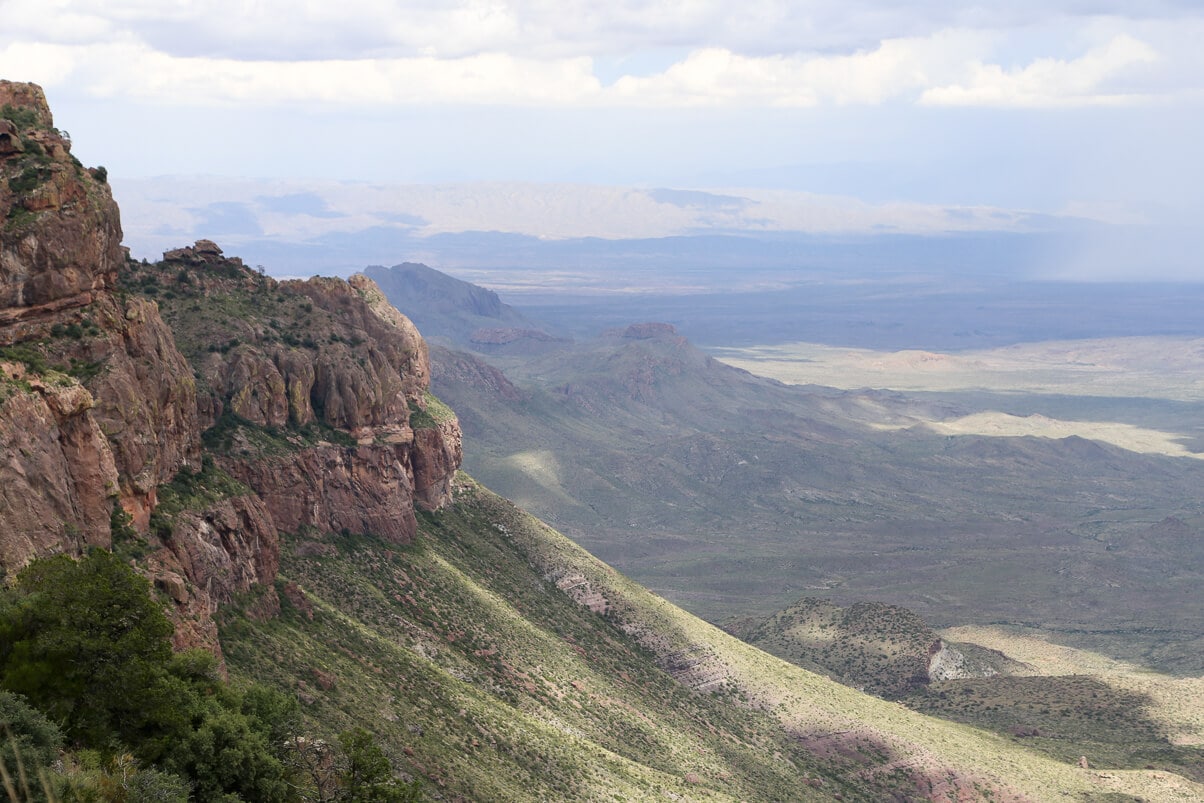 The South Rim trail is rightly classified as strenuous.
However, it's also one of the most stunning Big Bend National Park hikes.
As far as skill level, it's on par with the Lost Mine. What makes it strenuous is its length.
It will take at least 7-8 hours to complete (we took quite a few snack breaks and finished in a bit over 8 hours).
The South Rim's trail head is in the Chisos basin, just steps from the Chisos Mountain Lodge, parking lot and the convenience store.
Read my complete post about The South Rim Trail to plan your hike.
It is a loop trail so you can start with the steeper Pinnacles Trail or the more gradual Laguna Meadows Trail.
To save energy, I recommend starting with Laguna Meadows. If you want to add Emory Peak onto your hike though, I recommend starting with the Pinnacles so you can conquer those extra two miles early in your day.
Pack plenty of water for this hike and lots of salty snacks. It is a long hike and you do not want to be 6 miles from the shop and out of water.
Use one of the best travel yoga mats to stretch your legs and hips after this long hike!
Important: Everything we brought onto the trail with us, we took with us when we left. It's important to leave no trace of your time hiking in The South Rim Trail. Leave only footprints, take only memories (and amazing photos).
3. Window View Trail
Easy stroll
.3 Miles
Trailhead: Parking lot by Chisos Basin convenience store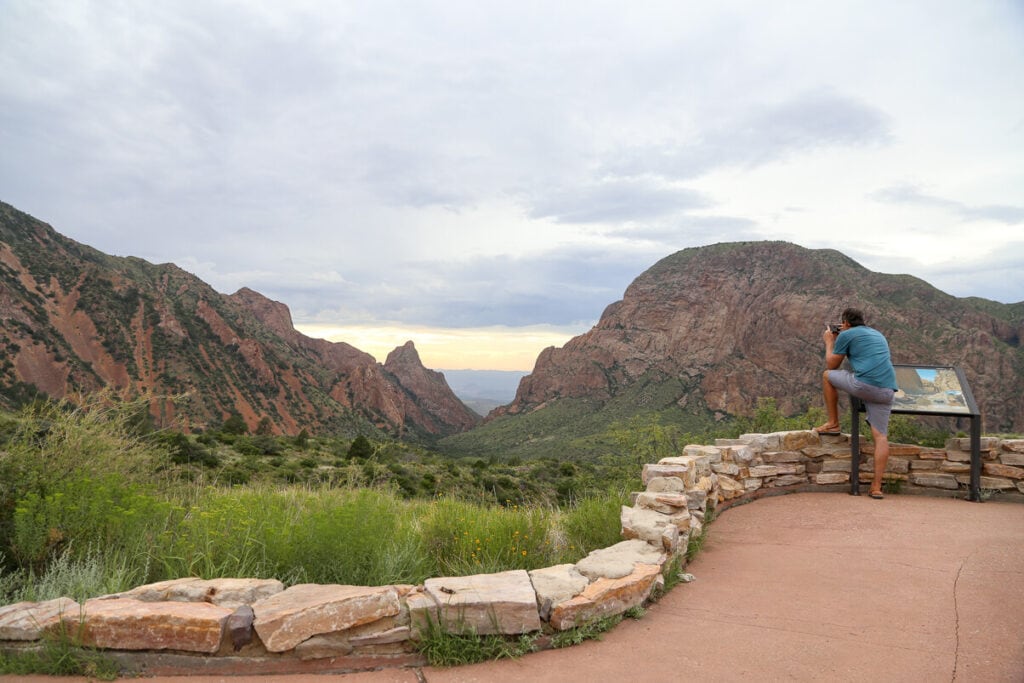 The Window View Trail isn't really a hike, it's a casual stroll.
This paved trail is .3 miles long and next to the Chisos Mountains Lodge, right before the South Rim trailhead.
You can see the famous Window in the distance and it frames a jaw-dropping sunset.
If you just completed any of the challenging Chisos Basin hikes, can grab an ice cream from the store.
Bring your treat and collapse your weary bones on a bench here to watch the most beautiful Big Bend National Park sunset, you earned it.
This is how we ended our day on the South Rim, I highly recommend savoring this view!
4. Lower Burro Mesa Pour-off Trail
Difficulty: Easy
Distance: 1-mile round trip
Elevation gain: None
Trailhead: Off of the Ross Maxwell Scenic drive towards Elena Canyon (keep an eye for the sign to your right)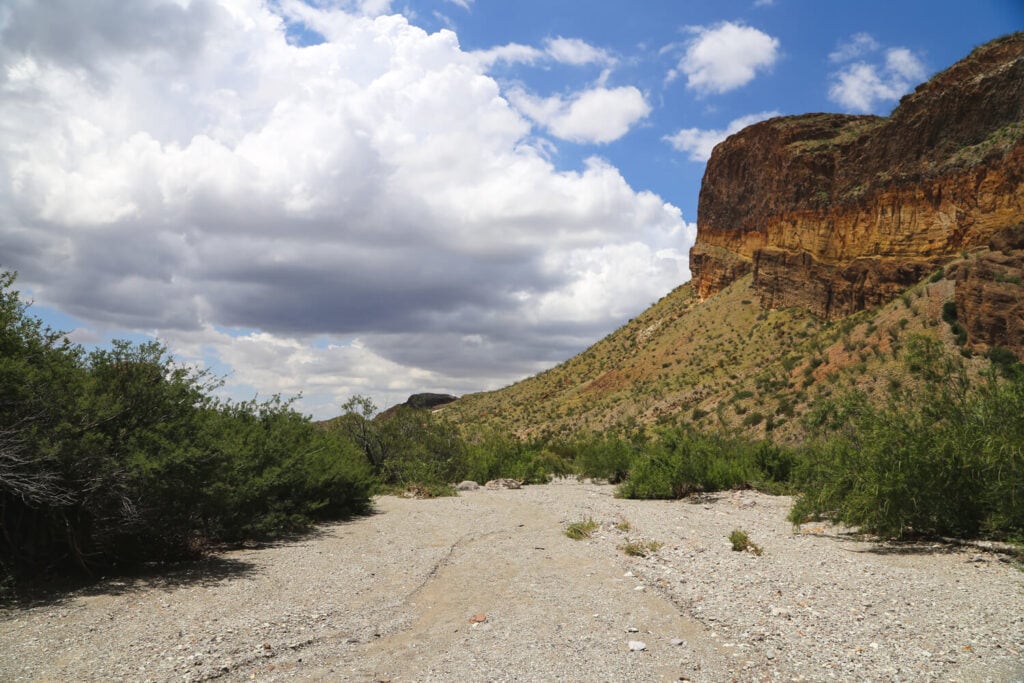 We did manage to squeeze in one desert hike to round out our Big Bend hiking adventure. The Lower Burrow Mesa Trail is an easy, 1 mile round trip hike.
The short distance is the only reason I dared to hike into the desert on a scorching, August afternoon.
In that sweltering heat, I don't recommend spending much time on the desert hikes (save those for cooler months).
Water pour-off has carved a deep crevasse into the mesa, hollowing out a channel from 100 feet high.
It was hot and I may or may not have complained the entire walk back to the car, but it was worth it.
However, having done this I don't recommend spending much time in the desert in August (pro tip, from me to you).
The Rest of the Best Big Bend Hiking Trails
The four trails above are the only trails we had time for.
There were so many more Big Bend hikes on my list that we were unable to do.
The following is a list of the best hikes in Big Bend National Park that are left on my bucket list, as well as a couple shorter alternatives to the strenuous South Rim Trail.
5. Window Trail
We had every intention of doing the Window Trail, but the South Rim left us far too sore to even consider it, so until next time Window Trail.
This is a moderate hike. It's a 5.6 mile there and back hike to the famous window you view from a distance at the Window View Trail.
I've heard it's similar to Lost Mine in difficulty.
However, you are descending on the way there, leaving the steep climb for the return. Be sure to save water and energy for the return uphill hike.
6. The Pinnacles
The Pinnacles starts in the Chisos Basin, near the parking lot for the lodge and convenience store.
This is a moderate hike that is just over 7 miles.
The first 3.5 miles are completely uphill, via switchbacks climbing the walls of the Chisos Basin.
We did this hike to begin our South Rim loop and it literally took our breath away, it was tiring!
The views of the basin below make the huffing and puffing worth it. There is a compost toilet at the top and benches to rest before you head back down the way you came.
Note: If you do the South Rim, you will hike The Pinnacles as part of that loop. If you don't have the time or energy for the entire South Rim, it's worth hiking only the Pinnacles to see the view of the Chisos Basin below.
7. Emory Peak
Emory Peak is a 10.5 mile in-and-out trail and the difficulty level is moderate. The Pinnacles Trail actually forms a large part of those 10.5 miles.
At the top of Pinnacles is another trail head that ascends the highest point in the park, Emory Peak.
There is a compost toilet here as well as bear boxes to lock up anything you don't want to lug to the top with you.
This is one of the Big Bend hikes I'm dying to do, we decided to skip it to save energy and daylight for the rest of the South Rim.
If you start your day earlier than us you'll definitely have time for both.
Unfortunately, we had a late start and didn't want to risk hiking back in the dark.
I hear the views from the peak are the best in the park.
It gets very steep for the final meters and at the top there's a 25-foot scramble up a rock face to reach the best view, so be brave!
8. Laguna Meadow Trail
The Laguna Meadow Trail also starts in the Chisos Basin, along with Pinnacles.
Choose your own adventure, going left for Pinnacles or right for Laguna Meadow.
Since the South Rim Trail is a loop, either of these trails serves as the beginning (or end).
Most recommend starting with this trail for a less steep start (and I wish I'd heard that advice before embarking on our South Rim hike).
This is a 7.8 mile in-and-out trail of moderate difficulty. The incline is much more gradual than the steeper Pinnacles.
This is another great option if you don't have the time or strength for the entire South Rim loop.
It offers great views at an easier skill level.
We even passed a family hiking with a tiny baby in a carrier on this trail, so it's very family friendly.
NOTE: All hikes until this point have been in the Chisos Basin, the following Big Bend hiking trails are desert & river trails.
9. Santa Elena Canyon
The Santa Elena Canyon is a must do Big Bend experience.
Well, so I'm told. Due to heavy rains throughout the previous weeks, this hike was closed while we were visiting.
It's a moderate 1.7-mile hike into the canyon and the views are said to be magnificent.
We did drive out to the Santa Elena Canyon as part of our day on the Sam Maxwell Drive.
While the Santa Elena Trail was closed, we were able to enjoy the views along the riverbed from the outside.
I will, without a doubt, complete this hike on our next trip to Big Bend.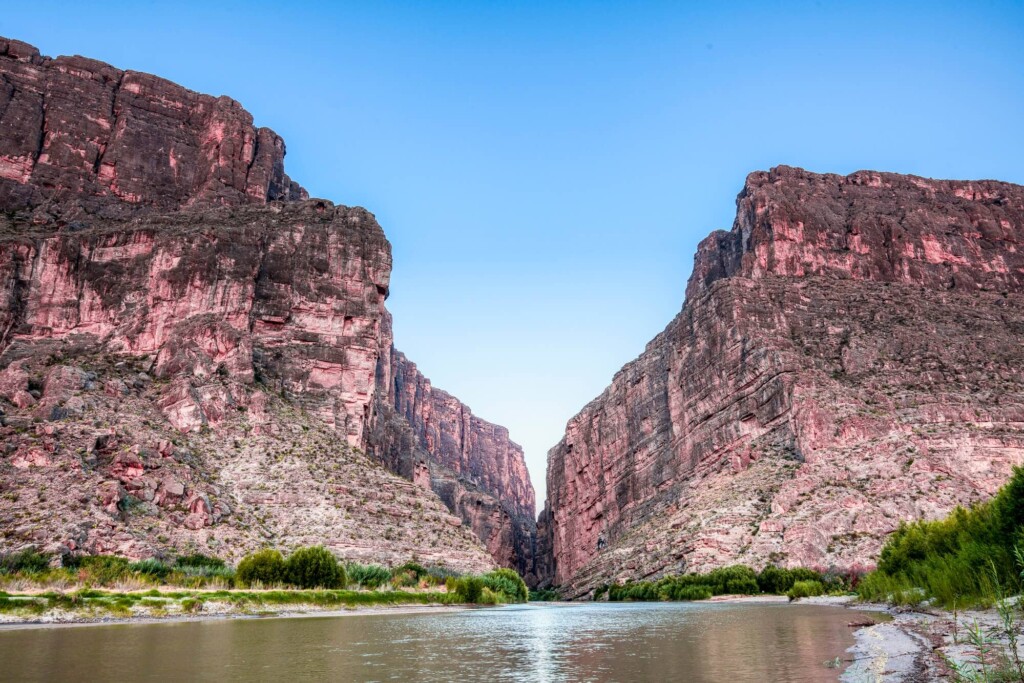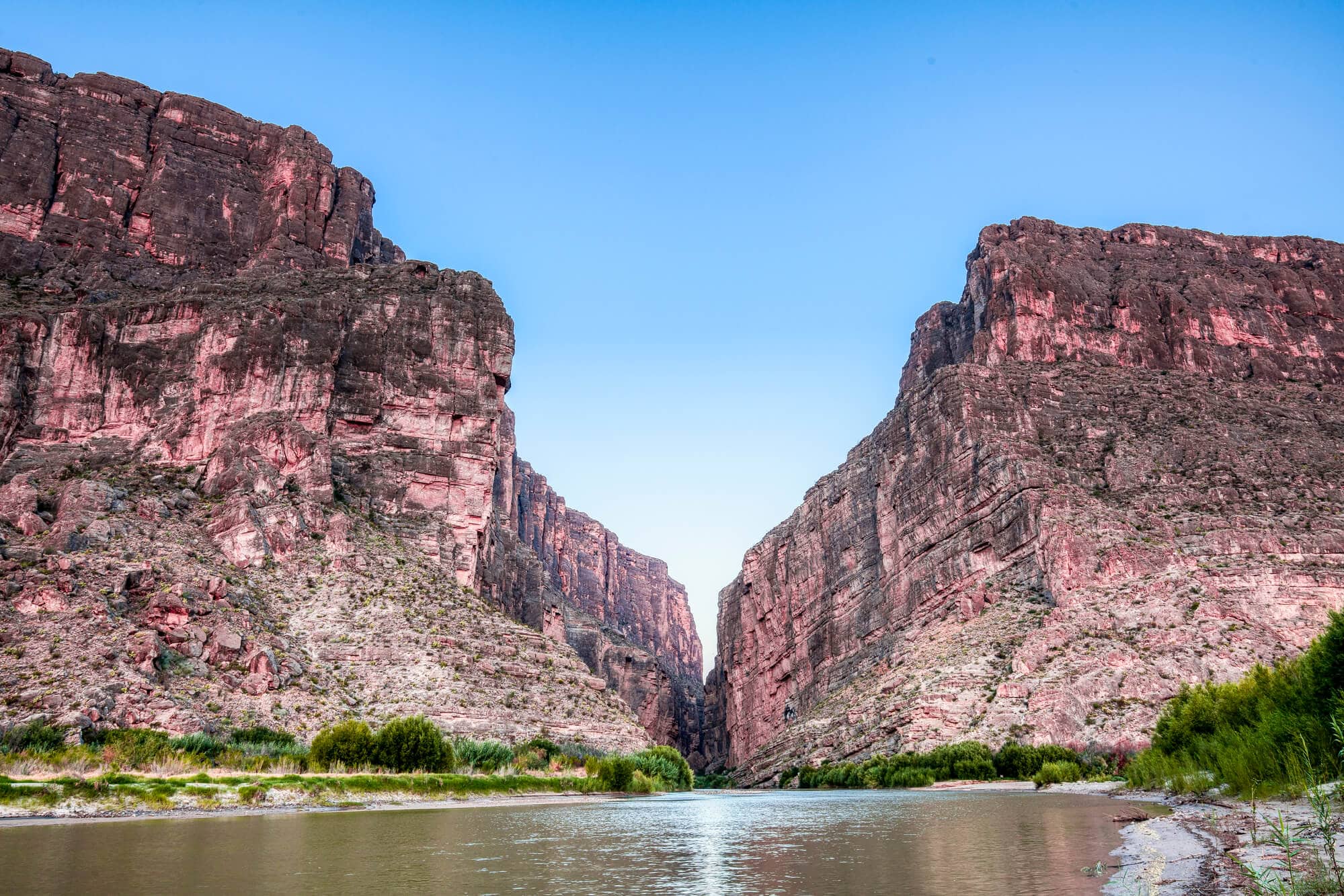 10. Hot Springs Historic Trail
The Hot Springs Historic Trail was also closed when we were there due to flooding (damn monsoon season!).
This is a short 1-mile hike and is an easy one and a popular hike for families.
There's no shade so in the hot summer months be careful with the sun.
At least you can refresh yourself with a dip in the hot springs while overlooking the Rio Grande.
TIP: Don't stop your hike hike at the Hot Springs but continue to the end of the trail to reach the most beautiful views.
11. Mule Ears
I would have loved to do the Mule Ears Spring Trail, a popular Big Bend hike in the desert. However, I'll save it for a cooler time of year.
This is a moderate 3.8-mile hike in the desert starting on the Ross Maxwell Scenic Drive. If you're planning on hiking in the desert, prepare yourself for the heat!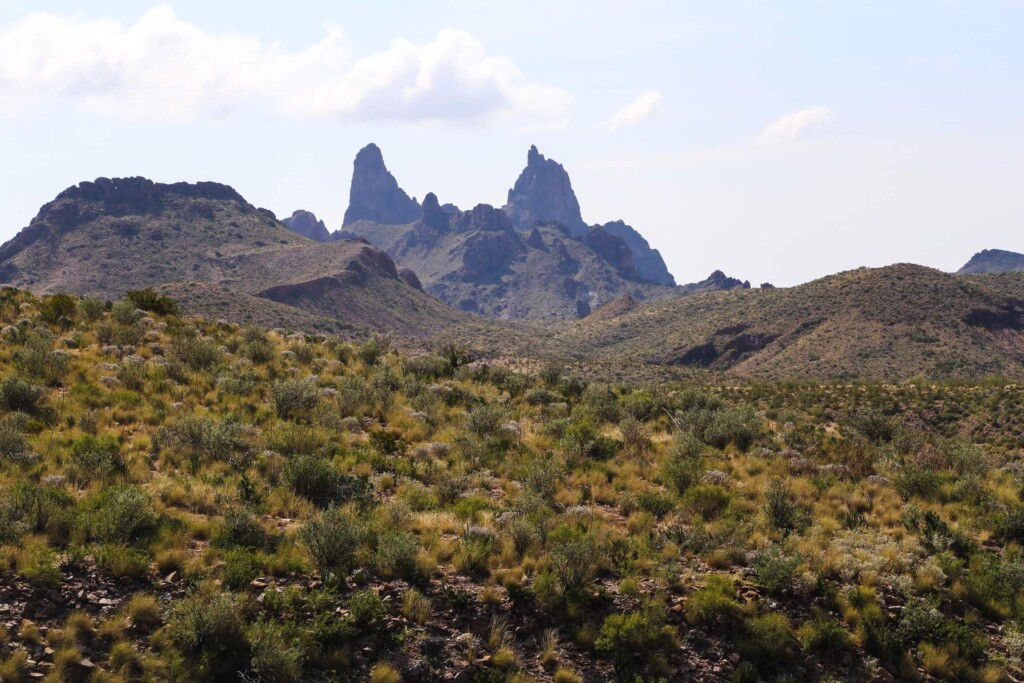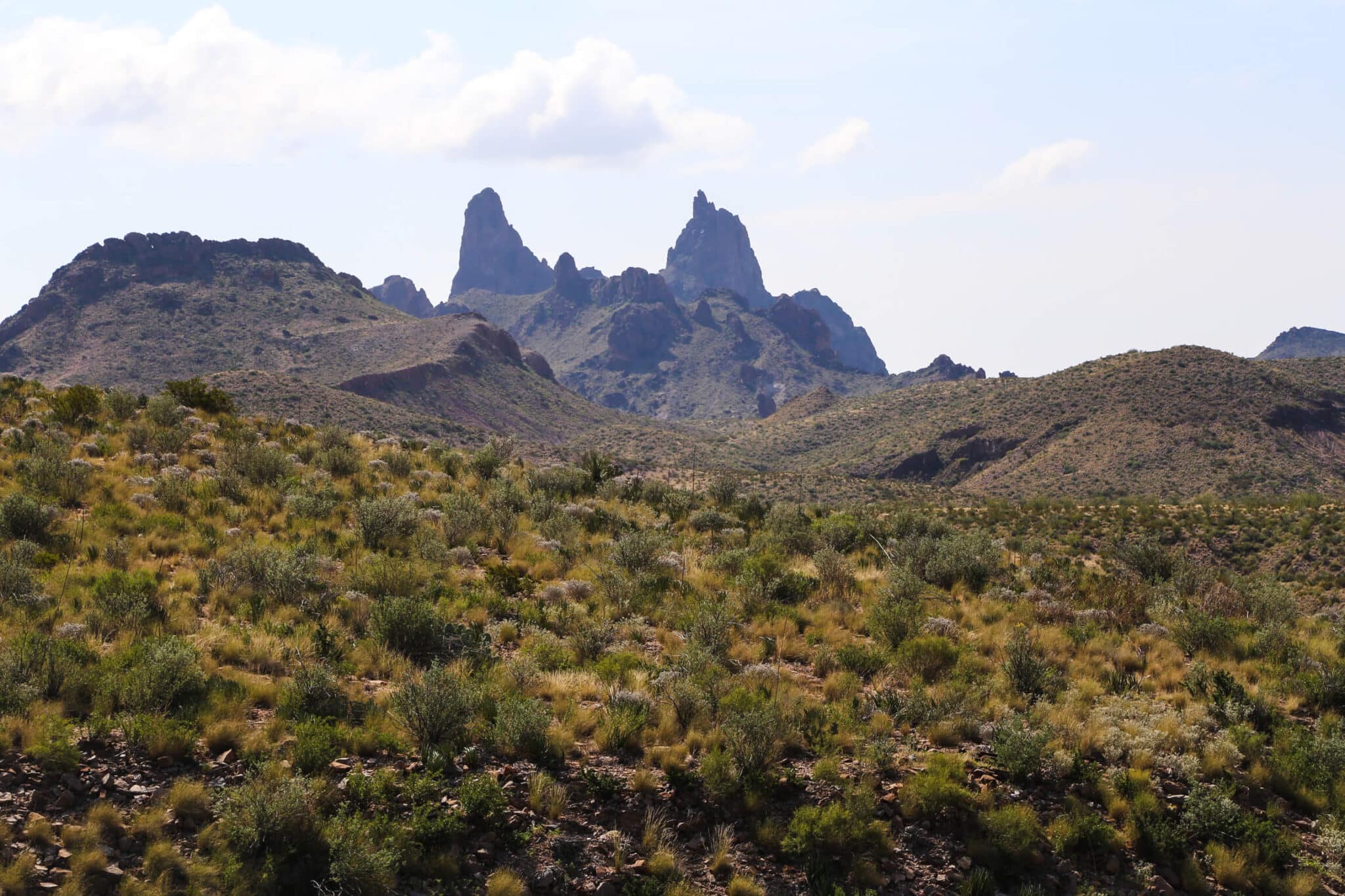 12. Chimneys Trail
The Chimneys Trail is moderate in difficulty and 4.8 miles round trip. It is another desert hike that I have my eyes on.
The dike formations are leftover from this region's volcanic past.
The difficulty level is due to the distance, which is something to be cautious of in the desert heat (I know I keep repeating this but it bears repeating, take care of yourself out there).
You can continue another 1.5 miles northwest to Red Ass Spring if the weather and your energy level allows it.
TIP: Pack one of these compact travel binoculars to get the most out of your hike!
Read More About Texas:
Pin It For Later