The stretch of highway that cuts through Big Bend State Ranch Park is known by locals as the most beautiful drive in Texas.
The River Road hugs the Rio Grande, featuring rugged desert landscape vistas punctuated by the green oasis of the river.
After our experience on this winding highway, I have to say, I agree with the locals on this one.
I hope this post leaves you wanting to plan your next trip down the West Texas Camino del Rio down the Rio Grande.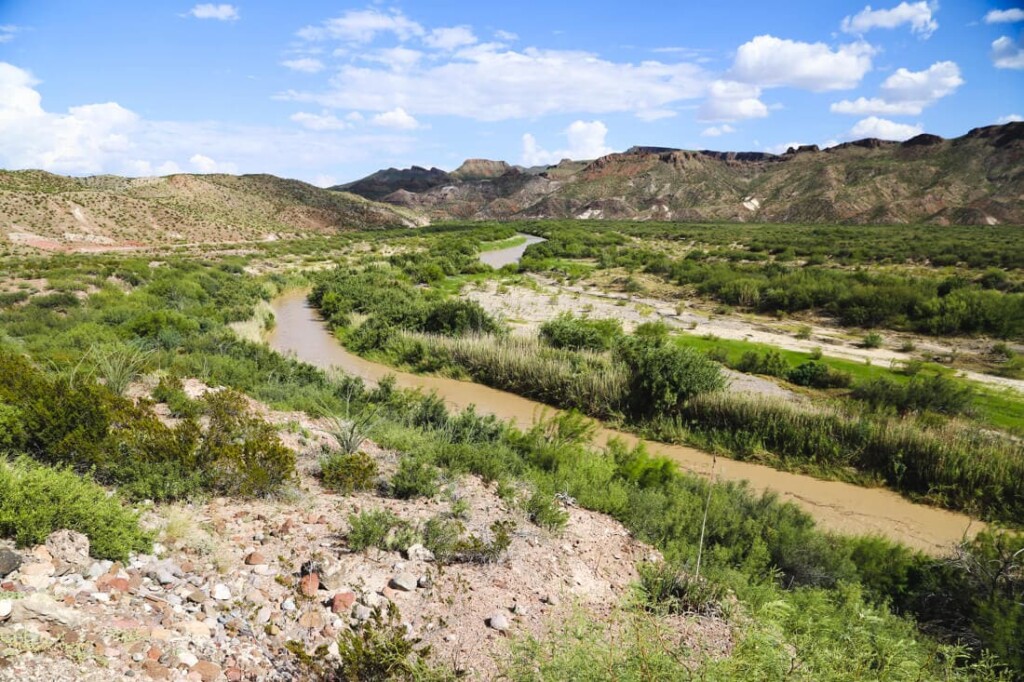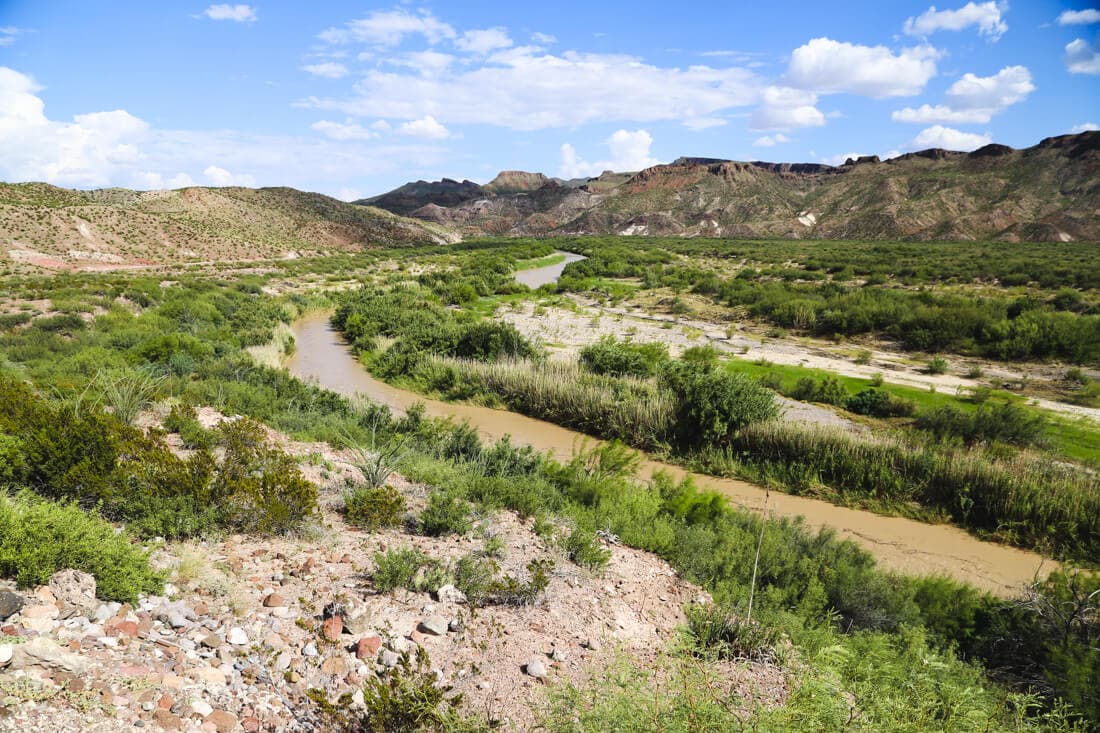 QUICK NOTE: This post contains affiliate links and Sol Salute may receive a commission for purchases made through these links, at no extra cost to you.
Driving the River Road: Big Bend to Marfa
I had anticipated the 2-hour drive from Big Bend National Park to Marfa to be rather boring.
I expected a monotonous desert view as our only entertainment for miles.
But stopping at a tourist information center I asked if there was anything we should know about. Anything in particular to see near Big Bend?
Wouldn't you know it the first thing the officer gushed about was the stretch of highway I was dreading.
Boring?
Hardly.
This is the River Road and it wound up being one of the most beautiful scenic drives we'd ever done.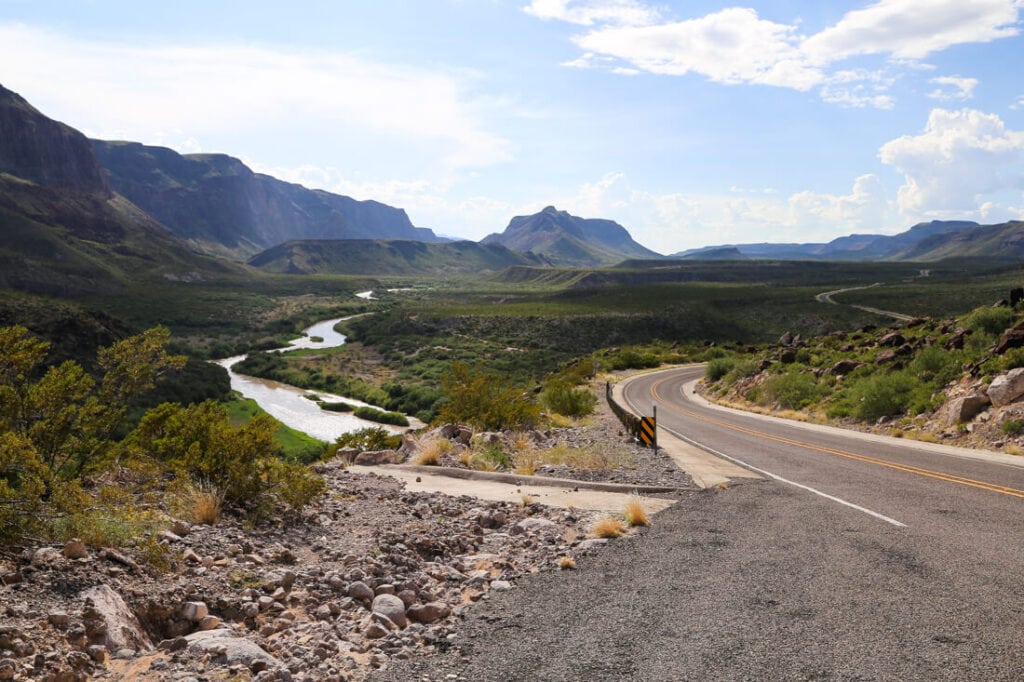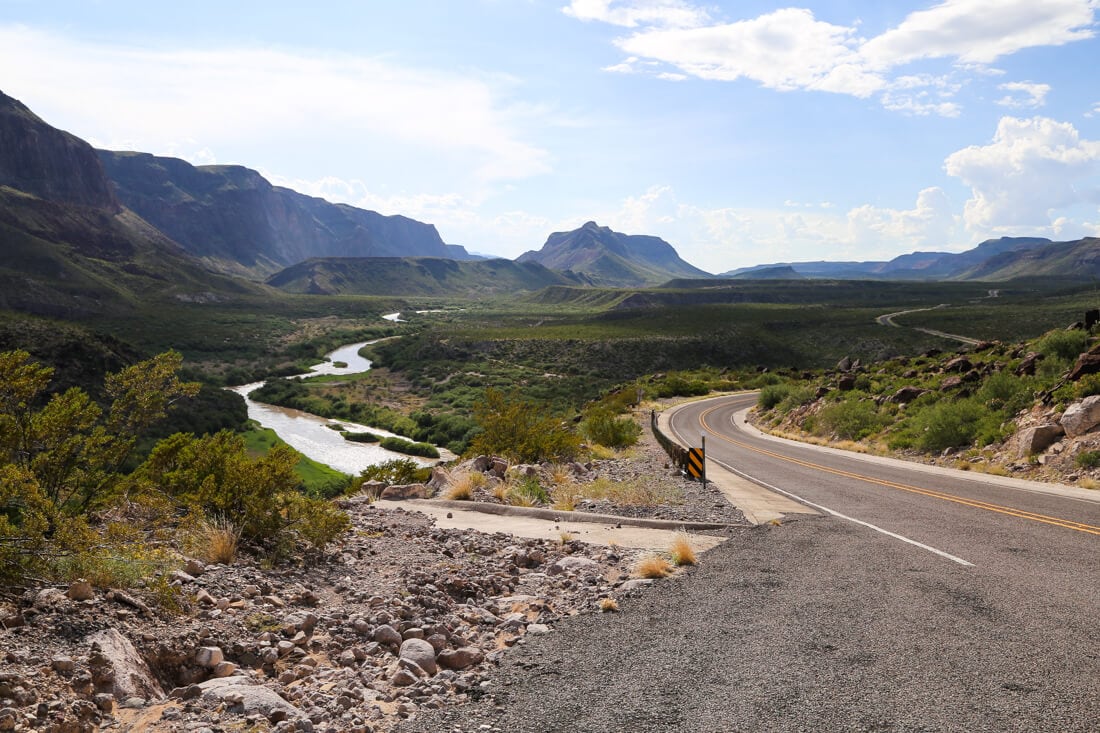 FM 170: The River Road
Highway 170 connects the city of Presidio to the ghost town of Terlingua, making it ideal for any West Texas road trip along the border.
We were on our very own road trip, driving from Big Bend National Park to the quirky town of Marfa.
Our route took us through Lajitas and Big Bend Ranch State Park, all the while hugging the Rio Grande along the Mexican border.
Lajitas: A Beer Drinking Goat and a Fancy Resort
We started our drive in Terlingua, where we'd stayed as a base for our time in Big Bend, and in just 15 minutes we were in Lajitas. Obviously, we stopped for a quick look around.
First, we paid our respects the mayor: a goat named Clay Henry III.
The original Clay Henry, the grandfather to the current mayor, was famous for guzzling beer. The current mayor is said to prefer Gatorade.
Next, we checked out the resort, which looks like a Hollywood set of an old western film. This resort is one of the most luxurious places to stay near Big Bend.
If you prefer the real deal, Terlingua (a legit ghost town) is only 15 minutes away and closer to Big Bend.
However, the restaurant patio does have a spectacular view and it's much more luxurious than any accommodation options in Terlingua.
If you want to golf (on a shockingly green course for a desert) or be pampered, I recommend staying in the Lajitas Golf Resort.
Check rates & availability here.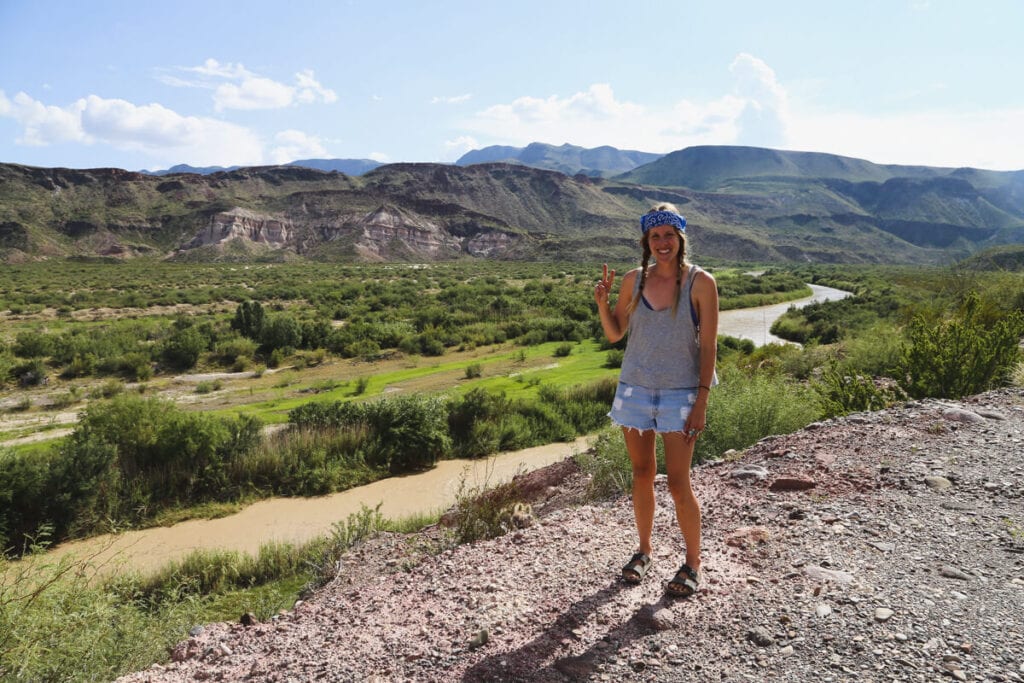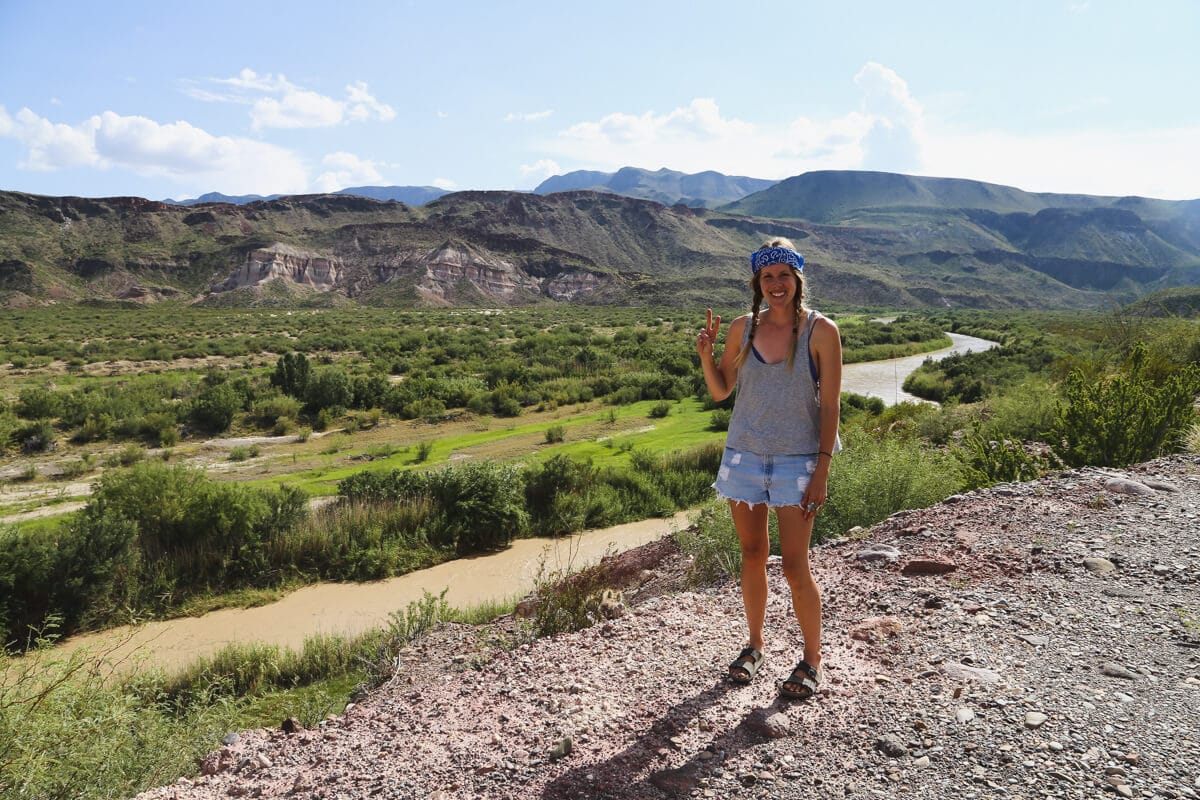 Big Bend Ranch State Park & El Camino del Rio
The following sixty miles or so from Lajitas to Presidio is the highway that is referred to as El Camino del Rio, or "the River Road."
The river road  (Farm to Market road 170) slinks alongside the Rio Grande, cutting through the Big Bend Ranch State Park.
Read Next | The Best Hikes in Big Bend National Park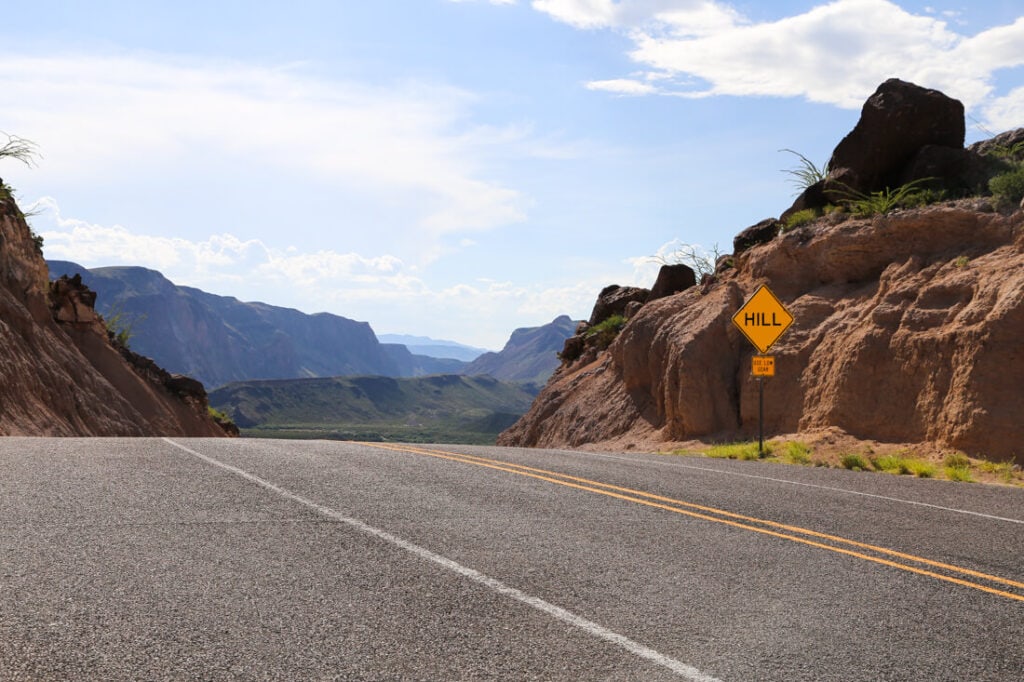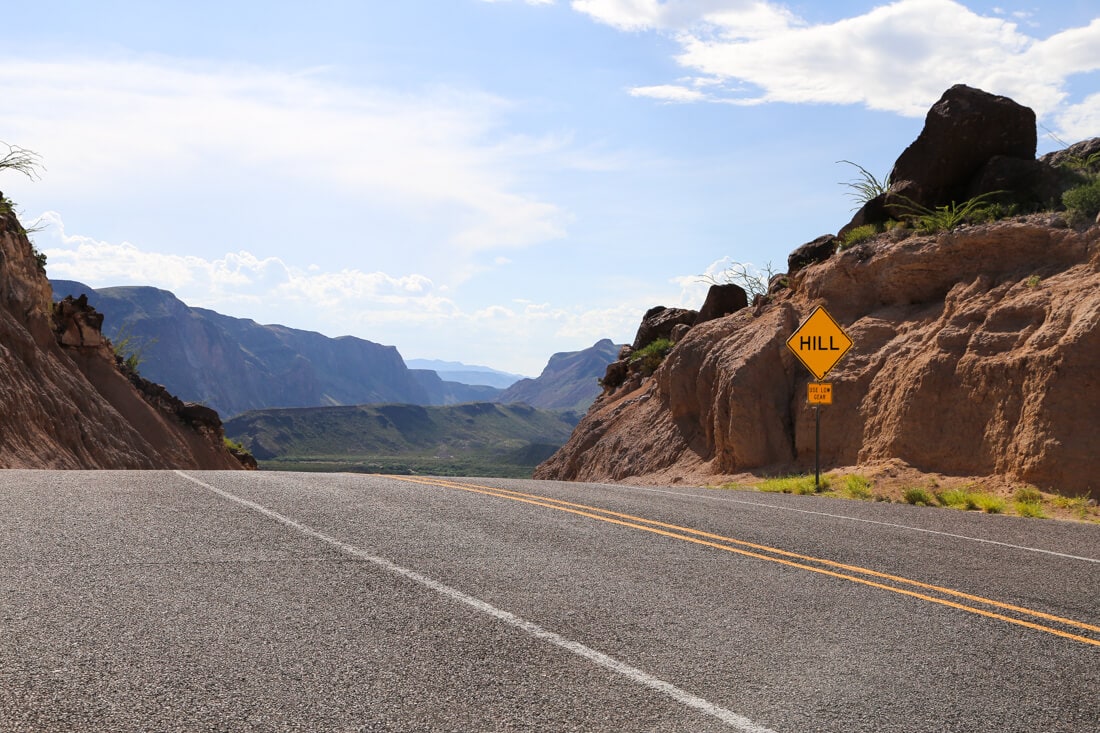 Come Prepared
The rolling hills provide great viewpoints and there are picnic areas along the road to stop and enjoy a nice lunch.
There are hiking trails but we had started our drive too late in the day to take advantage of them (that and the insufferable summer heat).
We only saw one other car the entire time we were on the road and there are no shops.
Make sure your gas tank is full and you have sufficient water and snacks with you.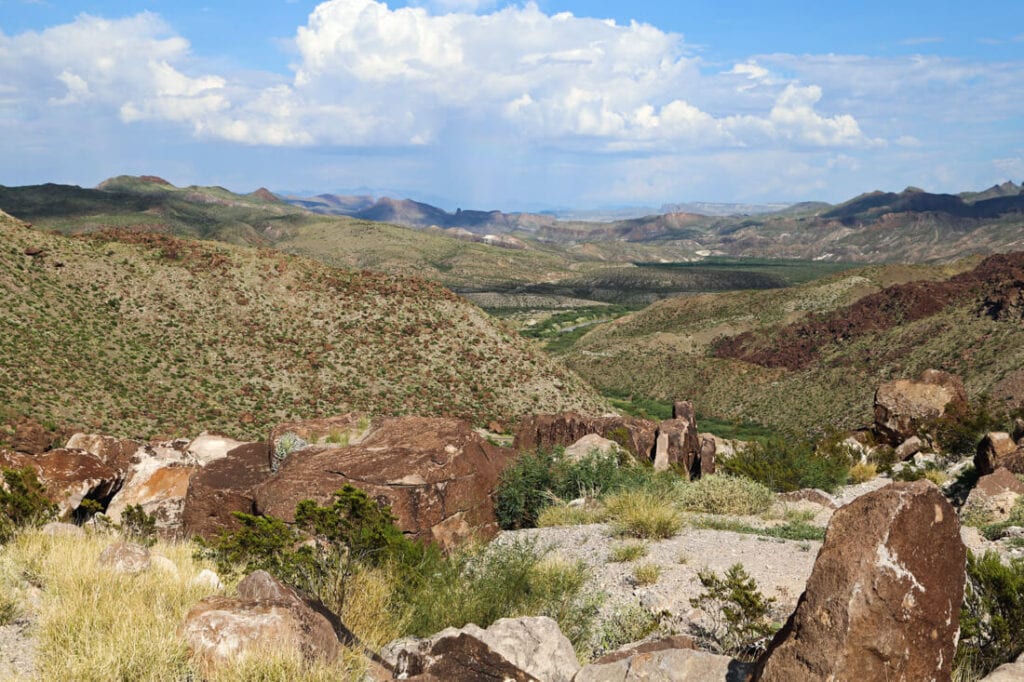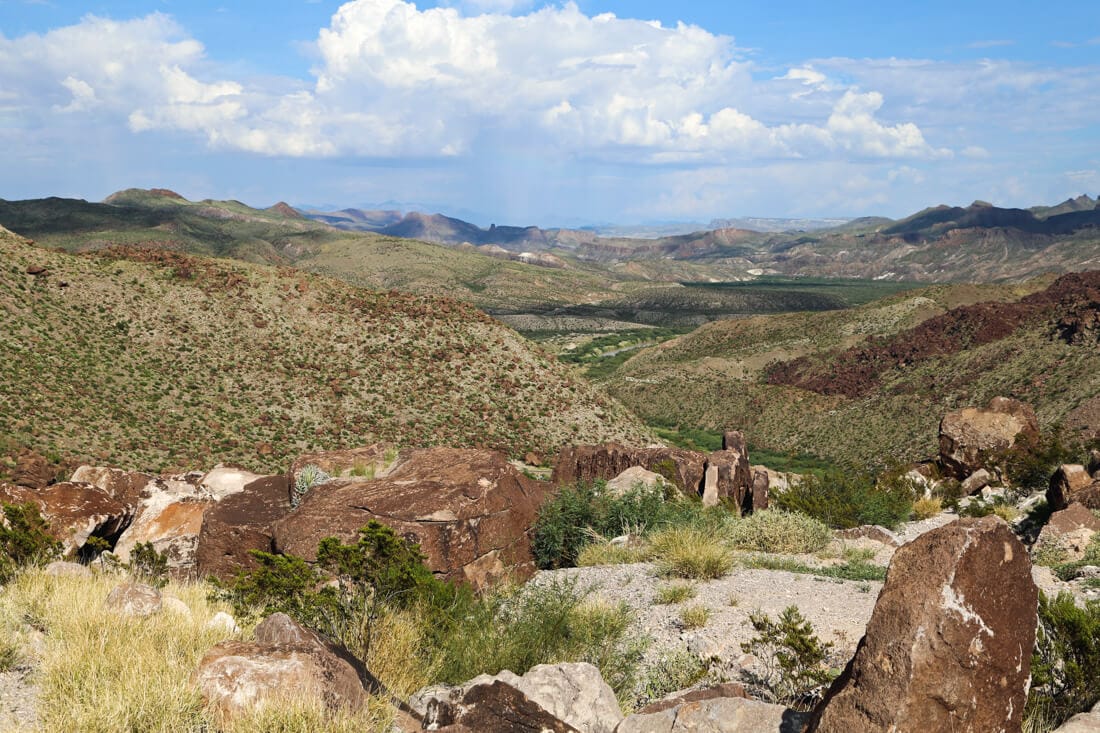 I LOVED this drive. The topography was gorgeous and constantly changing.
The areas around the river were lush and green, alive with the river water.
Just on the other side of the road we could see rolling, desert hills.
This is a drive that should be on every road trip junkie's bucket list.
If you're looking for more great road trips check out these amazing National Park road trip ideas.
Presidio & Beyond
We arrived in Presidio and turned north towards Marfa.
There's also a border crossing here for those going south to Mexico, or you can continue westwards to New Mexico.
On the road to Marfa, 18 miles north of Presidio, is the ghost town, Shafter, Texas. 
It's worth a stop but we were nearly out of daylight and had to continue on.
Drives like this make road trips worth it. If you find yourself in the vast Chihuahuan desert of West Texas, then I hope you take FM 170 and enjoy the Rio Grande views.
You May Also Like: