When my best friend and I decided to go away for a weekend the decision on where to go was obvious: three days in Mexico City.
We both love it here and since it was neither of our first time there and we had both already seen a lot of the highlights we decided to focus on what we love most: food.
We knew we wanted to relax on a trajinera in Xoximilcho and I had my heart set on a food and market tour.
I planned these two highlights and sat back to relax to enjoy the rest of our weekend in Mexico City as we saw fit.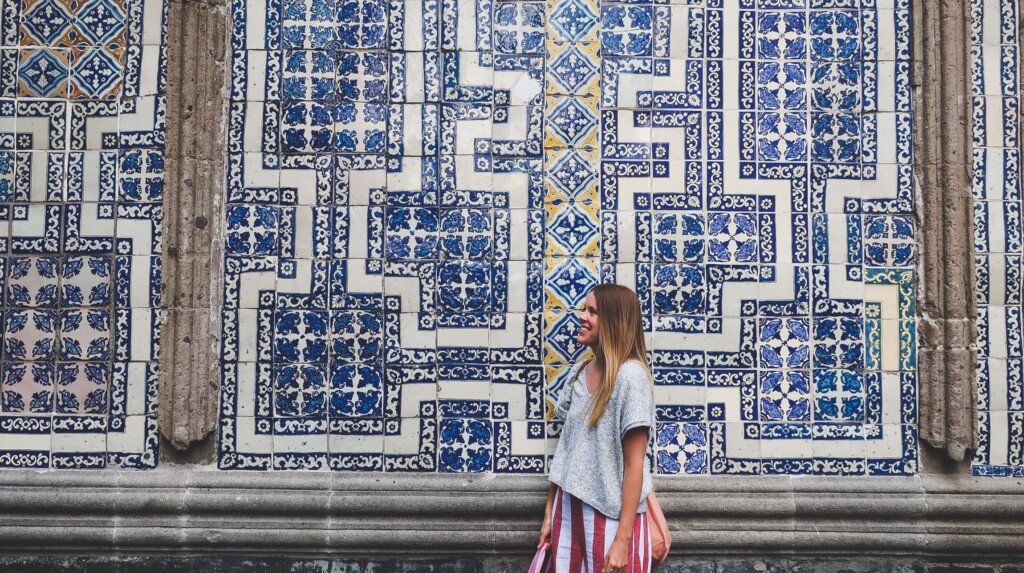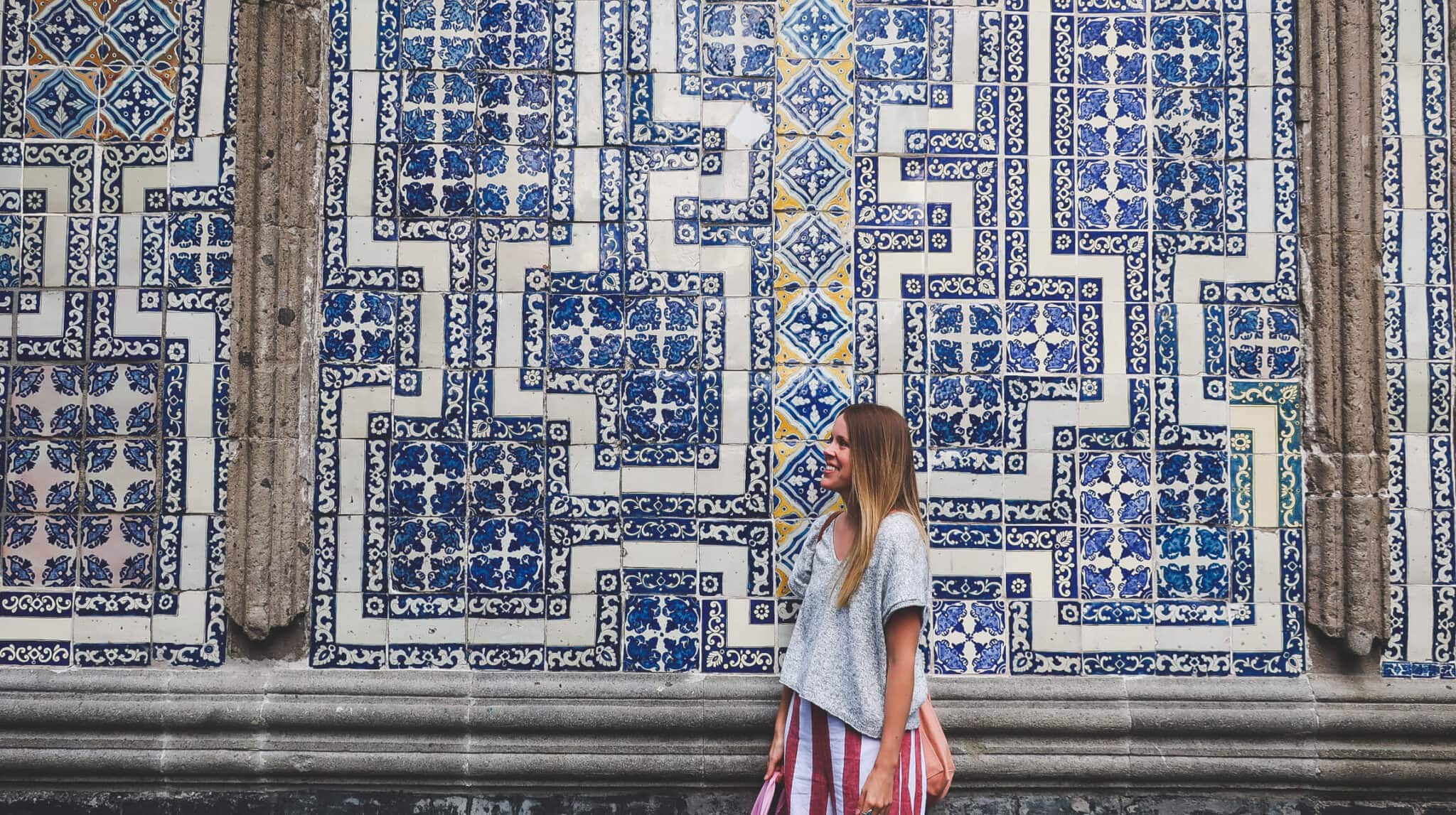 QUICK NOTE: This post contains affiliate links and Sol Salute may receive a commission for purchases made through these links, at no extra cost to you.
A Long Weekend in Mexico City
This was a much less structured itinerary than I normally do.
It was a nice change of pace to not have every minute planned in great detail and it left more free time for spur of the moment tacos.
Having been to the city before and feeling confident that I'll return again, I felt less pressure to see everything in one go.
This post details how our relaxed, food-focused itinerary for Mexico City in 3 days turned out.
I'll also include convenient itinerary alternatives, for those who want to squeeze more into their day.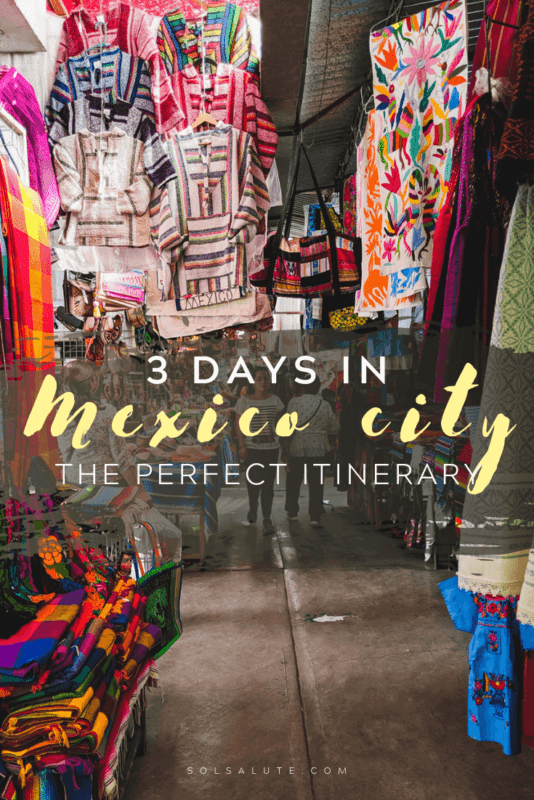 Where to Stay in Mexico City
We decided to base ourselves in Condesa for our weekend in Mexico City.
The parks, shops, and restaurants made staying in this area a no-brainer.
There are a lot of great apartments and hotels here. We opted for an apartment so we'd each be able to have our own room.
If I were to go again, I'd stay at Casa Decu because our apartment was on such a loud street. I'd have preferred a hotel's comfort.
They also have suites with two bedrooms so it would be a great fit for a girls' weekend in Mexico City. The decor is so beautiful with black and white art deco details and the rooftop patio (below) would be the ideal place to end the day with a cocktail.
Check prices and availability here.
There were so many cute cafes to choose from that we started each morning with coffee and then breakfast in different places. I think Condesa is one of the best places to stay in Mexico City.
Our 3 Days in Mexico City Itinerary
Our flight arrived at 2:30 in the afternoon, so our first day was cut rather short.
If you can catch an earlier flight I highly recommend it so you can take full advantage of your travel day.
How to Get into Mexico City from the Airport
The easiest way to get to your hotel or Airbnb from the airport is by taking an Uber.
Take note of your arrival gate when you exit the airport and use that as your pick up location.
You'll be in good company as you wait for your driver. We were standing next to at least 15 other young travelers all staring into their phones.
It cost us only $8 US to get to our Airbnb despite taking 45 minutes in congested traffic.
If you don't use Uber yet (is that possible?), you can use my code when you download the app to get a discount off your first ride: erinm11196ue.
Day 1 | Condesa
Due to our late flight, we weren't able to get out and about until around 4 in the afternoon.
We opted to take it easy on our first day, exploring Condesa.
Taco O'Clock
Our commute was short. We started our afternoon just across the street from our apartment at El Tizoncito.
This taqueria is famous for claiming to have created the taco al pastor. Legitimate creator or not, I don't care.
Their tacos lived up to the hype. We ordered three each, inhaled them, then ordered a few more (for good measure).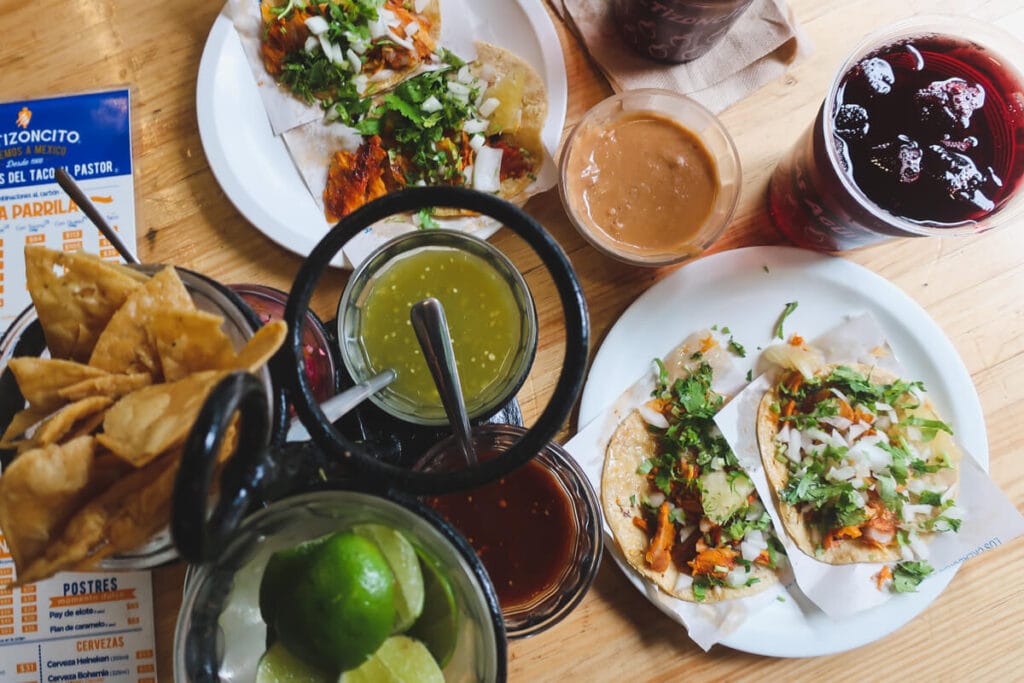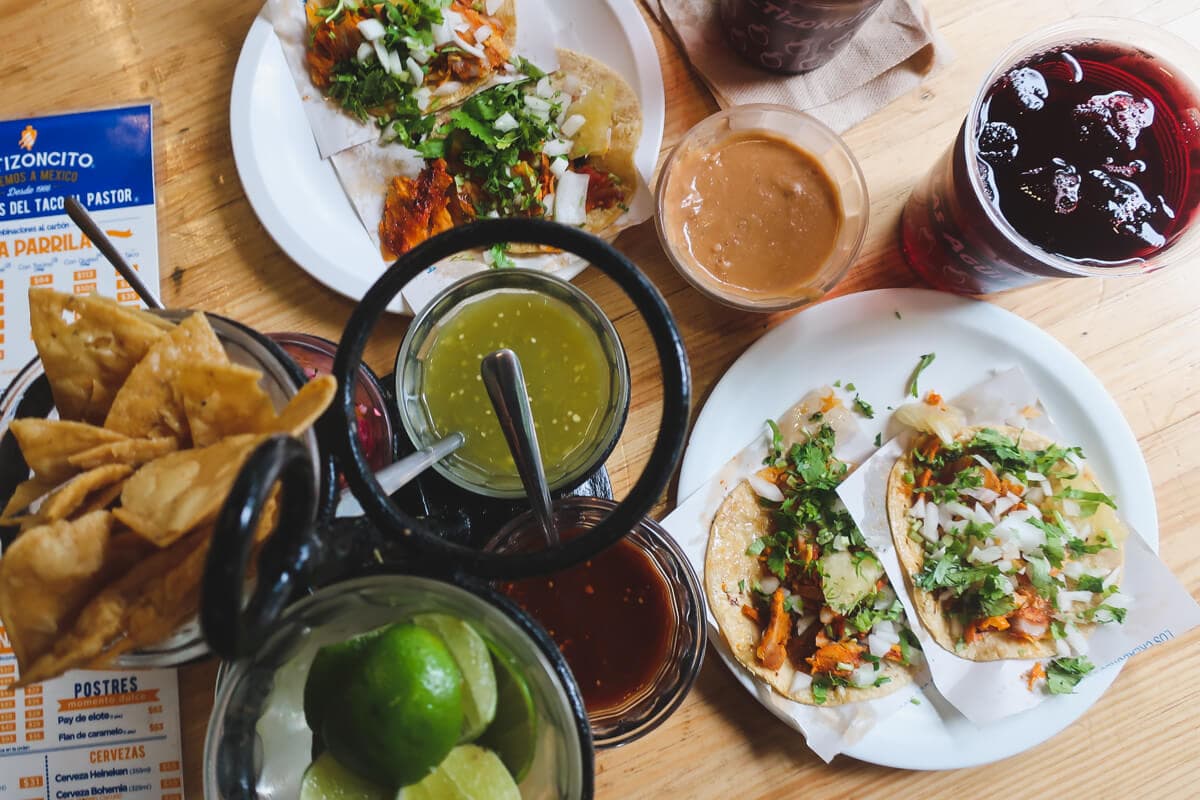 A Stroll through The Park
After tacos we decided to walk it off a bit and explored nearby Parque Mexico.
We wandered aimlessly in the park and surrounding streets with a friend of mine who was there walking his dog.
Parque Mexico is unlike anything we have in Buenos Aires.
We strolled without purpose below the canopy of trees surrounding us, taking mental notes of cute cafes with plans to return for more coffee breaks than three days allows for.
To continue exploring find Amsterdam, this street circles the circumference of Parque Mexico just one block away from the actual park's border.
It's a 2-kilometer loop in total so it's perfect for a walk or run to work off all those tacos.
But we didn't go for a run, instead opting for a tempting Elote stand in front of a supermarket.
Our priorities for this weekend are pretty clear.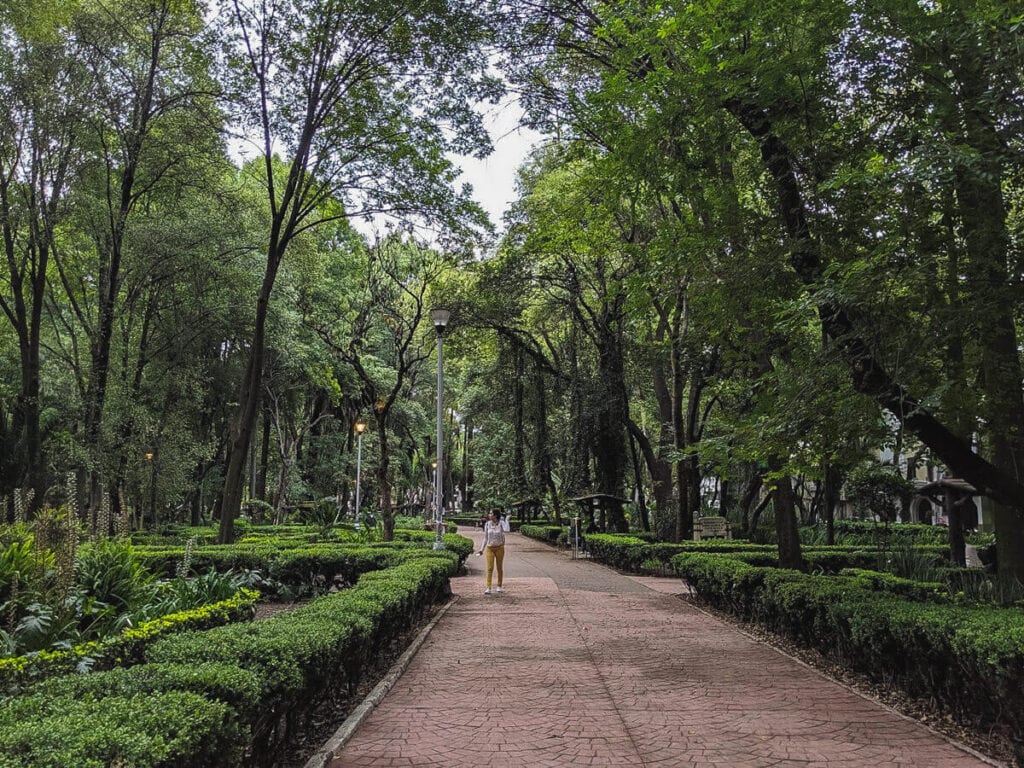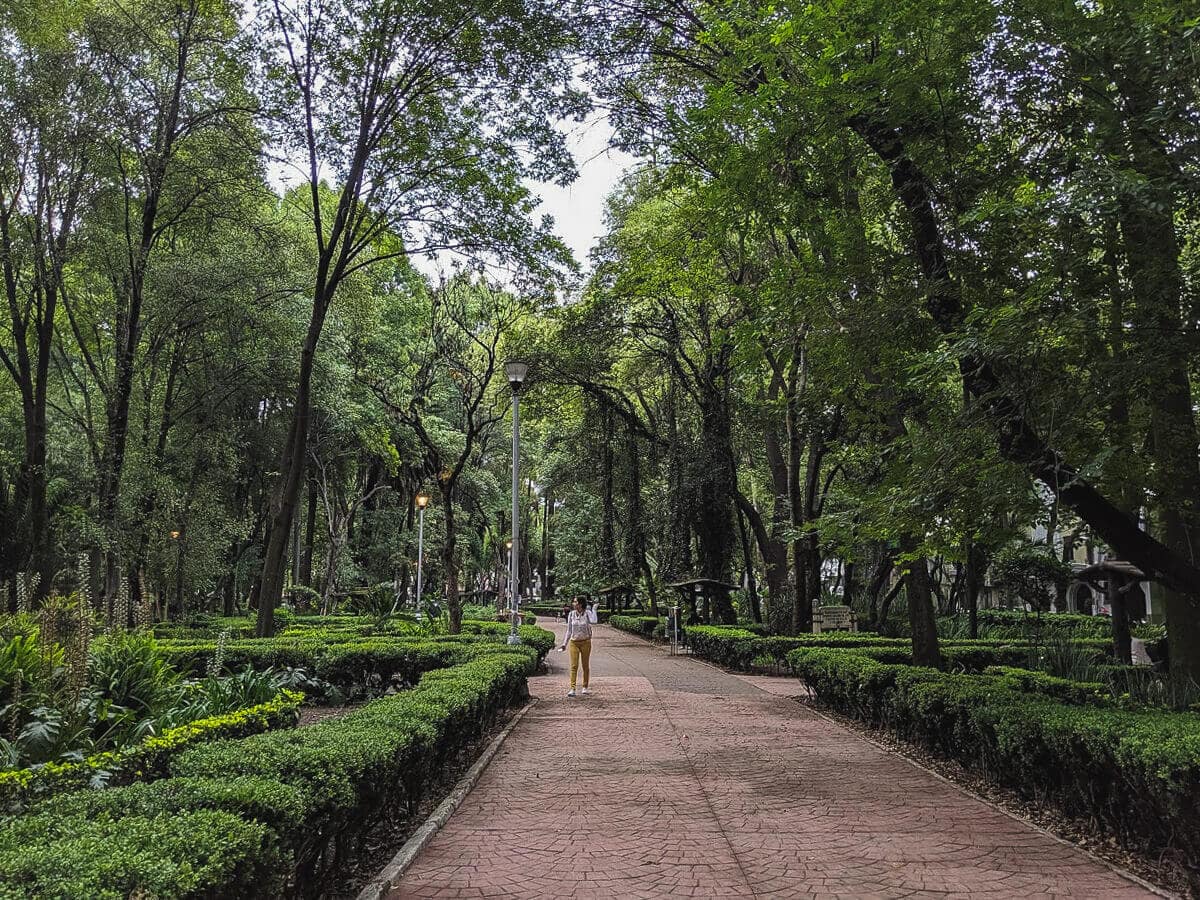 Just One More Taco (or Two)
We said goodbye to my friend and decided to continue the day's gluttony at a couple more tacos.
Tacos el Greco was just a block away from the park.
Hell, we'd have to walk past it to get to our Airbnb! It would be insulting not to stop and try it.
Our First Night in Mexico City…
…was very mellow. Having eaten non-stop since our flight landed, we weren't exactly hungry for a proper dinner. Instead we took it easy in our Airbnb, only coming down for a Mezcal cocktail at the bar on the corner.
Day 1 Alternative: National Museum of Anthropology
If you want to do something a bit more cultural on your first day in Mexico City, visit The Museo Nacional de Antropologia.
You can easily visit yourself or go on this guided tour with an art historian to get more out of the experience.
It's open until 7 pm and is closed on Mondays.
It's one of the most comprehensive natural history museums in the world and is a must-see.
If, like us, you are exploring Condesa you can walk here. Otherwise, it's easily accesible by subway or Uber.
Keep in mind that this museum is massive.
You could easily spend half a day here so get there early enough to take full advantage.
MEXICO CITY TIP: Schedule a Flytographer Photo Shoot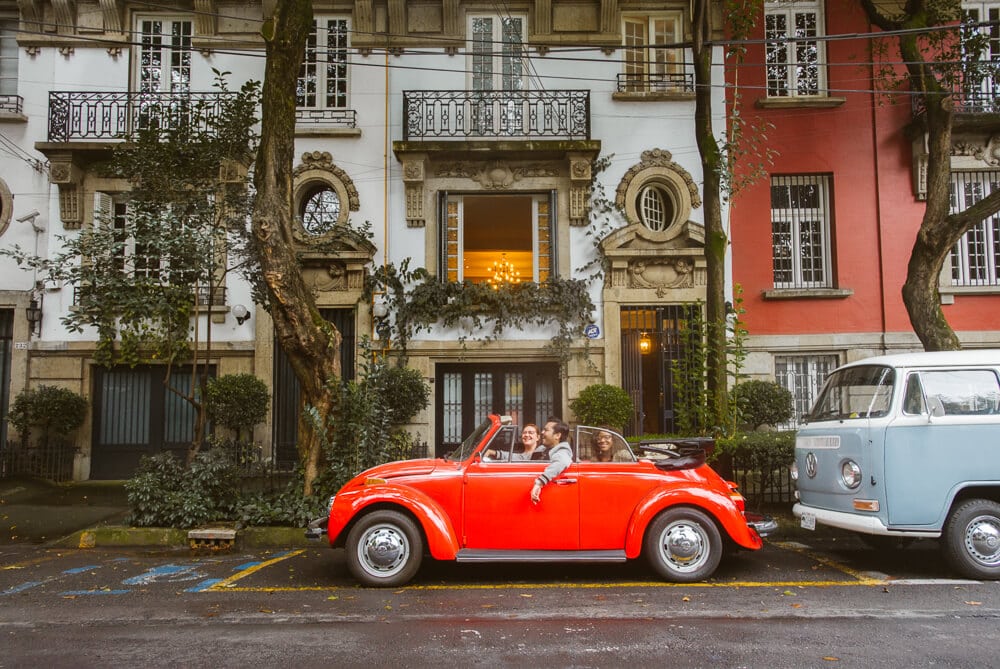 For memories that will last a lifetime and make your family photos stand out (and your Instagram pop), I recommend scheduling a professional photo shoot with Flytographer.

Their photographers are incredible, they're used to working with tourists like us and I bet they'll be able to give you local tips like their favorite taco stand, bars, or neighborhoods!

I discovered Flytographer ages ago but didn't actually try it until recently here at home in Argentina (see my pictures here).

I wish I had known how fun it is when I was in Mexico City because its beautiful streets are MADE for it. Next time I'm there I will definitely do this!

Click here and get $25 off your first shoot.
Day 2 | Xochimilco
One of my first roommates in Buenos Aires is from Mexico and is currently living in CDMX. For our second day on our big Mexico City weekend, he'd be taking us to Xochimilco.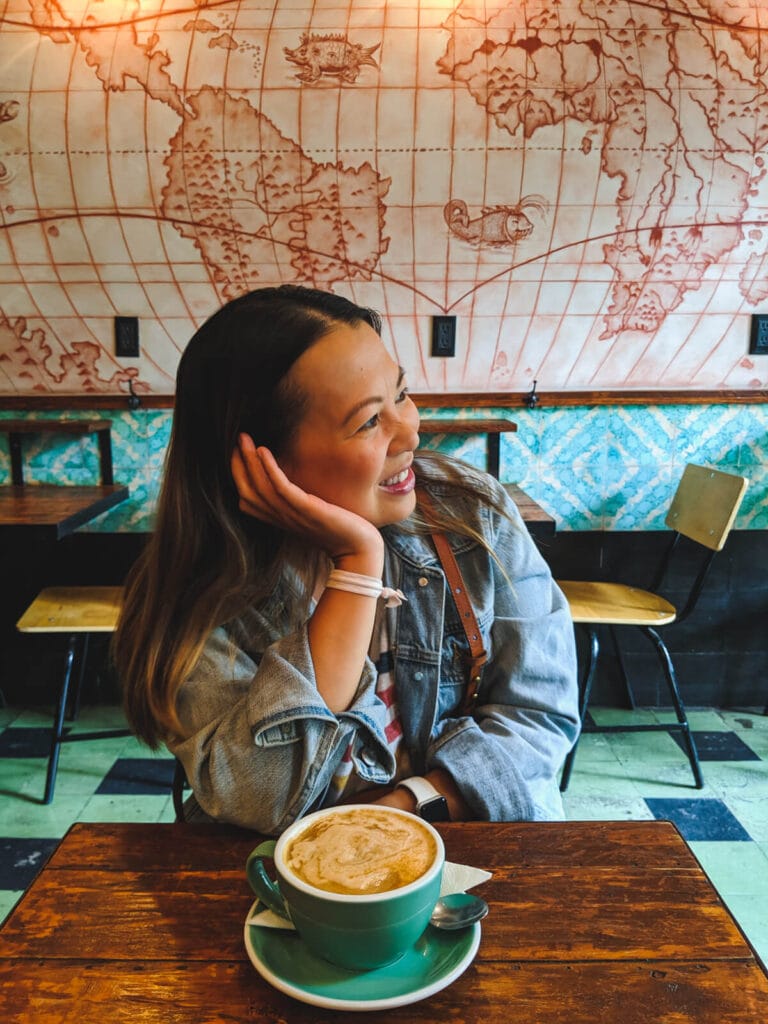 But First, Coffee & Chilaquiles
We re-traced our steps to one of the cute cafes we had scoped out the day before.
Cardinal, Casa de Cafes Gloriosos (House of Glorious Coffee, great name) was an adorable hole in the wall.
I had a hot chocolate made from Oaxacan chocolate, it had hints of cinnamon and was the best start to the day!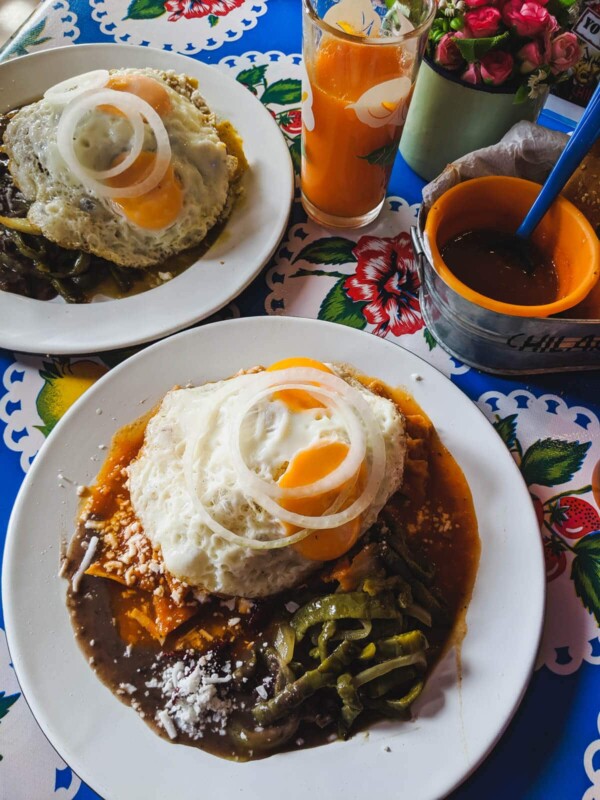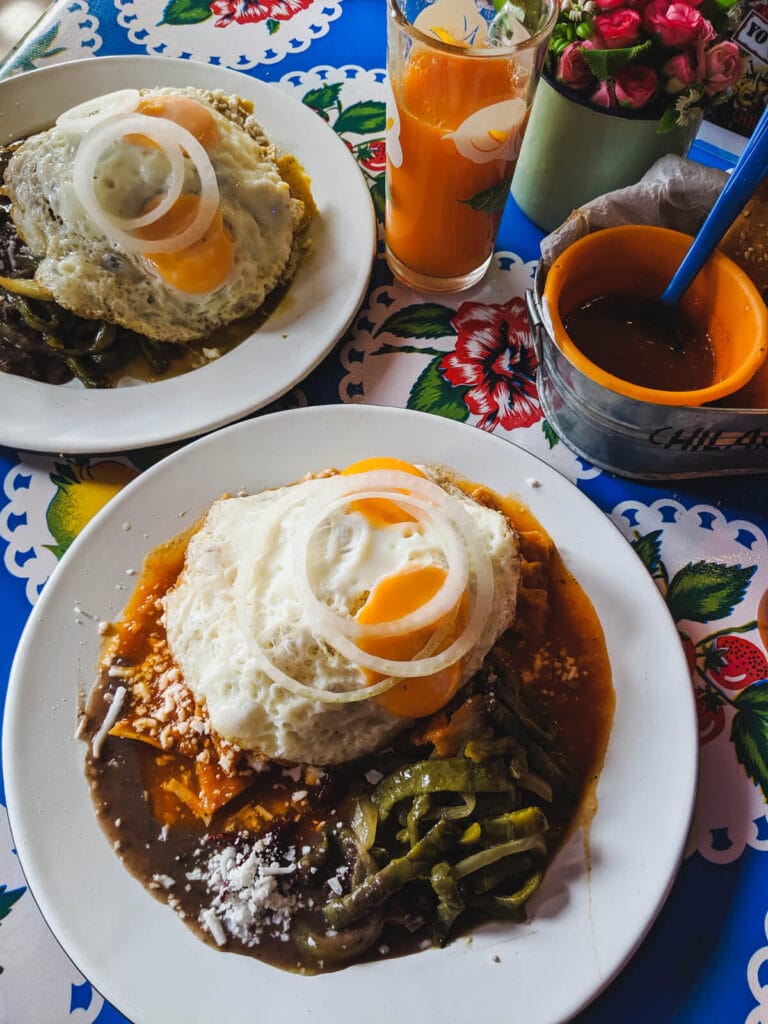 Properly caffeinated, we walked to Chilakillers for, you guessed it, Chilaquiles.
You guys, I cannot express to you how good these chilaquiles were without sounding like I'm exaggerating.
They were what dreams are made of. If you're in Mexico, go to Chilakillers and thank me later.
You're welcome in advance.
Xochimilco
We hopped into an Uber to my friends place who drove us to Xochimilco.
We spent two hours actually in Xochimilco, but budget an hour each way for traffic if you'll be going in an Uber.
Being only three of us, our experience was pretty mellow.
We bought a mango pulque from one of the vendors on the shore and sipped it while watching Mariachi bands serenade boats filled with drunk tourists and locals alike.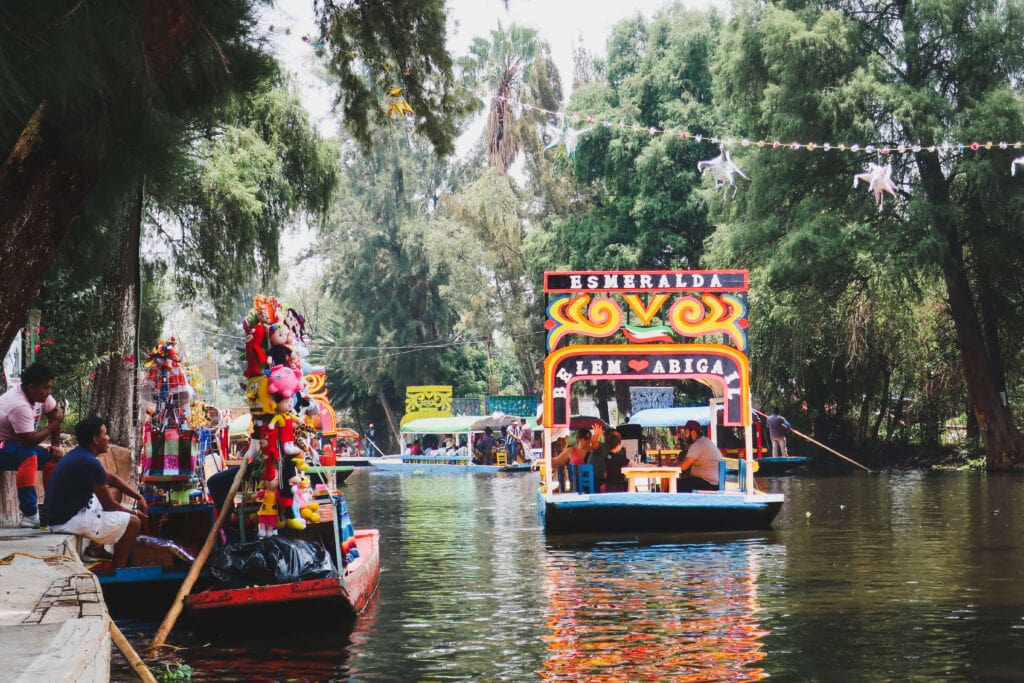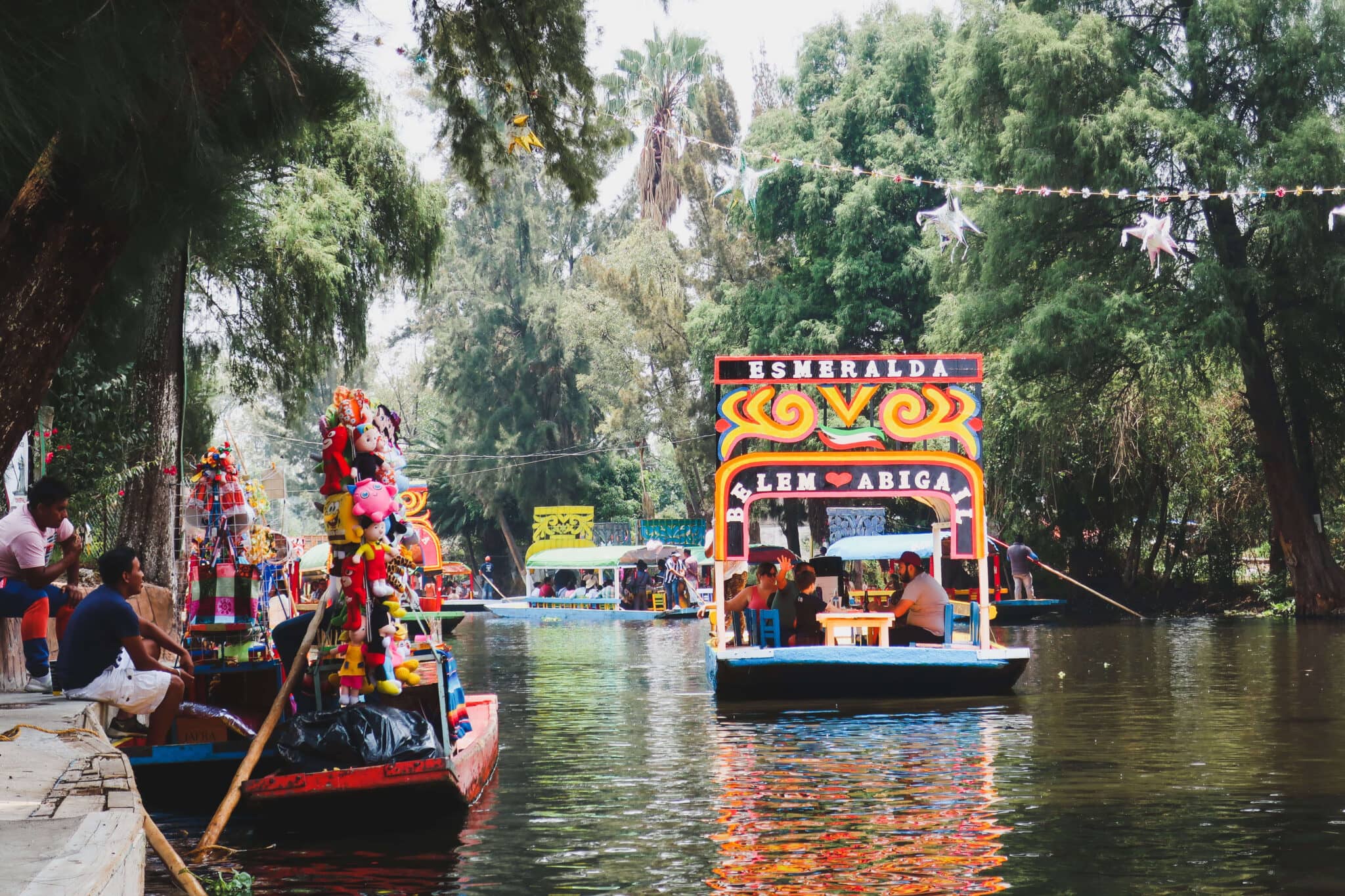 Museo Dolores Olmedo
While in Xochimilco, go to the Dolores Olmedo Museum.
Dolores Olmedo was a wealthy businesswoman and aristocrat. Her friendship with Frida Kahlo and Diego Rivera led her to possess the largest collection of these artists' work.
She converted her palatial estate into a museum and donated it to the people of Mexico upon her death. If you're in Xochimilco, don't miss the chance to see this permanent collection.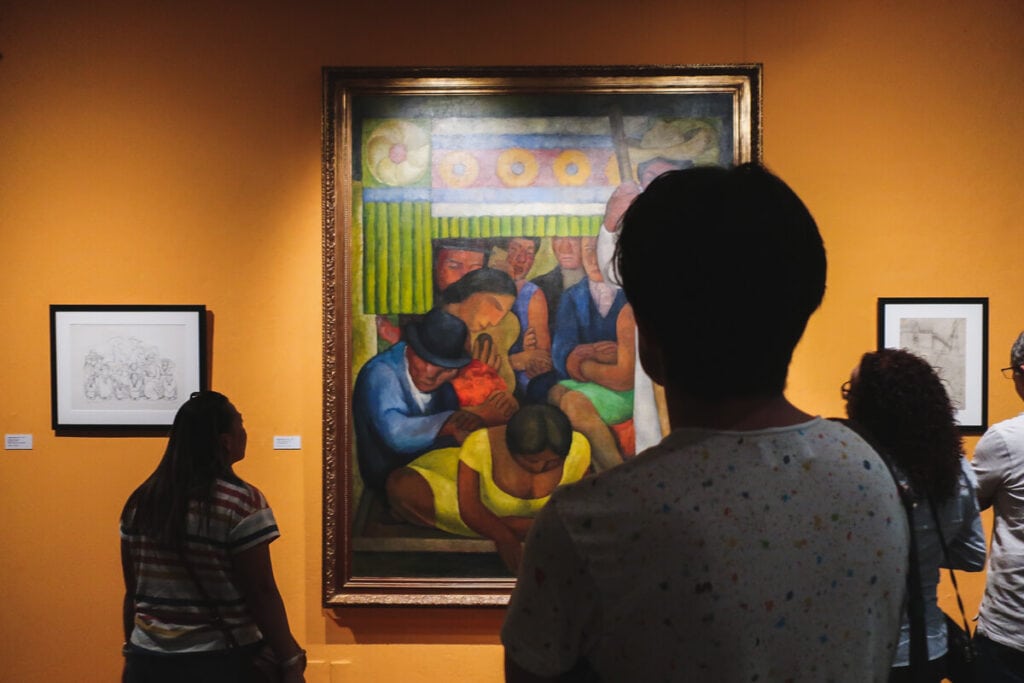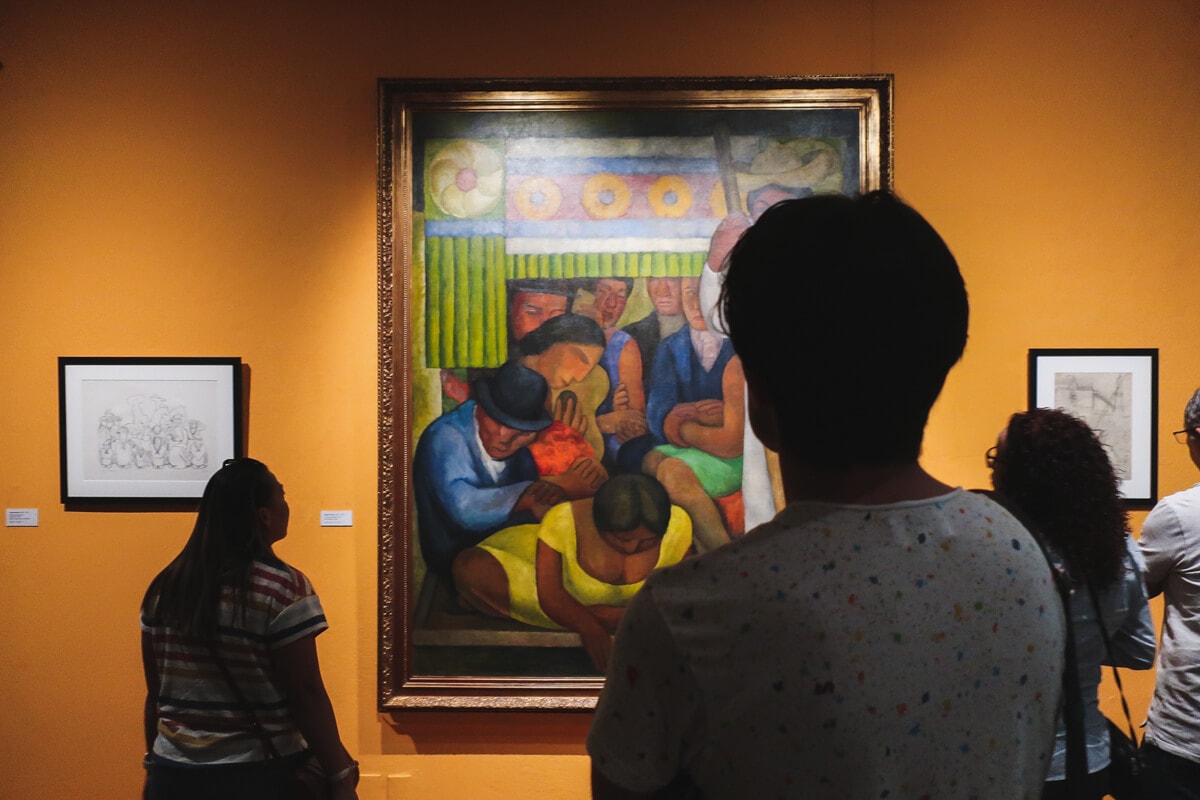 It's home to the largest collection of Diego Rivera's works even today and one of the best places to see Diego Rivera in Mexico City.
Their collection of Frida Kahlo's paintings are sometimes closed to the public because they're traveling to other museums (which was the case for our visit).
The property itself is worth a visit. I lost count of the peacocks roaming the property, climbing trees and onto the roof.
It's also home to some hairless Xoloiztcuintle dogs, a pre-Colombian breed believed to guide you to the afterlife (aka the dog from Coco!).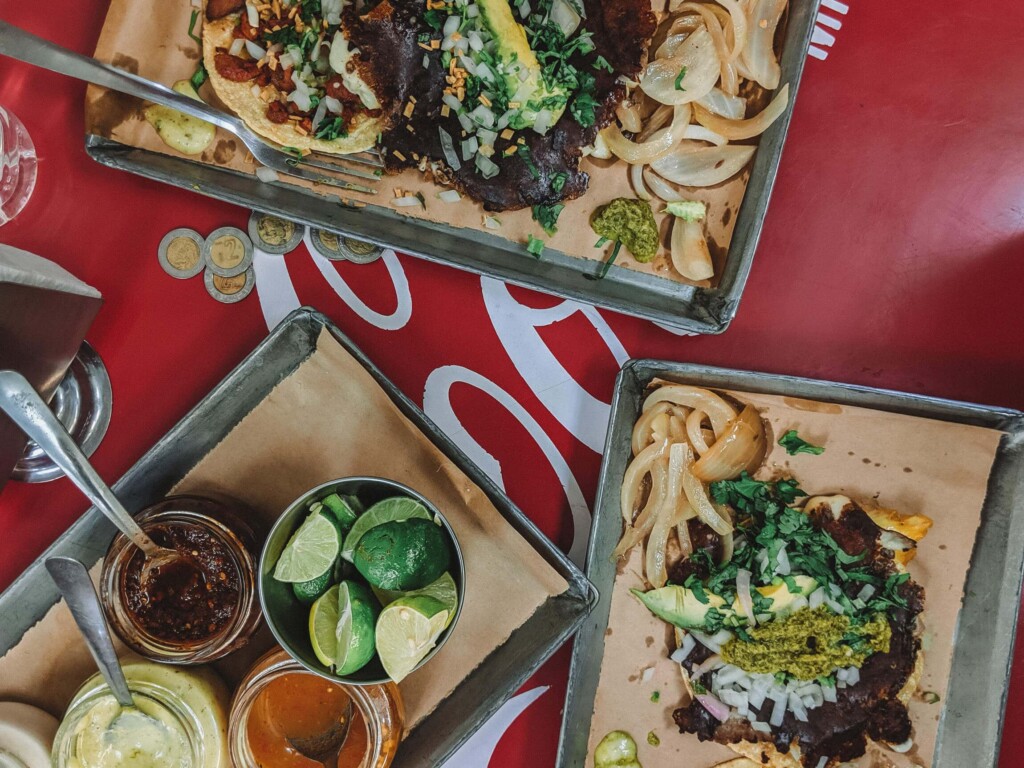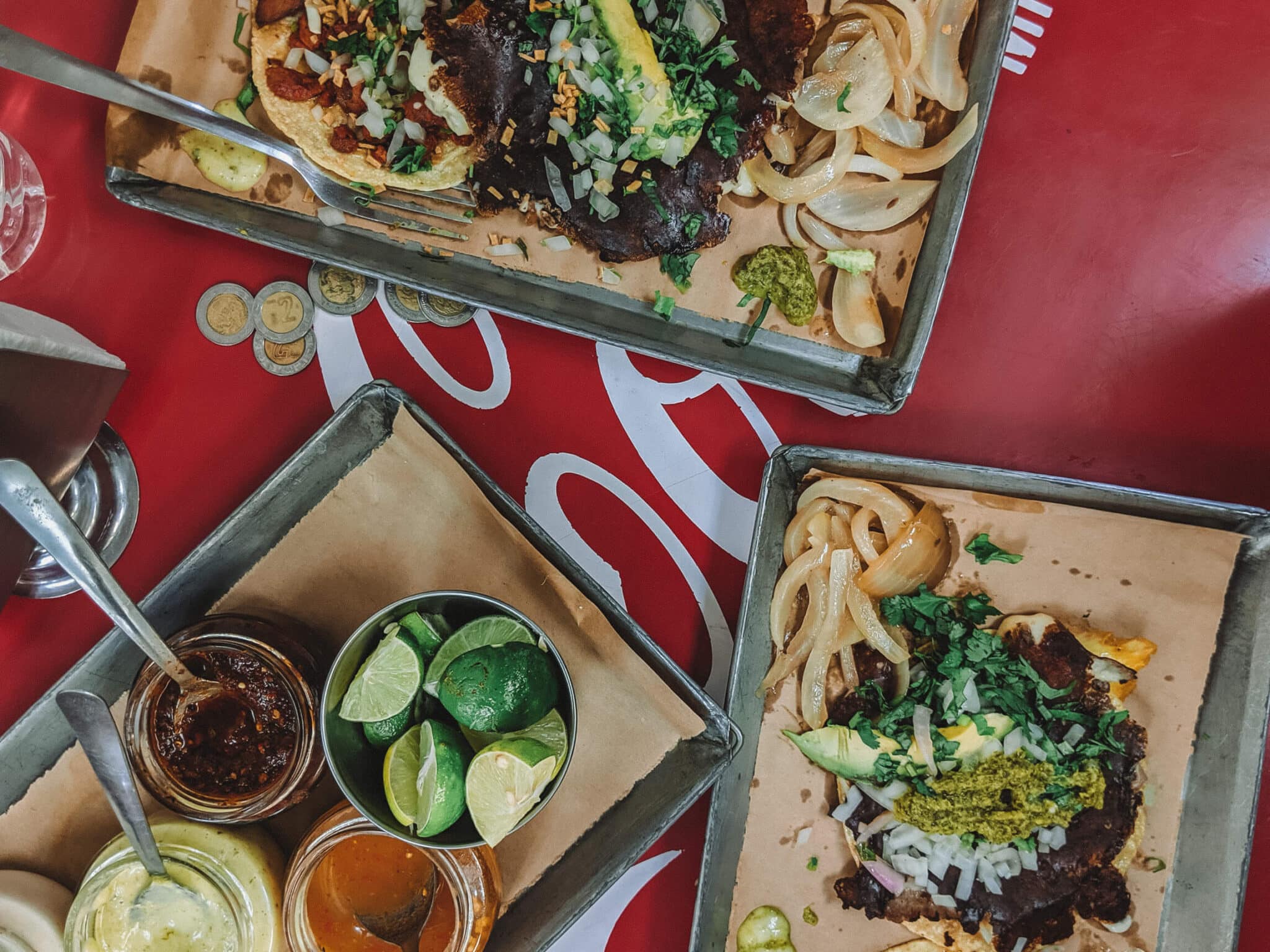 Tacos in Roma
After Dolores Olmedo, my friend was kind enough to drive us back to our neck of the woods.
We had him drop us off at Taqueria Orinoco in Roma.
We hadn't eaten since our chilaquiles and it was time for our daily taco fix.
The tacos at Orinoco were perfection.
I think it was my favorite of the weekend but it's a bit of a Sophie's Choice dilemma. I really love tacos.
Churreria El Moro
We walked around Roma for a bit before deciding to head back to our own Condesa stomping grounds.
Despite being completely full and needing zero extra calories for the day, we strolled on over to Churreria El Moro in front of Parque Mexico.
Turns out you don't need to be hungry to enjoy churros and chocolate.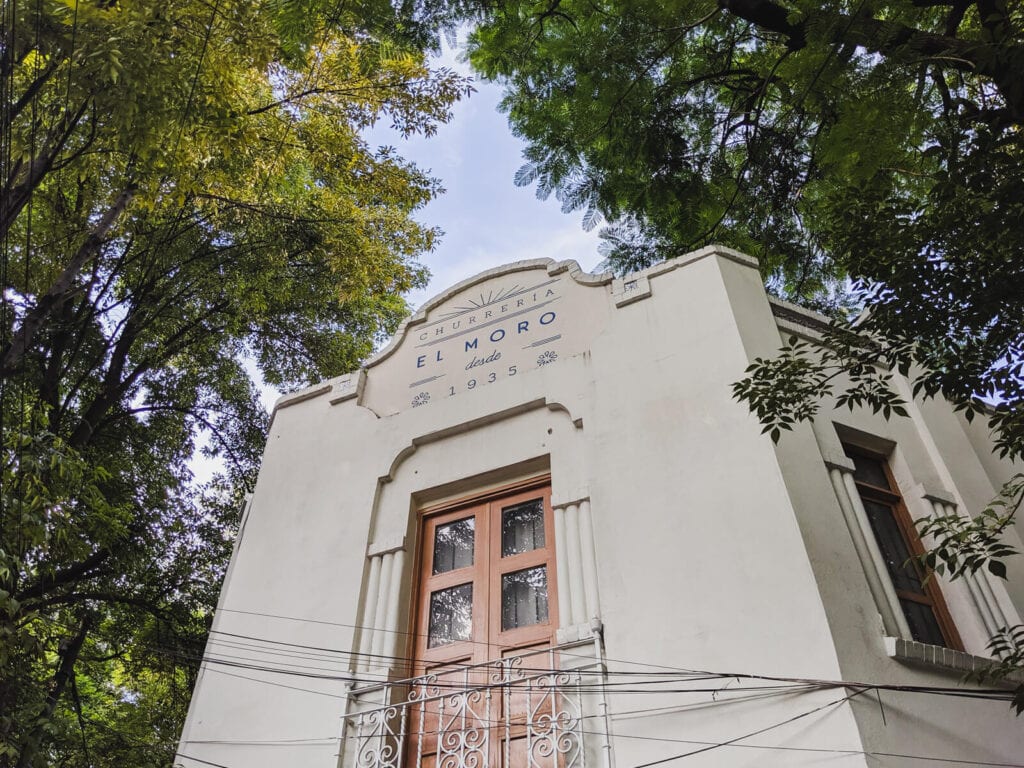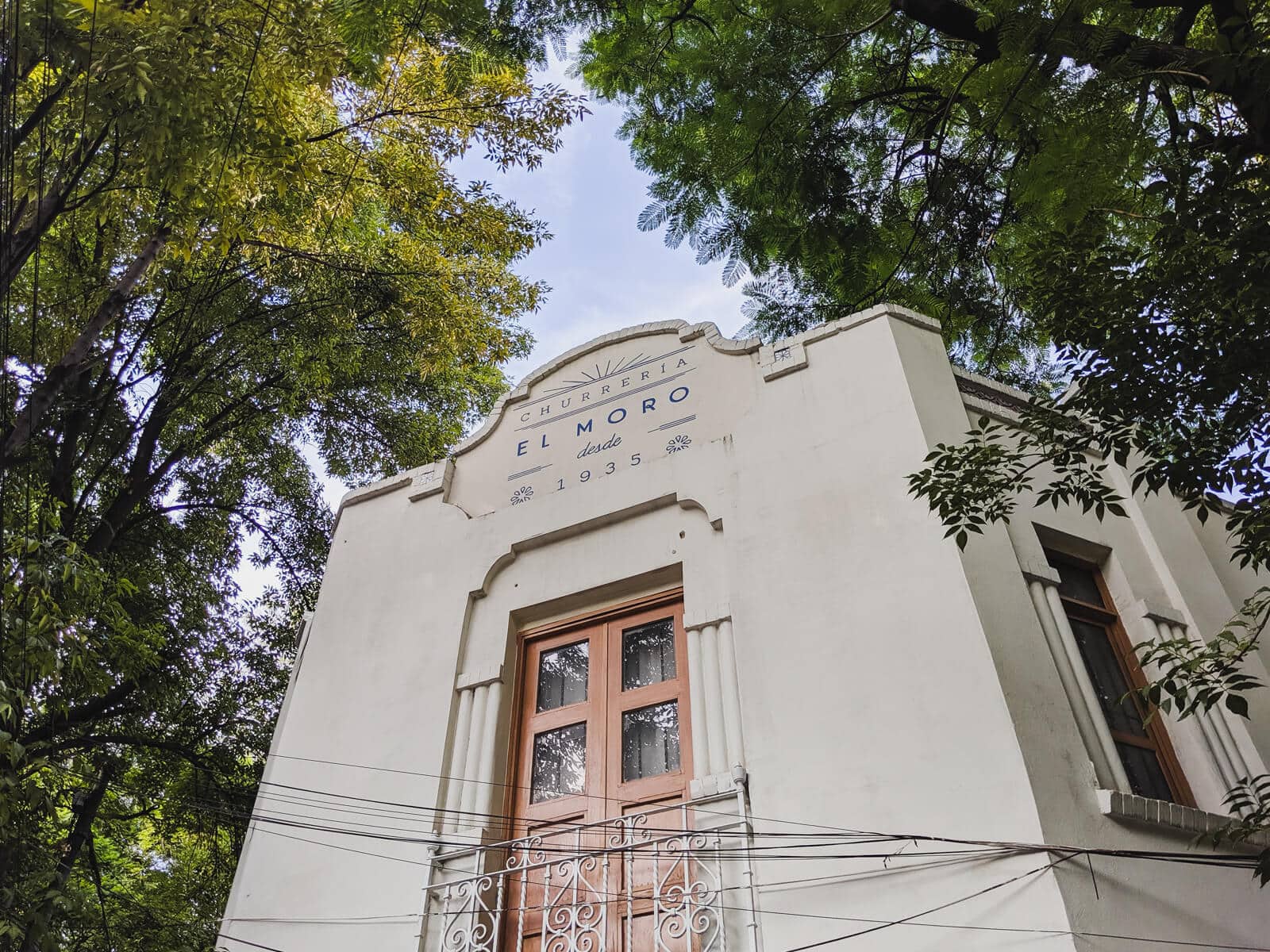 Day 2 Alternative: Spend the afternoon in Coyoacan
After our tacos and churros we felt a bit like beached whales. We relaxed for a bit in our Airbnb and had a relaxed, very tiny dinner nearby.
If you'd like see more after your morning in Xochimilco, I recommend heading over to the colorful colonia Coyoacan.
Coyoacan is conveniently located on the southern side of the city so it's very common to combine with Xochimilco.
Visit Frida Kahlo's home and museum and wander the market, for more information read my post here about Coyoacan.
XOCHIMILCO & COYOACAN TOUR | We were lucky to explore Xochimilcho on our own with a local friend. If you'd rather go on a tour, I recommend this highly-rated private tour will take you to Xochimilco and Coyoacan. It's the perfect way to see everything if you're concerned about going it alone. Reserve it here.
Day 3 | Mercado la Merced Tour & Centro Historico
This was our busiest day. We walked all over downtown, we ate more than we've ever eaten before, and we shopped til we dropped.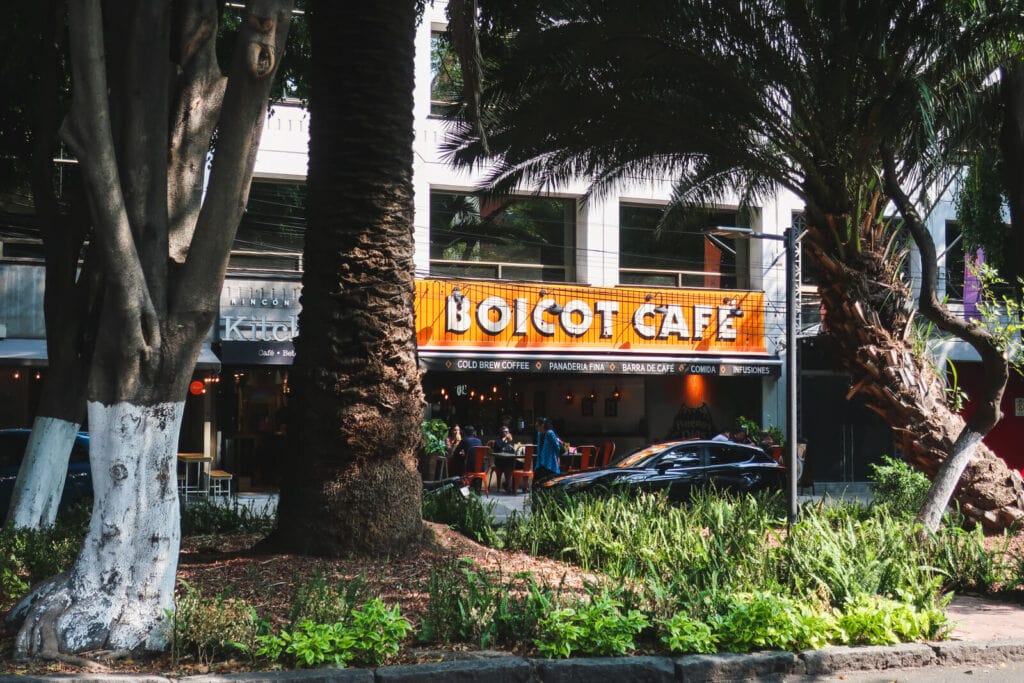 But first, Coffee
Once again, we started our morning off at one of Condesa's cute coffee shops.
This time we got our fix at Boicot.
Knowing the damage I was going to do that day in terms of street food, I ordered a green juice (as if it would somehow make my day healthy?).
The breakfasts here looked delicious but we opted to save our appetites for later.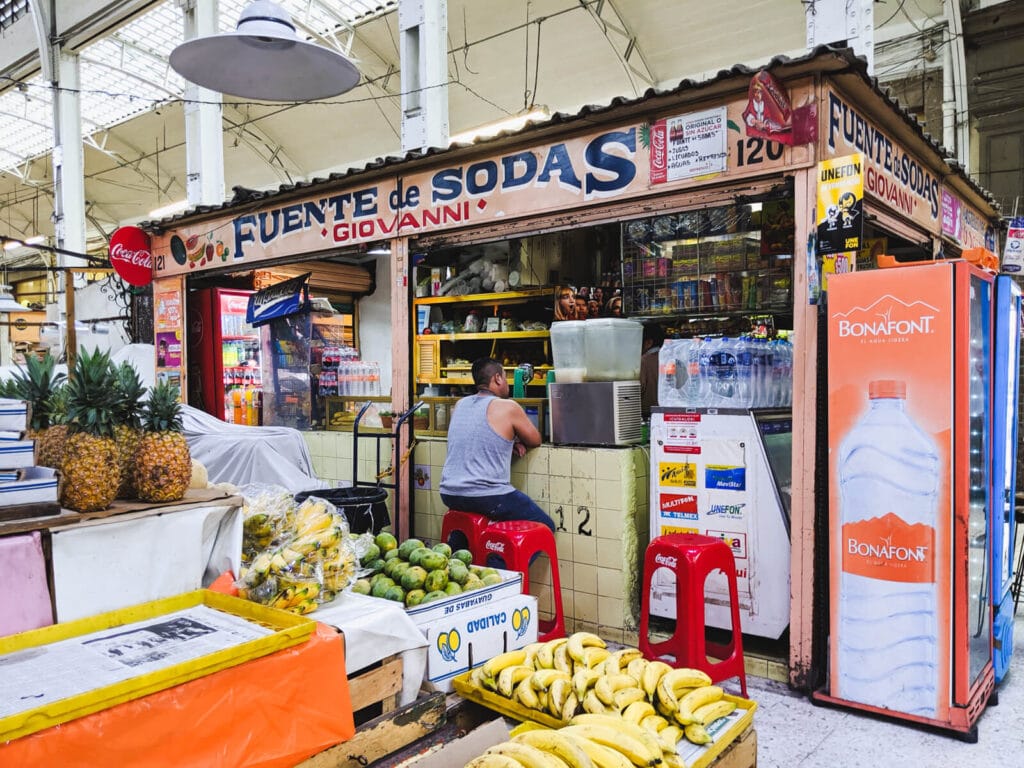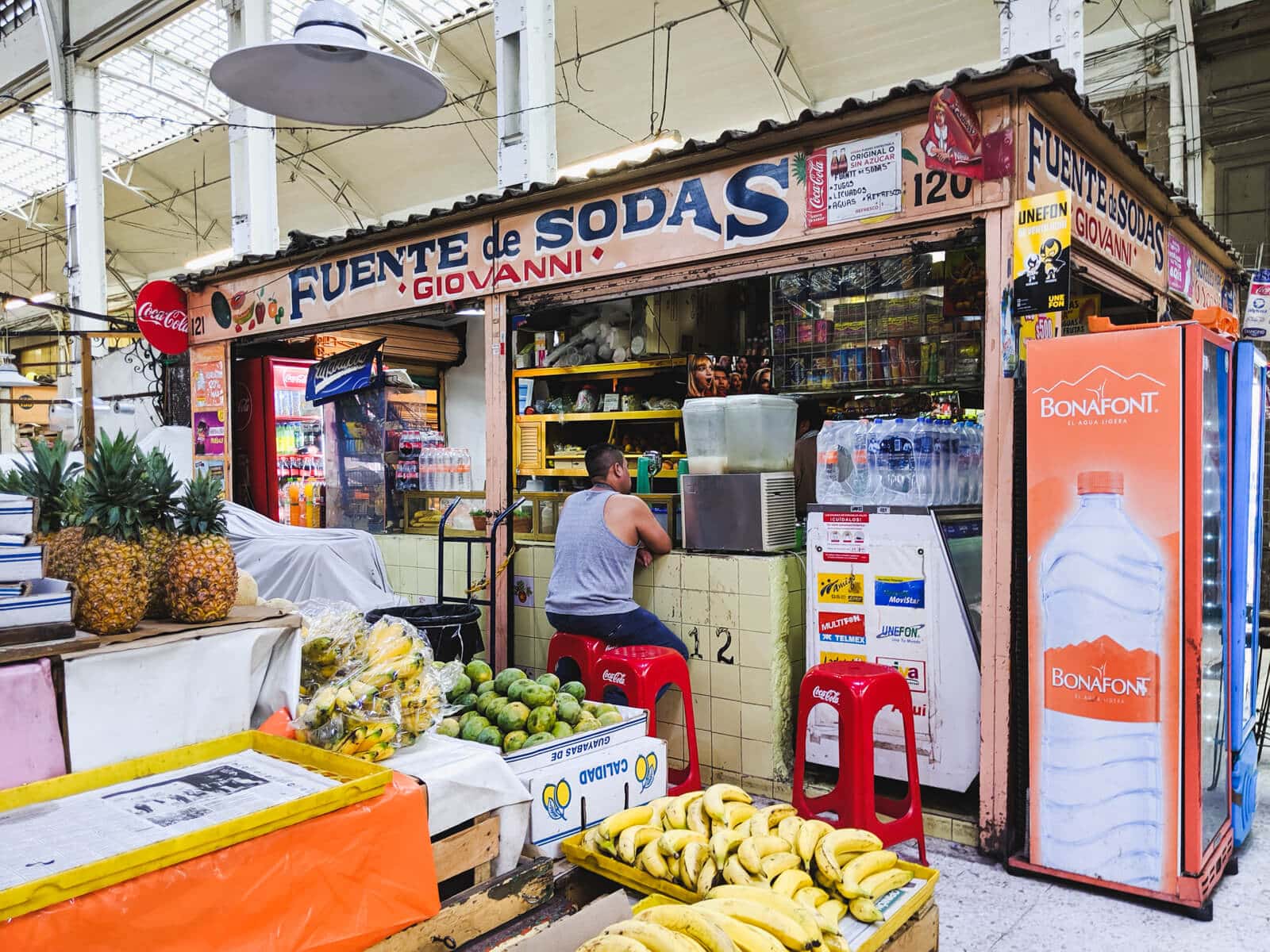 Guided Tour of Mercado la Merced
At 11, we met our guide from Bondabu for a guided tour of Mercado la Merced.
We spent nearly 5 hours exploring not only La Merced but a few other downtown markets and much of the less-visited portions of downtown.
It was an excellent experience. We were able to try a lot of new foods in places we'd have never found on our own. Read my full review of our Mexico City market tour.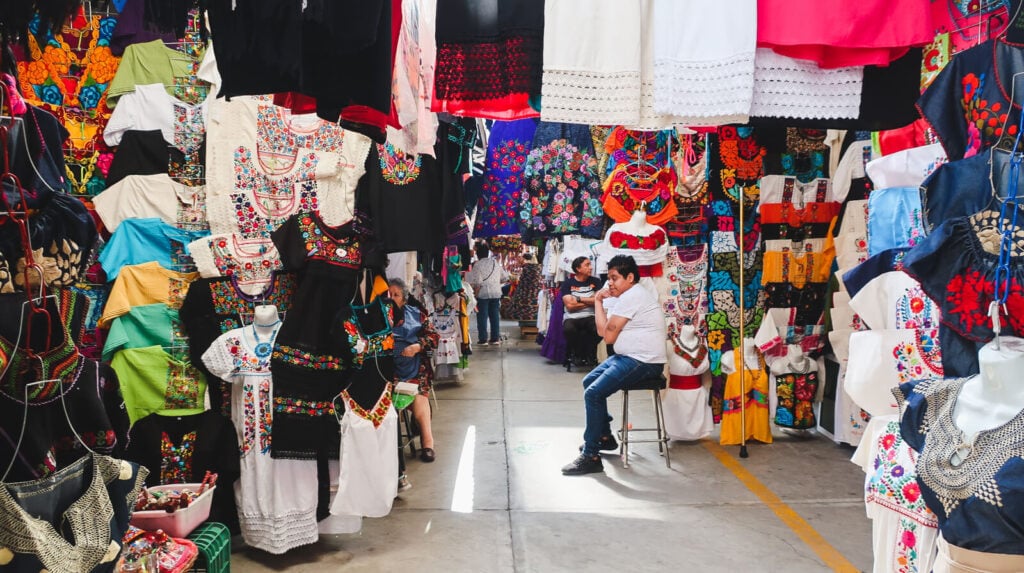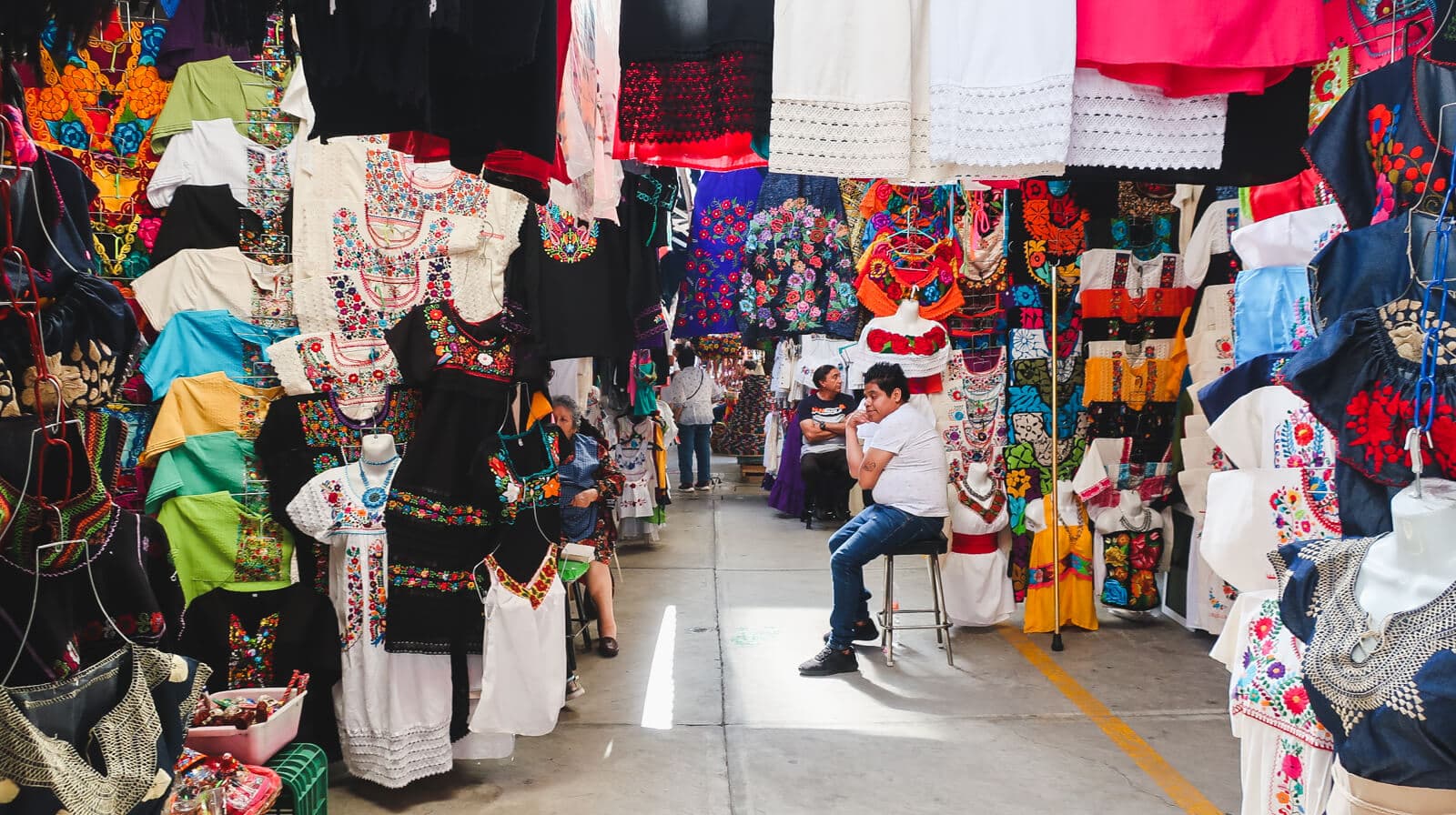 Mercado De Artesanias La Ciudadela
The tour ended at around 4 pm so we hopped into an Uber and hightailed it to La Ciudadela Market.
This popular artisan market has 200 stalls selling crafts from all across Mexico.
We stayed for two hours and I suspect we visited all 200 vendors.
Sears & Bellas artes
At 6 we loaded our tired bones and a few overly filled shopping bags back into an Uber. We ended our day relaxing with a view.
The Sears building (yes, Mexico City has a thriving Sears store. They still exist somewhere!) houses a cafe on its 8th floor with a picture-perfect view of Bellas Artes below.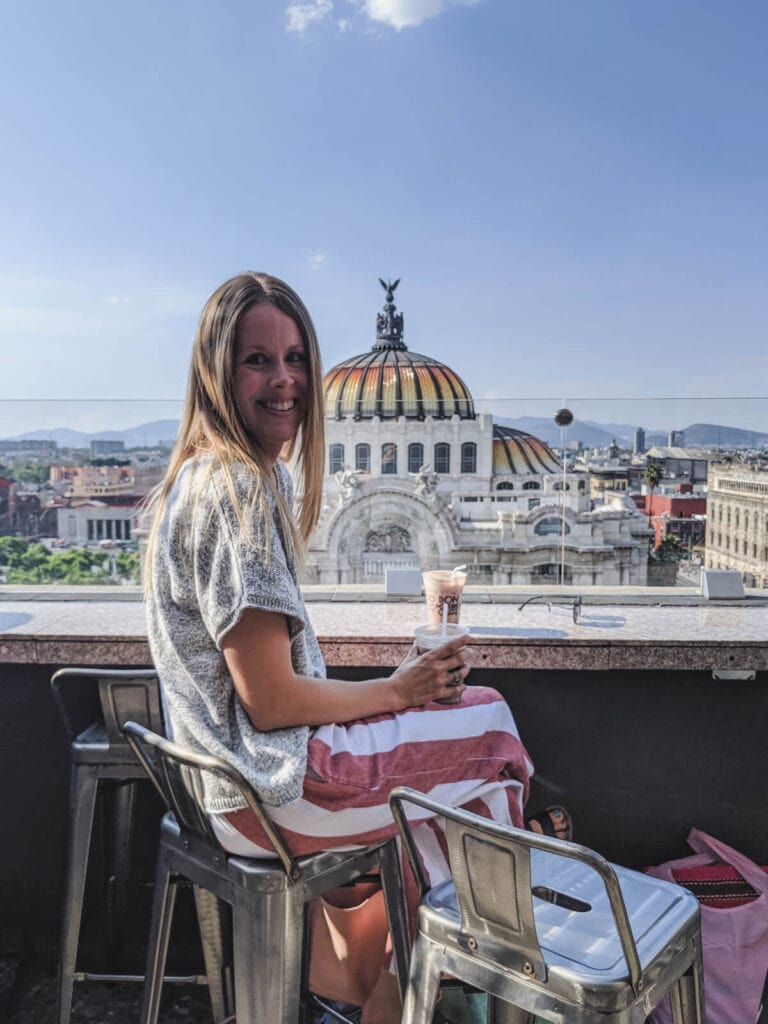 There's another tower, the ugly glass encased skyscraper next door to Sears, that offers a panoramic view of the city.
But between the two I recommend Sears.
Its view is open air and you can enjoy it with a coffee or drink, rather than standing behind scratched glass.
There may be a wait and there was for us. If you wanted to sit in the shade it would have been about a half hour wait, so we sucked it up and sat in the sun.
We ordered horchata and enjoyed the view with our sunglasses.
Day 3 Alternatives: Tour Downtown or Go to Lucha Libre
The tour ended around 3 or 4 pm in the Zocalo, the main square downtown.
From here, we left to go shopping in La Ciudadela. However, there is a lot to see right here in Zocalo.
Visit the Templo Mayor Ruins right next door to the Cathedral or see Diego Rivera's murals in the Palacio Nacional.
For a complete guide to what you can see in this area, read my post about how to spend a day in Mexico City's downtown.
Keep the action going into the night by watching some Lucha Libre for your last night. This tour includes a visit to a classic pulqueria and then takes you to a Lucha Libre match.
Final Day: Relax & Fly Home
We spent 3 nights in Mexico City and on our last day we didn't have a lot of time to explore.
Chilaquiles were on my mind so we went to Azul Condesa for breakfast. Our chilaquiles were followed by one last cute cafe.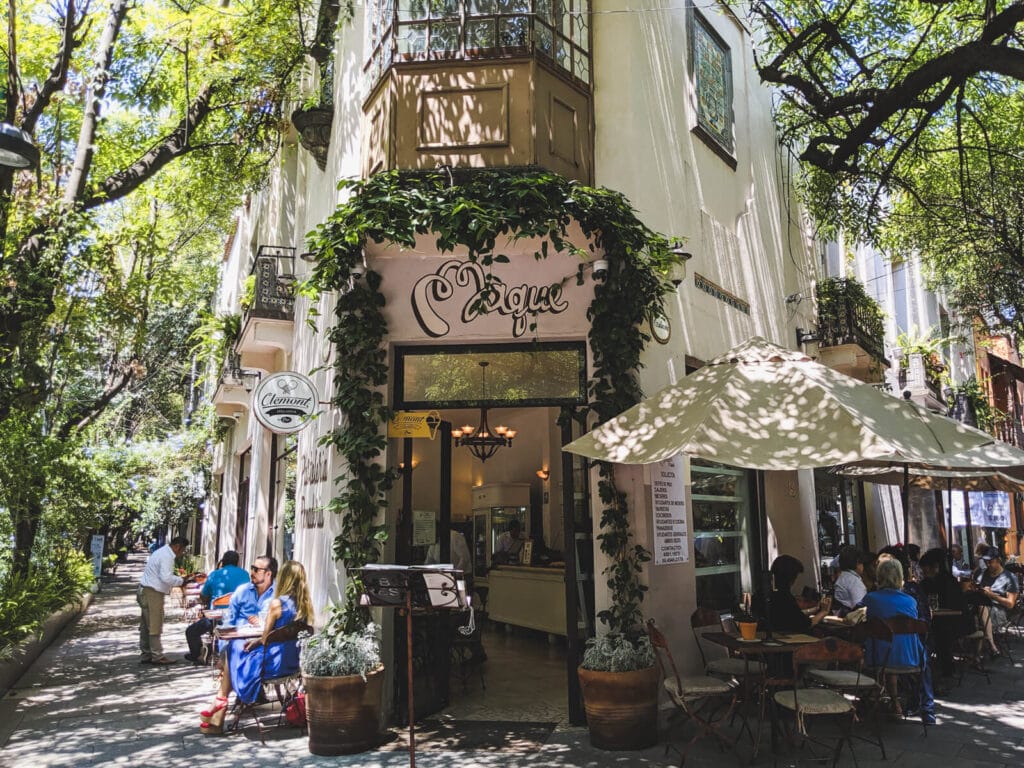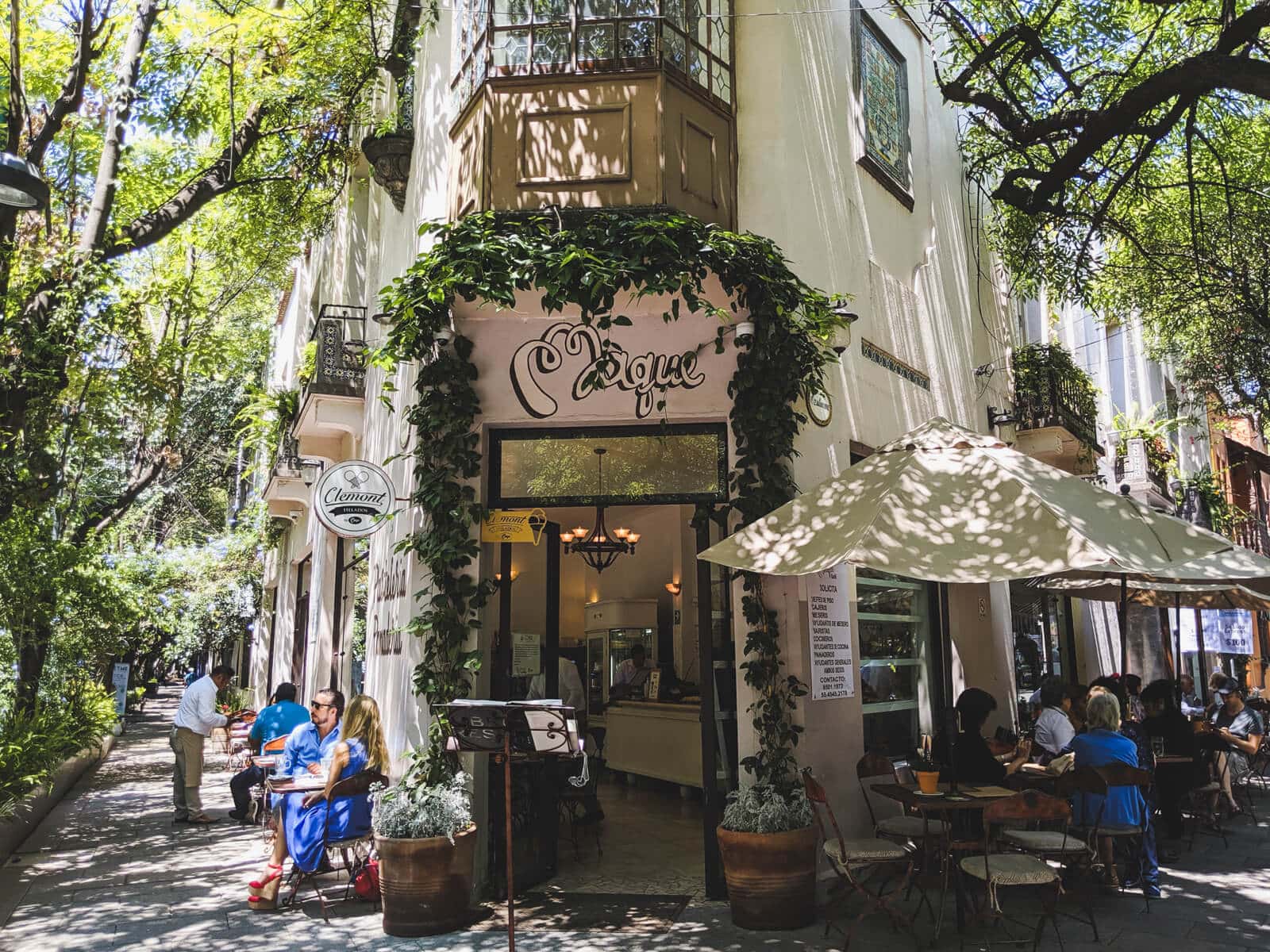 This coffee shop was so cute and being right across the street from Parque Mexico, the view from the outdoor tables was the perfect way to say goodbye to Condesa.
From here we made a rushed stop at a supermarket to buy all of the hot sauce, spices and coffee that I could fit in my already bulging suitcase.
This was the end of a perfect trip, we saw so much of Mexico City in 3 days!
I can't wait to return to give this city the time it really deserves.
IMMIGRATION TIP | When you arrive in Mexico City and go through immigration, they stamp your passport and give you a small slip of paper. This paper, the bottom portion of your immigration form, is required to exit the country. Do not lose this or throw it away. Keep it in your passport, you'll need to give it to your boarding gate agents as you board your flight.
PIN IT FOR LATER