When I planned my first trip to Mexico City, I knew I wanted to do two things: eat all of the best tacos in town and see Diego Rivera's epic murals.
With this mission in mind I plotted out my itinerary for my too quick one day in Mexico City layover.
I may have been short on time but I covered a lot of ground, seeing many Diego Rivera Murals in Mexico City.
In subsequent trips, I have discovered even more of his genius dotted across the city.
This post includes five ways to see the best Diego Rivera murals Mexico City has to offer, including the work of his proteges and a flock of peacocks (to be a little extra).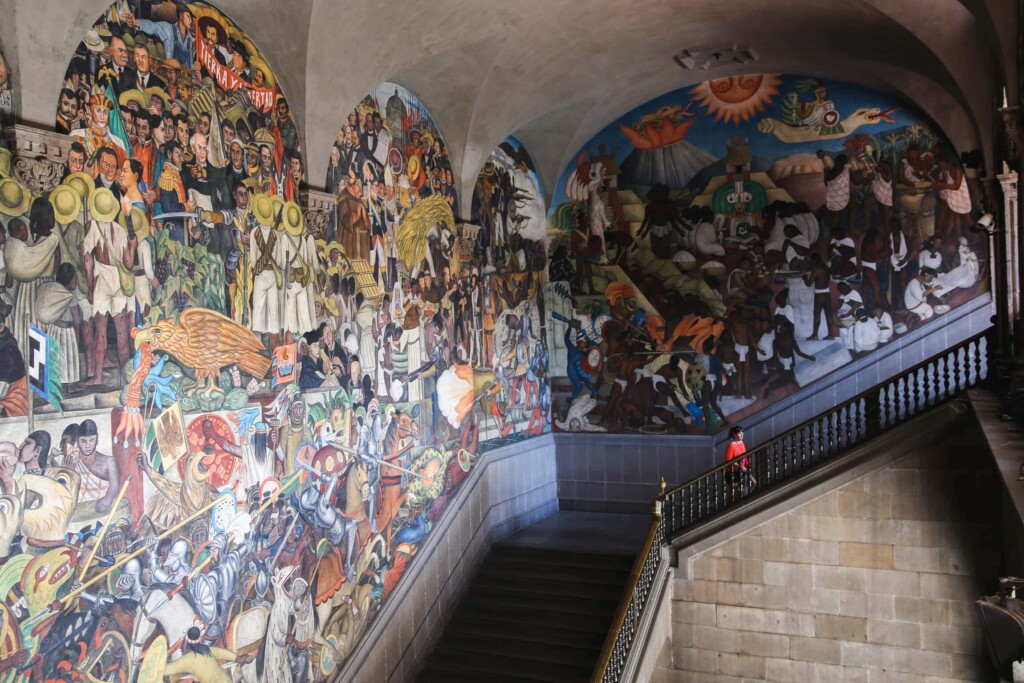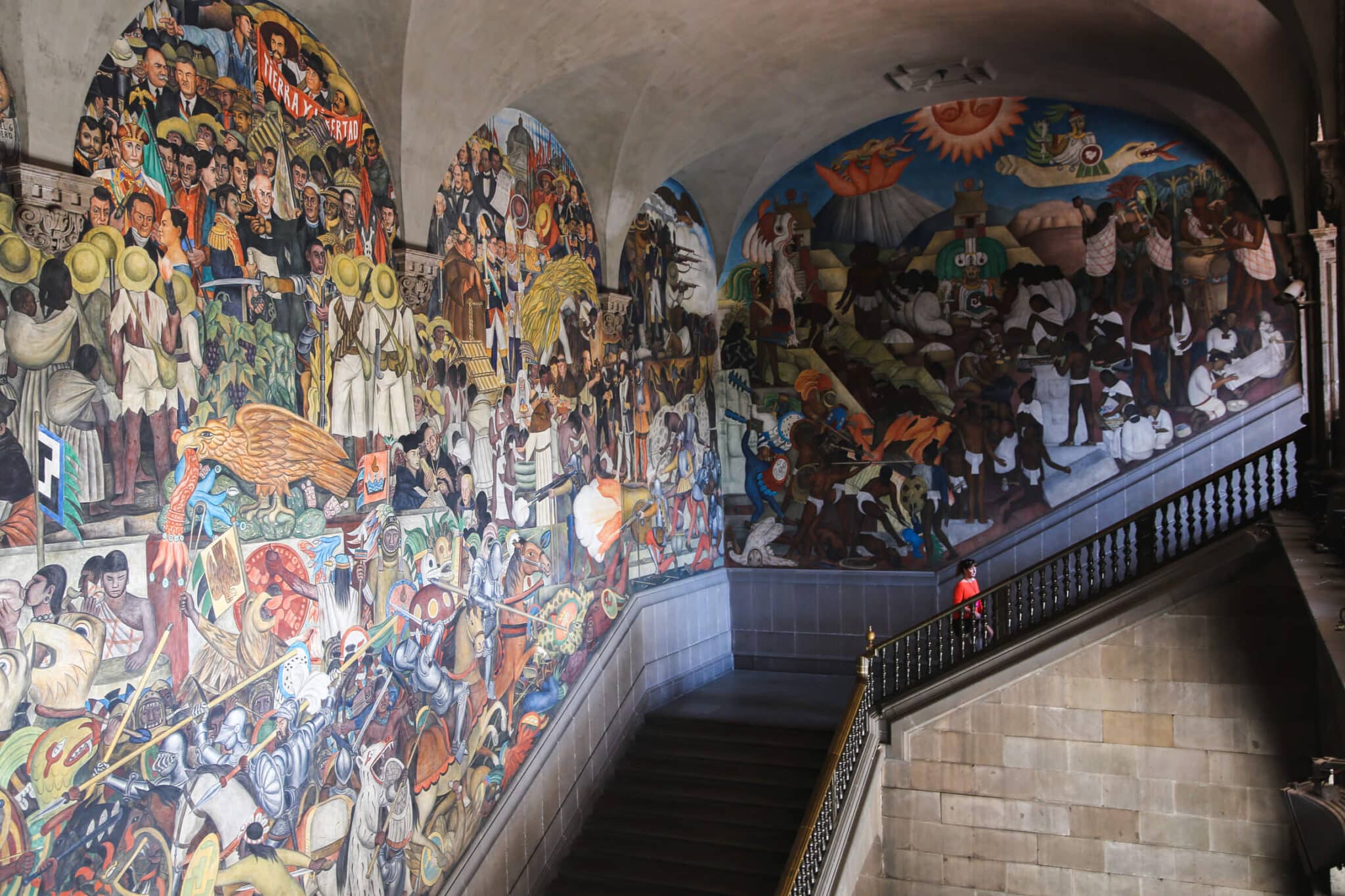 QUICK NOTE: This post contains affiliate links and Sol Salute may receive a commission for purchases made through these links, at no extra cost to you.
Where to see Diego Rivera Murals in Mexico City
While studying Spanish, I had seen the most iconic works by Diego Rivera in my textbooks.
However, I was unaware of the importance of Mexican Muralism as a whole until I experienced it in Mexico City.
As a movement, it began in the 1920's with artists painting large murals filled with political messages after the Mexican Revolution.
Diego Rivera was just one artist in this movement.
I planned my day with visits to see examples of Diego Rivera paintings in Mexico City.
Along the way I also fell in love with murals by other artists like Siqueiros and Orozco, in Bellas Artes.
So, let's get started! Here are the best places in Mexico City to see Diego Rivera's work.
Mexican Muralism Guided Tour
Maybe you'd rather hire a guide to do all the research for you? I get it. I'm also a HUGE fan of a good walking tour!
This affordable guided tour focuses 100% on Mexican Muralism in Mexico City.
It's affordable and covers a lot of ground, not just of Diego Rivera's best murals, but of muralism as a whole.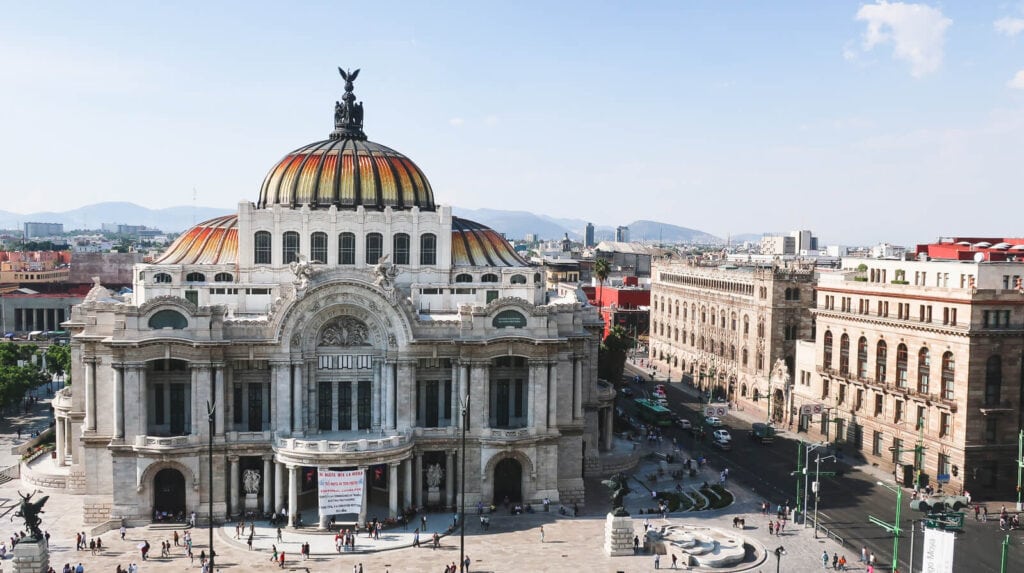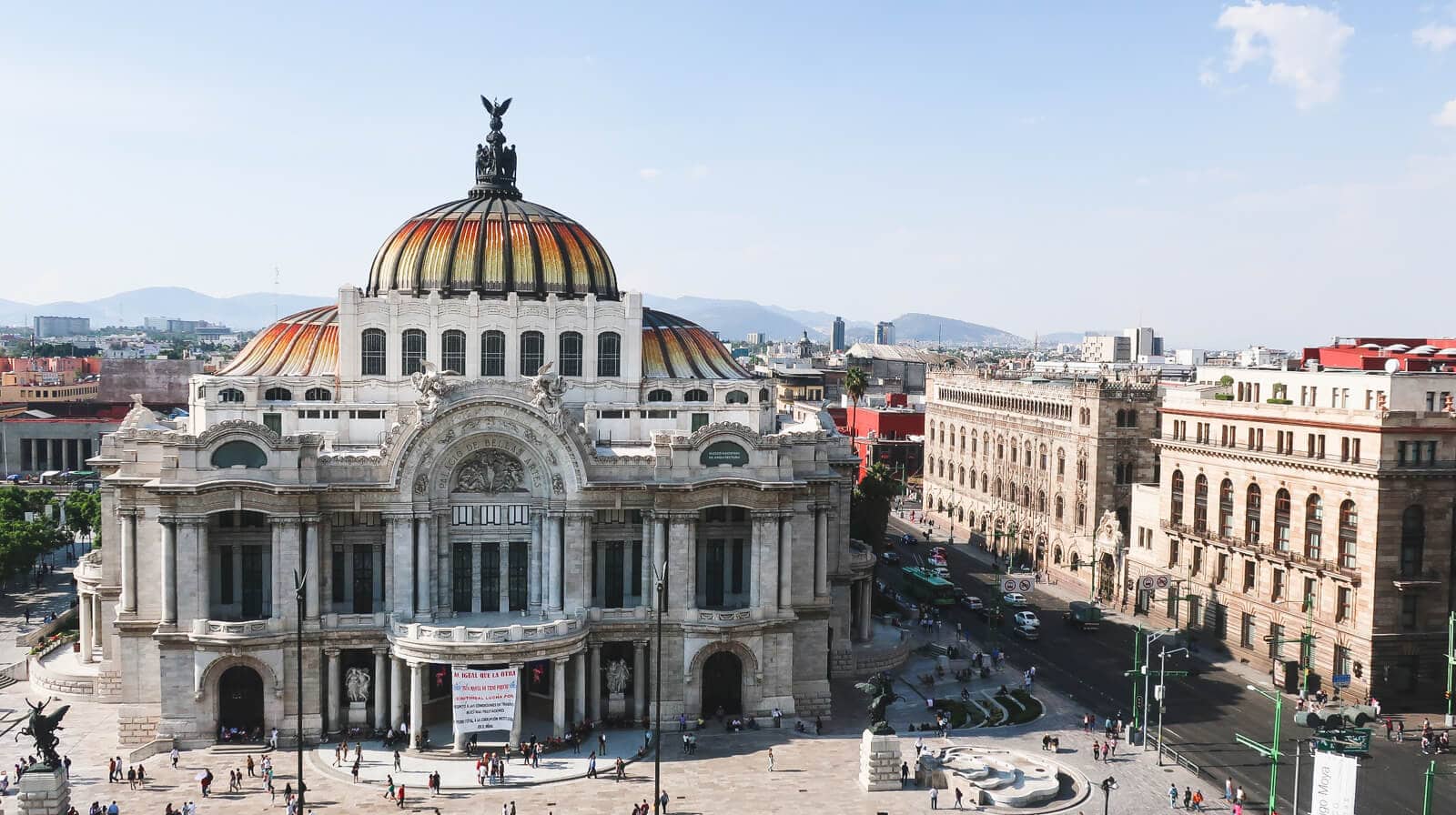 1. El Palacio de Bellas Artes
Below is a breakdown of the Diego Rivera murals in Bellas Artes (and others by other incredible artists!).
There's a lot to see here so take your time.
There are also plenty of great walking tours of the historic center that include a visit to Bellas Artes.
This full day tour includes the historic downtown, Diego Rivera paintings and Teotihuacan.
The upper floors (pictured below) of Bellas Artes house the museum's murals, including masterpieces by the three most well-known artists of the genre:  Diego Rivera, José Clemente Orozco, and David Alfaro Siqueiros.
Bellas Artes At A Glance
Address: Av. Juárez S/N, Centro Histórico
Hours: Tuesdays-Sundays, 10 am-7 pm, Closed Mondays
$85 pesos entry fee, plus an additional $30 fee to take photos and/or video, cash only, confirm hours here
BONUS TIP: For the best view of the Bellas Artes, cross the street to the Sears Department Store and go to the coffee shop on the 8th floor.
The terrace has a panoramic view of the Palacio and historic downtown.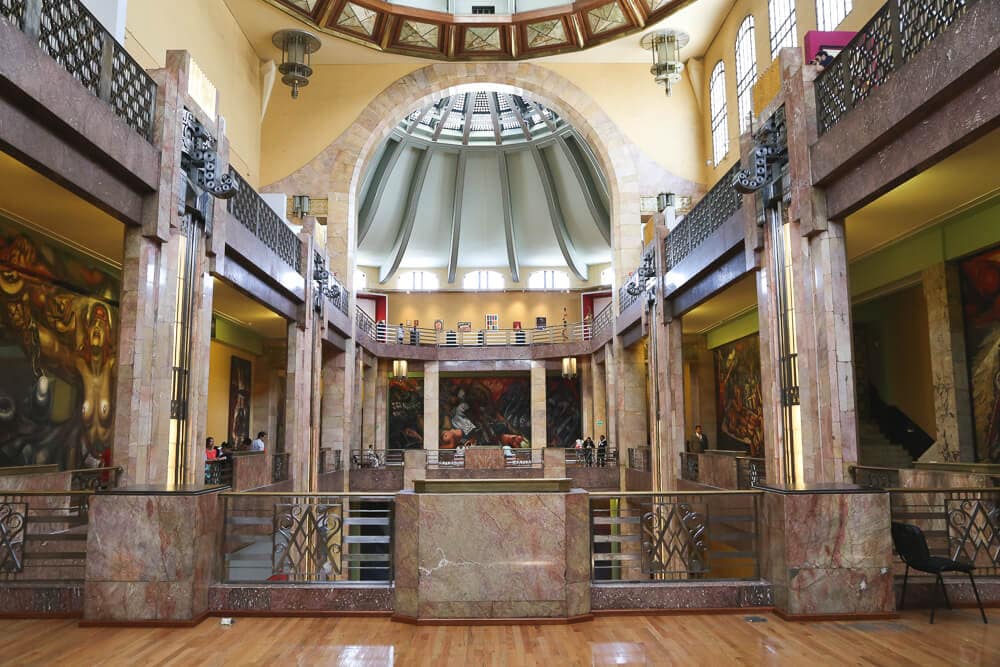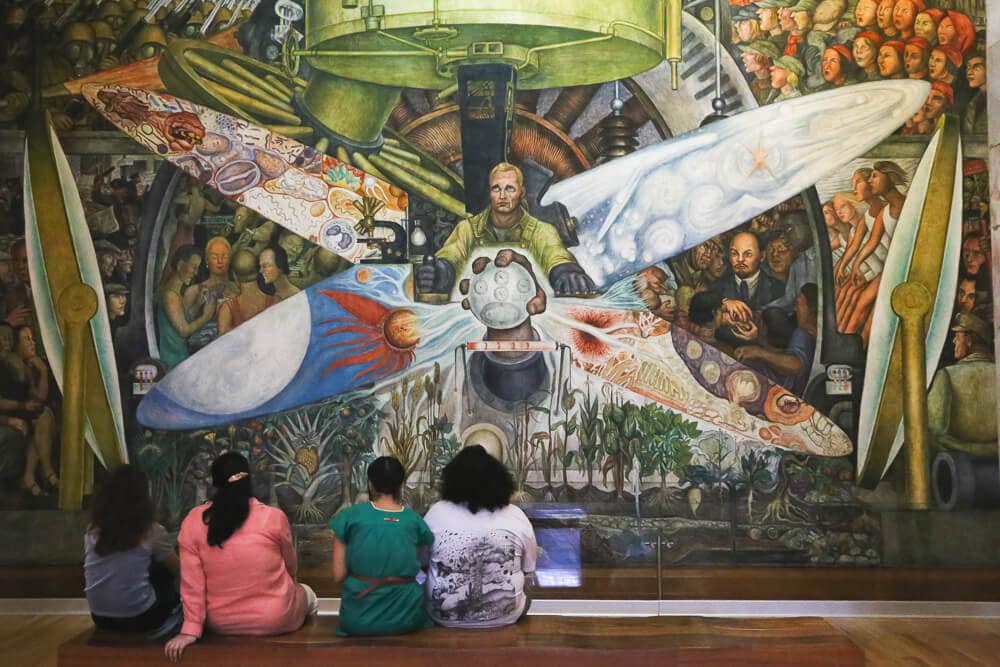 Man, Controller of the Universe, by Diego Rivera (above), is one of Diego Rivera's most famous works in the museum.
It's a recreation of a painting (Man at the Crossroads) originally commissioned by the Rockefeller family.
Unfortunately, the original was destroyed due to the depiction of communist leader Lenin.
Using photographs of the original, Rivera recreated this version in Mexico under a new title.
The painting represents the replacement of superstition with science and the overthrow of the autocrats by the liberated working class.
New Democracy by David Alfaro Siqueiros (below). The central figure here represents a free humankind with both feminine and masculine traits.
It also brings to mind the symbols of the French revolution.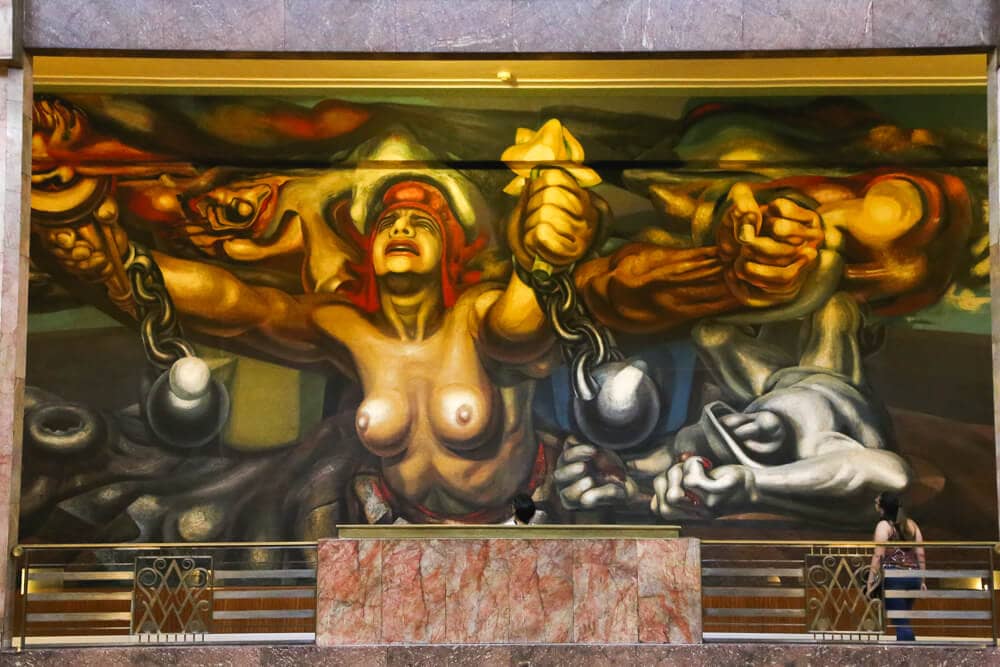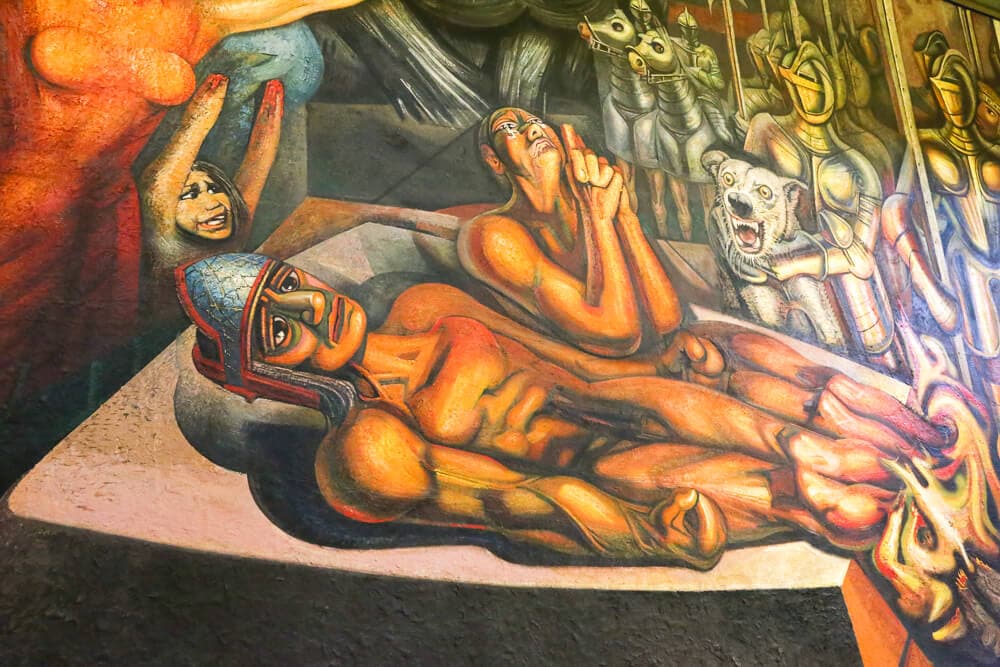 Torment of Cuauhtémoc, by David Alfaro Siqueiros (above).
This is the painting that made me pause the longest.
The sadness in Cuauhtémoc's eyes feels so real and the dog looks ready to jump out of the painting to attack the viewer.
It's a representation of when Cuauhtémoc was tortured to reveal the hidden treasures of Tenochtitlan.
The woman covered in red behind him represents the injured nation itself, next to a smaller mutilated girl copying her posture.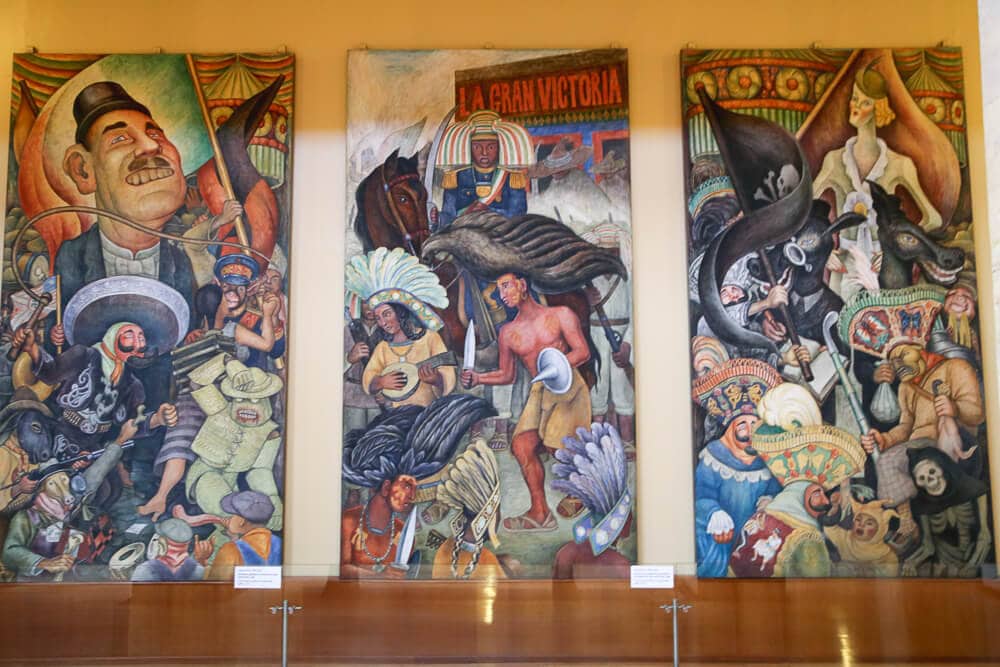 Carnival of Mexican Life, by Diego Rivera. The picture above includes the first 3 of the 4 panels.
In the first panel, The Dictatorship, a giant that seems to be a combination of Hitler, Mussolini, Roosevelt and Hirohitoh holds a flag with the colors of Germany, Italy, Japan and the US.
In the second panel, The Dance of the Huichilobos, the Pre-Hispanic god of war, Huitzilopochtli, is depicted with mestizo features and a Spanish uniform to allude to the violence of the Spanish conquest.
In the third panel, Touristic and Folkloric Mexico, a group of people with donkey faces watch a group of dancers at the Festival of the Chinelos, mocking the Spanish conquistadors.
Rivera painted these panels in 1936, but they were so politically controversial that they were put in storage until 1963 when they were moved here to Bellas Artes.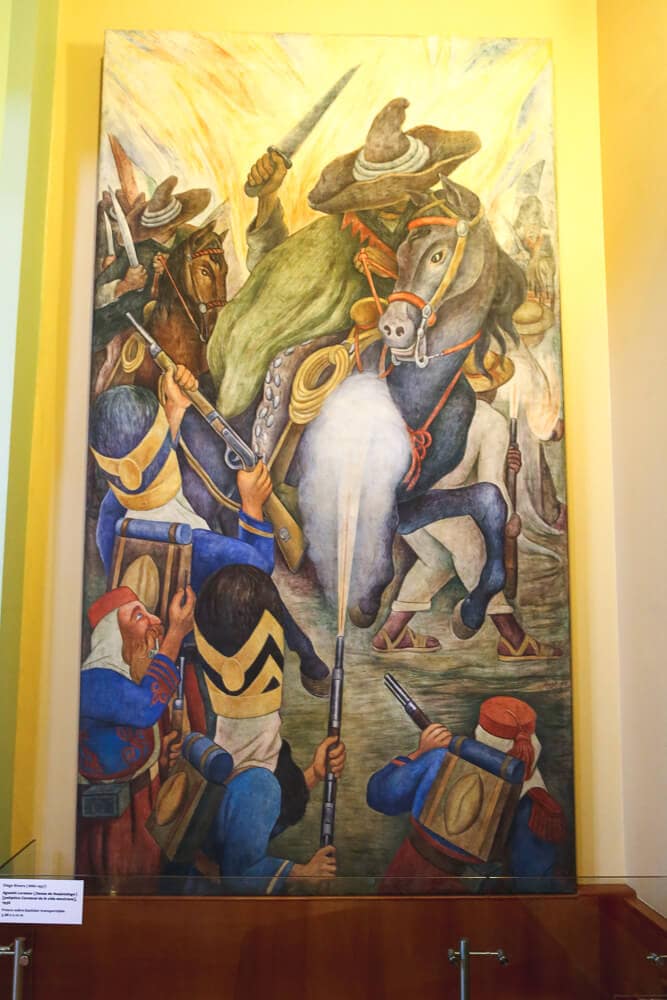 The fourth panel of The Carnival of Mexican Life is pictured above on the left, the Legend of Agustín Lorenzo. 
This panel portrays the confrontation of the bandit/hero from the 19th century and the French troops in the War of French Intervention.
On the right above is Liberation by Jorge González Camarena, it's a recreation of an earlier painting that was destroyed by an earthquake.
The painting portrays slavery and shows various men casting off their bindings.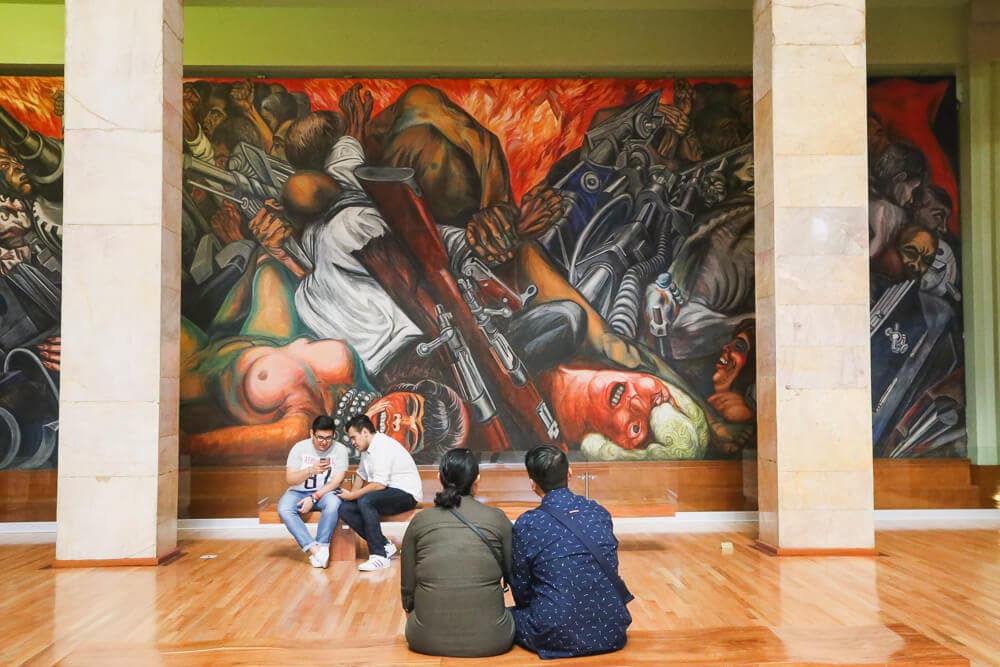 Catharsis by Jose Clemente Orozco. This Mexican muralism painting is an overall critique of society, portraying general anarchy and social decay.
These were my favorite murals in Bellas Artes.
Like I said before, there are so many so it's worth taking your time here to really appreciate the artwork.
2. The National Palace, Mexico City
While the first stop in this post was filled with all of the stand out artists in Mexican Muralism, with the National Palace we are back on track with Diego Rivera.
One of his most iconic works is here just one block off the Zocalo.
The immensity of the stairwell mural here will make you feel tiny as you stare up at it from below.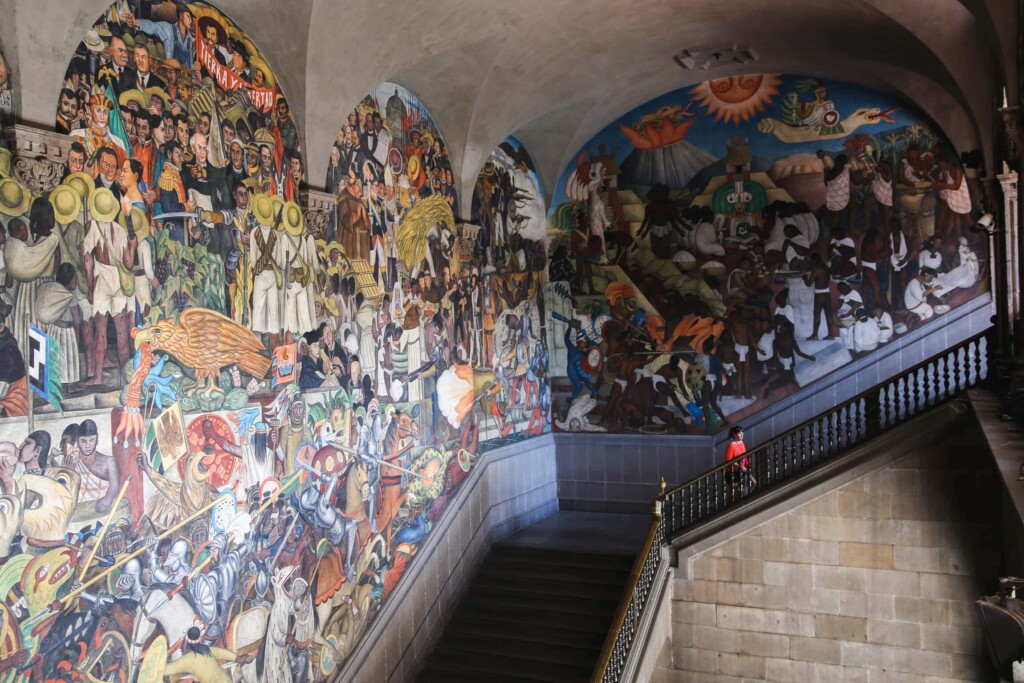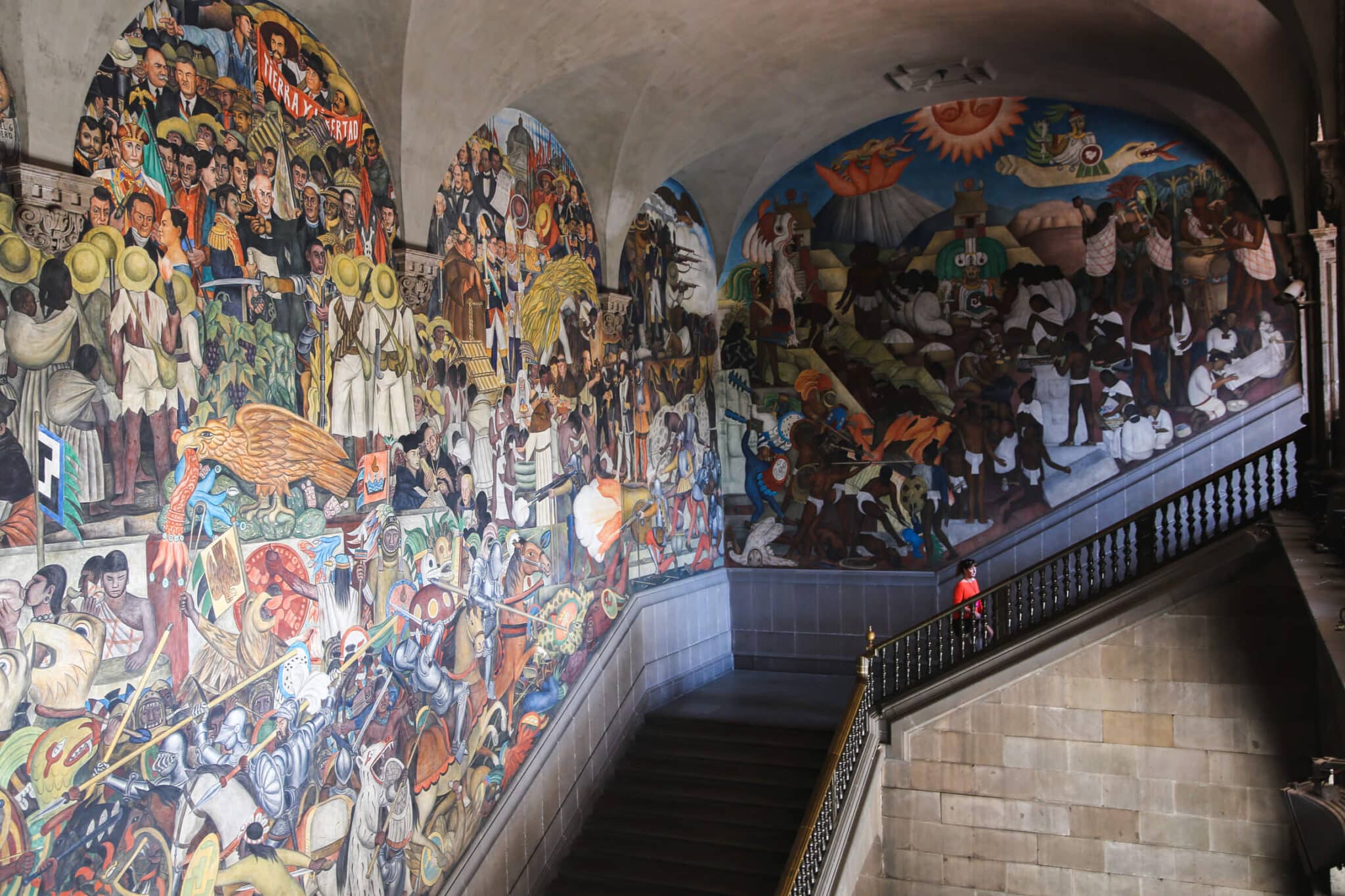 El Palacio Nacional At A Glance
Address: Plaza de la Constitución S/N, Centro Histórico de la Cdad. de México, Centro
Hours: Tuesdays-Sundays, 9 am-5 pm, Closed Mondays
Free entrance and bag check to leave large backpacks/totes.
NOTE: While located directly on the main plaza, the Zocalo, the entrance is a few minutes walk down the side street that's on your right when you are in front of and facing the Cathedral.
You can easily visit the National Palace on your own, and it's ideal so you can take your time to take in the art.
However, if you're looking for a tour that includes a stop here, I recommend this one that will show you all the hidden secrets of Mexico City.
This Diego Rivera staircase mural in the National Palace depicts the history of Mexico, with scenes of pre-colonial Mexico on the right.
The center portrays the Spanish conquest, both military and religious.
On the left panel, the rise of the working class is depicted.
Of course, Frida Kahlo present among the people on the left-hand side, see if you can find her when you visit!
On the upper floor, there are more panels by Diego Rivera, depicting life before the Spanish conquest.
The paintings were intended to circle the entire floor but were never completed.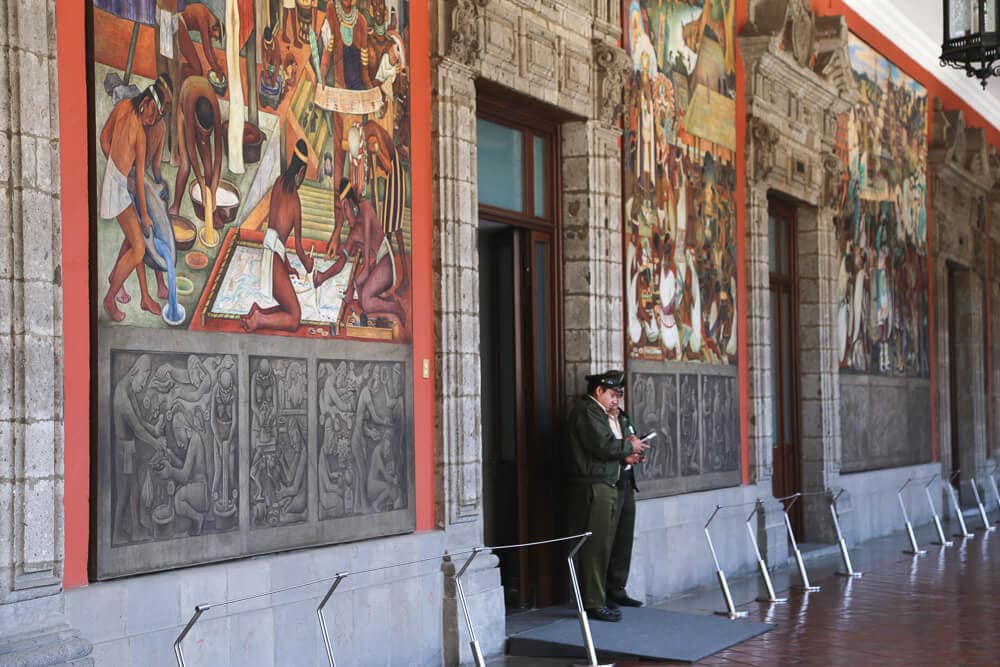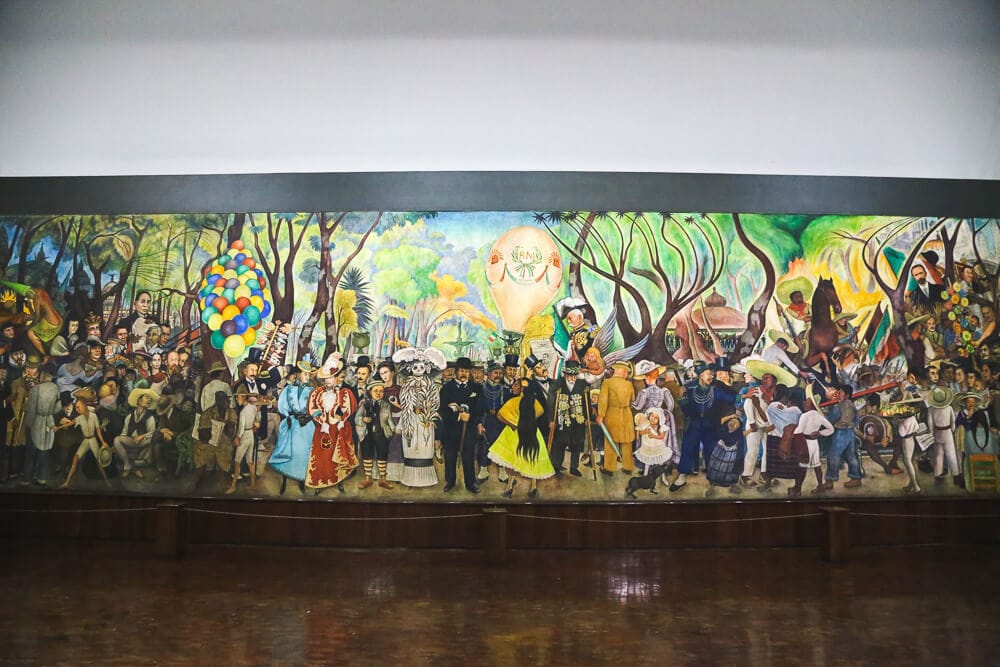 3. Diego Rivera Museum
The Diego Rivera Museum was created to hold just this one epic 15 meter long mural: Dream of a Sunday Afternoon in Alameda Park (pictured above).
On the far left is Hernan Cortes, with blood on his hands.
Frida is in the center, with Diego Rivera painting himself as a child sheltered directly in front of her (pictured below).
They are flanked by elegant upper-class women, along with a skeleton figure parodying their very elegant look front and center.
There's so much to take in that it's almost better that this is the only attraction in the Diego Rivera Museum.
You can focus your attention solely on it.
Diego Rivera Museum At A Glance
Address: Alameda Park, between Balderas and Colón streets.
Hours: Tuesdays-Sundays, 10 am-6 pm, Closed Mondays
Entrance: $40 pesos entry fee plus $5 pesos for photography permission.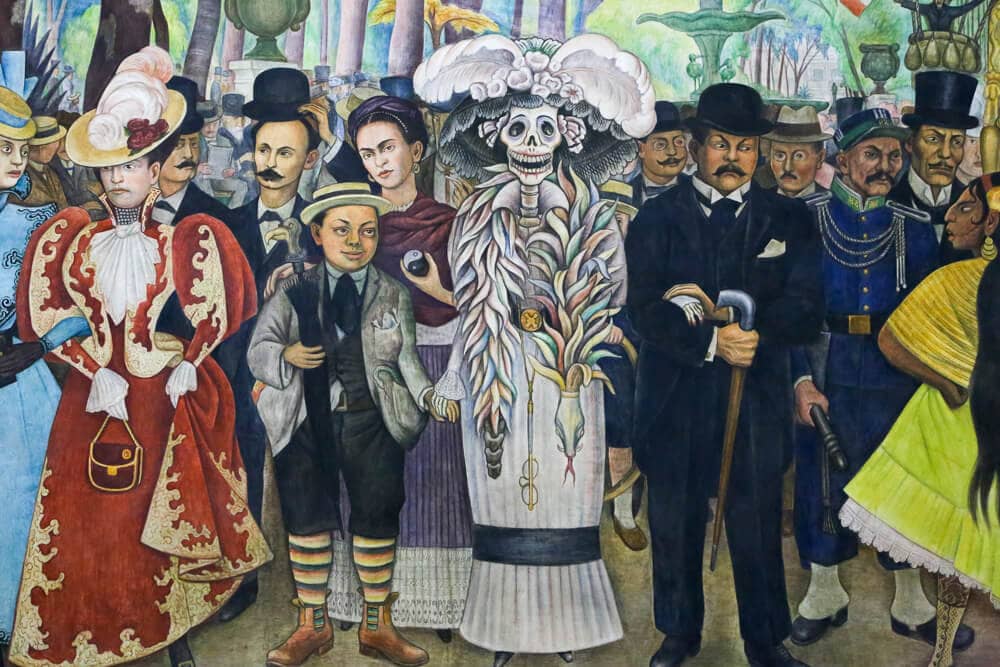 READ NEXT: One day in Coyoacan (See Frida & Diego's Home!)
The three museums listed above are all located downtown, they are the best places to see Diego Rivera in Mexico City's Centro Historico.
To see all three you'll spend under 10 dollars and have seen most of Diego Rivera's iconic works in the Mexican Muralism style!
On a recent long weekend in Mexico City, I was able to discover even more of Rivera's influence in the city.
One features his paintings (not murals) and the second houses the work of his students, where his influence is carried on to the next generation.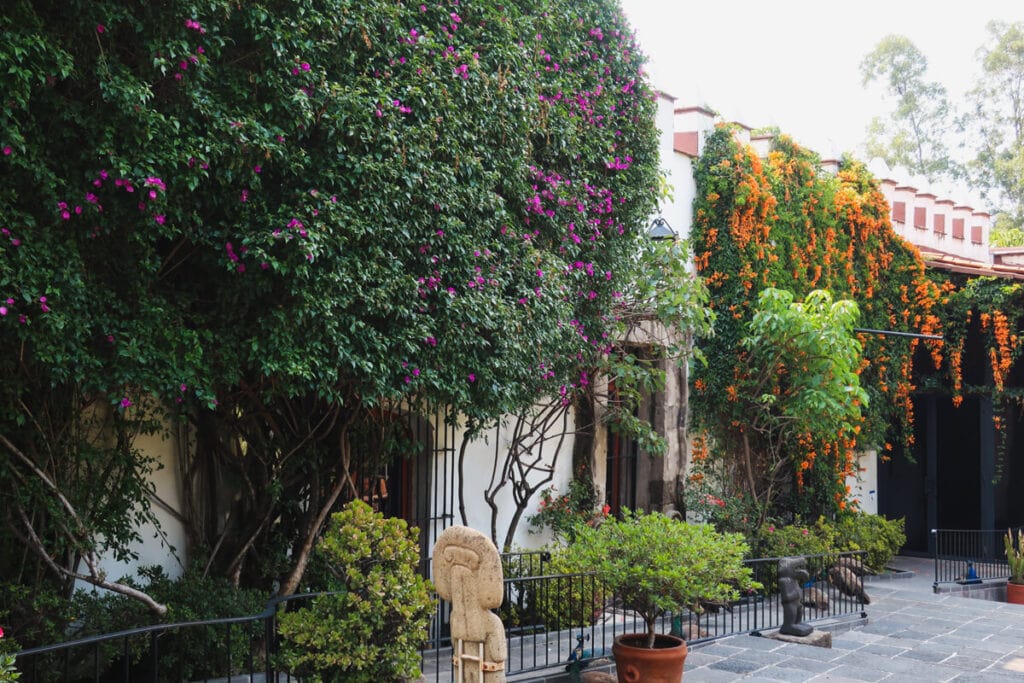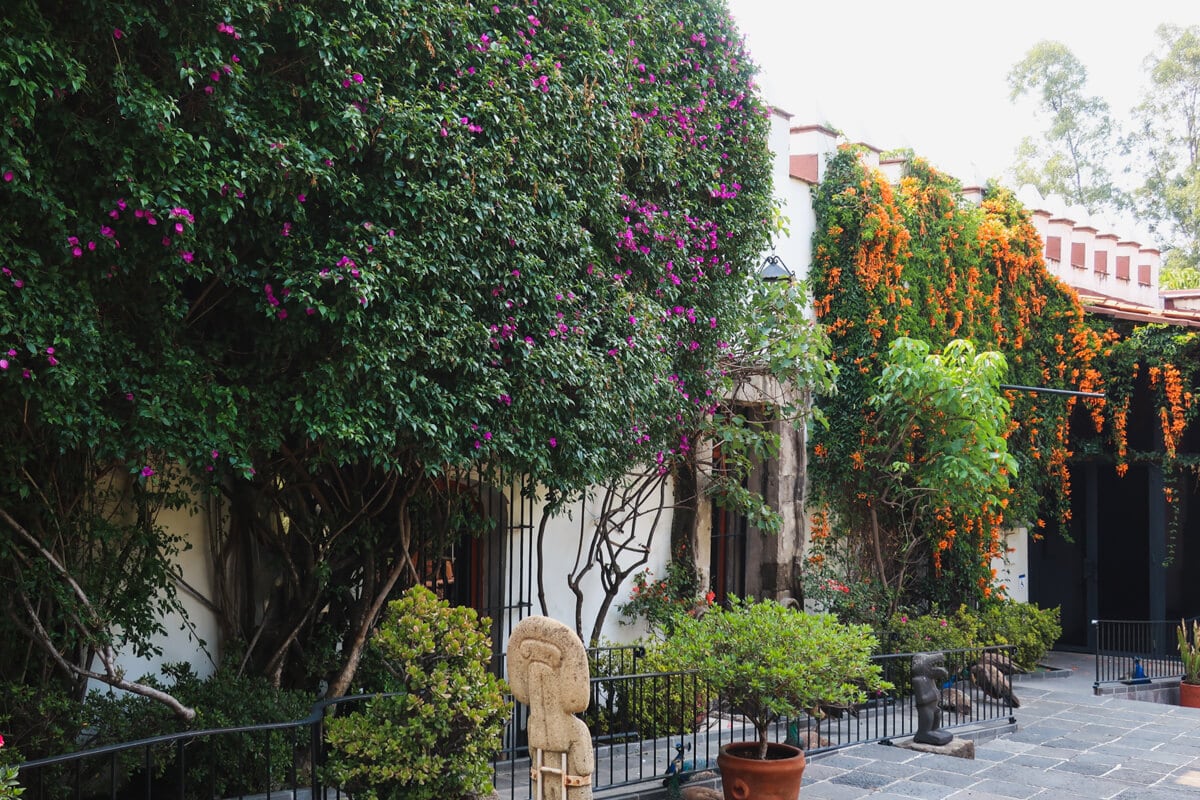 4. Dolores Olmedo Museum, Xochimilcho / PERMANENTLY CLOSED
UPDATE MAY 2023: Unfortunately, Dolores Olmedo Museum closed its doors during the pandemic and never re-opened them.
There is talk that the collection will be moved to Chapultepec in Parque Urbano Aztlan which is under consturction (inauguration possibly this September).
The move is controversial and we'll have to wait and see how it pans out.
What follows here is a write up of our visit to the former museum, hopefully we'll all be able to view these works again soon!
After spending the afternoon floating across the canals in Xochimilco, my friend turned to me and asked if I'd like to see more of the area.
Obviously, the answer was yes! He took us to the Dolores Olmedo Museum, pictured above.
Upon her death, socialite Dolores Olmedo Patiño donated her estate and art collection to the people of Mexico.
This created the world's most important collection of works by Frida Kahlo and Diego Rivera.
I highly recommend adding a stop here to your Xochimilco day trip! We were lucky to be with a local friend who drove us.
NOTE: While you can't visit this museum anymore, a visit like this one to beautiful Xochimilco cannot be missed!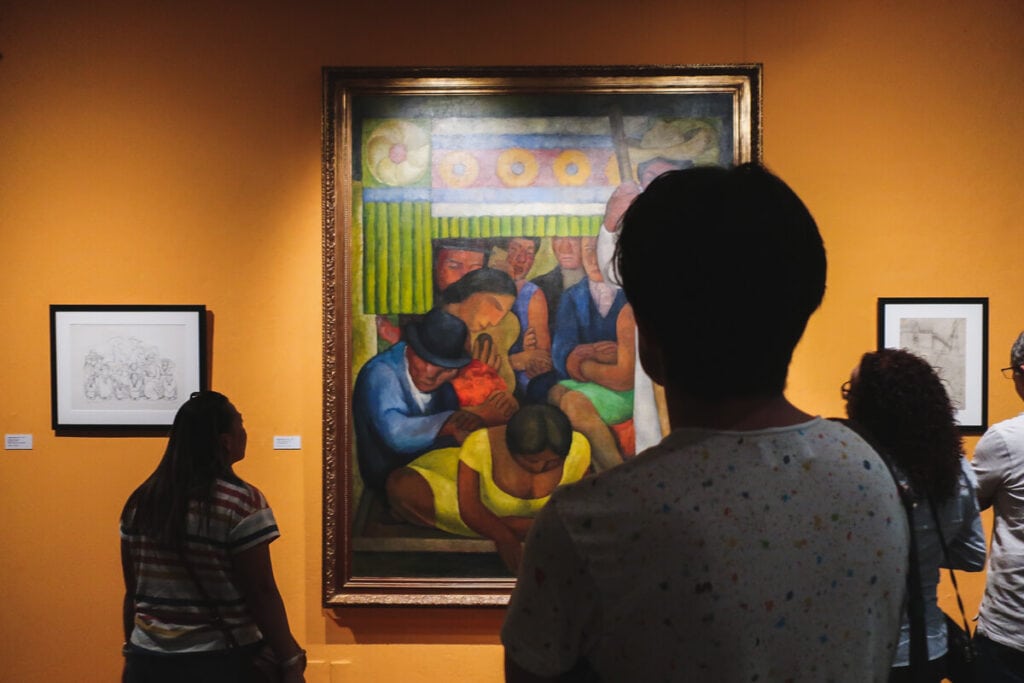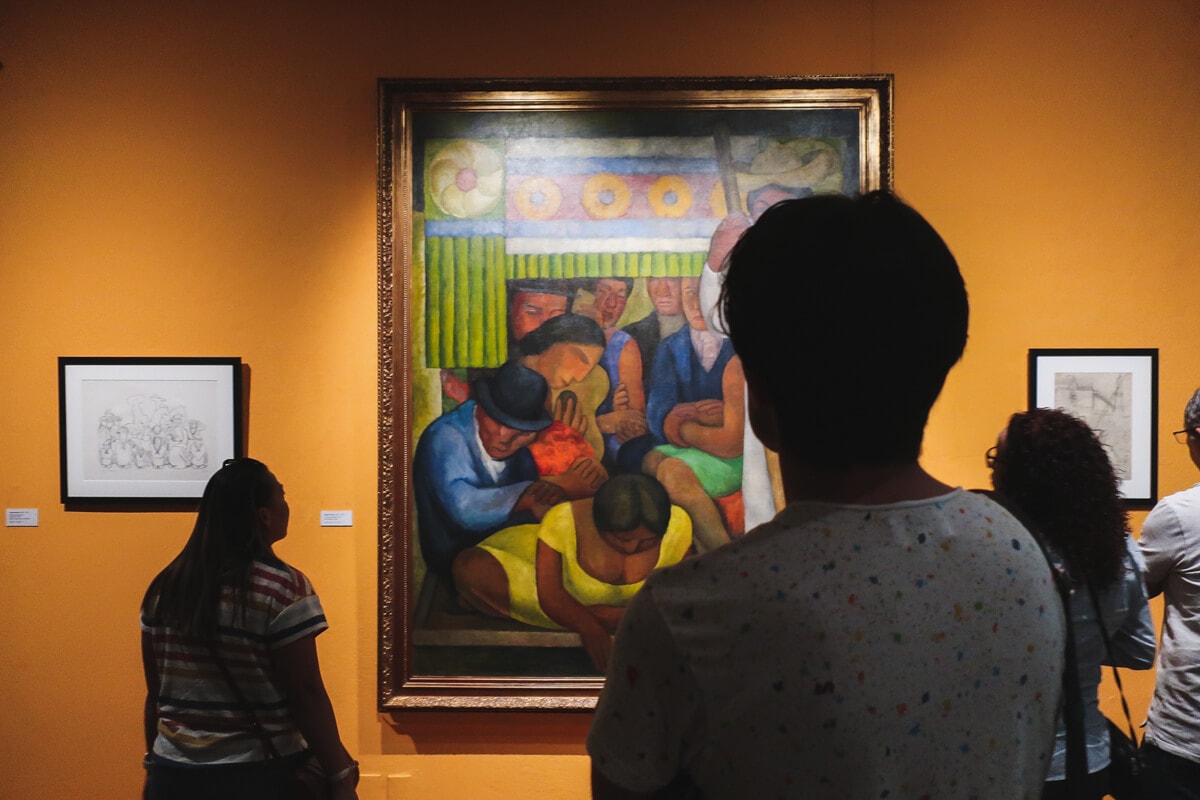 The collection in the Dolores Olmedo Museum is impressive.
We were unable to see Frida's collection as it was on exhibit elsewhere.
But while you may or may not see Frida here, you are assured to see Diego's many paintings, ranging in styles as he experimented throughout his career.
The grounds are worth the visit as well. The estate is stunning and expansive.
The countless peacocks that roam the grounds (and even the rooftops!) are gorgeous.
Be sure to say hello to the resident hairless Xoloiztcuintle dogs.
This pre-Colombian breed (as seen in Disney's Coco), is an important pillar in Mexican history. They are believed to guide the dead to the afterlife.
5. The Abelardo L. Rodríguez Market
On a Mexico City Market Tour, our guide ended the tour with a visit to the Mercado Alebardo L. Rodriguez.
This market is very much off the beaten path but is filled with stunning murals painted by students of Diego Rivera under his supervision.
You can get all the makings for guacamole while also admiring impressive artwork.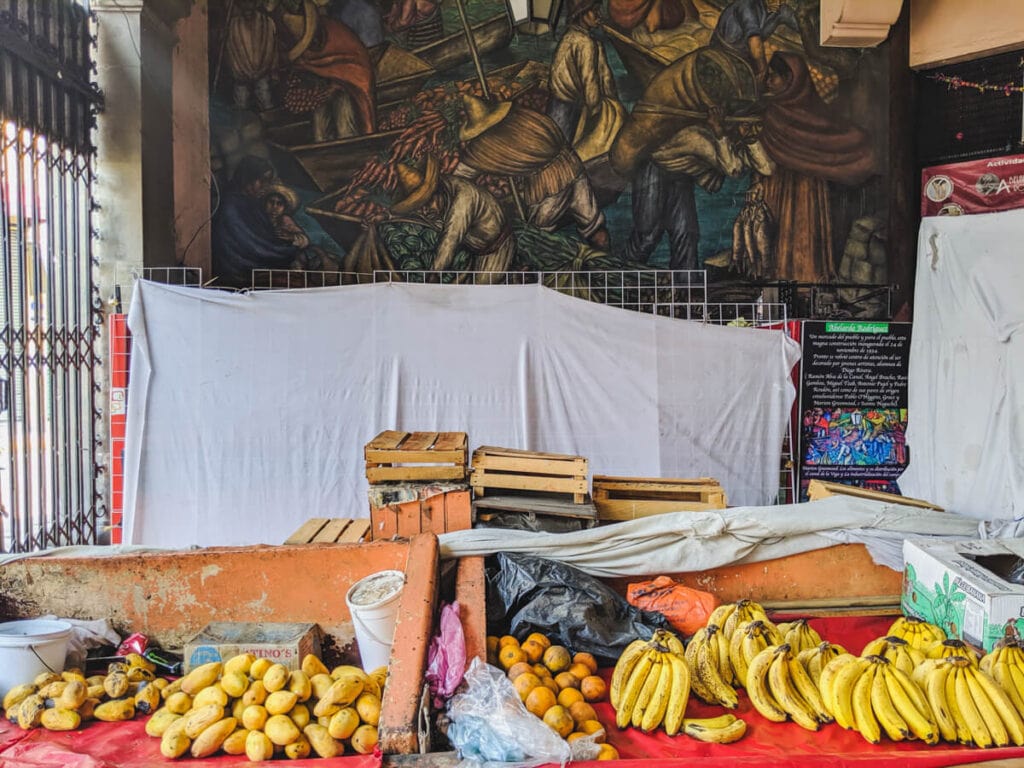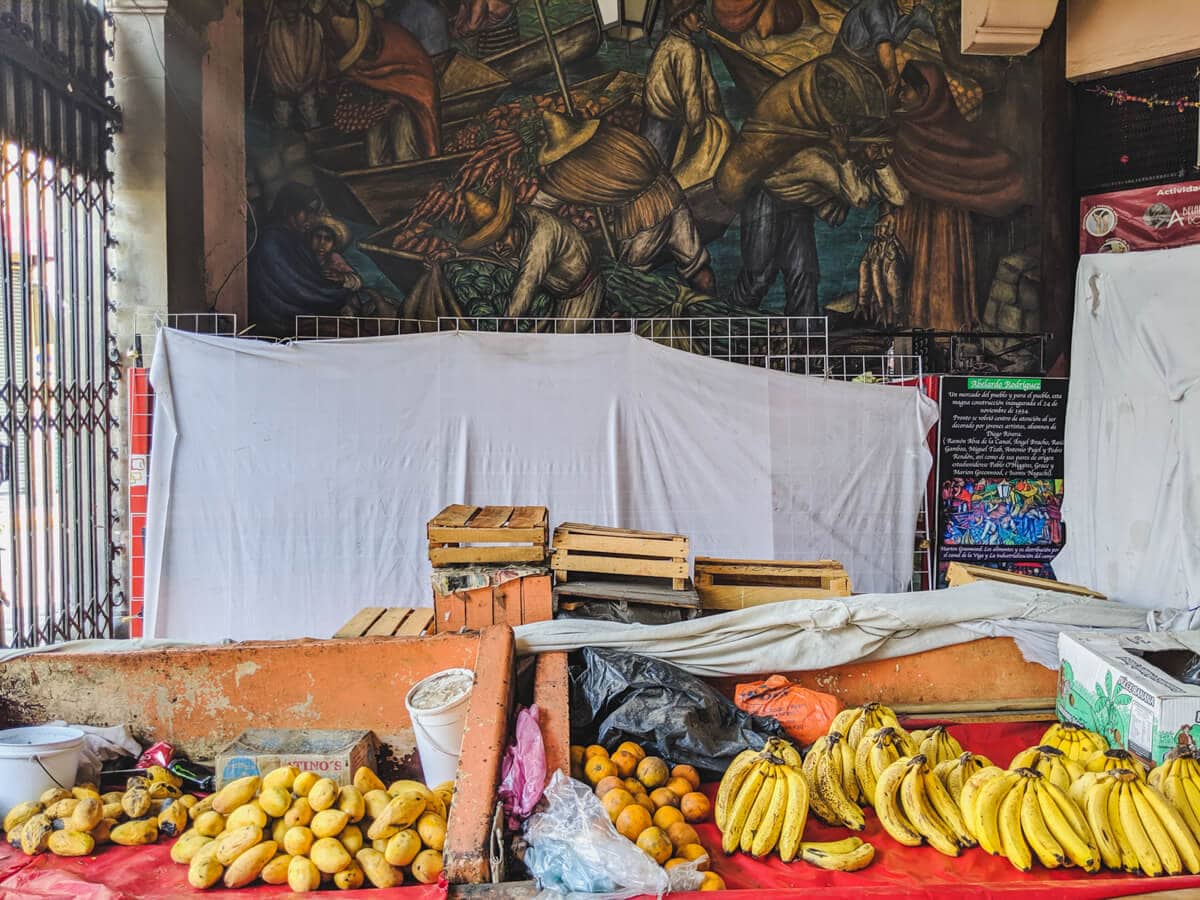 This market was built in 1934 and the paintings represent the socialist themes present in nearly all of Diego Rivera's work.
The exploitation of workers, peasants, the fight against the far-right, and racial discrimination are all themes you can see in these paintings.
They have been under restoration since 2009.
Abelardo L. Rodriguez Market At A Glance
Address: Cjon. Girón, Centro Histórico de la Cdad. de México
Hours: Mondays-Sundays, 7 am-6 pm, Free
BONUS TIP: For an excellent view of the market and not to be missed murals, go upstairs to the 2nd floor. We visited too late in the day and the second floor was closed, so try to visit early.
Diego Rivera Murals in Mexico City: His Murals & His Influence
I hope after reading this post you're armed with the perfect Diego Rivera murals Mexico City itinerary for your trip!
It is a beautiful city, filled with history and culture. Take your time to fully appreciate everything it has to offer you.
PIN IT FOR LATER