When you think of West Texas, perhaps what comes to mind is a scene from a Spaghetti Western.
A scene where tumbleweed blows haphazardly across a dusty highway.
Maybe even a cowboy on horseback rides through a desolate landscape.
I know that's what I used to imagine, and I'm a Texan, born and raised!
I discovered that it's not what you'd expect, and I fell completely in love.
Unexpected glamping in the desert, mountainous national parks, and some of the country's warmest, quirkiest people… a West Texas road trip is one you'll never forget.
This post includes all of the best things to do in West Texas, tumbleweed and all.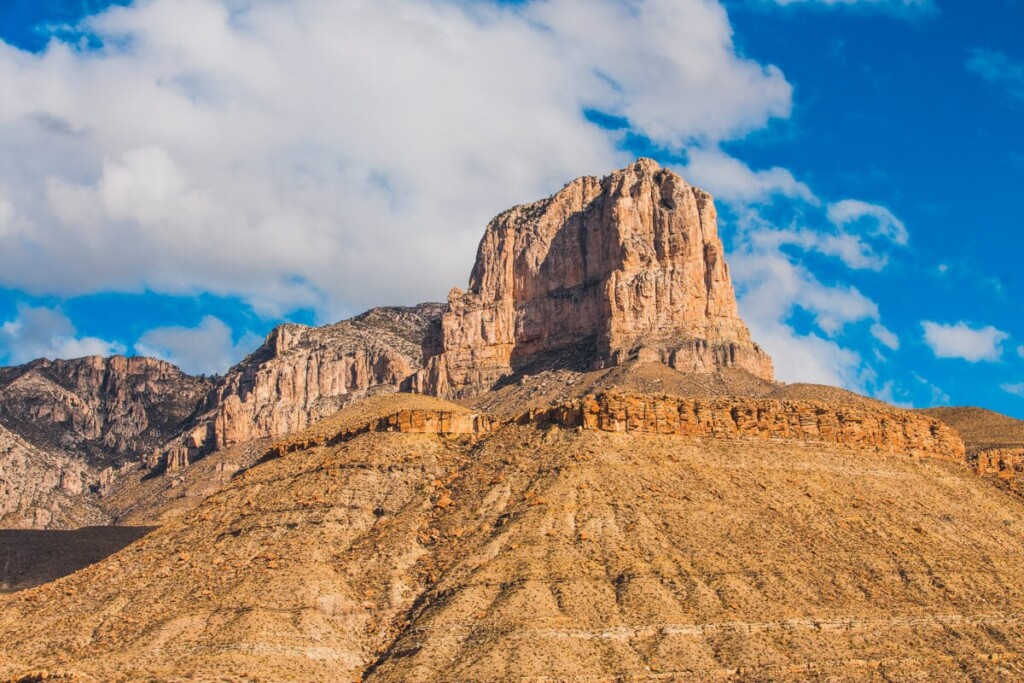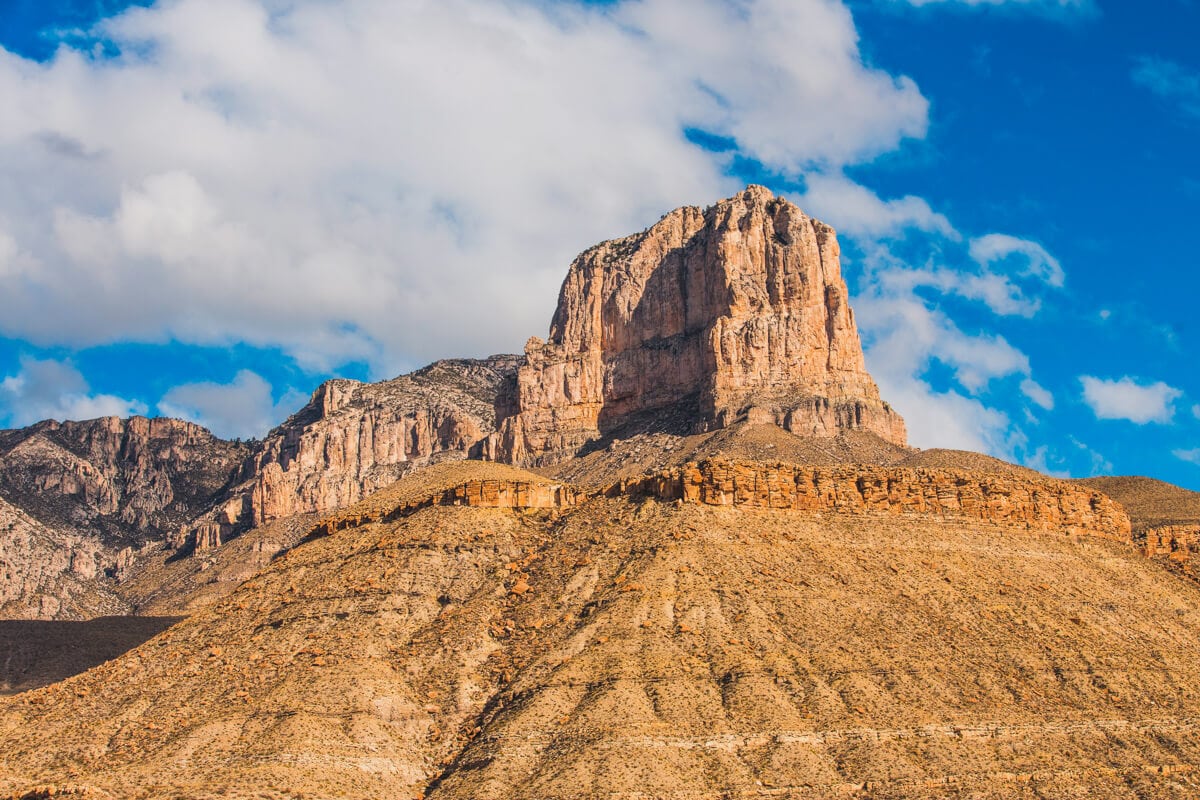 QUICK NOTE: This post contains affiliate links and Sol Salute may receive a commission for purchases made through these links, at no extra cost to you.
The Perfect West Texas Road Trip
Texas is the second largest state in the union and bigger than most European countries. You can drive for 12 hours and still be in Texas.
All that to say, this state is made for road trips and a road trip in West Texas is one for the books.
Leaving the big cities of Dallas, Houston, and Austin in your rear view and heading out to the desert is no easy task but it's worth the effort.
I fell in love with West Texas. The night sky is so clear you can see the milky way. It's silent at night (good riddance to the sounds of the garbage truck that tumbles by my bedroom window every night at 3 a.m. in the city!). And the people, the people in West Texas are some of the kindest, most welcoming people you'll meet.
This article is a list of the best things to do in West Texas, I bet some will surprise you.
Helpful Tips for a West Texas Road Trip
ALLOW ENOUGH TIME | This is an isolated corner of the world, allow yourself enough time to enjoy it. I'd budget for 4 days minimum but you can easily fill a week or more!
FILL YOUR TANK | Keep your gas tank full. Distances here are vast and if you're heading into Big Bend National Park for the day or planning to drive the River Road, it's good to always top up when you have the chance, just in case. Better safe than sorry.
HAVE SNACKS & WATER | If you're going on hikes or into the parks or just on a long, long drive always bring enough salty snacks and water. Summer heat here is no joke so it's important to stay hydrated.
BRING YOUR PASSPORT | If you're not a US citizen, bring your passport (even if you're not planning on crossing the border). Being this close to the border you may get stopped by Border Control. We did more than once and they checked my Argentine husband's papers every single time. And if you are a US citizen you may want your passport to cross the border to Boquillas del Carmen.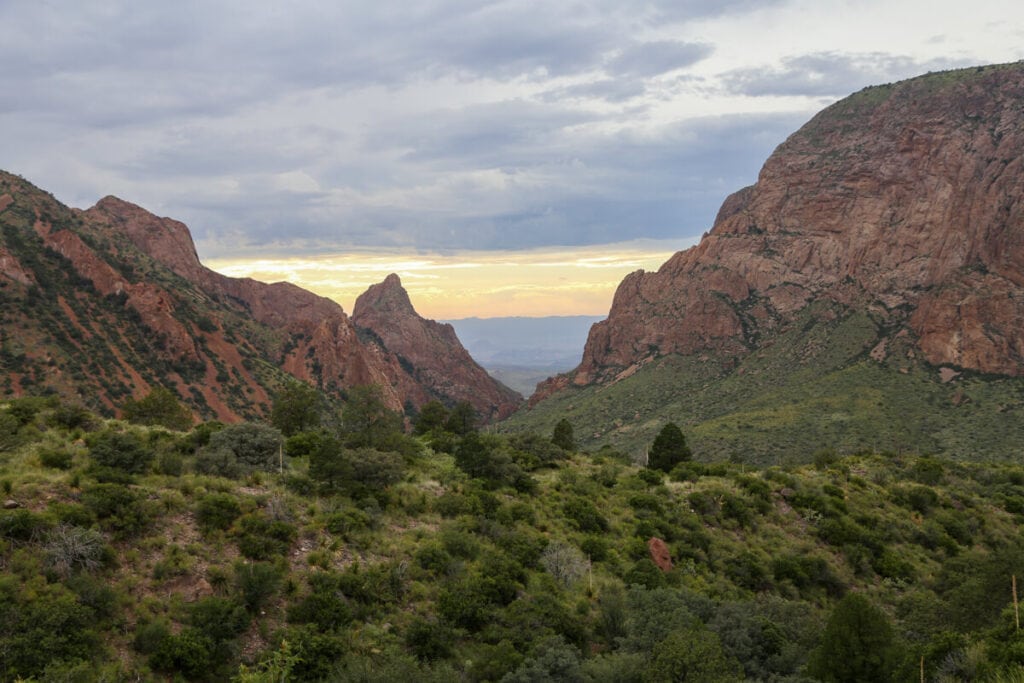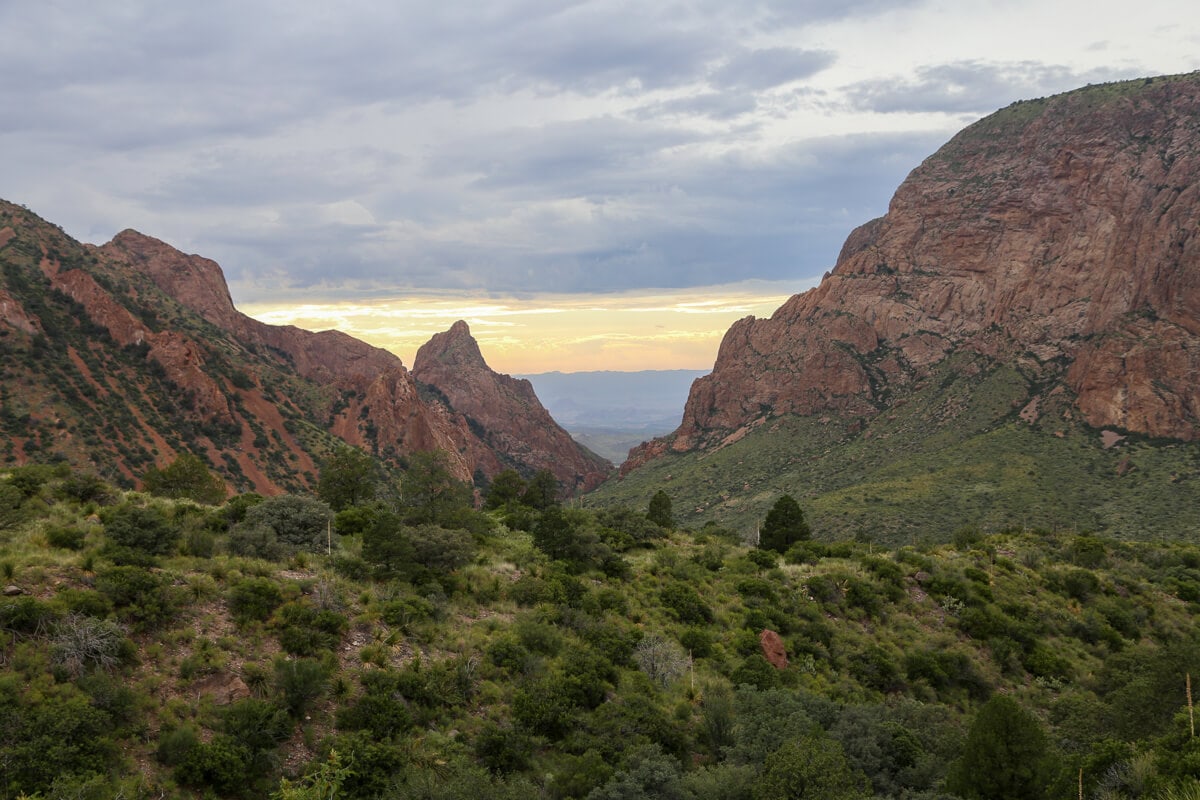 The Best Things To Do In West Texas
Here are the best things to do in West Texas from national parks to Shakespeare (that's right!).
Go Hiking in Big Bend National Park
Big Bend National Park hugs the border where the Rio Grande dips south in a "big bend" formation, hence the name.
There are 150 miles of trails to conquer in the desert, along the river, and in the Chisos Mountains (that's right, this park may be small but it houses an entire mountain range within its borders!).
Hiking enthusiasts can't miss a visit to this small national park.
The best hikes in Big Bend are iconic.
Shorter hikes like the Lost Mine are family friendly. Others, like the South Rim, are strenuous but rewarding.
Some weave through the desert to volcanic formations and others offer cliff-side panoramic views of Mexico.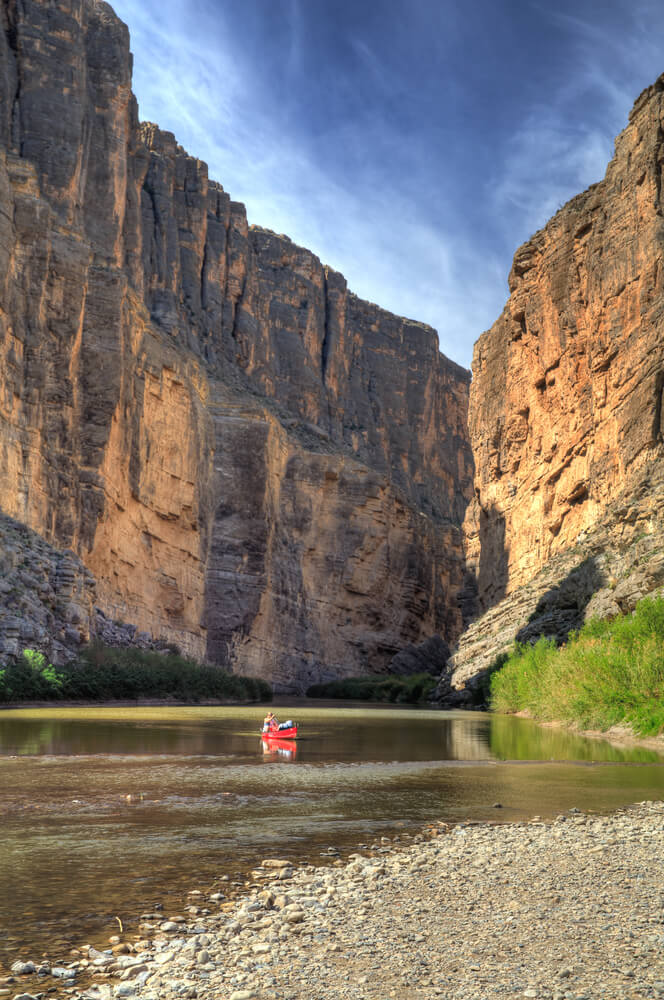 Canoe Down the Rio Grande
The canyons of Big Bend are jaw-droppingly beautiful.
You can go on short hikes into them but for a more unique experience, spend the day floating down the river, surrounded by the towering walls of the canyons above you.
What you use to float, a raft, a canoe, or a kayak will depend on the water level that day.
It's a full day outing with all equipment included and a picnic lunch on the shore. Wear light clothes like a flowy white long sleeve shirt or fishing shirt like this to protect yourself from the sun, and a bathing suit so you can take a dip in the Rio Grande!
Click here for more information.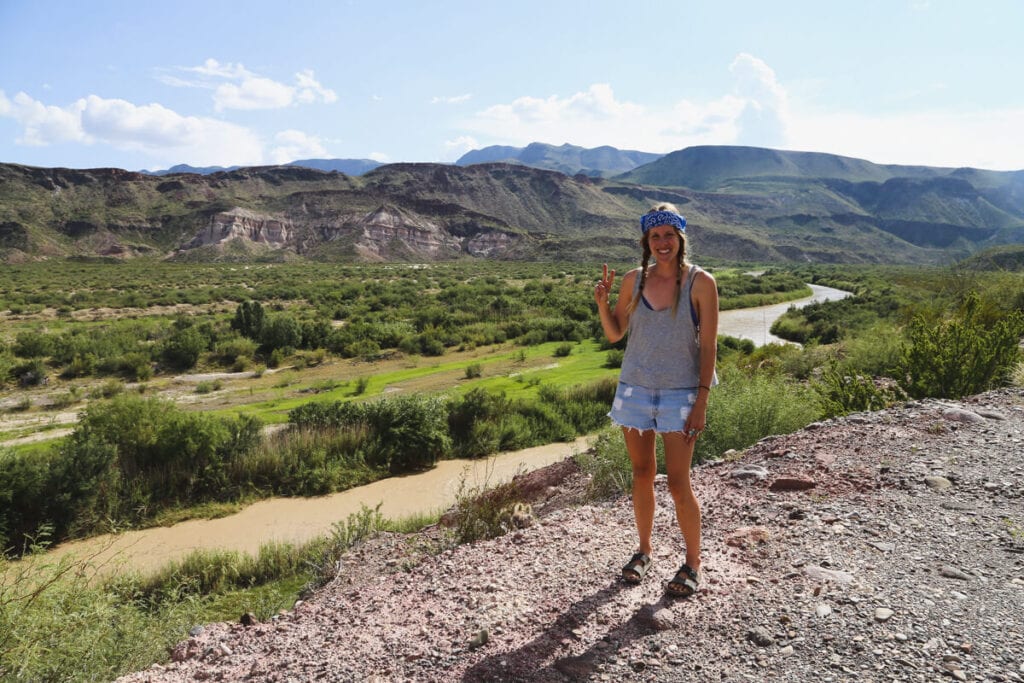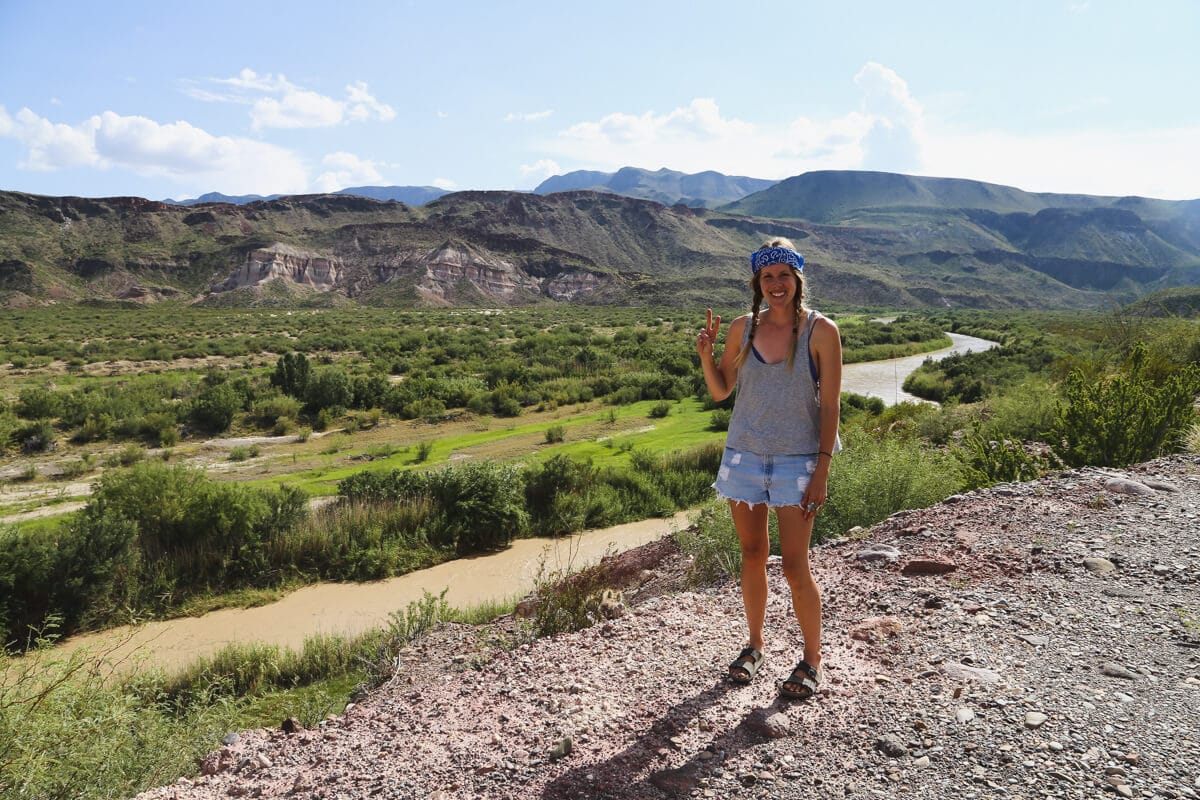 Go Camping in Big Bend Ranch State Park
Big Bend Ranch State Park is just next door to its big brother. The state park runs along the Rio Grand.
It has rustic hiking trails and back-country campsites (both drive-in and hike-in) that are perfect for the experienced camper (read: not me).
The night sky in West Texas is something special and there's no better way to observe the Milky Way than by sleeping under it here.
You'll be miles and miles from any big city with no light pollution to ruin the stars.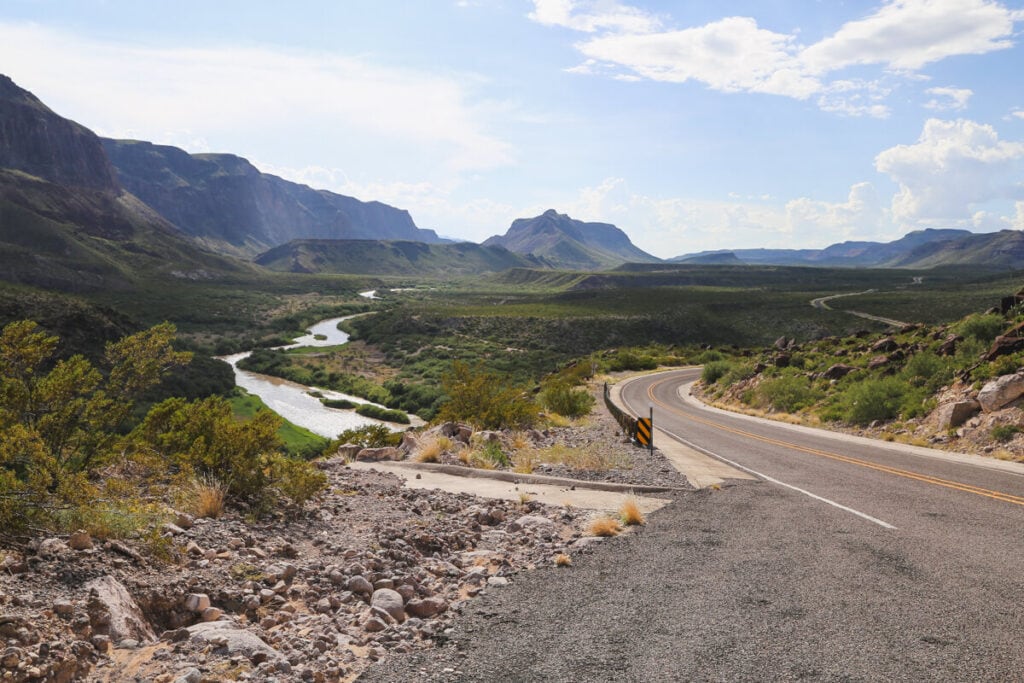 Drive the River Road
While in Big Bend Ranch State Park, drive the River Road from start to finish. It's an easy task as Highway 170 is the only highway that crosses the state park.
It's aptly named the River Road because it crosses the park from East to West along the southern border of the park next to the Rio Grande.
Locals claim it's the most beautiful drive in Texas and I'm inclined to agree with them.
The views vary from tones of red earth to the lush green along the riverbed.
Pack a picnic to enjoy at one of the roadside picnic spots along the way.
Sleep in a Yurt, Retro Trailer, or Teepee in the Desert
The accommodation options in West Texas are quirky, diverse, and memorable.
It's worth the day-long drive just to sleep in one of these once-in-a-lifetime beds under the milky way.
If you're going to Big Bend, you can sleep in restored ruins in Terlingua or this house constructed completely out of recycled containers.
There are yurts, tents, adobe masterpieces, and trailer homes to die for.
Search for unique accommodation for your West Texas road trip for a trip you'll never forget.
Read more: The Coolest Places to Stay Near Big Bend National Park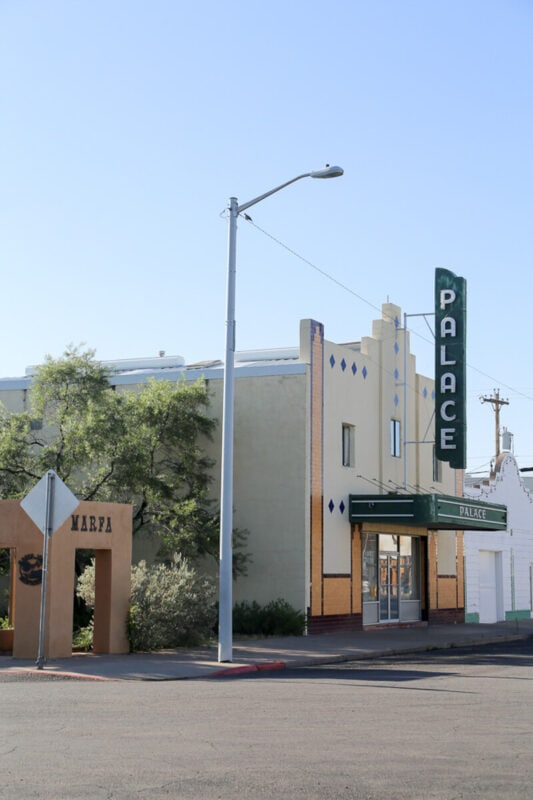 Get Weird in Marfa
Austin in the Texas Hill Country may be famous for its weirdness, but tiny Marfa, Texas may top it.
This small town is an unexpected artist's oasis in the middle of the desert.
Former gas stations have been converted into modern art museums, you can sleep in a yurt, or drink a beer while you look for the mysterious, unexplained Marfa lights.
There is no town in the world quite like Marfa.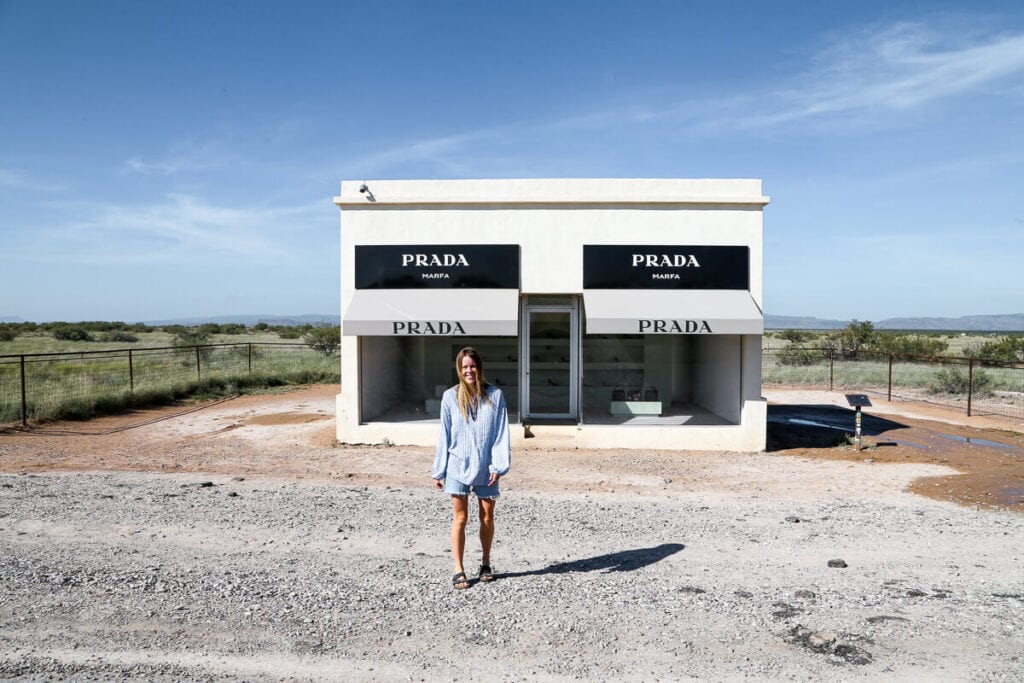 Go Shopping in Prada
Prada in the desert?
Only in Texas.
While in Marfa, make sure you drive twenty minutes out of town to Valentine to pose in front of Marfa Prada.
This art installation on the side of the highway in the literal middle of nowhere houses actual Prada merchandise (left shoes only and bottomless purses to avoid theft, due to previous vandalism).
Take a Dip in Balmorhea Springs
Temperatures in West Texas can skyrocket in the summer, so cool off with a swim in the natural springs in Balmorhea State Park.
You only need to pay the park's entrance fee to swim in the world's largest spring-fed swimming pool.
The water is a constant 72-76 degrees year round and comes from the San Solomon Springs.
More than 15 million gallons of water pass through this pool every day. It covers 1.3 acres and can reach up to 25 feet deep (there is no lifeguard on duty so swim with care).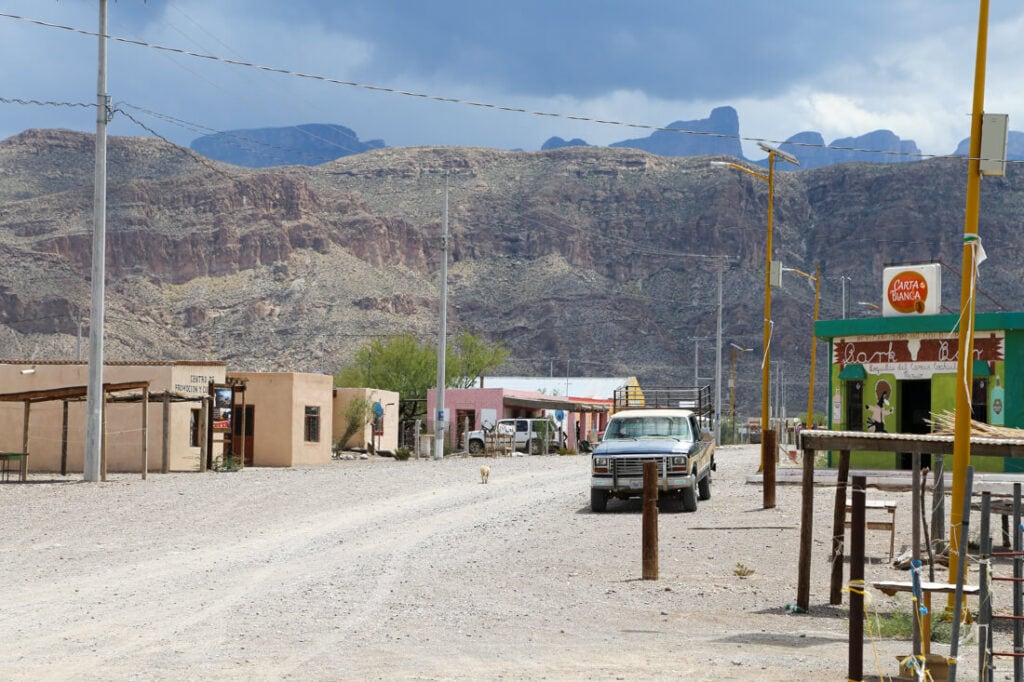 Cross the Border for the Day
It's possible to cross the border to spend a day in Boquillas, Mexico from Big Bend National Park.
For only $5 a man will ferry you across the Rio Grande in a row boat, the official international ferry.
Hire a guide or go it alone in this tiny Mexican village.
There are restaurants for lunch and handicrafts to bring back as souvenirs, just don't forget your passport!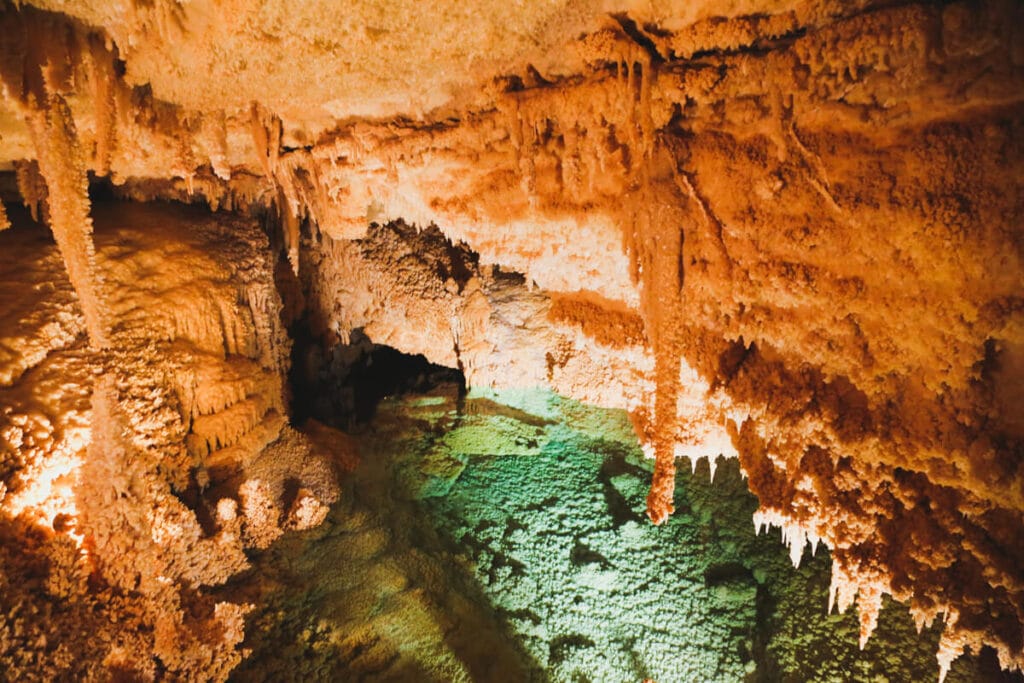 Explore Sonora Caverns
If you're taking I-10 from San Antonio to start your West Texas road trip, then plan a pit-stop at the Sonora Caverns.
It's a formation rich cave so their regularly scheduled guided tours are aptly titled "The Crystal Palace Tour".
The tour itself takes an hour and 45 minutes so budget a couple of extra hours into your drive west for a visit.
You won't regret it visiting these caves, one of the most beautiful places in Texas.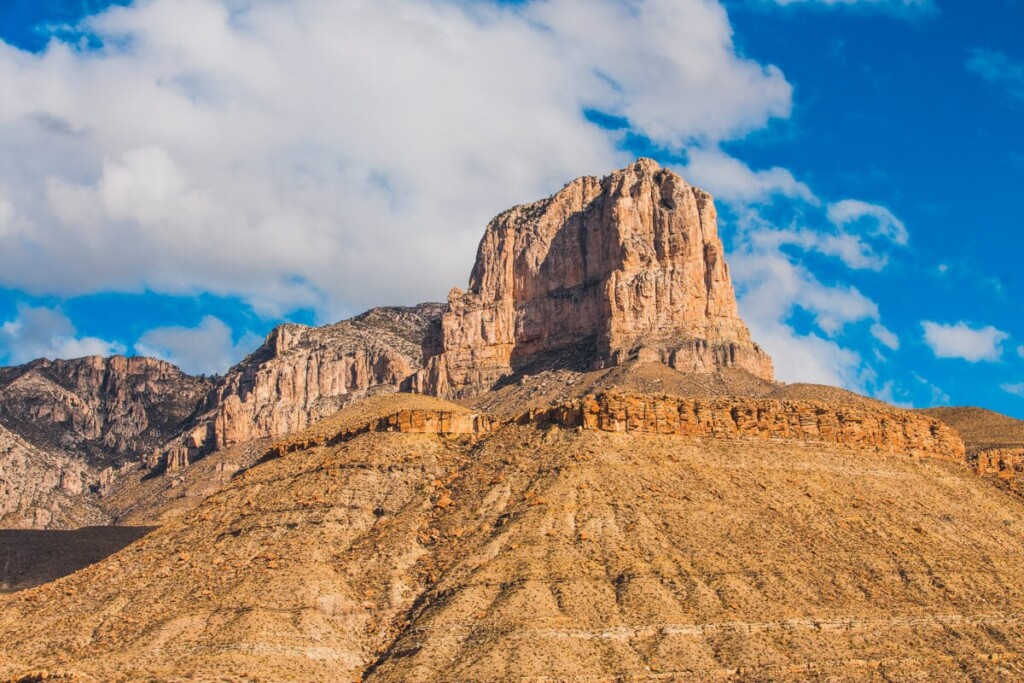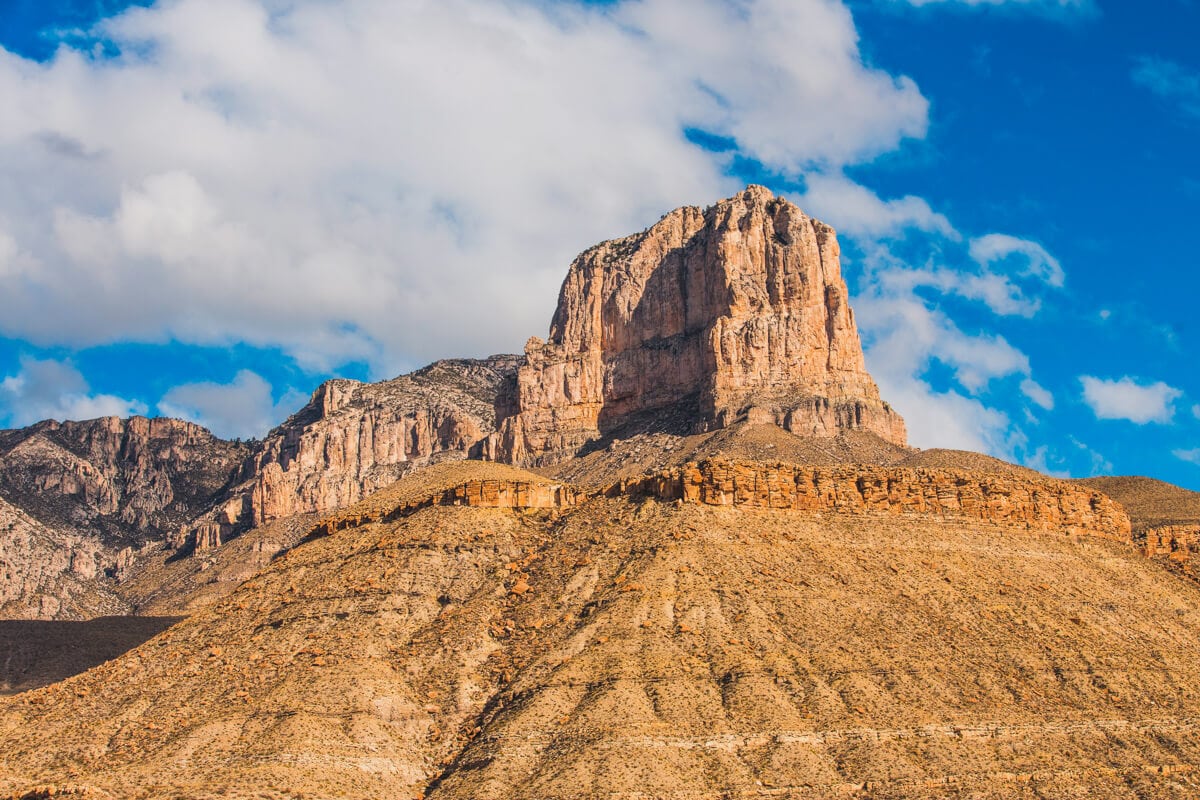 Visit Guadalupe Mountains National Park
Texas' second and last national park is also located in West Texas. Guadalupe Mountains National Park is home to Texas' four highest peaks and 80 miles of hiking trails.
There are three ecosystems in the park: the Chihuahuan Desert, the Canyon Interiors, and Alpine Areas.
The high altitudes in the mountains house conifer forests that you'd never expect to find in West Texas.
If your coming from or going to New Mexico from West Texas, plan a day or two to explore the trails in Guadalupe Mountains. It's on the way!
Go Climbing in Hueco Tanks State Park
Near El Paso, Hueco Tanks State Park houses unique geological formations, wildlife, flora, and historic artifacts.
The huecos, or hollows, are impressions in the boulders that form small pools of water.
This park offers unique boulder formations and is world famous for the concentration of and quality of its climbing.
Climbers come from across the world to scale the Hueco Tanks boulders. The climbing season lasts roughly from October through March.
Be aware that summer months in West Texas can reach scorching hot temperatures. Go to the official site for more information.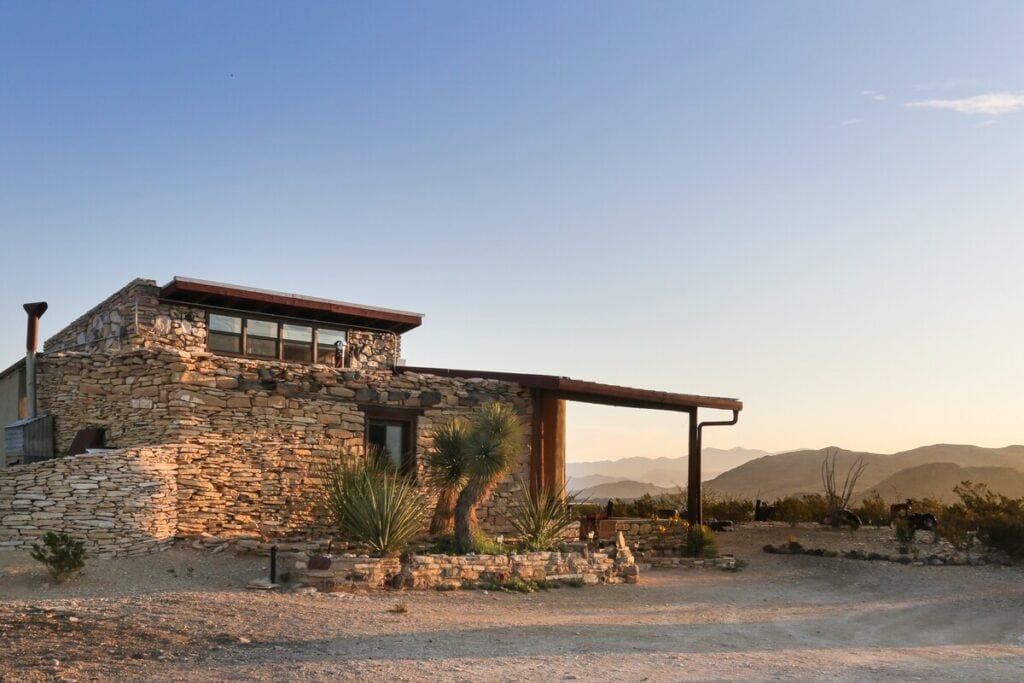 Sleep in a Yurt, Retro Trailer, or Teepee in the Desert
The accommodation options on Airbnb in West Texas are quirky, diverse, and memorable. It's worth the day long drive just to sleep in one of these once in a lifetime beds under the milky way.
If you're going to Big Bend, you can sleep in this stunning property in Terlingua or this incredibly cool concrete desert house in Marfa.
In Terlingua, we stayed in this small space and it was perfect.
There are yurts, tents, adobe masterpieces, and trailer homes to die for.
Search VRBO for unique accommodation for your West Texas road trip for a trip you'll never forget.
Read more: The Coolest Places to Stay Near Big Bend National Park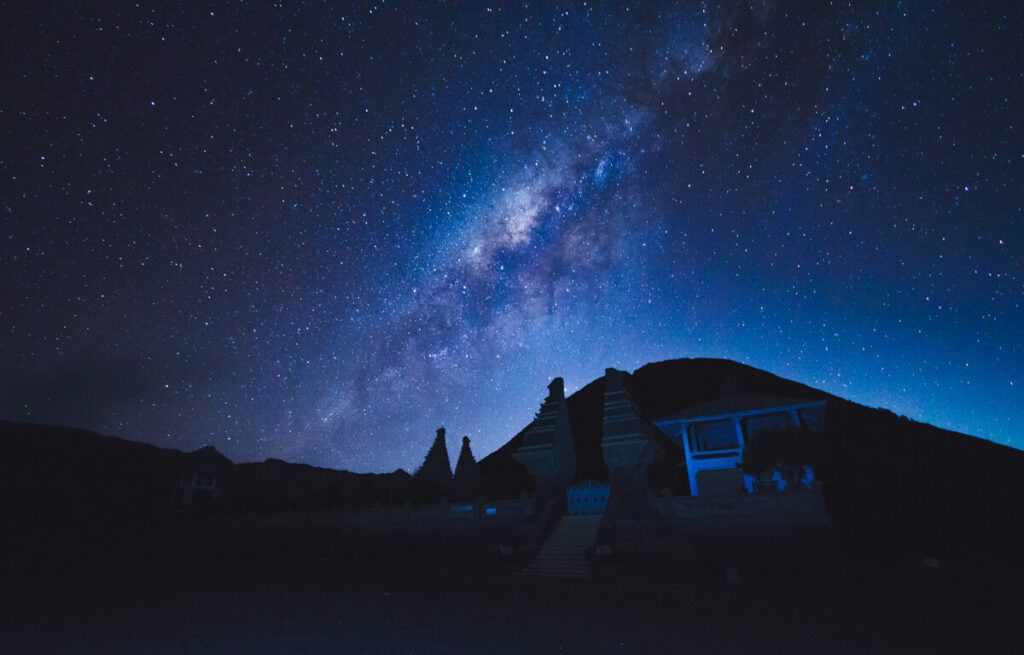 Party Under the Stars at McDonald Observatory
The stars at night, are big and bright, deep in the heart of Texas!
If you're in West Texas on a Tuesday, Friday, or Saturday night, go to a Star Party at the McDonald Observatory in Fort Davis.
Take a guided tour of the observatory and look at the Milky Way through the many telescopes.
Tickets often sell out so click here for more information and to get your ticket in advance.
Have a Margarita in Marathon
The Gage Hotel in Marathon is a stunner. If you want a luxurious base for your trip to West Texas, I highly recommend staying here.
We were unable to stay here since we wanted to be a little closer to Big Bend, but we were sure to stop here for a margarita in the unique White Buffalo Bar.
I loved the cozy atmosphere. It was perfect to unwind after a long day on the road driving in from Austin.
For a true Texas experience, order the prickly pear margarita.
Also of note, Anthony Bourdain visited the White Buffalo Bar while filming his series Parts Unknown.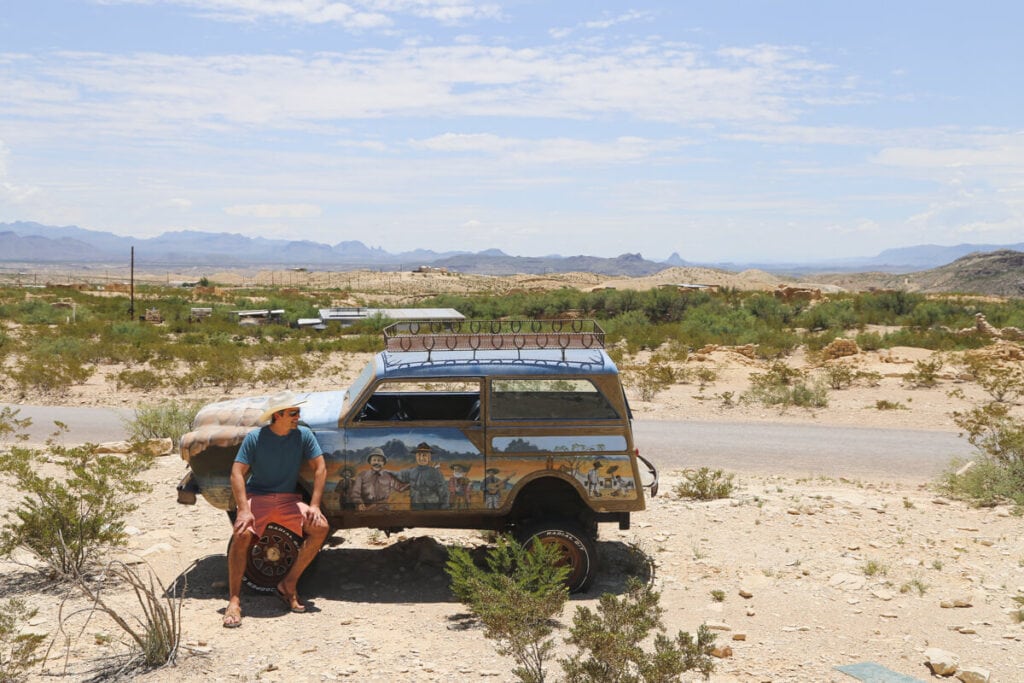 Hang out in the Terlingua Ghost Town
The Terlingua ghost town sits right outside the entrance to Big Bend National Park.
Don't visit one without the other!
Visit the Starlight Diner and try their world-famous chili or sit on the porch (the porch, you'll see it) and toss back a beer or two with the locals.
This tiny ghost town was once a boom town, put on the map for its quicksilver mines.
Now it's mainly used as a base for visitors to Big Bend, but it hasn't lost a single bit of its charm.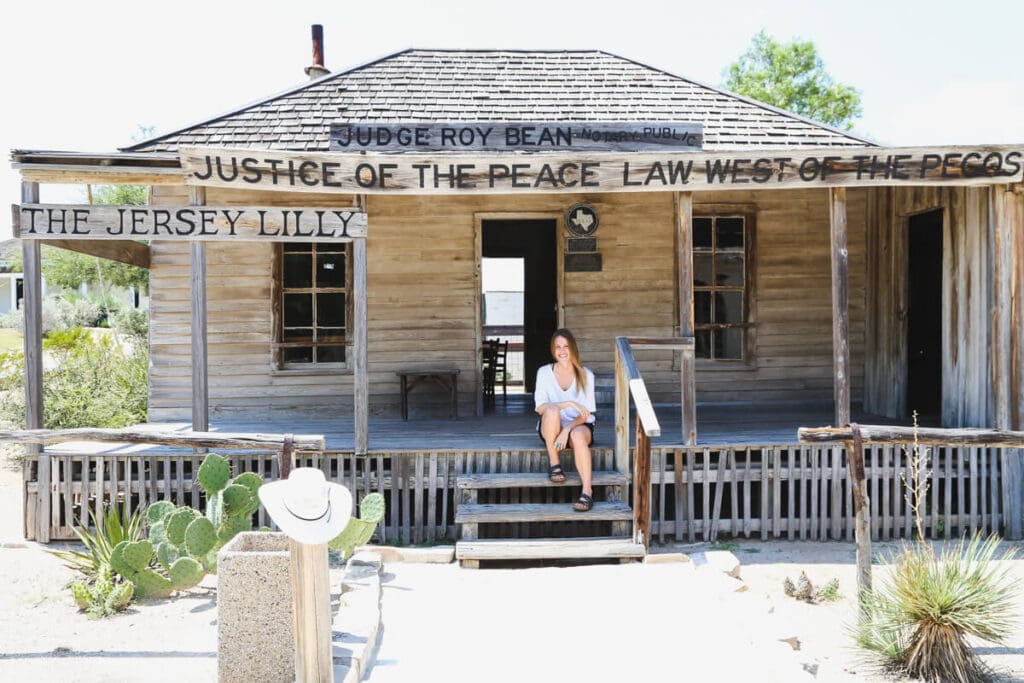 Judge Roy Bean Museum, the Law West of the Pecos
Judge Roy Bean was a saloon-keeper and a Justice of the Peace in the 1800's.
He was an eccentric man that reads much more like a character from an old Western movie than a real life person.
Roy Bean was the self-proclaimed Law West of the Pecos. He held court in his saloon and lived in an "opera house."
You can visit his saloon and home in Langtry. If you take Hwy 90 via Del Rio to reach West Texas from San Antonio it won't even require a detour.
Visit the "hanging judge's" stomping grounds where he lived with his pet black bear.
The stories of his career almost sound too quirky to be true, read his Wikipedia page and prepare to be entertained.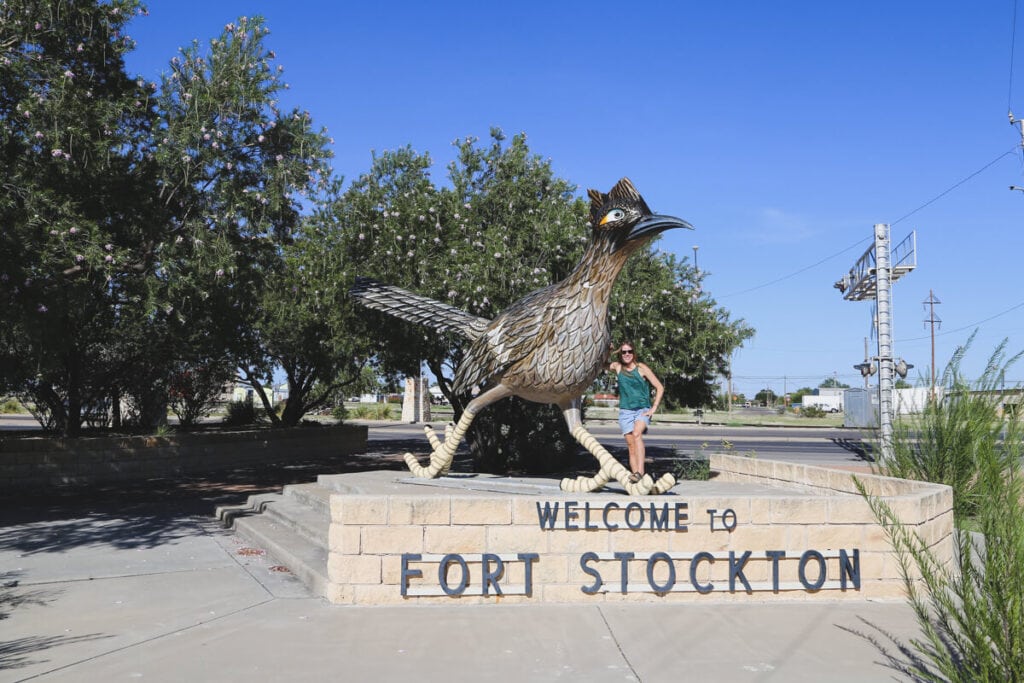 Take a picture with Paisano Pete in Fort Stockton
What's a road trip with a weird roadside statue or monument?
If you find yourself in Fort Stockton, take a picture with Paisano Pete.
He was built in 1979 and used to reign as the world's largest road runner (I hate to ask who out did him?).
At 11 feet tall, I'd say he's large enough! If you visit at Christmas maybe you'll be lucky enough to see Paisano Pete decked out in his Christmas attire.
Get Shakespearean at Odessa's Globe Theatre
Of all the unexpected things to do in West Texas, I'd say attending a play at Shakespeare's Globe Theatre in Odessa takes the cake.
A Shakespearean scholar, Mrs. Marjorie Morris, set about creating this replica of England's most famous theater to properly showcase his plays.
If you're yearning for a bit of culture, attend the Shakespeare Festival that takes place every November.
Keep exploring: 10 Texas vacation homes to Get Away
Pin It For Later