When you walk through Buenos Aires, you'll find a never ending outdoor museum of graffiti, murals, street art and mosaic.
Some murals take up the entire facade of multi-story apartment buildings.
Others you'll only find if you venture out early in the morning to see store's gates pulled down, revealing art normally hidden during operating hours.
If you're looking for the best Buenos Aires street art, this post will guide you everywhere you need to go.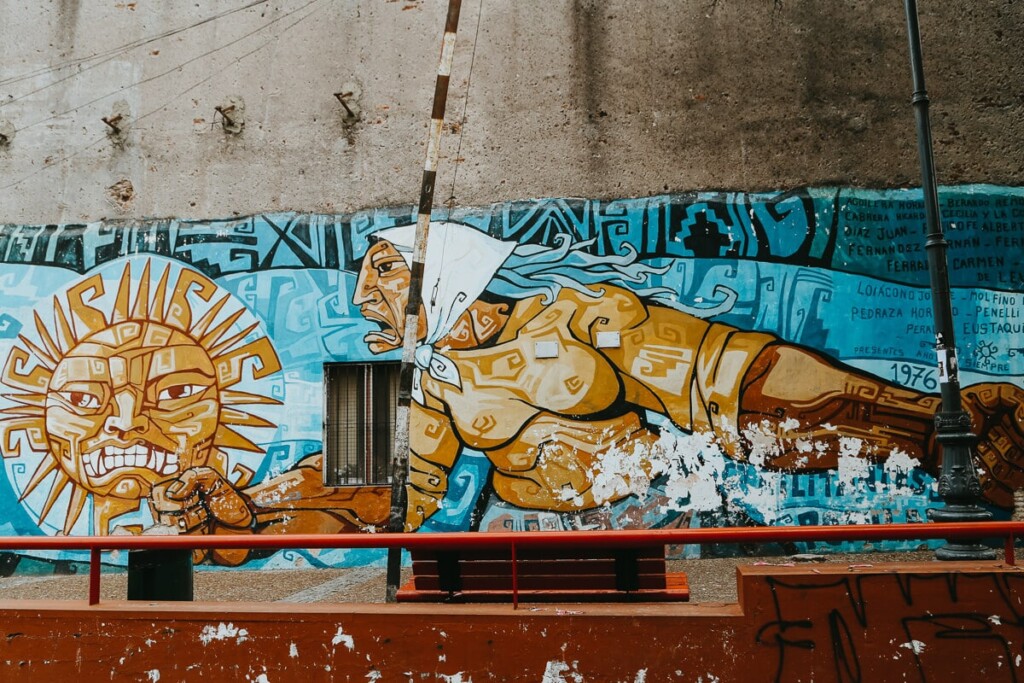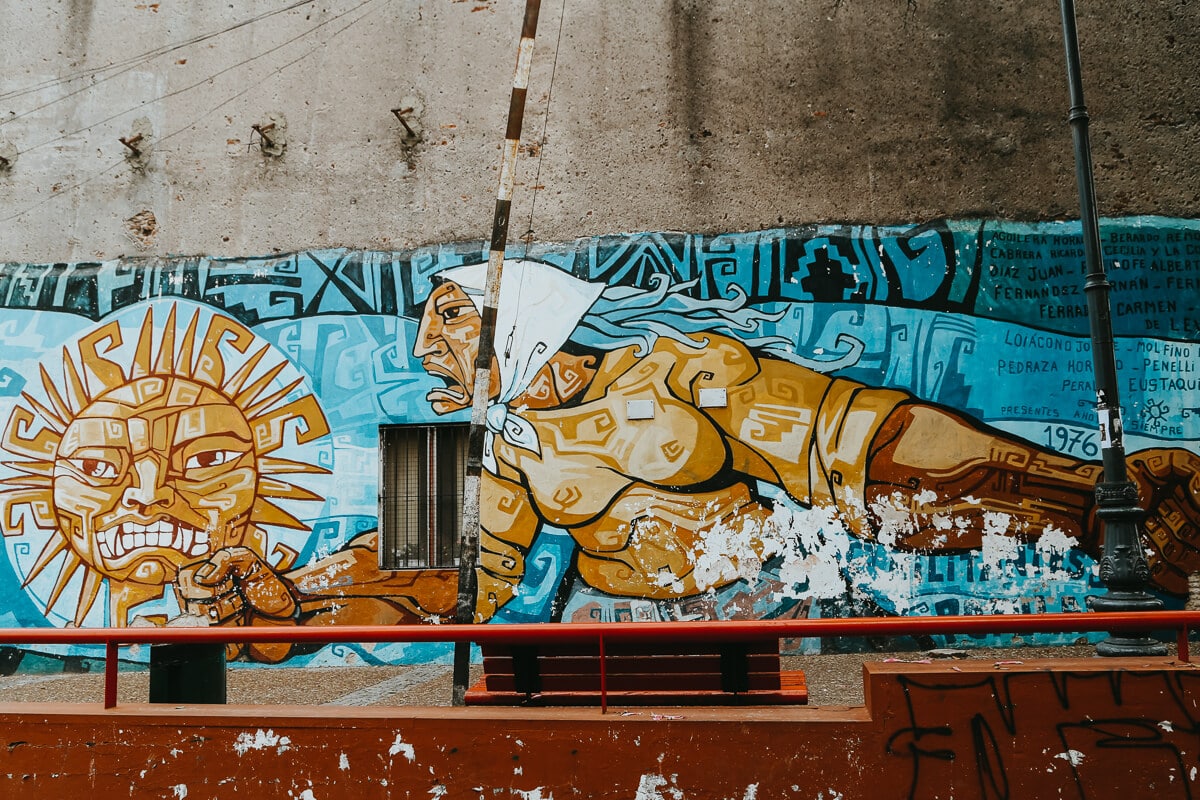 QUICK NOTE: This post contains affiliate links and Sol Salute may receive a commission for purchases made through these links, at no extra cost to you.
The Culture of Street Art in Buenos Aires
Lax laws and a culture that reveres art have led to Buenos Aires being one of the world's leading cities for street art.
Where some cities require municipal permits and bureaucratic hoops to jump through, here in BA the artist only needs permission from the building's owner or owner's association.
This lack of red tape opens the flood gates to a city filled with murals and art.
You'll find politically charged murals bordering on (or unapologetically filled with) propaganda, futbol themed walls praising the gods of Messi and Maradona, local and international artists, and more.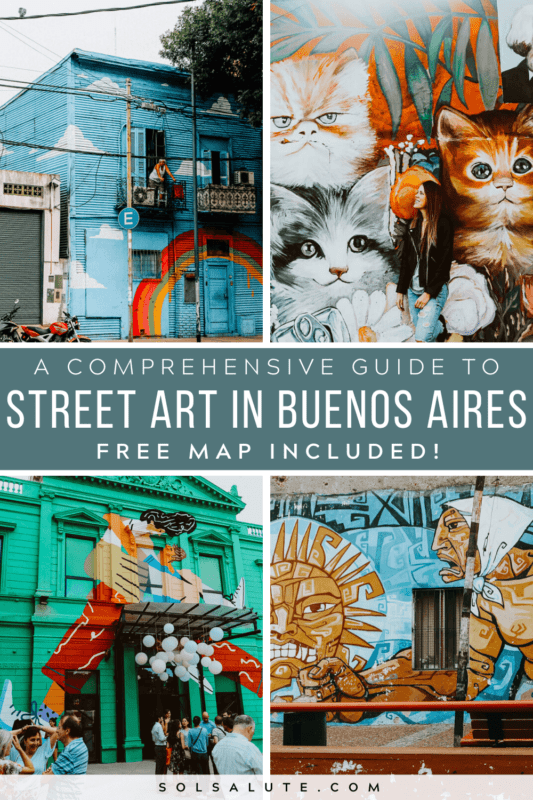 Where to Find Buenos Aires Street Art
So you're looking for the best urban art in Buenos Aires?
Whether you only have three days in Buenos Aires or weeks to kill here you'll likely never manage to see it all.
But it's definitely worth trying!
I've laid this post out geographically, starting in the south with neighborhoods like La Boca and San Telmo.
From here we slowly work our way north to tiny, residential Coghlan.
An off the beaten path neighborhood filled with murals.
At the end of this post there's a map with all of the murals and street art in this post to help you plan your Buenos Aires street art tour!
Buenos Aires Street Art Tours
While this post is filled with all the information (and map) you need to help you plan your own self-guided street art tour, if you're really interested in the artists and meaning behind each mural, it's best to go on a tour with a knowledgeable guide.
Here are two top tours for Buenos Aires arte urbano:
This street art tour includes the best murals in popular neighborhoods like Palermo and Colegiales, along with visits to art galleries you wouldn't see otherwise. It is one of the highest rated tours available.
This tour by BA Street Art is run by an organization that curates some of the city's best art and artists. You'll visit three off the beaten path neighborhoods with an expert on street art.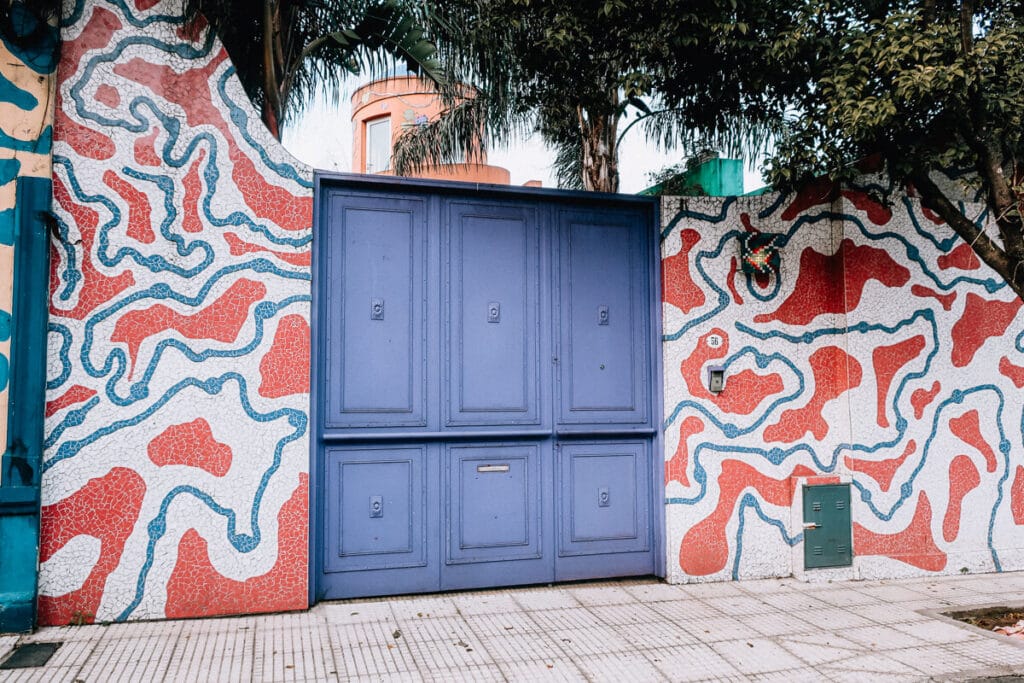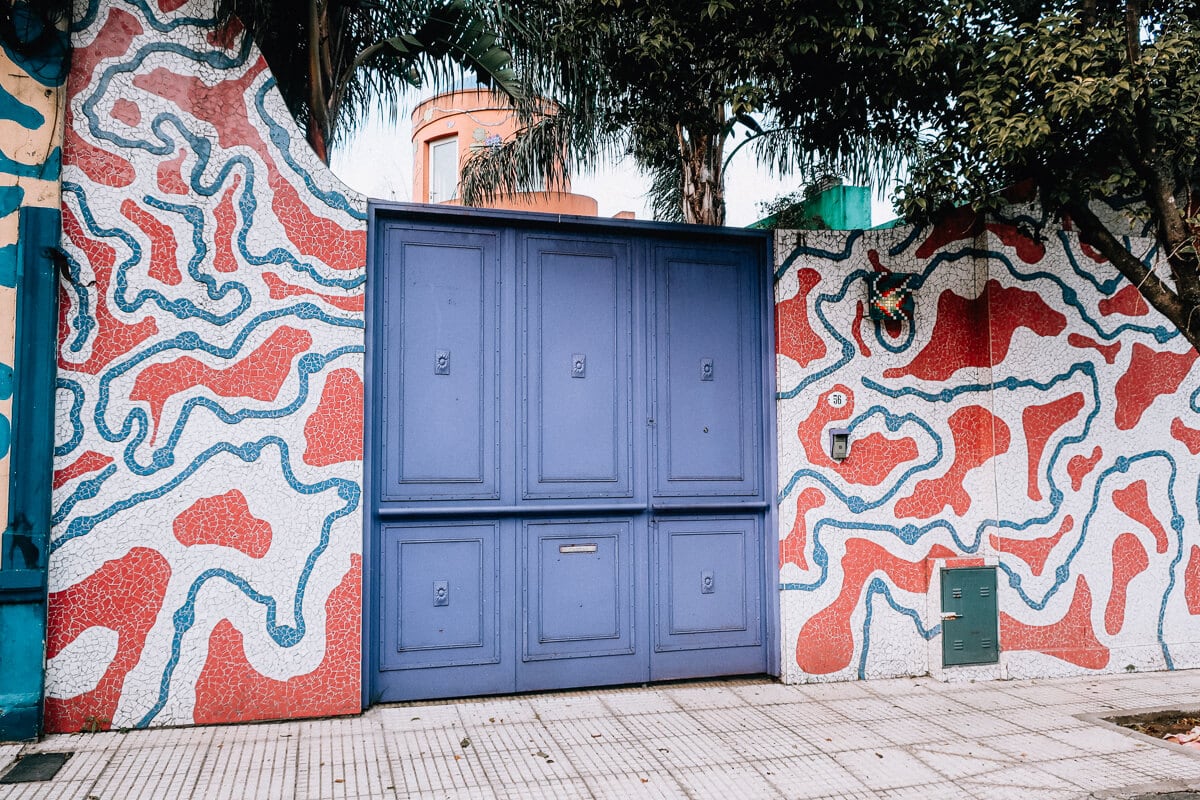 Calle Lanín, Barracas
Thanks to its resident artist, Marino Santa María, Calle Lanín in Barracas (the neighborhood bordering La Boca to the south) is entirely covered in a rainbow of mosaics.
Santa María resides and operates his workshop in Lanín 33.
With the help of his neighbors, the city government, the Buenos Aires Fine Arts museum, and UNESCO, there are now over 35 painted and mosaic homes on Calle Lanín.
His idea was to bring art to the people, rather than hide it away in a museum.
Lanín is an easy add on to any trip to La Boca, but I recommend taking a taxi or Uber to get there.
This isn't a neighborhood you want to get lost in. This guided tour is a great option if you'd like the security of a local guide (and their insider knowledge).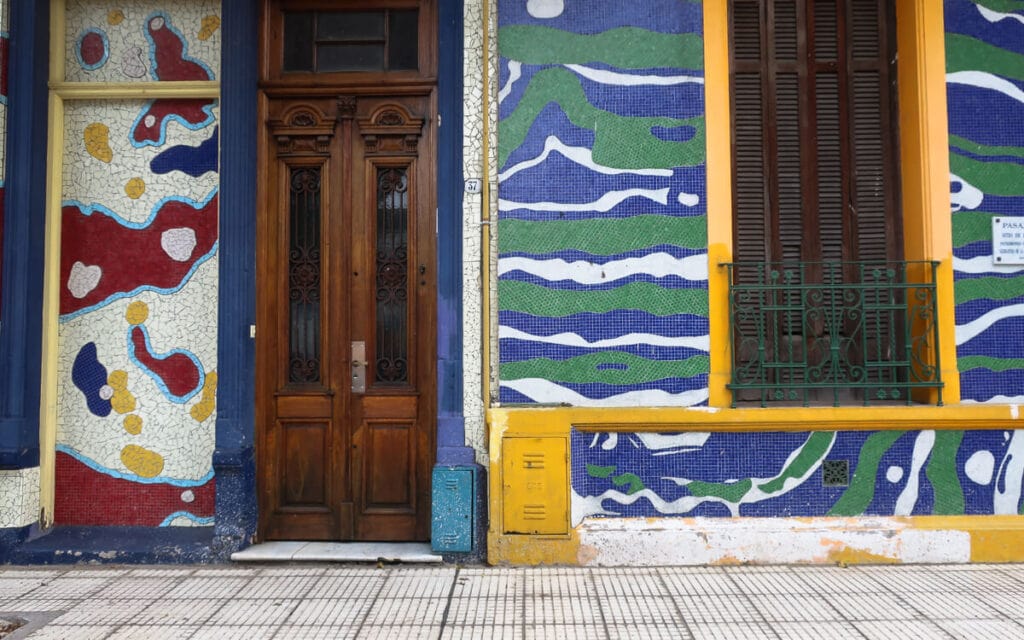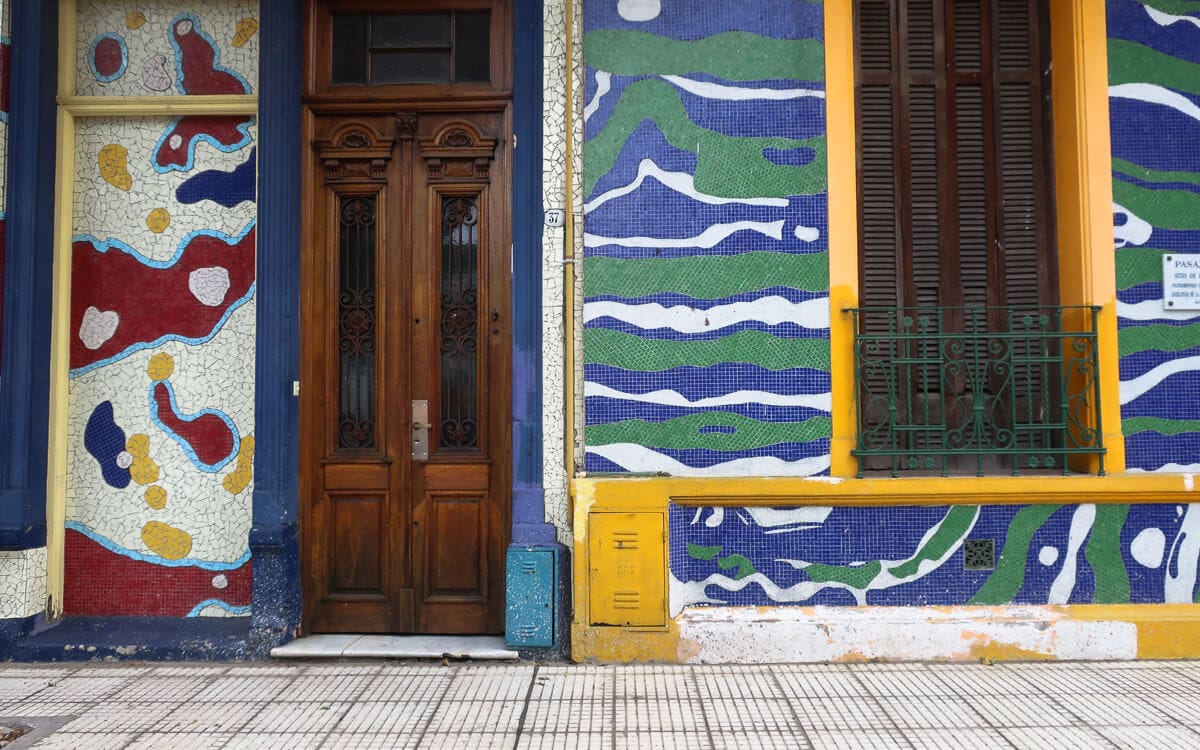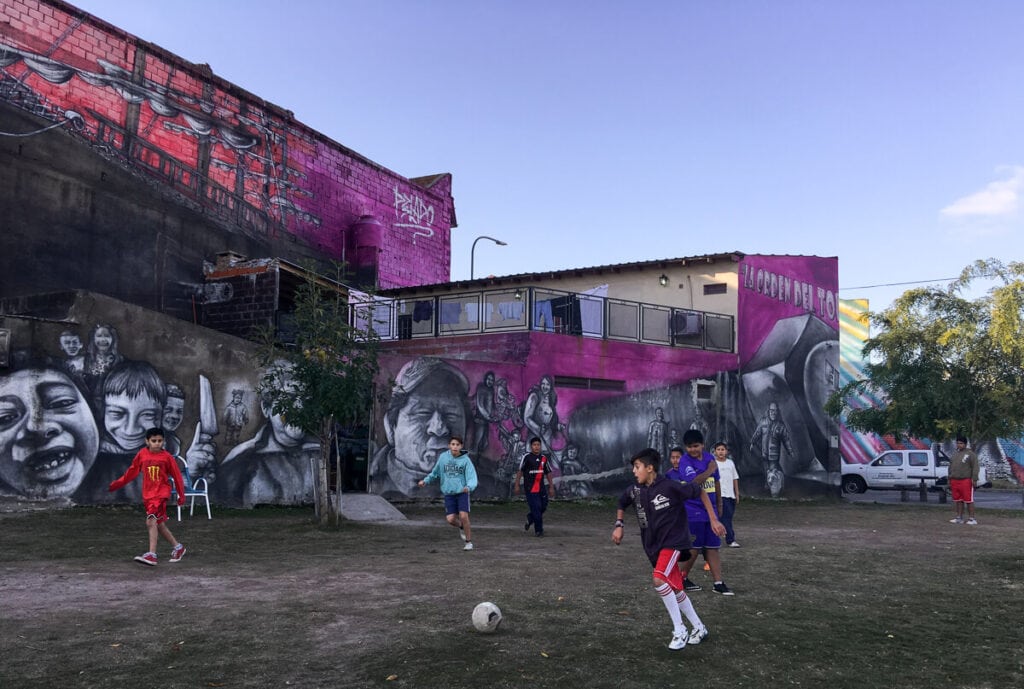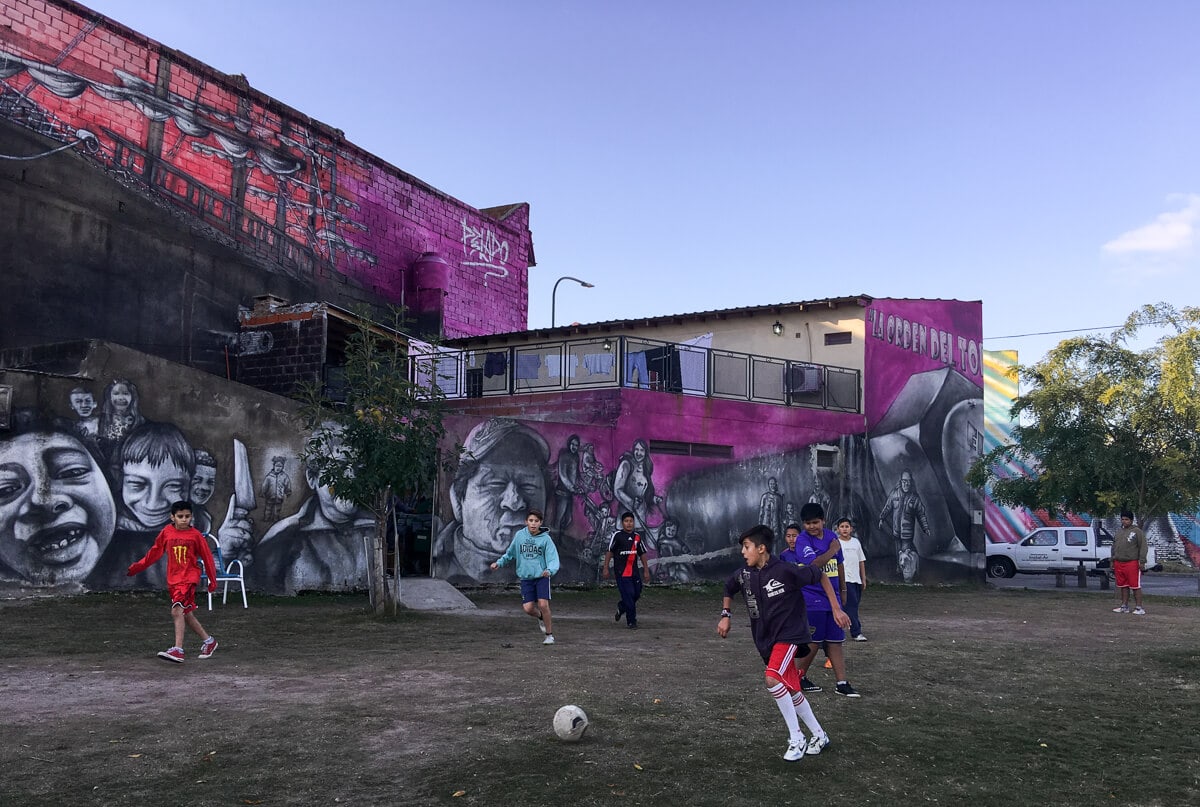 El Regreso de Quinquela, The World's Longest Mural by One Artist, Barracas
Benito Quinquela Martín is a revered Porteño painter.
Living from 1890-1977, he's famous for his depictions of daily life, mainly of the colorful port neighborhood La Boca.
Alfredo 'El Pelado' Segatori painted this 2,000 square meter mural in Barracas, bordering Quinquelas beloved La Boca.
It spans various buildings, paying homage to Quinquela with a large portrait of the artist, images of La Boca and its people.
How to get to El Regreso de Quinquela: Like Calle Lanín, I also recommend taking a taxi or ride-sharing app to get here (read my post about the best apps to use in Argentina).
When my friend and I came we had our taxi wait for us while we walked around and took photos.
There isn't much traffic here so it's best not to rely on flagging one down in the street when you're finished, have them wait for you. Have them take you onward to Calle Lanín or La Boca.
I also recommend being subtle here, Calle Lanín and La Boca.
While it's not dangerous it's still not a smart part of town to be flashy in. Go low-key with jewelry and camera gear here.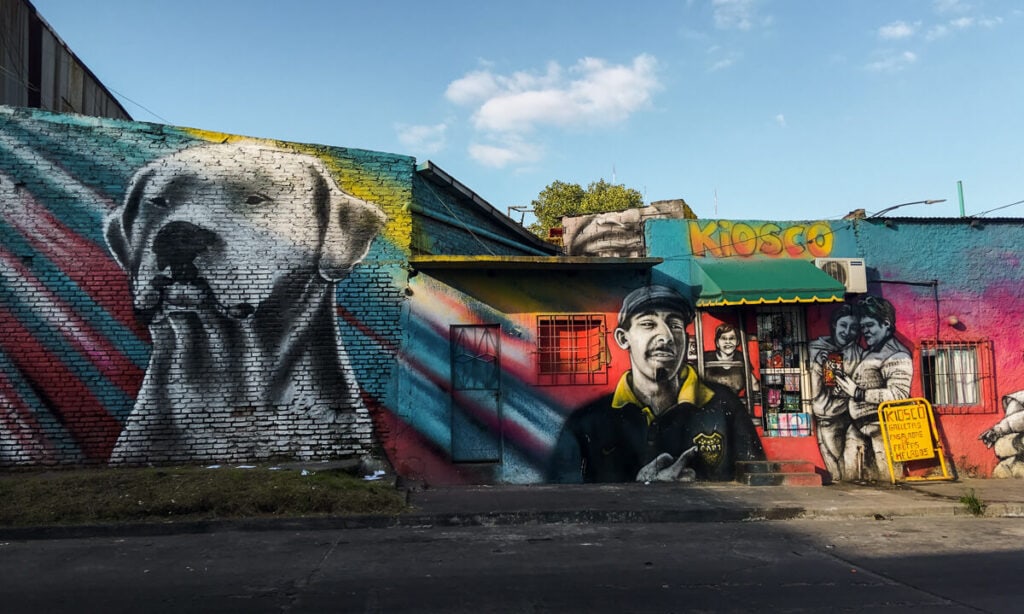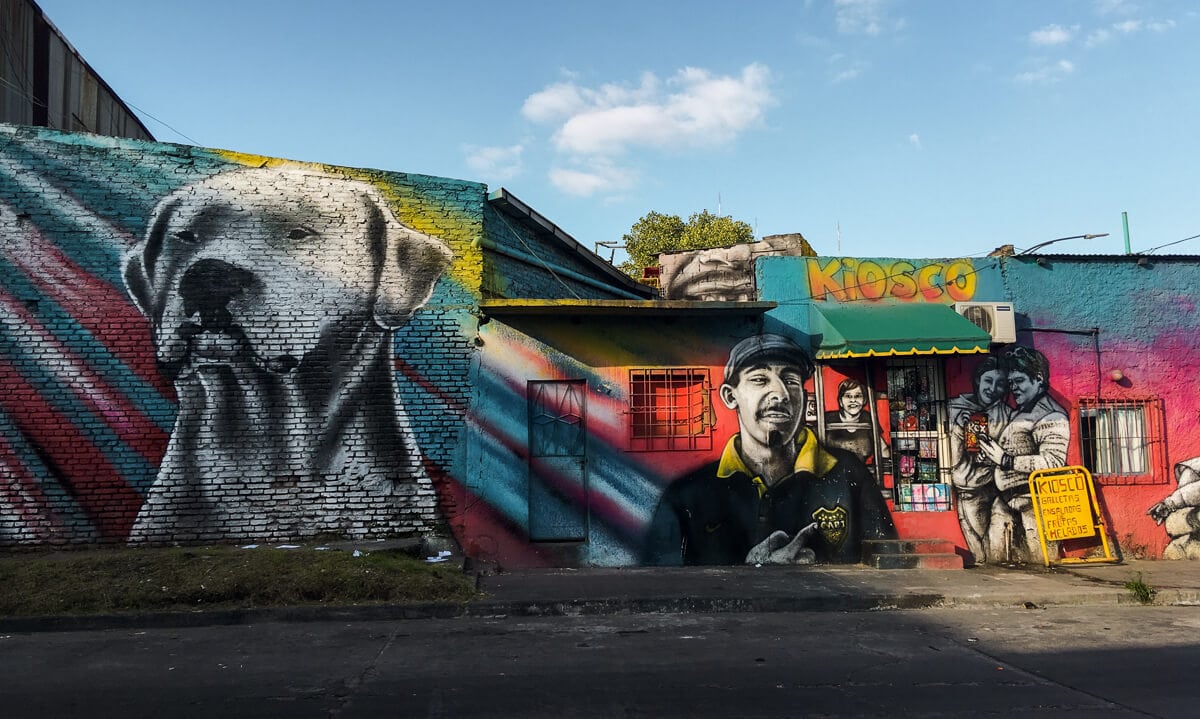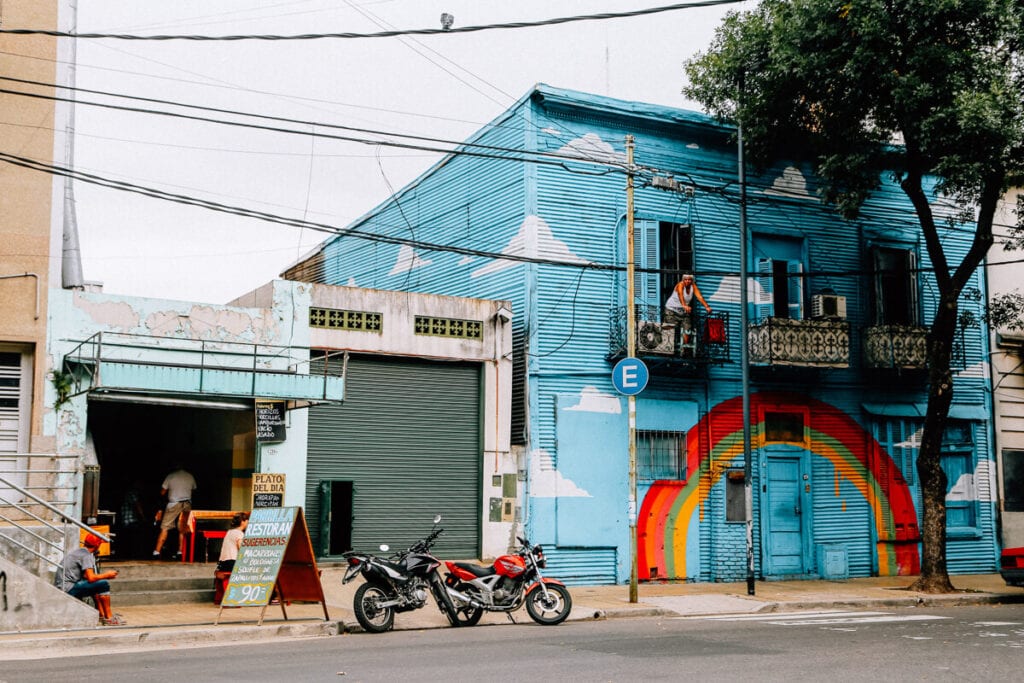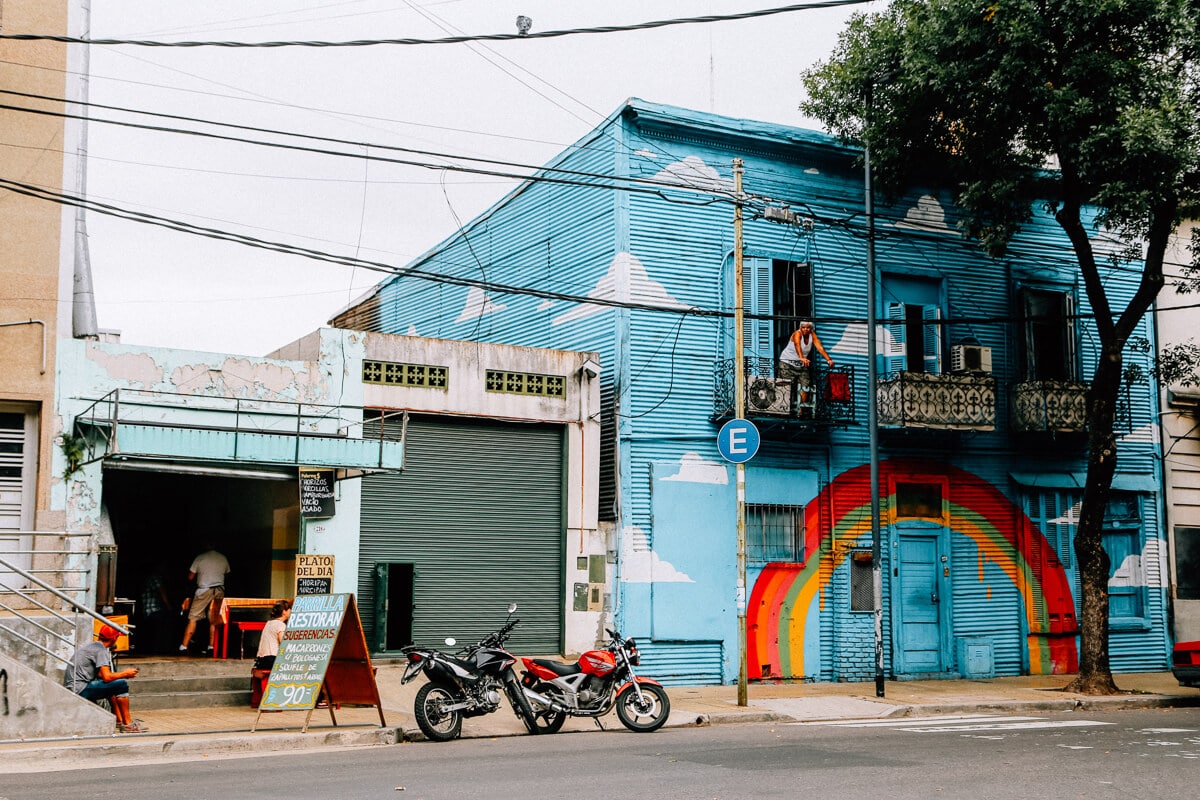 La Boca & Usina del Arte
Everyone's heard of the Caminito. This colorful open air museum is a hit with everyone who visits. It's even on the cover of nearly every guidebook about Buenos Aires.
Take your time to walk around the blocks surrounding the Caminito and you'll find plenty of Buenos Aires street art. Just be sure not to wander too far.
I recommend staying within a block of the "touristy" Caminito for safety concerns. For more information, read about safety in Buenos Aires here.
But there's actually more to La Boca than the Caminito.
Hop in a taxi for the short 8 block ride to the Usina del Arte cultural center.
The blocks surrounding this museum (and stunning historical building) are filled with some of the best street art in Buenos Aires.
Read my La Boca neighborhood guide to plan your visit to Caminito and Usina del Arte.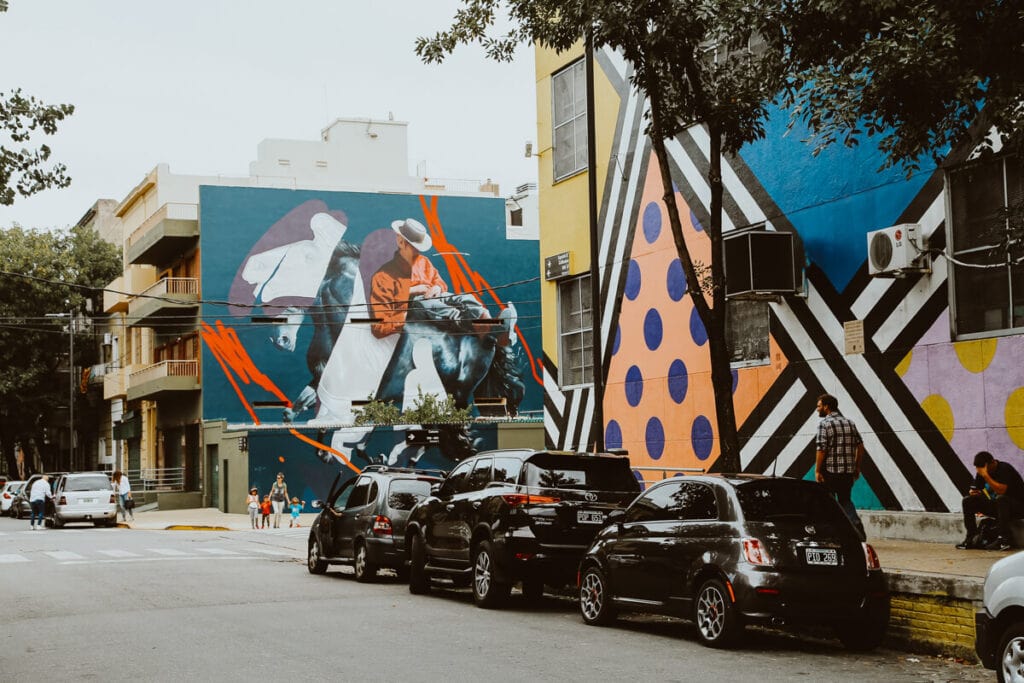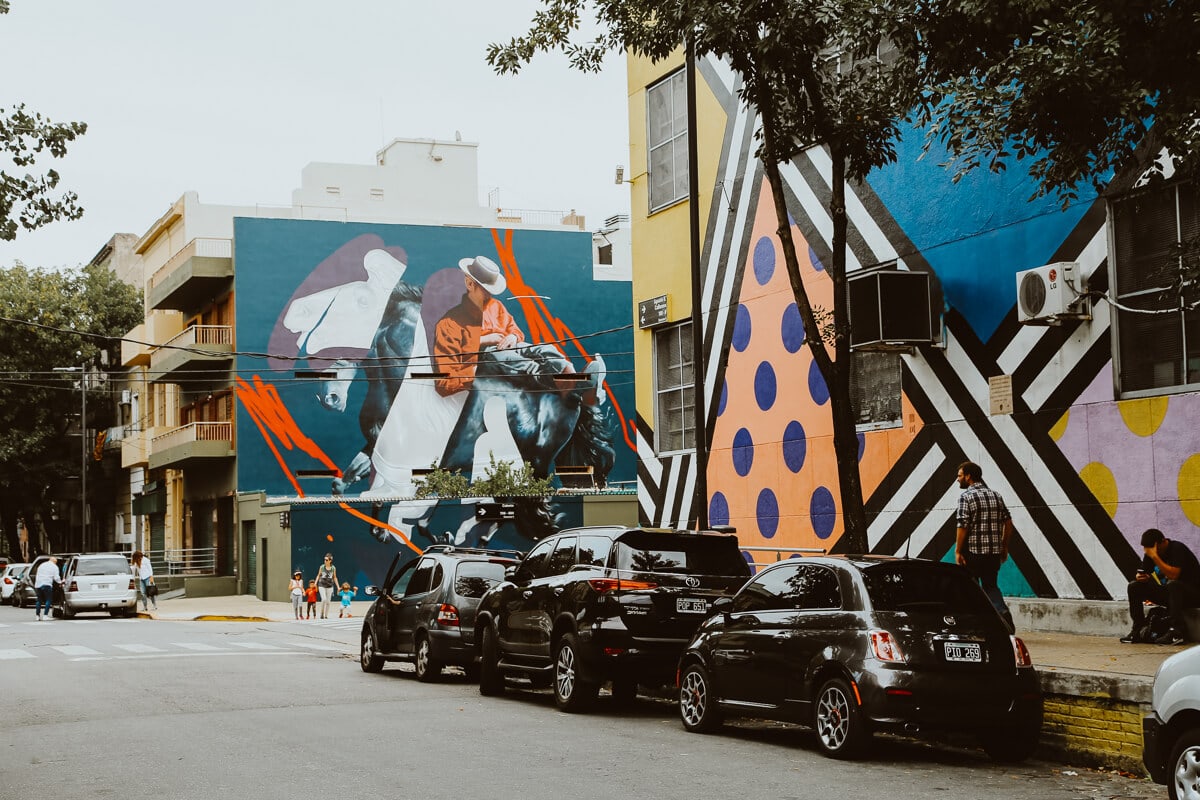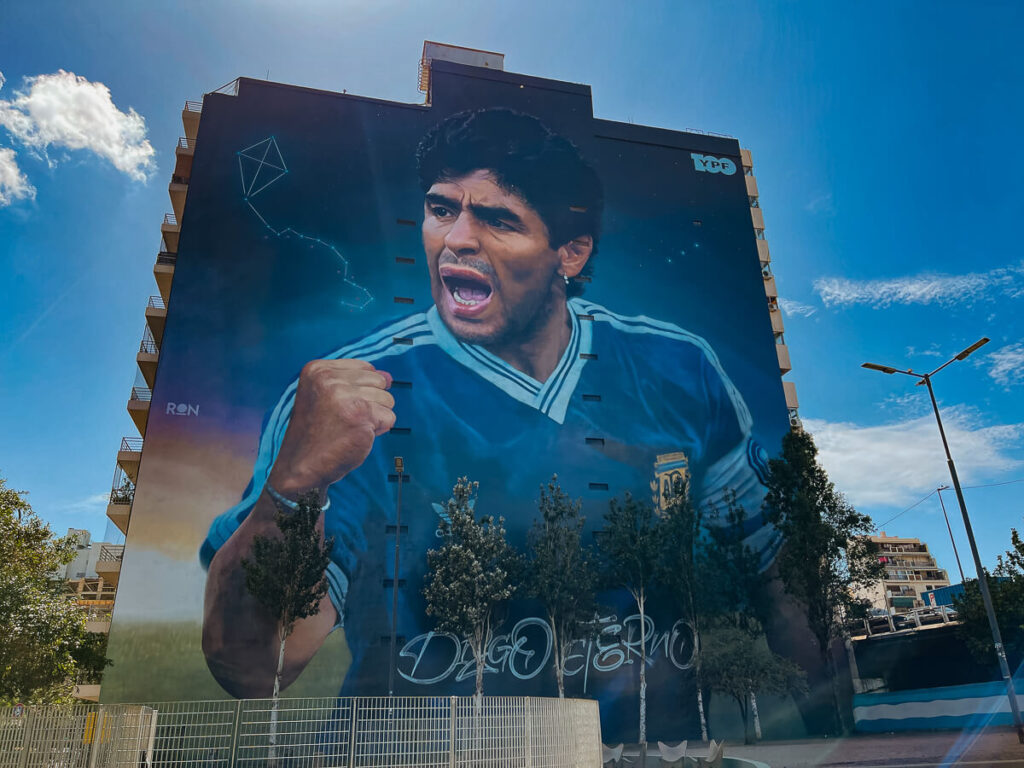 Maradona & Messi: Futbol Murals Galore
The passion in Argentina that surrounds futbol/soccer (depending on your point of origin) is integral to the culture. It's palpable.
After Maradona's death, murals and street art dedicated to him proliferated through the city. You'll see his likeness everywhere.
The most important of these (and the largest mural in the city) is a painting of D10S himself in Constitucion (pictured above) on the corner of Av. San Juan and Virrey Cevallos. It was painted by Argentina's most important muralist, Martin Ron.
And in just weeks since Argentina's World Cup victory, murals dedicated to Messi are popping up just about everywhere.
It wasn't even a week before a replica of Messi lifting the cup in victory was painted on the corner of Gorriti and Darwin in Palermo.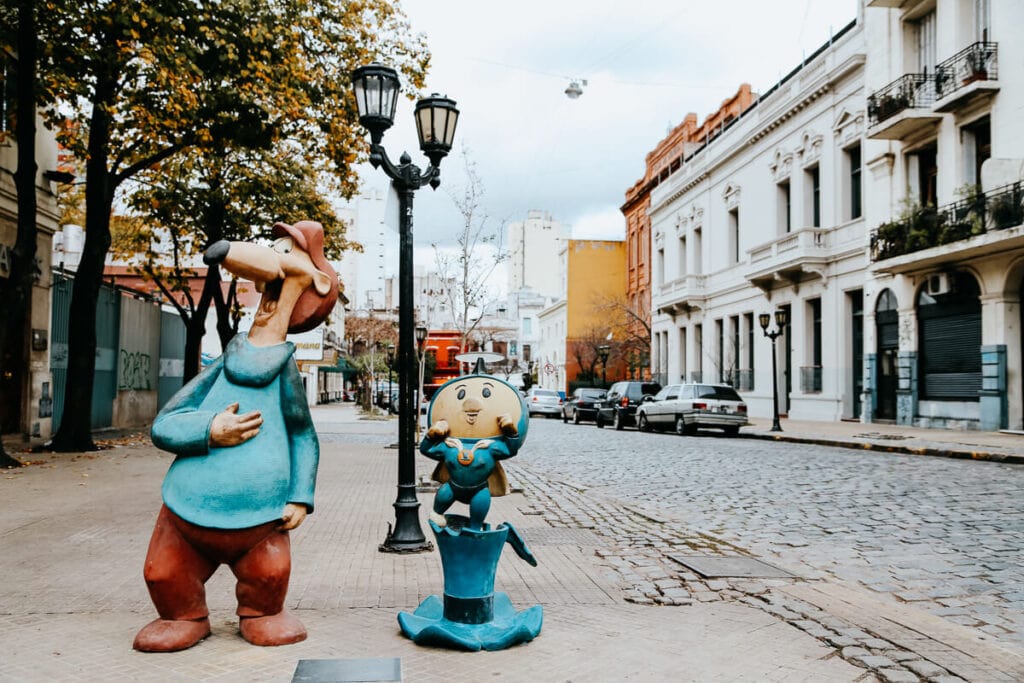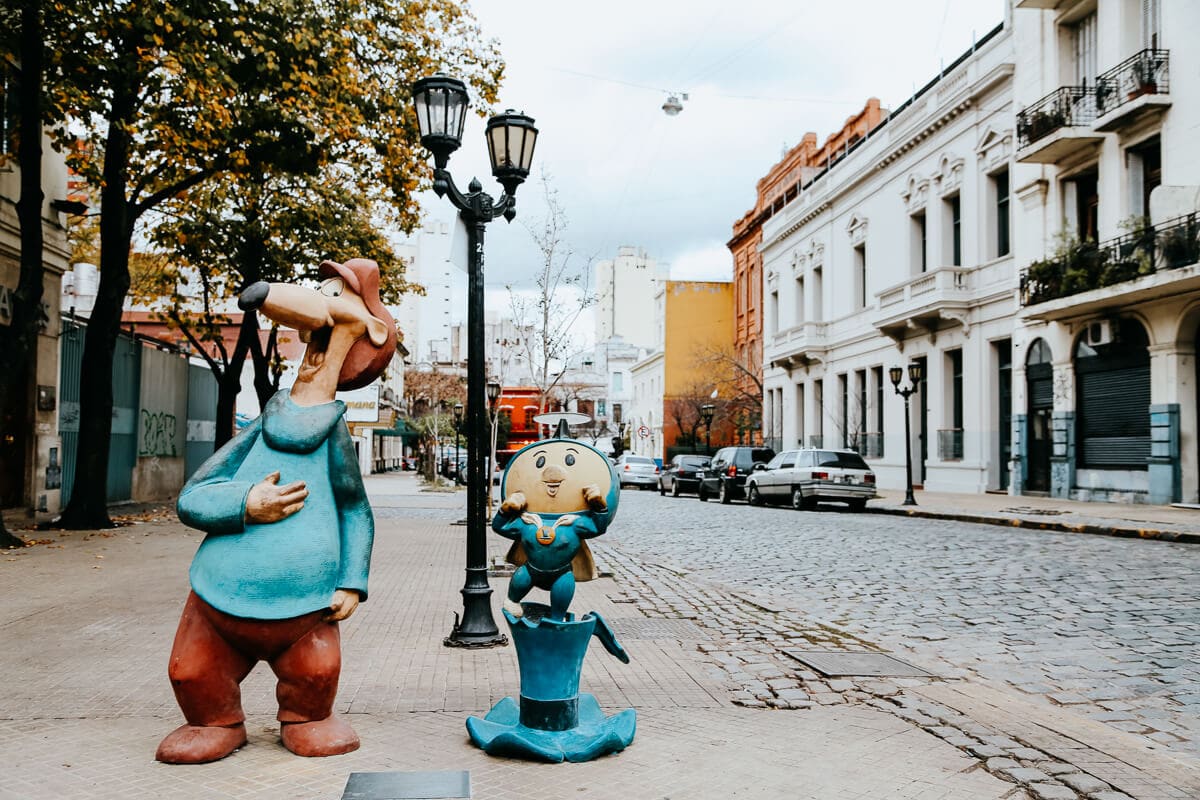 Paseo de la Historieta (The Comic Strip Walk)
In the southern barrios of San Telmo and Puerto Madero, if you keep your eyes open, you'll see sculptures of comic strip characters dotting the urban landscape.
The most famous of these (sculpture and comic strip character both) is Mafalda, sitting on a bench at the corner of Defensa and Chile Streets in San Telmo.
Sit next to her for a fun photo opp but to avoid a crowd pay her a visit any day but Sunday. The crowds form long lines for Mafalda during the busy San Telmo Sunday Market.
Click here to find all of the comic strip statues and plan your own self-guided Paseo de la Historieta.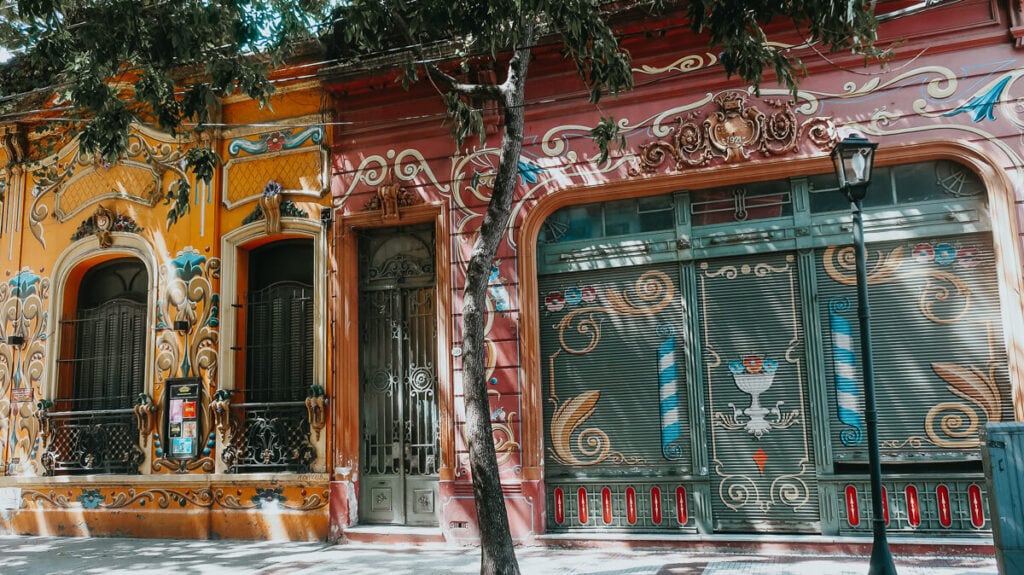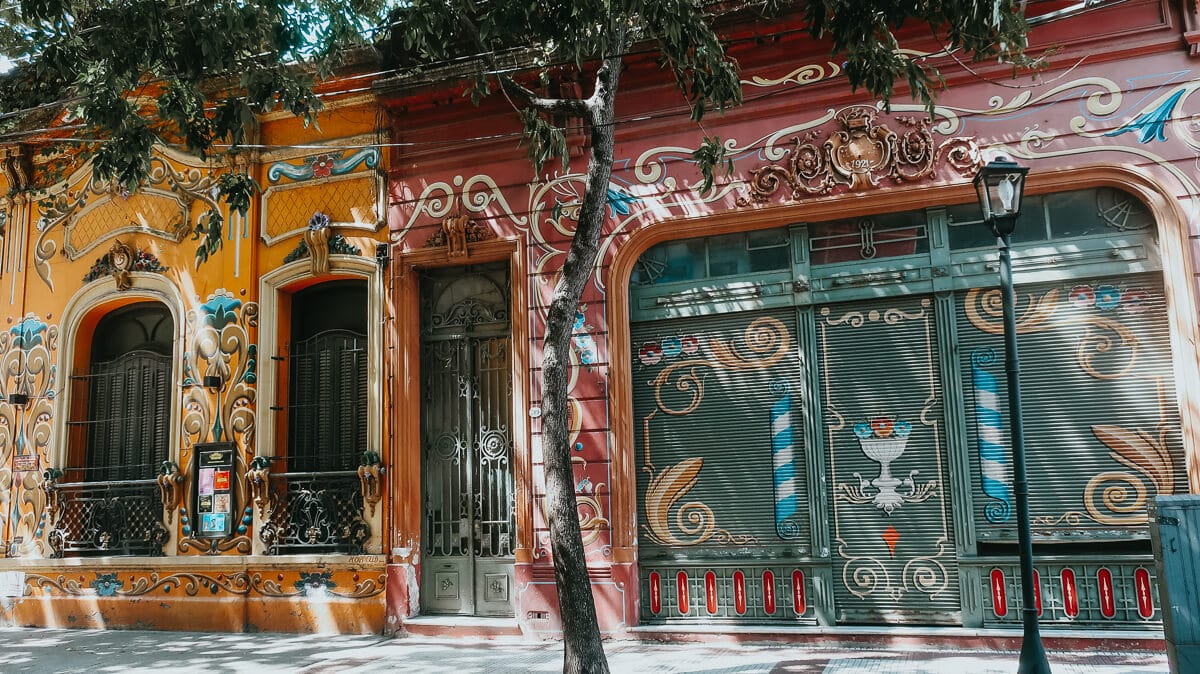 Fileteado & Gardel, Almagro
There are a number of colorful murals in the busy, central barrio of Almagro in the blocks surrounding the Abasto shopping mall.
On the block that famous tango singer Carlos Gardel called home there are the casas fileteadas.
Their facades are completely covered in this Porteño style of painting with all the characteristic florals, flags and swirls that come with it.
Around the corner on Pasaje Zelaya there are more Gardel portrait than you can count. See how many you can find.
My favorite is painted on the door to a warehouse one block from the casas fileteadas (I marked it on the map at the end of this post).
For a complete guide to this barrio tanguero and its street art, read my Almagro neighborhood guide.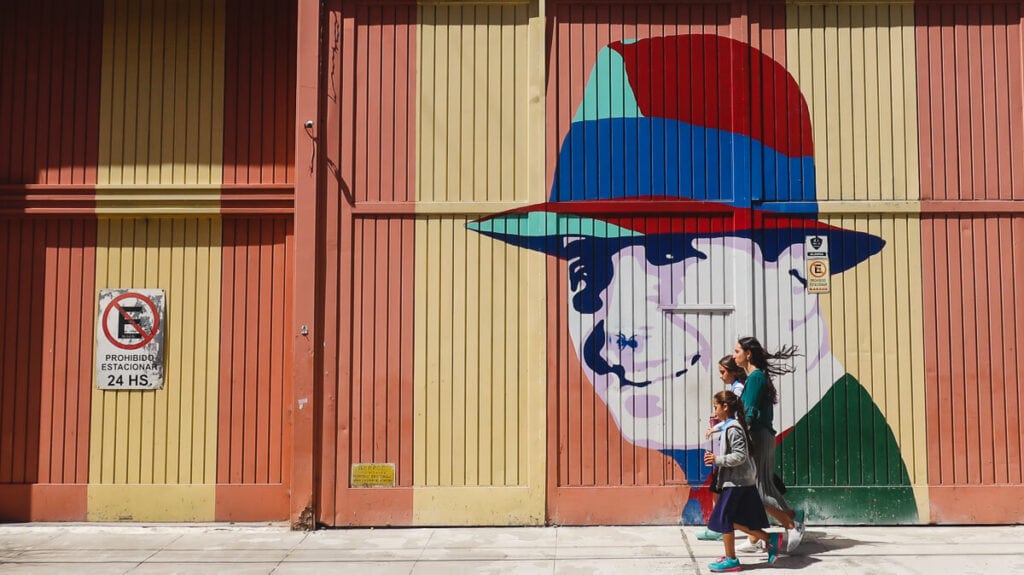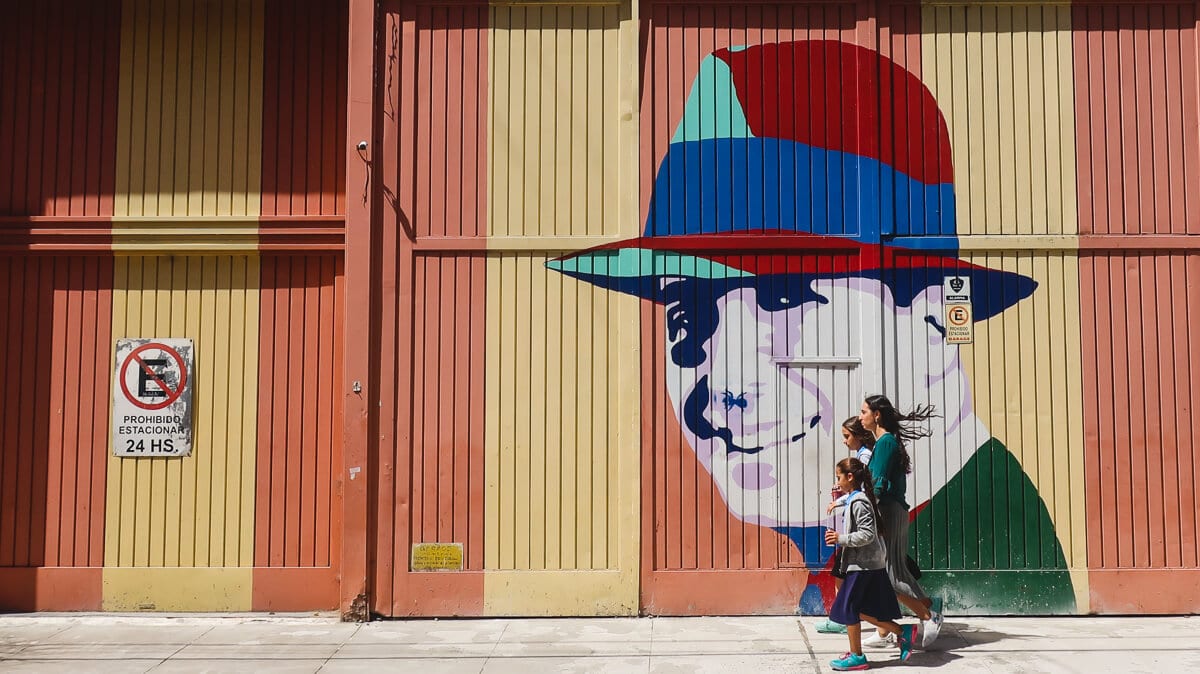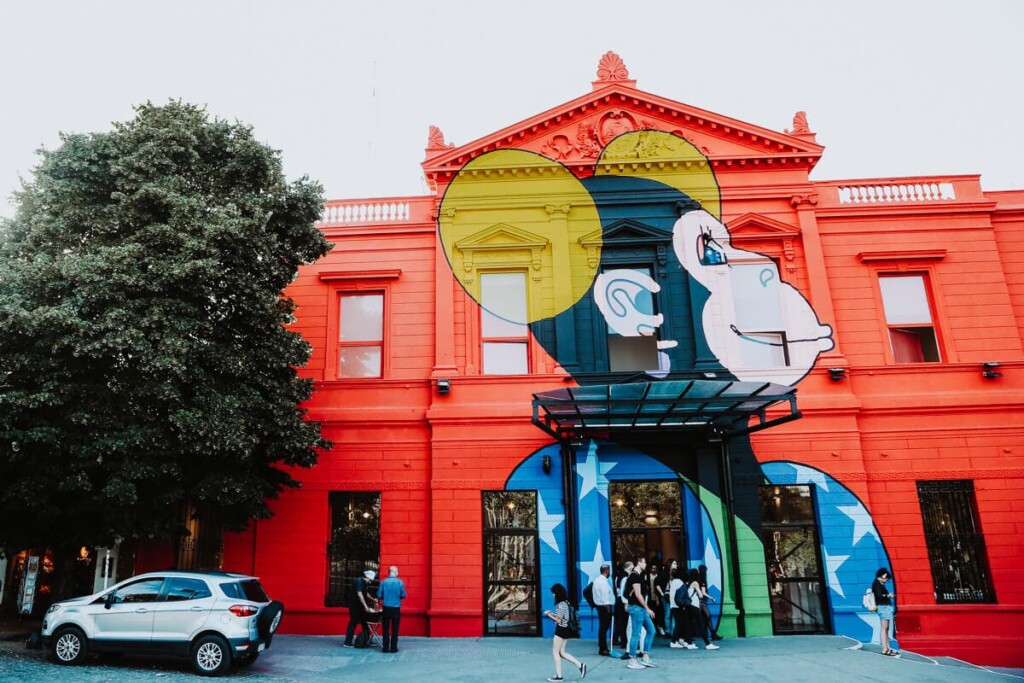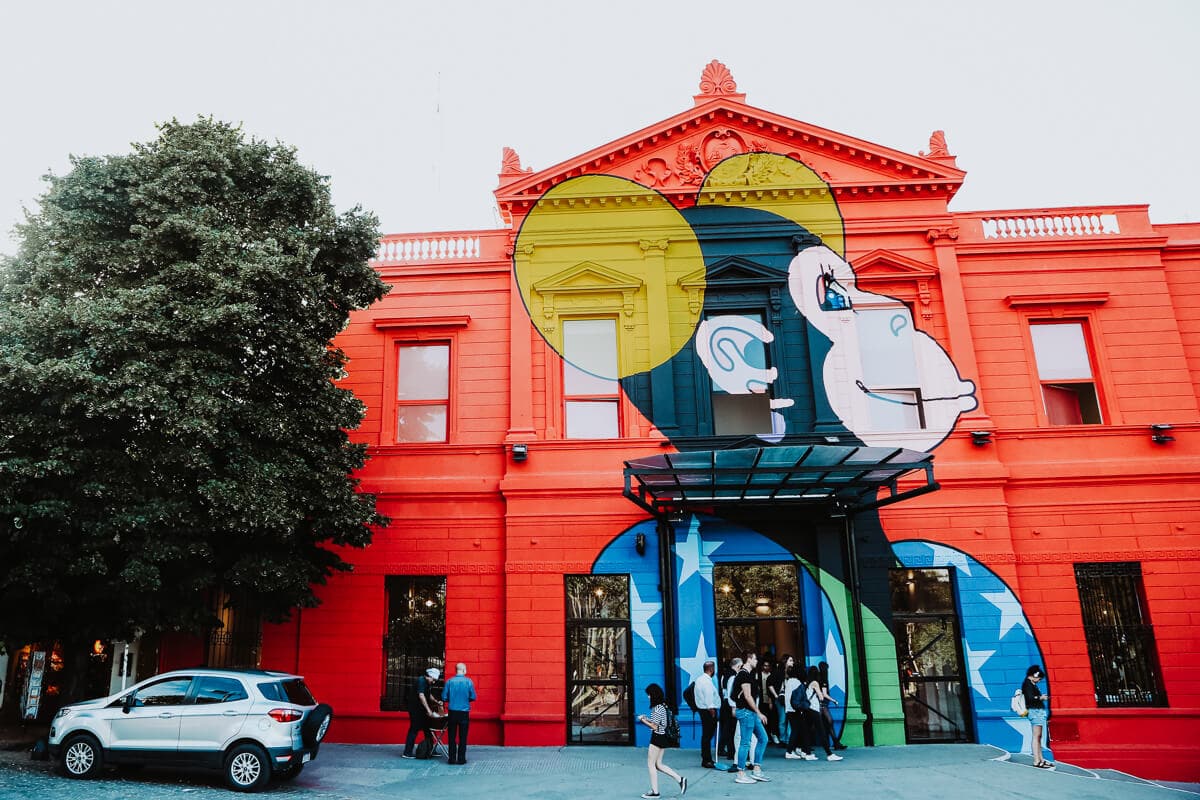 Centro Cultural Recoleta
At Junín 1930 just steps from the famous Recoleta Cemetery, this cultural center holds rotating exhibits featuring modern art, murals, interactive exhibits for children, and more.
The most interesting part of the cultural center, however, is the facade. In August 2019, the historic building was covered head to toe in a pop-culture mural that felt perfectly out of place on such a classic building.
Every month or so it's renewed with a new mural to go with each new exhibit. It's definitely been met with criticism by those who'd prefer the classic structure be respected with a classic coat of paint.
Personally, I love it. It's nothing a coat of paint can't return to "normal" (what even is normal, anyway?) later. Might as well have our fun and enjoy the art while we can!
Visit on the weekend to combine the Cultural Center with Recoleta's weekend market. Read my Recoleta neighborhood guide to plan your day.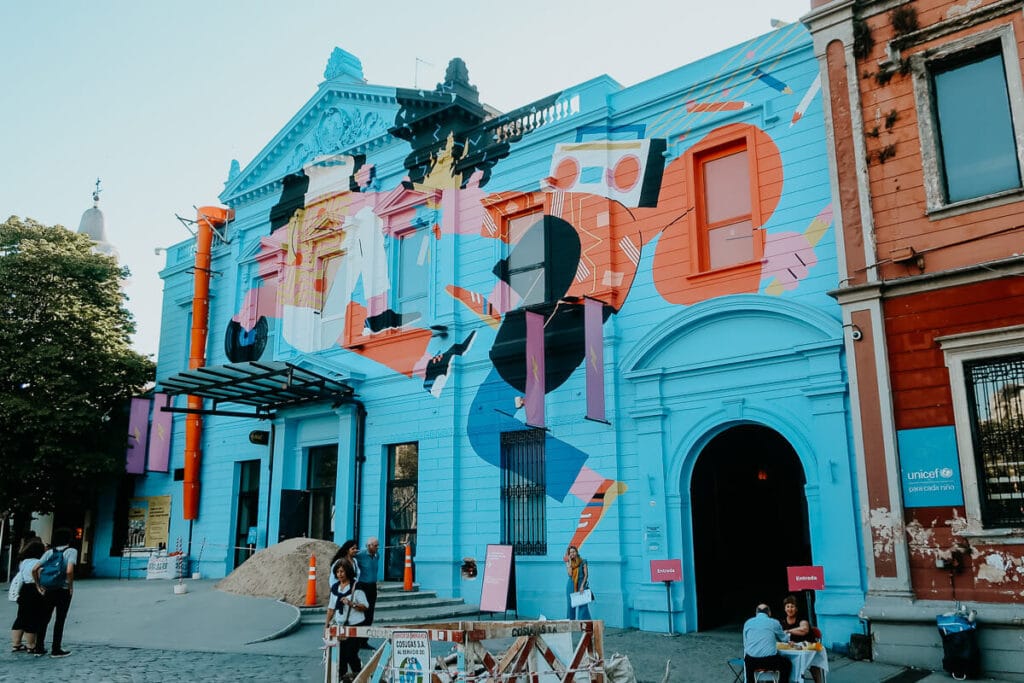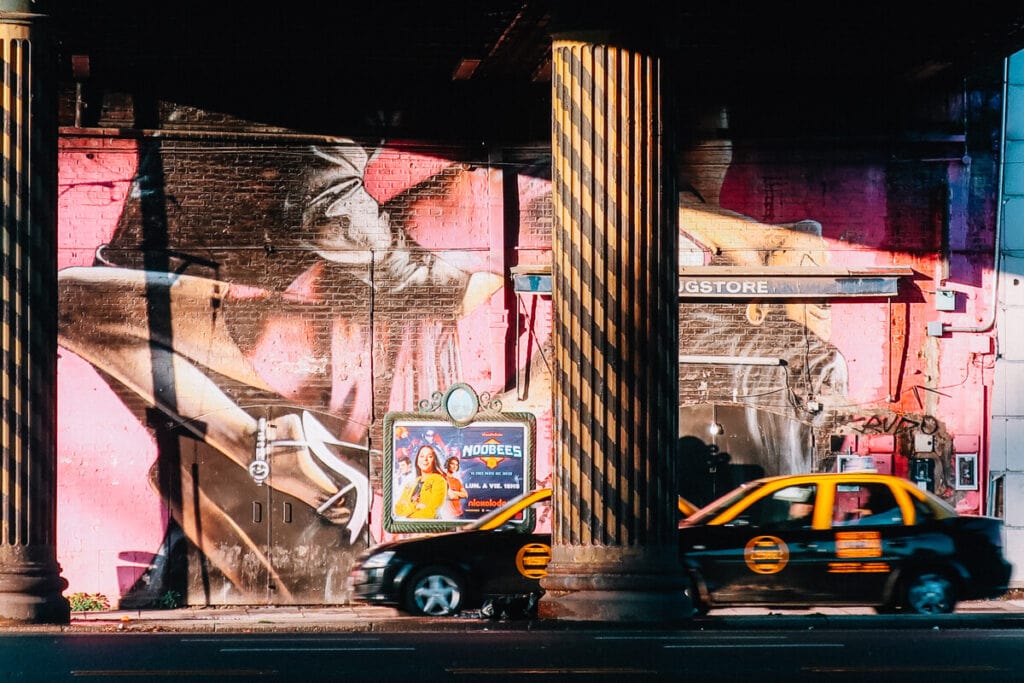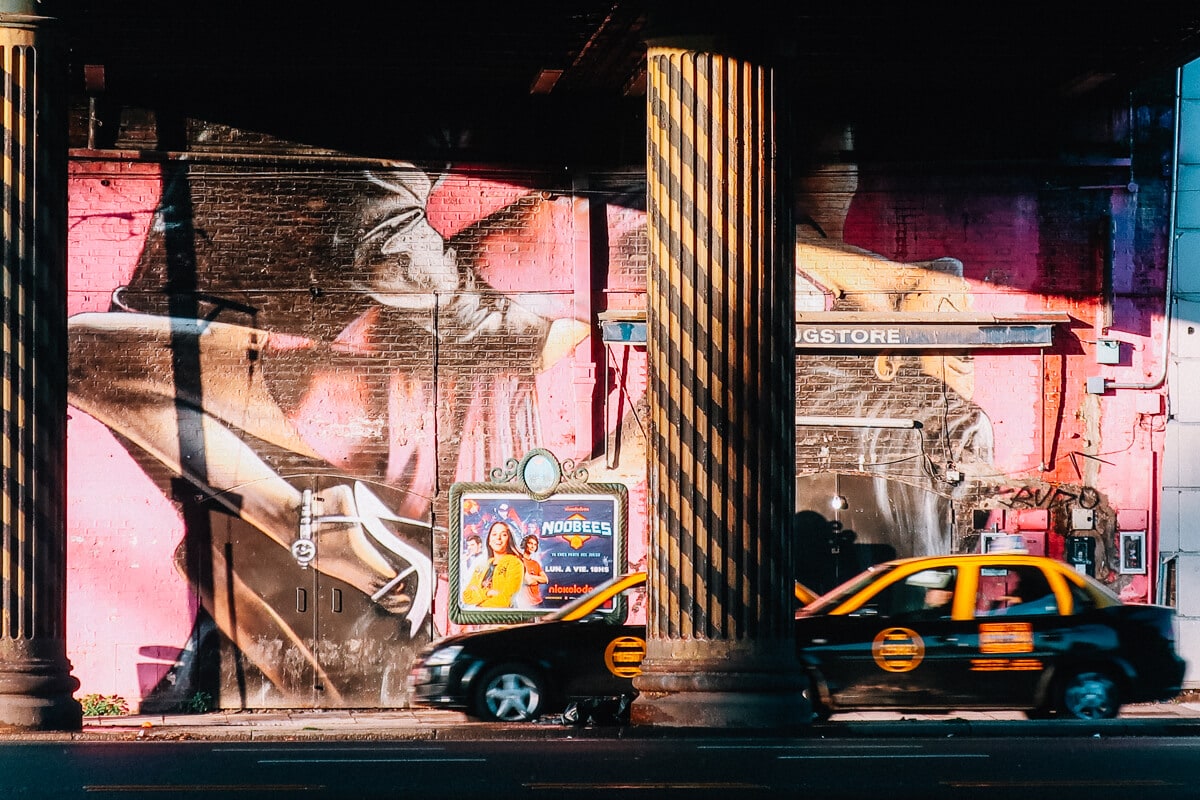 Palermo's Tango Murals
Under the bridges at Avenida Juan B. Justo & Avenida Libertador
Right at the corner of the Bosques de Palermo parks, under the bridges that pass overhead on Avenida Libertador (corner with Avenida Bullrich) are a number of large tango themed murals.
They're painted by Alfredo Segatori.
Find the legs of tango dancers mid-dance, a man playing a bandoneon (iconic tango instrument similar in appearance to an accordion), and portraits of Carlos Gardel.
Combine these murals with lunch or a cocktail at the restaurants set up in the arches under the train tracks at Arcos de Rosedal.
For more information read about the parks of Buenos Aires here.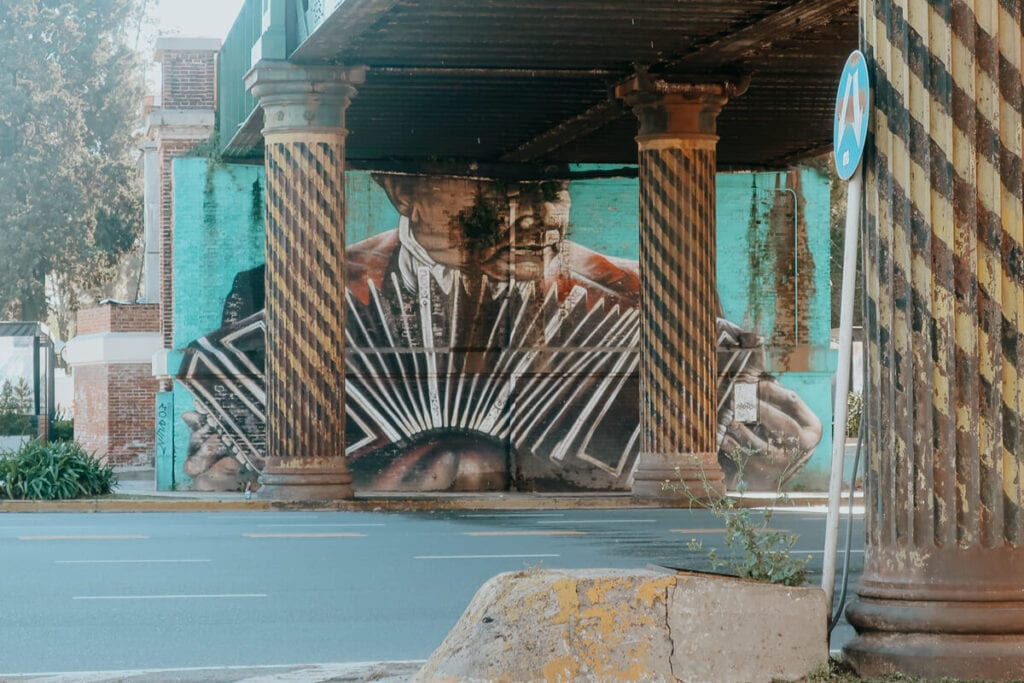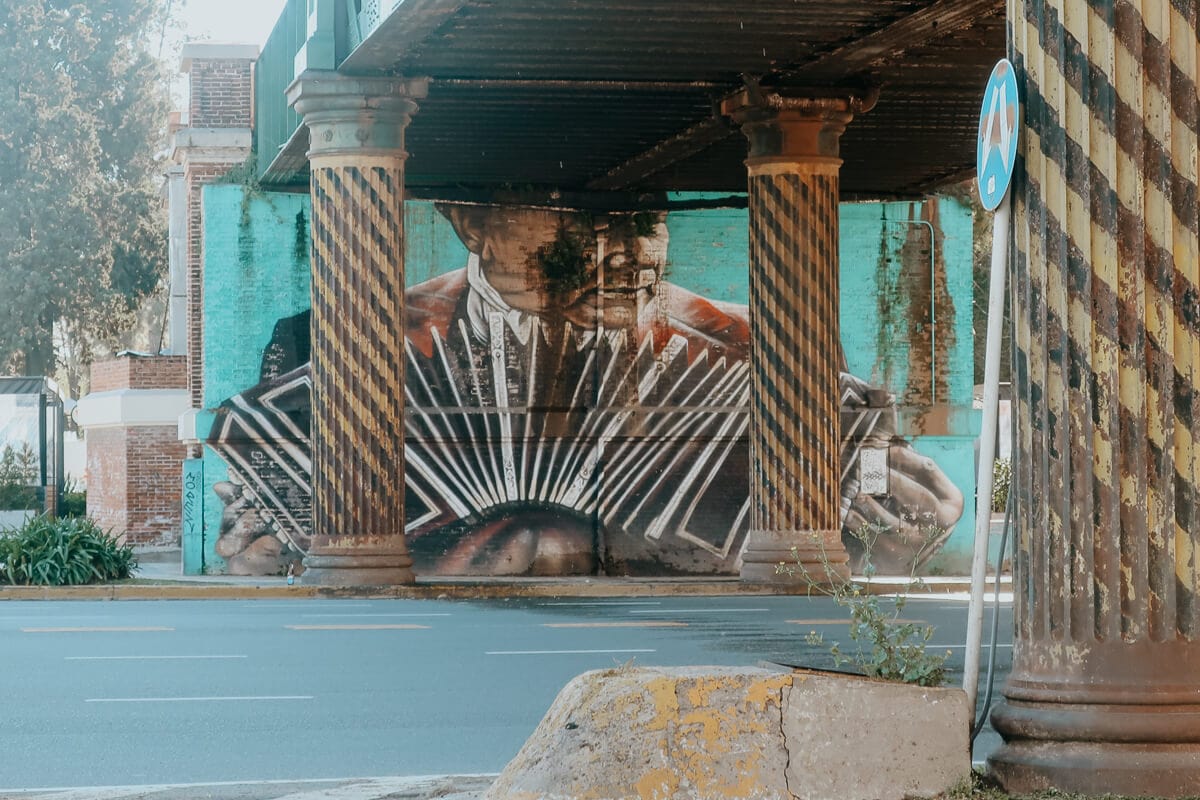 The Pasajes of Palermo Soho
Palermo Soho is young. It's filled with bars, restaurants, boutique shopping, and sidewalk cafes.
It comes to life on the weekends as the locals indulge themselves in the shops and with a beer or two in the sun.
Some of the coolest graffiti in Buenos Aires can be found in the alleyways (or pasajes) of Palermo Soho.
They are an Instagrammers dream so if you go with your camera you'll be in great company (locals and tourists alike).
Pasaje Soria and Pasaje Russel are two of the coolest Palermo alleyways and the most popular.
I've marked them on the map at the end of this post.
But don't limit yourself to pins on a map here. I recommend wandering aimlessly through Palermo Soho.
It's filled with bars using murals to beautify their facades and ever-changing graffiti and one of the coolest things to do in Buenos Aires.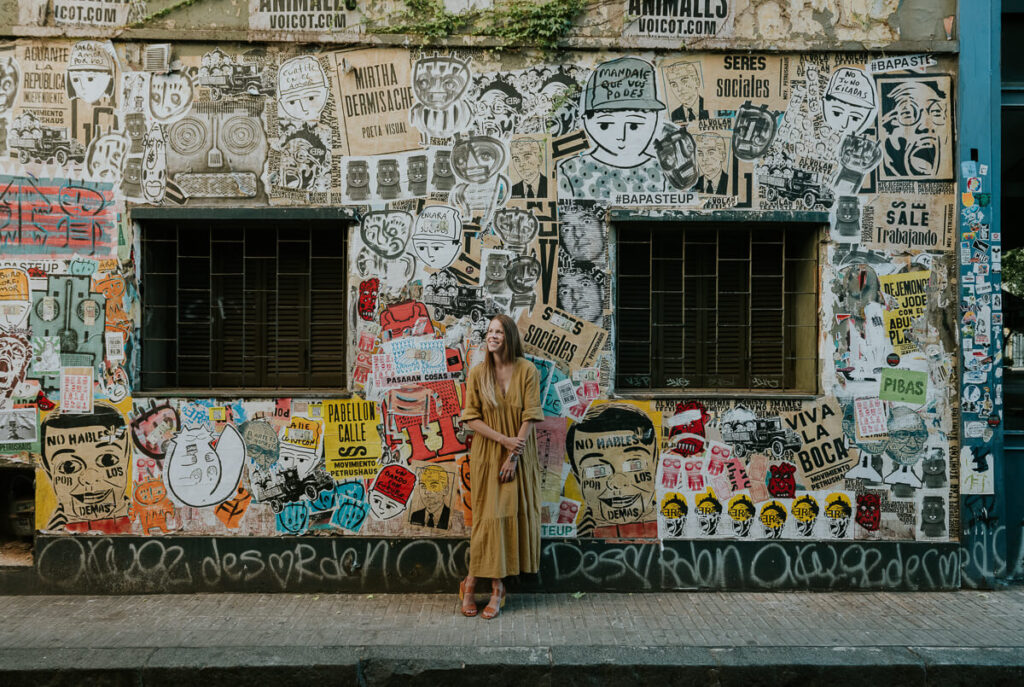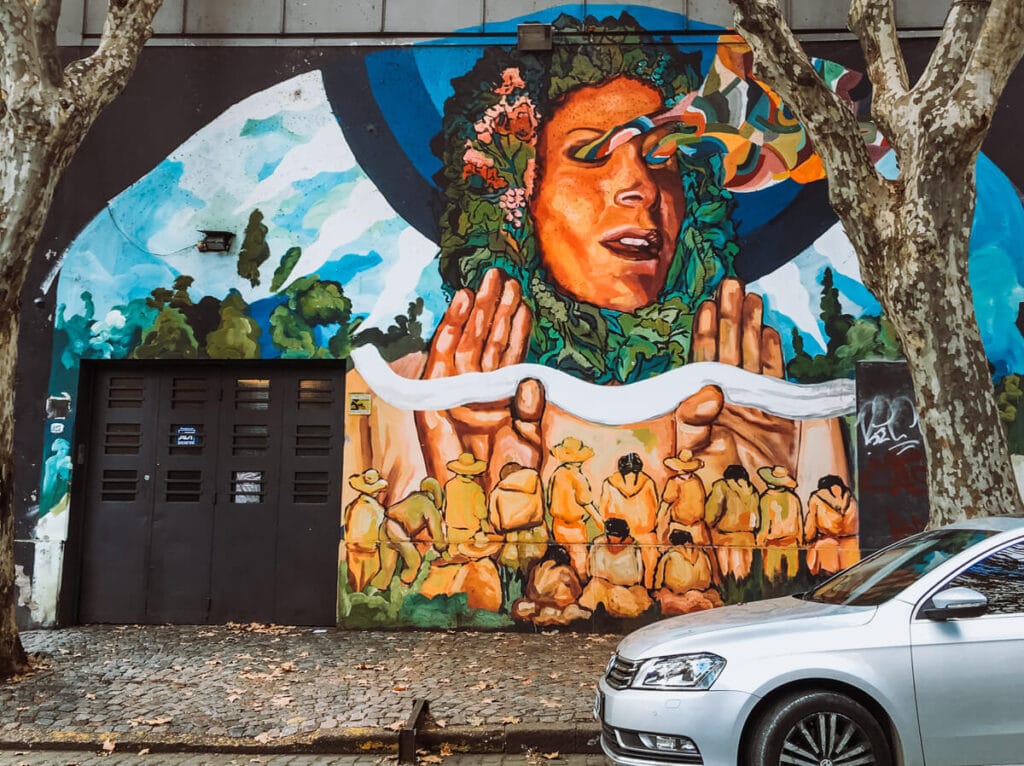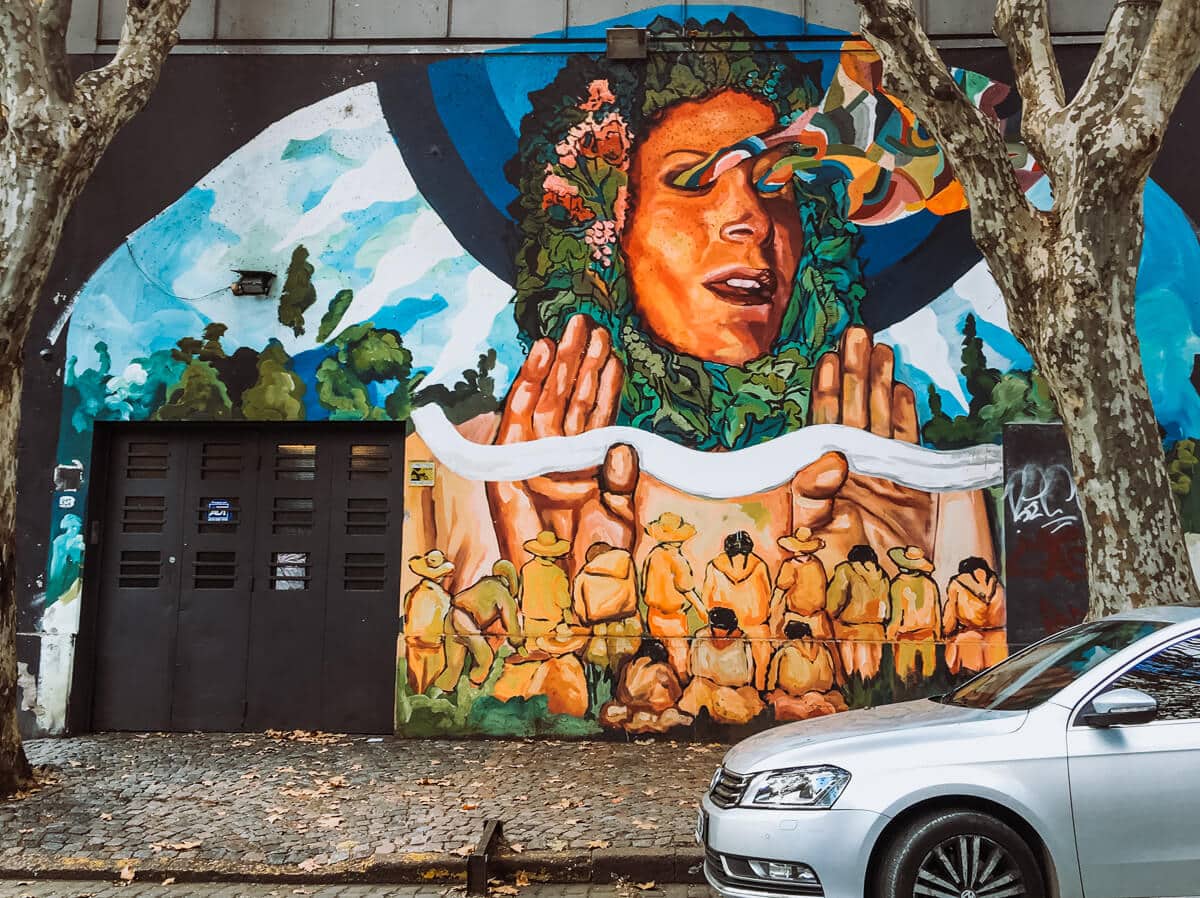 Villa Crespo
From Palermo Soho cross Avenida Cordoba into Villa Crespo.
This residential neighborhood is home to some of the coolest street art Buenos Aires has to offer.
Walk around the streets close to Cordoba and you'll find plenty of murals without having to make much of an effort.
All of my favorite pieces of Villa Crespo street art are by the same artist, Nicolas Romero Escalada, or @eversiempre. One of his most popular murals is of Karl Marx with 9 kittens at Serrano 982.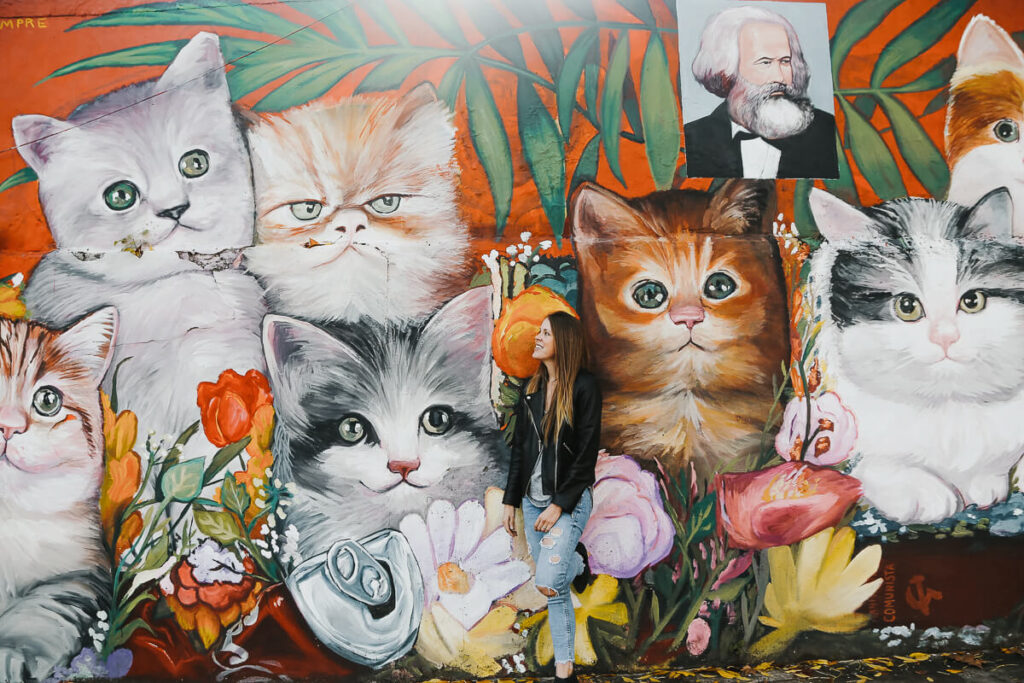 Frida & Mercado de las Pulgas, Colegiales
Avenida Dorrego 1735
The Mercado de las Pulgas (Flea Market) in Colegiales is a veritable street art museum.
The market's exterior is completely covered in cool murals and graffiti with murals even decorating the interior as well.
For a unique juxtaposition, find murals with antique furniture displayed in front inside.
Another can't miss mural is the two story Frida Kahlo on the border of Palermo Hollywood and Colegiales, at Dorrego 1735 just a couple blocks from the flea market.
Try to visit early in the morning to try to get a picture without cars or passersby in your way.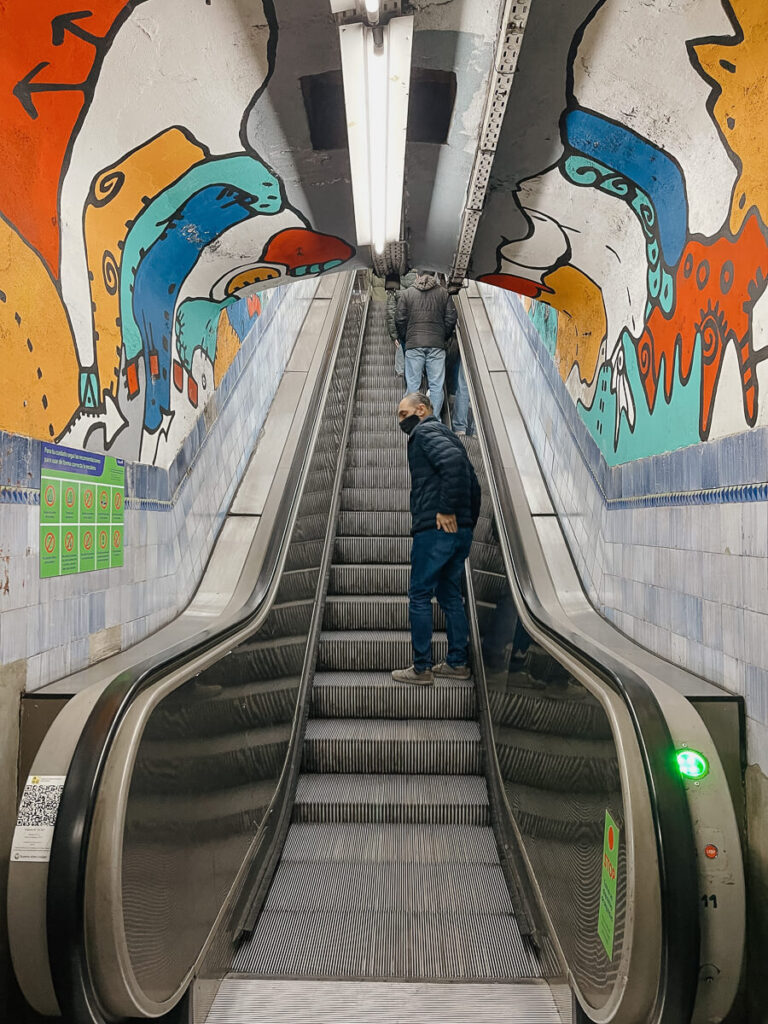 The Subte
The street art in Buenos Aires is everywhere, even underground. The subte (subway) stations are decorated with murals and artwork as well.
The B Line has murals in nearly all its stations (seen below). You can take the B Line to another street art destination on this list, Almagro, by getting off at the Abasto Station (decorated with portraits of Carlos Gardel).
The D line has some as well, some stations like Bulnes or Aguero have original artwork and painted tiles.
The Plaza Italia stop is decorated in zoo-themed mosaics done by the same artist who designed Calle Lanin (mentioned at the top of this article).
Barrio Chino, Belgrano
Buenos Aires' Chinatown may be small but its four blocks house some great street art.
Barrio Chino is in the northern neighborhood of Belgrano.
Stand on Juramento Avenue in front of the large gate at the entrance, seen below.
You'll see some big murals in the background making a great photo!
The next few blocks have a number of murals to look for including a storefront covered in a dragon and a huge peacock.
I love this mural seen below on the gate of a restaurant (so you'd have to visit when they're closed to spot her!).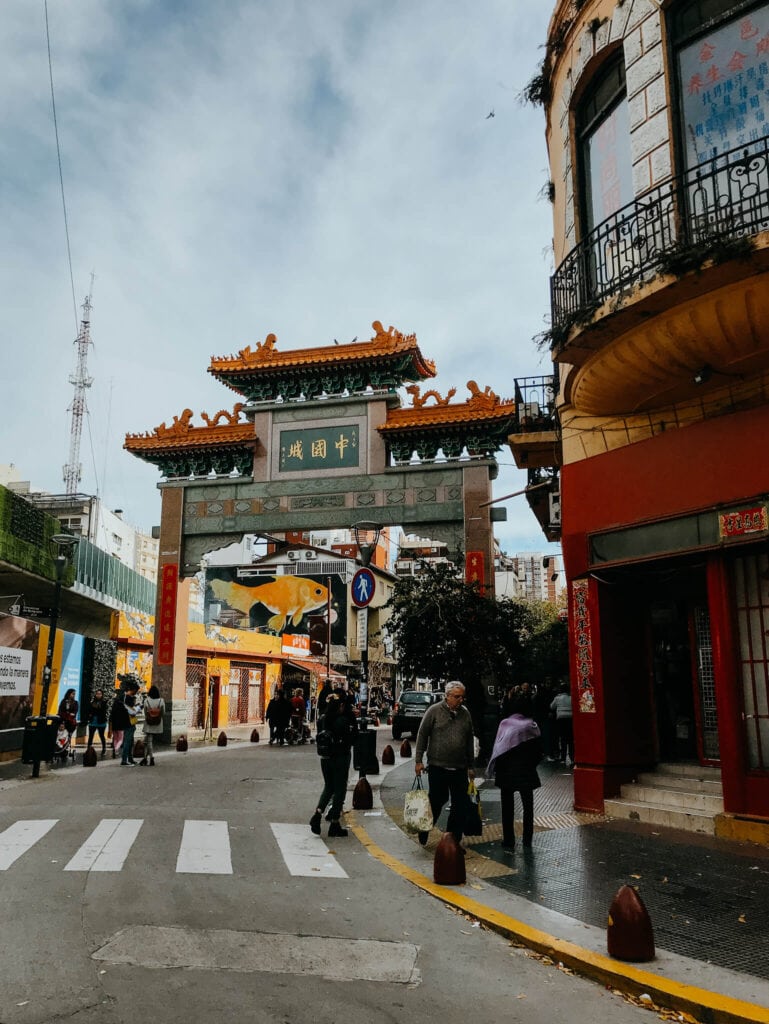 El Cuento de los Loros, Villa Urquiza
On the corner of Pedro Ignacio Rivera y Holmberg
This massive mural is technically in Villa Urquiza (just one block from my neighborhood, Coghlan, so close).
El Cuento de los Loros takes up the entire side of a 4 story apartment building.
Martín Ron is the artist of this piece sponsored by the city government.
The parrots (that ironically now form the title) were an afterthought, added later to appease complaints from modest neighbors who were offended by the naked boy (don't anyone tell them about the statue of David).
The head of a man with his tongue out was inspired by a photo of the artist's friend at a barbecue.
The tiny old man sitting on the skateboard to the right is Clorindo Testa, a well-known architect from the area.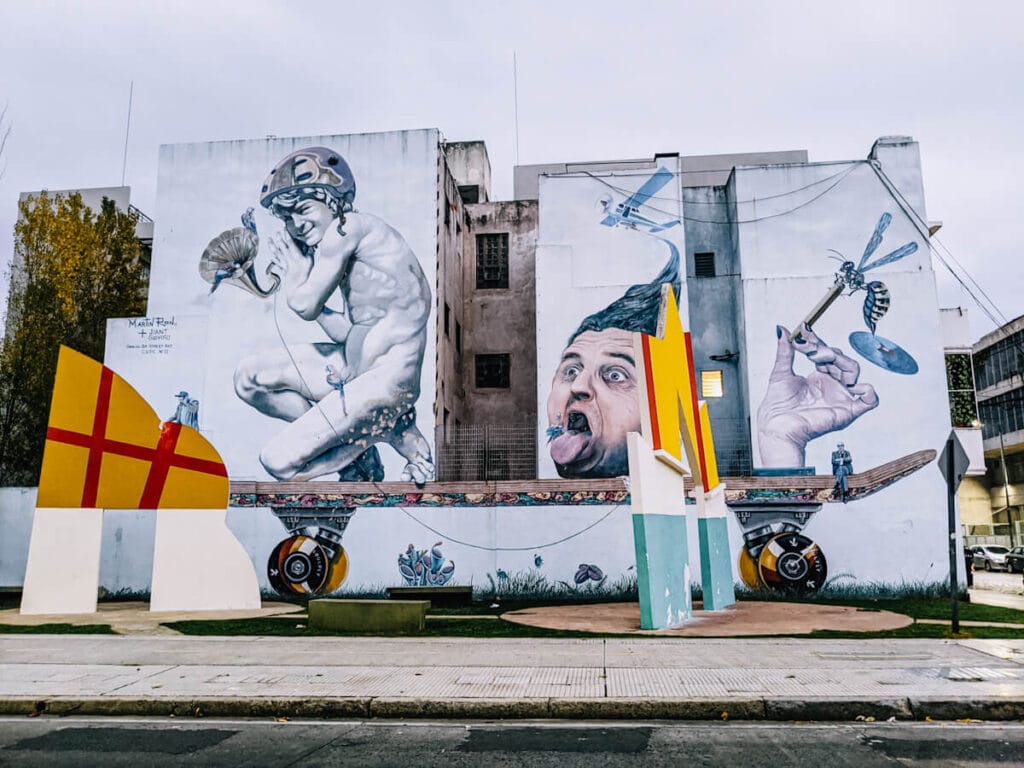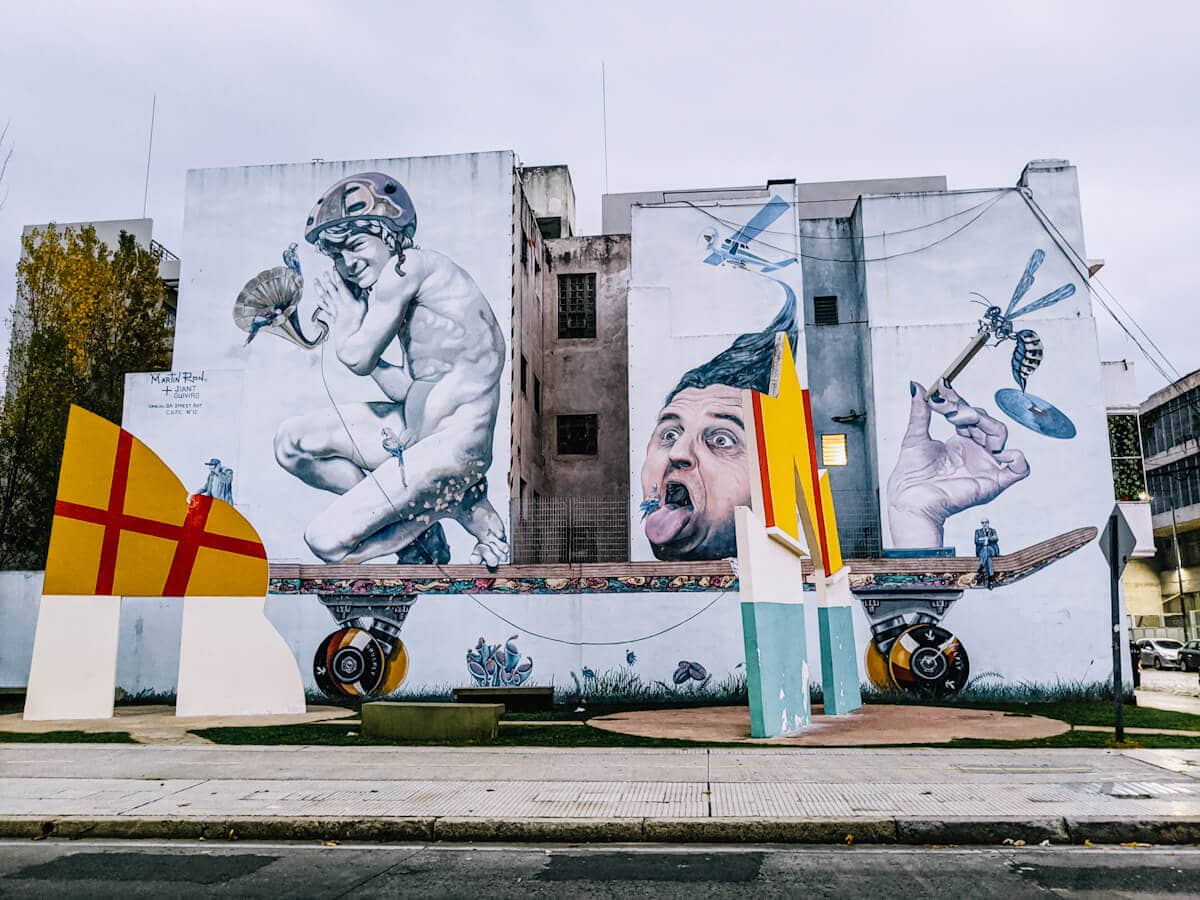 Coghlan
Coghlan is a tiny residential neighborhood north of Belgrano.
So small, in fact, that many locals haven't even heard of it, they simply lump us into Belgrano.
But despite being small, it's a great destination for Buenos Aires street art and there are plenty of things to do in Coghlan to make it worth the trip.
Buenos Aires Street Art is an organization that curates and produces some of the city's best artwork. The founder is a neighbor of mine right here in Coghlan and we have him to thank for our many murals. He offers some of the best street art tours around, click here for more information. You'll get to see a residential area of Buenos Aires you likely won't see any other way.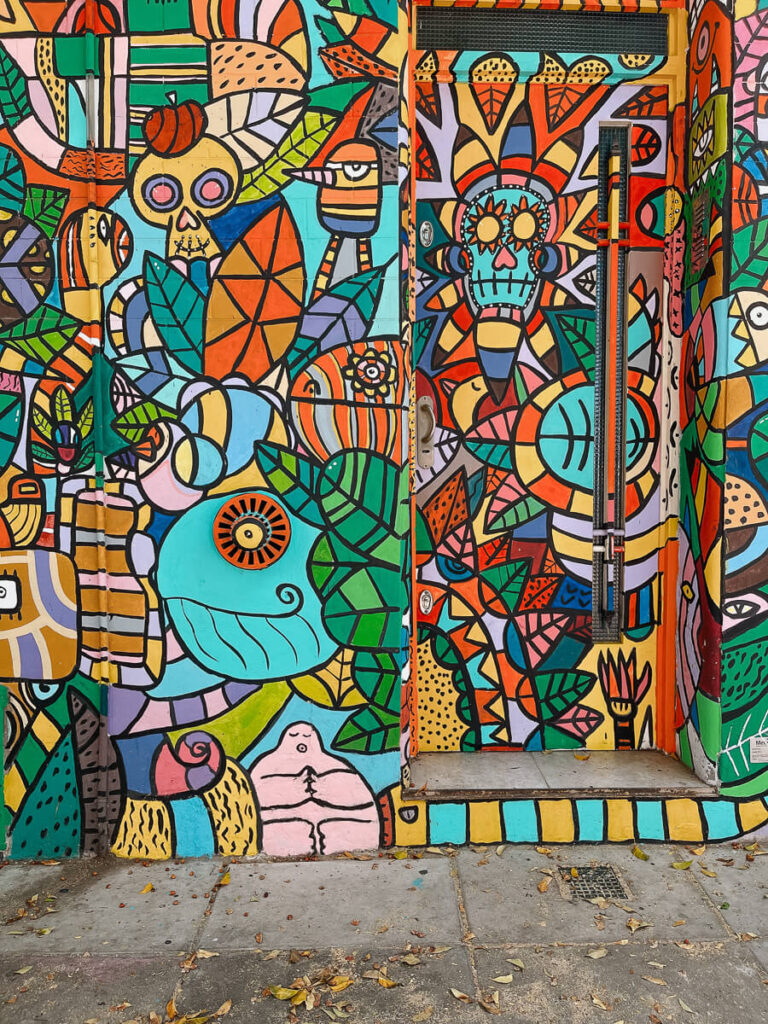 The Ultimate Buenos Aires Street Art Map
This map of Buenos Aires graffiti and street art includes all the murals and spots mentioned in this post.
Download it to use offline for your own self-guided street art tour of Buenos Aires!
The Best Street Art in buenos Aires
I hope you enjoy all of these beautiful murals in Buenos Aires.
I'm a huge fan of this city's street art and can't resist a good mural, so as the cityscape changes, I'll keep this post updated!
Did I miss your favorite BA street art? If so, let me know in the comments so I can go find it.
Argentina Travel Resources
Read More About buenos Aires:
PIN IT FOR LATER