In the heat of summer, the street parties of carnival in Argentina bring everyone together.
As January's peak summer travel season winds down, February brings the Carnival celebrations to keep the excitement going.
Celebrations officially kick off in February with celebrations taking place in Buenos Aires every weekend until the major parade at the end of the month.
The beating of drums echo through the city for months as murgas, local neighborhood based drum and dance troupes, rehearse.
In the northwest, Andean traditions blend with European influence for a carnival experience unlike any other.
You may not have heard of carnival in Argentina like you have New Orleans, Venice, or Rio, but trust me, you're not going to want to miss it.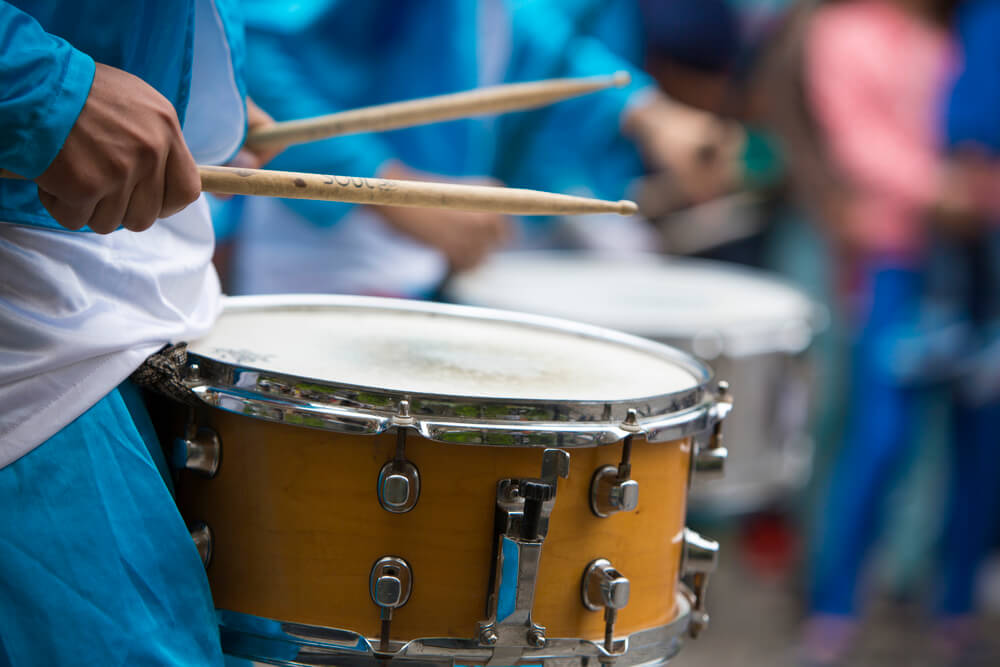 QUICK NOTE: This post contains affiliate links and Sol Salute may receive a commission for purchases made through these links, at no extra cost to you.
Carnival in Argentina: A Quick Review
Here's a quick overview of what you need to know about Argentina's carnival celebrations: important dates, facts, and vocabulary.
When is Carnival in Argentina?
While there are events and rehearsals year round, official celebrations, called corsos, take place every weekend and holiday during the month of February.
The main closing celebration in Buenos Aires takes place at the end of the month on Avenida de Mayo downtown.
In Gualeguaychu there are corsos for all of January and February, making it the longest celebration in the country.
Carnival Vocabulary:
Corso – The weekend parades with costumes, drums, and choreographed dance
Murga – Group of musicians, mostly featuring percussion of drums and cymbals with accompanying choreography, they typically are specific to their neighborhoods and are like a family of sorts. It is a major facet of the community.
Murguero – Someone who takes part in a murga
Comparsa – A group of singers, musicians, and dancers that take place in Carnival celebrations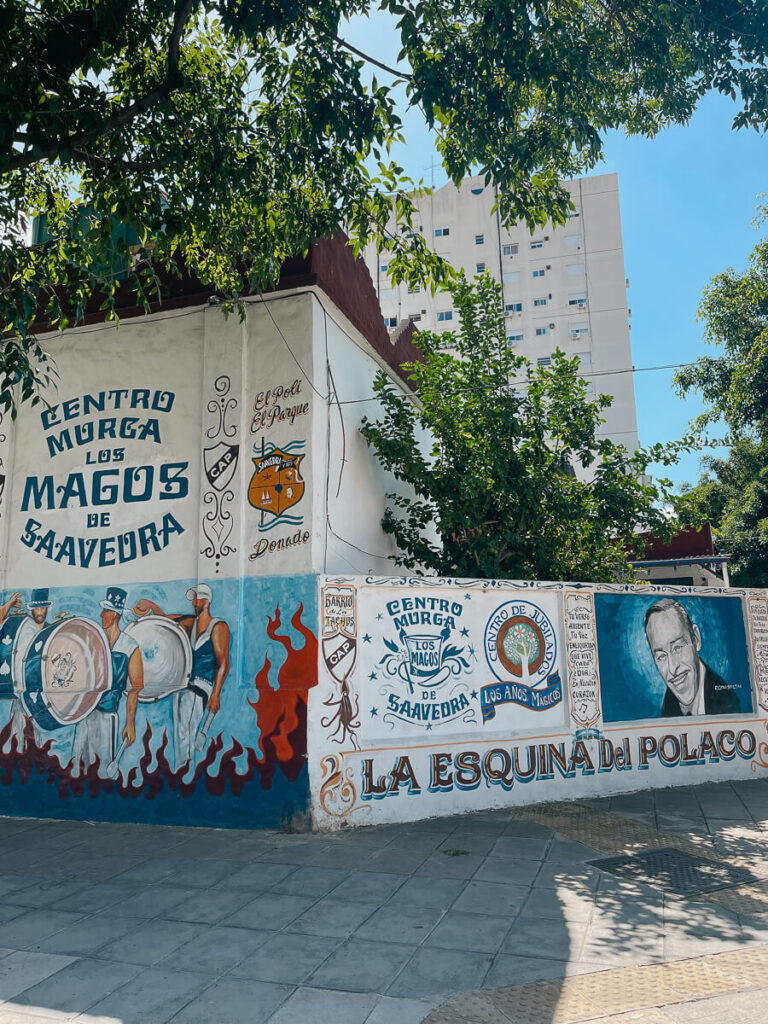 Carnival in Buenos Aires
Buenos Aires' carnival celebrations used to be much more intense and ever present than they are today.
Listening to my husband and mother-in-law wax poetic on celebrations from a few decades ago makes me miss something I haven't even experienced myself.
Today our local corso (in Saavedra on Avenida Balbin) is now just a few blocks and to be honest, a bit underwhelming.
But they describe blocks and blocks of people packed in celebrating and kids dowsing random passersby with water and foam all month.
The celebrations were felt by everyone, all day, all month.
Perhaps it's because carnival is associated with the working class or maybe it's because Argentina has had an unfortunate tendency to toss aside its own traditions in favor of copying those from the US or Europe, but the corsos have dwindled in both size and number over the years.
In the past year or two I've personally noticed a shift, where more people are embracing Buenos Aires' history and culture and I can only hope that Carnival rebounds with that shift.
Where to Celebrate Buenos Aires' Carnival
Corsos officially take place every weekend and feriado (holiday) in February.
Major streets throughout the city are closed off for the corsos starting at 4 pm on Saturdays and Sundays.
The party doesn't really get going until after dark.
The biggest corso to close out the month is on Avenida de Mayo downtown.
Click here for a full list of programming in Buenos Aires and click here for a great breakdown on the city's carnival history (in Spanish).
Important Carnival Celebrations across Argentina
While Buenos Aires may seem to be in the center of everything, it's not the only (or even the best) place to experience carnival in Argentina.
From Entre Rios to Andean-infused festivals in the north, here are the best Argentina carnival celebrations outside of Buenos Aires.
Gualeguaychu: Argentina's Biggest Carnival
Gualeguaychu in Entre Rios it the most extravagant and wild Argentina carnival celebration.
This is the party to go to if you want to see the most impressive parades, costumes, and celebrations.
Gualeguaychu is THE Argentine carnival, celebrated throughout both January and February.
Gualeguaychu's carnival was inspired by Brazil's Carnival so it mostly resembles what you'll see in Rio versus what you'll see in Buenos Aires.
Think samba and extravagant costumes featuring a whole lot of feathers.
The parades even take place in the Corsódromo (a copy of Rio's Sambadrome) that can seat upwards of 40,000 spectators.
If you want to come to Gualeguaychu's infamous Carnival, book your accommodation well in advance.
I've had friends go and sleep in their car just to not miss the party, but if you're like me you're just too old for that sort of nonsense now.
How to get to Gualeguaychu? It's only 3 hours from Buenos Aires and easy to reach. The bus is the easiest and most affordable way to get there, check Plataforma 10 for times/prices. Hire a taxi/remis or rent a car (check rates here) if buses are sold out or you want more flexibility.
Bajada de los Diablos del Cerro Blanco, Uquia
The most impressive carnival in Argentina, in my opinion, isn't the Brazilian influenced spectacle of Gualeguaychu, but the indigenous festival of Jujuy.
Carnival in Argentina's northwest blends Andean harvest festivals and traditions with the European influence of Carnival.
It focuses on the devil, Pujllay, and the fertilizing of the earth, or Pachamama.
For the most unforgettable of experiences, head to Uquia for the Bajada del Cerro Blanco.
Dozens and dozens of locally costumed diablos rush down the hillside to the awaiting masses.
The devils whistle and shout. People throw flour, herbs, and alcohol.
The ensuing celebrations continue for the next 9 days.
If you have the chance to go, don's miss it.
Stay in Uquia itself or in nearby Tilcara or Humahuaca, read more in my Jujuy guide here to plan your trip.
El Pujllay (nombre que recibe el diablo, y que simboliza al sol) representa la alegría, las travesuras, es muy travieso; por algo se disfraza. La obligación es que tiene que estar irreconocible porque diablo que es reconocido pierde su condición de diablo.

El Pujllay (the name of the devil, and which symbolizes the sun) represents happiness, mischievousness, and he is very mischievous; that's why he dresses in costume. He's obligated to be unrecognizable because a recognizable devil loses his condition of devil

Don Fortunato Ramos
La Chaya in La Rioja
The festival of La Chaya is another ancestral celebration that dates back to the region's original inhabitants.
The main festival is in the city of La Rioja (official site here) but satellite celebrations in other towns, most notably in the west of La Rioja, are increasing in popularity.
The biggest of these is in Chilecito.
Celebrations in La Rioja take place throughout the entire month of February.
The legend is that of a young native girl, la Chaya, who fell in love with Pujllay (the same mischievous devil mentioned above in Uquia).
When her love was ignored, she hid herself in the mountain to drown her sorrows and she disappeared forever.
She returns each summer on the arms of the moon goddess, Quilla, in the form of a light rain.
Pujllay meanwhile, feeling his guilt weigh heavily, searches for her in vain.
After fruitless efforts, he drowns his pain in Chicha, gets drunk, and falls into a fire where he burns to death.
A brutal end that is also the symbolic end to the festival.
Pujllay burns and La Chaya comes to put out the fire. Pujllay is buried until the following year, when he's unearthed again to begin the new year's Carnival.
Argentina Travel Resources