Live music, a proudly weird culture, abundant parks, and small locally owned businesses offering just about anything you can dream of…
These are just a few of the best things to do in Austin and why you should drop everything and jet off to Texas' quirky state capital for a weekend getaway.
This post is an introduction to the top Austin attractions to help you get the most out of your first visit.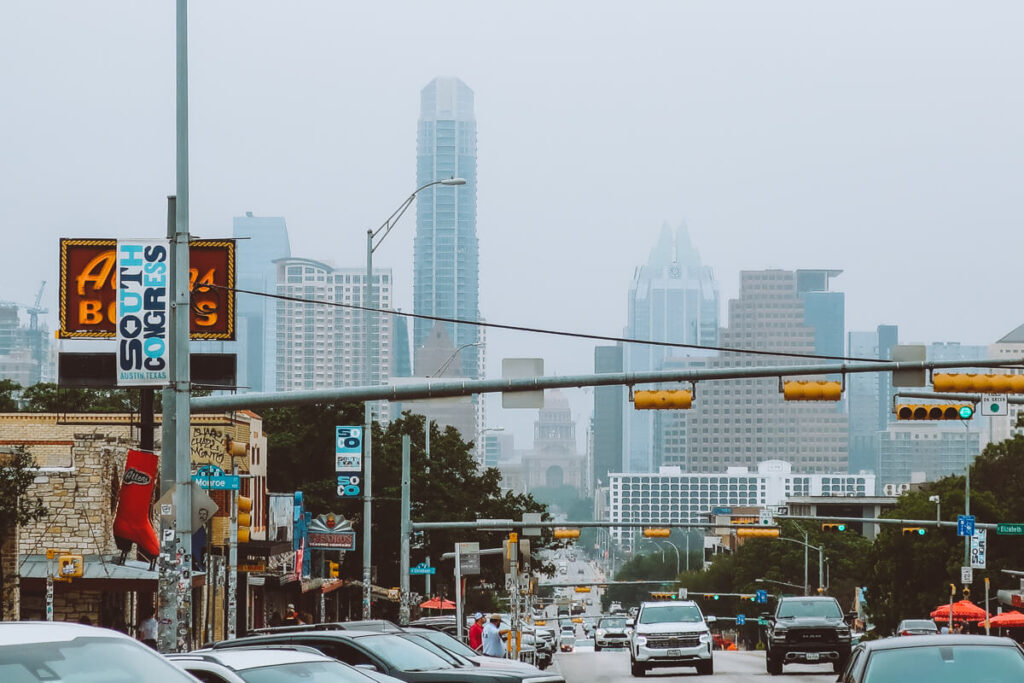 QUICK NOTE: This post contains affiliate links and Sol Salute may receive a commission for purchases made through these links, at no extra cost to you.
The Best Things to do in Austin, Texas
I grew up in nearby Brenham, Texas and always had my eyes on the big city next door.
Growing up, going to Austin for the weekend with my parents was always exciting. We'd watch the bats from our hotel balcony and eat Amy's Ice Cream.
I fell in love with Austin and, honestly, always planned on living here "when I grew up." Life had other plans and now I live 5,000 miles south in Argentina but I still live for those weekends in Austin whenever I can manage it.
For this guide I turned to the pros to get the most detailed tips on the best things to do in Austin.
Fellow travel bloggers who know Austin and know it well contributed to this article to help you discover top Austin attractions like a local.
First time visiting Austin? Check out this Best of Austin Tour. It's the most highly rated tour and hits up many of the highlights in this post!
Take a Dip in Barton Springs
Submitted by Victoria of Texas Travel 365
If you are looking for one of the best things to do in Austin, look no further than Barton Springs!
Barton Springs is one of the best springs in Texas you must visit. It is located in Zilker Park, right in the heart of Austin.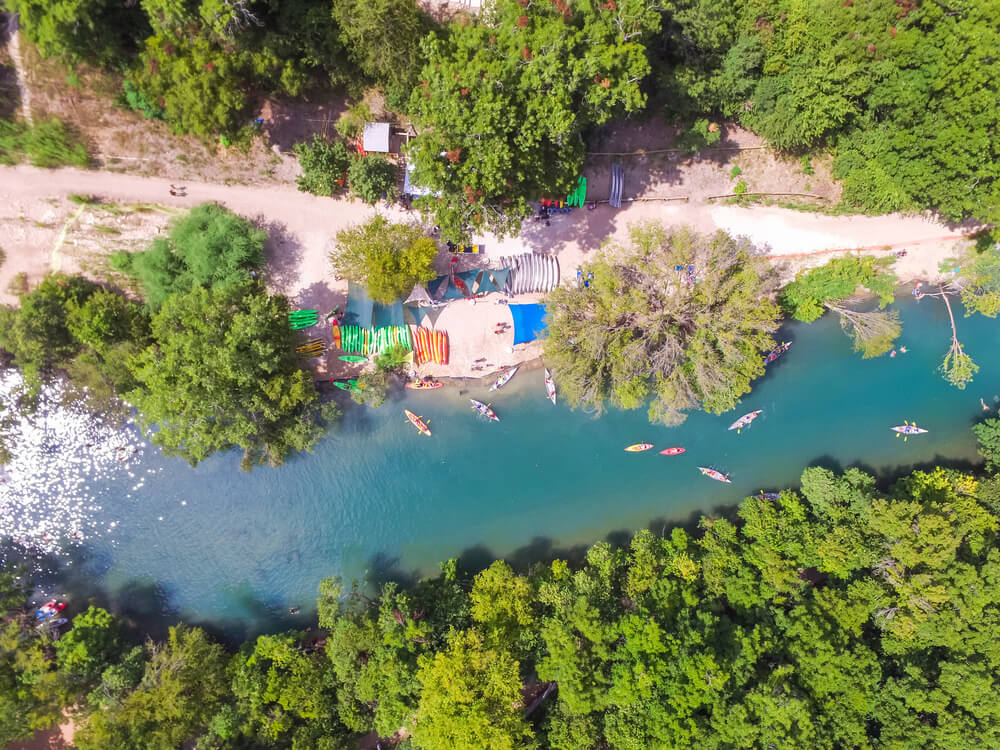 If you are looking to swim, cool off, or just enjoy the crystal clear water, this is the place for you.
Barton Springs maintains a constant 70F temperature all year round, making it one of the best Austin attractions for Texas' hot summer or even the colder months, when 70F doesn't seem all that bad compared to the air temperature.
If you plan to visit Barton Springs, you will need to check their website and get a timed entry pass.
If you visit early in the morning, you probably won't need an entry pass, but it all depends on capacity. This is why it is important to check in on the website in advance.
If you love animals, keep your eyes out for the Barton Springs Salamander. You can visit Splash (a visitor center) to learn more about these creatures!
You can also kayak or paddle board nearby on the lake if you don't want to swim in Barton springs! It is truly one of the top things to do in Austin and shouldn't be missed!
Stroll down South Congress Avenue
Submitted by Shelley of Travel Mexico Solo
One of the most fun things to do in Austin is to take a leisurely stroll down South Congress Avenue.
This is one of the main streets in the city, with funky shops, delicious restaurants and hip bars.
Since it's Texas, many will want to eat some delicious Mexican tacos. Luckily, some of the best taco shops in Austin are located right here on South Congress, including Guero's Taco Bar and Torchy's Tacos.
If you're not in the mood for tacos, head to Hopdoddy for a burger and a boozy milkshake or Home Slice Pizza.
After eating, enjoy the fun shopping on South Congress Avenue. Head to Allen's Boots to get some authentic Texas cowboy boots and a cool cowboy hat. Lucy in Disguise With Diamonds and Parts & Labour are two more fun shops in Austin that visitors will love.
Also on South Congress Avenue you'll find some of the best live music venues and bars in Austin. When visiting, check out who's playing at The Continental Club, or head to Ego's for karaoke. The San Jose Hotel has a chic patio for poolside cocktails in their lush garden.
As one of Austin's main streets, South Congress traffic can get pretty backed up. Also, parking isn't always easy to come by, nor is it cheap. Depending on where you're coming from, you'll want to either walk or take an Uber or Lyft.
PRO-TIP: For a nice itinerary suggestion, start your day on the south side of the street. Make your way north and stop at the Congress Avenue Bridge to see the bat colony fly out from under the bridge at sunset...
Watch the Bats at Sunset
Submitted by Karee of Our Woven Journey
You don't have to spend much time in Austin to hear the phrase "Keep Austin Weird" more than once.
The city is known for its vibrant, yet quirky atmosphere. There's one weird thing that's hard to beat though, and that's bat watching.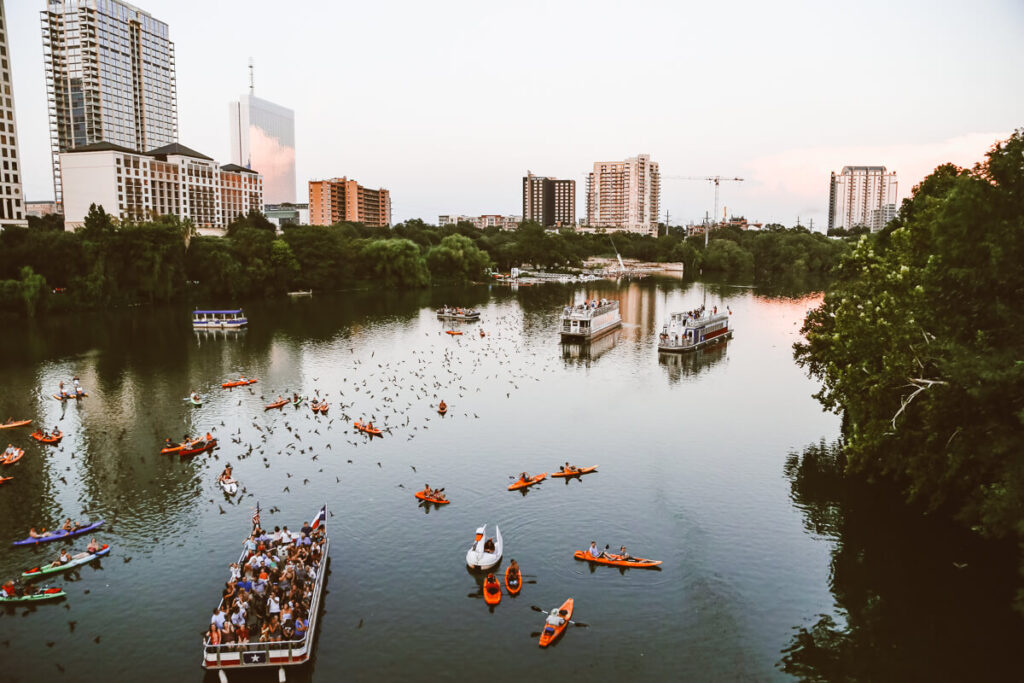 Every night from mid-March through November, over 1.5 million bats emerge from under the Congress Avenue bridge in downtown Austin.
This is the largest urban bat colony in the world and it can take over 45 minutes for all of them to make their nightly exodus.
Spectators line up to watch the eerie scene from on top of the bridge as well as a viewing area on the southeast corner of Congress Bridge and Lady Bird Lake. 
There are also several boat tours available as well as kayaking tours for people who want to experience the bats from a closer viewing area.
This free event is a fun way to spend an evening and one that is not easily forgotten. You'll need to arrive at least an hour before sunset to make sure you get a good viewing spot.
The bats emerge a half hour to an hour before sunset, unless it's raining.
This colony of bats eats approximately 30,000 pounds of insects each night. However, during the hot summer months, you'll still want to remember to bring bug spray since the mosquitoes will also be out in full force!
You can book a tour to see the bats in uniquely weird Austin style: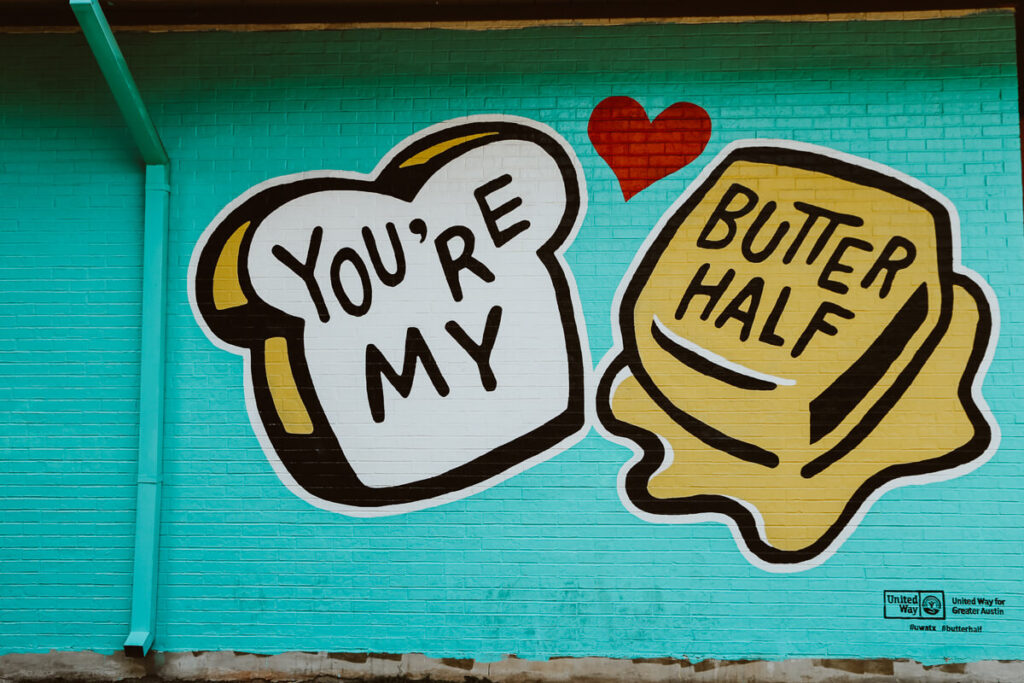 Find Austin's Best Murals
Submitted by Nikki of She Saves She Travels
One of the best things to do in Austin, Texas is mural hunting! It's a vibrant, eclectic city that seems to have street art around every corner.
It's fun to walk around downtown looking for photo ops while seeing the best murals in Austin.
And pro-tip, I highly recommend going all out on a Flytographer photo shoot to get the best pictures in front of Austin's murals!
Painting murals in Austin dates back to 1950 when a church commissioned an artist to paint praying hands around a doorway of the church.
It shocked the community back then, but over time became accepted as art and more blank walls were turned into artwork, creating a tighter community.
Today, there are countless pieces all over Austin in the hopes to foster community.
So grab your bestie, your significant other or anyone else you're traveling with and hit the streets!
The most fun way to hunt for murals is by scooter and hit the town. Or you could walk the popular downtown and SoCo (South Congress) areas.
You could also grab a ride share and hit these popular murals in the city:
Greetings From Austin, 1720 S 1st Street
I love You So Much, 1300 S Congress Ave
Love From Austin, 1912 S Congress Ave
You're My Butter Half, 2000 E Martin Luther King Jr Blvd
Have fun exploring the street art in Austin. Whether you're spending a weekend in Austin or a week, you'll want to see some cool street art in this fun city.
Climb Mount Bonnell
Submitted by Kate of The Lone Star Travel Guide
At a mere 775 feet tall, Mount Bonnell may not be the most accurately named attraction in Austin, but it's popular for a reason!
For a short climb of just over 100 limestone steps, you'll be delivered to one of the best views in Austin.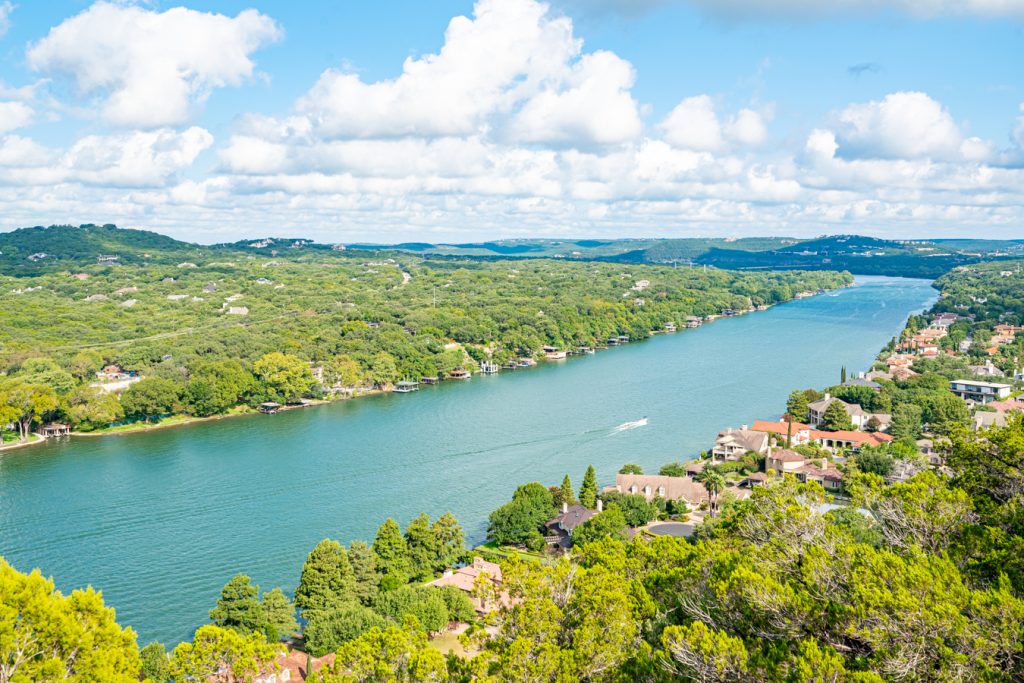 As you reach the top of Mount Bonnell, turn right for a beautiful, short trail overlooking the Colorado River, and turn left for a beautiful view of the Austin skyline peeking up over a sea of live oak and cedar trees.
Mount Bonnell is located inside Covert Park, and it is free to visit.
Keep in mind that there are not any restrooms or water fountains near Mount Bonnell, so come prepared!
Since this Austin, a water bottle and sun protection are a must when visiting.
If you're visiting during hot weather (AKA most of the year), strongly consider a morning or evening visit and skipping the middle of the day–there's very little shade on Mount Bonnell, though luckily the staircase itself is shaded.
Whether you're looking for one of the most romantic spots in Austin (many couples get engaged here), a fantastic sunset spot, or simply one of the most popular short Austin hiking trails, a visit to Mount Bonnell is the perfect option.
Tour The State Capitol
Submitted by Ruby of A Journey We Love
Austin's famous Capitol building is impossible to miss. It is on top of a hill at the end of Congress Street where the road, dividing the road into two.
Easily walkable from Downtown Austin and from the University of Texas at Austin, it is very easy to reach and best of all, it's free!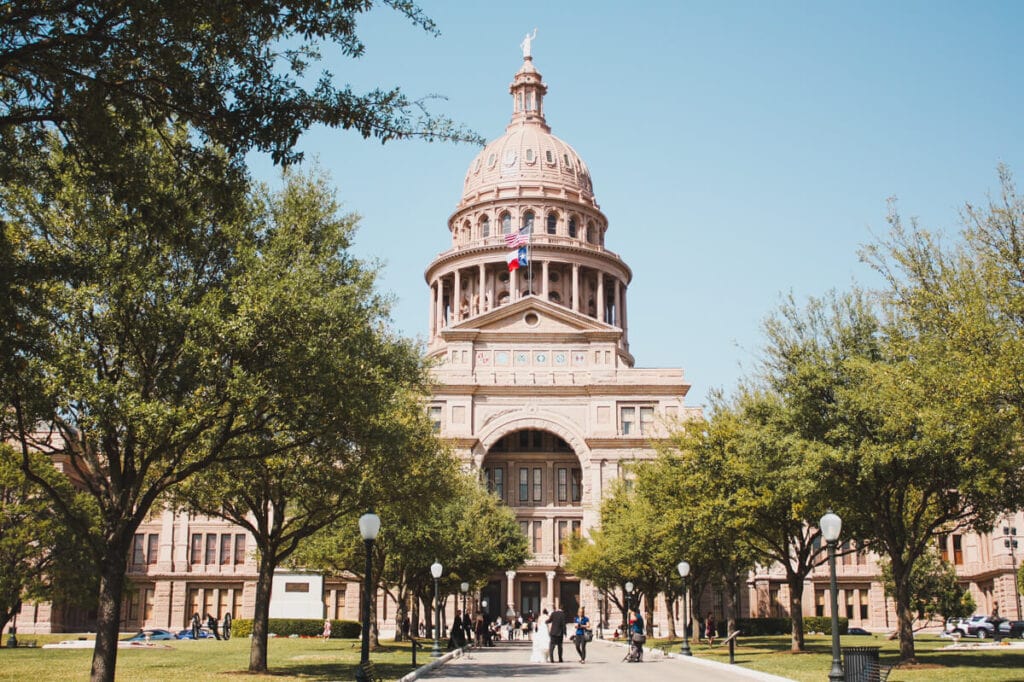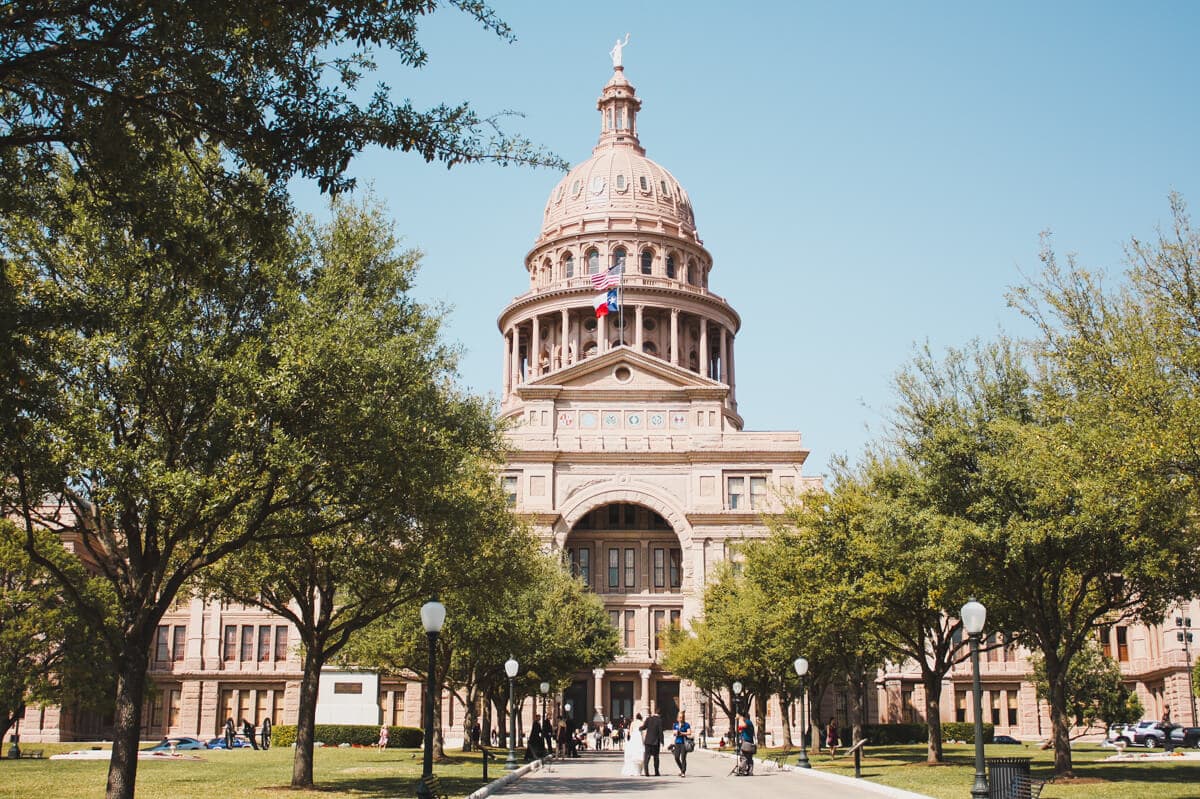 There are two ways to enjoy the Capitol: the first is through a self-guided tour, where you pick up a brochure from the two entrances.
Or a guided 30 to 45-minute tour, which usually starts from the South entrance, with next tour times posted on a board by the front. Click here for more information about tours.
PRO TIP: Don't miss going to the middle of the Capitol and looking up at the dome. It is made of two parts, but unfortunately, one can't climb up to the highest part. You can, however, take the elevator to the fourth level to take a closer look.
Take a peek through the house and senate meeting floors if they're open to the public.
Also not to be missed – head on to the lower level of the Capitol and go through the exterior balcony area. This is arguably the best view of the Capitol building itself. and it's basically deserted! 
Head Outdoors to Zilker Park
Recommended by Alex of Wander With Alex
Known as Austin, Texas' most beloved and largest park, Zilker Park offers over 350 acres of outdoor fun.
Located in central Austin, the park can be found right along Lady Bird Lake. From hiking and kayaking to festivals and gardens, Zilker Park has a little something for everyone.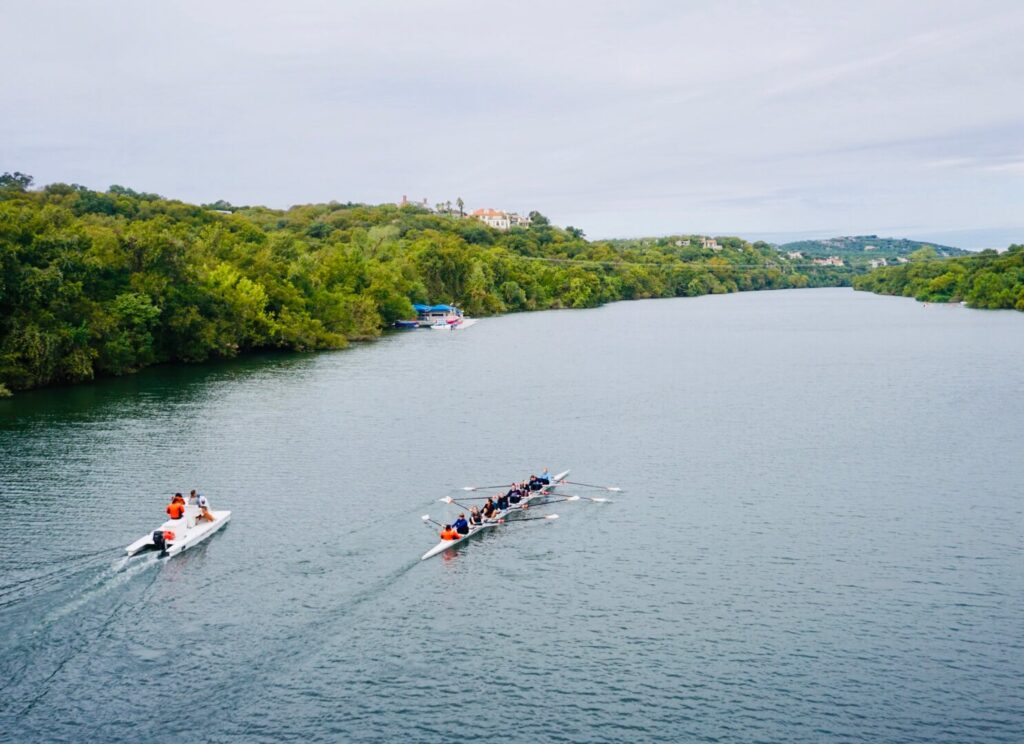 Zilker Park has hiking-only trails on the northwestern end of the park. The trails are plenty worn in and quite wide, which is useful as the trails are heavily trafficked. Along and within the park, there are also shared use trails which cyclists are welcome to use.
You will experience beautiful greenery, views of Lady Bird Lake, you'll pass thru a nature preserve, and you'll even get to see Austin's colorful skyline.
Zilker Park also offers the opportunity to go swimming! Lady Bird Lake is located along the park and is a popular spot for kayaking, canoeing, paddle boarding, and playing on the water.
Or head to the north end of the park and you'll encounter the natural wonders of Barton Springs. Barton Springs is also a lovely place to go on a picnic!
From festivals and markets to concerts and performances, Zilker Park is a trendy destination for many of Austin's live events.
The ever-popular Austin City Limits Music Festival (ACL) is also held at Zilker Park. The festival occurs each year in October and spans over two weekends.
It is estimated that four hundred and fifty THOUSAND people travel to Zilker Park to attend ACL each year.
Go to SXSW
Submitted by Gemma of Two Scots Abroad
In March, Austin comes alive when musicians take over the whole city for the ten-day festival, South By Southwest.
While the event isn't just about music, it is one of the main attractions, with new acts bidding to grab the music industry's attention and established artists looking to keep their new music momentum going.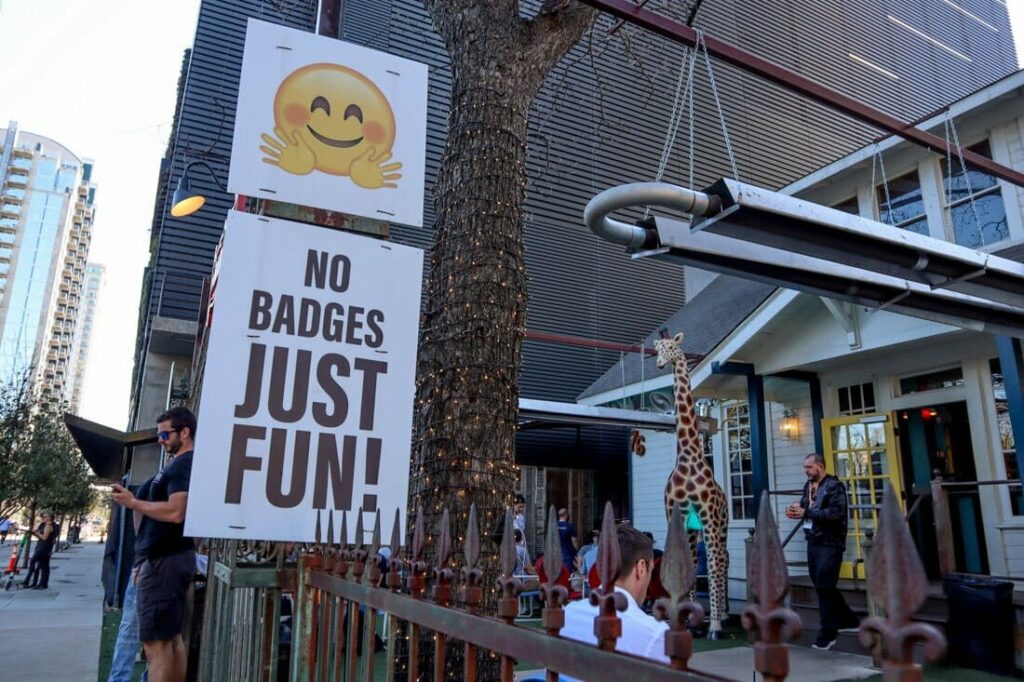 Previous music venues have included Cheer Up Charlies and Mohawk on Red River, Handlebar on E 5th Street, Hotel Vegas on 1502 E 6th Street, and the Austin Convention Center.
Don't be surprised when pop up gigs happen in the strangest of places! The likes of Chvrches, Broken Social Scene and Har Mar Superstar have graced the stages of SX in the past.  
The other parts of the programme are film and interactive. For the film portion, the city's movie houses run a schedule showcasing new movies from morning until very late at night. They also put on talks and panels. 
There are a few ways to attend SX. You can invest in a ticket, or you can go for free. The latter takes a bit more effort as you have to research what's on for free attendees, and most of the time, you have to RSVP to ensure you get in. However, it doesn't take away from the experience, and there are social media accounts and apps to help you. 
Check out SXSW's official page for details on the next festival.
Play Chicken Shit Bingo
Submitted by Lance and Laura Longwell of Travel Addicts
The Texas capital is known for the motto Keep Austin Weird and Exhibit A of this would be the popular spectator sport known as Chicken Shit Bingo.
It is definitely weird.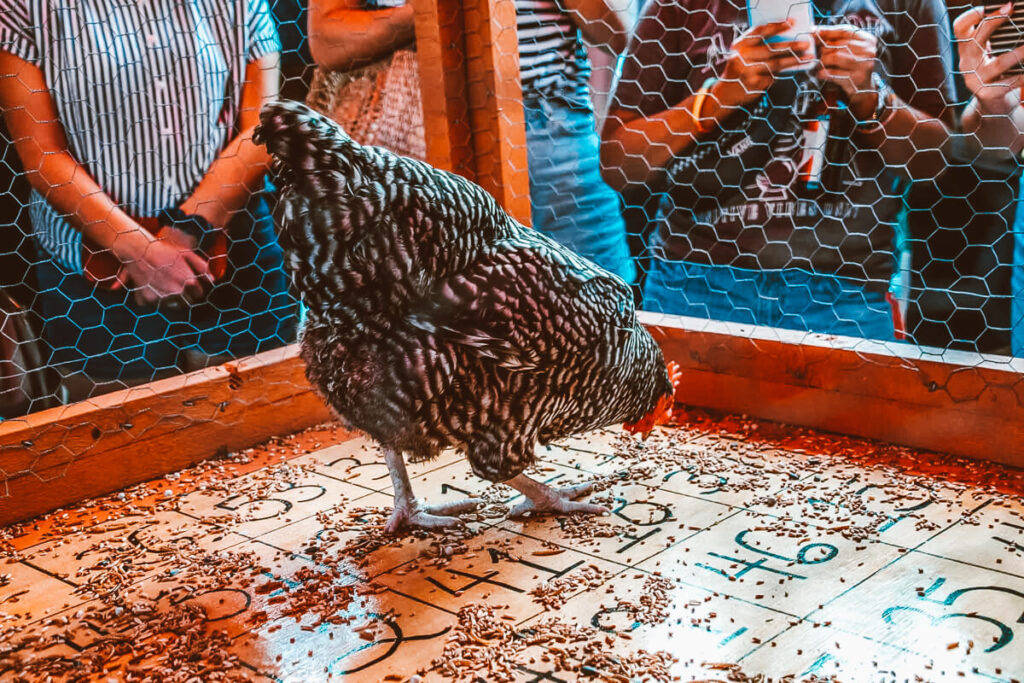 Every Sunday afternoon after church, people descend on the Little Longhorn Saloon on the north side of town. They pack into the small bar, drink beer, listen to a live band (one of the over 600 that perform here each year), and wait for the main event to start out back.
Around 4pm, the staff begin announcing the ticket sales to participate in Texas' most unique game of bingo using real live chickens.
The mechanics are simple. Buy a ticket for your square on the bingo board, which happens to be located on the bottom of a chicken cage, littered with feed.
The live chicken is put in the cage to eat and do its business. When nature calls and the chicken drops a poop, the number on the square below wins.  Simple and easy.
The whole experience is both completely weird and surreal, and also entirely awesome and uniquely Austin.
If you fancy a go at Chicken Shit Bingo in Austin, head to the Little Longhorn at 5434 Burnet Road on Sunday afternoons.
The Best Things to do in Austin, Texas
Austin is a wonderful city. It's my favorite place to return to time and time again.
If you've never been before then the things in this post are the absolute best things to do in Austin to get a glimpse of what makes this city so fun.
Have any questions or comments? Let me know below, I always read and respond!
Read More About Texas
Pin It For Later