We sailed across transparent turquoise water through icebergs as I sipped on whiskey poured over chunks of glacial ice.
Solo Patagonia's Todo Glaciares tour was an experience I will not easily forget.
This post is a review of our day among the glaciers.
If you're looking for things to do in El Calafate then read through to the end for all the details!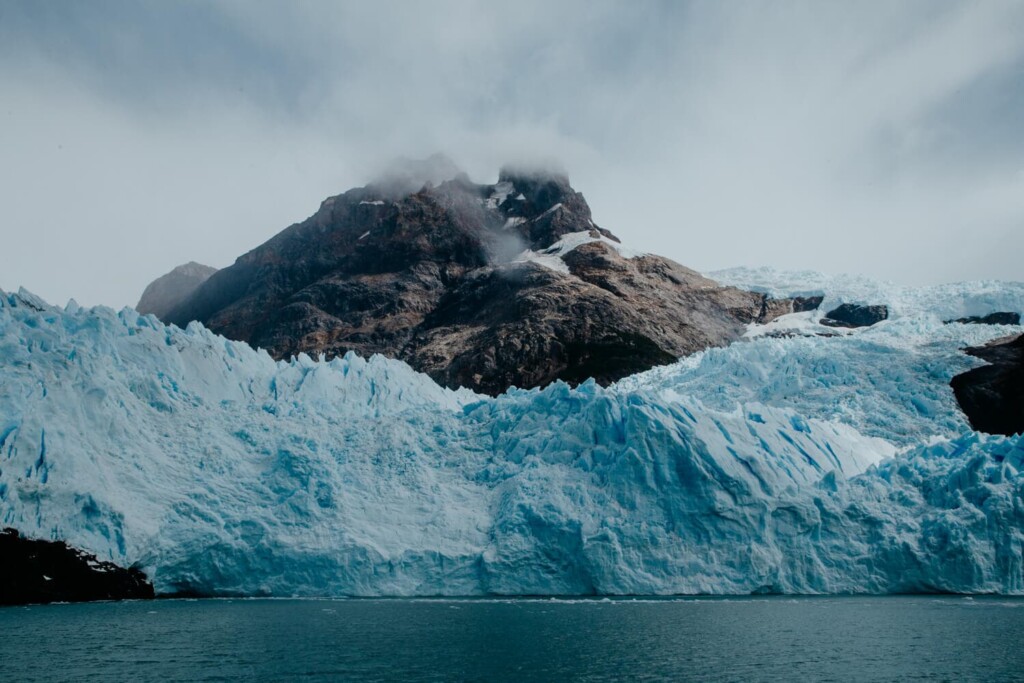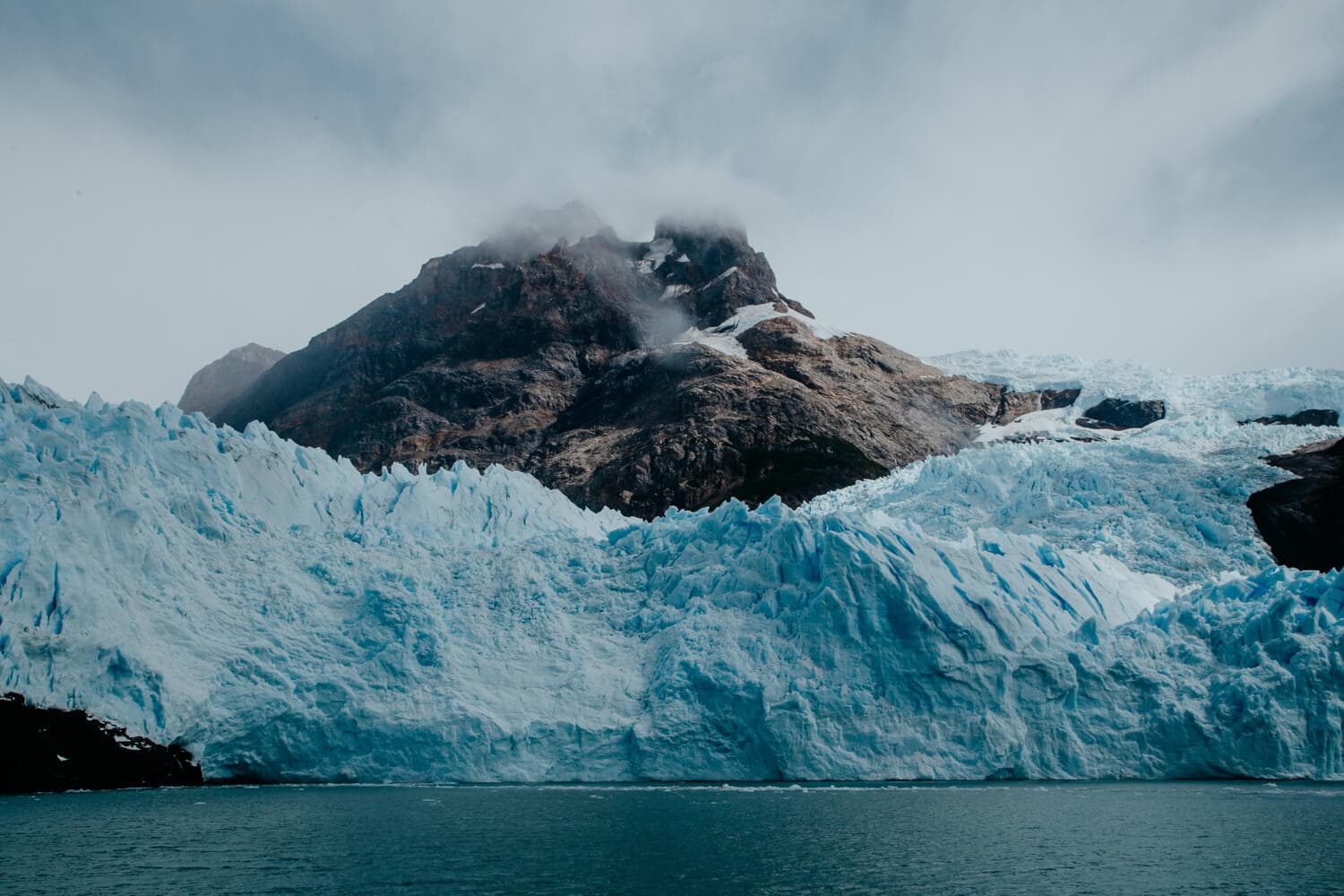 QUICK NOTE: This post contains affiliate links and Sol Salute may receive a commission for purchases made through these links, at no extra cost to you.
El Calafate: The Land of the Glaciers
El Calafate and its surroundings make up the southern portion of Glacier National Park, one of Argentina's most beautiful national parks.
And when in Rome… we see glaciers!
The most popular glacier (if there ever were such a thing) is Perito Moreno.
Its ease of access makes it one of the most popular things to do in Argentina.
You can literally drive up in your car, park, and walk a few steps to reach it!
However, Perito Moreno is only scratching the surface of Patagonia's epic ice field. And good things come to those who make a little more of an effort.
Get away from the crowds and explore El Calafate's other imposing glaciers, Spegazzini and Upsala. To do so, you need to contract a boat excursion.
After some research, I decided to go with Solo Patagonia and their Todo Glaciares experience and I'm so glad we did.
This post is an overview of our experience.
This post is sponsored content in exchange for a gifted experience with Solo Patagonia. As always, all opinions expressed here are 100% my own.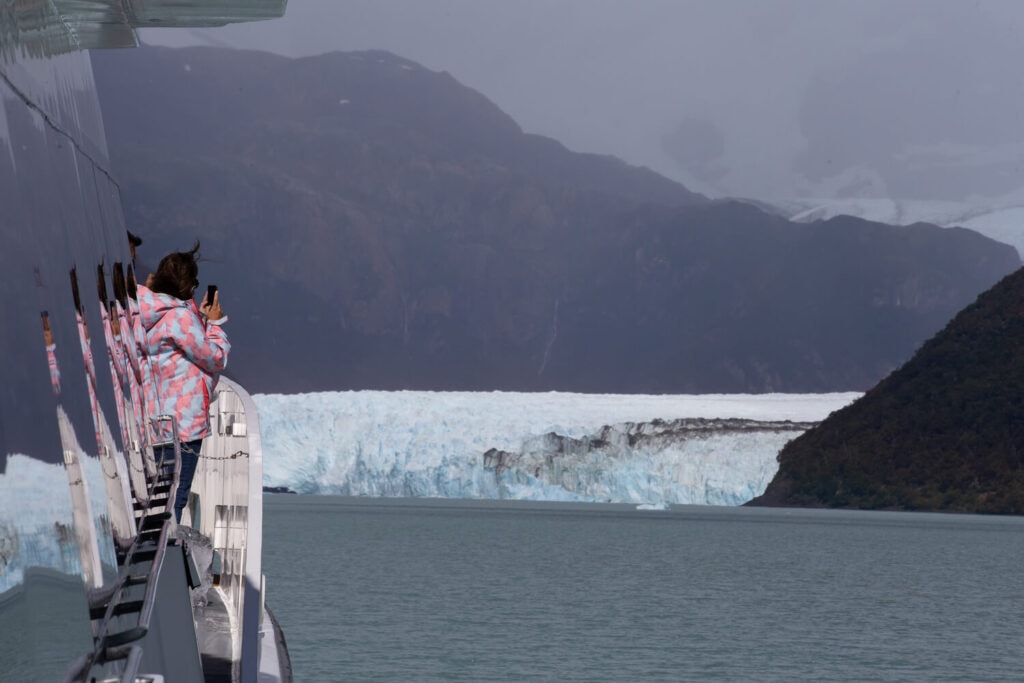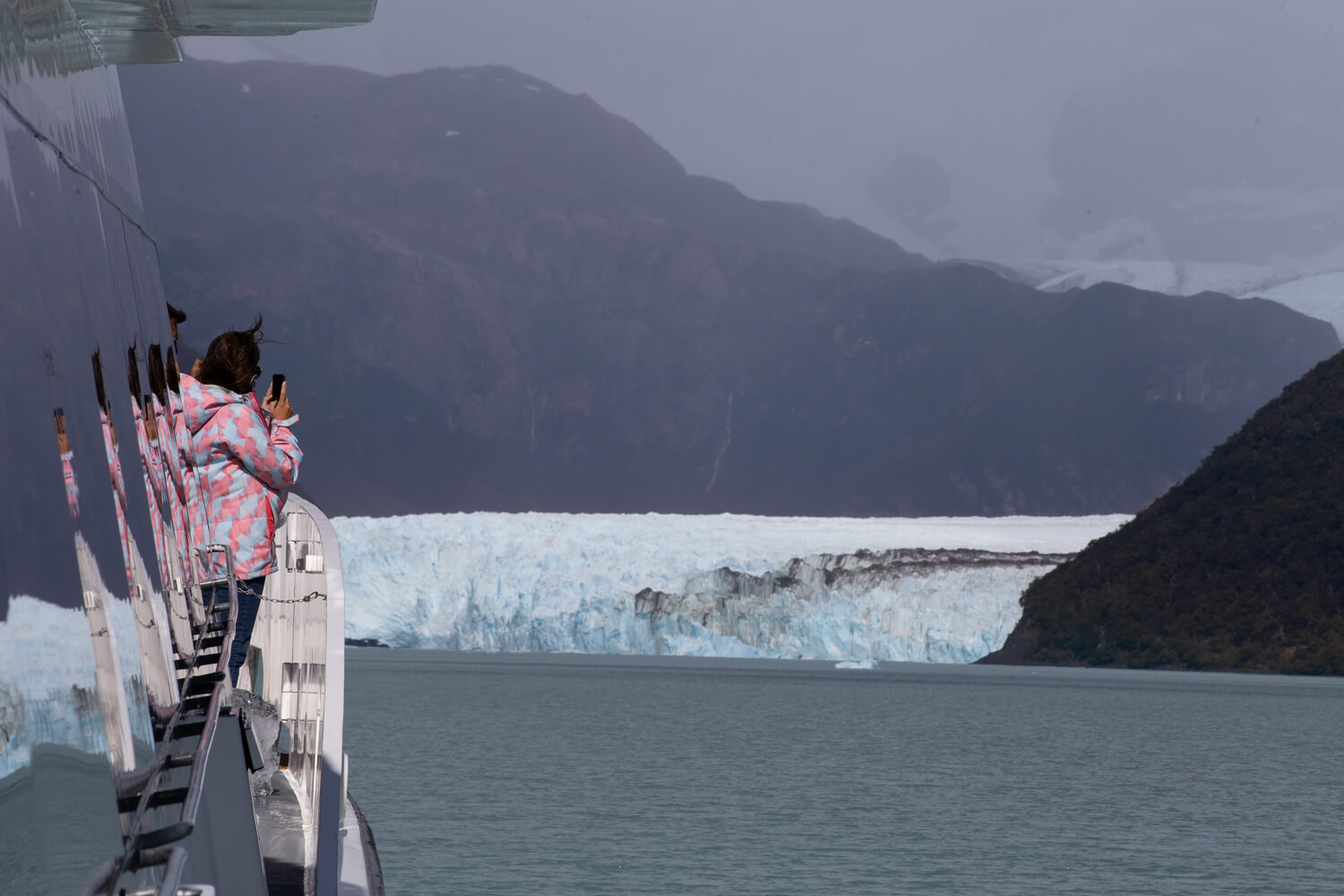 Our Experience with Solo Patagonia's Todo Glaciares Excursion
We arrived at Puerto Banderas bright and early to board Solo Patagonia's catamaran where we would spend the day sailing to the Upsala and Spegazzini Glaciers.
When you arrive, you have the option to pay for your national park entrance fee if you haven't yet (see below).
Once aboard we were shown to our seats and given welcome and safety instructions (along with helpful glacier photography tips) from the very friendly crew.
I immediately began to get antsy. Would we be in these chairs the entire day?
I want to feel that famous Patagonian wind on my face, smell the fresh air! Not watch glaciers through glass on a cushy seat.
Never fear. Once we were on the water we were free to roam and we spent nearly the entire day outside with the wind, the views, and the glaciers.
BUDGET TIP: When paying for your entrance fee, make sure to pay for two days at once to receive a 50% discount on your second day (must be consecutive days).
PUNTA BANDERA: Solo Patagonia departs from Punta Bandera, a 45 minute drive from El Calafate.
We had a rental car for our time in El Calafate and drove ourselves. Speak with Solo Patagonia when reserving if you need to also arrange a transfer (it's not included in the tour price).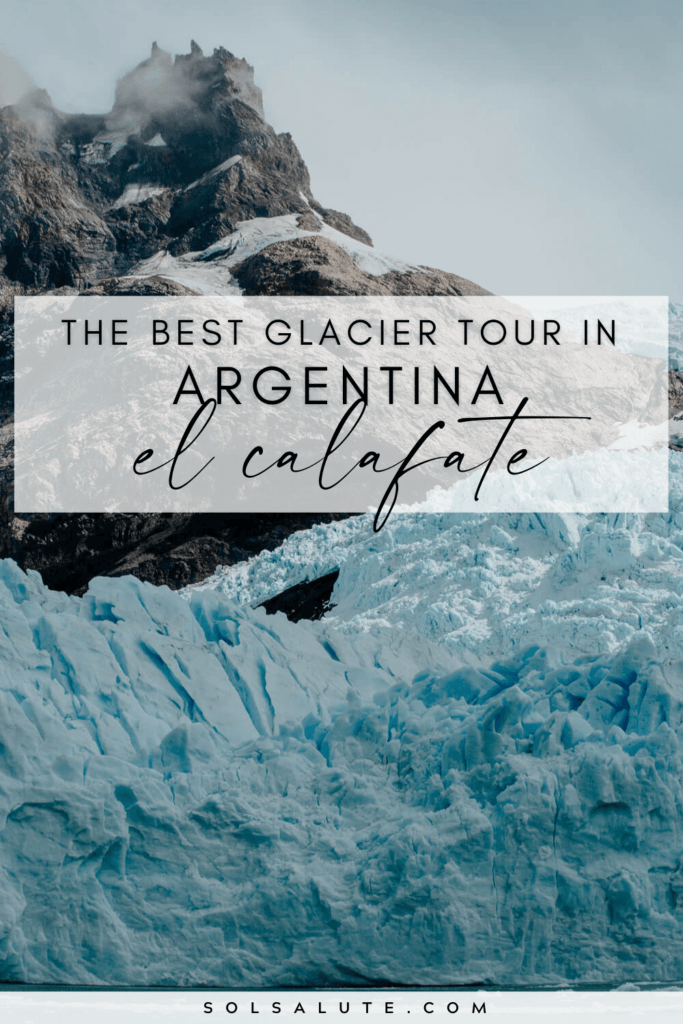 Sailing to the Upsala Glacier
Our day started off with a long ride to our first glacier of the day, Upsala.
We spent our time wandering the decks on all three floors and enjoying the views.
We'd had a big breakfast at home but if you're hungry they have pastries, snacks, and coffee available on board.
Upsala is a massive glacier but we viewed it from afar.
This glacier is rapidly retreating and the water around it is filled with massive icebergs.
As our boat pulled up next to one of these gargantuan icebergs, I swore it was larger than the boat itself.
The captain kept us here for so long that I lost track of time, which was a relief.
We had plenty of time to get all the photos we want and to also put the camera down and simply enjoy the moment.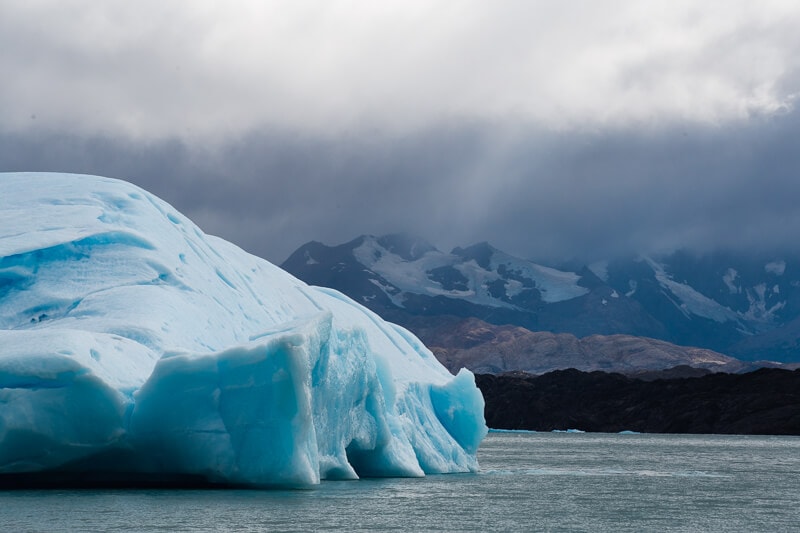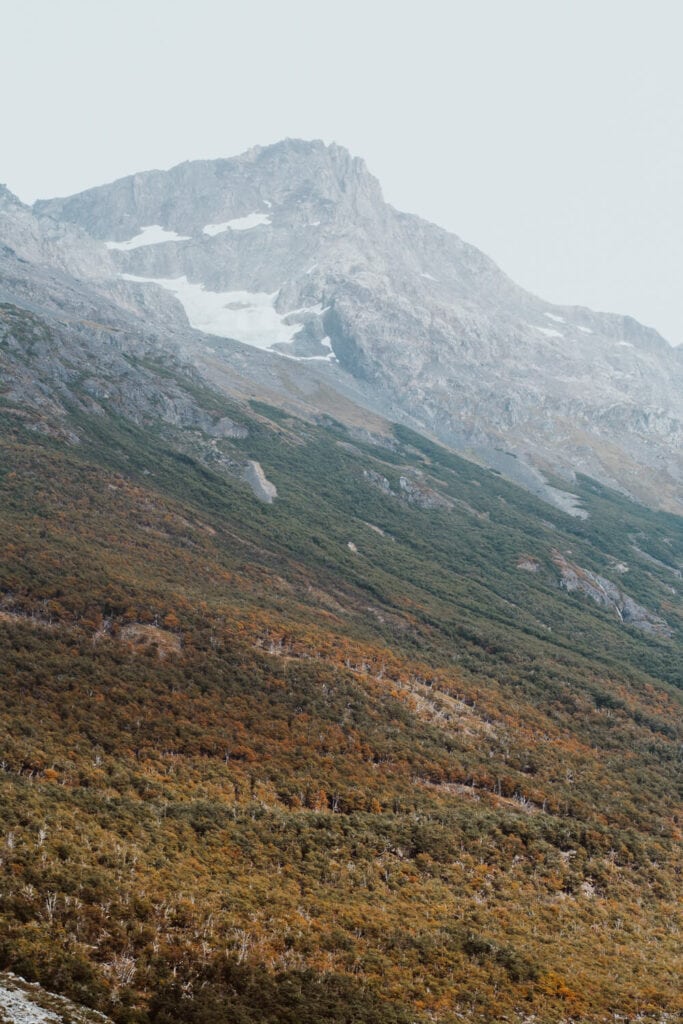 Spegazzini Glacier
After Upsala, we navigated for another 45 minutes to reach Spegazzini. Once there, it was immediately my favorite glacier in El Calafate. (Can one have a favorite glacier?)
Spegazzini was massive but in a different way than Upsala, which was expansive in one massive block. Spegazzini seemed to blanket the mountains and climb down every side towards the water.
We also got much, much closer to Spegazzini than we had to Upsala (I assume the boat-sized icebergs Upsala creates had something to do with that).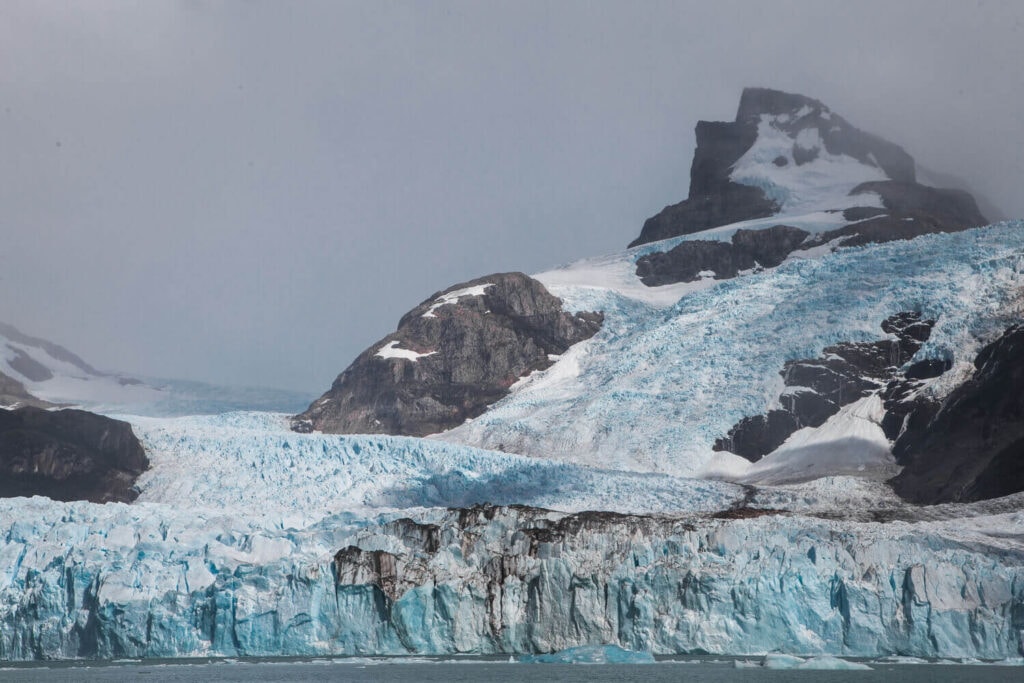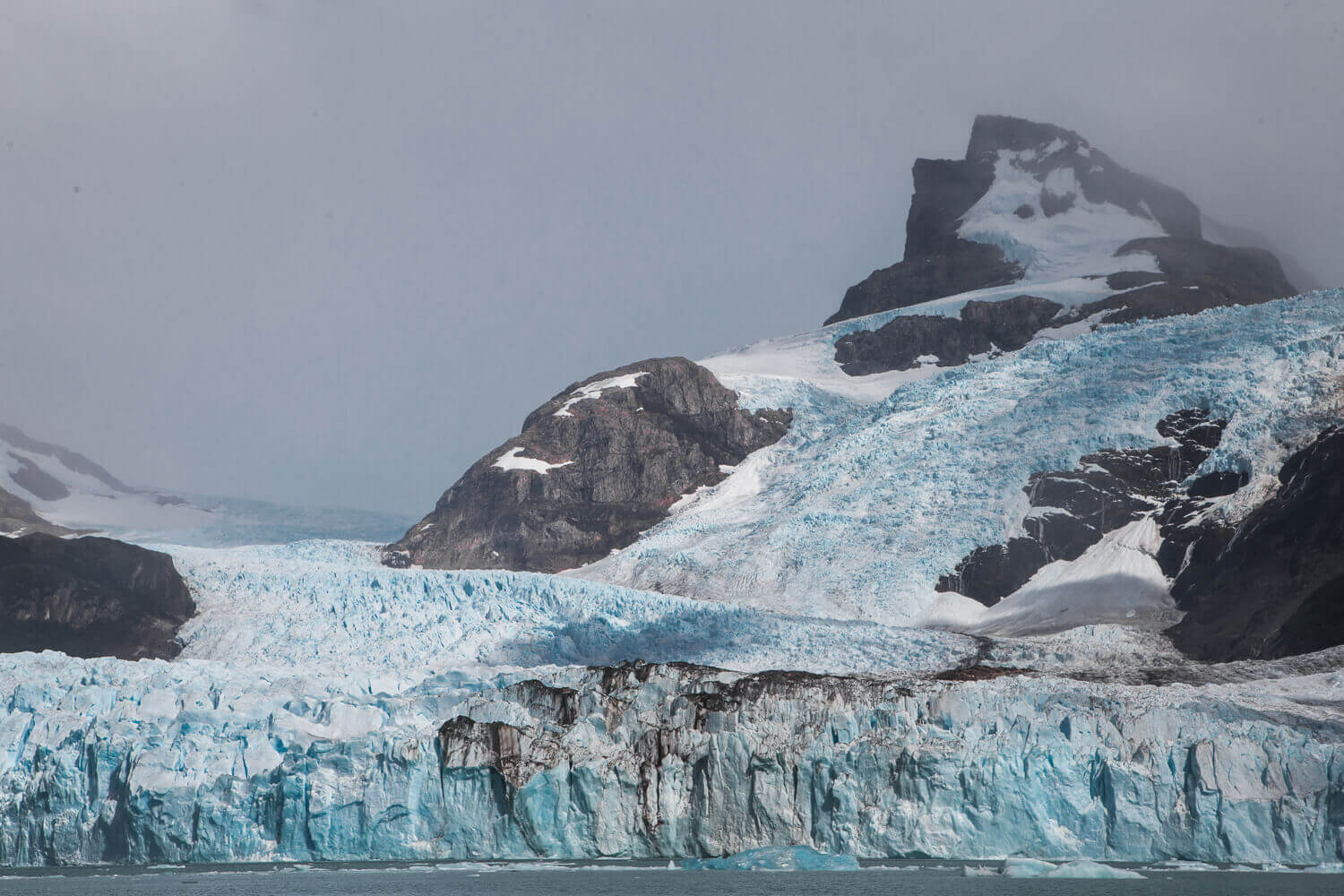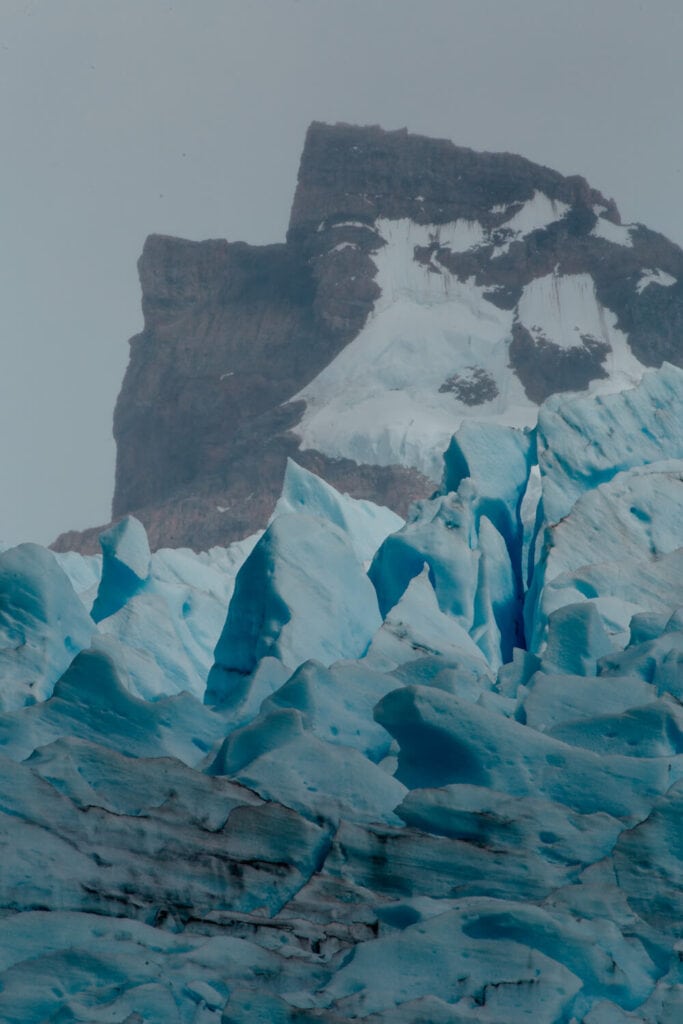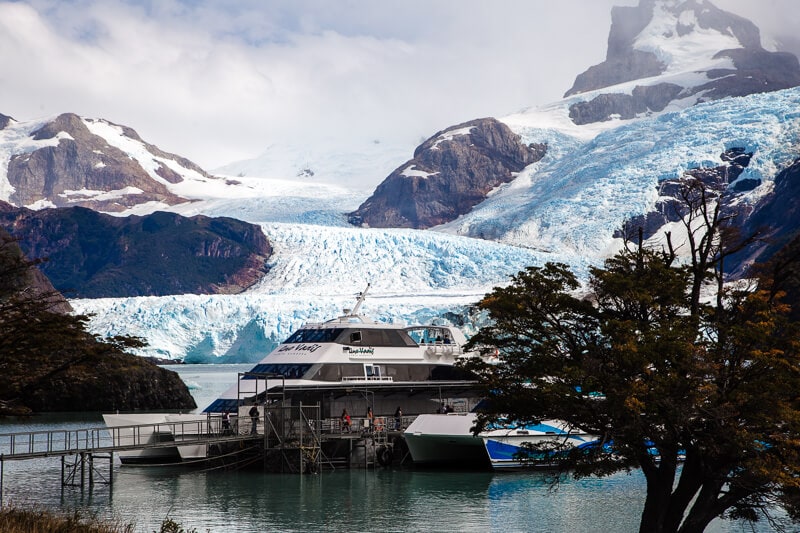 Lunch at Refugio Spegazzini
After about 30-45 minutes the boat turned around and docked at Refugio Spegazzini for lunch.
I recommend packing a picnic lunch to enjoy on the rocky beach.
You can watch the glaciers as you eat and if you pay close enough attention you may see an avalanche or a hunk of ice break off the front!
There are pizza and empanadas for sale on the boat but they weren't very appealing.
Refugio Spegazzini has a restaurant that should have more variety but for our visit in 2021, it was closed.
There is a 300-meter trail from the pier on metal grating. It's a very easy and accessible walk.
Our guides gave us some basic information on the wildlife, fauna, and ecosystem and then set us free for our picnics.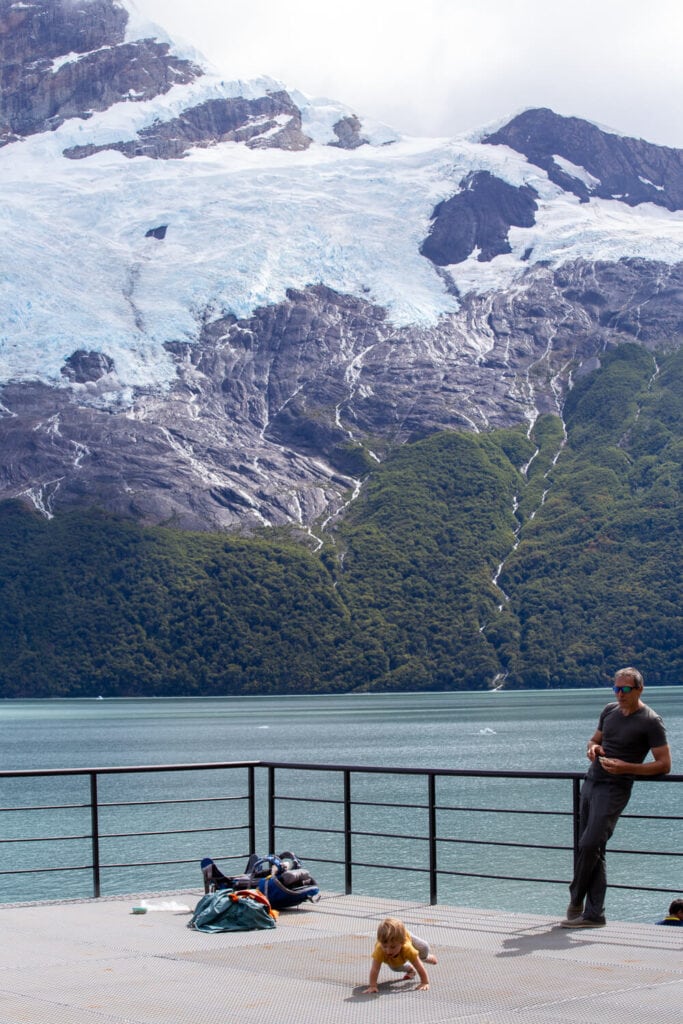 A Final Navigation & Whiskey on the (Glacial) Rocks
After lunch, we reluctantly filed back onto the boat (I was not ready to say goodbye to this view!).
From here we sailed back to Puerto Banderas to end the day.
The bar on board sells beer, sparkling wine, and whiskey.
The ice is, of course, glacial!
To mark the end of what was a spectacular day we each ordered a whiskey on the (very special) rocks to savor from the top deck.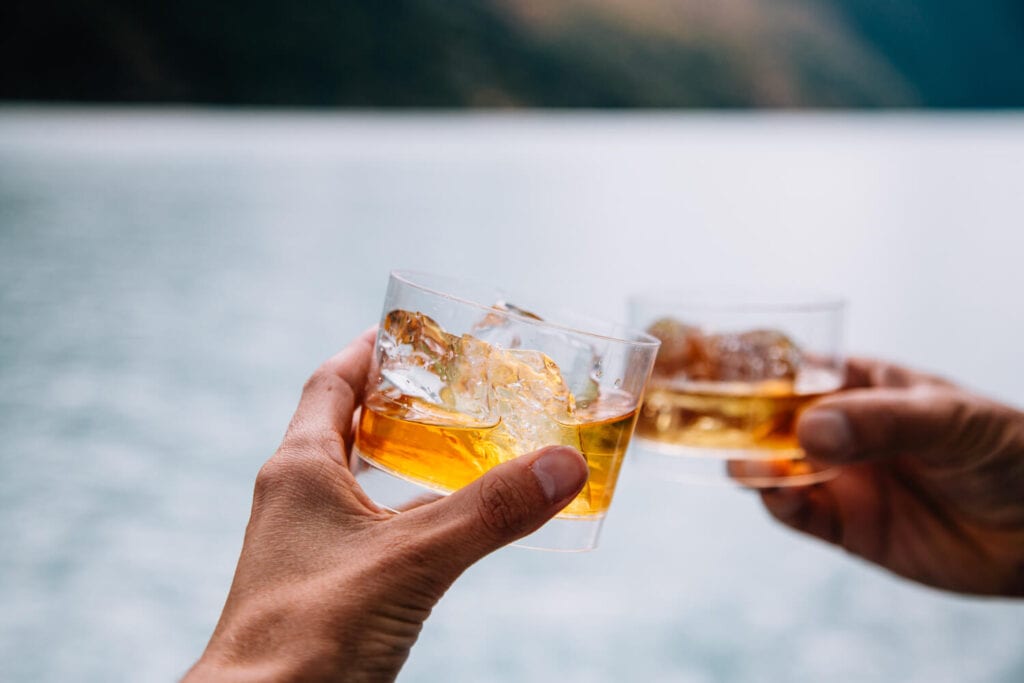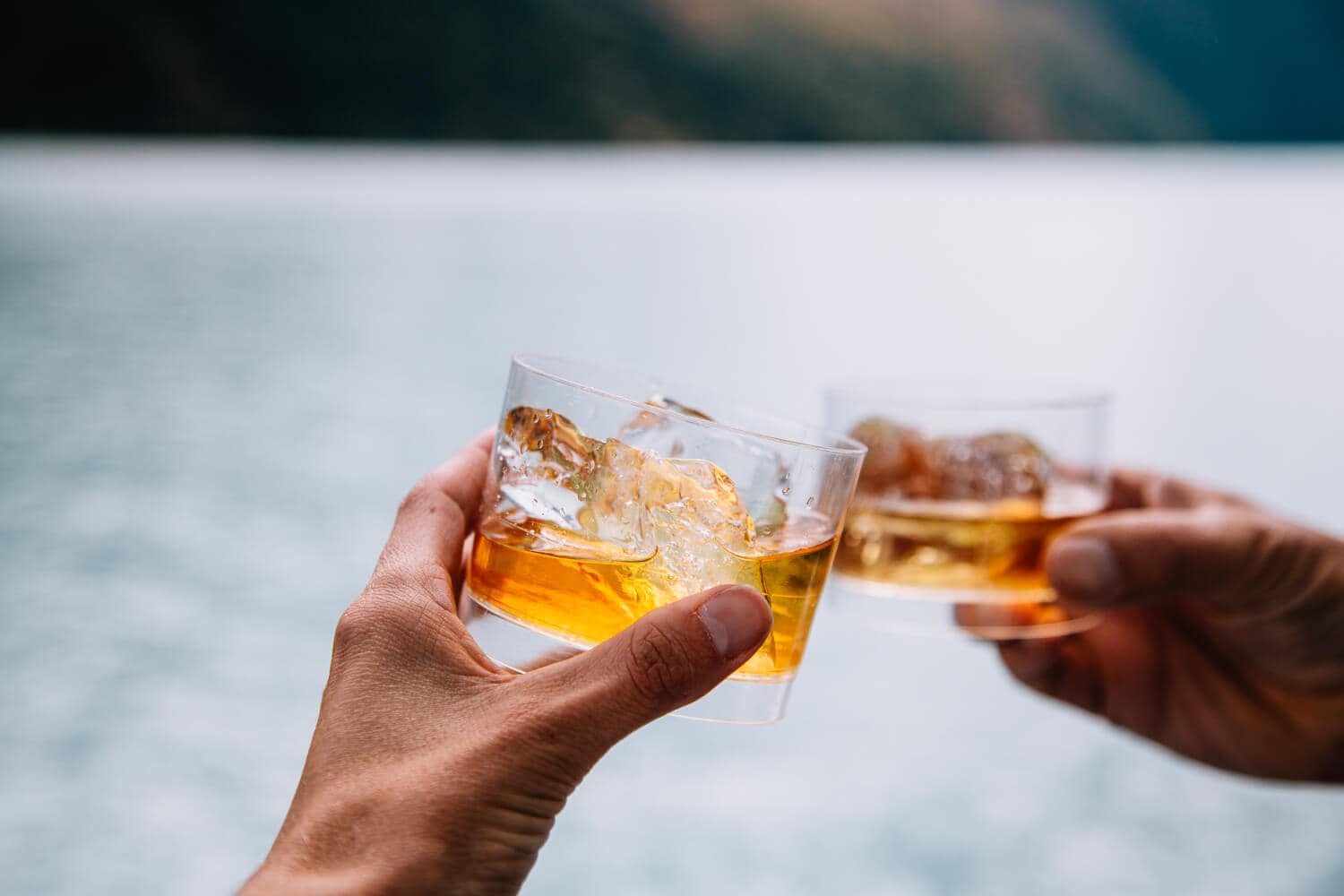 My Overall Impression of Todo Glaciares
I loved our day with Solo Patagonia exploring the many glaciers of El Calafate.
So many people only visit Perito Moreno but that is just the tip of the iceberg (of course I had to make that pun!).
If you're worried that it is repetitive spending two days admiring glaciers, don't. This experience is very, very different than to what you'll see at Perito Moreno. The views, the glaciers themselves, the knowledgeable and friendly crew, and the navigation all make for an unforgettable experience.
Reserve Your Todo Glaciares Excursion
Reserve your trip ahead of time by filling out the contact form on Solo Patagonia's website here.
For more information, you can also follow them on Instagram and Facebook.
If you have any other questions about my experience on the tour, just comment below! I'll get back to you as soon as I can.
Thanks to Solo Patagonia for hosting us on this tour. As always, all opinions are 100% my own.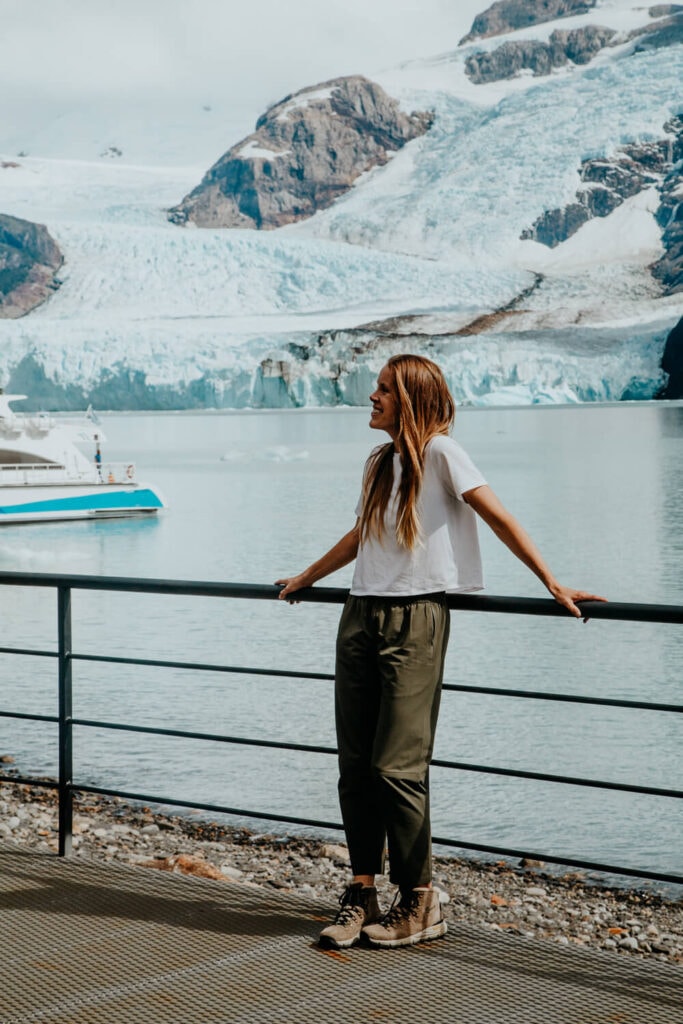 El Calafate Glaciers Excursion Tips
Here is some personal advice so that you have the best experience possible while exploring the Upsala and Spegazzini glaciers in El Calafate.
What to Bring
Sunscreen and sunglasses
Wear layers, it can get cold out there!
It is notoriously windy, consider a hat and sunglasses you can strap onto yourself or you risk donating them to Lago Argentino.
Binoculars (here are my favorite travel binoculars), we loved using our binoculars to see all the tiny details in the ice!
A packed lunch. Bakeries in El Calafate offer great options for this including sandwiches, empanadas, and pastries. Pick one up the evening before your tour.
My Glaciar Photography Tips
Take it easy. The captain keeps the boat at each glacier for a long time, you do not need to panic and rush for a photo. Enjoy yourself and the stunning views! Once the anxious crowd gets their photos they will ease off and you'll have more time and space to get your photos stress-free.
Try the lower decks. The two lower decks also have great views and a lot fewer people (and more protection against the wind).
Get the professional shot. Solo Patagonia's staff includes professional photographers, use them! They will take some great shots of you smiling ear to ear in front of the glacier and icebergs. They'll send you the digital copies for a very affordable price.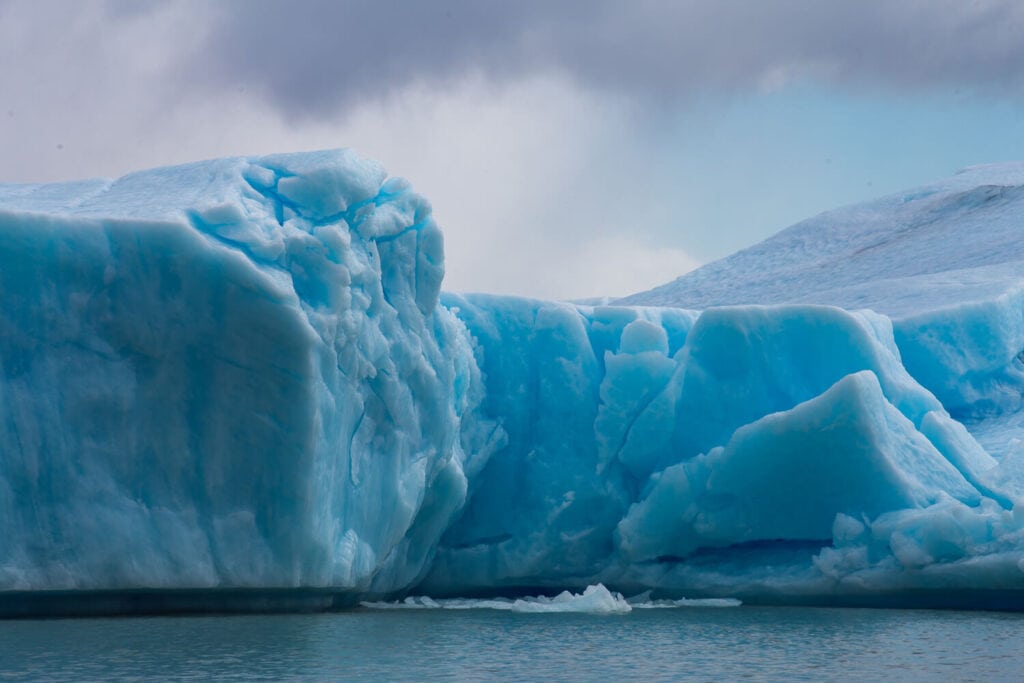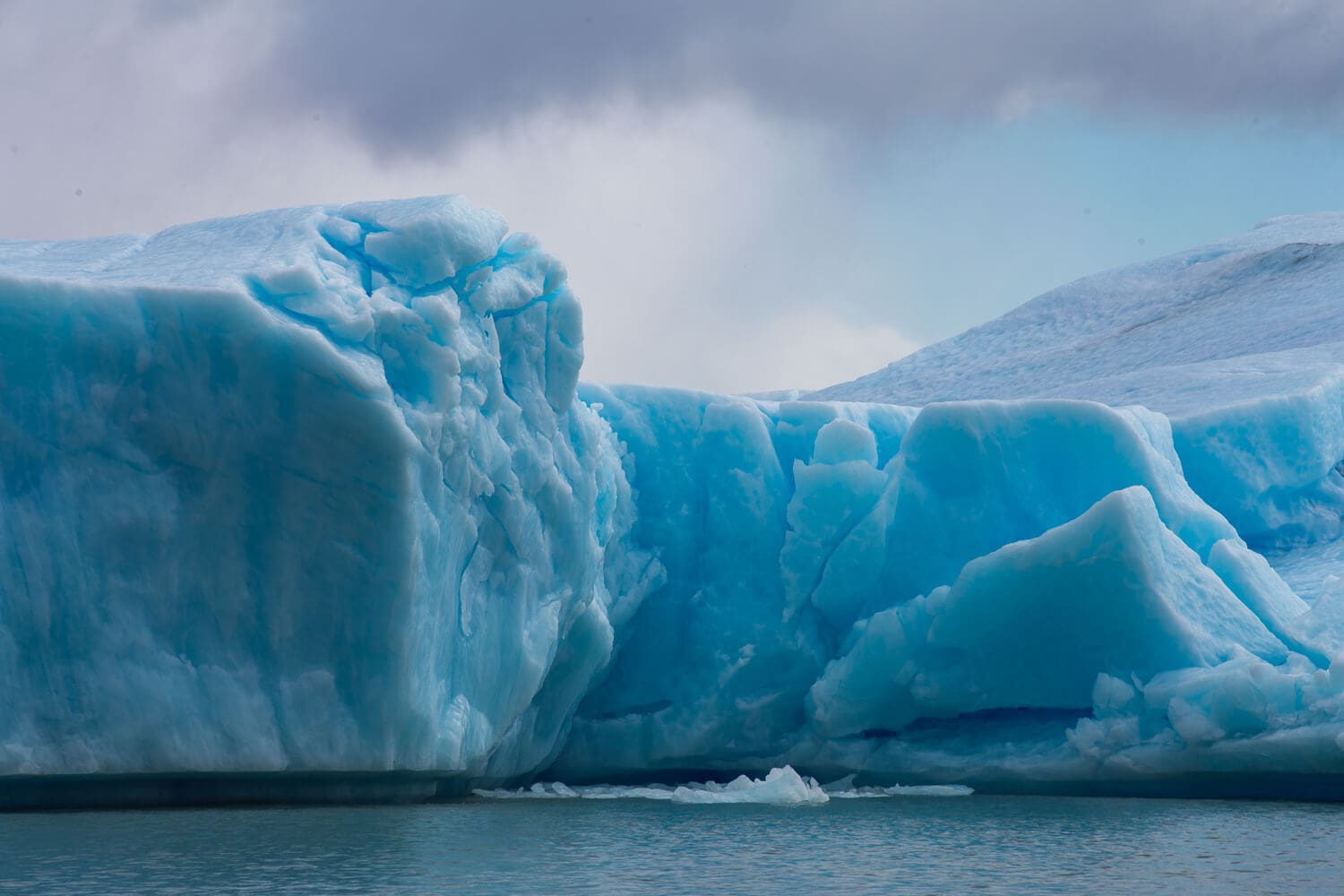 Is This El Calafate Glacier Excursion Family Friendly?
We were traveling with our one-year-old and lucky for all of us, a loud catamaran turned out to be the perfect nap environment!
When nap time rolled around, we cozied him into a loud but sheltered corner on the lower deck and he immediately passed out for an hour and a half.
Thank you catamaran and your natural white noise.
Thank you Solo Patagonia.
A sleeping baby is worth his weight in gold.
We felt 100% welcomed with a baby on board. I find that Argentines, in general, love babies and little ones.
I have never been met with annoyed sighs or rolling eyes when we travel with our baby here and Solo Patagonia was no different.
Guests and crew alike were so kind and LOVED our little guy. Everyone knew his name by the end of the day.
Of course, big kids will have a blast as well. We saw kids of all ages.
If you're wondering about this excursion with your littles, don't worry. It is very family-friendly.

Thanks again to Solo Patagonia for a great day in El Calafate.
If you have any questions or comments, let me know below!
Argentina Travel Resources