Everyone has heard of the Big 5, but what about the Shy 5?
Meerkats are in this lesser known animal sighting checklist, and understandably, they're very hard to spot.
If you want to see meerkats in South Africa, you have to book a tour.
This once in a lifetime experience takes place in the Little Karoo desert on the Garden Route.
This post will give you everything you need to book your own adorable meerkat adventure.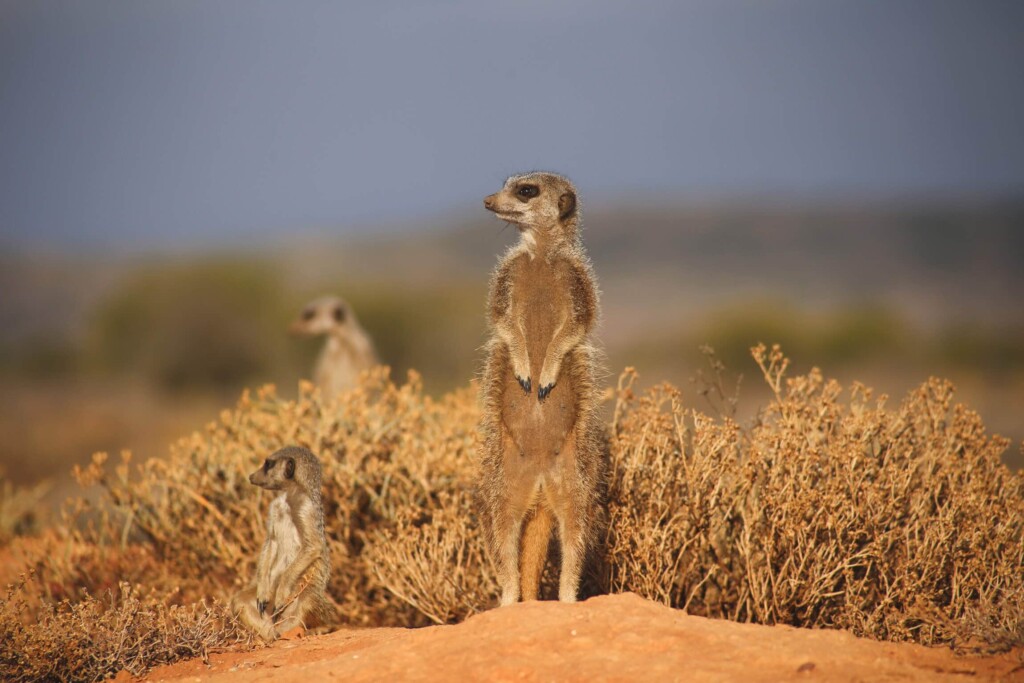 QUICK NOTE: This post contains affiliate links and Sol Salute may receive a commission for purchases made through these links, at no extra cost to you.
Where to See Meerkats in South Africa
The first thing I reserved for this trip wasn't a game drive to see the Big 5 or the shark dive
. It was an excursion to see meerkats in South Africa, in the wild in the Little Karoo desert.
I booked it a year in advance and even planned part of our trip around it.
I was actually embarrassed at my eagerness and pointed it out when I made the reservation.
They quickly brushed it off saying they even had a few reservations two years out.
So let's not underestimate the draw of the little Meerkat, they're just too cute, just look at them!
South African Meerkat Tour: What You Need to Know
Meerkat Adventures
Where | Oudtshoorn in the Little Karoo
Cost | 600 Rand (U$50)
Oudtshoorn can be easily included in any trip along the Garden Route, and if you stay at the De Zeekoe Guest Farm there's a 100 rand discount.
Small children aren't allowed, meerkats are part of the Shy 5 for a reason.
And while you don't have to be Type A and book advance a whole year in advance like me, reservations are essential, so book ahead.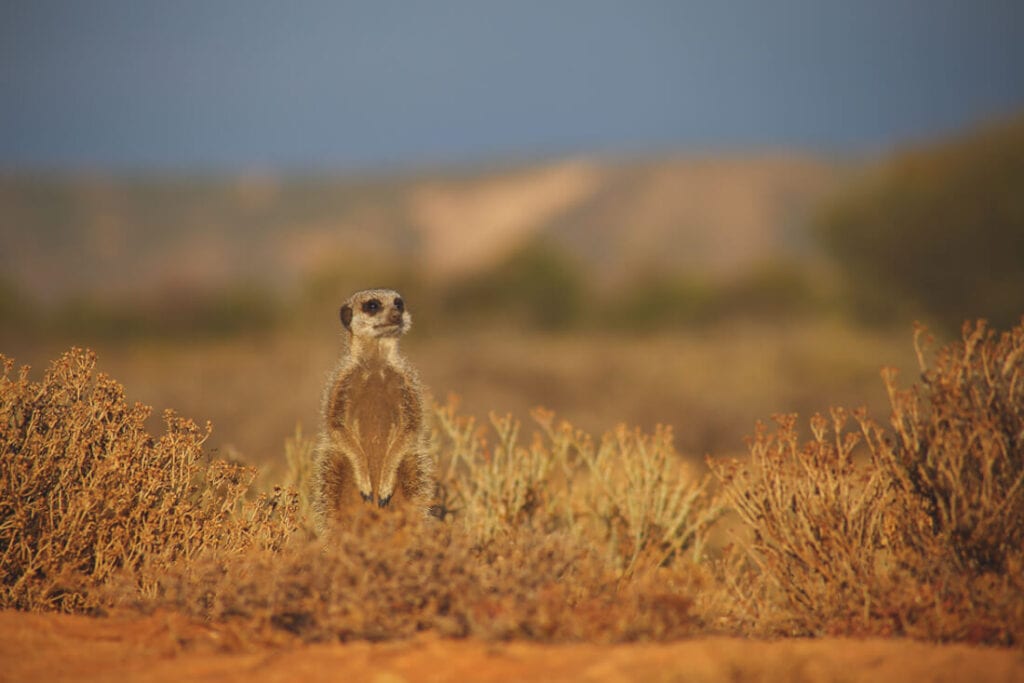 Our Experience seeing Meerkats in Outdshoorn
The tour starts before sunrise. We were up at 4:30 to get to the meeting point a few miles down the road just after 5 am.
When all the guests had arrived we all drove caravan-style a few miles further out of town where coffee and tea awaited us.
After a quick introduction, we each grabbed a lawn chair and followed our guide through the bush to the burrows.
We had to hurry to make sure we arrived before the meerkats woke up for the day.
Our seats were arranged in a semi-circle around their burrow to wait.
It only took around a half an hour before the first little guy showed up.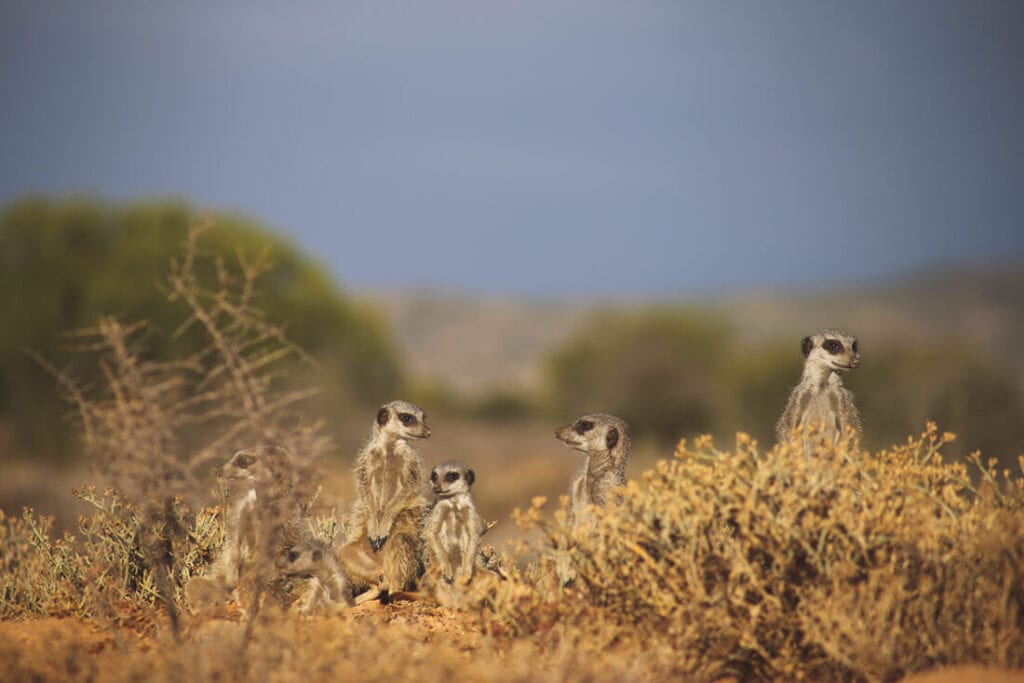 One by one the whole gang woke up and came above ground for some sun. A group of meerkats is called either a mob or a gang (seems appropriate).
Once they woke up we had about fifteen minutes with them.
They woke up and came above ground one by one, to bathe in the sun to warm themselves and get their digestive systems started for the day.
We were sitting with the sun to our backs, so the meerkats would be facing us while they sunned their bellies.
Our guide taught us a lot while we waited for the meerkats.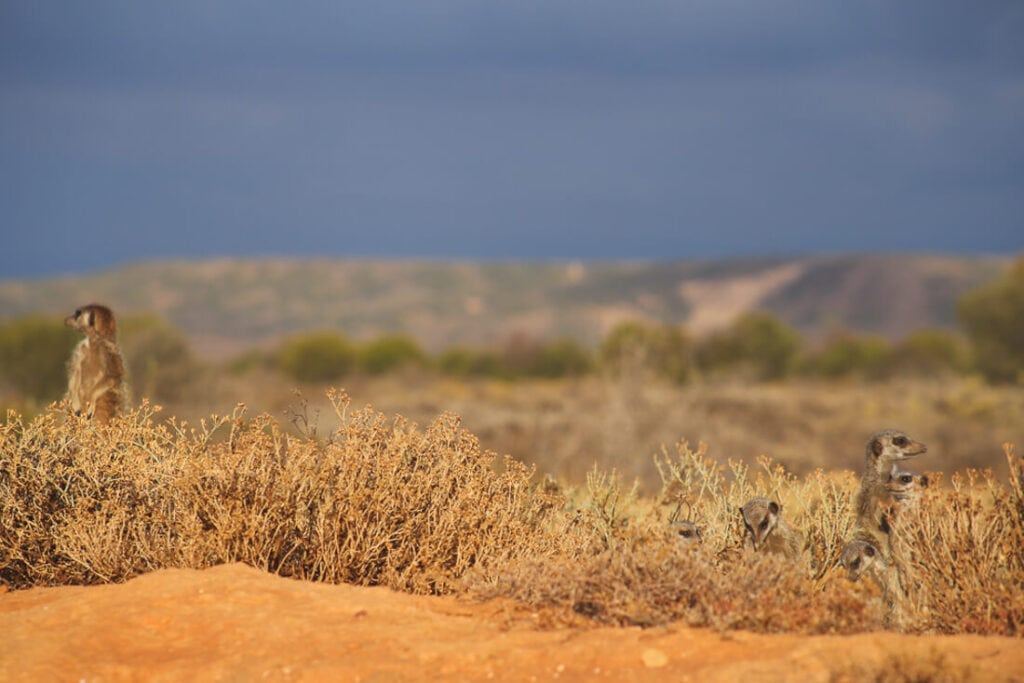 Each gang of meerkats has its own territory and they ferociously defend it from any invading families. I believe he said this meerkat mob had two square kilometers.
Inside that territory they have multiple burrows (networks of tunnels) to sleep in each night, depending on where they end their day.
We also learned that when baby meerkats play fight, the victor pees on the loser.
Mother nature is brutal.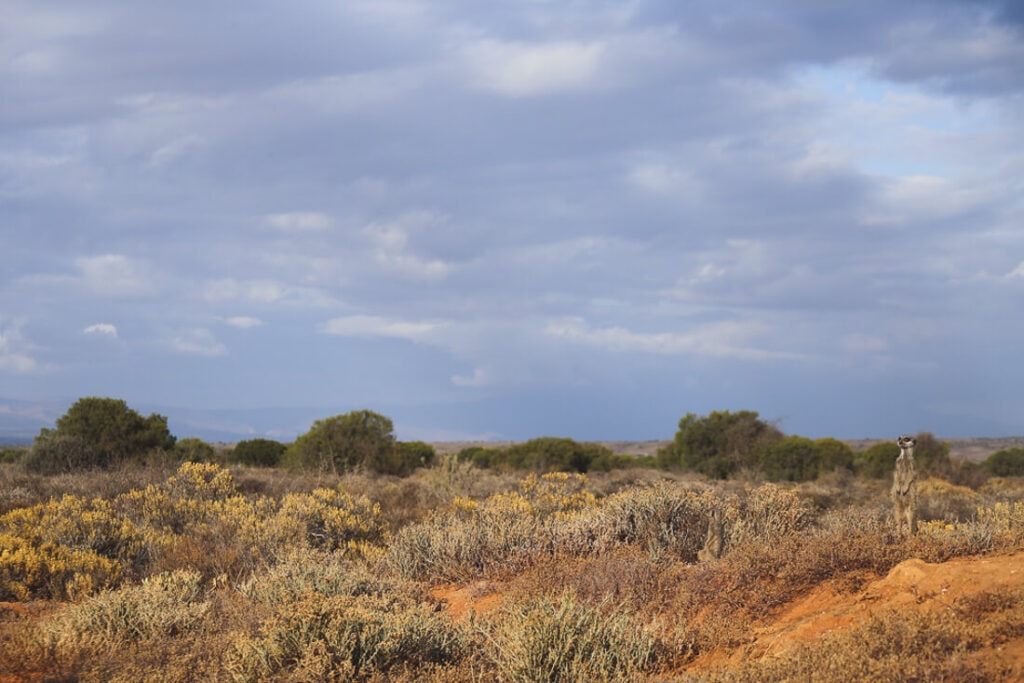 And off they go…
After about fifteen minutes of watching the meerkats sun themselves, stretch and cuddle, they scurried off to start their day.
There's always at least one standing sentry, watching for predators. Aside from him, they're nearly impossible to see, completely blending in with the brush.
We needed our travel binoculars to see them as they scurried off and got smaller, and smaller in the distance.
It may sound like a short amount of time but I promise it's worth it.
There is no other experience like this one.
They're the only team studying meerkats completely in the wild, with no outside interference.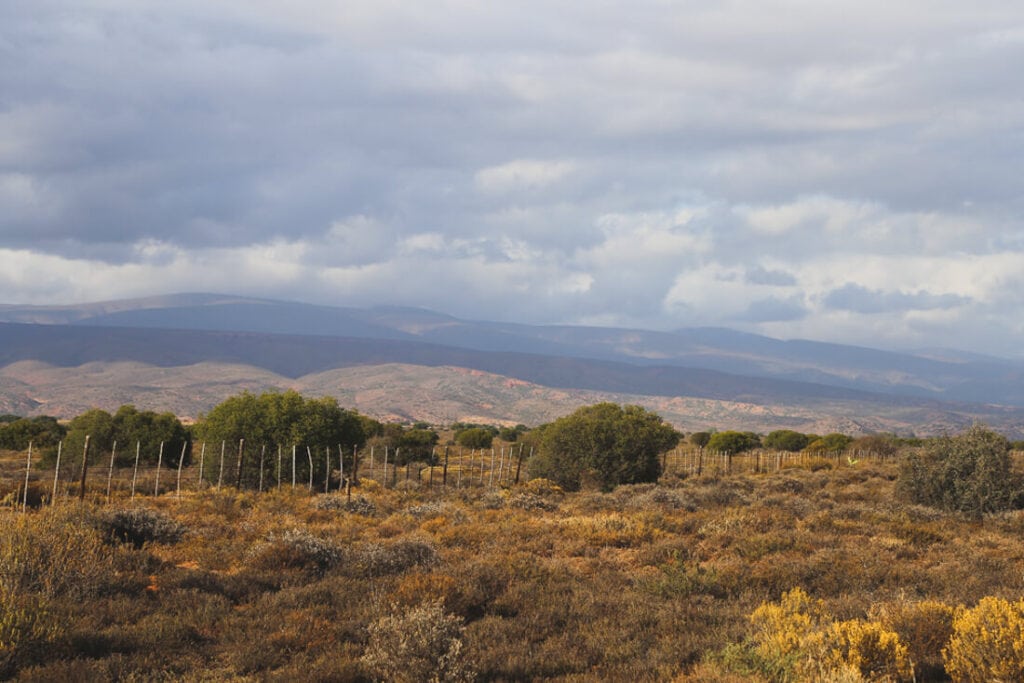 Home in time for breakfast
After the last meerkat was out of sight we walked back to our cars. We were back in our hotel by 8 am, just in time for the breakfast buffet.
With the rest of the day free you can tour one of the area's famous ostrich farms, take a tour of the Cango Caves, or drink up at one of the region's many wineries… but nothing will top the meerkats.
Continuing through South Africa? Then read about our month-long South Africa road trip here, or for a shorter trip check out this 3 week South Africa itinerary.
READ MORE: What to Pack for South Africa
PIN IT FOR LATER