I don't know what it is about tacos.
One doesn't casually like tacos.
It's an obsession, tacos are life!
I'm from Texas and there was never a day that we didn't have tortillas in the house.
It's a fact that everything tastes better wrapped in a warm tortilla.
Corn, flour, I don't even care.
I don't play favorites.
So, you can imagine what I have on my mind whenever I find myself in Mexico City.
You guessed it, tacos.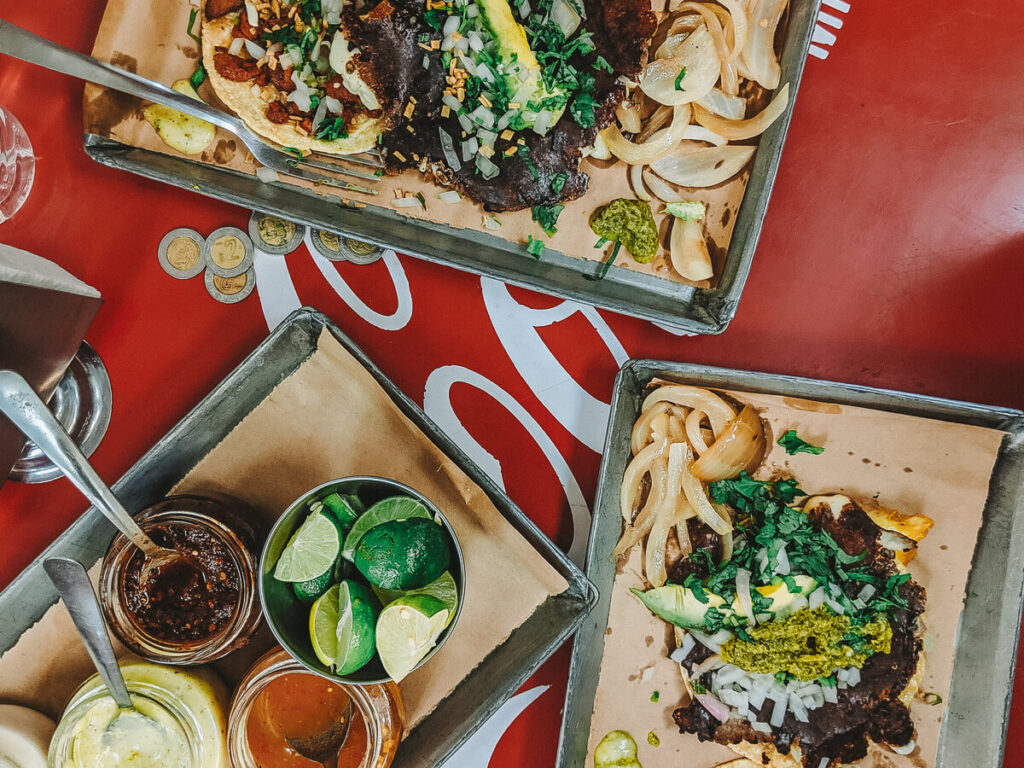 QUICK NOTE: This post contains affiliate links and Sol Salute may receive a commission for purchases made through these links, at no extra cost to you.
My Favorite Tacos in Mexico City
I've been to Mexico City a few times now and plan on many future visits.
Due to sheer number, it's impossible to try all of the best tacos in Mexico City, but I'll be damned if I don't try.
This post includes all of my favorite Mexico City taquerias.
Update: To give this post even more taco options for you addicts out there (I see you), I consulted fellow travel bloggers and added their recommendations to the list. You're welcome, hungry travelers.
Mexico City Taco Tours
Use the map at the end of this post to plan your DIY taco tour or leave it to the locals.
I love a food tour when I travel to a destination like Mexico City where the food is so important, especially to find hidden hole in the wall taquerias.
Book one of these tours to eat like a pro in CDMX:
1. Ricos Tacos Taluca – The Chorizo Verde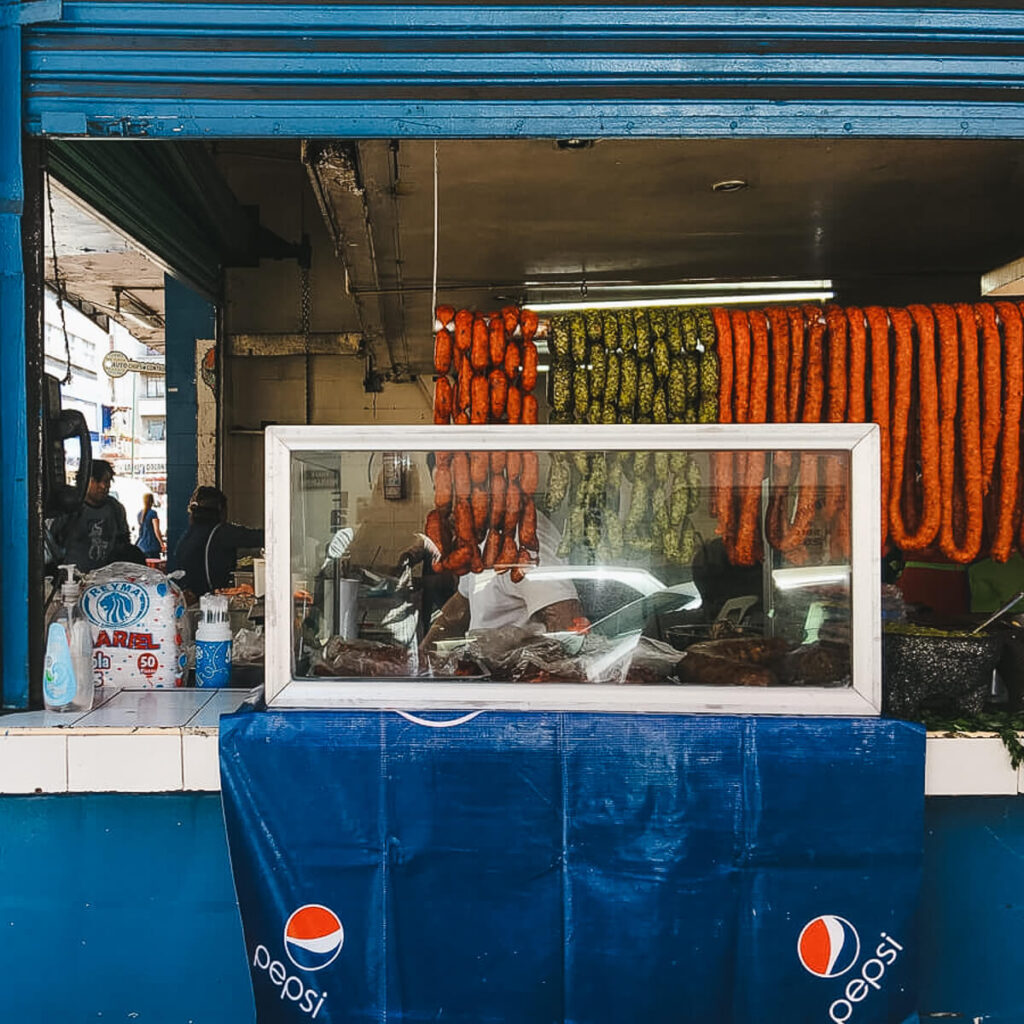 Ricos Tacos Taluca is famous for the green chorizo that hangs like a beautiful sausage bunting in the window.
When I saw it online I knew I had to try it.
And the herb filled sausage definitely lived up to the hype.
We ordered cecina and chorizo verde tacos, but you can fully commit by topping it off with fried potatoes.
This is street food style dining, being just a corner spot with no indoor space.
There was a bench and a few plastic stools but be prepared to eat standing if it's busy.
Don't worry though, the food won't last long enough on your plate for your feet to get tired.
Hungry? > Ricos Taco Taluca | Centro Historico | C. López 103, Colonia Centrhttps://maps.google.com/?cid=6857413313917148378o, Centro, Cuauhtémoc, 06000 Ciudad de México, CDMX, Mexico
2. Taquería Los Paisas – Tacos al Pastor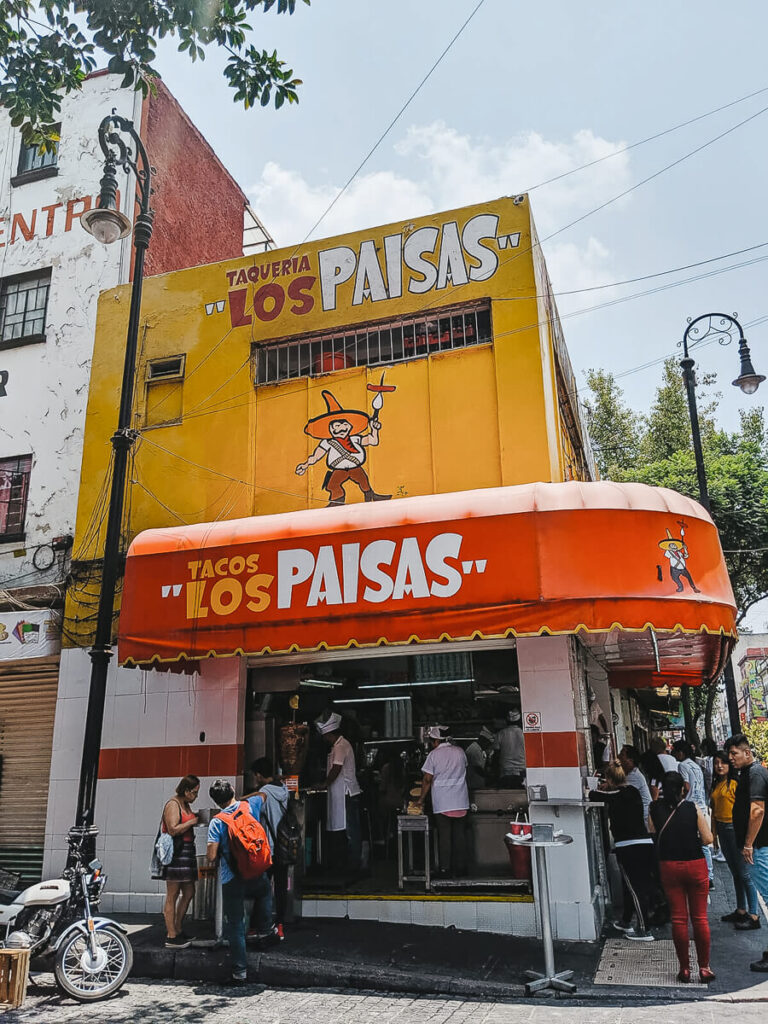 Like most of the best tacos in CDMX, Los Paisas is known for their tacos al pastor.
The difference you'll see here is that the meat on the trompa lacks the typical red hue of al pastor.
Achiote spice is what turns the al pastor meat red and despite lacking the achiote these tacos are not light on flavor.
It was interesting to taste a different take on a Mexico City classic.
While here order one of their many aguas frescas.
We ordered guava and it was perfectly fresh to compliment the spicy tacos.
Hungry? > Taquería Los Paisas | Centro Historico | Jesús María 131, Centro Histórico de la Cdad. de México, Centro, Cuauhtémoc, 06000 Ciudad de México, CDMX, Mexico
3. El Tizoncito – Al Pastor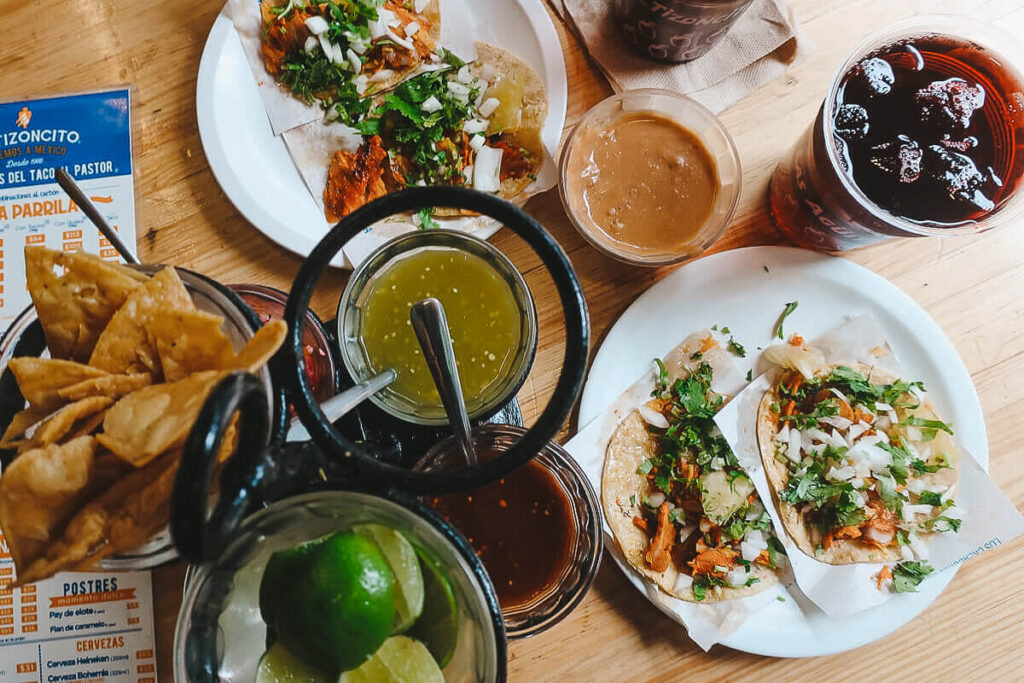 El Tizoncito claims to be the creator of the taco al pastor.
Is it true?
Who cares, they're so delicious it honestly doesn't matter!
After you order make sure to watch the master that's manning the trompo.
It's pure magic (or hours and hours of practice) how he makes the meat and pineapple fly from the trompo onto the tortilla.
Other highlights include the chips with sauces and bean dip served up while you way for your order as well as the Jamaica (hibiscus) Agua Fresca.
TIP: There are two locations within three blocks from each other so if one is full you can try the other, but my favorite is the big corner spot (the address mentioned below).
Hungry? > El Tizoncito | Condesa | Av. Tamaulipas 122, Hipódromo, Cuauhtémoc, 06100 Ciudad de México, CDMX, Mexico
4. El Kalimán – Al Pastor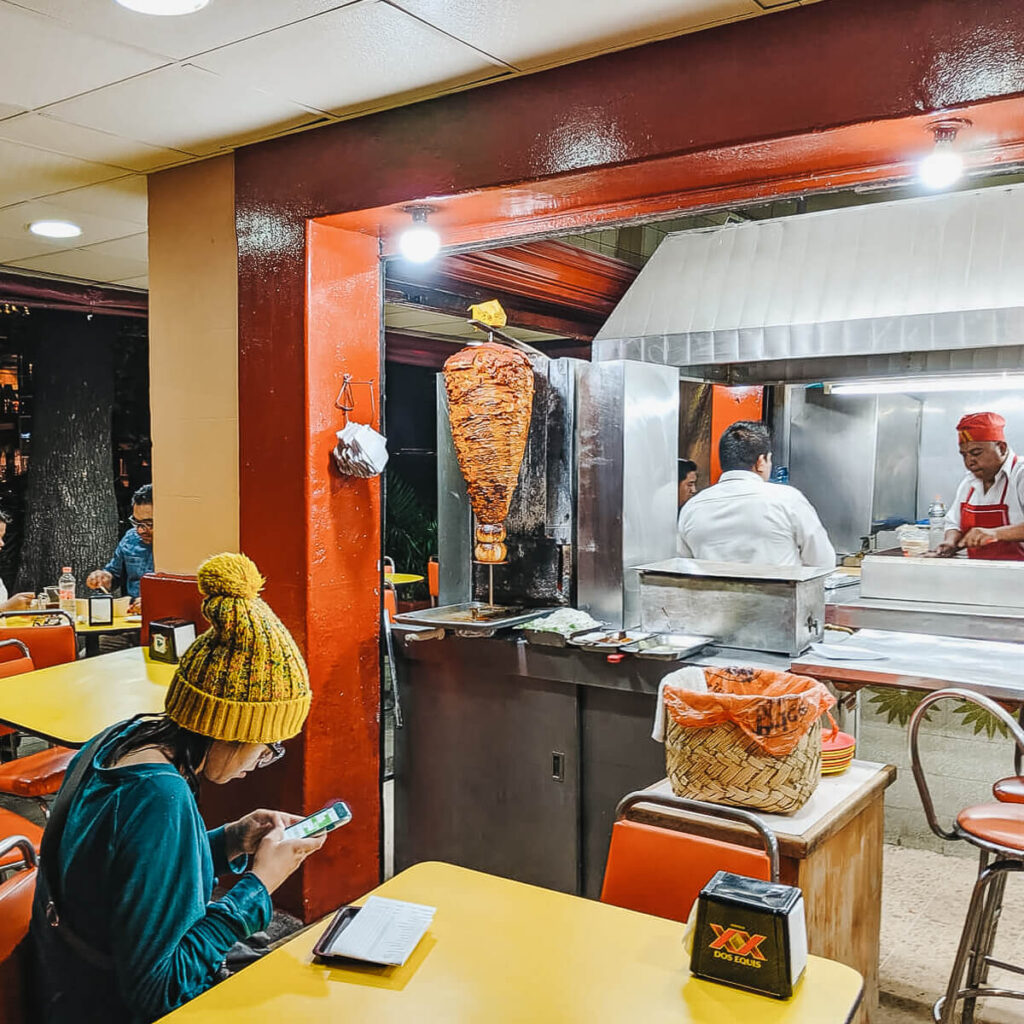 El Kalimán is just a block from El Tizoncito, so be a glutton and hit them up back to back.
I was on a pastor kick so that's what I got, the trompa was too tempting.
You can veer a bit off the beaten path and order your al pastro gringo style – with melted cheese on a flour tortilla.
They're also supposed to have great charro beans and volcanes.
TIP: El Kalimán is a great late night spot. After a few too many mezcales, stumble over to El Kalimán and fill up on tacos and aguas frescas to counteract the damage.
Hungry? > El Kalimán | Condesa | Ensenada 74, Hipódromo Condesa, Cuauhtémoc, 06100 Ciudad de México, CDMX, Mexico
5. Taquería El Greco – Tacos Arabes/Doneraky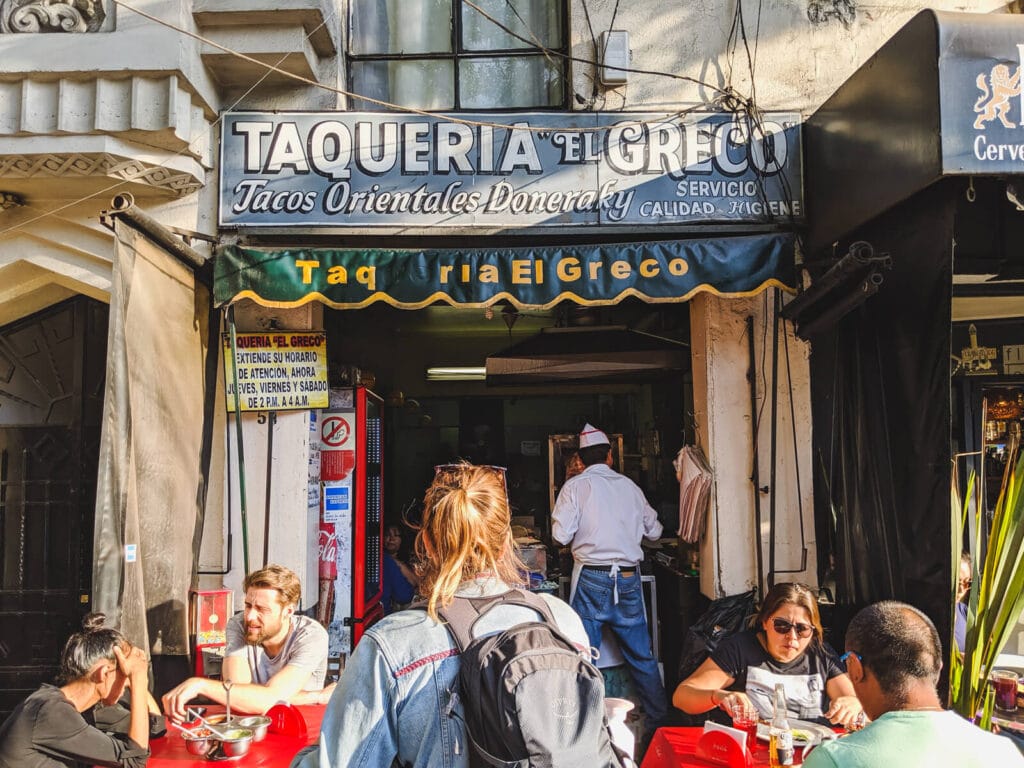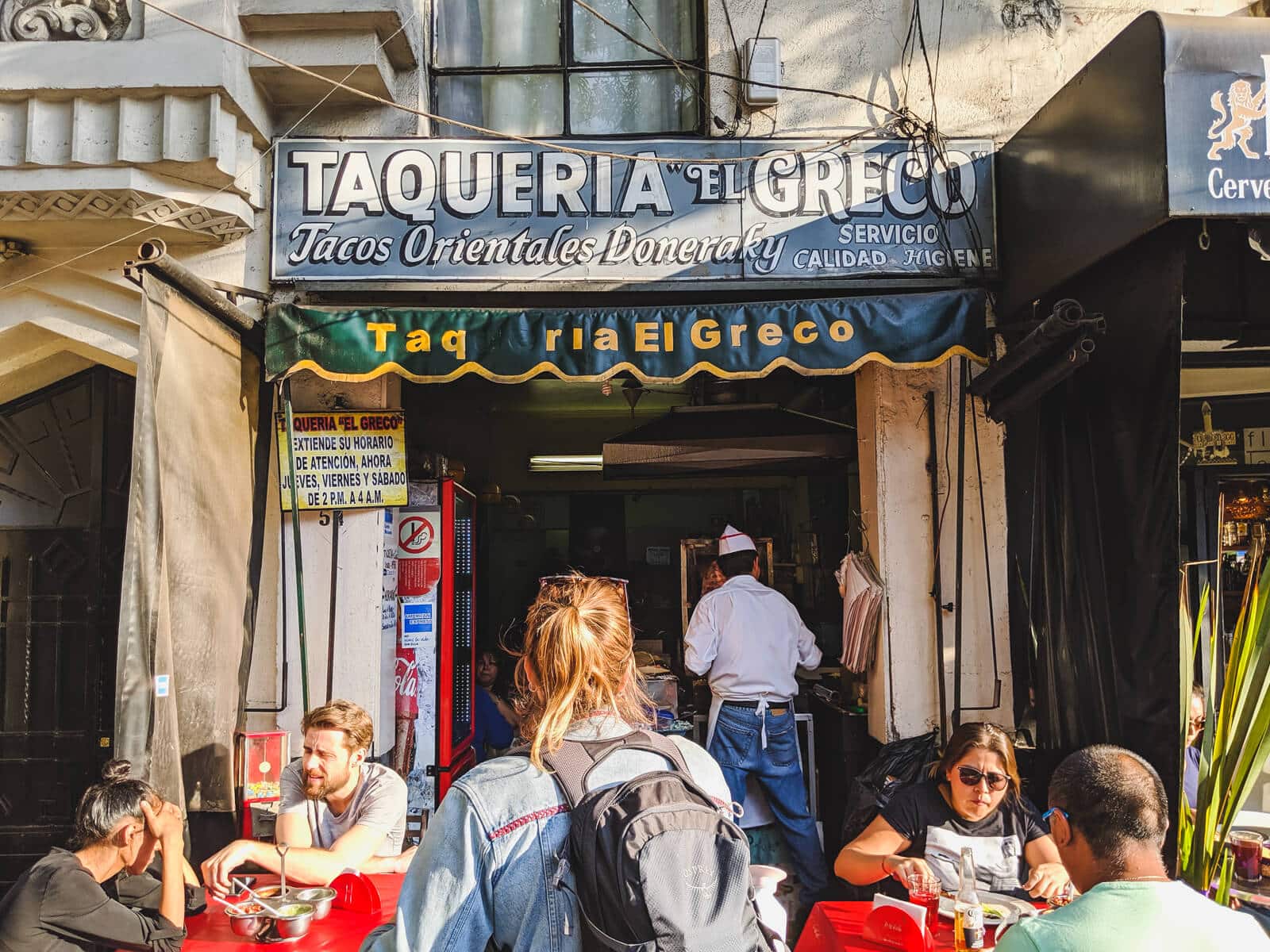 El Greco is such a tiny hole in the wall (in the best sense of the word) that we walked right by it when we were looking for it.
When we finally turned back and found it we were lucky to grab one of the few tables just as someone was leaving.
It's tiny so if you want a seat, try to come in off hours.
This Middle Eastern taco shop grills first put tacos arabes on the map in their hometown of Puebla.
Now they dish up their famous pork in Condesa on the classic shawarma-inspired trompo (spit).
Order the house specialty, the Tacos Doneraky on pita bread.
The meat is marinated differently than your classic al pastor pork with diced onion and minced parsley.
Chase it down with a Mexican Coke!
Hungry? > Taqueria El Greco | Condesa | Av Michoacán 54-B, Hipódromo, Cuauhtémoc, 06100 Ciudad de México, CDMX, Mexico
6. Tacos Hola El Güero – Chorizo con papa
Submitted by Rai of A Rai of Light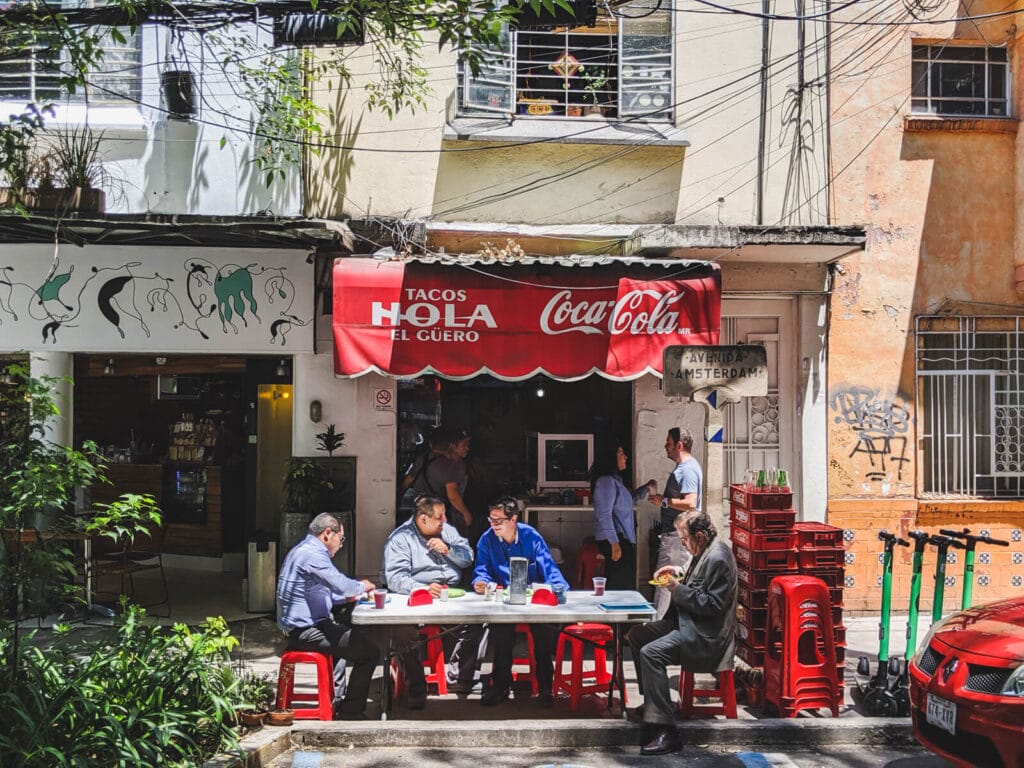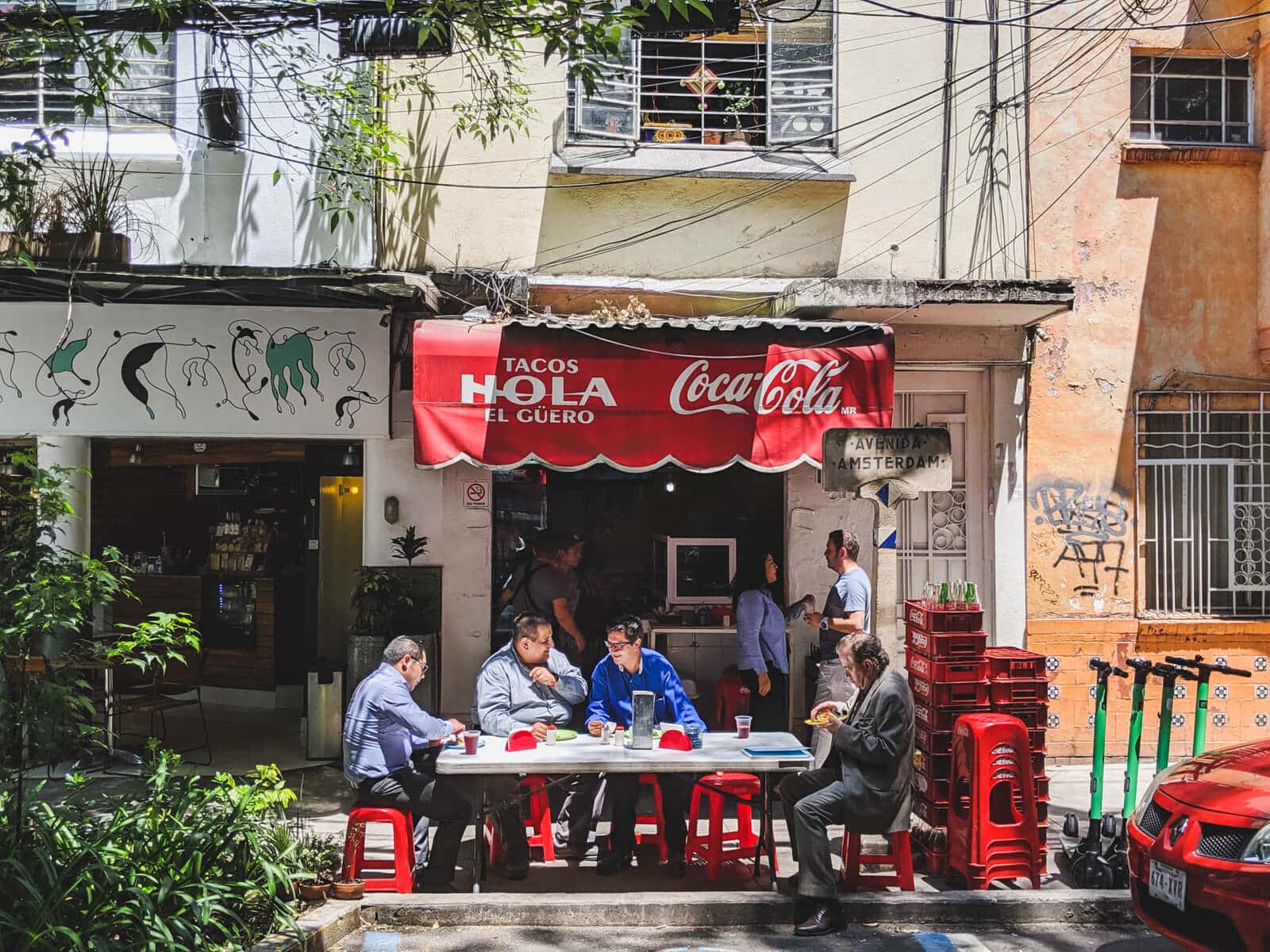 For amazing street tacos at an unbeatable price, you can't beat Tacos Hola Don Güero just across the street from El Greco.
Opened in 1986 and inspired by the Mexican song Bésame Mucho, this old school Mexico City taco joint is the place to go for truly authentic tacos.
It's conveniently located in Colonia Cuauhtemoc and open 24 hours, so fortunately getting your regular fix won't require that much effort.
The place does get busy from 6 pm, so it's best to arrive before then.
The food is made fresh to order with quality ingredients and a handful of sauces alongside.
The al pastor is a must try. Other favorites include campechano and de bistec con queso.
The exterior may not look like much, but Tacos Don Güero offers some seriously good tacos in Mexico City.
Hungry? Tacos Hola El Güero | Condesa | Amsterdam 135, Hipódromo, Cuauhtémoc, 06100 Ciudad de México, CDMX, Mexico
7. Orinoco – Al Pastor & Costra de Res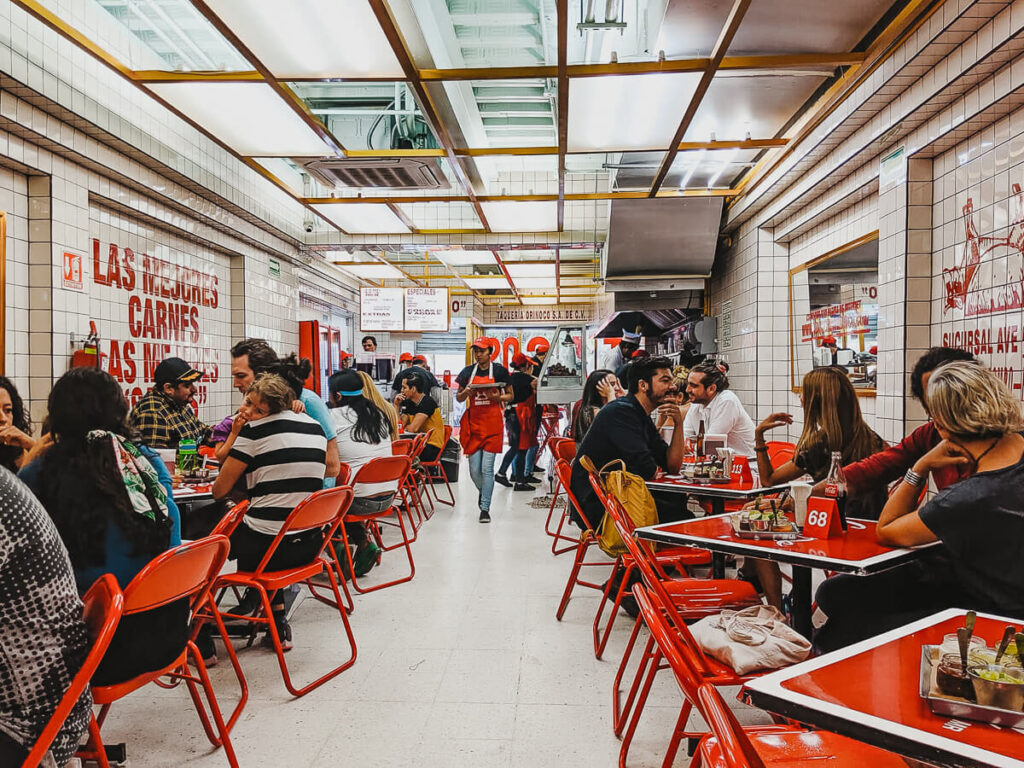 Orinoco's Monterrey tacos from northern Mexico were my favorite Mexico City tacos.
They were a bit bigger than the others on this list so two were enough for me (ordering one with cheese probably helped with that).
We walked in and came face first with the biggest trompo de pastor that I have ever seen.
They clearly go through a lot of tacos here.
The pastor, as always, was perfection.
At my local friends' recommendation we also got a Costra de Res (beef with cheese).
The Costras are any taco on the menu but with cheese, and boy are they generous with the queso.
They toss the cheese straight on the grill so it's gratinated to perfection.
Orinoco also had the best sauces out of anywhere we tried.
My favorite reminded me of pesto but made from cilantro instead of basil. I'm on a mission to re-create this.
The table next to us ordered a Gringa and I felt legitimate food envy (I think the point is no matter what you get here, it'll be great).
Orinoco also famous for their tiny baked potatoes.
Order a side order of 5 or see if you dish comes with them included (if you order three tacos and the gringas, for example, ask when you order)
Hungry? Orinoco | Roma | Av. Yucatan 3, Hipódromo, Cuauhtémoc, 06100 Ciudad de México, CDMX, Mexico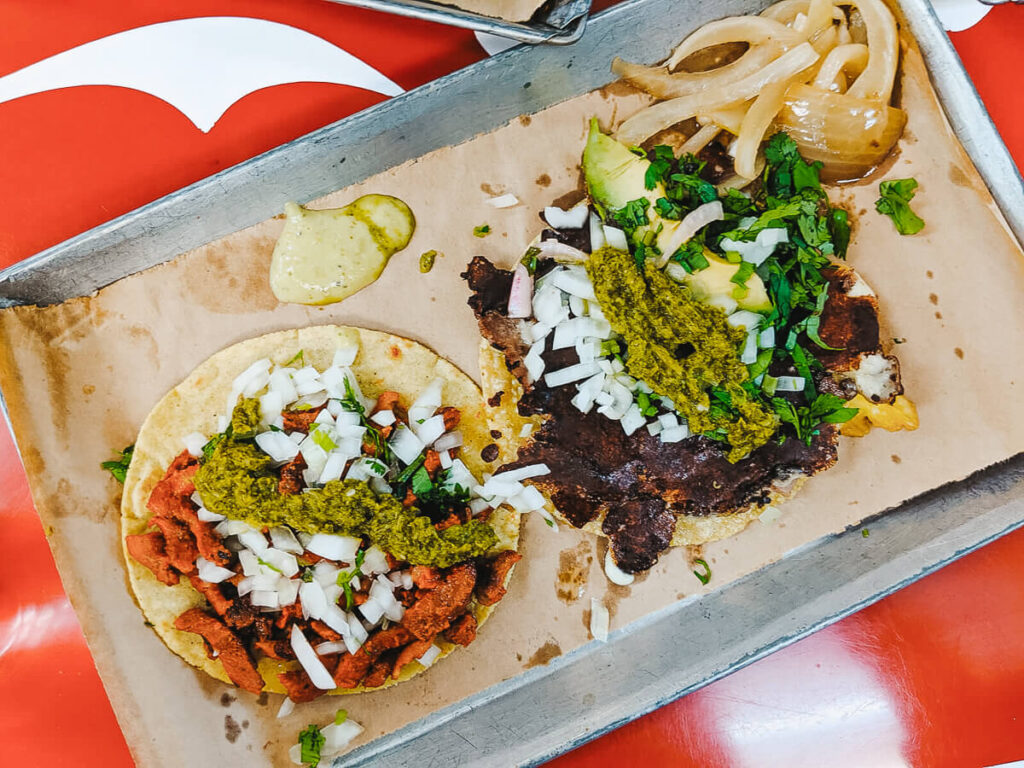 8. Taqueria el Caifan – Al Pastor
Submitted by Leigh of Campfires and Concierges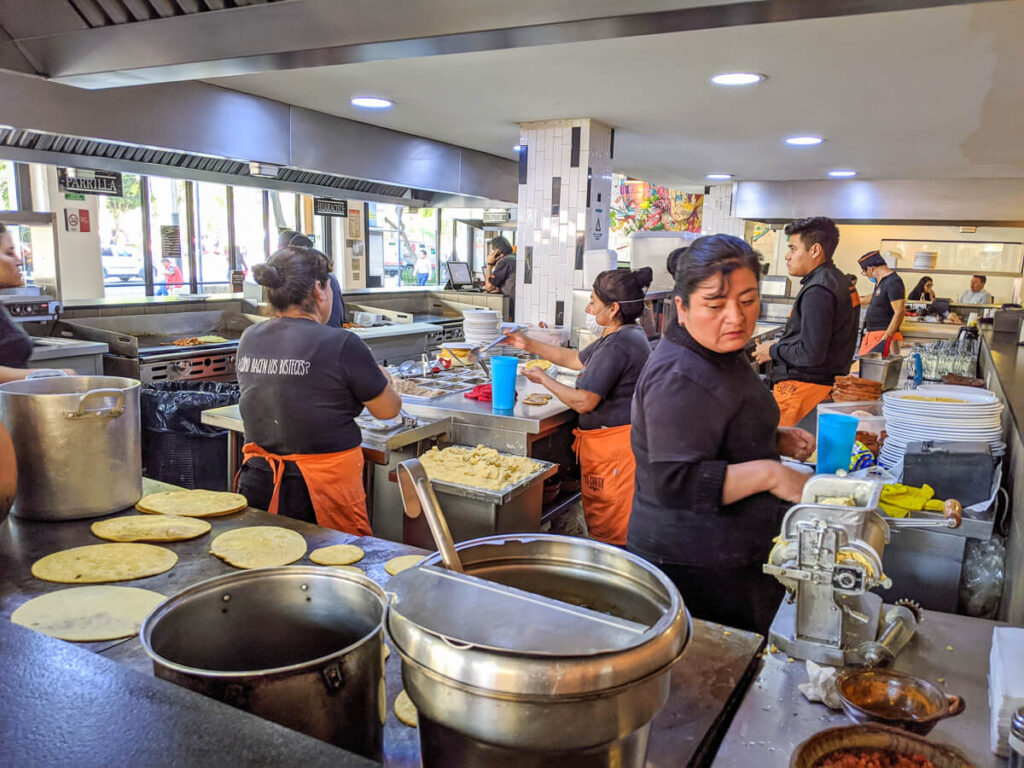 Taqueria El Caifan is one of my favorite places for tacos in Mexico City.
It's conveniently located near Avenida de la Reforma and Alameda Central.
Before you even arrive, the smell of al pastor on the rotisserie wafts out onto the street, luring you inside.
This casual spot has roll-up windows to let the fresh air in on nice days.
Take a seat at the counter to watch them make fresh tortillas for some of the best food in Mexico City!
They have a pretty large menu with tortas, huaraches, sopes, and more, but you can't walk by that sizzling entrance without trying an al pastor taco with pineapple.
Wash it down with a cold cerveza or agua fresca.
Hungry? Taqueria el Caifan | Centro | Balderas 34, Colonia Centro, Centro, Cuauhtémoc, 06000 Ciudad de México, CDMX, Mexico
9. La Pitahaya Vegana – Vegan Pitaya Tacos
Submitted by Daria of The Discovery Nut
If you are looking for healthy tacos in Mexico City, don't forget to stop at La Pitahaya Vegana where you can try delicious vegan tacos made with pitaya.
The tacos at Pitahaya Vegana are notable for their bright pink color.
The pink tacos come with a variety of healthy fillings including veggies, tofu and seitan.
In addition to tacos, you can also try waffles, burritos, and nachos. One of the most popular items on the menu is a burrito combo. 
Aside from rich flavors, all food Pitahaya vegana offers a creative twist which is a notable departure from traditional street taquerias in Mexico City.
Whether you come to Pitahaya Vegana for breakfast, lunch or dinner, you will love their options.
Many visitors love Pitahaya's breakfast combos that come with coffee, juices and delicious burritos full of veggies and tofu scramble.
Other options include chilaquiles and healthy wraps. 
And if you are craving a desert, make sure to try their cinnamon buns. 
If you want a healthy meal to offset all the delicious and rich food in Mexico City, Pitahaya Vegana is a must. 
Hungry? La Pitahaya Vegana | Roma Norte | C. Querétaro 90, Roma Nte., Cuauhtémoc, 06700 Ciudad de México, CDMX, Mexico
10. El Hidalguense – Barbacoa
Submitted by Shelley of Travel To Oaxaca
Barbacoa is one of the most beloved traditional foods from Mexico.
You can get it from across the country, but barbacoa is very closely associated with the state of Hidalgo.
In fact, the restaurant name, El Hidalguense, translates to "a person from Hidalgo."
The family who owns and runs this popular spot is exactly that, Hidalgo natives.
They now run one of the best taco spots in Mexico City for barbacoa.
It is only open on weekends, and gets very busy, so arrive early.
The thing to order here is barbacoa. Try it with a side of consommé soup broth to get the full barbacoa experience. 
Hungry? El Hidalguense | Roma Sur | Campeche 155, Roma Sur, Cuauhtémoc, 06760 Ciudad de México, CDMX, Mexico
11. El Vilsito – Tacos Al Pastor
Submitted by Shelley of Tulum Travel Secrets
Any good taco tour in Mexico will include a stop for some tacos al pastor.
When you're in Mexico City, make sure you visit El Vilsito, known as one of the best al pastor joints in Mexico City.
It is located in a car mechanic shop, so if you drive by El Vilsito during the day, you're going to see mechanics working on cars. 
Don't panic! 
At around 8 pm, this car garage turns into one of the most lively Mexico City taco shops.
They have a pretty sizable menu, but you will want to try at least one or two of the tacos al pastor.
El Vilsito is located in the Narvarte neighborhood, and depending on where you're staying, it might be best to take an Uber.
Hungry? El Vilsito | Narvarte | Petén 248 y, Av. Universidad, Narvarte Poniente, 03020 Ciudad de México, CDMX, Mexico
12. Por Siempre Vegana
Submitted by Jase of Roaming Vegans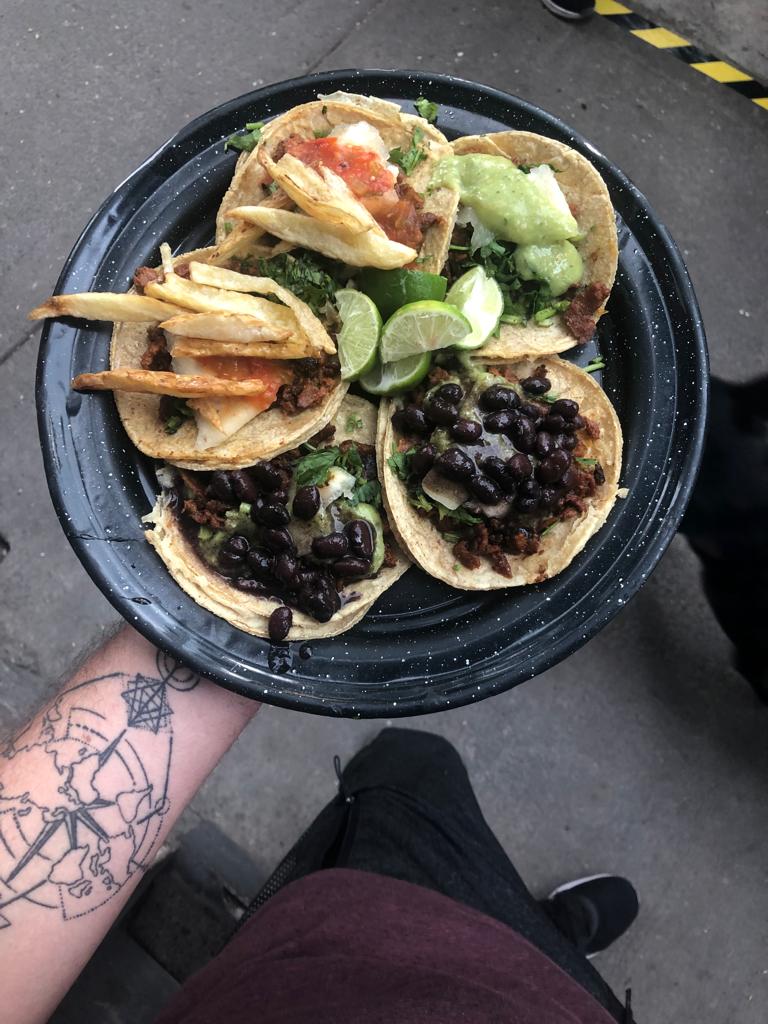 Por Siempre is a popular taco stand in Roma Sur with one key twist… everything is 100% vegan.
Lauded as the best vegan tacos in Mexico City, these soy and seitan-based tacos are not only a more ethical taco option, but they might just be the best-tasting tacos you've ever had.
These street tacos were so well received that the business opened a second sit-down location a short walk away.
This means you can enjoy a quick taco on the street or order a enjoy at the small restaurant at Por Siempre 2 which spews out onto the sidewalk. 
Each taco can be customized and topped with black beans, fries, onion, and mild, medium and hot salsas. You have never tasted vegan tacos like this.
Hungry? Por Siempre | Narvarte | C. Manzanillo 18, Roma Nte., Cuauhtémoc, 06700 Ciudad de México, CDMX, Mexico
13. La Original Birria Don Chuy – Birria Tacos
Submitted by By Julien Casanova of Cultures Traveled
This casual taco spot in Mexico City specializes in birria, a stew that is traditionally made with goat meat. 
The birria at Don Chuy is available to order in a taco or a broth called consome.
And while the menu also includes bistec tacos, quesadillas, and pozole, I recommend sticking with their namesake.
Located just northwest of downtown, you'll often find this taco spot filled with locals eating some of the best birria in Mexico City.
Don Chuy is open 24 hours a day, although it's best to arrive by car or Uber, especially if you are going to eat tacos at night.
Hungry? La Original Birria Don Chuy | Cuauhtémoc | 06300, C. Violeta 30, Guerrero, Cuauhtémoc, 06300 Ciudad de México, CDMX, Mexico
14. Los Cocuyos
Submitted by Daniel James of The Layer Culture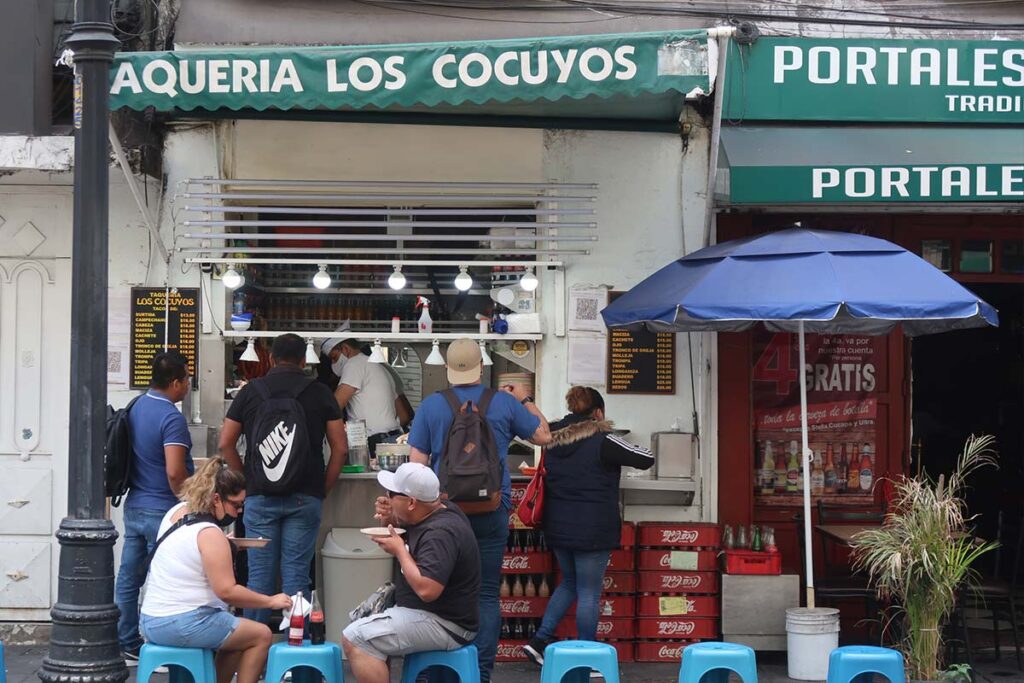 Thanks to Anthony Bourdain, this place is immensely popular so on arrival be prepared to wait.
Located in the Historic Center, which is considered one of the safe areas in Mexico City close to the Zocolo.
Los Cocuyos is famous for its suadero tacos made of deliciously slow-cooked beef that literally melts in your mouth.
The taqueros that work here are highly skilled.
Waiting for your food is like watching a group of artists at work as they slice and chop up the meat before placing it inside the freshly warmed tortillas.
By the time the diced onion and coriander are expertly added, all you need to do is select your sauce and enjoy.
I suggest arriving in the early afternoon as it gets overly busy during the evening with an ever growing queue.
If you feel awkward eating your tacos on the side of the road, as I did, you can carry them into the adjacent restaurant to enjoy them to enjoy them at a table.
Hungry? Los Cocuyos | Centro | Simón Bolívar 59, Centro Histórico de la Cdad. de México, Centro, Cuauhtémoc, 06000 Ciudad de México, CDMX, Mexico
15. Los Arbolitos – Quesadillas
Submitted by Kristin of Tiny Footsteps Travel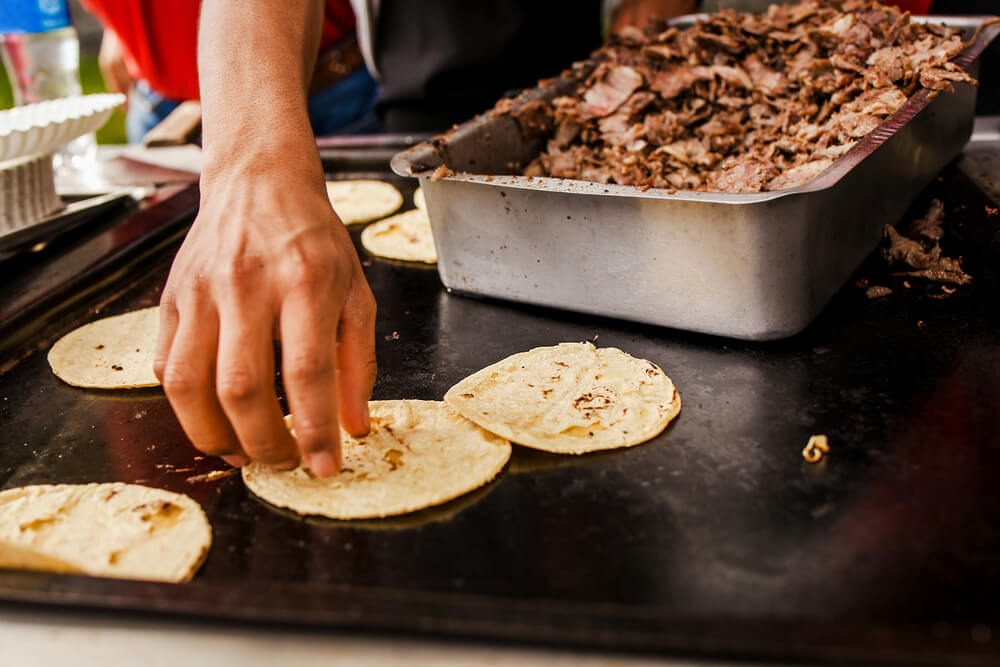 Taquería Los Arbolitos is a hole-in-the wall taco and quesadilla restaurant in southeast Mexico City.
Los Arbolitos is located at Veracruz 22 Local, a small street just a 2-minute walk from ITAM university, and a 25-minute drive from Coyoacan.
Open in the evenings until 5am, Los Arbolitos is usually busiest around 8-9pm at night. It's the perfect place to grab a mouthwatering, affordable dinner or middle of the night snack.
Choose between tacos or quesadillas (found under the "tacos con queso" section) with a selection of toppings, with meat and vegetarian options.
The quesadillas are made with a generous amount of Oaxaca cheese, and come with a side of locally-grown lime.
There are a few different beverage options available, Mexican beers and 'refrescos', such as Mexican soda.
Being a small family-owned establishment, Los Arbolitos doesn't have a website or social media page, and is spread in popularity through word of mouth.
It's well-rated on Google among locals, students and international visitors in the area.
Los Arbolitos has a casual atmosphere, with limited indoor seating. It's perfect for a grab and go meal.
Hungry? Los Arbolitos | Progreso | Veracruz 22 Local 1y2, Progreso, Álvaro Obregón, 01080 CDMX, Mexico
16. Cityzen – Short Rib
Submitted by Ashlea J. Russell of She Roams About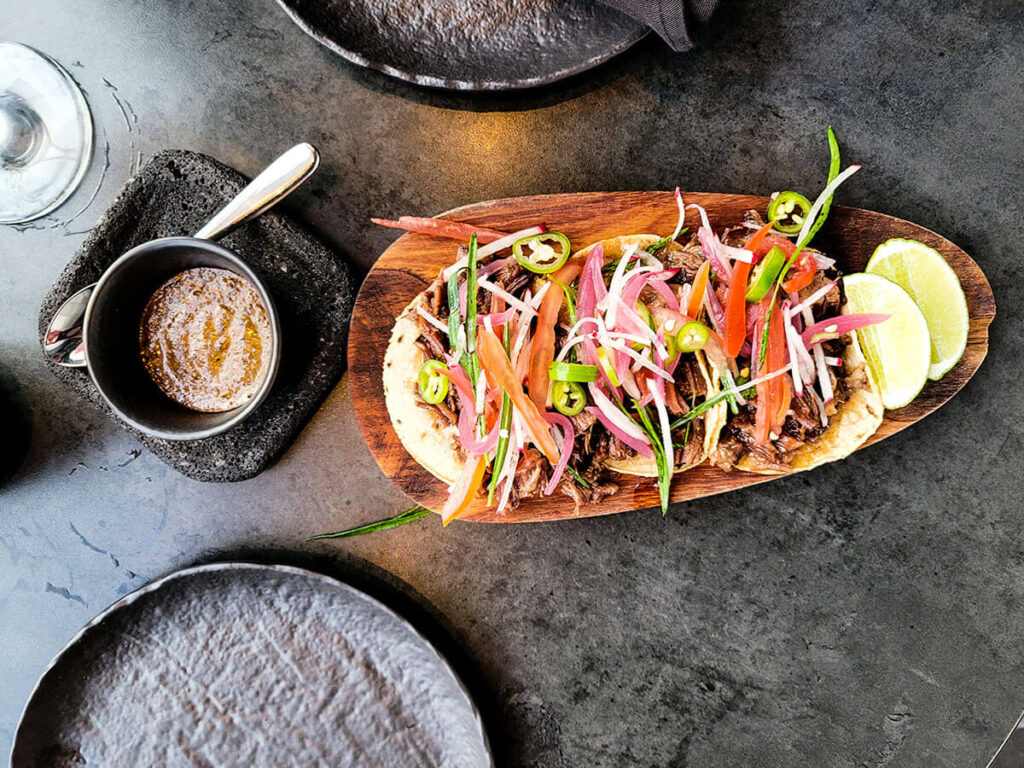 Tacos don't always equal street food and Cityzen Rooftop Kitchen is an excellent example of an elevated taco experience – in more ways than one!
Cityzen Rooftop Kitchen is located on the 38th floor of the Sofitel Mexico City Reforma, overlooking the Angel of Independence.
This gorgeous rooftop not only have the best views in the city, but a seriously delicious taco and tostada menu.
The tacos come in orders of two or three and offer a range of fillings from seafood to meat, and a tasty vegetarian option.
While they're all delicious, my favorite is the short rib. The meat is so tender and
balances brilliantly against the bright and crunchy vegetables.
For spice lovers, the salsa that comes with the tacos is a homemade winner but be warned: it has a kick.
Reservations are not accepted at so you'll want to plan your visit accordingly.
To avoid a wait, I recommend visiting on a weekday between 4:00pm– 5:00pm.
There's usually no wait during this time plus, you'll geta front row seat to the sunset.
Hungry? Cityzen | Cuauhtémoc | 297 Avenue, Av. P.º de la Reforma 297-Piso 38, Cuauhtémoc, 06500 Ciudad de México, CDMX, Mexico
17. Taqueria Los Güeros – Al Pastor
Submitted by Sara Rodriguez of Travel Mexico Guide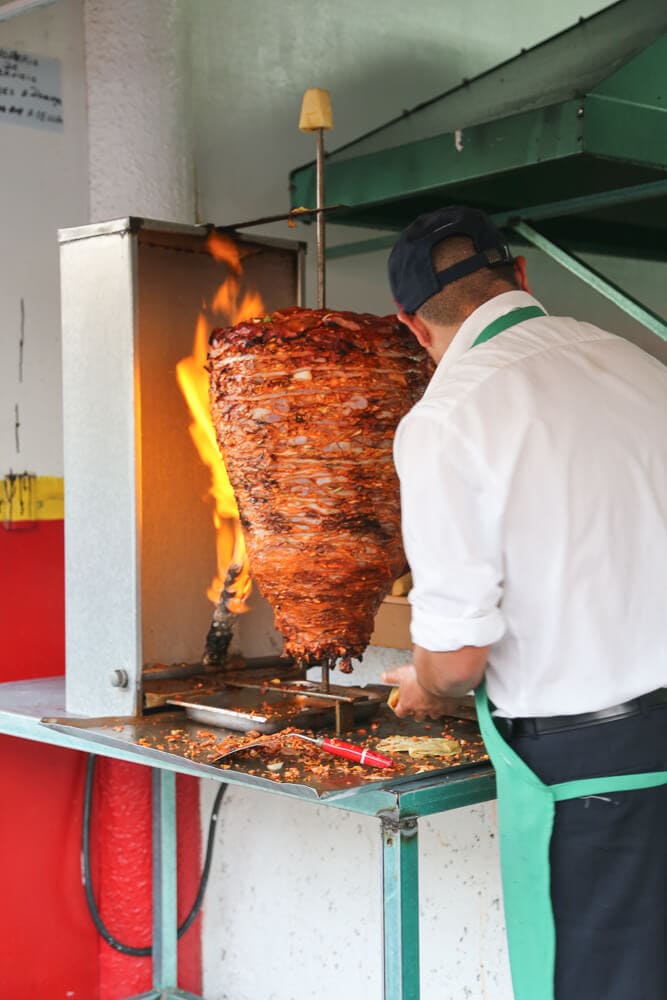 Tacos al pastor is one of the most popular types of Mexican tacos and Taqueria Los Güeros in Mexico City has some of the best.
Located in Colonia Héroes de Churubusco, a neighborhood located in the Iztapalapa delegation, it's only 15 minutes by car from downtown Zocalo.
Open every day from 2:30 pm to 1 am, this authentic taqueria serves some delicious tacos al pastor for an incredible price of 16 MXN (less than 1 dollar).
The marinated pork that makes up these tacos is cooked on a vertical rotisserie made out of maguey leaves which gives these tacos their unique flavor.
Served with corn tortillas, cilantro, and onion, these tacos have a great combination of sweet flavors coming from the pineapple as well as savory ones given by the pork meat itself.
Adding a squeeze of lime or pico de gallo enhances even more their taste making them a one-of-a-kind Mexican taco experience!
Don't forget to try them with pineapple so you can fully experience their flavor!
Hungry? Los Güeros | Colonia Héroes de Churubusco | Sur 109-A N° 402 Col, Héroes de Churubusco, Iztapalapa, 09090 Ciudad de México, CDMX, Mexico
The Mexico City Best Tacos Map
Here are all the taquerias mentioned in this post, plotted out for you to strategically plan your own personal taco crawl in Mexico City.
Eat responsibly.
Mexico City's Best Tacos
These are my favorite tacos in CDMX.
Since I know I'll be back again in the future, let me know where I should go next!
Comment below with your favorite Mexico City taquerias and I'll add it to my list.
Read More about Mexico City:
MEXICO CITY TIP: Schedule a Flytographer Photo Shoot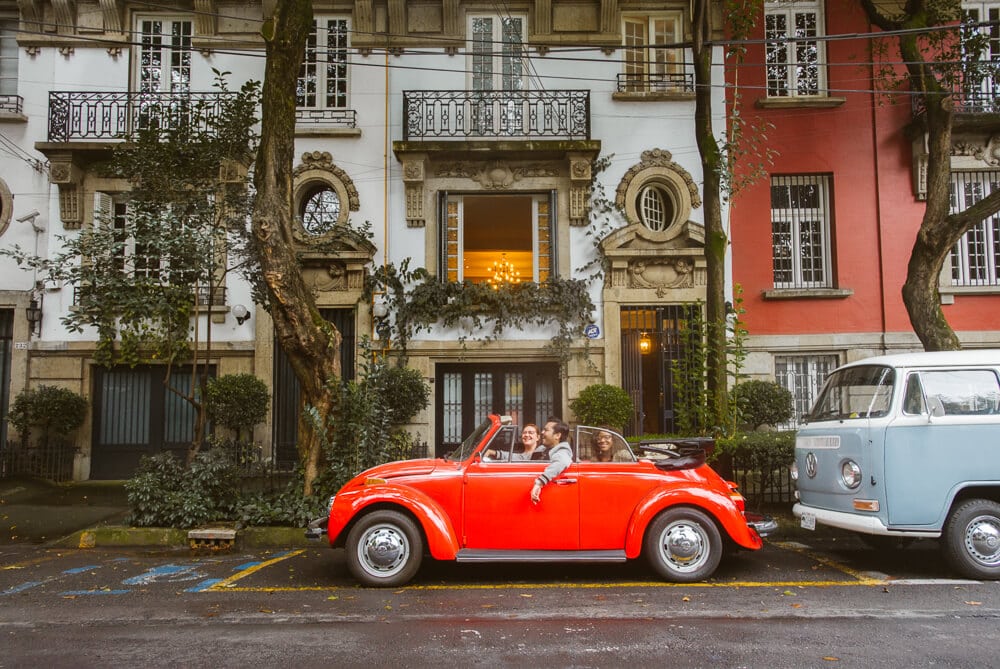 For memories that will last a lifetime and make your family photos stand out (and your Instagram pop), I recommend scheduling a professional photo shoot with Flytographer.

Their photographers are incredible, they're used to working with tourists like us and I bet they'll be able to give you local tips like their favorite taco stand, bars, or neighborhoods!

I discovered Flytographer ages ago but didn't actually try it until recently here at home in Argentina (see my pictures here).

I wish I had known how fun it is when I was in Mexico City because its beautiful streets are MADE for it. Next time I'm there I will definitely do this!

Click here and get $25 off your first shoot.
Pin It For Later