I don't know what it is about tacos. One doesn't casually like tacos. It's an obsession, tacos are life!
I'm from Texas and there was never a day that we didn't have tortillas in the house.
It's a fact that everything tastes better wrapped in a warm tortilla. Corn, flour, I don't even care.
I don't play favorites.
So, you can imagine what I have on my mind whenever I find myself in Mexico City.
You guessed it, tacos.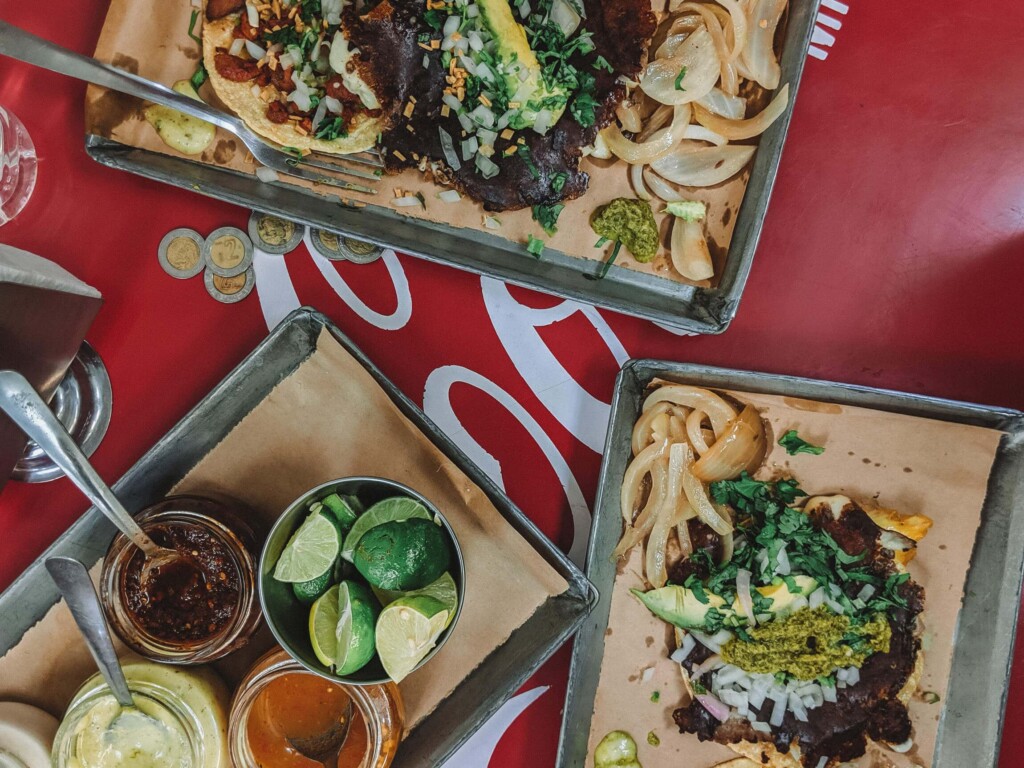 QUICK NOTE: This post contains affiliate links and Sol Salute may receive a commission for purchases made through these links, at no extra cost to you.
My Favorite Tacos in Mexico City
I've been to Mexico City a few times now and plan on many a future visit.
Due to sheer number, it's impossible to try all of the best tacos in Mexico City, but I'll be damned if I don't try.
Here are my favorite tacos from my past trips, organized by neighborhood.
I can't wait to add to this list as I continue my mission in the future, so if I missed your favorite taqueria please, please, please let me know in the comments and I'll be sure to go next time.
The Best Tacos in Centro Historico
Wander off the beaten path of the Zocalo in search of pastor, cecina, and green chorizo.
Ricos Tacos Taluca
Where | Calle López 87-C
Order | The chorizo verde!
Ricos Taco Taluca is famous for its green chorizo and the herb filled sausage lived up to the hype.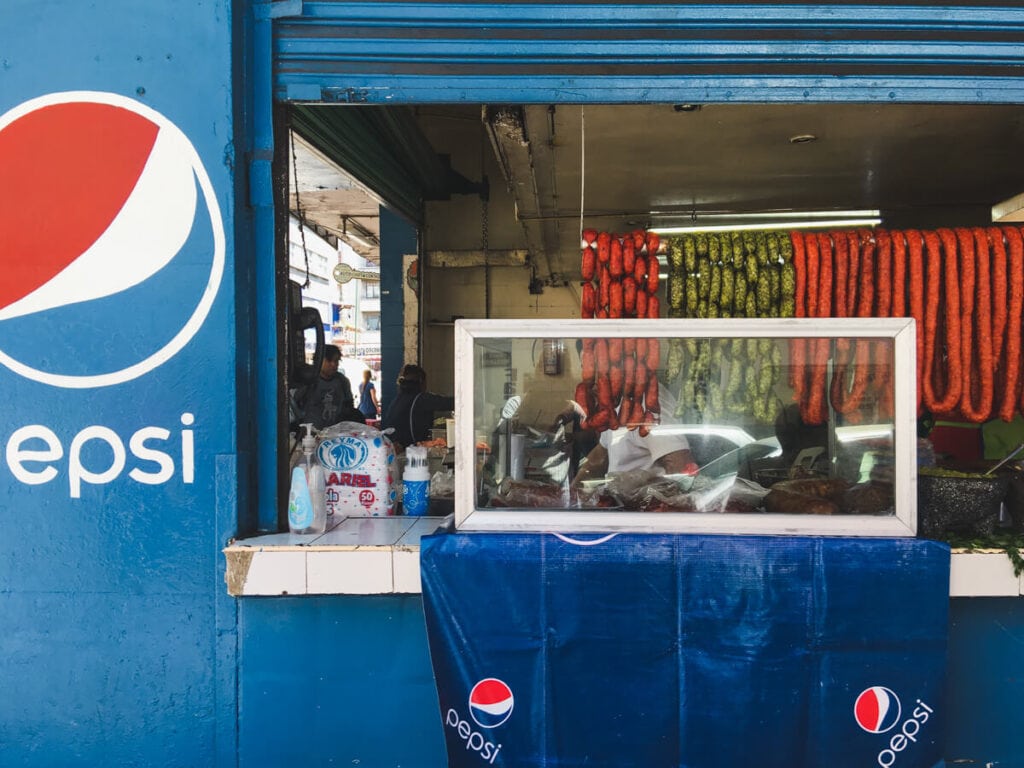 You'll know you've found it when you see the sausages draped across the storefront like the best bunting in the world.
We ordered cecina and chorizo verde tacos, but you can fully commit by topping it off fried potatoes. This is a corner spot with no indoor space.
There were a few seats on a bench and plastic stools but be prepared to eat standing if it's busy. Don't worry though, the food won't last long enough on your plate for your feet to get tired.
Taquería Los Paisas
Address| Jesús María 131
Order | Their tacos al pastor that lack the typical red hue
Like most taquerias in CDMX, Los Paisas is known for their tacos al pastor.
The difference you'll see here is that the meat on the trompa isn't the typical red hue you're used to seeing.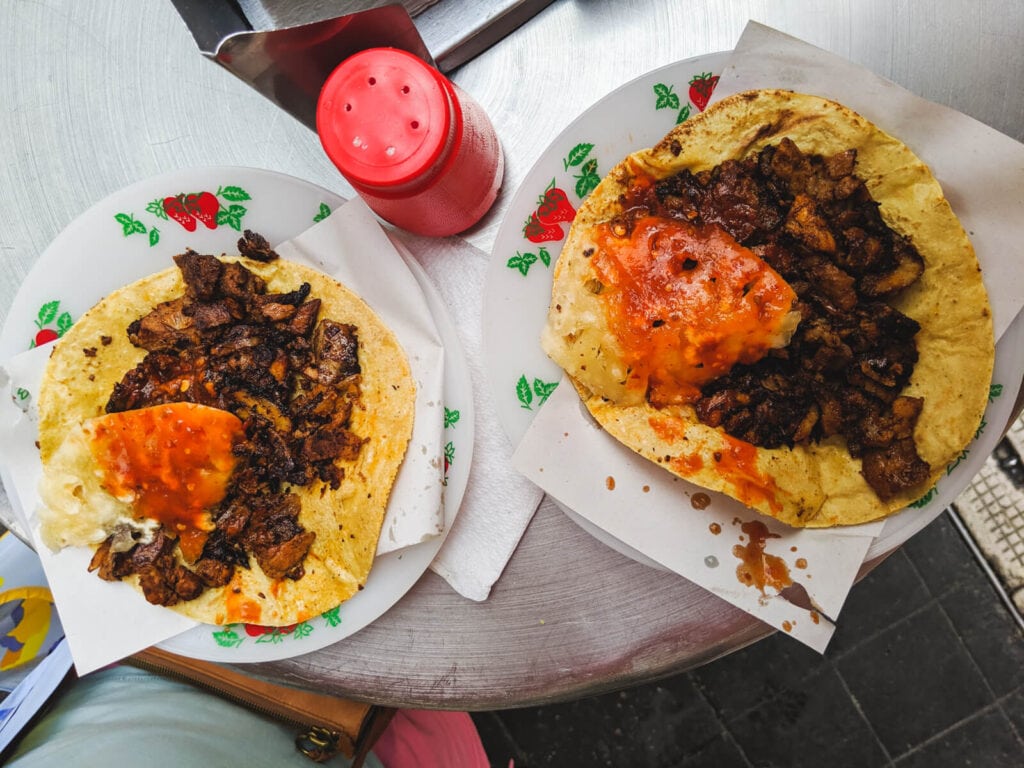 Achiote spice is what turns the al postor meat red, and despite lacking the achiote these tacos aren't light on flavor.
It was interesting to taste a different take on a Mexico City classic.
While here order one of their many aguas frescas. We had guava and I can't recommend it enough!
It was perfectly fresh to compliment the spicy tacos.
The Best Tacos in Condesa
On our recent trip we spent 3 days in Mexico and stayed in Condesa.
Naturally, Condesa dominates my taco list because we spent more time there.
I would be lying if our Airbnb's location being a stone's throw from four famous taquerias didn't influence that decision.
El Tizoncito
Address | Av. Tamaulipas 122
Order | Multiple tacos al pastor
El Tizoncito claims to be the creator of the taco al pastor. Is it true?
Who cares, they're so delicious it honestly doesn't matter!
After you order make sure to watch the master that's manning the trompo.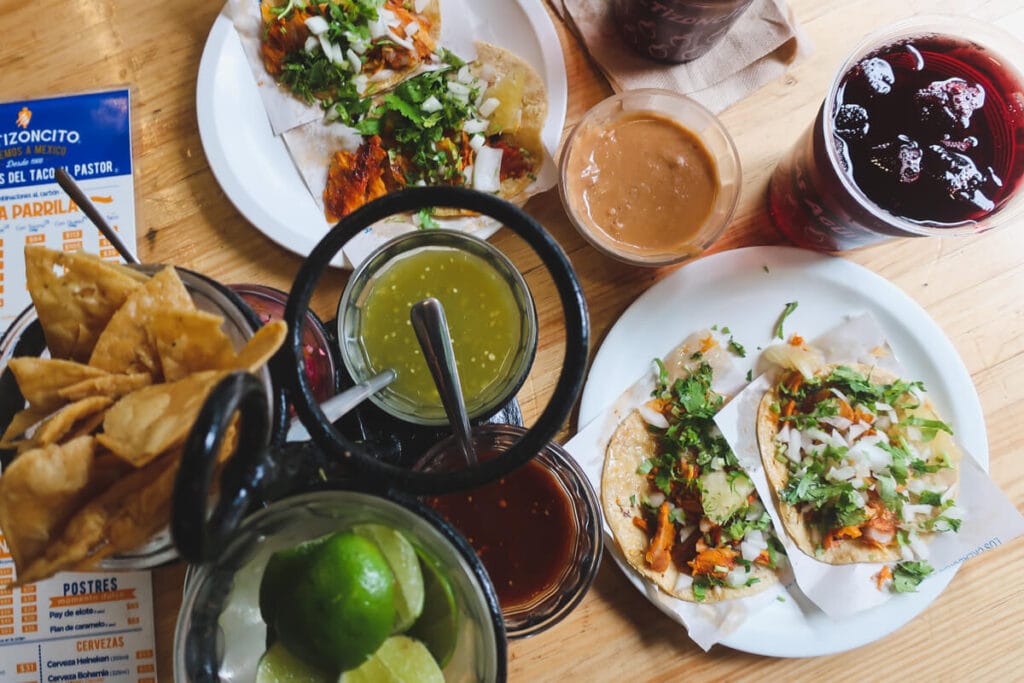 It's pure magic (or hours and hours of practice) how he makes the meat and pineapple fly from the trompo onto the tortilla.
Other highlights include the chips with sauces and bean dip served up while you way for your order as well as the Jamaica (hibiscus) Agua Fresca.
There are two locations within three blocks from each other so if one is full you can try the other, but my favorite is the big corner spot (the address mentioned above).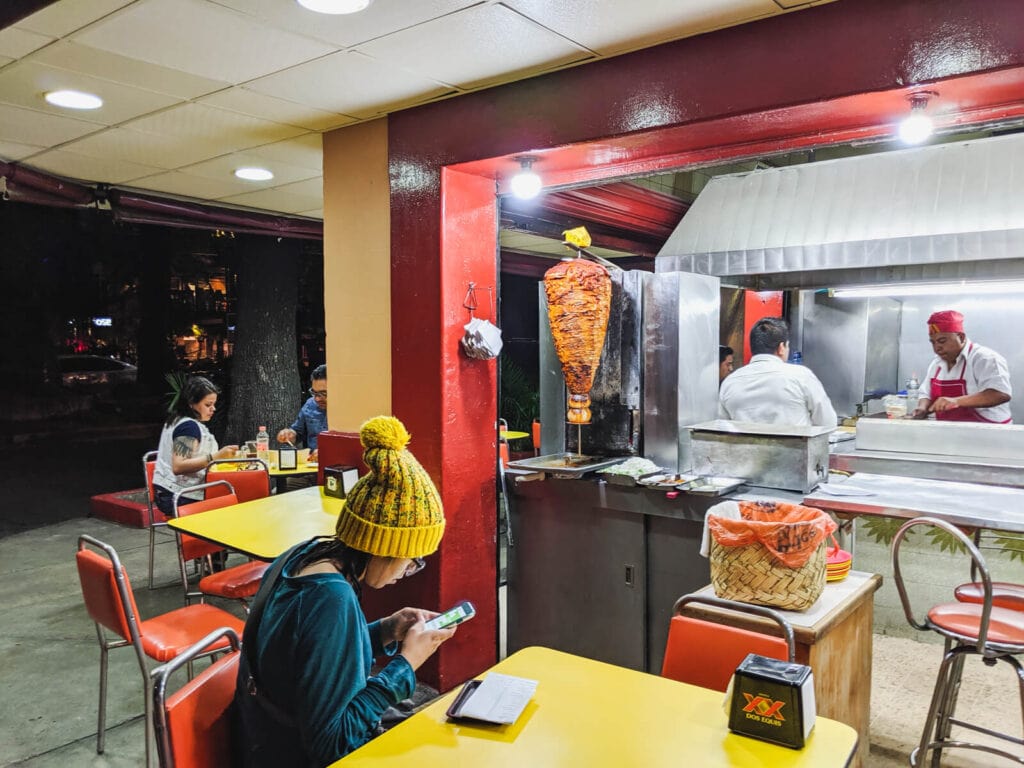 El Kalimán
Address | Ensenada 74
Order | Tacos al pastor
El Kalimán is just a block from El Tizoncito, so be a glutton and hit them up back to back. I tried their al pastor but I'm sure whatever you order will be great! They're supposed to have great charro beans and volcanes.
El Kalimán is a great late night spot. Had a few too many mezcales? Stumble over to El Kalimán and fill up on tacos and aguas frescas to counteract the damage!
Taquería El Greco
Address | Av Michoacán 54
Oder | Tacos Doneraky
El Greco is such a tiny hole in the wall (in the best sense of the word) that we walked right by it when we were looking for it!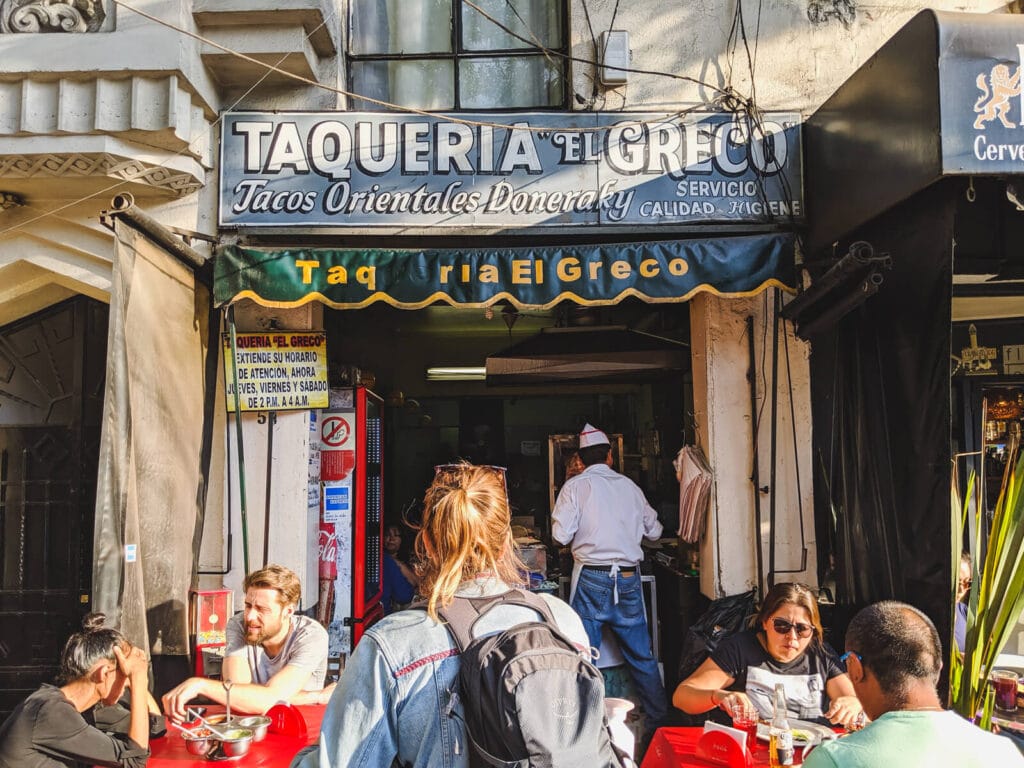 When we finally turned back and found it we were lucky to grab a table as someone was leaving.
It's tiny so if you want a seat, try to come in off hours.
This Middle Eastern taco shop naturally grills their pork on the classic shawarma-inspired trompo (spit).
Order the house specialty, the Tacos Doneraky on pita bread. Chase it down with a Mexican Coke!
Tacos Hola
Address | Amsterdam 135
Order | You tell me!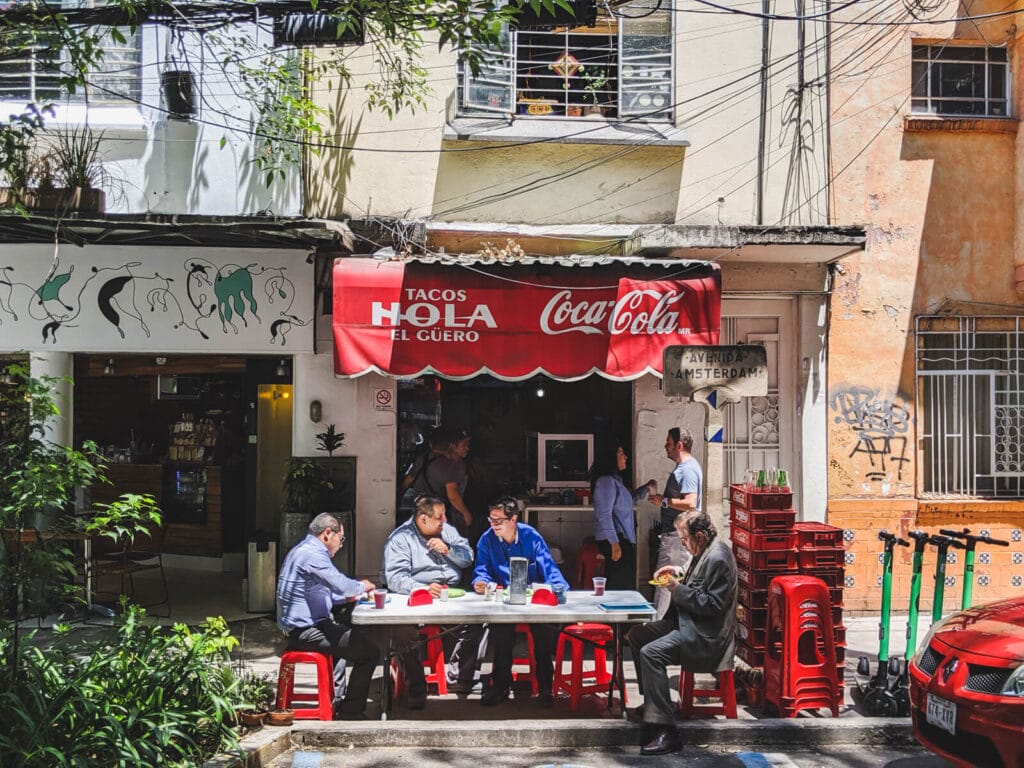 This is the only taqueria on this list that I haven't actually tried.
I searched for it and failed, only to stumble upon it on my last day (after a huge breakfast when I was, alas, too full to eat).
Do you know where it was? Right around the corner from where I was, epic fail on my part.
I can't personally recommend anything here but I read that their most popular tacos are hígado encebollado, chorizo con papa and chile relleno.
Have you been? Should I go next time?
The Best Tacos in Roma
Despite being right next door to Condesa, we didn't spend much time here.
However, we did go out of our way to get to Roma one afternoon in search of one highly recommended taco spot.
Orinoco
Address | Av. Insurgentes Sur 253, Roma Nte.
Order | Tacos al pastor, Costra de res
Last but not least, ORINOCO.
Orinoco was my favorite!
Their tacos were a bit bigger than the others on this list so two were enough for me (ordering one with cheese probably helped too).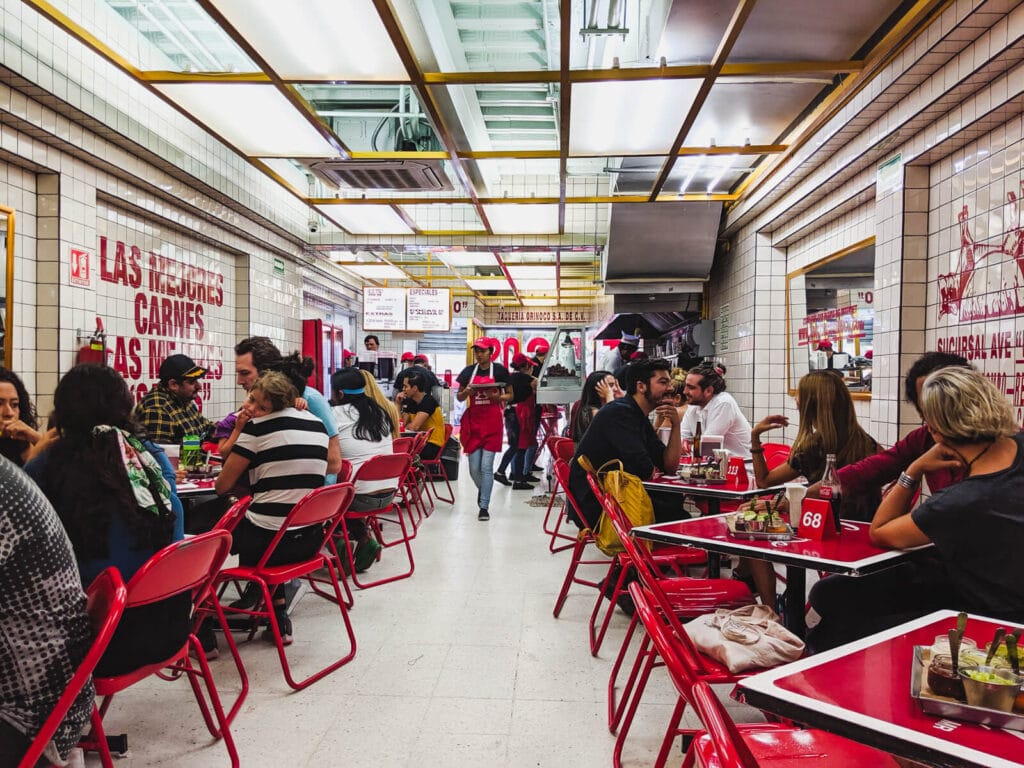 We walked in and came face first with the biggest trompo de pastor that I have ever seen.
They clearly go through a lot of tacos here!
The pastor, as always, was perfect. There's something about that pineapple and pork that feels refreshing and satisfying at the same time.
At my local friends' recommendation we also got a Costra de Res (beef with cheese).
The Costras are any taco on the menu but with cheese, and boy are they generous with the queso.
They toss the cheese straight on the grill so it's gratinated to perfection.
The meat is put directly on the taco and the cheese is on top, dominating. If you consider yourself a fan of cheese (and who isn't?), get yourself a costra.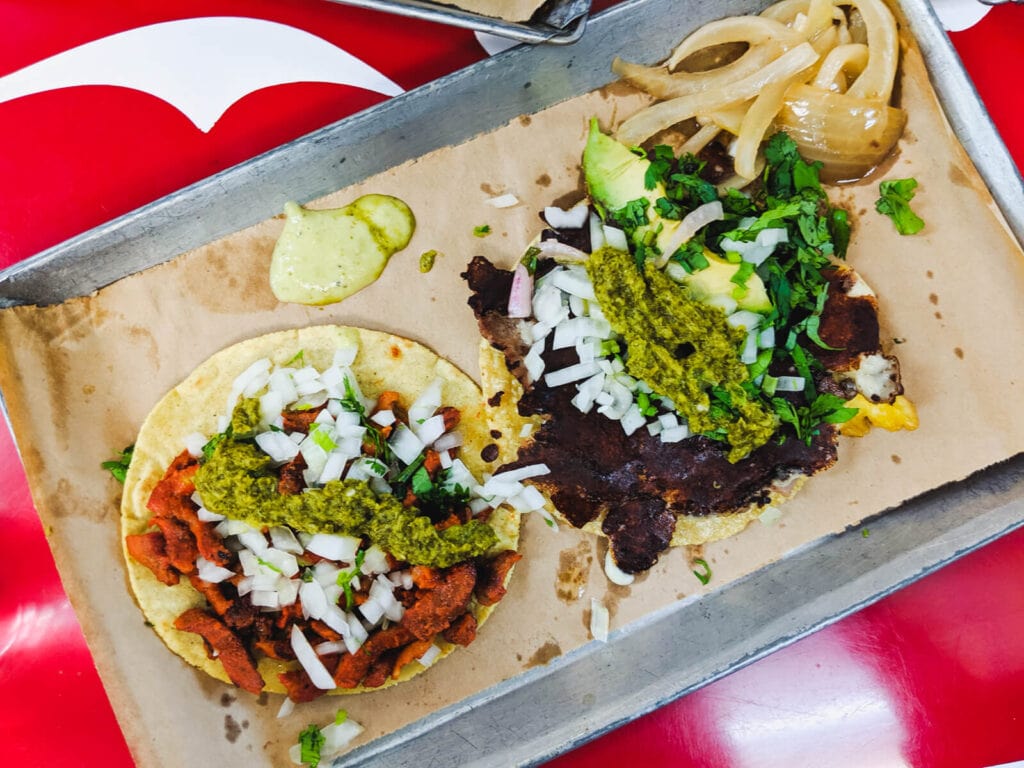 Other highlights at Orinoco: The sauces!
They had the best sauces out of anywhere we tried. My favorite reminded me of pesto but made from cilantro instead of basil. I'm on a mission to re-create this.
The table next to us ordered a Gringa and I felt legitimate food envy (I think the point is no matter what you get here, it'll be great).
Orinoco also famous for their tiny baked potatoes.
You can order a side order of 5 but some dishes come with them included (if you order three tacos and the gringas, for example, ask when you order!)
The Taco Map
Here are all the taquerias mentioned in this post, plotted out for you to strategically plan your own personal taco crawl in Mexico City. Eat responsibly.
MEXICO CITY TIP: Schedule a Flytographer Photo Shoot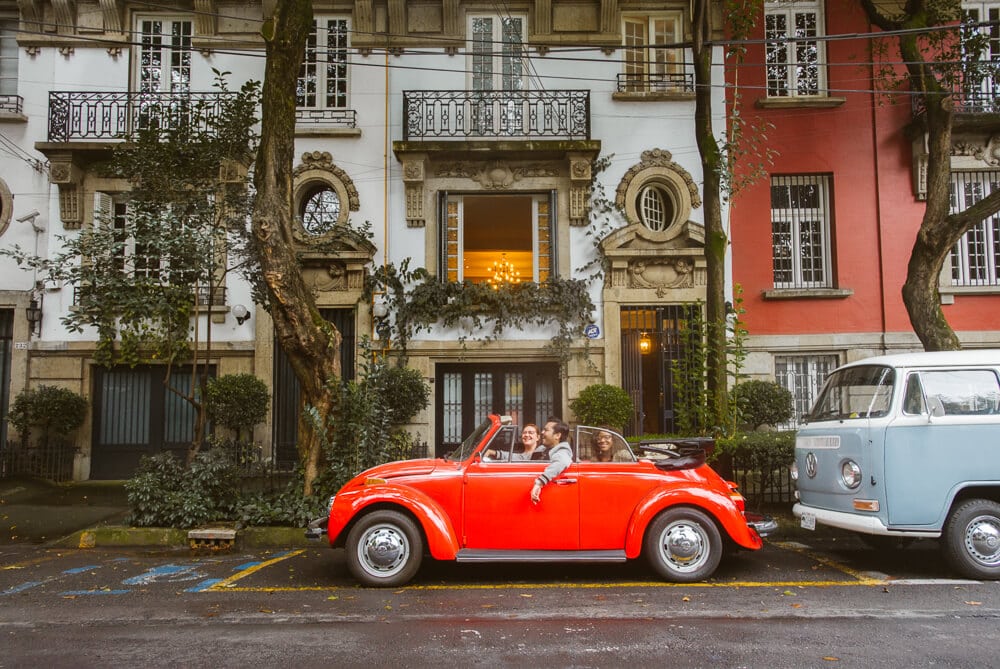 For memories that will last a lifetime and make your family photos stand out (and your Instagram pop), I recommend scheduling a professional photo shoot with Flytographer.

Their photographers are incredible, they're used to working with tourists like us and I bet they'll be able to give you local tips like their favorite taco stand, bars, or neighborhoods!

I discovered Flytographer ages ago but didn't actually try it until recently here at home in Argentina (see my pictures here).

I wish I had known how fun it is when I was in Mexico City because its beautiful streets are MADE for it. Next time I'm there I will definitely do this!

Click here and get $25 off your first shoot.
Mexico City's Best Tacos
These are my favorite tacos in CDMX.
Since I know I'll be back again in the future, let me know where I should go next!
Comment below with your favorite Mexico City taquerias and I'll add it to my list.
Read More about Mexico City:
PIN IT FOR LATER