Beaches and caipirinhas may be what come to mind when you think of the best things to do in Brazil, but there is so much to see and do in this diverse destination.
From the endless sand dunes to jaguar photographic safaris, Brazil has a lot to offer.
In fact, while living in Argentina it's always been my husband and I's favorite destination.
Brazilians are contagiously happy, the food is incredible, and the natural wonders are breathtaking.
We've focused mainly on the beaches (because let's face it, Argentina's beaches aren't exactly a tropical paradise). And current events and personal events (a.k.a. having babies), we haven't been able to escape to Brazil like we'd normally do.
So I've turned to the experts and asked my fellow travel writers to write about their favorite beautiful places to visit in Brazil.
It's inspired my future trips and I know it will do the same for you.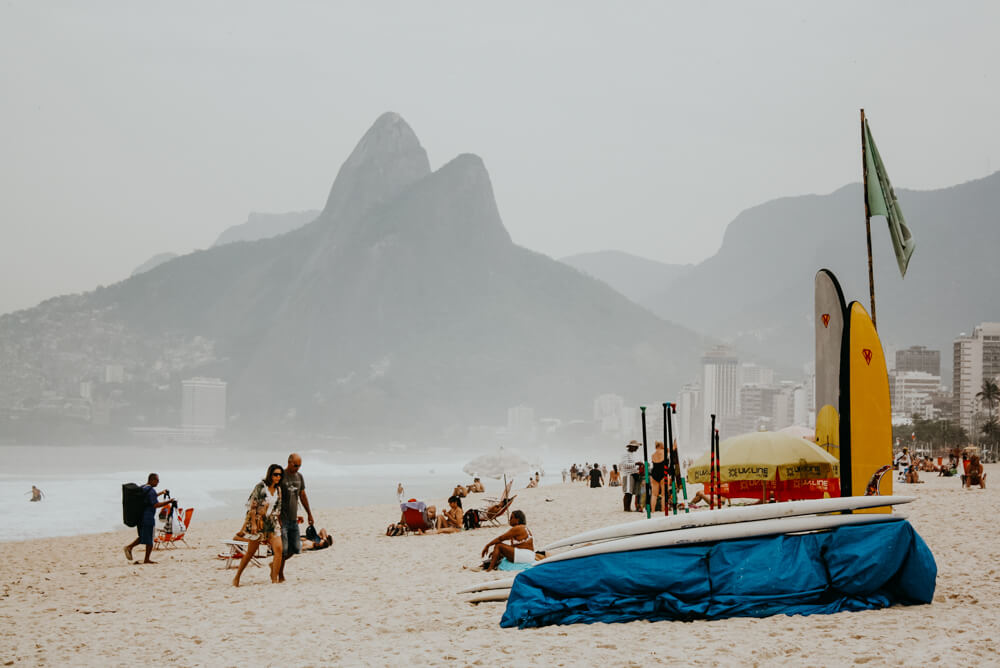 QUICK NOTE: This post contains affiliate links and Sol Salute may receive a commission for purchases made through these links, at no extra cost to you.
Beautiful Places to Go in Brazil
Here are some of the best places to go in Brazil, from those who know – travel bloggers and writers like myself who have explored the country's best beaches, cities, and hidden wonders.
Rio de Janeiro
Submitted by Stephanie from The Unknown Enthusiast
Rio de Janeiro is an absolutely showstopper city in Brazil.
It's the second largest city in Brazil, situated right on the coast, and is home to one of the 7 wonders of the world, two world famous beaches, and carnival celebrations to rival any other!
Most people arrive in Rio de Janeiro via Rio Galeão Airport (mostly for international flights) or Santos Dumont Airport (mostly for domestic flights).
4-5 days is a great amount of time to see the main sites in Rio.
The city is pretty spread out along the coast and between the hills and mountains that the city just builds itself around.
You can take the metro, bus, Uber, or taxi to get around – all of these are inexpensive and easy to use options!
When visiting Rio, you can't miss top sites like the Christ the Redeemer statue that stands tall on Corcovado Mountain, or take a cable car to the top of Sugarloaf Mountain.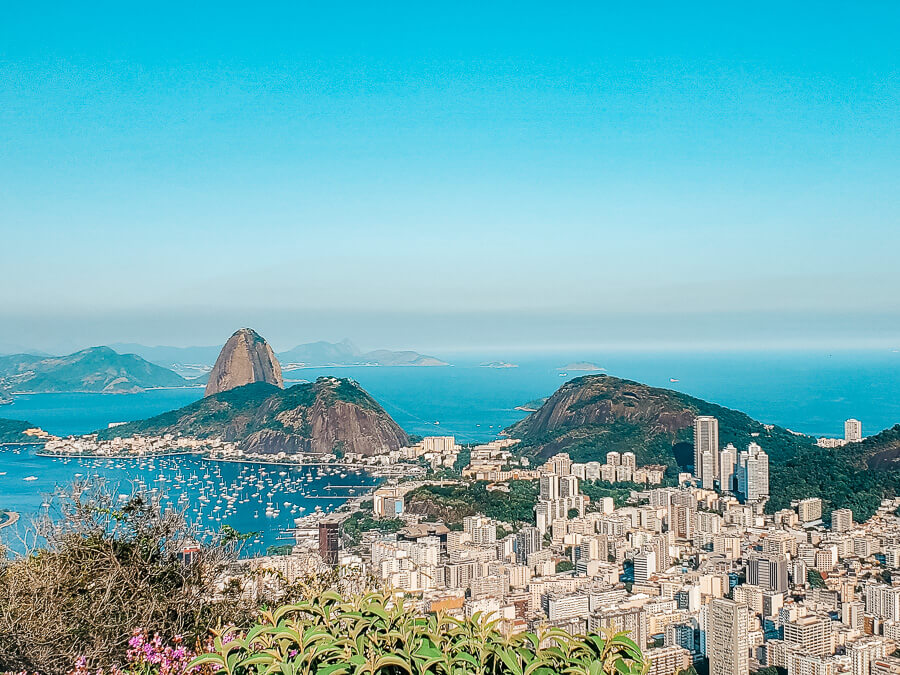 PRO TIP: An important Rio de Janeiro travel tip is to visit Christ the Redeemer first thing in the morning for low crowds and Sugarloaf at dusk for sunset views. 
Visit the famous Copacabana or Ipanema beaches that stretch for miles along the south end of the city.
Vendors regularly walk by selling drinks and snacks, and people are always out playing football (soccer) or volleyball. 
In Centro, you can check out many old, ornate, historic churches, or visit the swoon-worthy Royal Portuguese Reading Room.
If you're a museum person, check out the Museum of Tomorrow or the Museum of Fine Arts. Near Lapa, you can find the colorfully tiled Selaron Steps, the white Lapa Arches, and the futuristic-meets-Mayan-temple Metropolitan cathedral. 
Finally, for a fun experience, visit the Sambadrome to see dancers practicing samba for the next carnival, or go to a futbol game at Maracana, the main stadium in Rio. 
Rio definitely delivers the epic viewpoints, beautiful beaches and nature, and no end to sites and attractions to experience! 
Ilha Grande
Submitted by Alya from Stingy Nomads
Ilha Grande is a proper paradise in the state of Rio de Janeiro, in the south of Brazil.
It is a small island covering a total area of 190 km². The island is famous for its picture-perfect white-sand beaches, crystal-clear warm water, and lush-green tropical jungles.
The best beaches on the island are Aventureiro, Lopes Mendes, Parnaioca, and Bananal. Lagoa Azul and Lagoa Verde are two great places for snorkeling 
There are no roads or cars on the island. Boats are the only way of transportation between villages and beaches. Ilha Grande has a wide network of hiking trails covering the entire island.
Walking around Ilha Grande is the best way to explore the island. It takes about a week to complete the 70-kilometre route stopping every night at different beaches.
If you don't have enough time to complete the circuit you can do day hikes to different parts of the island.
The Abraao to Pico do Papagaio trail is considered to be the toughest route on the island. It takes hikers to the highest peak on Ilha Grande Pico do Papagaio (900 m) with breathtaking views.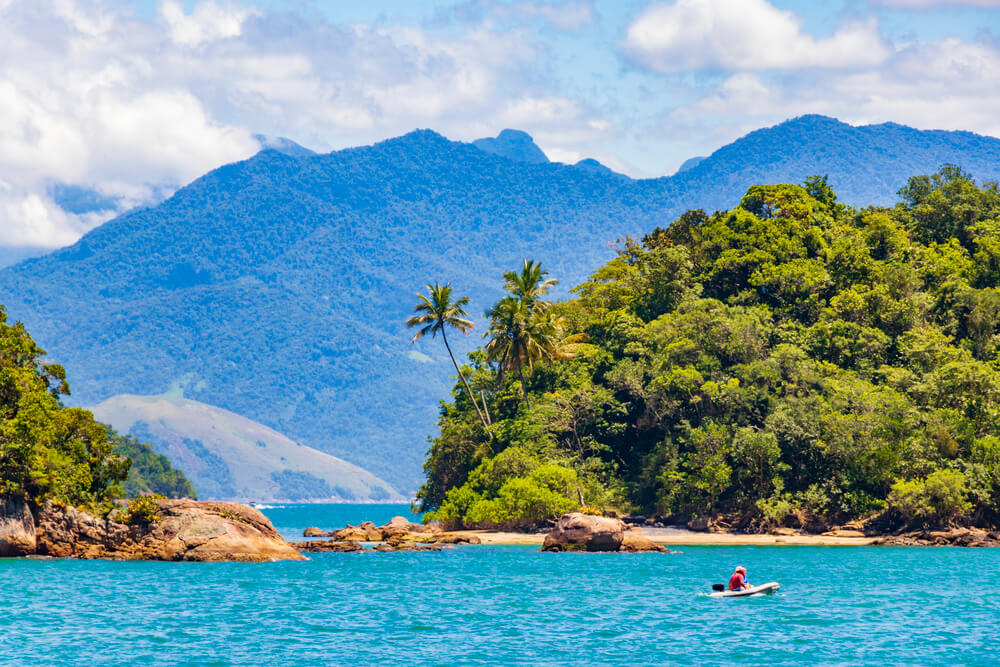 Surfing is another popular activity on Ilha Grande. Lopes Mendes Beach is known for having the best waves on the island.
Snorkeling in the clear and warm water is a not-to-miss activity on Ilha Grande. Green Lagoon and Blue Lagoon are the two best spots for snorkeling filled with marine life. 
You can get to Ilha Grande from the mainland by boat or by local ferry. A boat trip takes 30 minutes. A ferry journey – 1 hour.
Abraao is the main village on the island with the most accommodation options including a couple of campsites, shops, and restaurants. The local ferry and boats arrive in Abraao.
Paraty
Submitted by Sean from Living Outlau
Perhaps one of the most beautiful places in Brazil is Paraty, a small town located between the two mega cities of Sao Paulo and Rio de Janeiro.
Situated on the eastern coast of Brazil, Paraty is a town that has it all. Of course, it has the stunning soft sand beaches and lovely water that Brazil is known for. But Pararty is also known for its mountains and forest that surround this tiny town. In fact, its surrounding is home to 4 areas of the Atlantic Forest.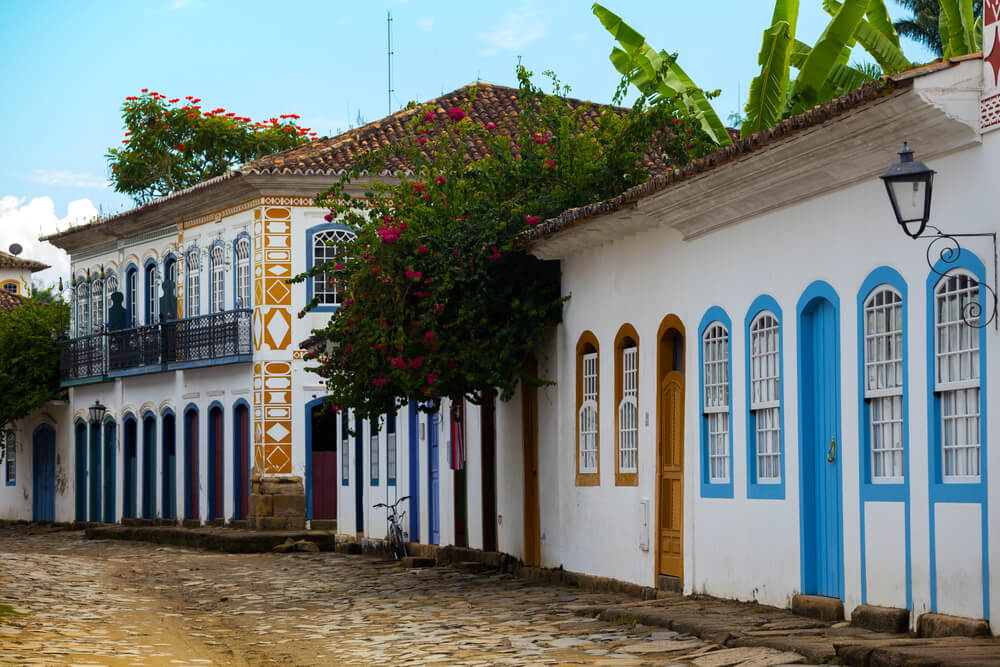 That isn't all, Paraty is a small colonial town with plenty of history and gorgeous colonial-style buildings. Walk down the historic center and you'll find idyllic cobblestone streets that take you back in time.
Historically, Paraty was a very busy port due to the gold mines and coffee plantations. With that much history and natural wonder, it is no wonder why Paraty is a UNESCO World Heritage Site.
Getting there is not the easiest, since the airport in Paraty itself isn't very reliable.
The most popular way to get there is by taking a long-distance bus from either Sao Paulo or Rio de Janeiro.
It is quite a few hours away by bus but the trip traverses through beautiful forests and epic coastlines. When you arrive, don't forget to take your time to explore everything it's known for – from the beaches to the historic centers and Atlantic Forests!
That is how you can truly appreciate the beauty of this small seaside Brazilian town!
Jericoacoara
Submitted by Dan & George from Backpacking Latin America
Located in the northern state of Ceará, Jericoacoara is one of those last few paradises to be visited in Brazil.
Whilst tourism has found its way in, it still retains an authentic feel as well as housing some truly incredible, natural landscapes.
What makes this small town special is its huge rolling dunes that meet with the blue Atlantic Ocean. You can go for a walk along these, and also watch the deep red sunsets on top of the dunes for a truly unforgettable experience.
Another popular activity is to hire a buggy and explore these yourself, which from Jericoacoara seem to stretch endlessly along the coast and into the horizon.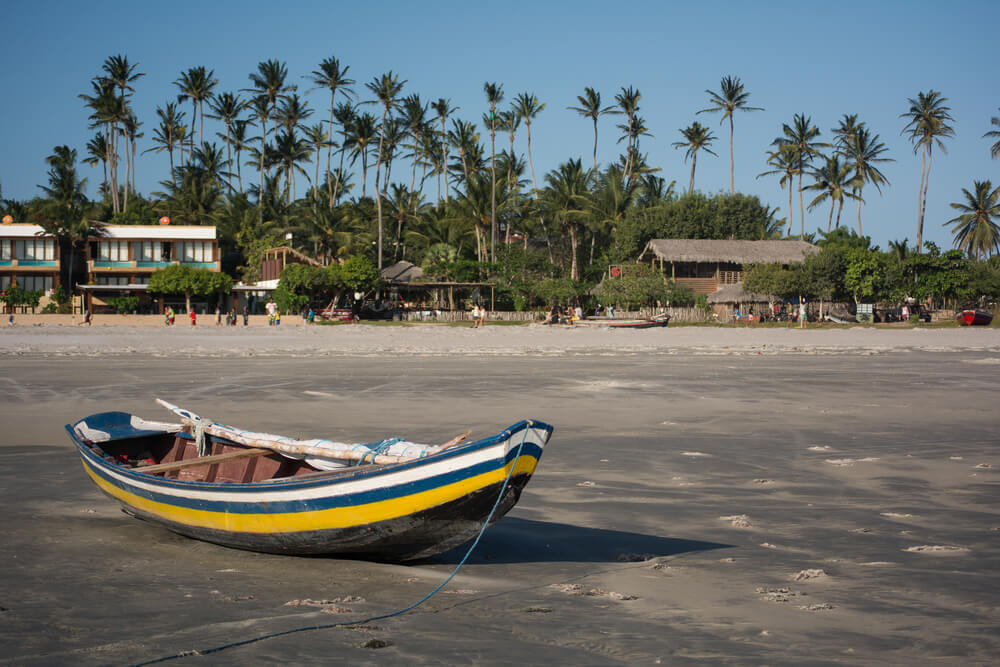 Some of the other best things to do in Jericoacoara include walking the coastal cliff path to Pedro Furada, a breathtaking natural rock formation.
Along the way, you'll also see some natural caves, sand dunes, and remote beaches (much better than taking the boat tour in our opinion).
At night be sure to head to the main strip, where you'll be able to try out some locally made Caipirinhas and dance the night away to both Samba and the locally popular Forró dance.
Getting to this small town isn't the easiest feat, however, this is what makes it so special (and helps to keep its secluded feel).
You'll first need to fly into Fortaleza, and from here take the 6-hour bus from the bus station to the town of Jijoca de Jericoacoara (not the same place to avoid confusion).
Once you get off you then need to take a 4×4 to the beach town of Jericoacoara, which waits for you as you get off the bus.
Overall this hidden beach town is one of the most beautiful places to visit in Brazil with those spectacular dunes, and also some natural beauties along its coastline
Lençois Marenhenses 
Submitted by Sophie and Adam of We Dream of Travel
No list of the top Brazil attractions would be complete without the natural marvel that is Lençois Marenhenses.  
Spread out over 383,000 acres on the north coast of Brazil, Lençois Marenhenses provides a seemingly endless expanse of undulating, windswept sand dunes interspersed with vibrant blue freshwater lagoons.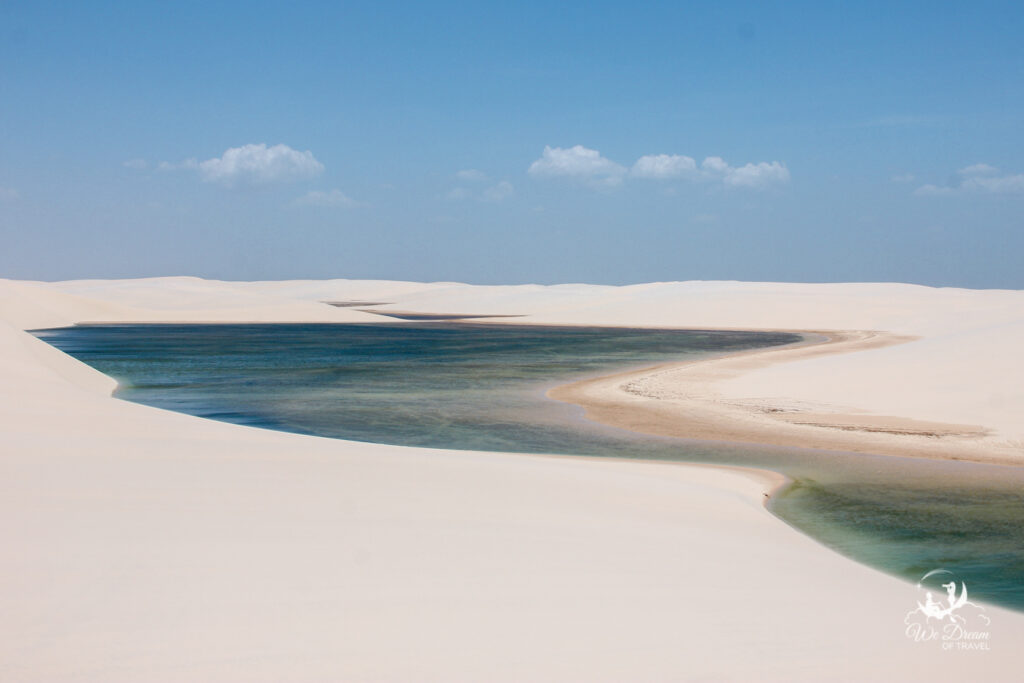 Of all the dream destinations in the world to visit, this one is truly mesmerizing and is somewhere that should be on everyone's bucket list. 
One of the things that makes Lençois Marenheses such an incredible place to visit, beyond its striking beauty, it its remote location. 
Due to this, it receives less than 5% of the number of visits of the more popular natural attraction Iguaçu Falls.  Therefore, you can experience some solitude within this natural wonder.
However, this does also mean that access can be somewhat more difficult.  Because of this, the best way to explore is through a guided tour on a buggy or jeep. 
As the lagoons are seasonal, your tour guide will take you to the lakes with the most water depending on when you visit. 
One of the best things to do here, besides admiring the dunes, is to take a refreshing dip in one of the lagoons so you want to ensure you have someone that can take you to the fullest lakes!
If you prefer even more of an adventure, you can opt to visit by horseback, quad bike, or even on foot at certain times of the year.  
The best time to visit Lençóis Marenhenses is between June and September when the lakes are fuller and the weather cooler.
Jalapão
Submitted by Paula from Paula Pins the Planet
Jalapão, Brazil is without a doubt one of the most beautiful Brazil places to visit. It covers an area of 159,000 hectares and is located within the state of Tocantins. 
To get to Jalapão you'll first need to fly into one of Brazil's main airports – either Sao Paulo or Rio de Janeiro. You'll then need to catch a domestic flight to the city of Palmas which is also found within Tocantins State. 
From there, it's about a six-hour drive to Jalapão but it's worth the effort. This beautiful destination in Brazil is full of natural beauty, hidden gems, and untouched wilderness.
To get the most out of your visit, you'll want to spend at least 4-5 days here as this isn't a place you want to rush.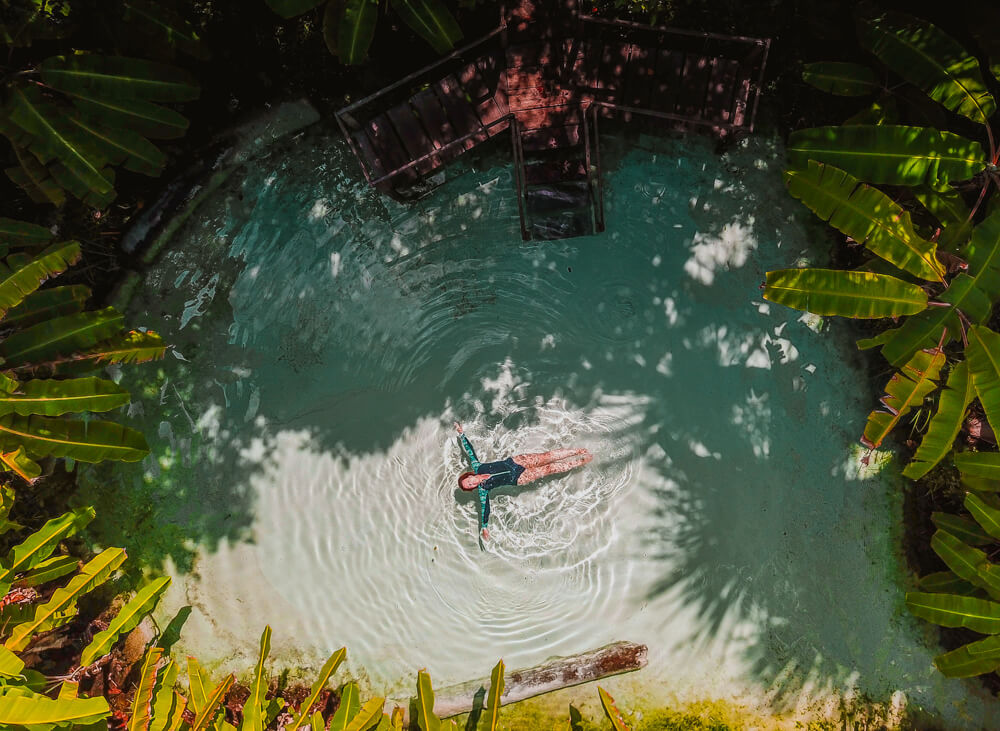 Firstly, to appreciate the area's stunning landscapes, there are a couple of places you need to visit. Make sure to visit Cathedral Hill, Espirito Santo Hill, Jalapao dunes, and Sussuapara Canyon. 
There are also plenty of beautiful waterfalls in this part of Brazil including Aras Waterfall, Lajeado Waterfall, and Vehla Waterfall. 
You'll also want to spend some time at Japones Lagoon to admire its clear waters and underwater caves. 
However, the highlight of visiting Jalapão has to be the freshwater boilers (or fervedouros, as they're sometimes known).
These fervedouros are natural pools of water that are situated over a spring. Due to the pressure of the water below pushing upwards, you can't sink in these pools which means you can just sit back and relax.
It's the best way to admire the beauty of Jalapão and there are plenty of them to be found throughout the region.
With spectacular scenery, stunning waterfalls, and freshwater boilers, you just have to visit Jalapão, one of the most stunning tourist attractions in Brazil! 
Ouro Preto
Submitted by Laura at Laura the Explorer
Ouro Preto is a must visit location on any trip to Brazil. Though only a small colonial town located in the interior of Minas Gerais state, this place is packed with history and architectural charm.
Ouro Preto, which literally translates to Black Gold, was at the center of the Brazilian Gold Rush in the 1700s. 
Now a UNESCO World Heritage site, the town can be explored easily on foot through the well-preserved colonial streets, however be aware that as this town is perched on a hillside, and a lot of up and down walking is required!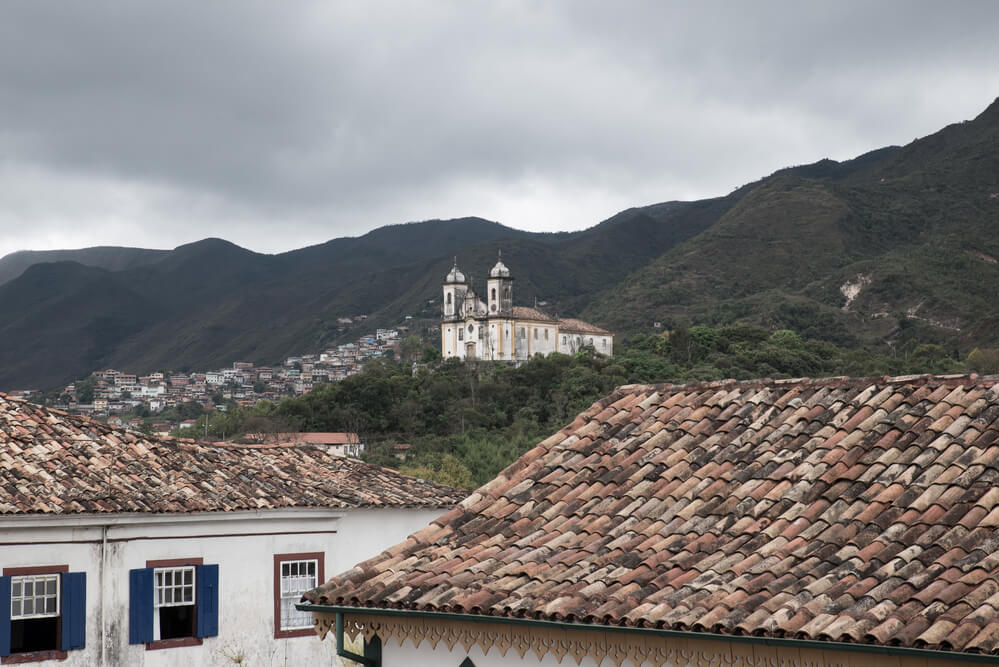 Make your way around the many Portuguese Baroque style churches, such as the beautiful Church of St Francis de Assisi, and prepare to be mesmerised by the ornate interior.
There's no wonder it's listed as one of the Seven Wonders of Portuguese Origin in the World. 
Down below the church you'll also find an incredible artisanal market, but don't write this off as a regular town market. Many unique items produced from materials in the local mines can be discovered here. 
To get closer to the roots of Ouro Preto, it's also possible to take a tour of the old gold mines and learn more about the reality of mining, colonialism and the atrocities of slavery in the forming of Brazil.
Ouro Preto can be easily reached by bus from the main centers of Belo Horizonte (2-3hr bus) or Rio de Janeiro (8hr overnight bus).
One or two nights are a good amount of time to fully explore the town, and a full range of hostels, pousadas and hotels are available. Avoid visiting on Mondays when many attractions are closed.
Bonito
Submitted by Marjut of The Smooth Escape
Bonito is known as the eco-tourism capital of Brazil and is a real paradise for nature lovers.
Located in the southern part of the country, close to the Paraguayan border, this small town and its surrounding areas boast countless natural marvels – from waterfalls and caves to crystalline rivers and exotic wildlife.
If you enjoy going on adventures and spending time outdoors, make sure to include Bonito in your Brazil itinerary!
One of the most iconic activities in Bonito is taking a snorkeling tour along the crystal blue Prata River. Its calm shallow waters are home to abundant aquatic life and will make you feel like you're in a giant aquarium. 
Besides swimming in the wonderful rivers, you should also visit some of the area's breathtaking waterfalls. At Estancia Mimosa, you can take a tour that passes by 10 different waterfalls, each more beautiful than the last.
Make sure to also visit the ethereal 156-meter-tall Boca da Onca (Mouth of the Jaguar) waterfall and keep your eyes open for toucans, scarlet macaws and monkeys.

Those looking for an adrenaline rush should consider rappelling down into the Anhumas Abyss. This huge cavern is the size of a football field and hides an impressive array of stalactites.
There's also an underground lake where you can go scuba diving or snorkeling.

Be aware that for almost all the nature activities in Bonito, you have to take a guided tour. This is to preserve the pristine ecosystem, avoid overcrowding and ensure the safety of the visitors.

The easiest way to get to Bonito is to fly from Sao Paulo. The journey takes around 2 hours.
Galinhos
Submitted by Yulia of MissTourist
If you are looking for a beautiful and authentic place to visit in Brazil, you cannot miss Galinhos.
Sandwiched between a stunning sandy beach and a uniquely salty river, this quaint, untouched village has everything you need whilst keeping life simple. 
Enjoy freshly caught oysters, take boat trips, relax on the beach, try kitesurfing, spot wildlife hiding amongst the mangroves, explore the sand dunes and salt flats, and simply enjoy the strong sun and stunning sunsets in this absolute paradise!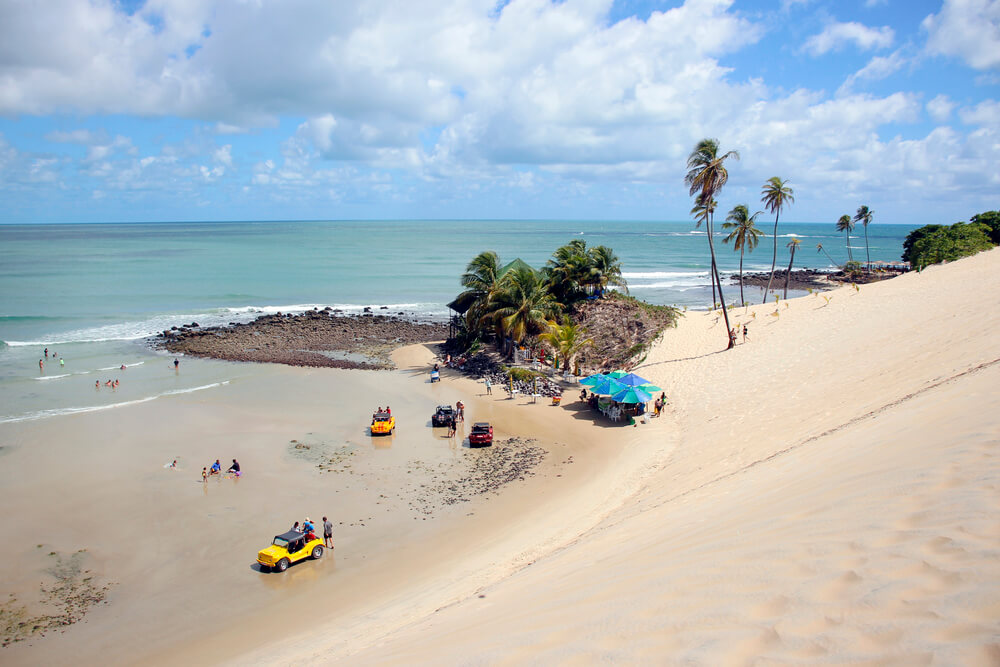 To get to Galinhos, you will first need to fly into Natal airport. From here, it's a 150km bus ride to Pratagil from where you will take a 10-minute boat ride to the small town of Galinhos.
Galinhos is a vehicle-less town so to get around here you will have to walk, take boats, or ride what they call "donkey taxis" (old school horse-drawn carts). 
The best time to visit is between August – December when the sun is practically guaranteed every day. However, the temperature in Galinhos stays relatively the same year-round with temperatures between 25 – 30 degrees Celsius.
The rainiest months are March and April when the area sees around 150 mm of rain per month, but this is still a minimal amount when compared to other towns in the region. 
Exploring Galinhos is best done on boat tours, the boat trips which are offered by a number of locals every day take you to all the best natural attractions and sites in the area and can coordinate many different adventures such as dune buggy rides and live oyster diving.
If you're a fan of seafood, it's quite the experience to see someone catch oysters in front of your eyes which you will then enjoy with lunch! 
Iguaçu Falls
Submitted by Sarah of A Social Nomad
The world's largest waterfalls, Iguaçu Falls are located right at the border of Brazil and Argentina.  The falls are taller than Niagara Falls, wider than Victoria Falls and consist of 275 falls along 2.7 kilometers of the Iguaçu River.  
They are one of the wonders of the world and are unique in that you can view them from two countries, both Brazil and Argentina.   
More than 80% of the falls are on the Argentine side of the falls but visiting the falls from both sides gives a unique perspective.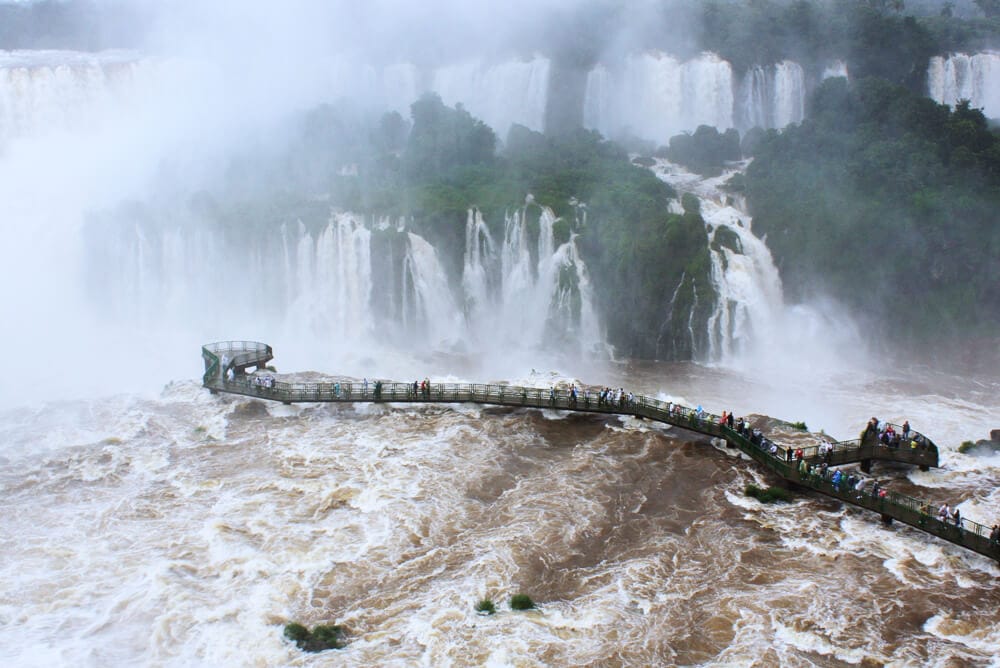 You can take a day trip from either country (assuming you can from a visa perspective, but you may need proof of onward travel to provide to immigration to enter Argentina). 
There are buses that run from the transport station for 4 Reals.  These buses will wait for you at immigration as this is a regular trip taken between the two countries.  
To visit Iguacu Falls from Brazil, the easiest way to get there is to fly to Foz do Iguacu international airport.  The airport is just a 5-minute drive from the Brazilian side of the falls.  
The Brazilian side of the falls provides for panoramic views of the falls, while the Argentinian side lets you get up close and personal (and consequently very wet) to the power of the water.  
In Brazil at the ticket office, you'll take a bus to the beginning of the waterfall trails and then follow the trails around, returning to the bus when you're finished.  It's best to go early (the buses start at 9 am) to avoid the crowds and also the heat. 
Keep Reading: A Guide to Visiting Argentina's Iguazu Falls
The Pantanal
Submitted by Daniel and Ilona from Top Travel Sights
The Pantanal is one of the most beautiful places to visit in Brazil. Located in Western Brazil, near the Bolivian border, it is the world's largest tropical wetland area.
Here, you can see capybaras, coatis, tapirs and even the elusive jaguar.
The best way to visit the wetlands is by joining a guided tour. The Pantanal is huge, and the accessibility of many dirt roads depends on weather conditions.
An experienced guide can help you get around. Plus, guides know where to find the best wildlife.
They can take you to those rivers where you're most likely to see capybaras, they know where the macaws hang out, and, if you want to, they can even track down a jaguar with you.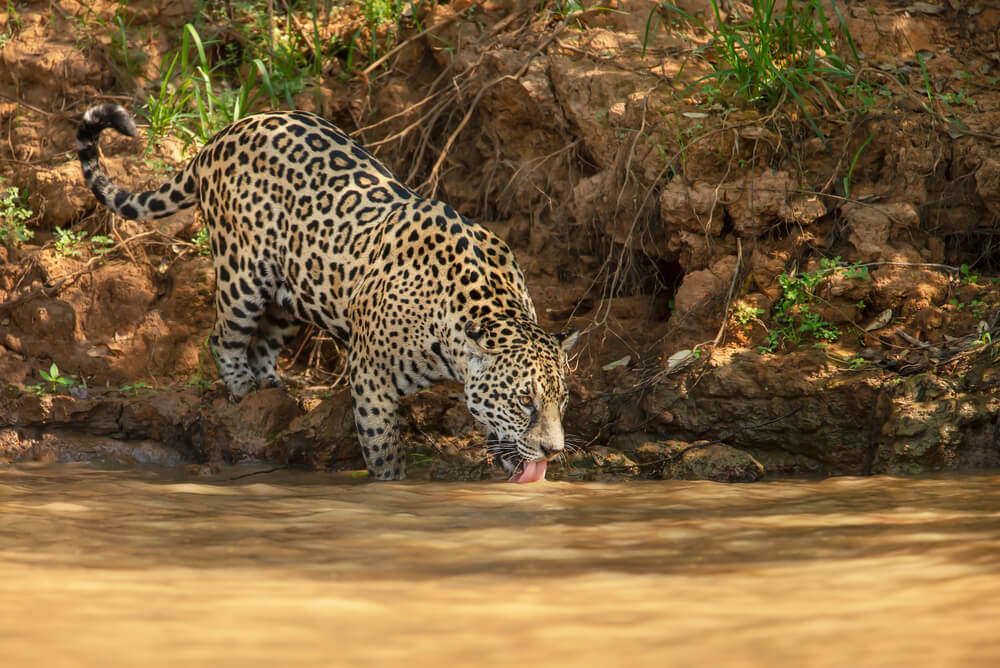 Besides game drives, where you try to find birds and mammals that live on dry land, you should also join a boat tour. You'll likely see caimans, otters and many birds on the Pantanal rivers.
In some areas, you can even find piranhas.
The Pantanal is also fabulous if you want to try horse riding or enjoy going for long walks. Guides can help you arrange these activities, or you can ask at your lodge. Many lodges provide horses for travellers who are interested.
One of the highlights of a trip to the Pantanal is seeing a jaguar or a jaguarundi, a feline that is even more elusive than the jaguar.
If you want to increase your chances of spotting one, consider going to Porto Jofre. The area around here has the highest jaguar population, and your guide might find one for you.
Diamantina
Submitted by Pedro from Travel With Pedro
Diamantina is a beautiful historic town located in the state of Minas Gerais. The city was founded in the early 18th century and was one of the main diamond mining centers in Brazil – hence its name.
Diamantina has a very well-preserved Baroque architecture. The city abounds with beautiful houses, mansions and churches that make you feel like you traveled back in time.
Along with the city of Ouro Preto, it's one of the best places to visit in Brazil, if you're looking for history, culture and a nostalgic atmosphere. Diamantina is also famous for its university, so there is a large student population.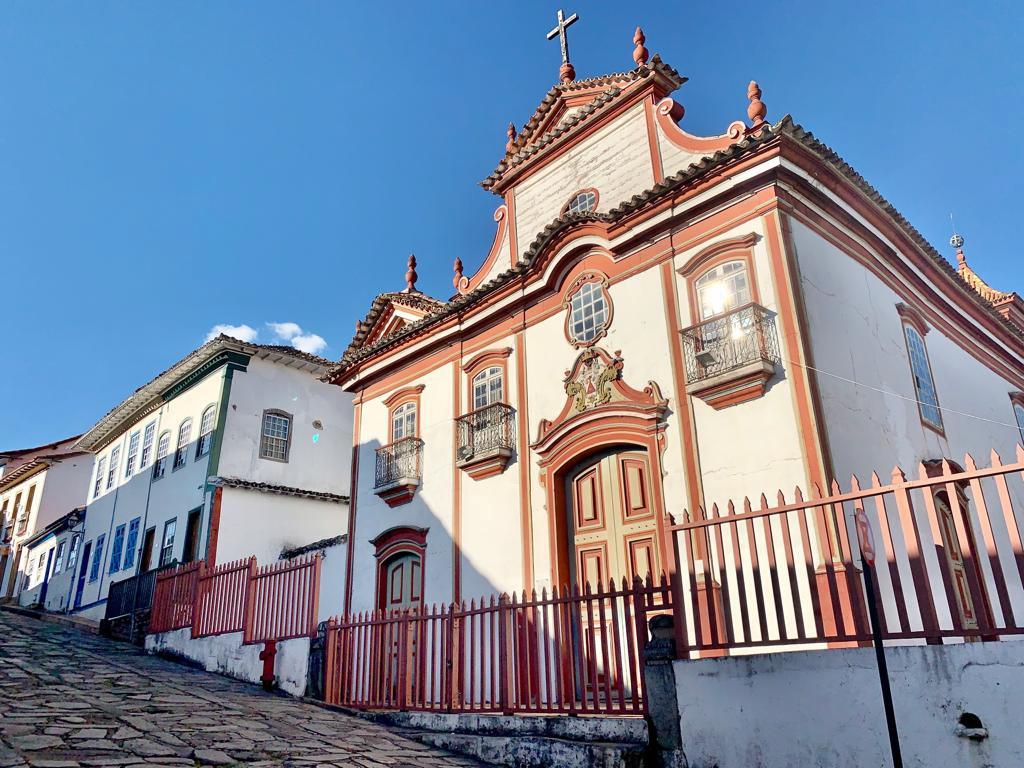 There are many great bars and restaurants where you can drink a good caipirinha (a Brazilian cocktail with lime, sugar and cachaca) or taste a local dish.
The city itself is an open-air museum. If you want, you can just walk around the Old Quarter and enjoy the quaint vibe. Not all churches open every day. They have random opening hours, so you'll have to be lucky to go inside most of them.
Some of the main places to visit in Diamantina include the churches of "Nossa Senhora do Carmo", Saint Francis and "Nossa Senhora dos Pretos".
You should also visit the city market, located on the same site where the slave market used to be. On Saturday mornings, it's a meeting point for local students and you can join them, try local snacks or an ice-cold beer.
Another place to visit is the Casa de Chica da Silva – the mansion of a former slave who was known for her beauty and cleverness who became a very powerful figure in the 18th century. If you have time, you can also go hiking and visit the many waterfalls outside town.
The easiest way to get to Diamantina is by bus from Belo Horizonte, the state capital. The journey takes around 6 hours and you'll be traveling through the famous rolling hills of Minas Gerais.
Arraial do Cabo
Submitted by Cami Neves from Travel Cami
Arraial do Cabo is without a doubt one of the most beautiful places in Brazil. This quaint town is located in the state of Rio de Janeiro, just 2 hours from the city.
It's famous for its stunning landscapes, excellent diving, and crystal clear waters.
To get there, the best option is the bus followed by renting a car to go at your own pace.
The best time to visit is during the summer months when the weather is warmest but winter is also a beautiful time to visit.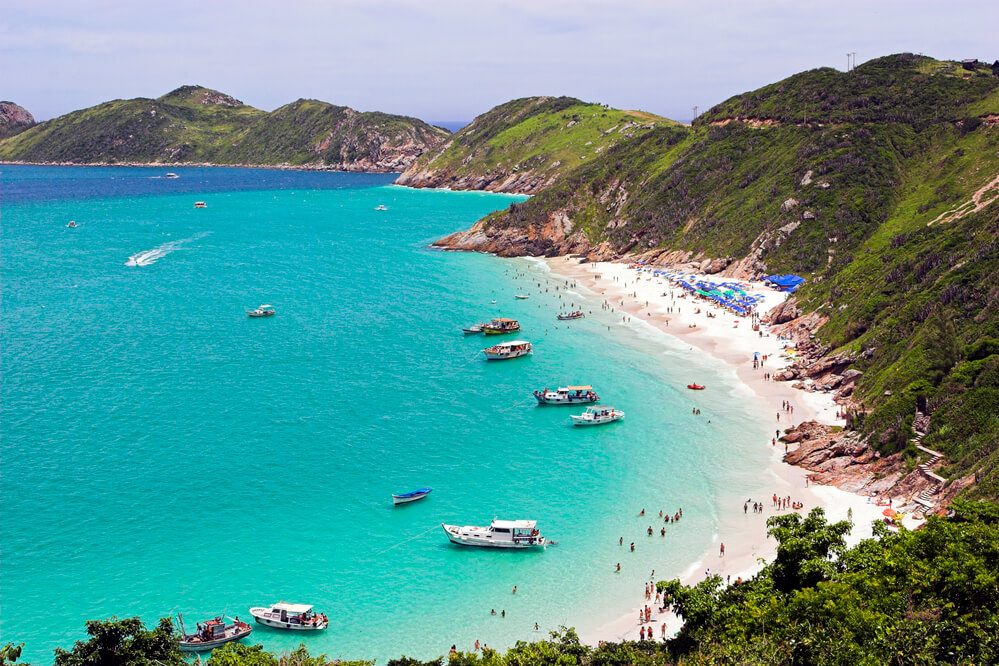 There are many fun things to do in Arraial do Cabo, but some of the most popular activities include swimming, snorkeling, diving, and exploring the many beaches. Keep in mind that the water is very cold.
Hiking is another great activity and there are plenty of trails to choose from. The most popular treks lead to the famous Praia do Forno and to the top of Morro do Arraial.
PRO TIP: The easiest and most recommendable way of seeing all the best beaches on the same day is via boat tour.
Two days in Arraial is enough since the town is quite small, but if you have some extra time you can always go on a day trip to Cabo Frio, a town located nearby.
Boipeba Island
Submitted by Elaine Villatoro from Live More, Travel More
Imagine a paradise island with pristine beaches surrounded by thousands of coconut trees where you can really disconnect to the outside world? 
Boipeba Island is a Brazilian hidden gem. It is part of the Tinharé archipelago, in the state of Bahia.
Getting there is not so easy, and that is the reason why the island is so well preserved. The closest airport is Salvador International Airport (Iata: SSA).
From there, you need to get a ferry or a speed boat to Itaparica Island, and hit the road for about 100km to reach a pier in Valença city, to then get the boat that takes you to Boipeba island.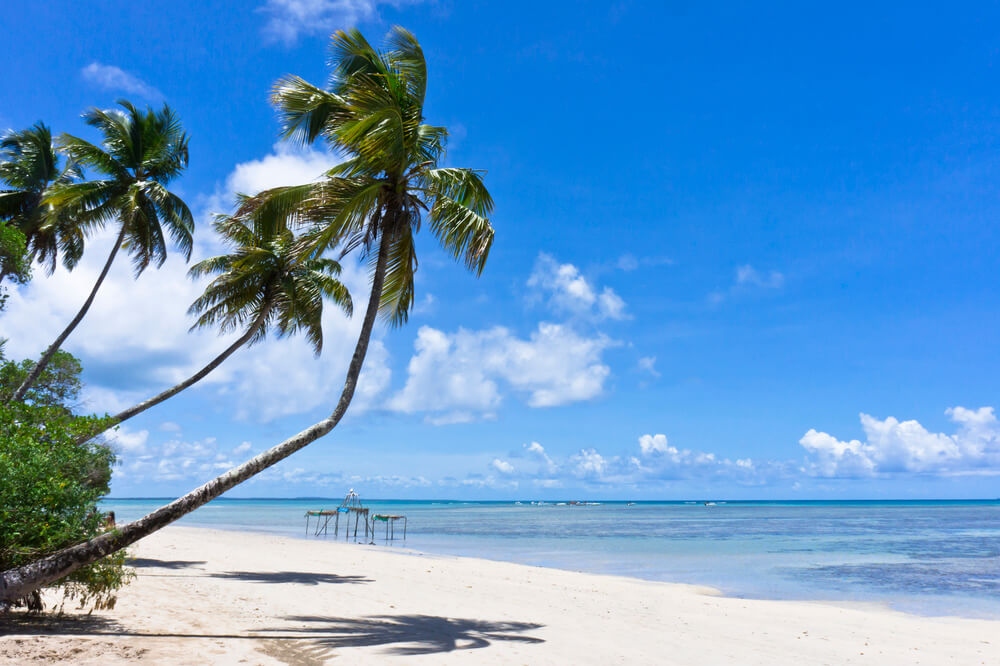 Some people visit this destination in a day tour leaving from Morro de São Paulo island, which is part of the same archipelago, but honestly, I would recommend you to stay in Boipeba for at least 5 days and to divide your stay between Boipeba village and Moreré beach. This way you will get the best of each part of the island.
Among all the beaches, Castelhanos, Bainema, Moreré and Cueira are the most stunning ones.
There are several things to do in Boipeba, such as kayaking in the middle of the mangroves to see bioluminescent plankton, scuba diving or snorkeling in the natural pools, humpback whale watching if you are visiting between July and November, interact with the local community through tours or even during a percussion class.
If you love sunrises, set your alarm and watch it at the Moreré beach. Do you prefer the sunset? Boca da Barra (near the island pier) is the best option.
From April to August is the rainy season in this region, so the best time to visit Boipeba is between September and March.
Bear in mind that between Christmas and Carnaval is the high season so the prices go up.
Salvador
Submitted by Elaine Villatoro from Live More, Travel More
If you like cultural and historical places, the capital of Bahia state is going to blow your mind.
Known for being one of the hot spots for carnaval, Salvador gives travelers the opportunity to learn about the colonization of Brazil, how Africans were brought to become slaves and their culture have resisted through religious syncretism and music.
With warm waters and an annual average temperature between 75° and 80° degrees, this city can be visited at any time of the year.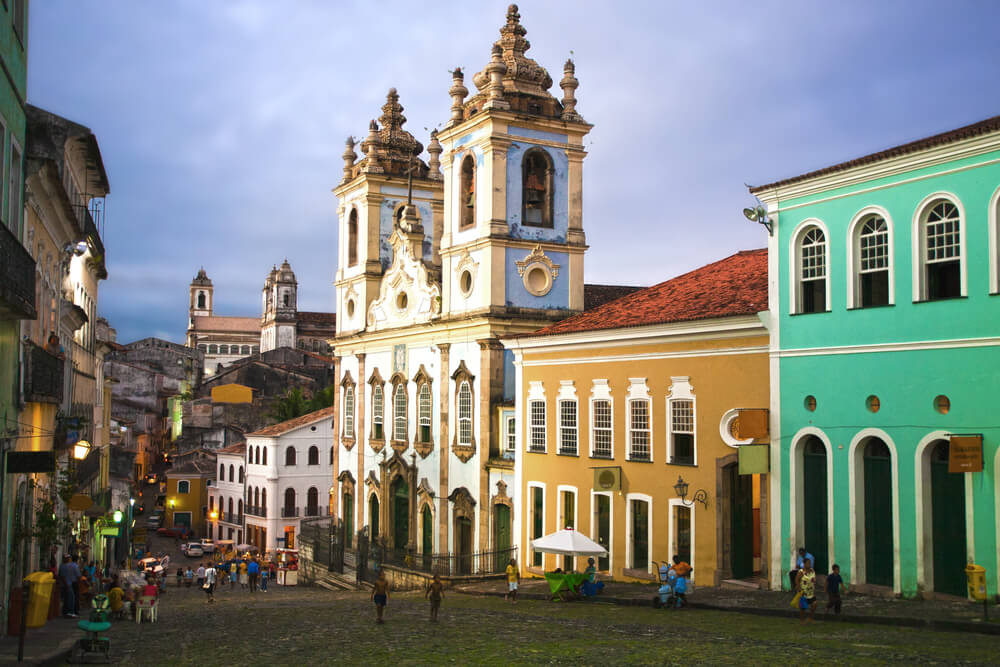 There is an International Airport in the city, but when looking for accommodation, try to stay around Barra and Rio Vermelho neighborhoods, which are fun at night and safer than other places.
Although Salvador has a subway, it doesn't pass by the most tourist attractions, so the best way to go around is by using app-based ride services, such as Uber and 99 Taxi.
Even if you stay for a month, it is going to be hard to do all the things that Salvador offers.
The most popular attractions are a local market called Mercado Modelo, Lacerda Elevator which was the first urban elevator in the world, Farol da Barra (lighthouse) where you have a stunning view during sunset, besides several museums.
You also can't miss the famous Pelourinho, a neighborhood that had a sad history for being a place where slaves were punished, but today is a vibrant location where you can hear drummers playing, watch capoeira games, find amazing traditional food and see happy people all around.
São Paulo
Submitted by Trisha from P.S. I'm On My Way
São Paulo has a bad rep when it comes to safety but I when I traveled to São Paulo solo for 90 days, I realized there is a lot to it than its safety reputation.
It's not the first place that comes to mind when you think of places to visit in Brazil but what's special with São Paulo is there are many varied things to do.
Vila Madalena is my favorite neighborhood because of its young vibe – the best bars in Sao Paulo are here and a majority of the people traveling here are young people.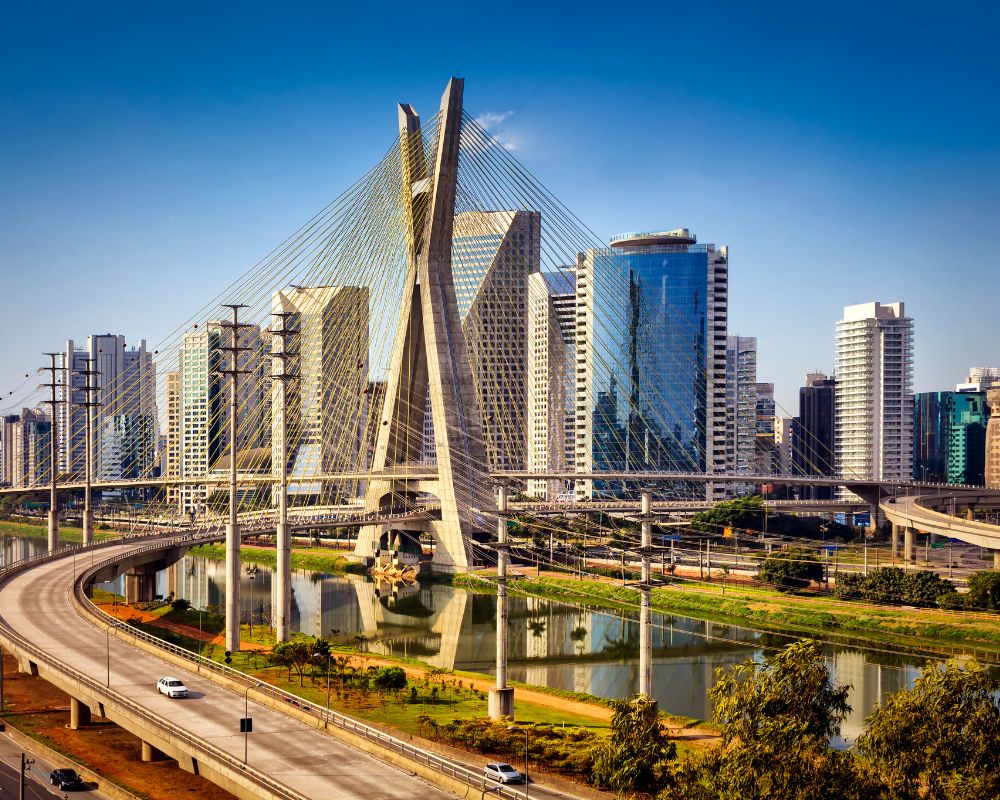 There are many restaurants that are in the World's 50 Best like Mani by the legendary Helena Rizzo. Helena was voted the best female chef in the world in 2014.
Brazilians are known to be voracious meat eaters and there are many rodizios everywhere, an all-you-can-eat-meat buffet popular all over the country. 
In 1908 European immigrants were replaced by Japanese to work for São Paulo's developing coffee industry. As a result, there was a great spike in Japanese immigrants in the 1920s which is very obvious in São Paulo today.
The culture is so mixed that Brazilian-Japanese fusion (in every aspect) has become a big part of the Brazilian culture. So don't feel weird if you see many Japanese restaurants in São Paulo!
As for things to do, São Paulo is a bike-friendly city with green spaces like Ibirapuera Park.
You can rent a bicycle and go around good neighborhoods such as Bela Vista (a digital nomad favorite) and Paulista which is the business center of São Paulo. If you are spending more time in the city and want to change your surrounding
São Paulo has a great and efficient train system with lines reaching all over the city. It is never hard to get around and the costs of travel are cheap too.
The best way to see São Paulo is by bicycle. The streets have bike lanes and you can even bring your bike into the train! 
Fun São Paulo Facts:
São Paulo is always mistaken to be Brazil's capital but it is not. The capital of Brazil is Brasilia.
São Paulo is the 4th largest city in the world. It is 4,000+ times larger than Manhattan.
São Paulo is the industrial center of Latin America with a large production of vehicles, appliances, steel, and machinery.
Keep Reading: How to Spend One Day in São Paulo, A Walking Tour
Pin It For Later