The South Rim in Big Bend National Park is a very difficult trail and I'd say it's the most rewarding hike in Big Bend.
If you feel up to the challenge, you won't regret dedicating a day (or two) to this hike.
You can conquer the South Rim as a day hike (which is what we did) or stretch it out by camping at one of the many backcountry campsites along the trail. I'm not a camper, personally, but I might be willing to give it a go if it meant waking up to those views.
This post includes everything you need to know about Big Bend's South Rim Trail, including my personal experience on the hike.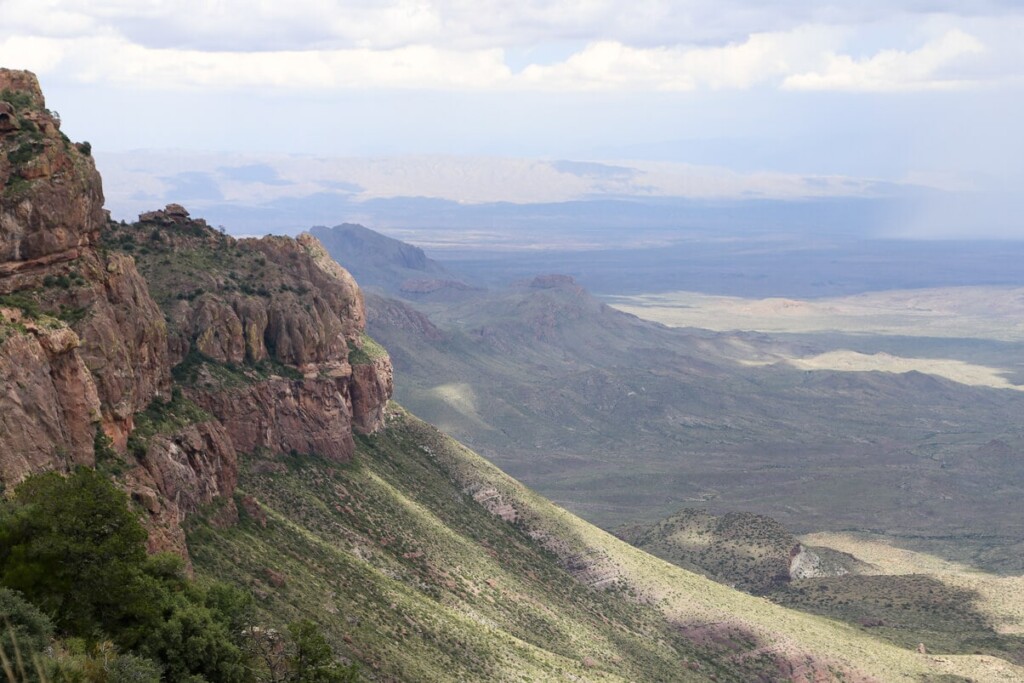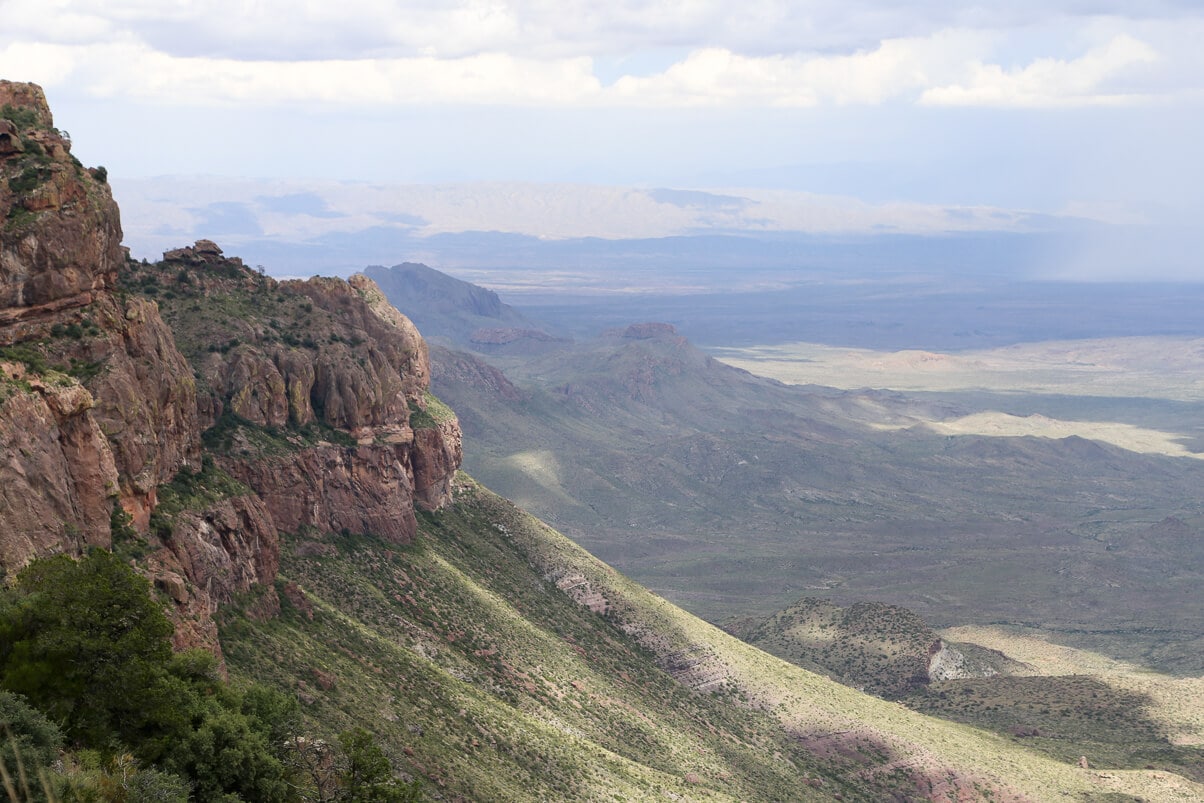 QUICK NOTE: This post contains affiliate links and Sol Salute may receive a commission for purchases made through these links, at no extra cost to you.
South Rim at a Glance
The difficulty level is classified as strenuous.
Depending on the routes chosen, it's 12-14.5 miles total and will take 7-8 hours.
This is a loop trail. You can start your hike with the steep Pinnacles Hike or the more gradual Laguna Meadows.
It's possible (and popular) to camp at the backcountry campsites along the trail. For more information about permits, etc, click here.
Pro tip | Start your South Rim trek early! This hike will take you ALL day, we started late (at nearly 10 am) because it was a last-minute decision, I wish we had started at 7.
Read my post about all the best hikes in Big Bend National Park to plan your trip.
My Experience on the South Rim Trail, Big Bend National Park
If you're planning on doing the entire South Rim loop, pack accordingly.
The park recommends that hikers bring a gallon of water per person.
We took 2 liters each, plus a liter of Gatorade, and plenty of salty snacks and sandwiches.
The trail head is just steps from the Chisos Mountain Lodge parking lot and there is a small shop here for you stock up if you need to.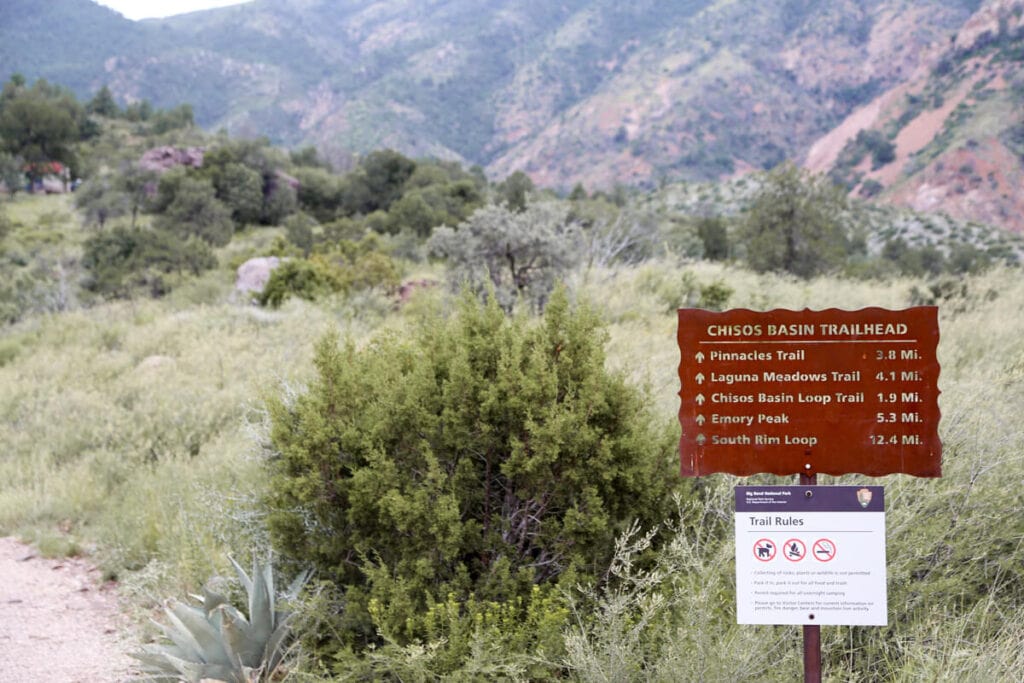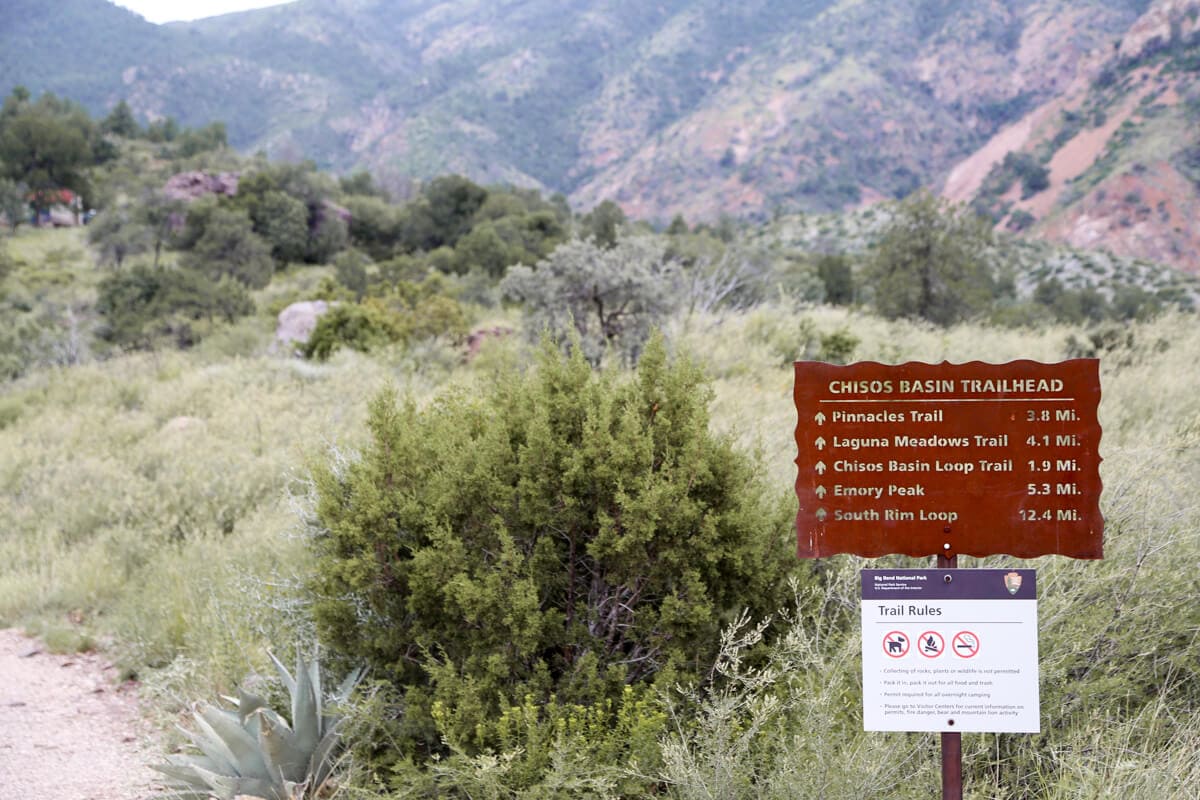 The Pinnacles Trail
Since this trail is a loop you can start with either the Pinnacles Trail or the Laguna Meadows Trail.
We started with the Pinnacles.
If I could go back in time, I'd have started with the easier Laguna Meadows.
This was the toughest part of our day. The Pinnacles trail is steep and full of switchbacks in the trees.
And to add to the difficulty, we had a very humid morning from an early rain shower.
But after a while. we broke through the trees to a view over the Chisos Basin that made it all worth it.
The South Rim Trail is classified as strenuous due to its length.
Throughout the hike, there are a lot of steep switchbacks that alternated with easier walks that regularly gave me a chance to catch my breath.
I'm a novice hiker with little experience but never felt intimidated by the South Rim. I am very active and in shape and of course I believe this contributed to that.
Emory Peak
At the top of the Pinnacles Trail, you reach a "choose your own adventure" moment.
There is a mile long trail here to the top of Emory Peak, Big Bend's highest peak.
Since we began our day so late, we decided to skip this optional detour to save time and energy.
However, it's definitely possible to add a jaunt up Emory Peak to your South Rim loop.
Keep in mind that it will add two miles to your already long day, so judge your own energy levels to make this decision.
It gets very steep at the top and the final meters involve a scramble up the rock face.
But the 360 degree views of the park below are supposed to be epic.
If you'd like to do only Emory Peak (and skip the rest of the South Rim loop), it's 10.5 miles round trip to hike up the Pinnacles and Emory there and back.
Emory Peak Pro Tip | At the top of the Pinnacles (/base of Emory Peak) there is a compost toilet and bear lockers.
You can safely lock up your belongings here to avoid lugging any excess weight up the steep peak.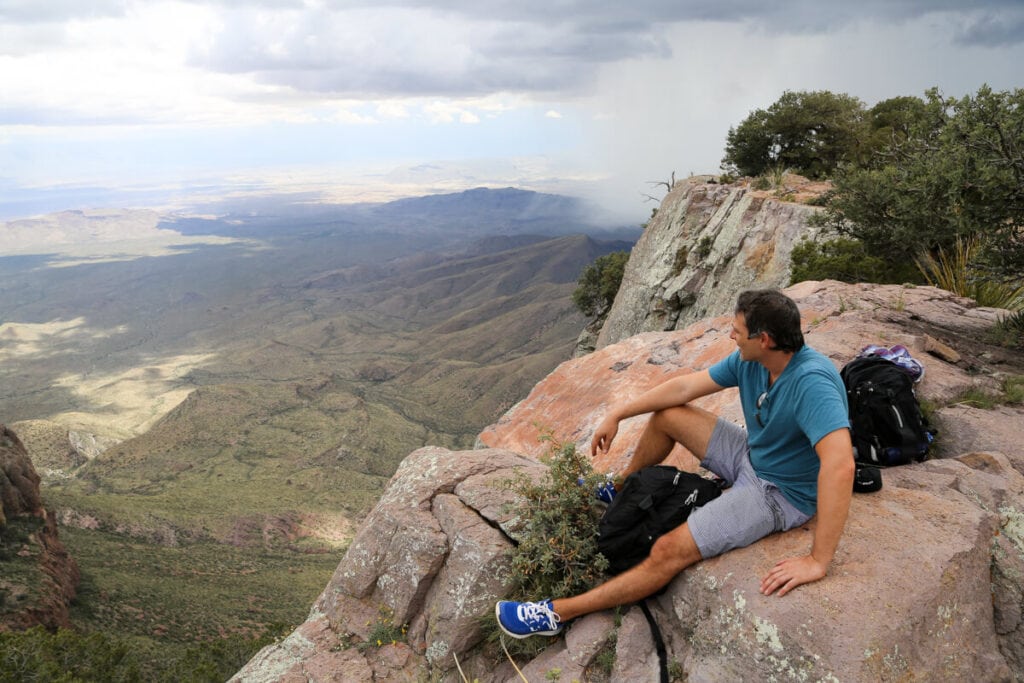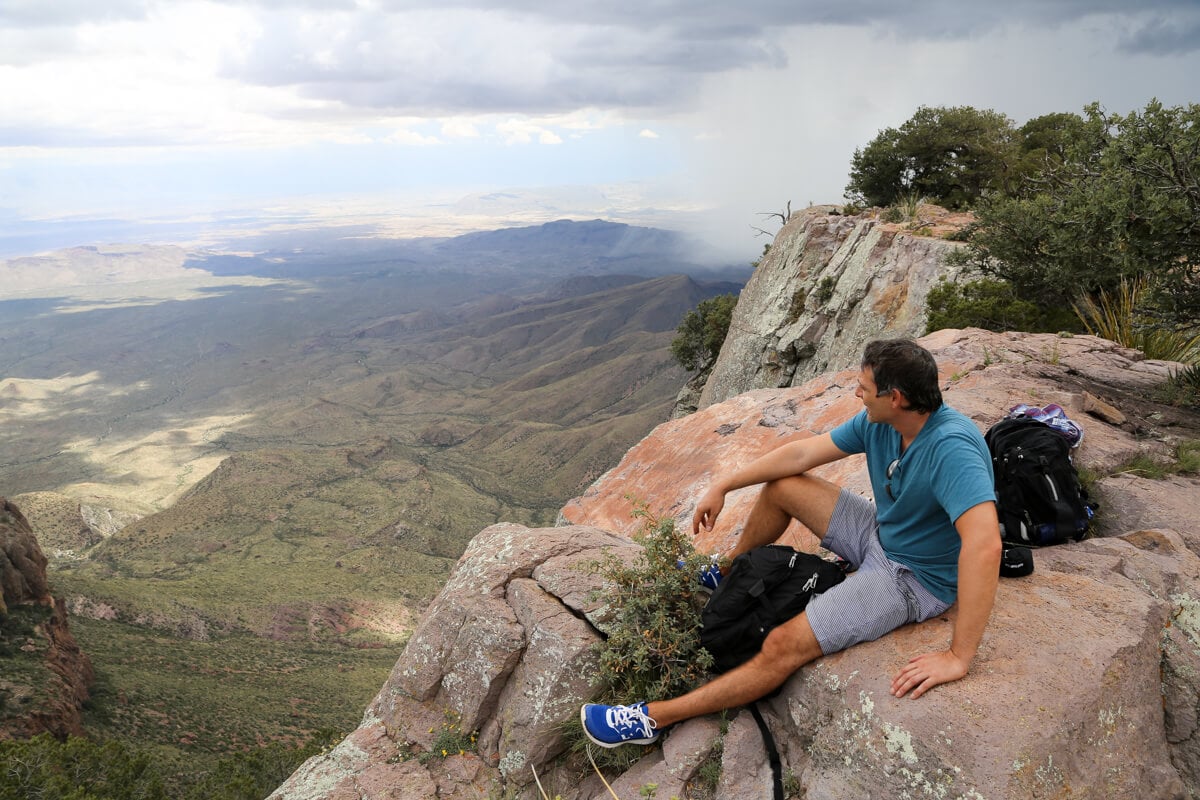 The South Rim View
The highlight and reward of this hike is at the midway point.
You're blessed with a panoramic view from the south rim over Mexico.
We sat for a relaxing lunch to rest our bones and savor the vistas.
We watched three different thunderstorms pour down over Mexico.
Pictures really can't do this justice. It was a breathtaking view.
If you can manage it, save your picnic lunch until you reach the South Rim.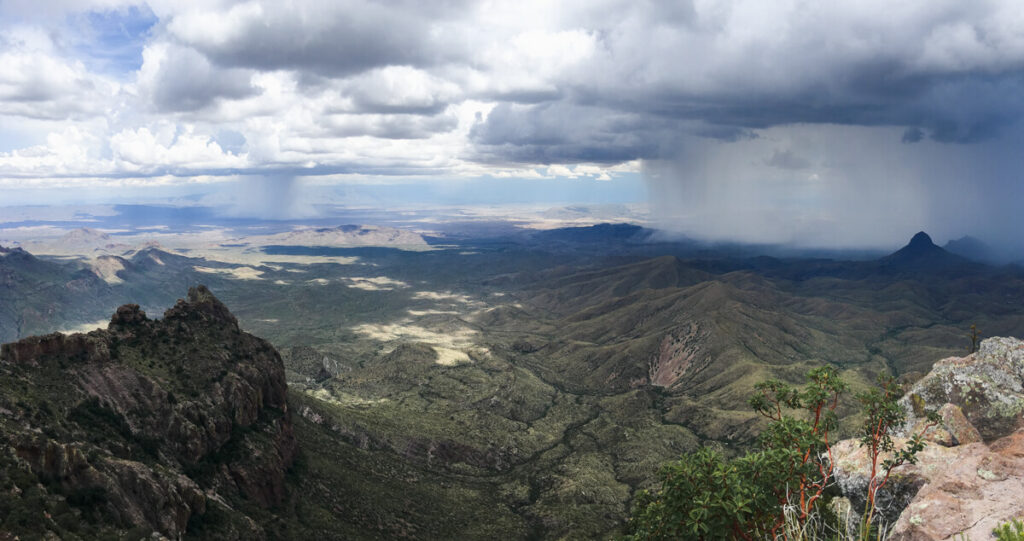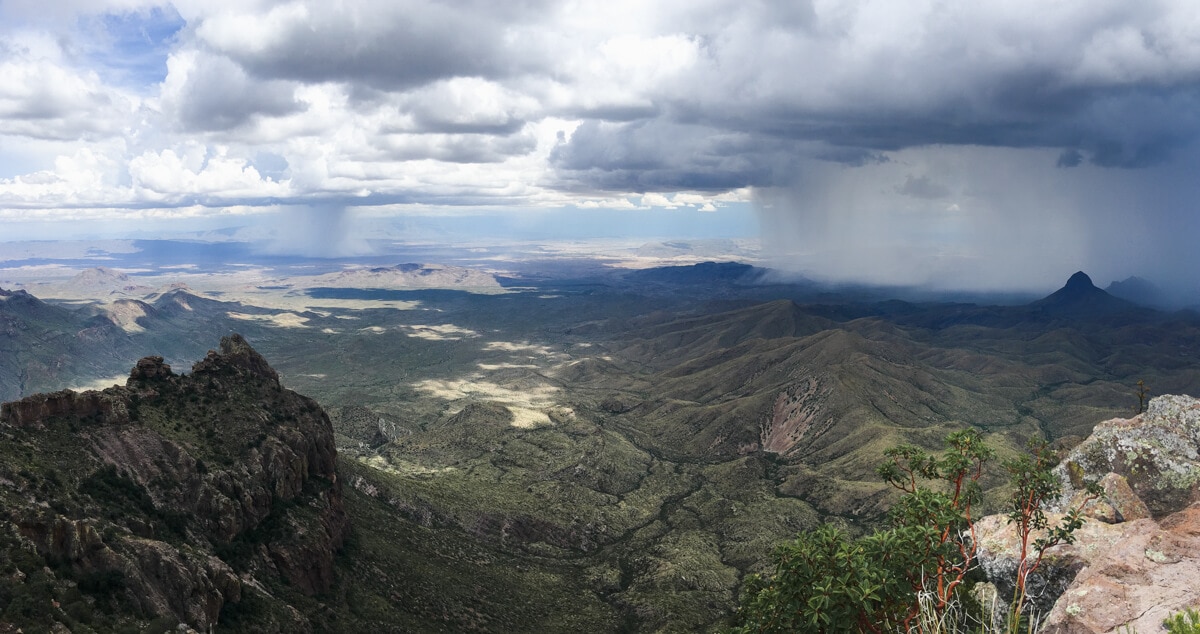 After our picnic we felt rejuvenated. We enjoyed the views for the remainder of the hike, taking in the flowers that were blooming thanks to the rainy season.
The soil around the Laguna Meadows area is black and volcanic.
We were blessed with more panoramic views of the Chisos Basin. There was honestly so much beauty to take in on this trail.
We were getting pretty beat by the end and the final mile was a struggle. It was a long day but I'd do it again in a heartbeat.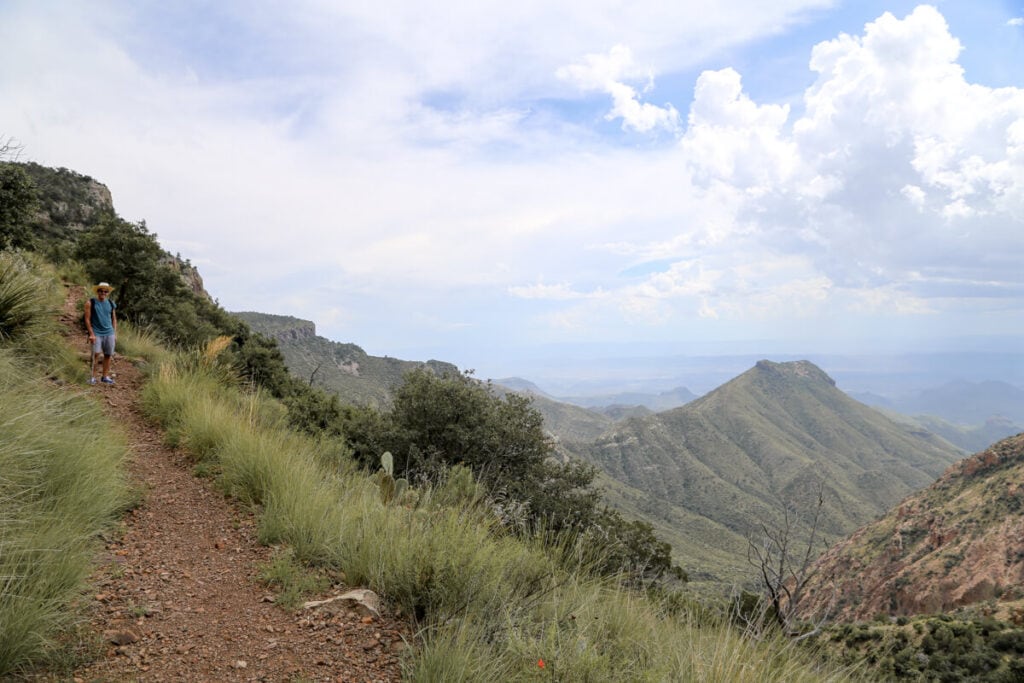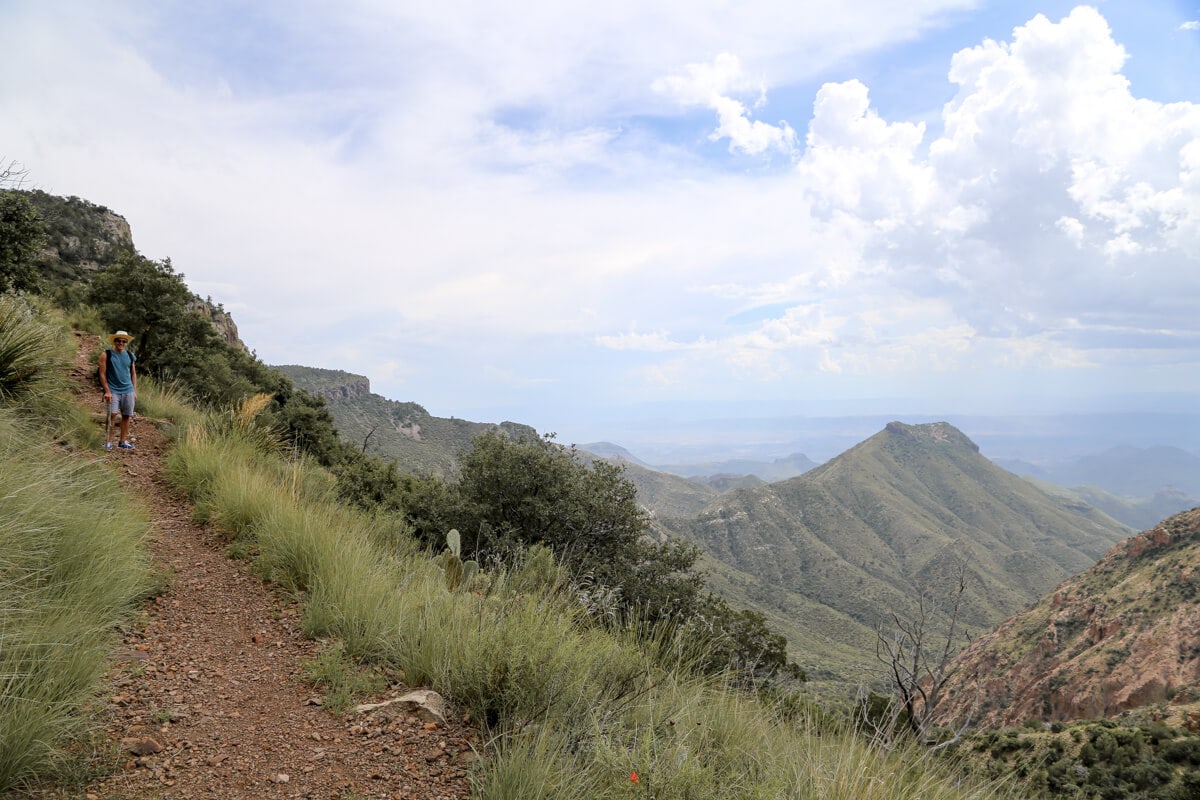 Mission Accomplished: The South Rim
The South Rim took us over 8 hours but we took multiple breaks to rest our feet and to enjoy views.
If you're more efficient, it could be done in 7 hours.
I absolutely recommend this hike for those that have a few days in the park, or those looking to camp.
Just keep in mind that you do need to be in good physical shape to complete the entire loop.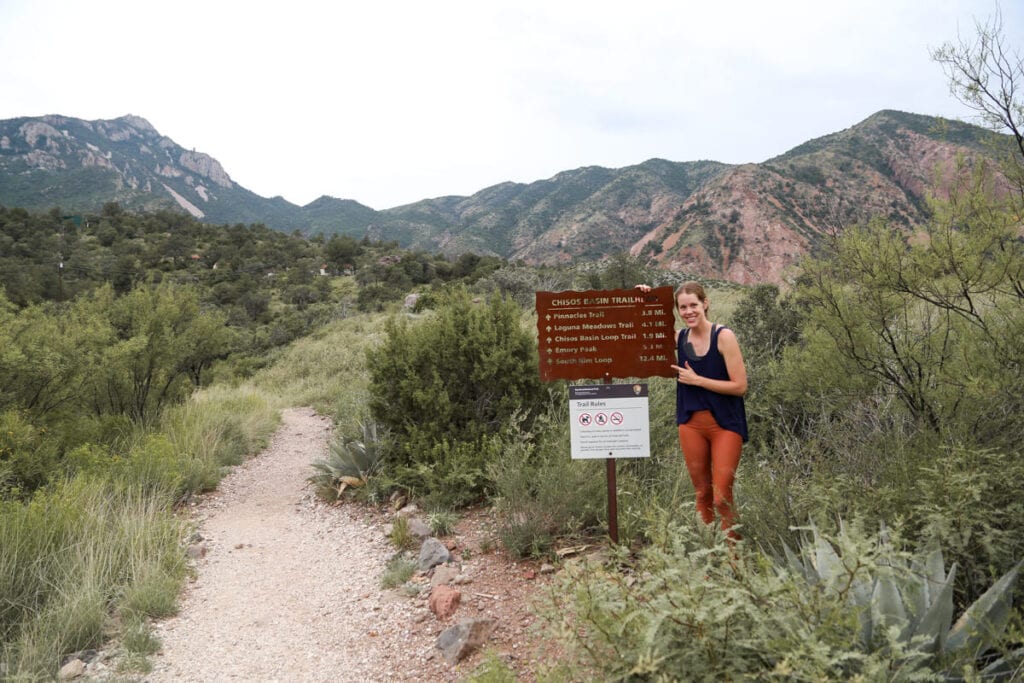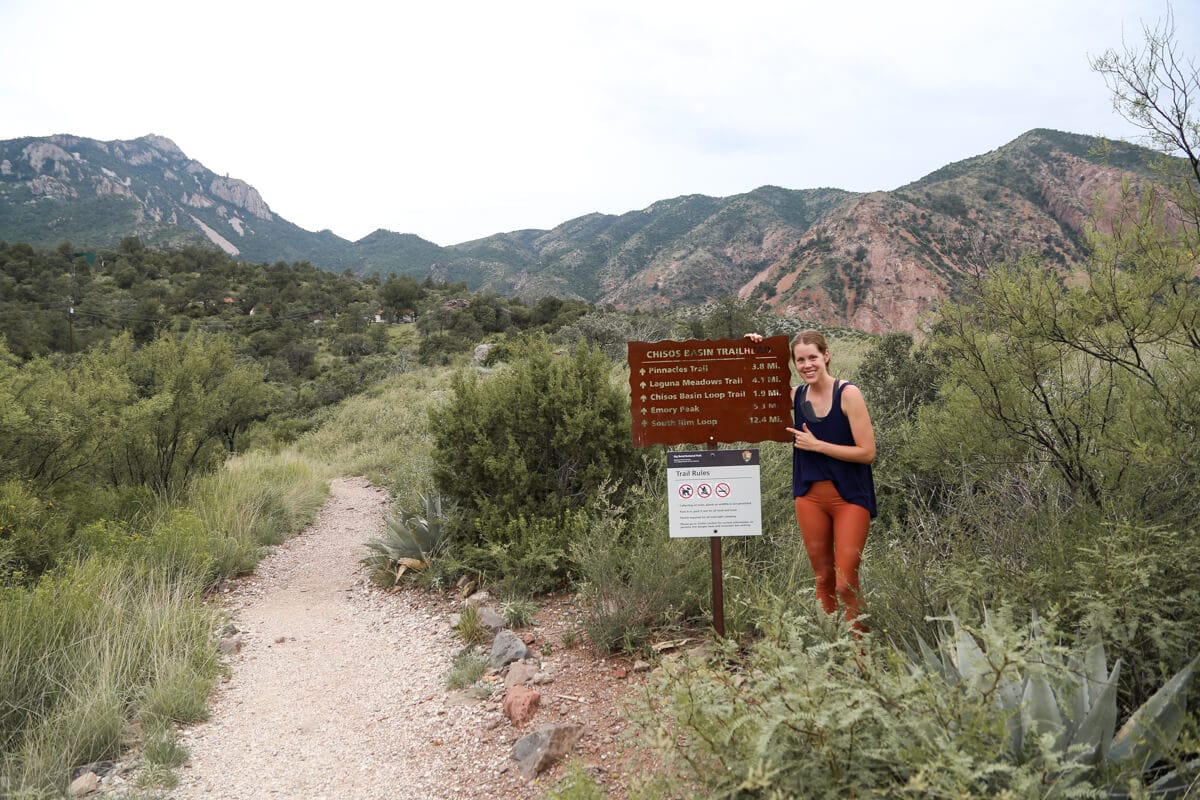 Read More About West Texas:
PIN IT FOR LATER