In Canada and on a budget?
Here are ten cheap and free things to do in Montreal.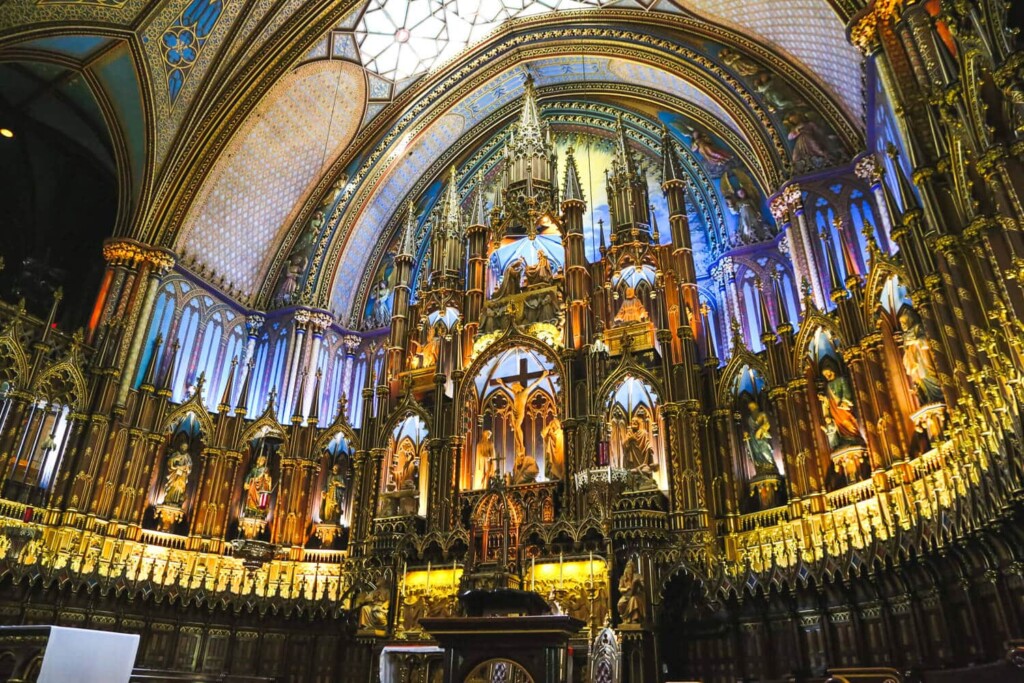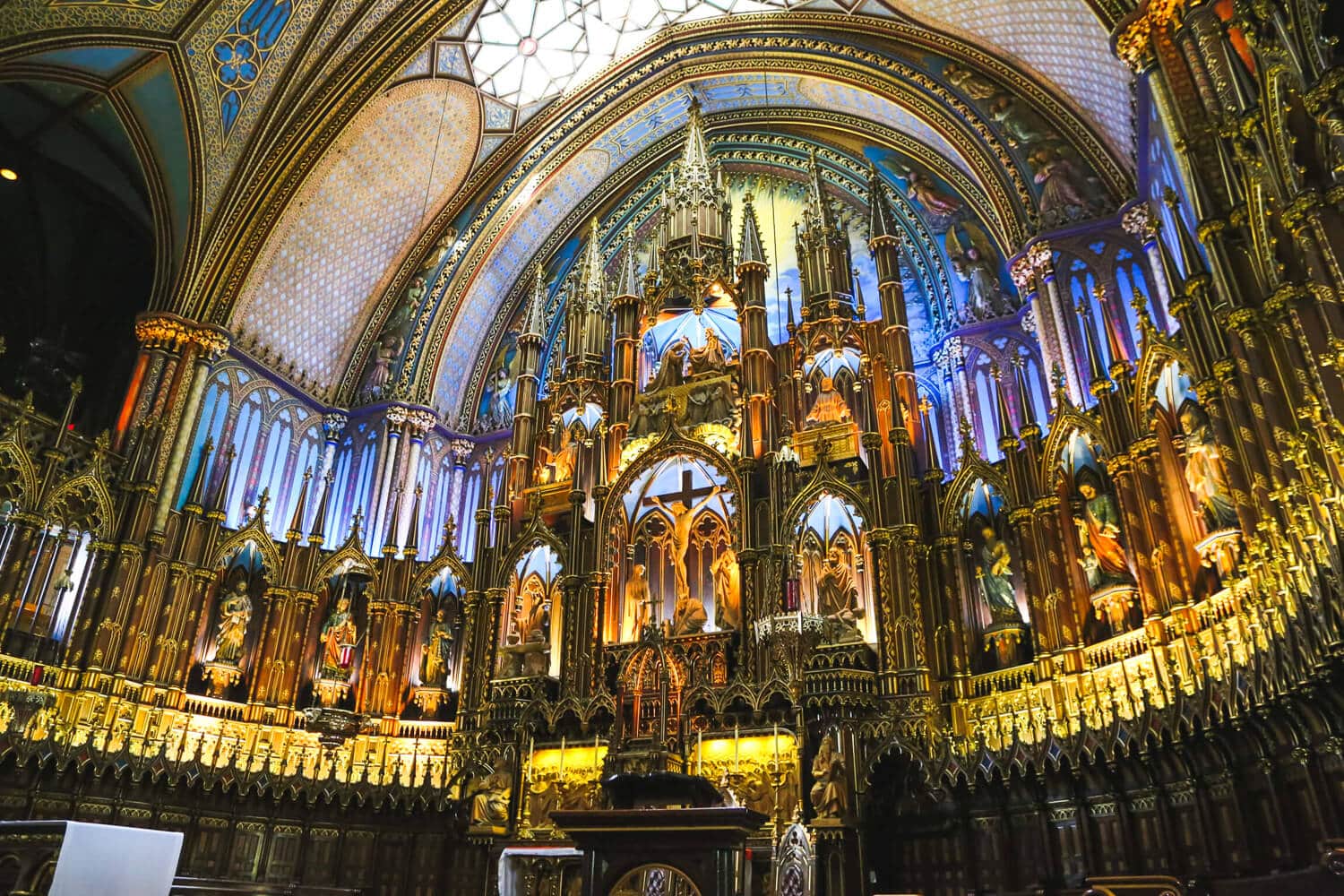 QUICK NOTE: This post contains affiliate links and Sol Salute may receive a commission for purchases made through these links, at no extra cost to you.
10 Cheap & Free things to do in montreal
I really loved Montreal. It's a small city and I always lean towards smaller cities: Austin, Granada, Barcelona.
I live in a city with a population of 14 million and smaller cities are a breath of fresh air.
So when we were planning a trip to Canada, Montreal was high up on my list.
I really loved our three days here! Here are my Montreal highlights: a list of 10 cheap things to do in Montreal.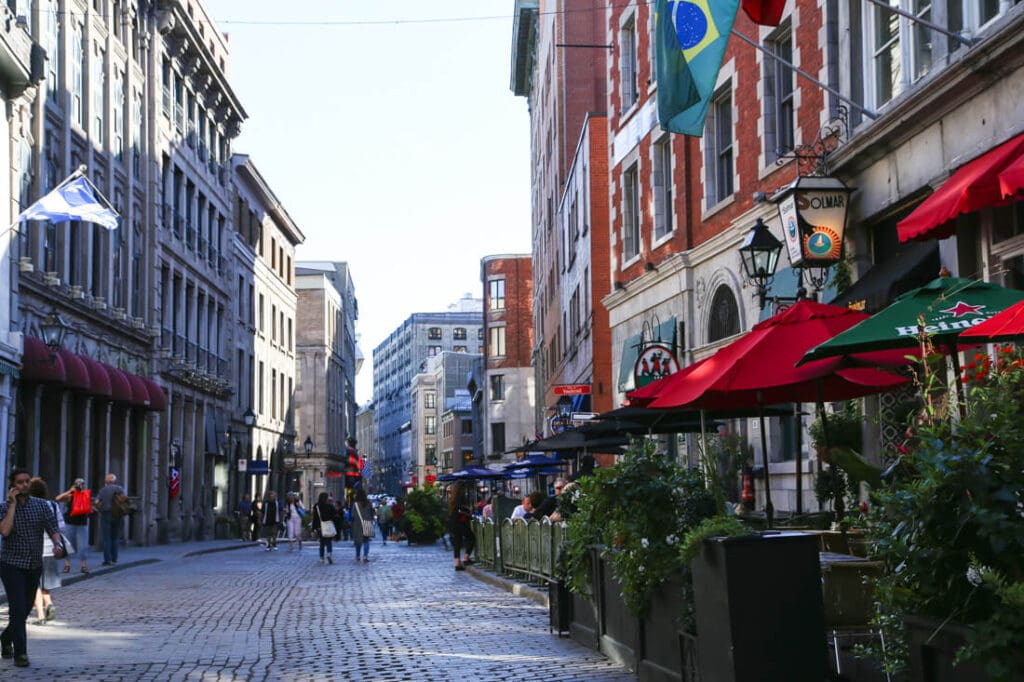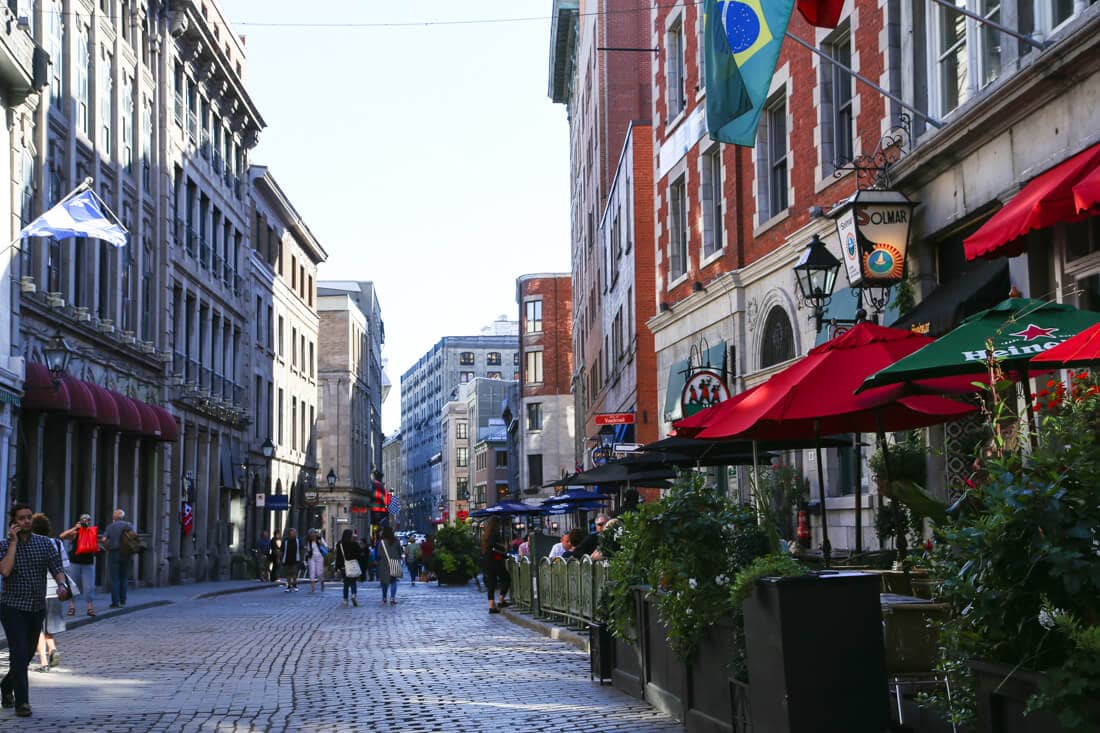 1. Explore Old Montreal
COST | Free.
In Old Montreal you would be forgiven for believing you're actually in Europe.
Buenos Aires may be called the Paris of the South, but Old Montreal felt like it actually deserved the title of Paris of the New World.
Wander the streets, people watch here.
You don't even have to spend a dime but if you're looking for a coffee or drink, there are plenty of sidewalk cafes to choose from.
It's definitely one of the most beautiful things to do in Montreal.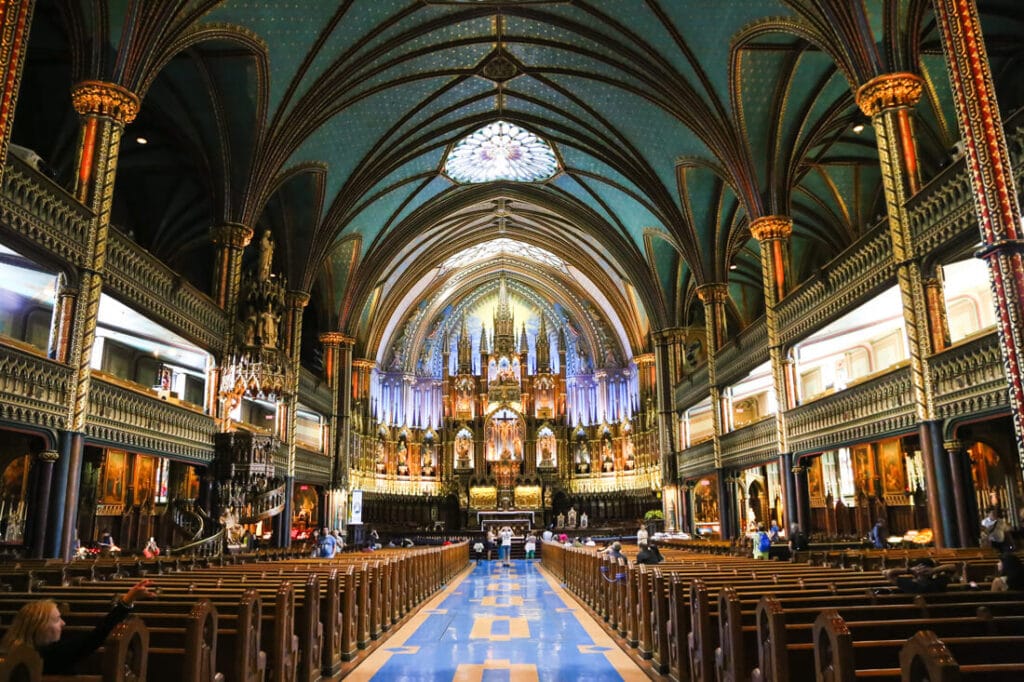 2. Notre-Dame Basilica
COST | $8
No, there's no relation to that Notre-Dame. Notre Dame merely means Our Lady, and it's quite common.
The basilica was breathtaking, and Celine Dion got married there. Anything good enough for Celine is good enough for me.
There are regularly scheduled guided tours in both French and English. It only takes 20 minutes and for us, it was 20 minutes well spent.
The entry fee is $8 with or without the tour.
3. A FRENCH POODLE & AN ENGLISH BULLDOG
COST | FREE
In Place d'Armes, caddy corner from the basilica, are two statues.
One of a French woman holding a poodle, and another of an English man holding a pug.
The man and the woman look angrily away from each other, while the dogs in their arms are desperate to meet.
This statue represents the conflicting feelings of Quebec's English and French populations.
I don't have any photos because at that point I had HAD it and was tired, I apologize, poor footwear. But there are photos here.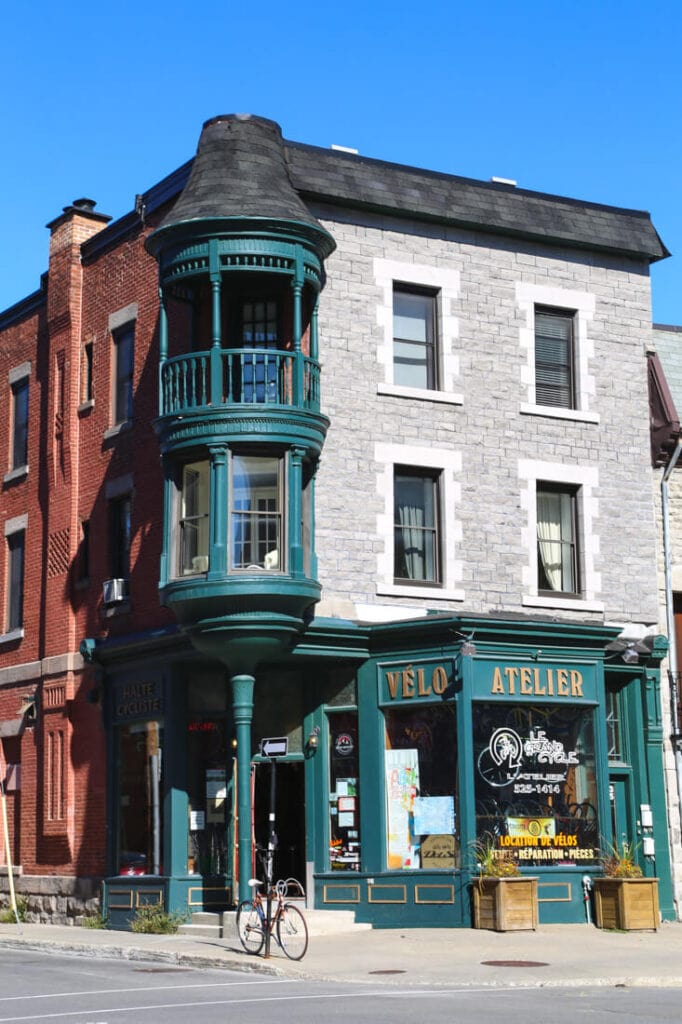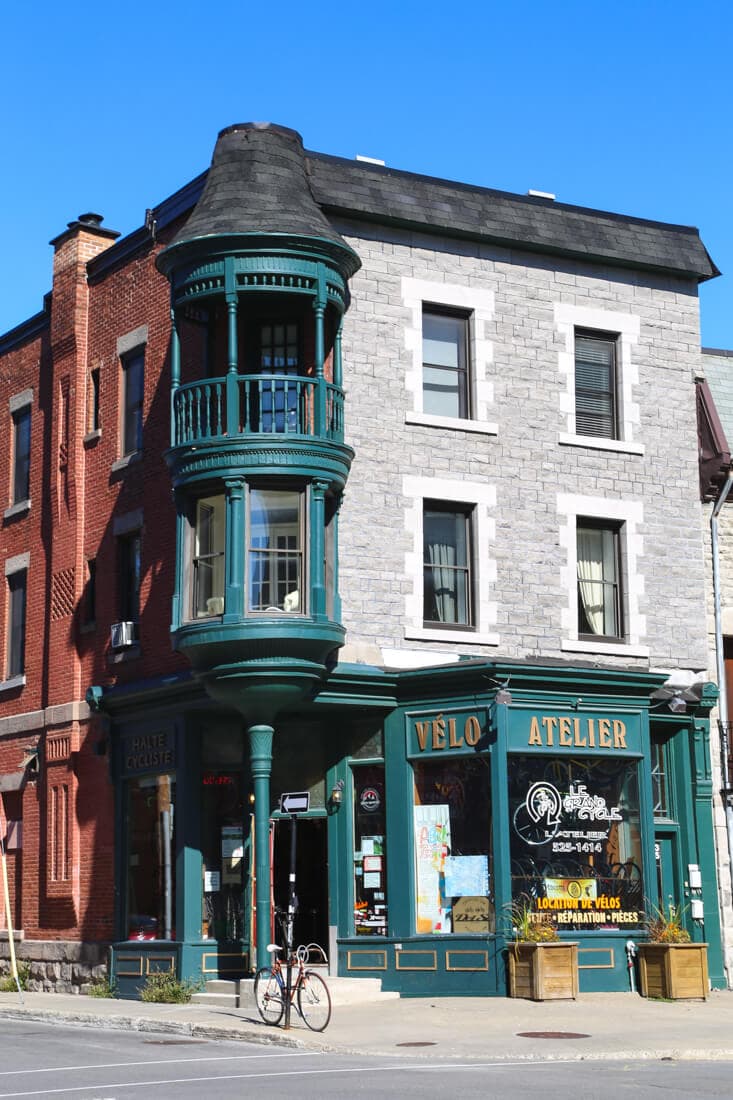 4. Visit The Plateau
COST | FREE
One morning we explored the Plateau neighborhood. It's beautiful and a great way to see Montreal without feeling surrounded by throngs of tourists.
I loved the homes with their exterior wrought-iron staircases, that are designed to save space inside.
The neighborhood is filled with cute cafes and shops, so it's best to just let yourself wander and explore freely.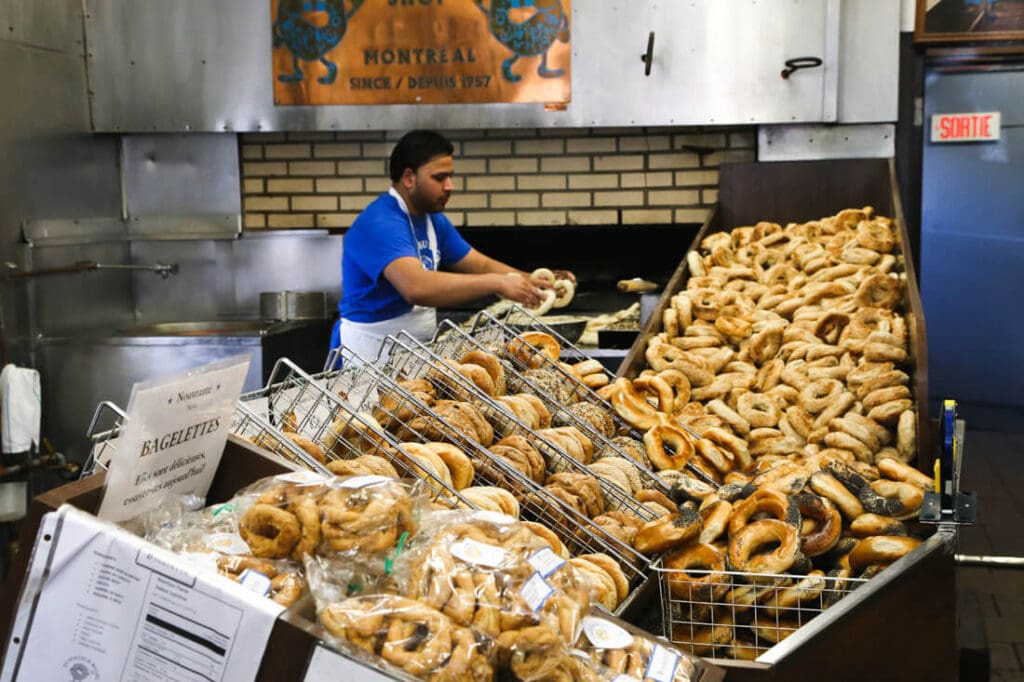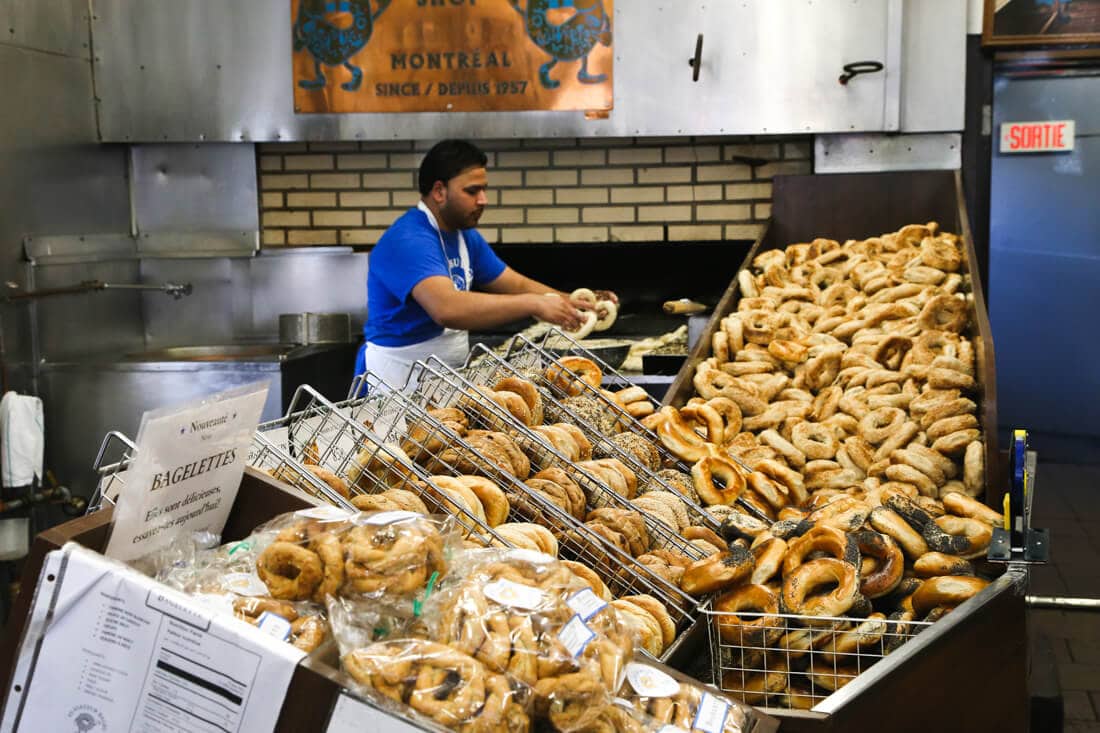 5. eat Bagels in Mile End
COST | $0.80
Mile End was such a cool neighborhood. It was full of coffee shops, boutiques, and street art.
But do I have any of that to show you?
No. I do not.
Why? Because the neighborhood is also home to two of the city's most famous bagel shops.
One bagel only set me back 80 cents.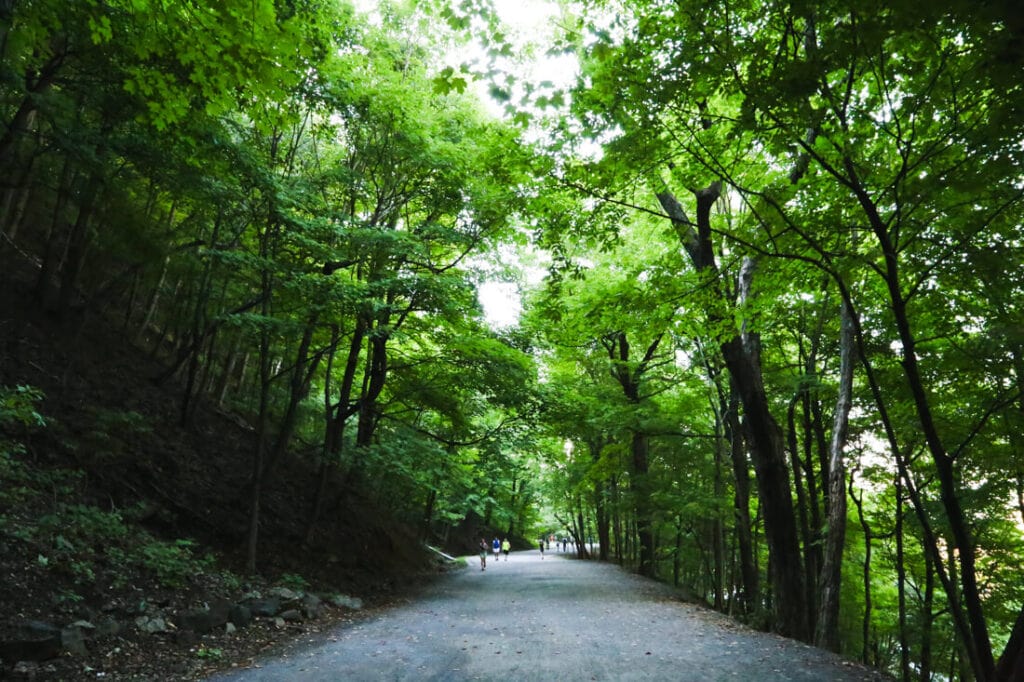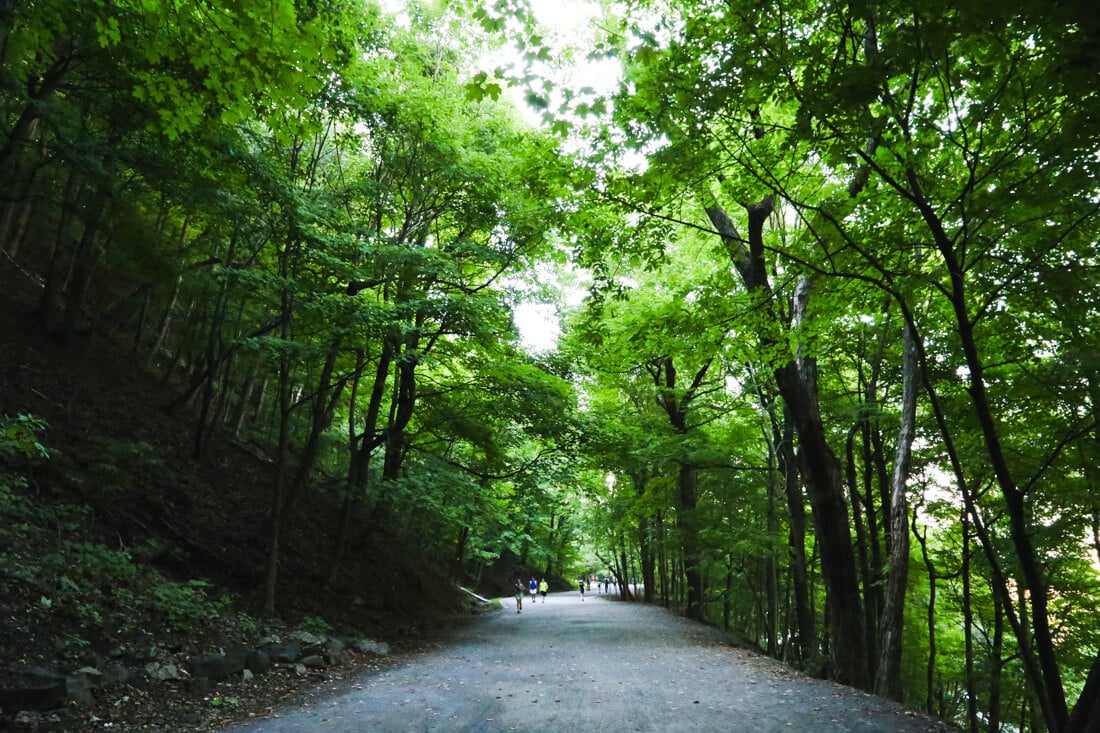 6. Mount Royal Park
COST | FREE
Nearby Mile End is Mount Royal Park.
This massive green space was designed by the same man who designed New York's Central Park however it feels completely different.
We walked up the mountain through a number of trails and tunnels of trees to the top, where there's a large promenade to enjoy a spectacular panoramic view of the city.
Wear comfortable shoes!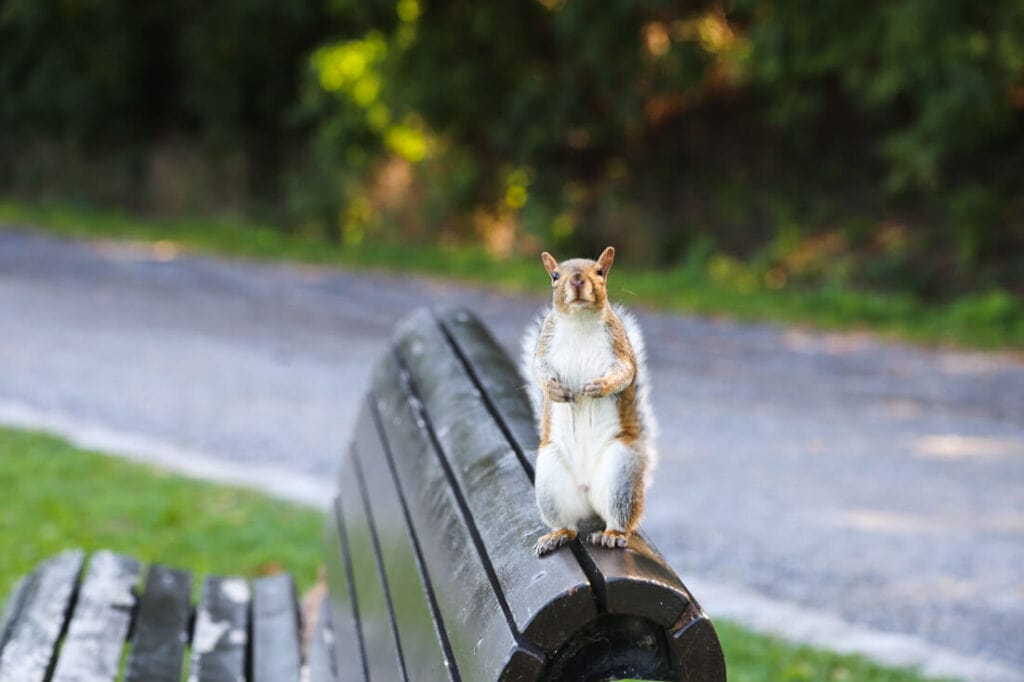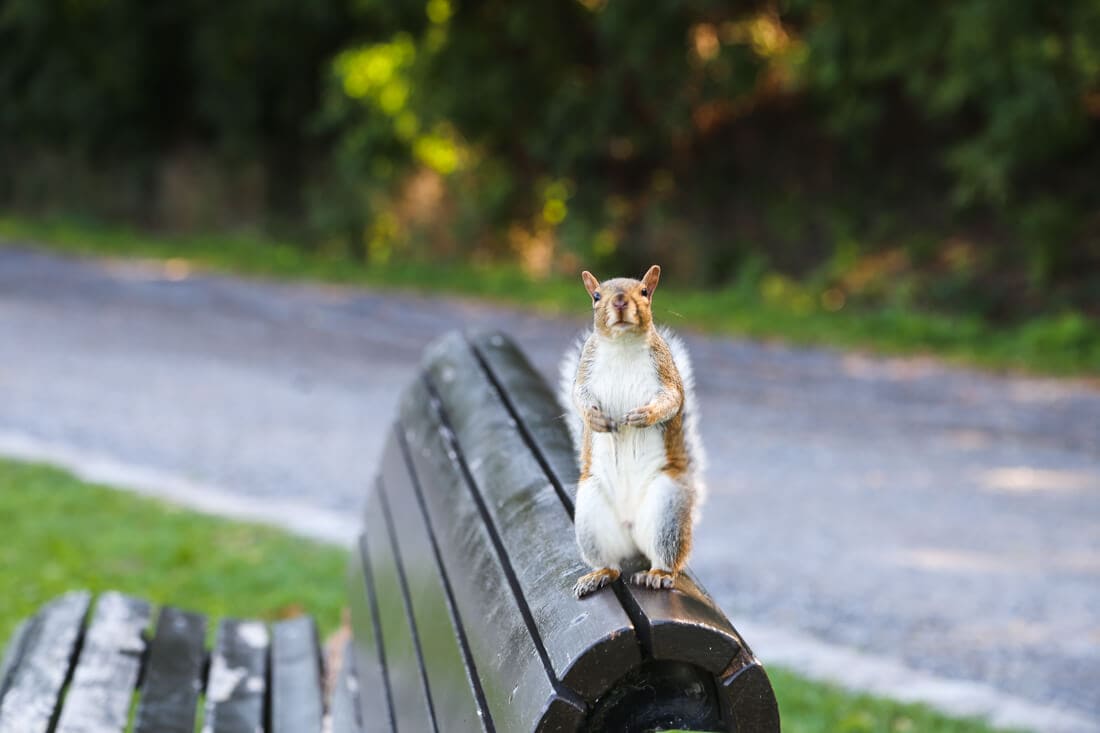 7. Go Squirrel Watching
COST | FREE
That's right, the squirrels! I've never seen squirrels so daring, so unafraid, so bold. This is random but really, they weren't afraid of people at all.
They would run right up to us demanding to be fed. Being used to skittish squirrels, I quickly fell in love with these little guys.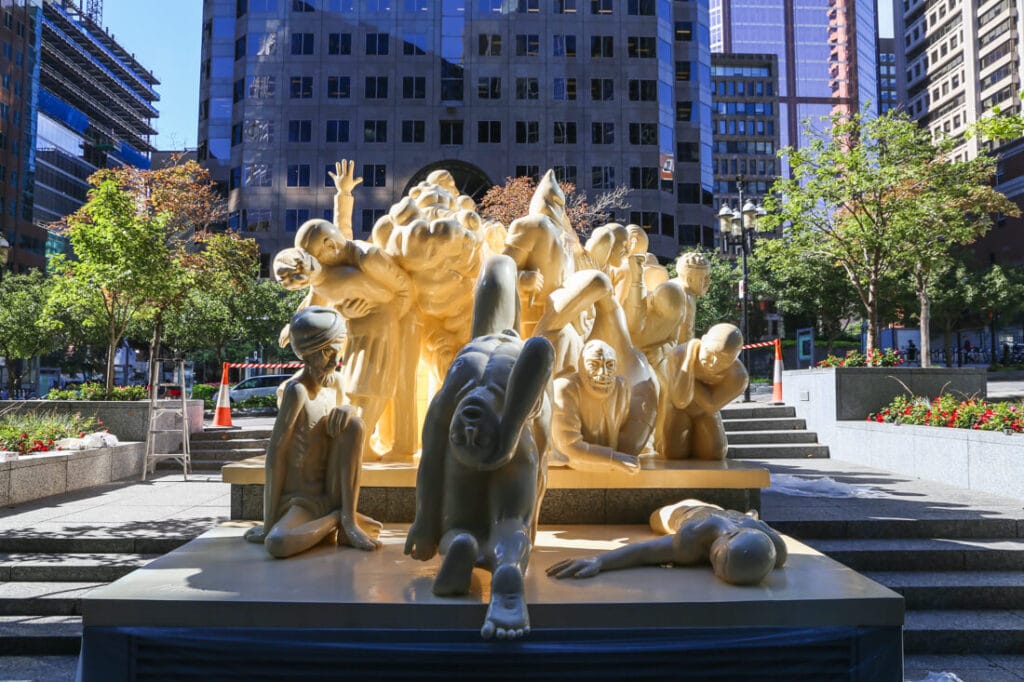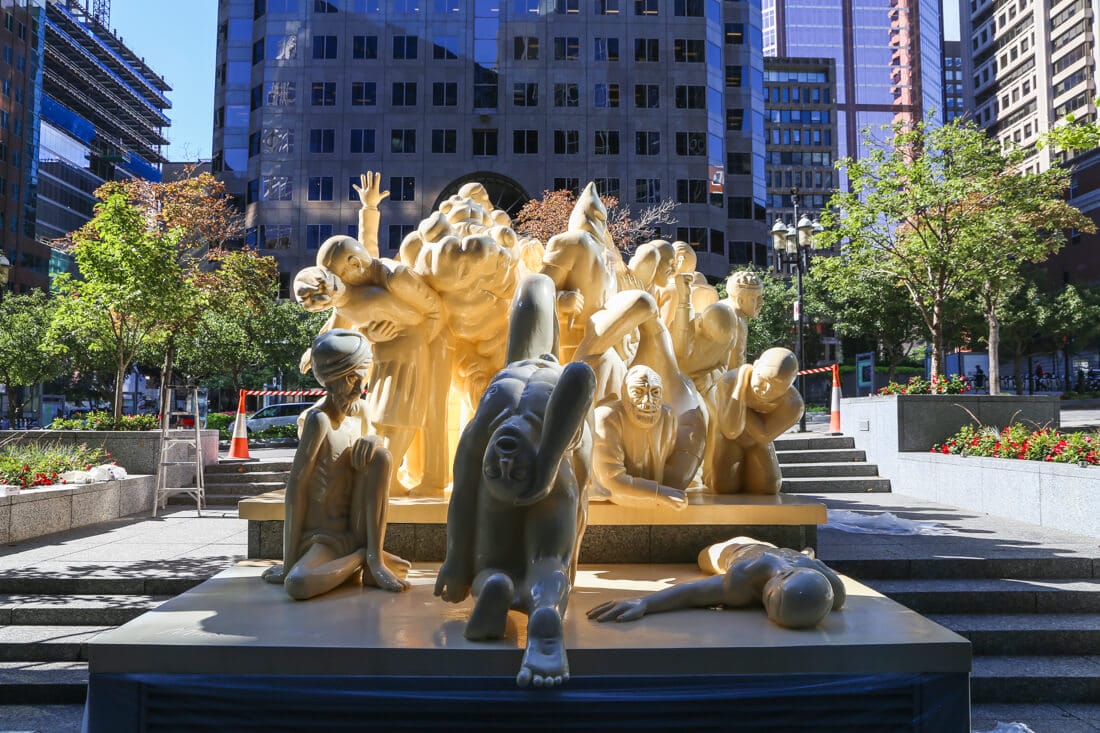 8. The Illuminated Crowd
COST | FREE
The Illuminated Crowd is located downtown at 1981 McGill College Avenue.
This polyester resin sculpture by Raymond Mason is of a crowd of 65 people and is quite dark.
The front line is filled with onlookers pressed tightly together, a bit grotesque.
The crowd and mood both get darker and more desperate the further back you go in the sculpture, representing the degradation of the human race.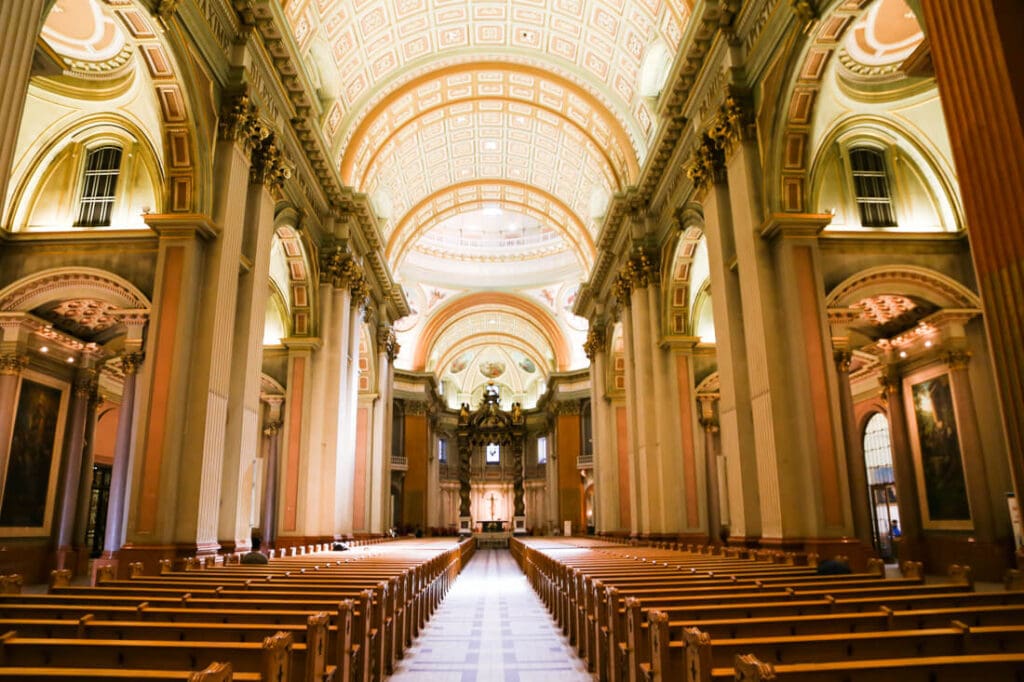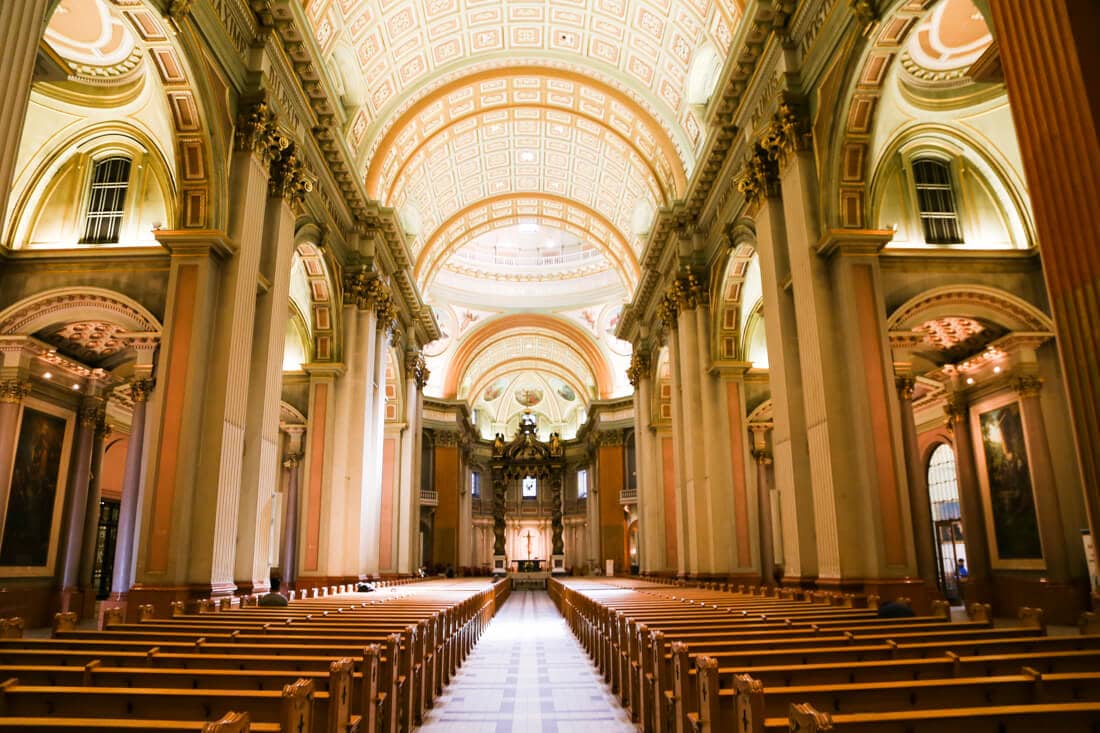 9. Visit the Vatican in Montreal
COST | FREE
Visit the Mary, Queen of the World Cathedral, also downtown. This cathedral was modeled after St. Peter's in Rome. While it's not quite as awe inspiring as its Roman counterpart it is very beautiful.
10. Find the Best Street art
COST | FREE
Living in a city that has some of the world's best street art (Buenos Aires has some serious murals y'all), has really made me appreciate it.
Montreal is fortunately also home some stunning murals of it's own. Get the perfect Instagram shot of Montreal street art in in neighborhoods like the Plateau, Mile End and Rosemont or at one of these top Instagram worthy places in Montreal.