The Lost Mine Trail is one of the most popular hikes in Big Bend National Park If you only have time for one hike, this is the one to pick.
The Lost Mine is a there and back hike. It's uphill to the peak (not too steep but with plenty of switchbacks), returning downhill the way you came.
Personally, I didn't find the trail to be difficult, in fact, it's classified as moderate.
If you are a casual gym-goer you should be fine. I'd even consider this hike to be family-friendly for older children (there was a troop of young scouts at the top when we got there!).
But keep in mind, you do gain an elevation of 1,000 feet. So, it is more than just a casual stroll through the woods.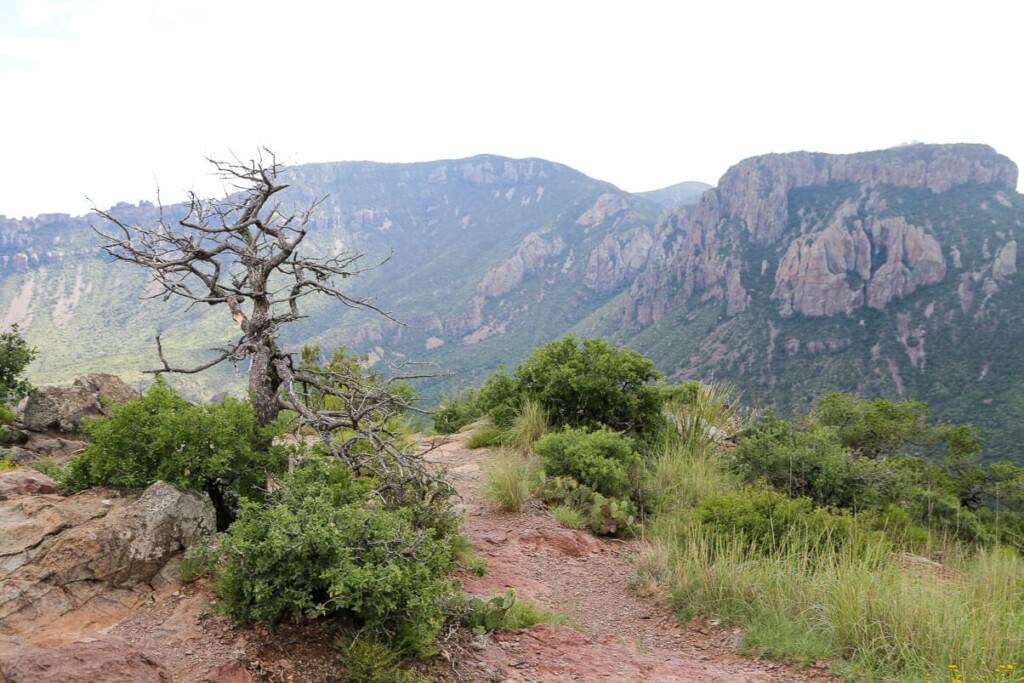 The Lost Mine at a Glance:
The difficulty level is classified as a Moderate Level Hike.
Distance: 4.8 miles total.
Calculate around 3 hours total.
There's a small parking lot at the trail head with limited parking.
Pro tip | For the best lighting at the top, hike up at sunrise! The sun would be gorgeous bathing the valley below in the early morning hours.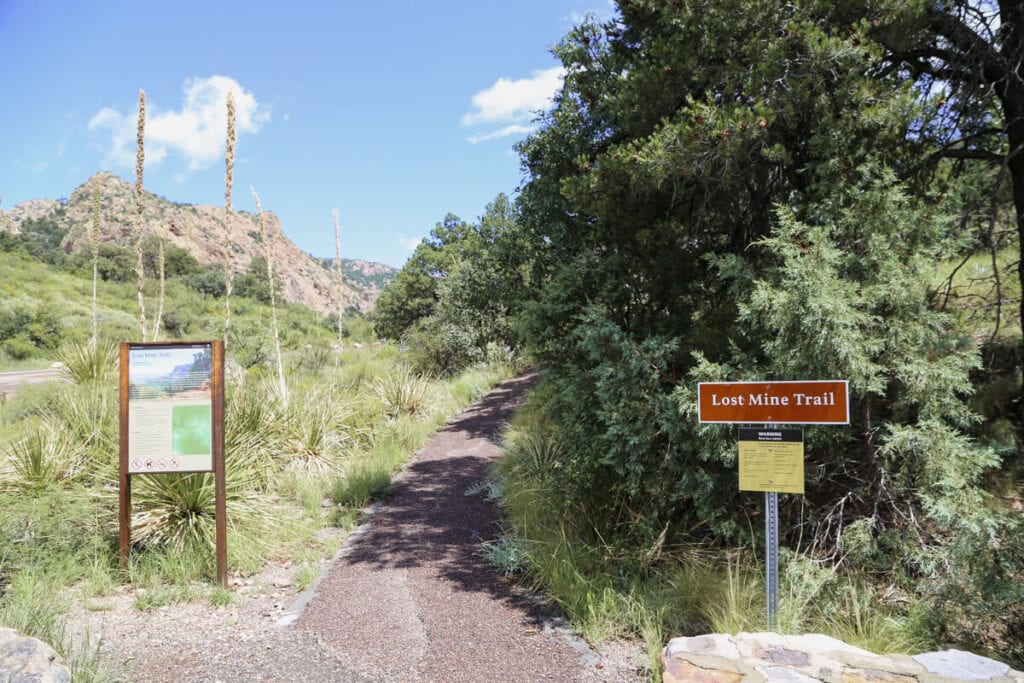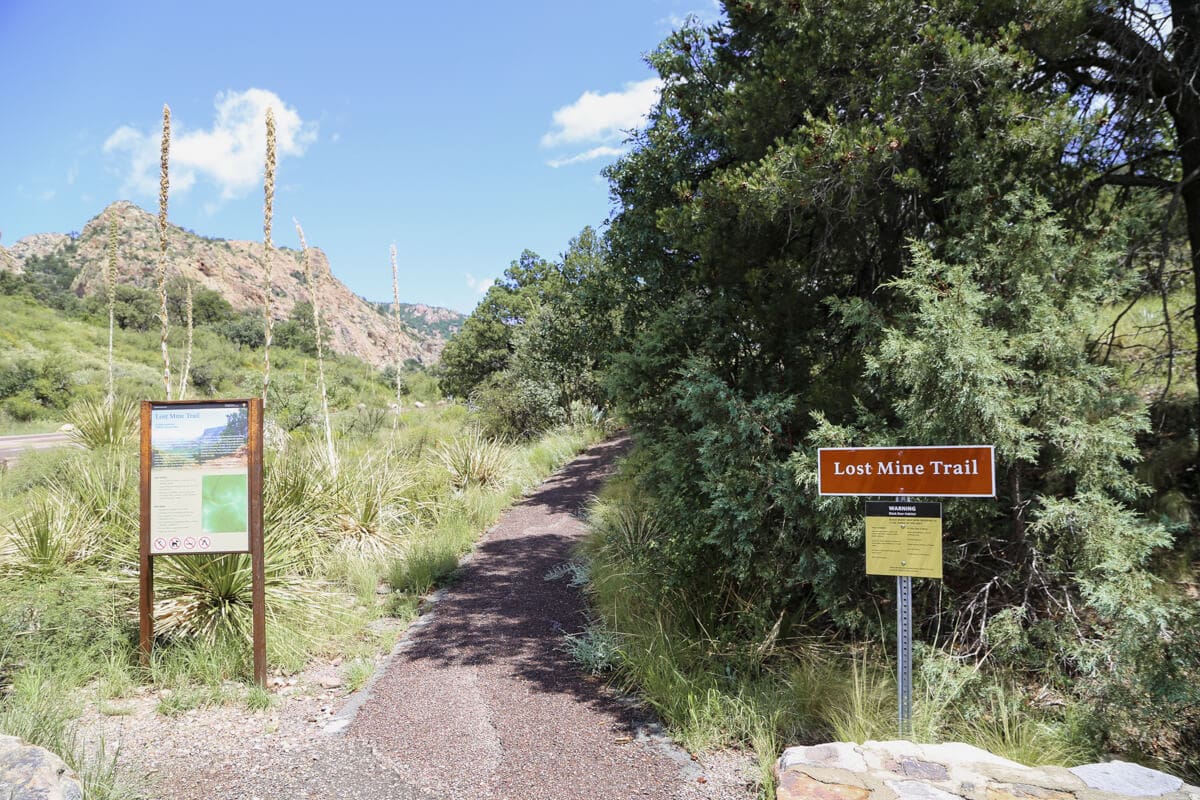 My Experience on the Lost Mine Trail, Big Bend National Park
The Lost Mine hike was the first trail we conquered on our four days in Big Bend.
We were antsy to see the park and dive into a hike, so we drove straight here after checking in to our Airbnb in nearby Terlingua.
We arrived by mid-afternoon to a nearly empty parking lot.
Just before the trail head, we saw signs warning us about mountain lion and black bears.
Fortunately, we saw neither. We did, however, see one white-tailed deer and an even less menacing bunny.
From the start, this trail was all uphill. Luckily, there are benches placed throughout the trail which we used to catch our breath regularly and to enjoy a water break with a view.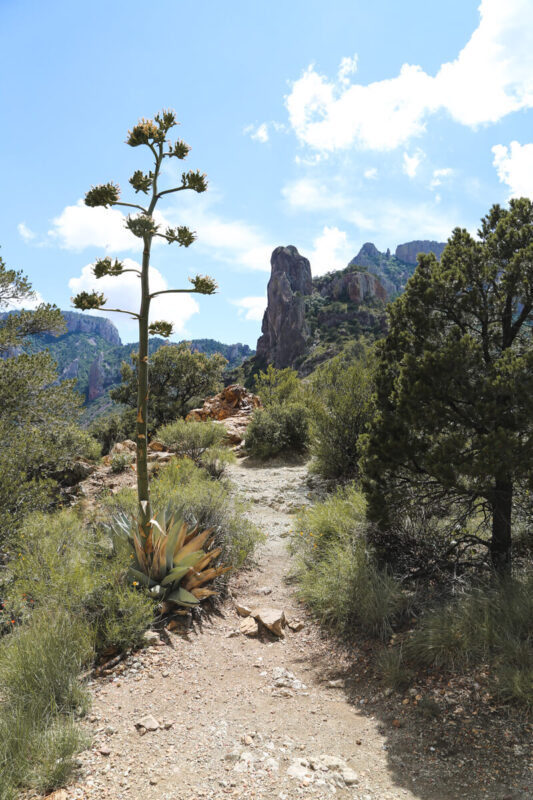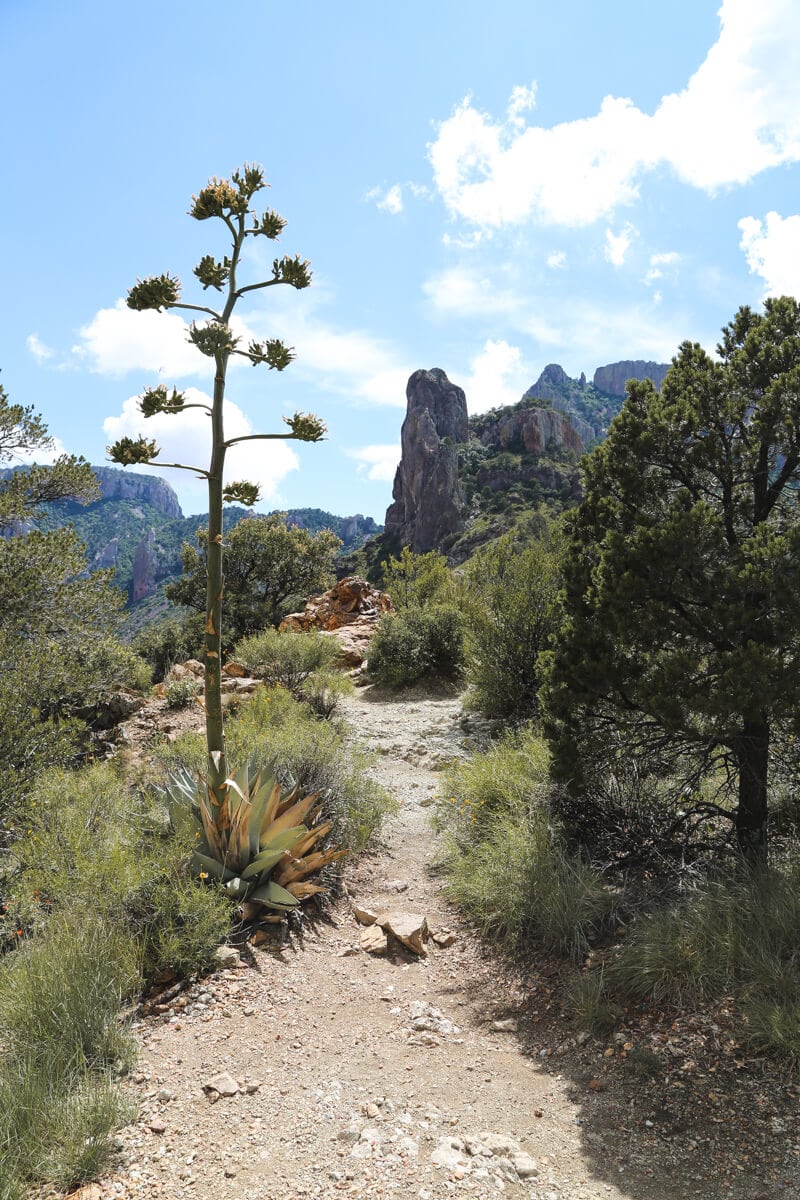 At around the halfway point we encountered a series of switchbacks used to gain elevation where the terrain gets markedly steeper.
This is where we started to huff and puff with a little more ferocity.
We thought we had reached the top, even stopping to take pictures and to bask in our glory and success.
Then a group of scouts told us to keep going. Embarrassed but grateful, we soldiered on.
The trail continues a short way past this point.
This part of the hike is the reward. It's relatively treeless, flat, and over rock. This part is an easy stroll and the views were incredible.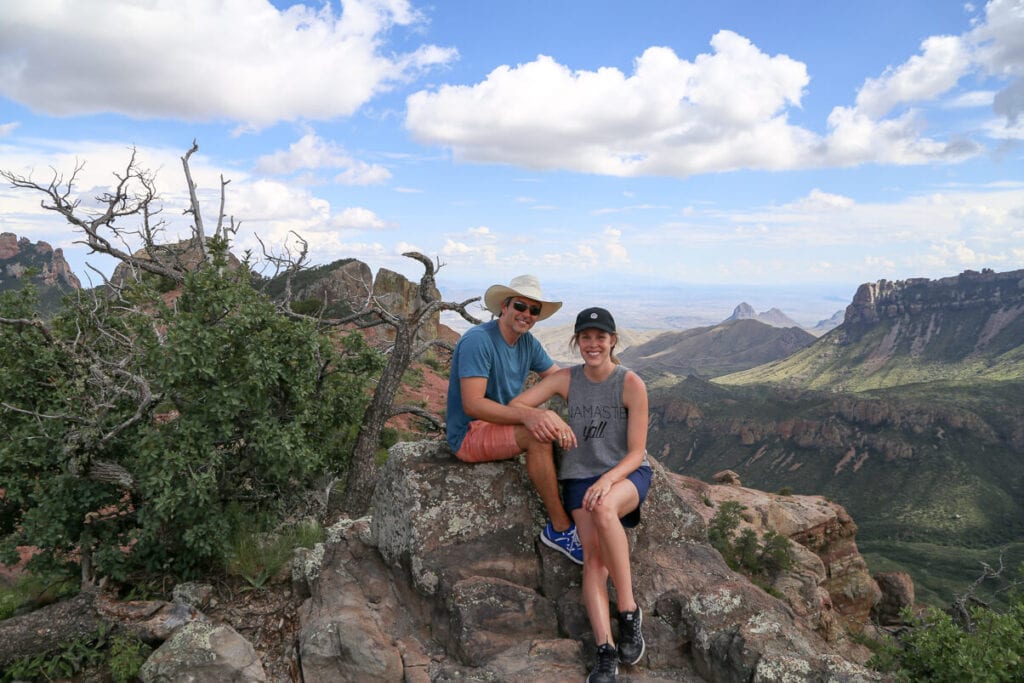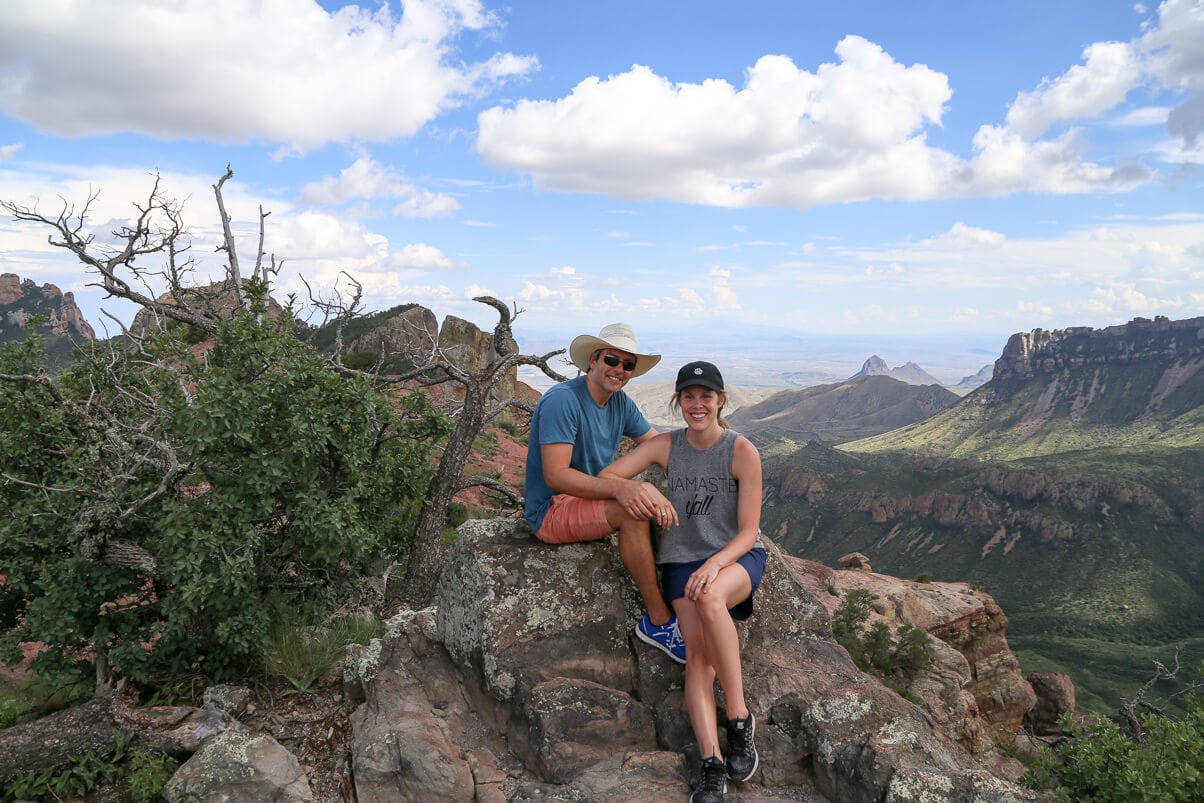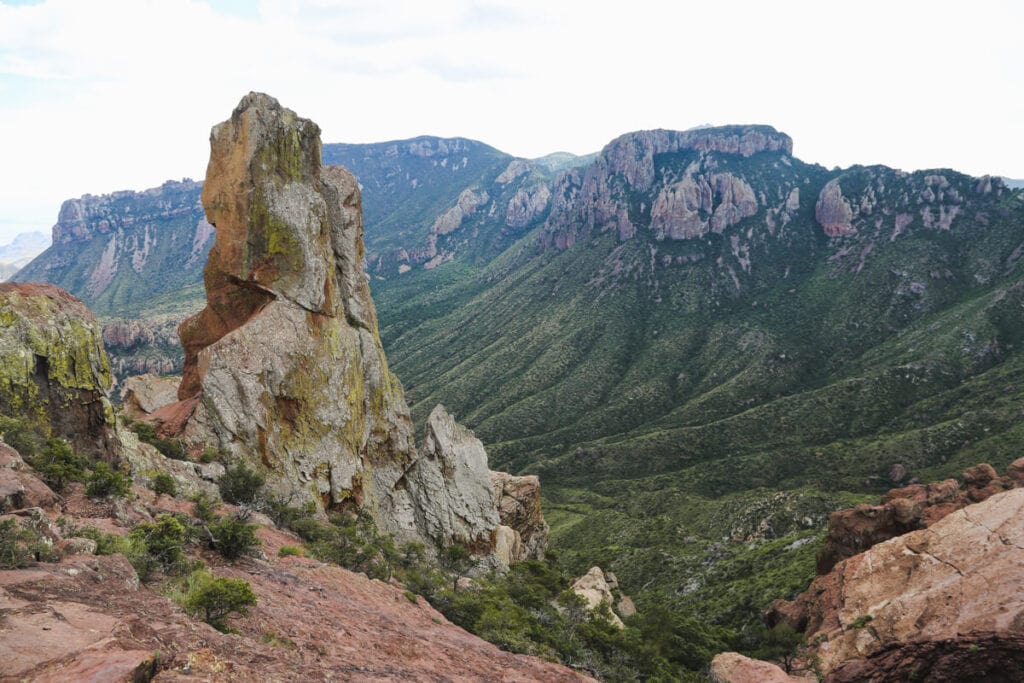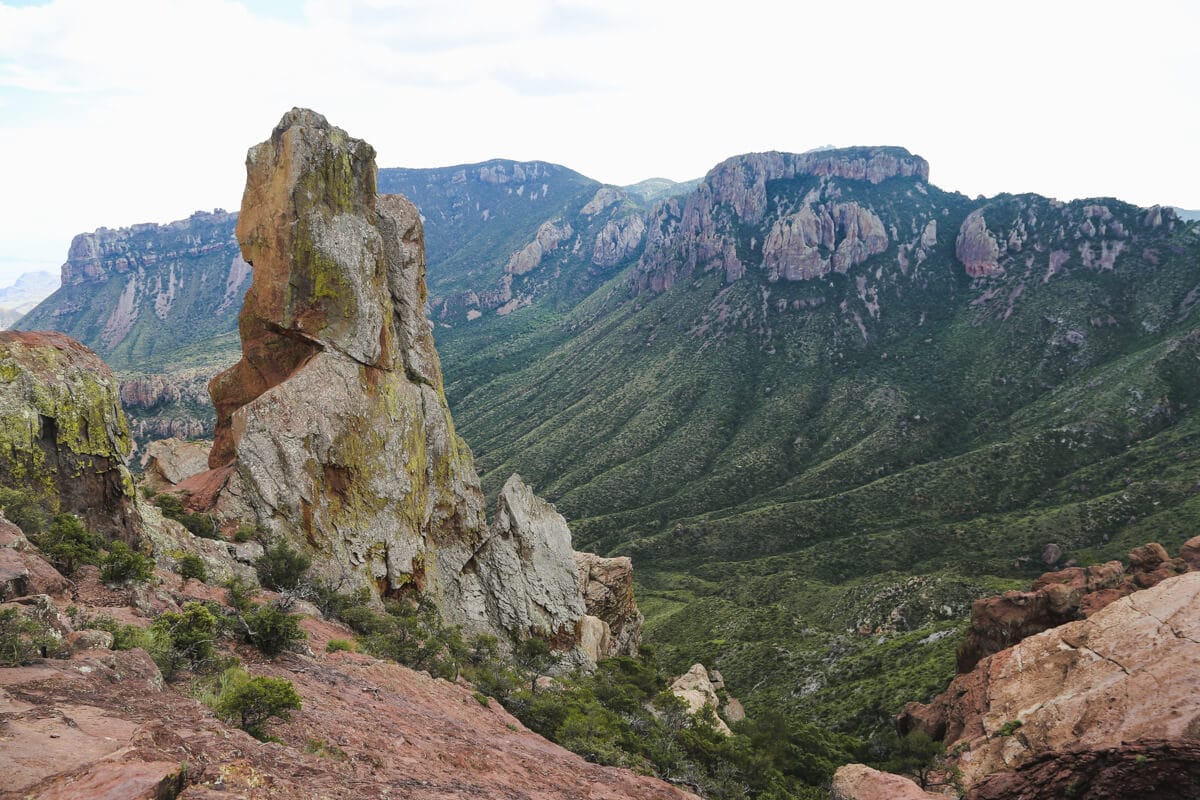 Our Quick Descent
I could have lingered at the top at the Lost Mine (as I suspect the lucky scouts had done).
The well-earned views were more breathtaking than the steep switchbacks that brought us there.
Unfortunately, little did I know we had chosen to visit Big Bend during monsoon season. Dark clouds started to roll in and thunder boomed in the distance.
We took a few quick victory photos and reluctantly, but efficiently, made our way back down.
The Lost Mine Trail: How Long Does It Take?
While it took us about an hour and fifteen minutes to reach the top, it only took about 45 minutes to haul ass back down.
The lightning that I thought was far in the distance was on top of us in seconds, and we were underwater for our entire descent.
So, as we proved, the Lost Mine Trail can be done in 2 hours flat when the descent is done running in the rain (and I only fell twice!).
But, weather permitting, I'd allow about 3 hours or more to really take your time. Stop for snacks and a drink at the top. You can take a thousand photos and enjoy a much more relaxed descent.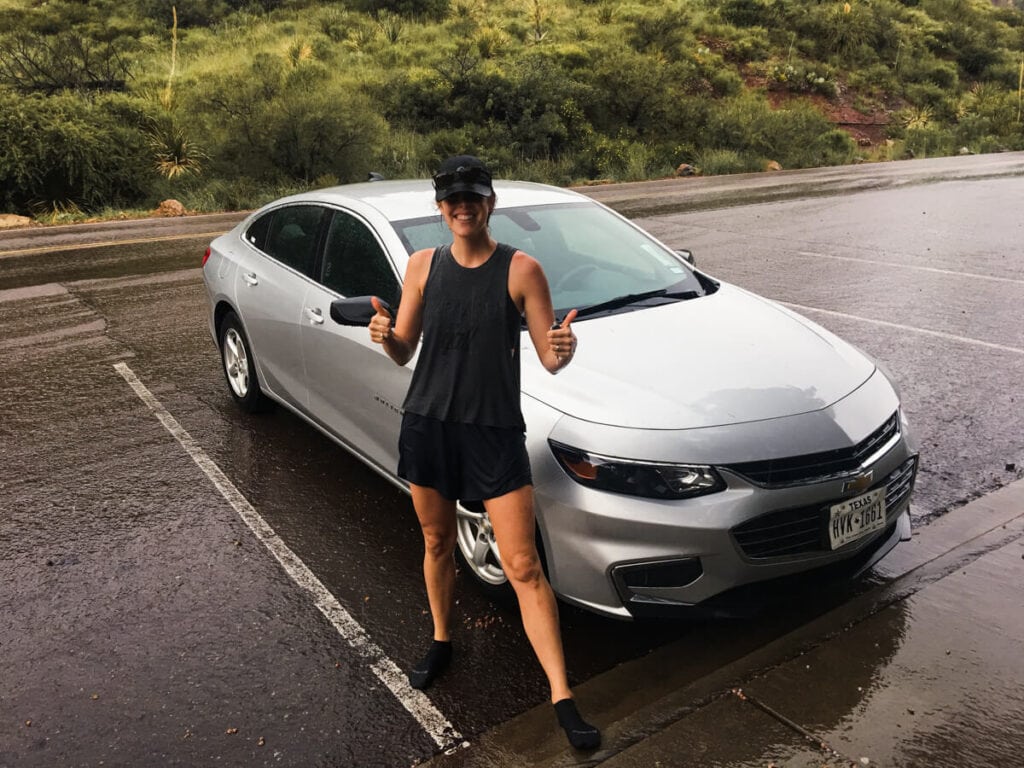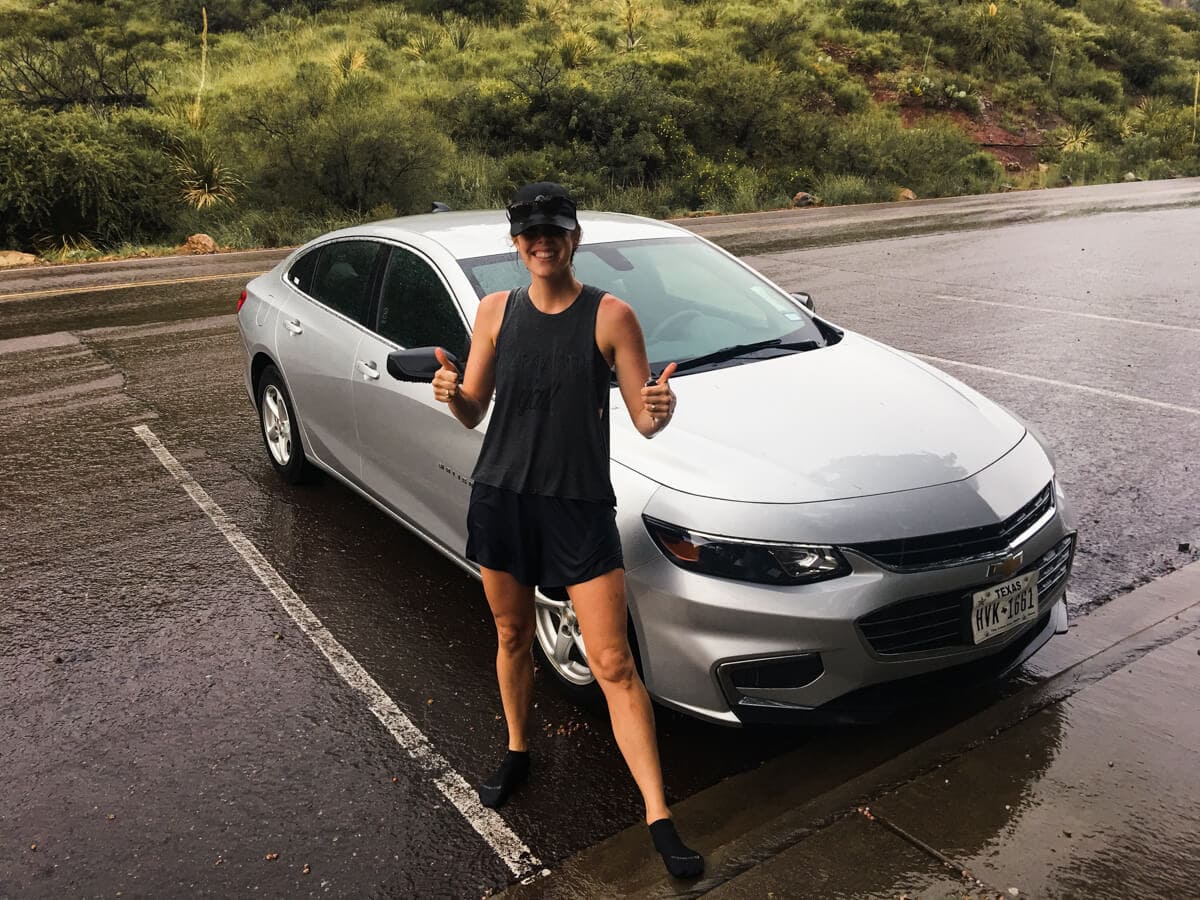 The End of a Successful Hike
Drenched but happy, we made our way downhill. And shocking as it may (not) sound, we were the only ones left on the trail. It seems we were the only ones who didn't get the storm/monsoon memo.
I mean, did you know the desert has a monsoon season? We definitely didn't do our due diligence.
The rain cleared as we weaved our way out of the Chisos and into the desert. Still within the park, we were blessed with a double rainbow.
A promise from the heavens to have no more floods on our hikes in Big Bend? Fingers crossed.
Read More About West Texas:
PIN IT FOR LATER