At my bridal shower one of the games my family friends made me play was to strategically pack all of the gifts (which included a full set of pots and pans) into one suitcase.
Challenge accepted.
And accomplished, I did it (obviously).
After living abroad for 15 years I've gotten used to packing a suitcase to within an inch of its life, filling it with things like fluffy towels and a crockpot and a new winter wardrobe.
Trips home are for re-stocking on things I miss. Trips around Argentina (where I live now) are for stocking up on woven rugs and bottles of wine.
My suitcases work hard.
Yet I never invested in high quality suitcase.
When Level8 reached out and asked if I wanted to test out their beautiful suitcases, obviously I said yes.
This is my bread and butter!
I took my beautiful suitcase and (slightly) beat it up on a two week road trip across Patagonia.
It held up and after a lifetime of soft luggage, I'm a stylish hard-shell Level8 convert.
Here's my complete and honest Level8 luggage review, in case you, like me, are in need of an upgrade.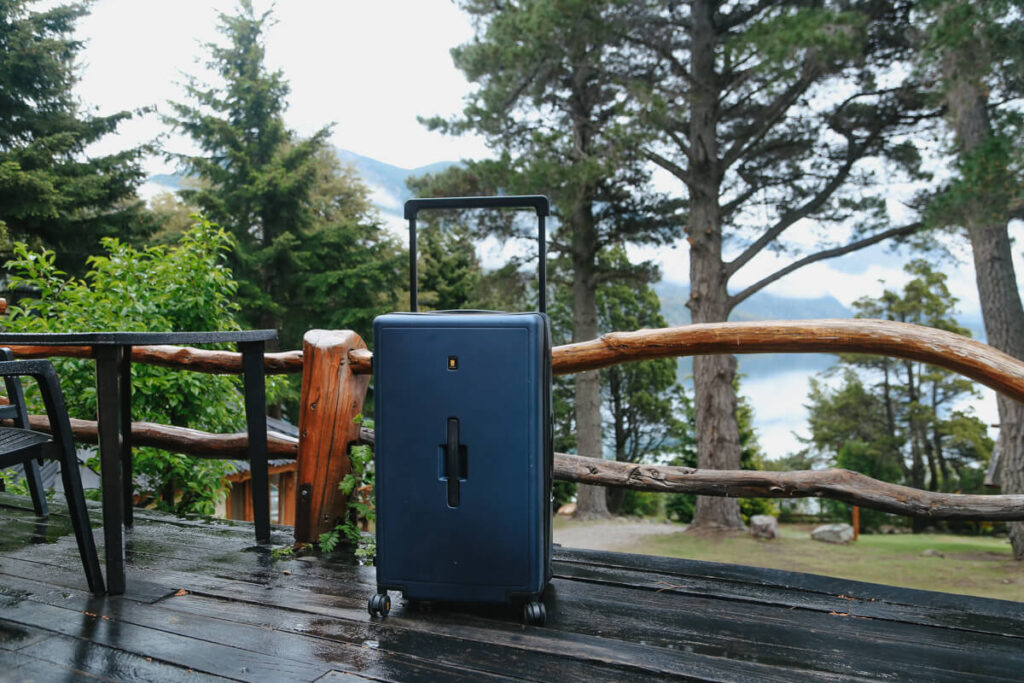 QUICK NOTE: This post contains affiliate links and Sol Salute may receive a commission for purchases made through these links, at no extra cost to you.
Level8 Luggage Review
When Level8 reached out, I had a hard time choosing which suitcase to try out.
They're all sleek and stylish, each withl unique benefits.
I was originally tempted by the Pro Carry-On with its laptop pocket.
Due to work, it's impossible for me to travel without my laptop and I worry it will crack in my backpack.
This hard-shell carry-on keeps your laptop safe and lets you travel a little lighter if you prefer to travel carry-on only.
In the end, I needed to be honest with myself.
I am NEVER carry-on only.
Chronically an over packer, now that I have to pack for myself, my toddler, and my baby all in one suitcase… things are getting out of hand.
I decided to try out the Voyageur Check-In, which is specifically designed to fit as much inside as possible. It's also very pretty (that's just a bonus).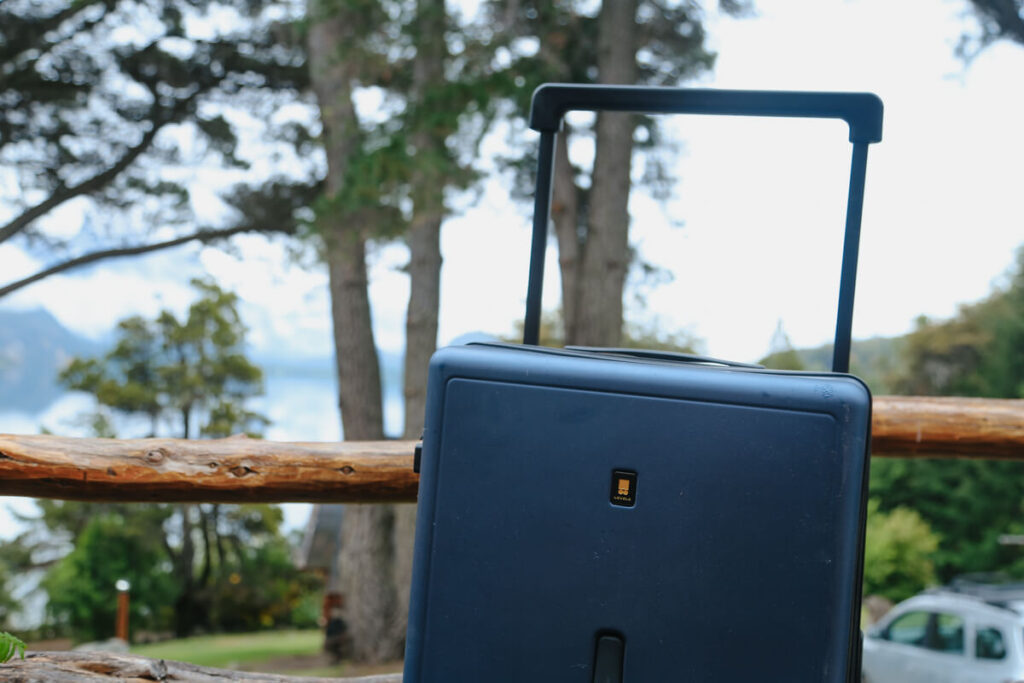 Who is Level8 and can I trust them?
Level8 is a New York based luggage company designing functional yet stylish cases.
Building upon years of travel experience, their aim has always been to create the perfect set of suitcases to make travel easier.
With strict quality control they have created luggage they stand behind with generous warranties.
The Voyageur Check-In features minor but important details like a built-in TSA-approved lock, 360 degree spinner wheels, and a Germany Makrolon® polycarbonate hard shell material that makes the suitcase incredibly light-weight.
The hard shell sides each have their own zippered compression systems, keeping everything organized and in place.
After a lifetime of using soft shell luggage, I've been very impressed with my new Level8 case and the company's keen eye to detail.
Level8 Luggage Travels Across Patagonia
The day after getting my Voyageur case I was stuffing it full for a two week road trip across Patagonia.
I packed all of my clothes, as well as everything for my two kids.
This suitcase plus packing cubes are my new saving grace.
If you don't use packing cubes, start now.
Especially if you're packing tiny onesies and toddler clothes. It keeps everything more organized, allowing me to keep our clothes separate in the same suitcase.
Despite filling the Voyageur to the brim, I somehow didn't overpass the weight limit thanks to the light construction of the case itself.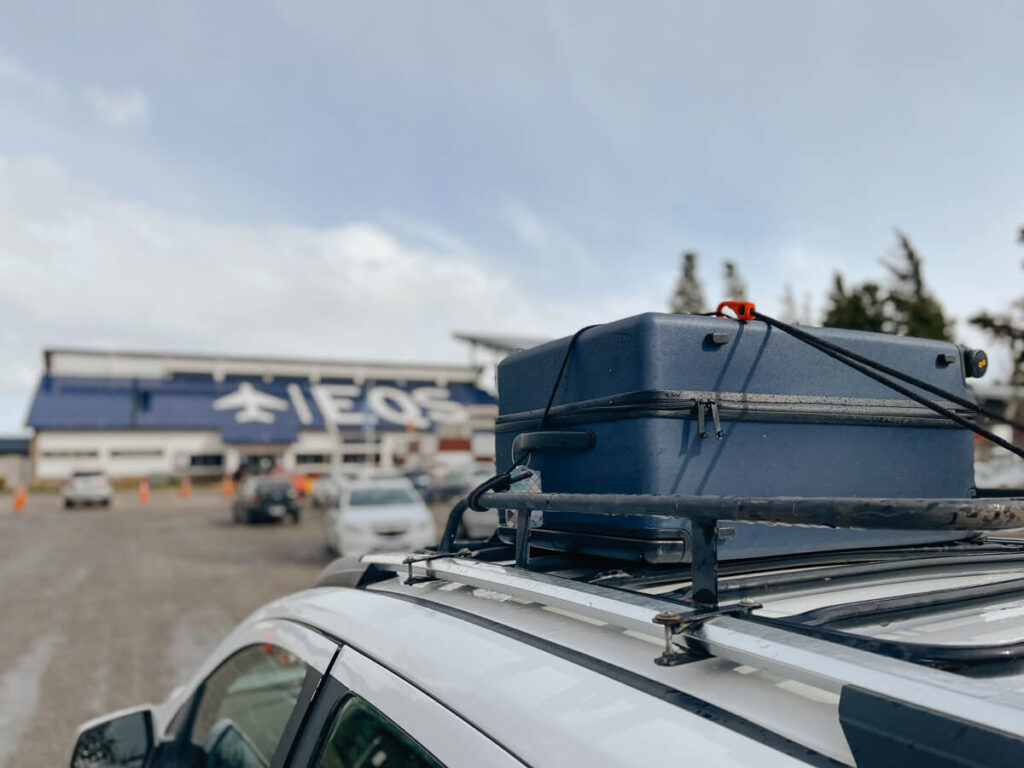 But let's be honest, packing it was the least of this suitcases worries.
Would it withhold the wear and tear of Patagonia?
We landed in the middle of a windy sleet storm to pick up a rental car that was too small us.
Luggage? Forget about it, it all went onto the rooftop luggage carrier, exposing my beautiful new suitcase to the sleet and snow.
I can now happily report that Level8 luggage is water resistant (if not proof).
All of our clothes were dry despite the two hour drive with it strapped onto the roof.
Throughout two weeks I unpacked and repacked the suitcase, we shoved it into and dragged it out of cars, and it took the beating from the airlines twice.
I can honestly say it held up beautifully.
Repacking and keeping things organized was easy and despite so much abuse it only has a few understandable scratches.
I can confidently recommend this luggage to anyone looking to upgrade their bags!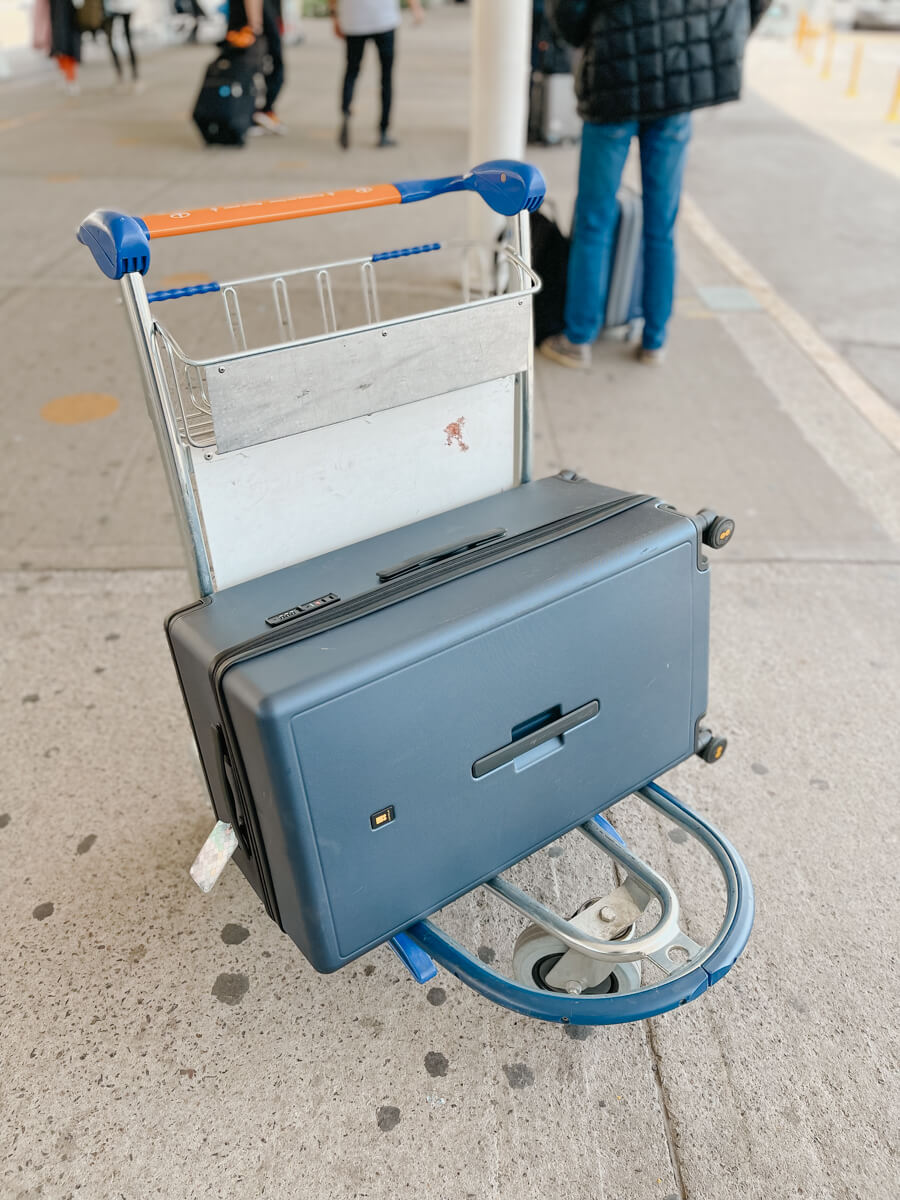 Level8 Voyageur: Details & Where to Shop
The best place to shop for Level8 is on their website where you'll easily find all of the information and details you need to know.
Alternatively, they also have an Amazon shop.
Voyageur Pros
Stylish (admit it, it matters)
Maximum storage space inside due to wider handle
Lightweight
Durable and anti-scratch shell
Front handle helps out on the baggage claim carousels
Built in TSA-approved lock
The ideal suitcase for long trips
Voyageur Cons
Hard shell suitcases can't expand or compress like soft luggage
Such a spacious interior can make it easy to overpack and exceed weight limit
Voyageur Features
They have two sizes for this specific bag. I chose the larger 28″. You'll see specs below for both the 26″/28″.
Creative handle design offers maximized base allows for increased packing space
Germany Makrolon® polycarbonate hard shell material, durable and lightweight
Micro-diamond Finish Hard Shell: Come In 26"
TSA approved combination lock for additional security
Ultra quiet 360° durable spinner wheels, with anti-shock design
Telescopic handle made from aluminum alloy
Interior compression system to get your possessions organized
Details
Capacity: 93L / 99L
Weight: 11.8 lbs / 12.4 lbs
Overall Dimension: 17.1"L X 13.3"W X 27.3"H / 16.6"L X 13.3"W X 29.1"H