I jumped on the Airbnb wagon very early on, opening my account with them way back in 2012. I'm a huge fan of the site.
Staying in an apartment, home, or cottage in a new city is so much more comfortable than being cooped up in a tiny hotel room.
8 years on Airbnb and I never encountered any problems. It sounded too good to be true, even for me.
Well, I must have counted my chickens because in July of 2019 my husband and I were met with our first Airbnb scam.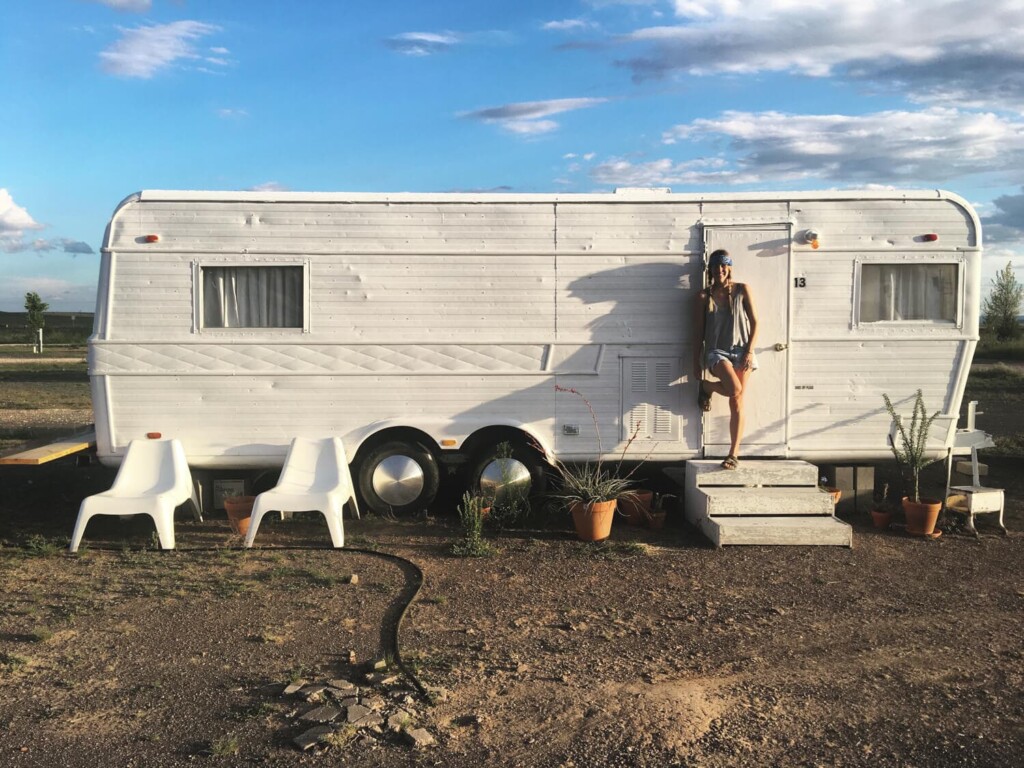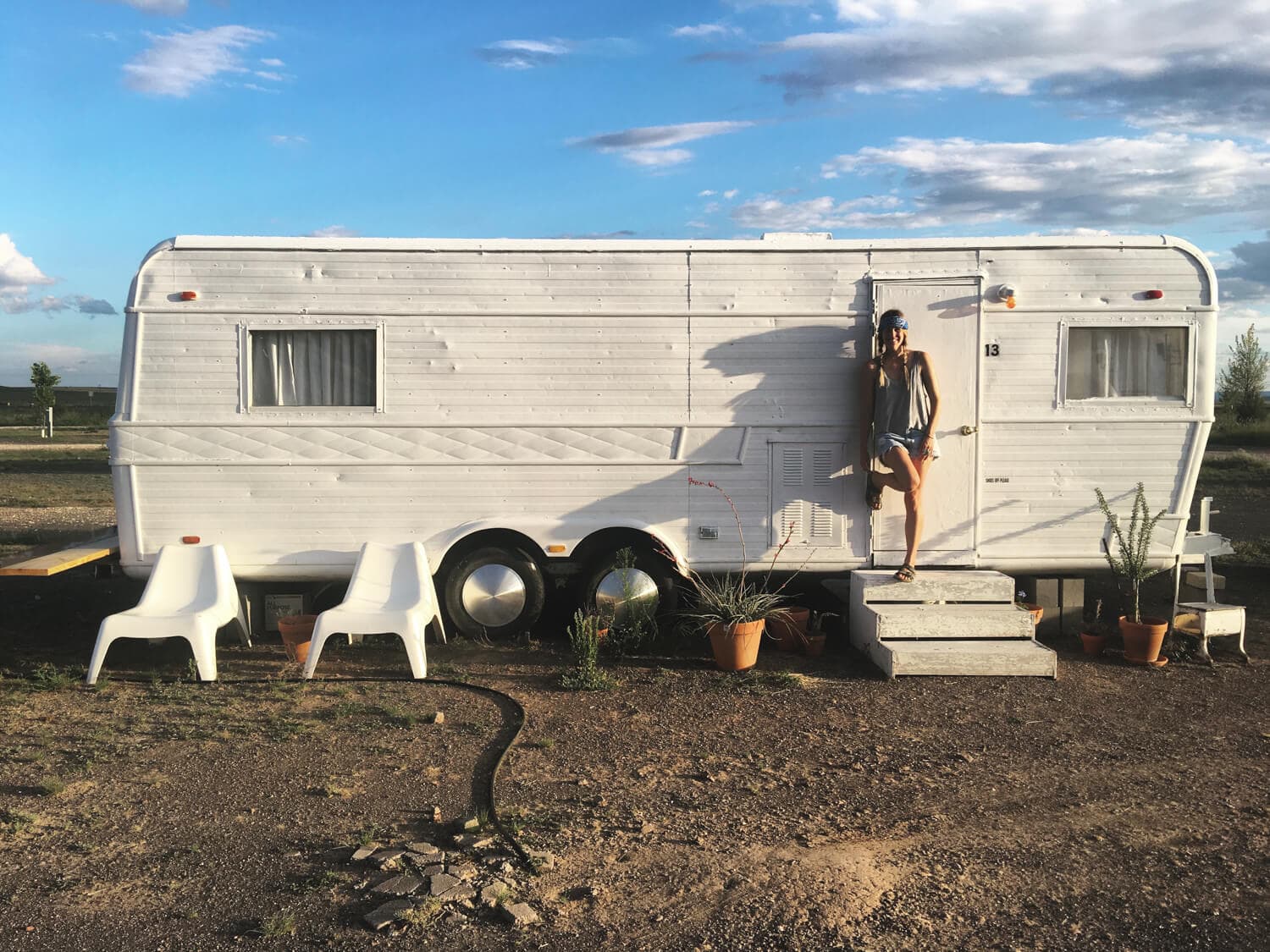 QUICK NOTE: This post contains affiliate links and Sol Salute may receive a commission for purchases made through these links, at no extra cost to you.
Fake Airbnb Listing in Bariloche
My Christmas gift to my husband in 2018 was a ski trip to Bariloche during the 2019 winter ski season. I was so proud of myself for such a thoughtful gift!
I cashed in my Chase Ultimate Rewards points for free flights (read my post on how to fly for free to do the same). Then I quickly opened Airbnb to find affordable housing for our stay there.
I knew we'd be visiting during a busy season but by booking our trip 8 months in advance there were still plenty of options available. One particular Airbnb listing caught my eye…
The rate was under $100 US per night in Cerro Catedral, the ski village in Bariloche.
This is unheard of during peak season! It's also the first major red flag I ignored.
I reasoned with myself. Yes, it's cheaper than most places, but there were other hotels still available for around $150 US a night (so it's still within reason that this price point could exist this far in advance).
While a bit basic, the apartment seemed clean and nice enough. It was also a bit further from the slopes than other hotels and lodgings, in an apartment complex.
All of this, combined with booking so far in advance, to me justified the lower price point.
I booked the apartment and never looked back.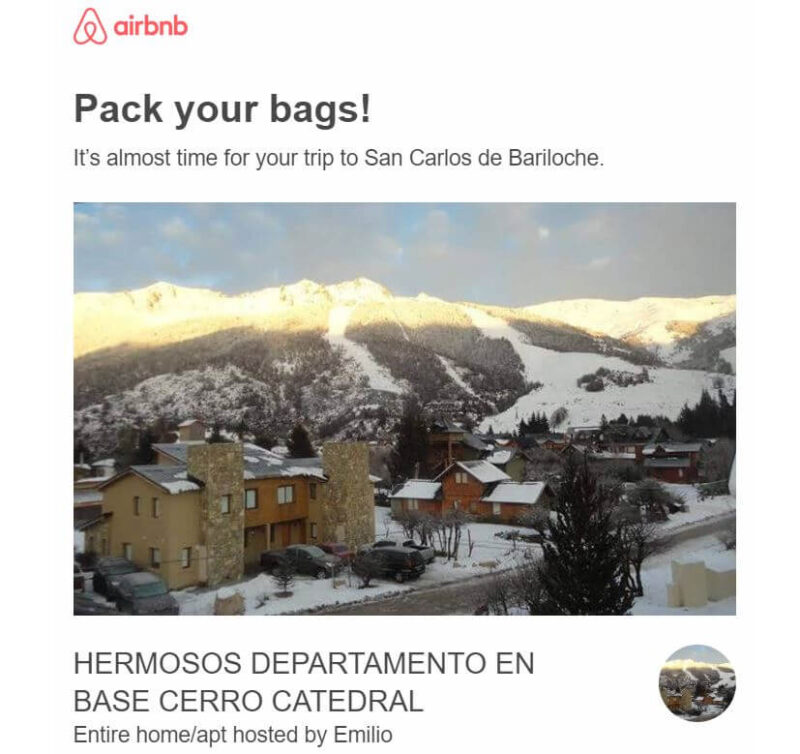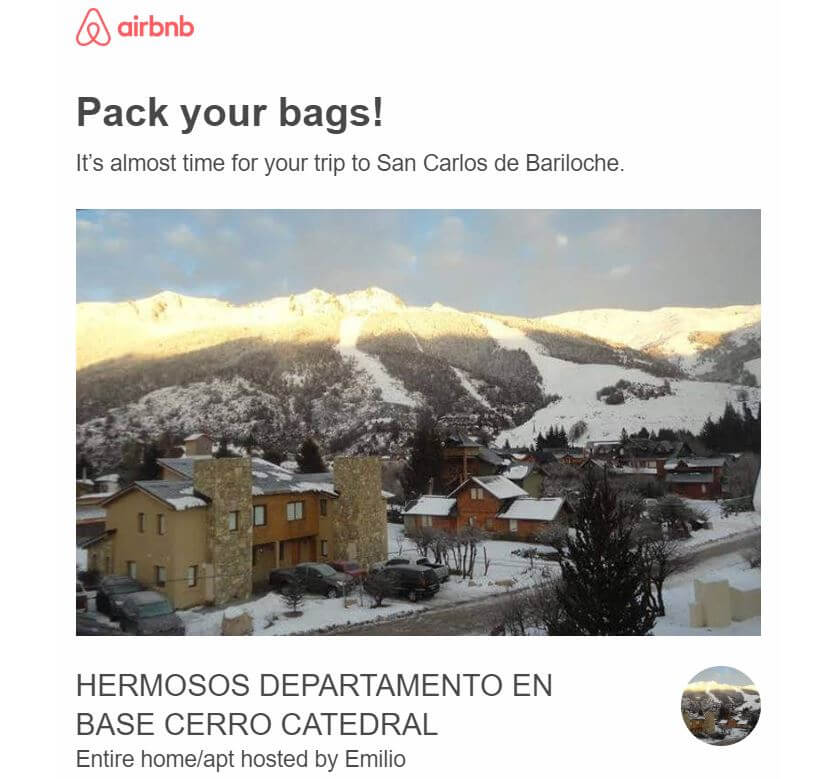 Airbnb Scam: The Case of the Fake Listing
It wasn't until the week of our trip that I realized I hadn't heard from our renter, nothing aside from the automatic emails sent by Airbnb.
I was, and never will be again, very laissez faire about renting on Airbnb.
Treating it like a hotel, I'd hit reserve and leave it be until the days before a stay, only then contacting the owner to coordinate my arrival.
Never again.
Three days before our trip, we emailed the apartment owner. We never heard back. The following day, we called the number on our confirmation email.
A very confused man answered the phone. He did live in Bariloche. He did rent apartments to tourists. However, this was not his listing.
You may be thinking, he's scamming you. He's the scammer.
But after speaking with him multiple times over the next three days, my husband and I both believed his story.
He rents apartments online and his phone number is visible on his listings. It would be easy to scrape his information.
Whatever faceless scammer got us, also got him. He sounded truly bewildered.
My Experience with Airbnb Customer Support
My husband and I quickly decided to cancel our trip and reschedule it for the following month. This week was peak season in Bariloche and it was even busier than normal peak seasons.
The city was collapsing under the weight of its visitors (and the tourists from a neighboring village suffering from an avalanche induced black out). There were NO rooms available in the entire city.
In a panic, I quickly contacted Airbnb's customer support via chat. To their credit, they looked into the situation and immediately refunded my money.
However, we were still losing a lot of money on this scam.
Because of their allowing this fake listing on their site, we were going to have to forfeit our nonrefundable airfare (luckily, in the end, we didn't lose everything on our flights, more on that at the end of this post).
I pushed for more compensation, ideally credit for a future stay.
After all, this was a result of negligence on the part of Airbnb.
This is when I was met with a bit more pushback. Airbnb does not freely compensate its users (however loyal they may be).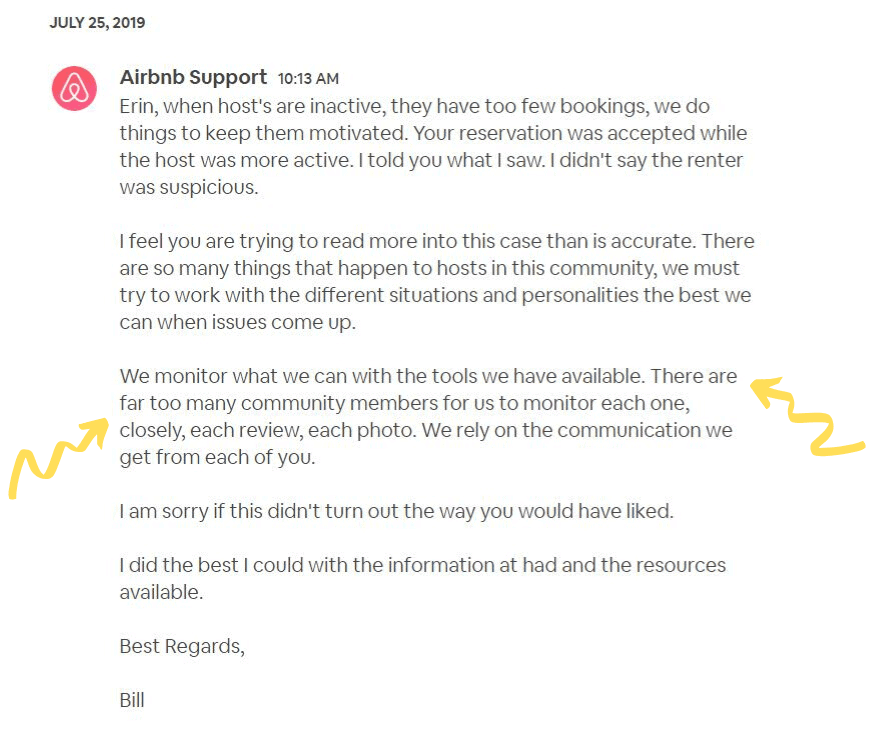 Eventually, I received $100 credit in my account to use on our next stay (which we did, in Bariloche the following month).
But what if we were IN Bariloche already? What if we were in the snow with our luggage with nowhere to stay? What if we were a family with small children in that situation?
The answer is we'd have been sh*t out of luck.
Ghost Owners: A Successful or a Failed Scam?
I wasn't given much information from Airbnb itself about what happened.
But after originally publishing this article I received a bit more feedback from other users and renters on the platform.
Logically, Airbnb holds the deposit in escrow until the day after the renter checks in. This means whoever listed the fake listing I reserved wouldn't have received a penny of my money.
So not only did I get scammed, I got scammed by a very dumb criminal who didn't even get anything out of it! I guess that makes me feel better?
Later, I read about this exact scam being VERY common in Argentina this summer season but with deposits being paid via bank deposit.
This is obviously very successful for the scammer, unlike mine on Airbnb.
My only guess is that whoever created these fake listings in Bariloche on Airbnb was trying to replicate a successful scam but failed, due to Airbnb's escrow policy.
While I'm happy they failed and therefore won't likely try to repeat this scam, it doesn't change the fact that it happened to me.
We were still left with nowhere to stay at the last minute and had to cancel all our plans 48 hours before leaving. And worst of all, I didn't feel like Airbnb customer support was really there for us.
This is why it's very important to be cautious when booking on the site to avoid any issues arising in the first place.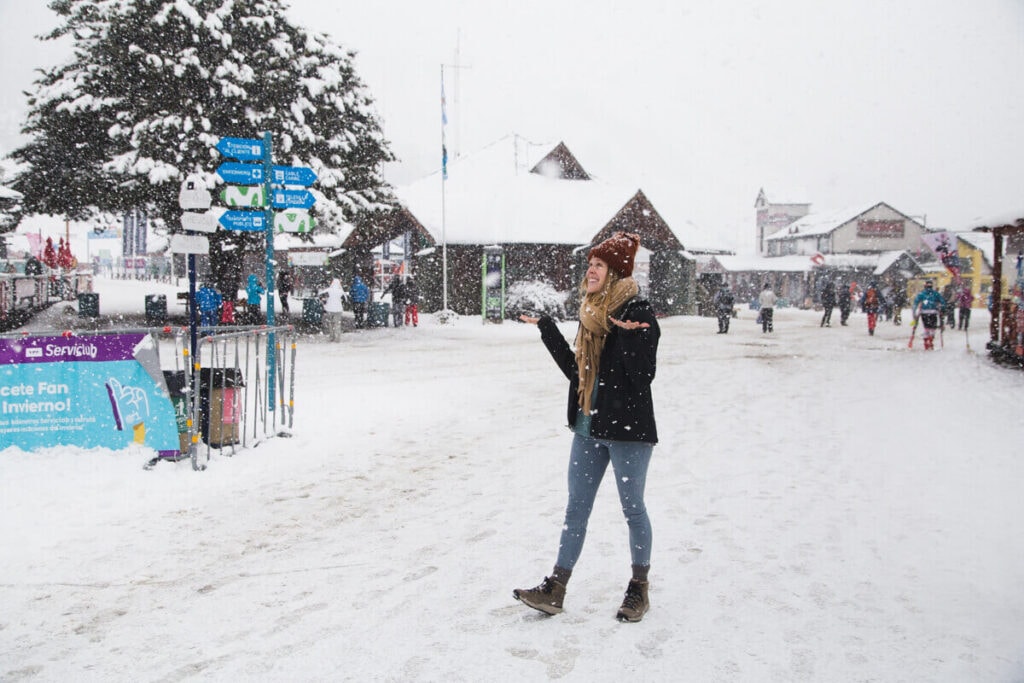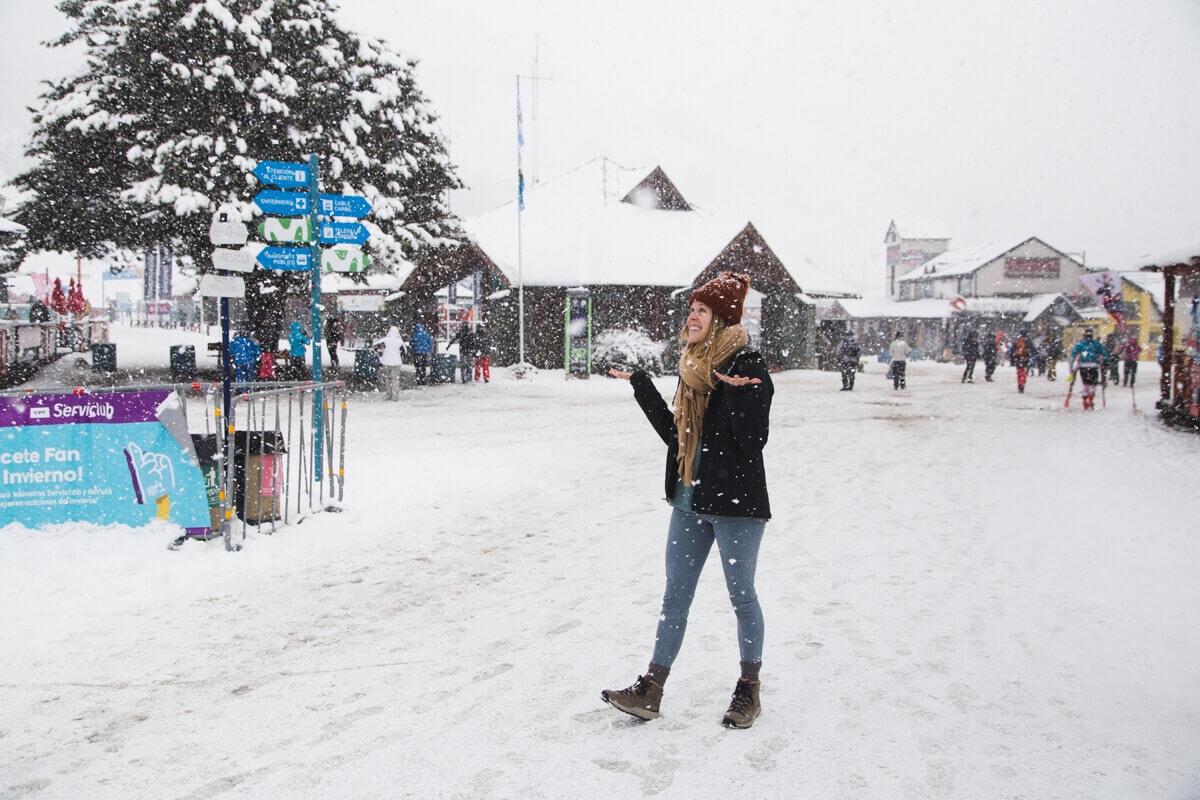 Common Airbnb Scams To Look Out For
While what happened to me sounds seems an uncommon (and failed) scam, that doesn't mean more clever predators don't exist.
It's the internet after all, so it's important to protect yourself.
For proof that I'm not alone in falling for an Airbnb scam, check out these articles in major publications:
This couple booked a non-existent $12,000 penthouse in Ibiza, similar to what happened to me (but at a MUCH heftier price tag!).
Here's an in-depth investigation by Vice about a nationwide scam on Airbnb.
This article in Argentina's La Nacion goes into great detail about a new, common scam (estafa) of "ghost owners" that don't exist, renting out non-existent on the coast in high season. These take place on sites like MercadoLibre (not Airbnb, to be clear).
Lifehacker has this article on how to be sure your Airbnb rental is even legal.
Basically, scams are a lot more common than my Airbnb customer support agent made it out to be.
How to Avoid an Airbnb Scam
While my money was immediately refunded, I didn't find Airbnb's customer support to be extremely helpful.
I had to really push for the most minimal compensation and my agent got noticeably less friendly as I did.
Don't count on Airbnb finding you alternative accommodations in a pinch or offering compensation that will actually cover your damages.
Instead, take more precautions to avoid falling for this scam in the first place.
Airbnb Precautions:
Only rent Airbnbs with a lot of feedback. My ghost rental was a brand new listing with no one to vouch for it.
Be suspicious of properties with few photos, reviews, and descriptions.
If it's too good to be true, it probably is. If it's significantly cheaper than similar properties in the city, that's a red flag.
Avoid renting listings that have a lot of owner cancellations, that's a bad sign. You would see these in the feedback section of the listing.
When possible, try to rent from Superhosts. These renters have so much positive feedback that Airbnb has rated them as the best of the best.
Establish contact with the owner as soon as possible. Let them know when you'll arrive and coordinate logistics. Do not wait until the last minute like we did.
Stay ON SITE. An owner should never ask you to take the conversation and payment off of the Airbnb platform.
Make sure you're on the legitimate airbnb.com website. Fellow travel bloggers Goats on the Road nearly fell for another common Airbnb scam that involves a fake website.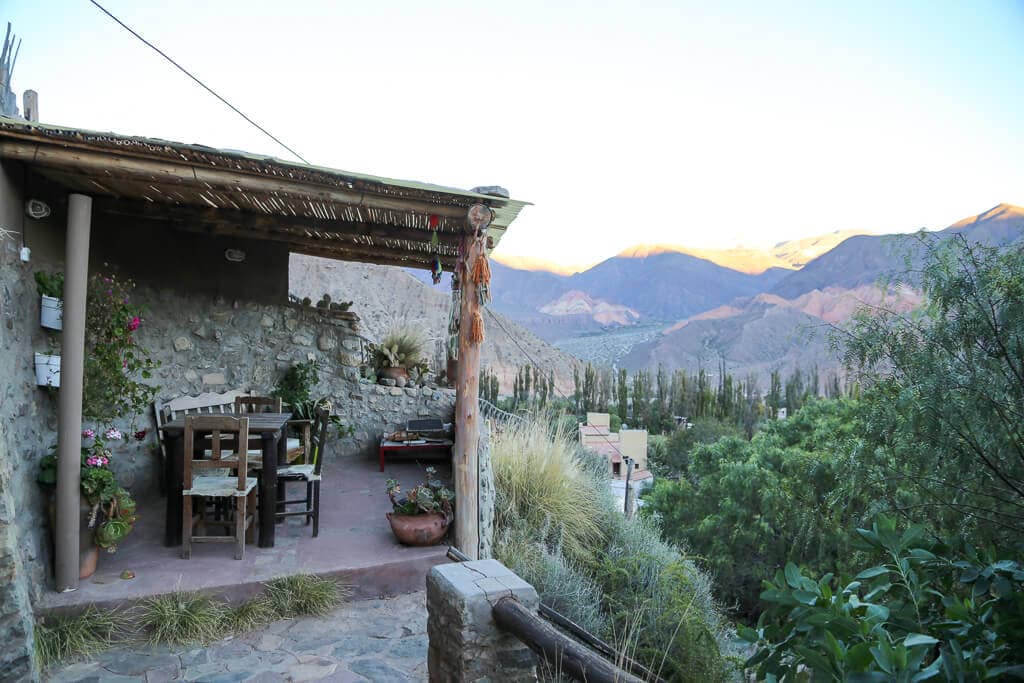 Why I still Use Airbnb
Despite this disappointing experience, I am still an Airbnb user.
But that's no longer due to their excellent customer service (which I've come to learn has its limits).
Like American Airlines and United, they've outgrown their friendly start-up vibe. It's a large corporation now, so expect to be treated as such.
Airbnb is a behemoth in the travel world. It is the end all be all of travel home rentals. You can rent incredible properties all over the world.
I've lived like a local in Mexico City and showered under the Milky Way in Terlingua in West Texas.
Our Airbnb in northwest Argentina had a panoramic view of a rainbow colored mountain.
These have all been priceless experiences. So while I'll be more cautious, I'll still use Airbnb and don't mean to discourage you from using it.
Learn from my mistakes and protect yourself. You'll have a wonderful vacation for it.
Also keep in mind that there are alternatives like VRBO. Booking.com even has amazing rental homes and villas in their inventory! You are not tied to Airbnb.
Bonus: How we Saved Our Non-Refundable Flights
My main concern was losing all of my points spent on this flight, worth a few hundred dollars.
It was a nonrefundable reservation that our $100 credit didn't adequately cover.
Luckily, I had reserved directly with the Chase Travel Portal with my Chase Sapphire Reserve card. This card offers a plethora of elite travel benefits and traveler protections.
They were able to save my flight, allowing me to re-book it with certain conditions in place. I did have to pay a re-booking fee of $60 US per ticket, coming to only a $120 loss.
This made the $100 Airbnb compensation more palatable.
This was possible only because I had booked with Chase and my excellent travel rewards card. To learn more about reward travel, read my review of Travel Freely. They'll teach you everything you need to know!
PIN IT FOR LATER