The stars at night, are big and bright, deep in the heart of Texas.
I hope you're clapping right now.
I don't know about you, but I love a road trip.
You can't beat getting out of the big city and into the beauty of the countryside. And Texas has that in spades.
This post has all of the most unique Airbnb's, VRBO's, and glamping sites in Texas if you want to breathe some fresh air and sleep under the big and bright stars of the Lone Star State.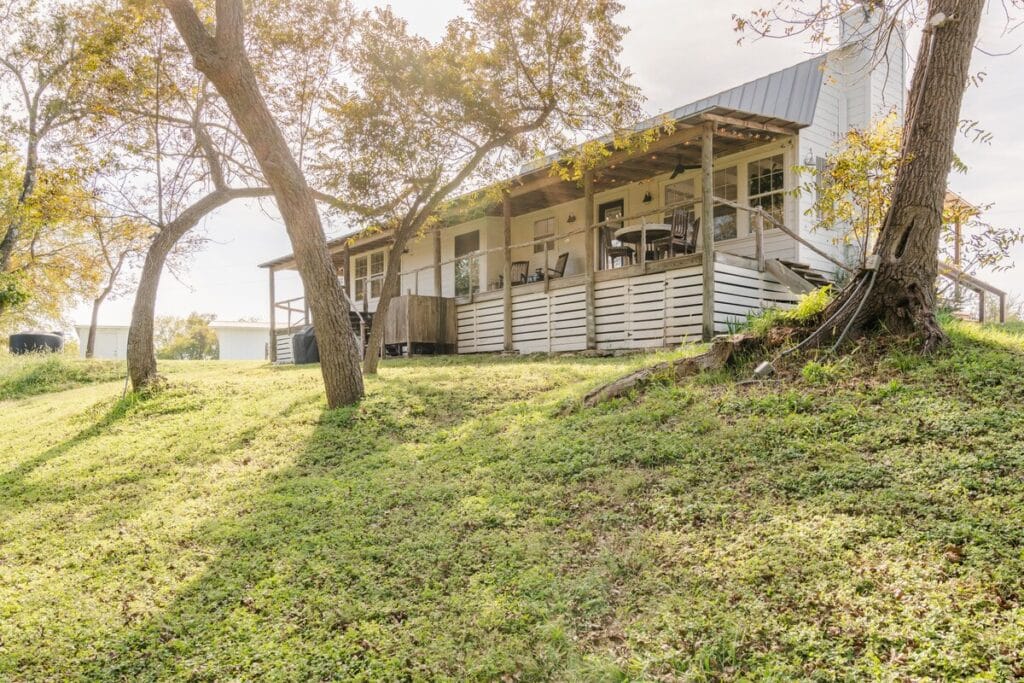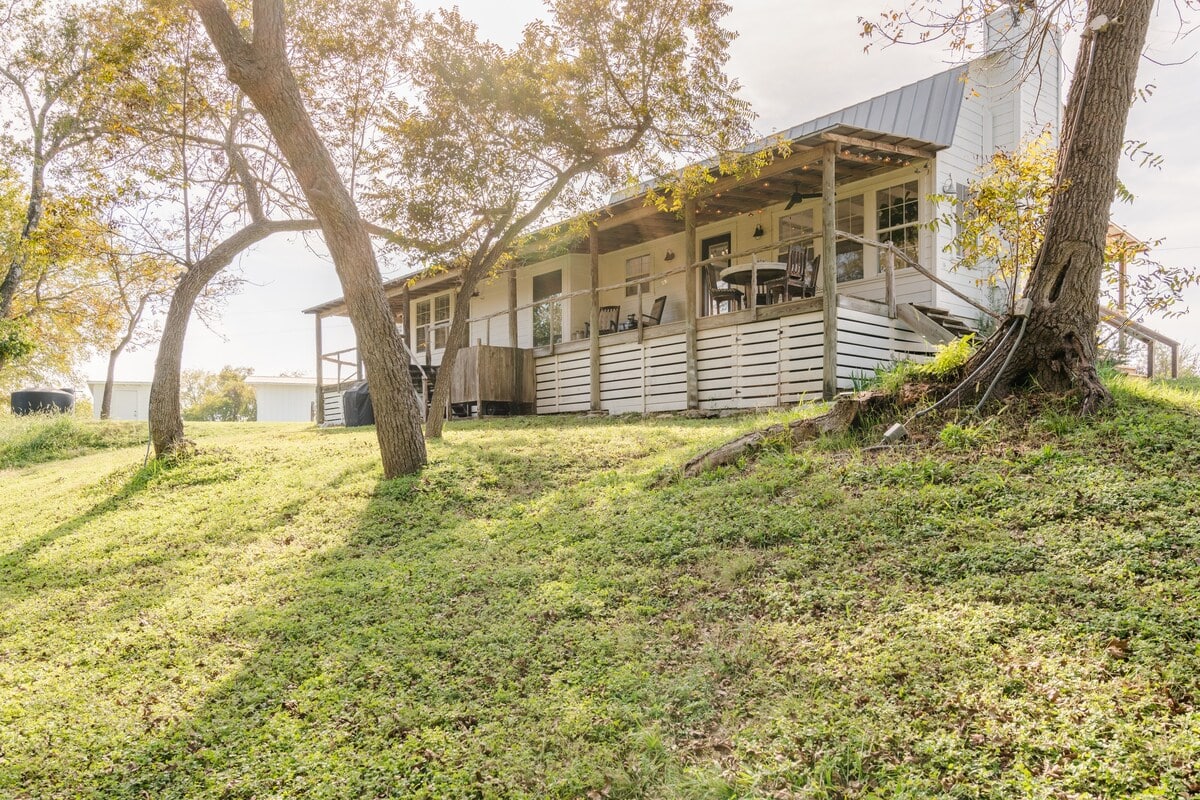 QUICK NOTE: This post contains affiliate links and Sol Salute may receive a commission for purchases made through these links, at no extra cost to you.
Unique Airbnbs in Texas (Yurts, Cabins, & VRBO's!)
I was raised in the countryside outside of Brenham in Washington County but currently live in the big city.
When I visit home in Texas, all I want is to get away from it all.
I want to hear the sweet sound of silence, to see the stars, and feel the wide open spaces sprawl out around me.
These are the top vacation homes and unique Airbnb's in Texas to do just that.
From yurts in the Hill Country to abandoned mining houses in the desert, I promise you'll love these rural Lone Star State escapes.
Some of these rental homes are on Airbnb, others on VRBO (where I've personally had better customer support).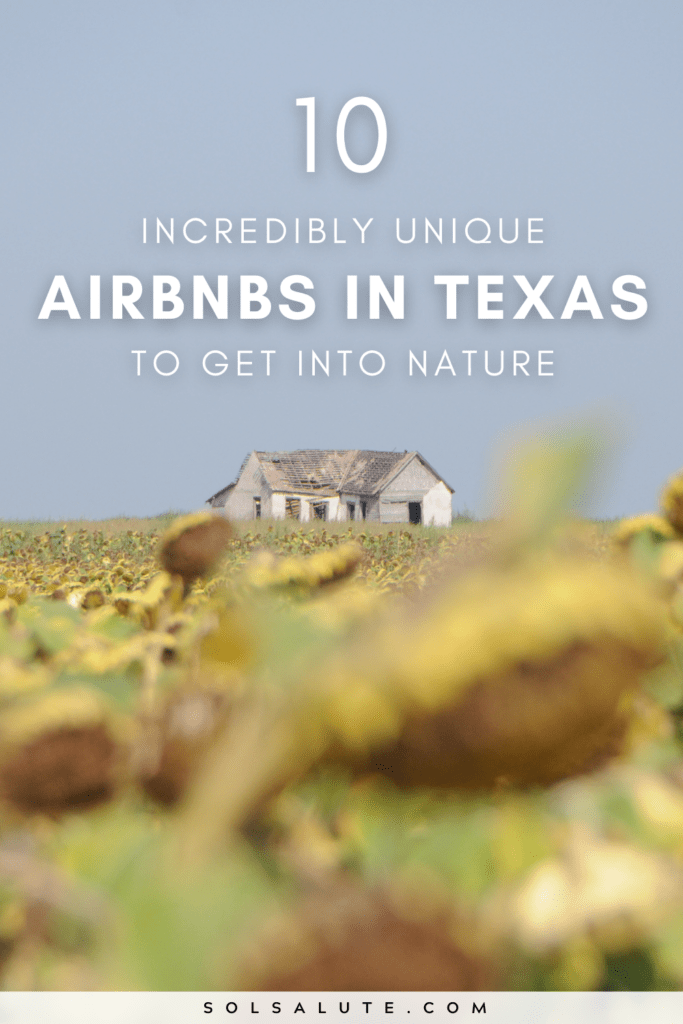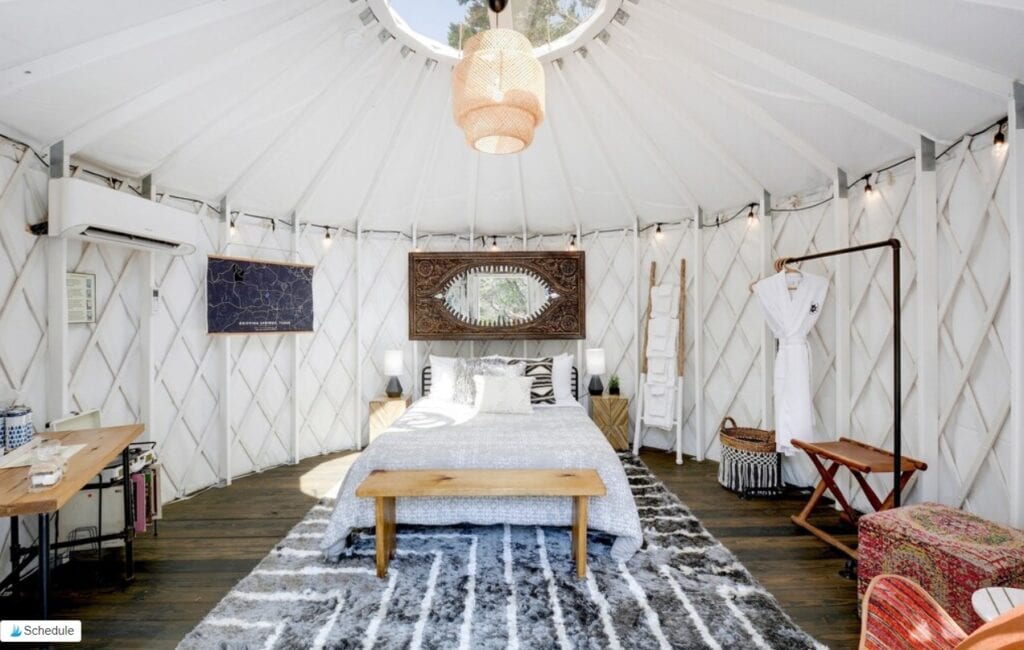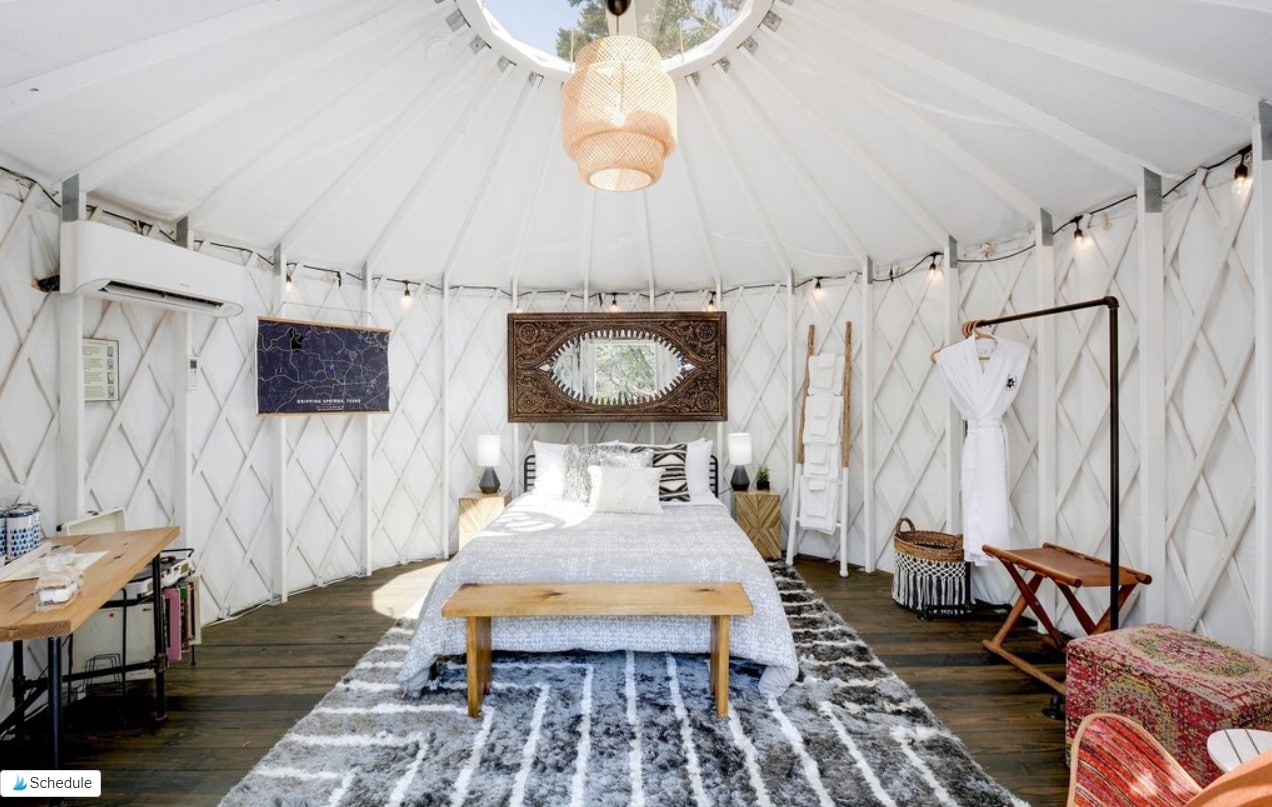 1. Yurt in Dripping Springs | Great Texas Airbnb Near Austin
Price: $246/night
Where: Dripping Springs, The Hill Country
Check Availability Here
This yurt in Dripping Springs is the ideal Texas getaway. It's the epitome of unique accommodation!
Dripping Springs is a short drive away from Austin.
It is home to a number of breweries, wineries, and distilleries along with Texas' most famous swimming hole, Hamilton Pool.
This is ideal for couples and one of the most romantic Airbnbs in Texas.
Visit the wineries during the day then open a bottle to watch the sunset from the private deck.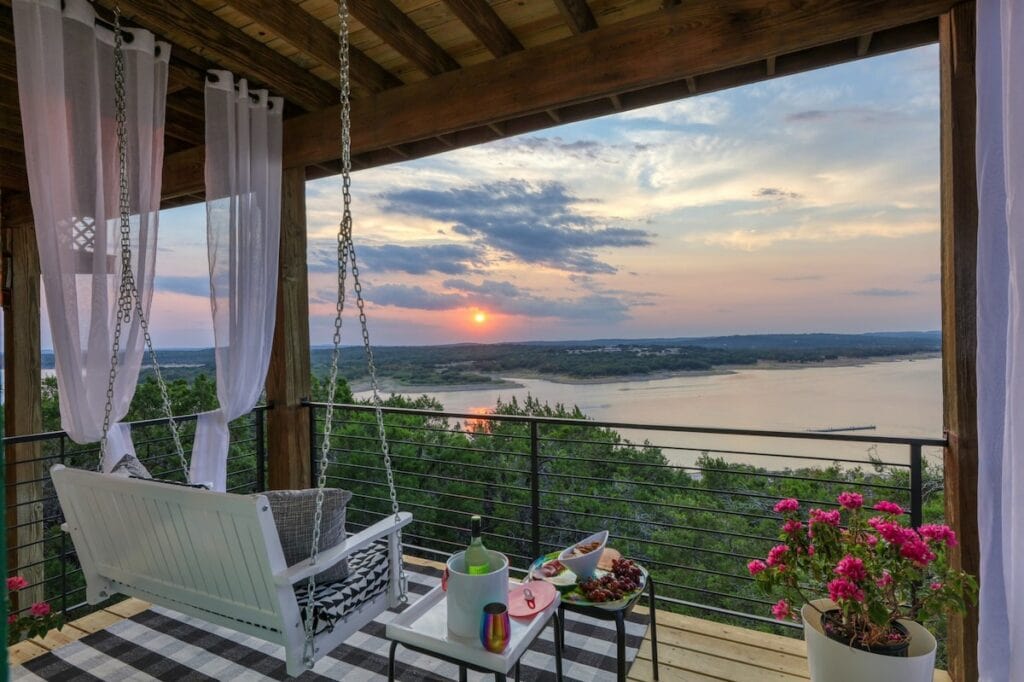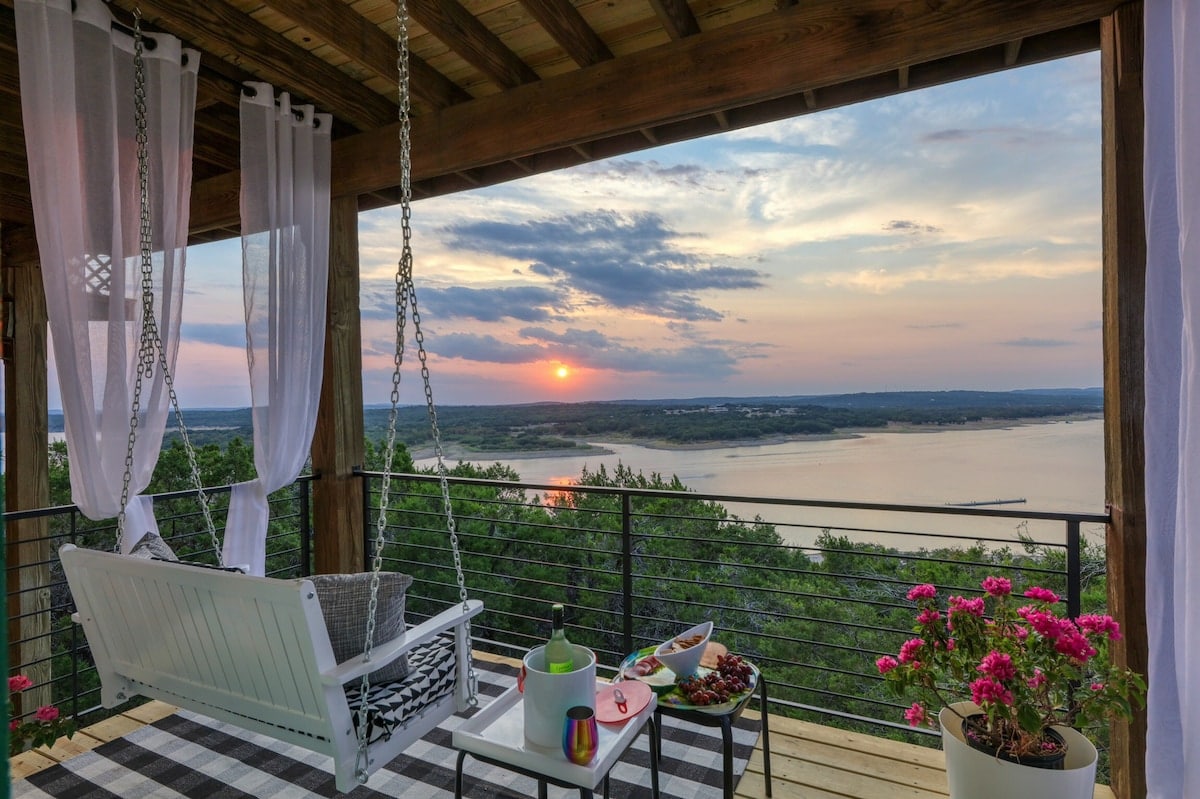 Price: $209/night
Where: Lake Travis, Austin
Check Availability Here
Stay close to Austin but feel miles away from it all in this tiny house perched on the cliffs overlooking Lake Travis.
The famous Oasis restaurant on Lake Travis claims this is the most beautiful sunset in all of Texas.
Enjoy it from the porch swing on your private balcony.
This is a small space so it's best for couples or a solo traveler getaway.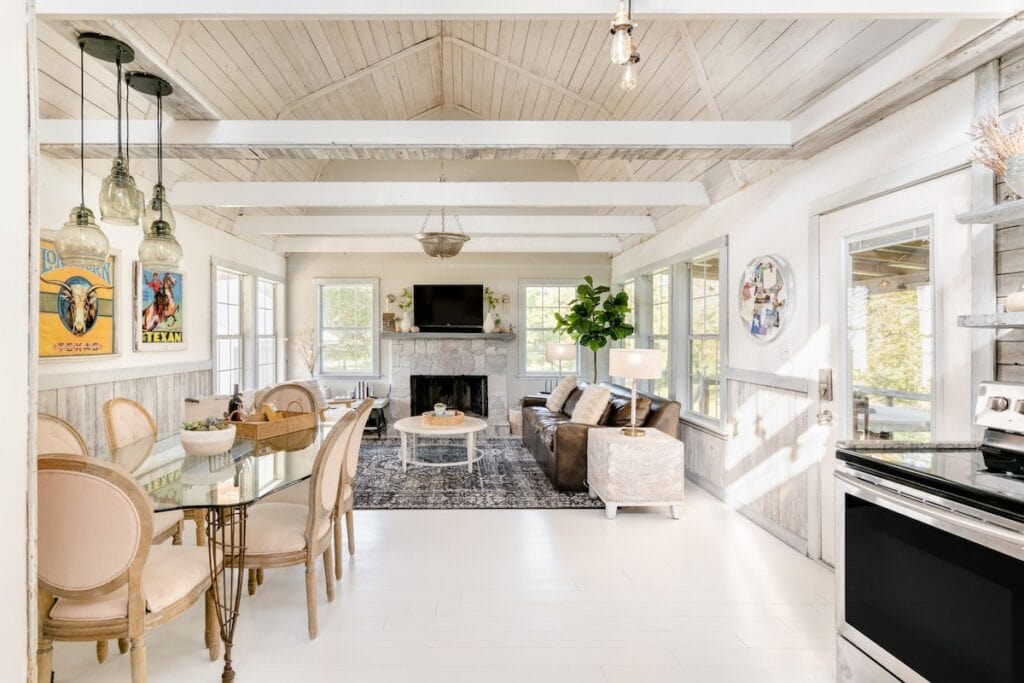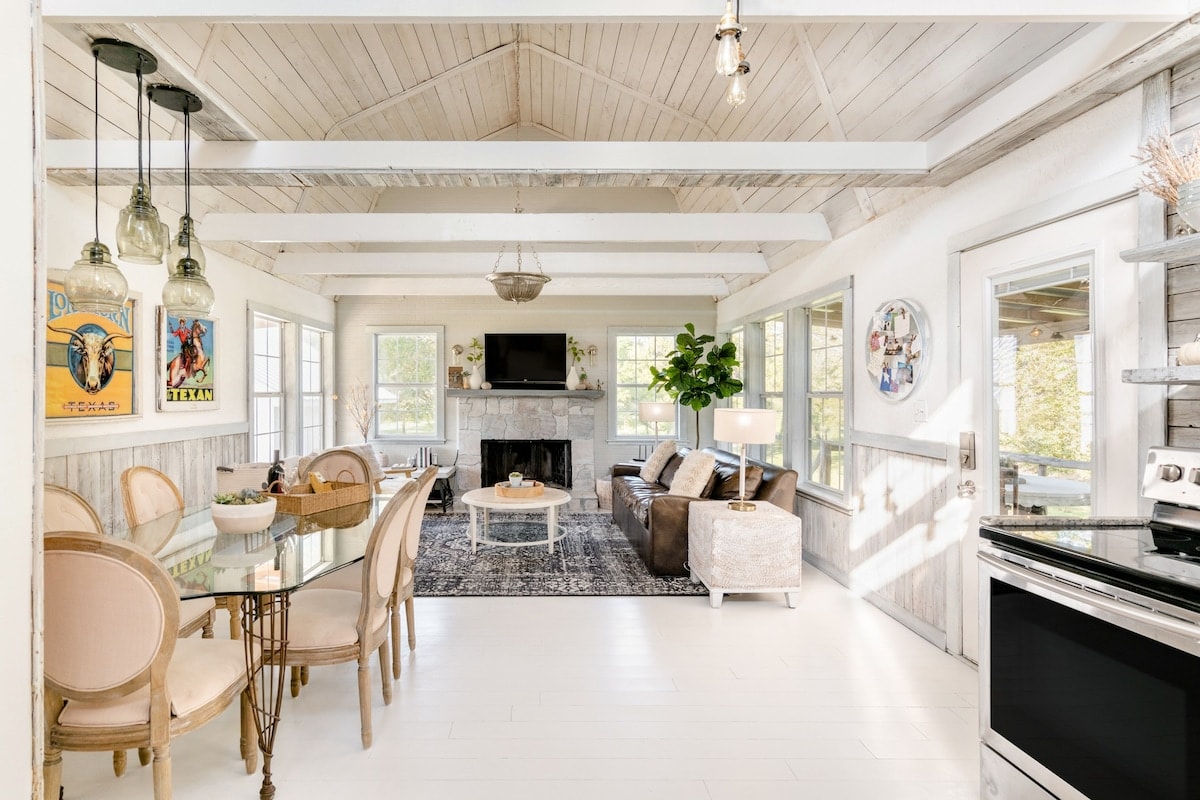 Where: Blanco, Texas Hill Country
Check Availability Here
Blanco is a small town in the Hill Country that is a bit off the beaten path. It may less popular than nearby Fredericksburg but that is part of the charm.
I spent some time in Blanco in my college days and absolutely love it. Take a swim in the river on a hot day or cozy in during the colder winter months (this house is ideal for that!).
It's close enough to famous Fredericksburg and Luckenbach, use this beautiful farmhouse as a homebase for your Hill Country getaway.
The Pecan Tree Farmhouse sleeps 6 and is a great option for families or a group of friends. The massive porch with epic views set the scene for a shared meal or a breakfast as the sunrises over the horizon.
And who doesn't want to sleep at Happiness Ranch?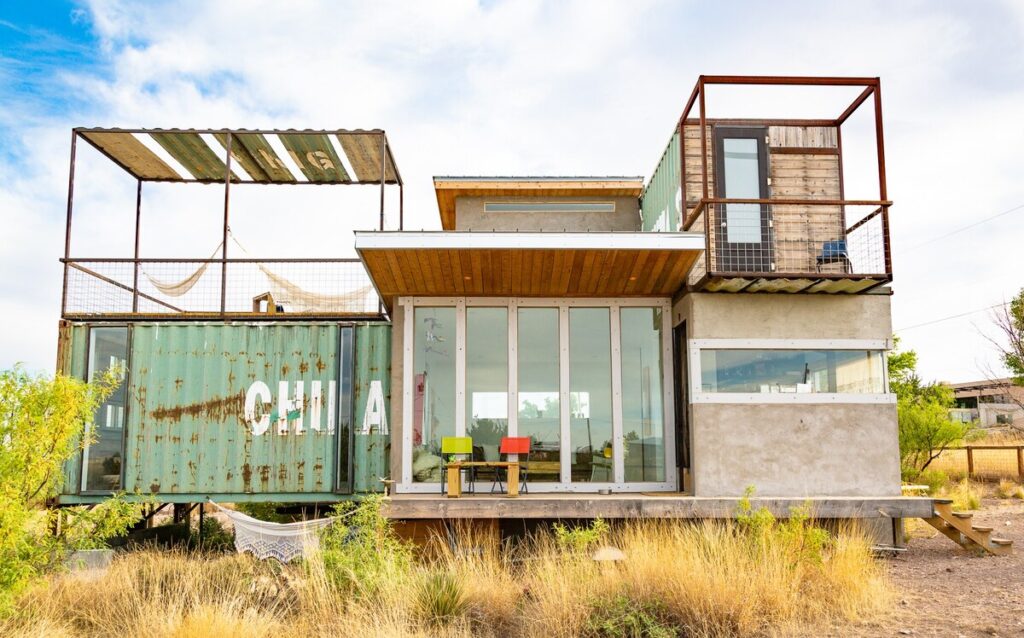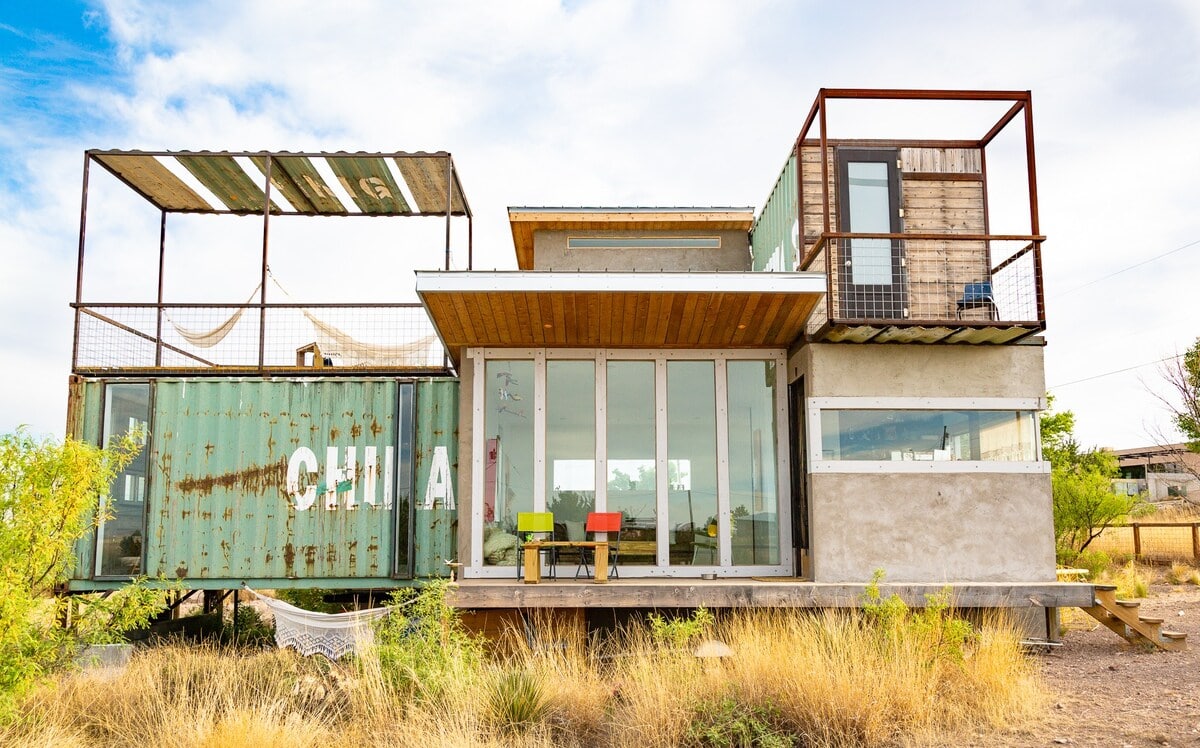 Price: $175/night
Where: Marfa, West Texas
Check Availability Here
Move over El Cosmico, Airbnbs in Marfa are stepping up their game. This home constructed out of recycled shipping containers feels like a piece of modern art worth of Marfa's many galleries.
The location offers the best of both worlds: isolated and quiet on the outskirts but close enough to walk into town for dinner.
Note that this is for the first floor only. The second story is a separate apartment (check it out here).
If you're going with another couple or as a group of friends, rent them both to enjoy the entire home (including the upstairs balconies and hammocks!).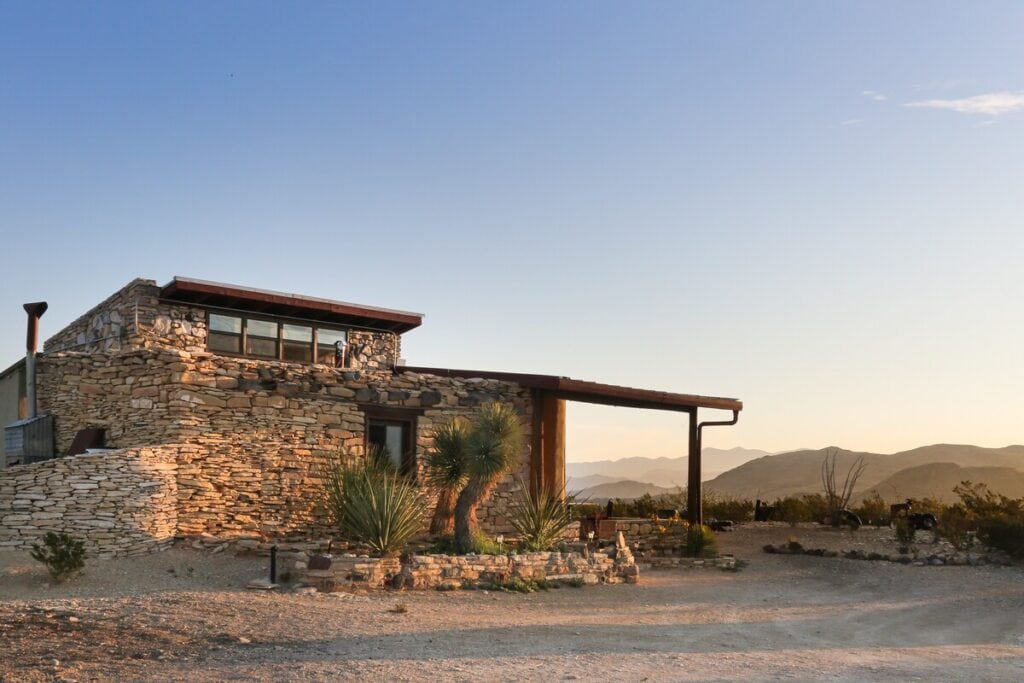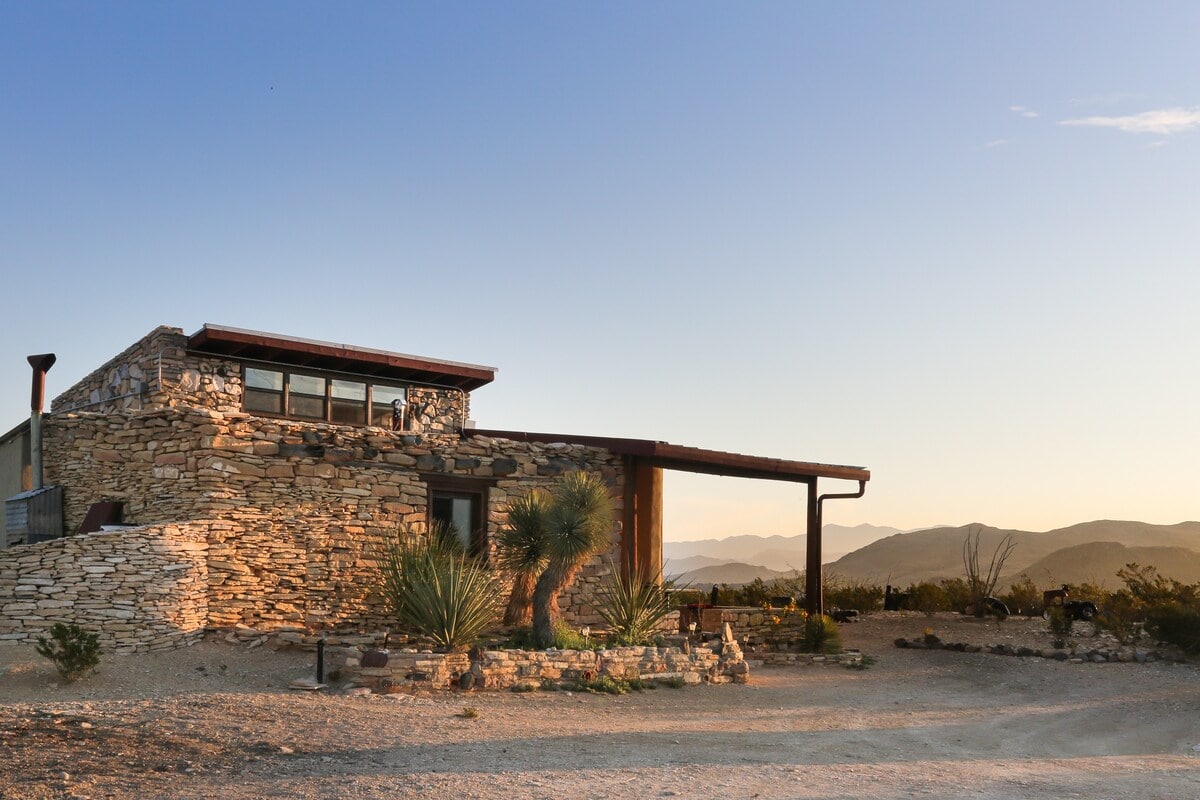 5. Sleep in Remodeled Mining Ruins in Terlingua
Where: Terlingua, West Texas
Check Availability Here
The Terlingua ghost town in West Texas is the gateway to Big Bend National Park. It's also home to some of the best Airbnbs in Texas.
Terlingua was a mining settlement during its heyday in the 1800s.
Walking through the ghost town you'll see abandoned mine shafts and the rubble of long-forgotten buildings.
Luckily for us, this once neglected mining home has been restored into a perfect rental home in the desert.
The house sleeps 2 in its one bedroom so this is best for couples.
The garage-style door in the bedroom opens an entire wall converting the room into an outdoors-indoor space.
Shower under the Milky Way in the outdoor shower and sip your early morning coffee on the porch as the sun rises over the Chisos Mountains.
6. Cabins in the Panhandle | Palo Duro Canyon State Park
Where: Canyon, Palo Duro Canyon State Park
Check Availability Here
The Texas Panhandle does not get its fair share of credit.
If you want to discover true Texas beauty and get away from the crowds, I recommend you head north.
Dove's Rest is the perfect place to base yourself to explore Palo Duro Canyon State Park.
The cabins are on the western rim of the canyon and the views are unbeatable.
Unwind after a long day of hiking in the outdoor hot tub overlooking the canyon below.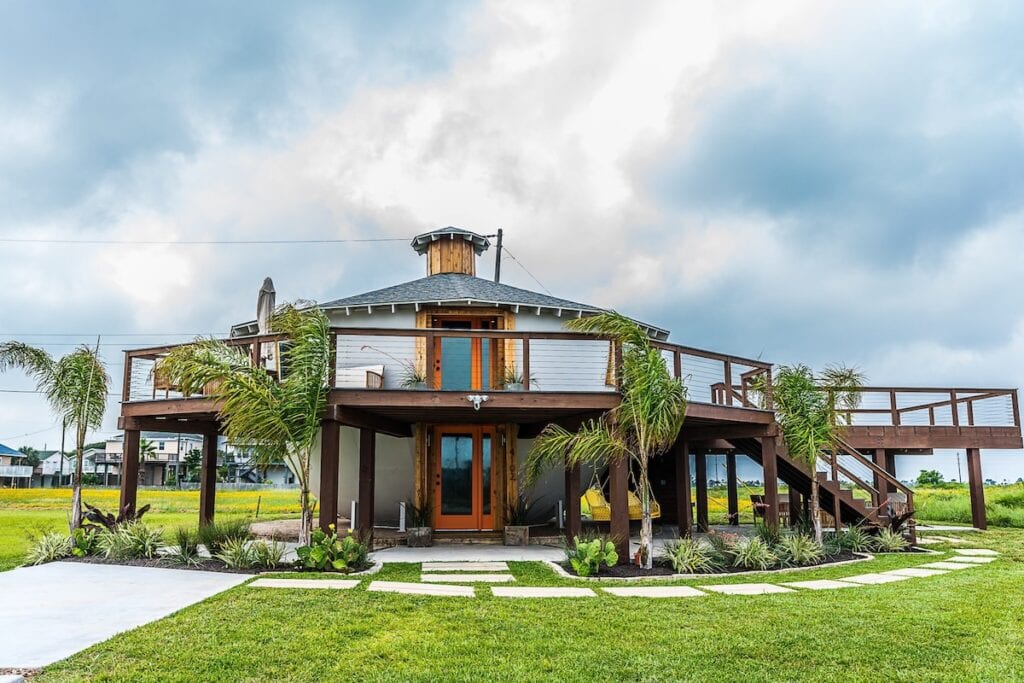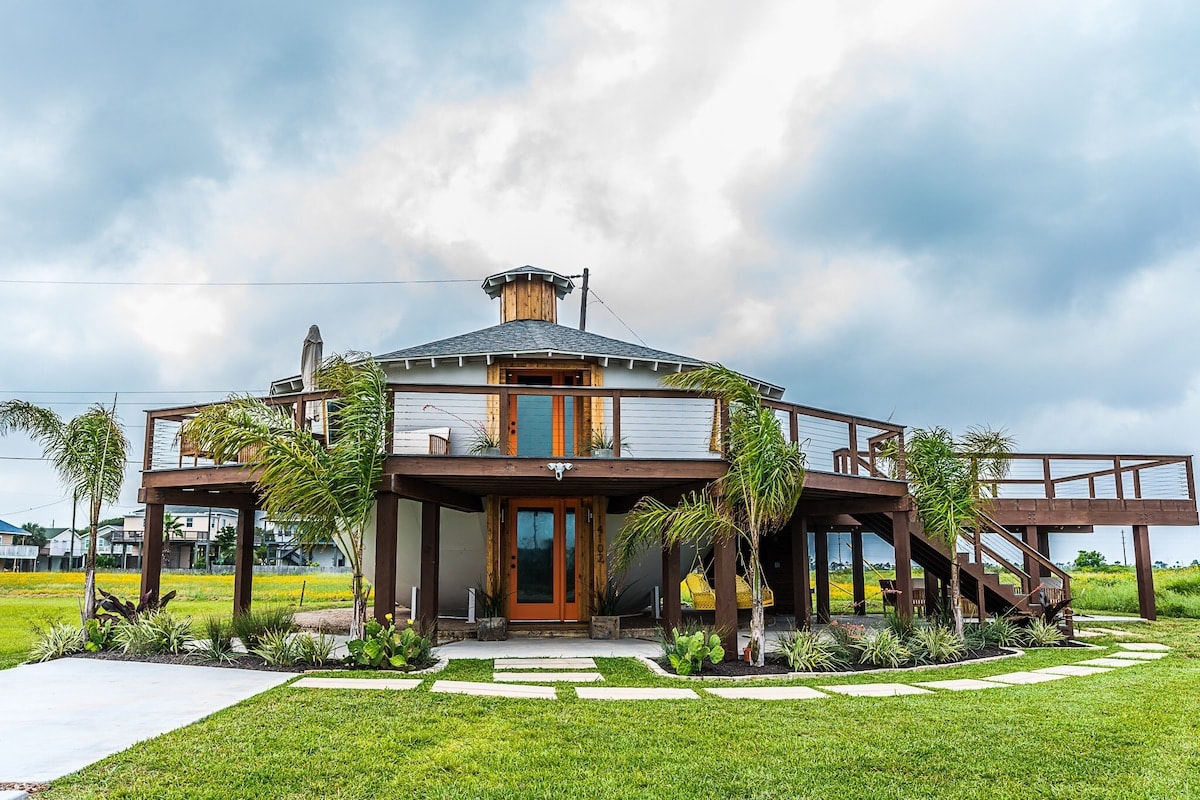 7. Kettle House Galveston
Price: $239/night
Where: Galveston Island near Houston
Check Availability Here
As seen on the HGTV show The Big Texas Fix, this incredibly strange 1960's styled home is just an 8 minute walk from the beach.
The Kettle House has become a Galveston attraction all on its own so don't miss your chance to sleep in this quirky remodeled steel storage tank.
The house sleeps 6 guests with 2 bedrooms (3 beds) and one bathroom. The downstairs bedroom (seen above) has 2 queen beds situated against the curved walls.
The huge wrap around deck upstairs is ideal for summer barbecues and getting some sun.
TIP: The Kettle House is a bit famous and hard to get a reservation for.
If it's booked up and you still want to visit Galveston's beautiful beaches, you can't go wrong with this classic Galveston home on stilts just steps from the water.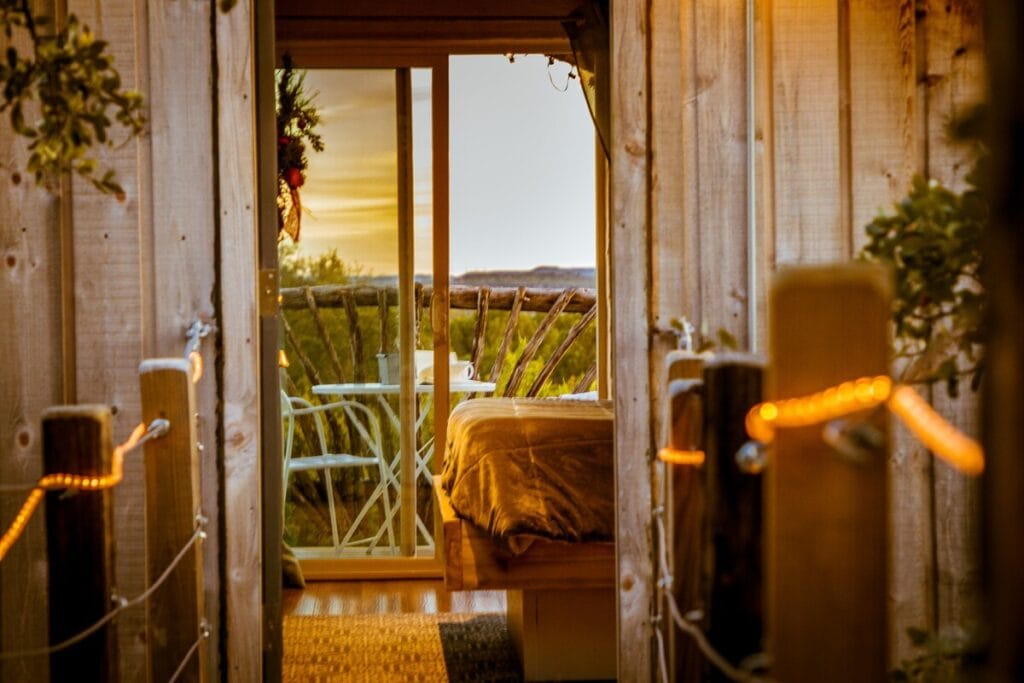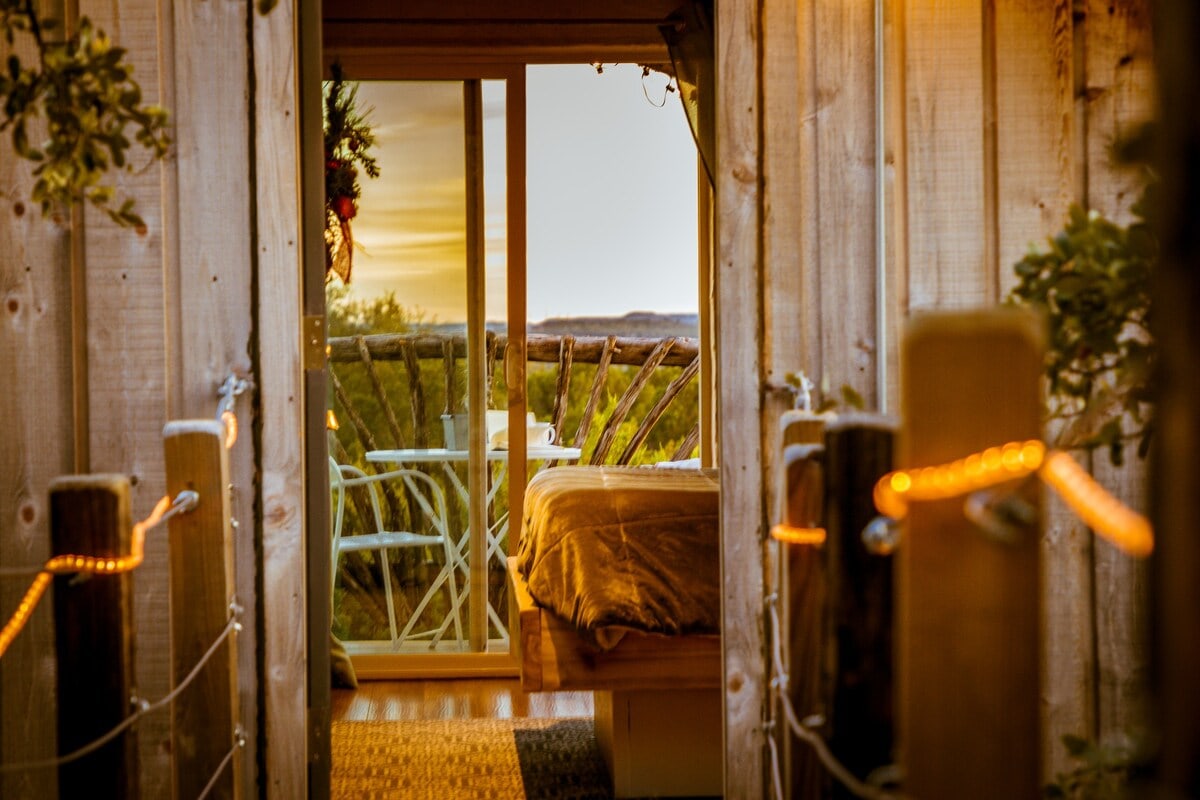 8. Sleep in a Treehouse near Dallas
Price:$202/night
Where: Glen Rose, near Dallas/Fort Worth
Check Availability Here
The Birdhouse is a literal childhood dream. Climb the stairs in an adjacent tree then walk across a cable bridge to reach your bedroom perched in the trees.
It may feel rustic but you'll have air conditioning, heating in winter, and electricity. There's a kitchenette but no television (but I don't think you'll miss it).
This treehouse sleeps 2 in its single bedroom. If you're planning a getaway with friends check out their other properties like The Nest (with a literal nest outside the bedroom) or The Glamp to sleep in luxurious tents.
9. Waterfront Home with Epic Deck on Caddo Lake
Price: $197/night
Where: Karnack, Texas on Big Cypress Bayou by Caddo Lake
Check Availability Here
The Lookaway Lodge sits right on the water on Big Cypress Bayou by the beautiful Caddo Lake in East Texas.
If you fish, this is a must-visit. If you don't, there are boat rides and kayak excursions available.
The house is huge with 4 bedrooms and sleeps 9 so come with friends or the whole family.
The deck is made to entertain with a bar space and dining area fit for a party.
Nearby Jefferson offers a historic downtown with shopping and dining options.
Caddo Lake is a trek, located in far northeast on the border with Louisiana, but the best places are always worth the effort!
10. A Working Ranch in Fredericksburg
Price: $150/night
Where: Fredericksburg, The Hill Country
Check Availability Here
When I was a little kid, family friends would always take me to their grandmother's house. It was a small white farmhouse. There weren't any animals on the ranch anymore but we'd collect 5 gallon bucks of pecans (and at another friend's home we'd shuck corn).
This farmhouse on a working ranch in Fredericksburg brings back all those memories.
Stay on the property in this simple but comfortable white farmhouse alongside bison, chicken, turkeys, and pigs. You can even purchase eggs and bison meat to cook your own dinner.
The property is only 40 minutes to Enchanted Rock State Park, 20 minutes to Old Tunnel State Park and 15 minutes to reach Lyndon B. Johnson State Park. You're also a short drive from Fredericksburg's Highway 290 wine trail.
The Top Airbnbs in Texas
These are the ten best Airbnbs in Texas that are at the top of my Texas bucket list. I'm dying to visit Caddo Lake and Palo Duro in the Panhandle. West Texas holds a piece of my heart and the Hill Country is a piece of Lone Star perfection.
Where is your favorite Texas destination? Have you found any unique accommodations in the Lone Star State?
Let me know in the comments!