So you're going to be spending Christmas in Buenos Aires and you're wondering, what should you expect?
Well, if you're coming from the northern hemisphere, with snow, mulled wine and Christmas cheer bursting of every loudspeaker, then Argentina's Christmas will be very different for you.
Christmas in the southern hemisphere is at the start of what's sure to be a sweltering, humid summer.
The traditions, however, will feel familiar, having been established by Argentina's mainly European immigrants.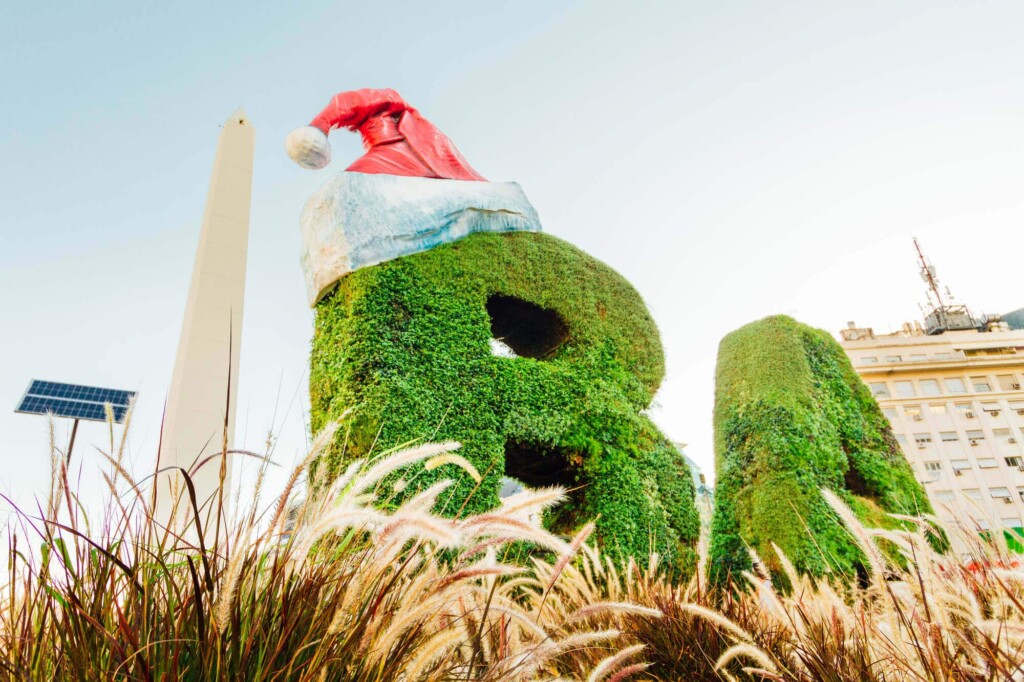 QUICK NOTE: This post contains affiliate links and Sol Salute may receive a commission for purchases made through these links, at no extra cost to you.
Christmas in Buenos Aires: What To Expect
Welcome to Argentina and Happy Holidays!
This post is filled with tips from me to you to help you enjoy your Christmas or New Years in Buenos Aires.
It's Hot & A little Chaotic
December marks the beginning of summer in Argentina and the holiday season in Buenos Aires is a sweltering one.
If you're wondering where to stay in Buenos Aires, I recommend a place with a pool.
I also feel like the end of the year here has a chaotic feel to the air.
People are rushing to close out their business dealings before the holidays and January when nearly all of Argentina goes on vacation.
Aside from work, locals fill their December calendar with their yearly end of the year asados with each group of friends. In other words, people are very busy.
Christmas Eve is the Focus
The big event for Christmas in Argentina is Christmas Eve, or Nochebuena.
Rather than Christmas morning, the main dinner and celebration takes place on Christmas Eve.
At midnight church bells ring and fireworks go off all over the city. Gifts are exchanged at this time as well.
Christmas day is more laid back. The city will be sleepy and empty. Some friends and family get together casually on Christmas day.
If they're lucky enough to have a pool, they'll likely be the visited rather than the visitors. Others will stay home all day nursing Christmas Eve hangovers.
If you're visiting Buenos Aires, expect a relaxed Christmas day.
Consider taking a picnic to a park or lounge by your hotel or Airbnb's pool to recover from the late-night fireworks like a local.
Public Transportation Will Be Difficult
Public transportation is very hard to come by during peak celebration hours.
I recommend planning your night accordingly because taxis and buses will be few and far between.
For example, consider a dinner reservation within walking distance from your hotel.
Uber and Cabify might be better options as well. Personally, I prefer to use Cabify over Uber in Argentina. If you're new to Cabify, use my code ErinM7 for credit towards your first ride.
For more information on ridesharing apps in Buenos Aires, read my guide to useful apps for Argentina.
A rough timeline of when you'll see fewer buses and taxis:
Christmas Eve: 9 pm – 2 am
Christmas Day: around noon to mid-afternoon
New Year's Eve: 9 pm – 2 am
The Holiday Season has Bookends
With no Thanksgiving, when does the holiday season officially kick off in Argentina?
Here there are two Catholic holidays that mark the start and end of the Buenos Aires Christmas holidays.
December 8 officially starts the holiday season with the Day of the Immaculate Conception and the season ends on 3 Kings Day (or Reyes Magos) on January 6.
Dia de los Reyes Magos, 3 Kings Day, or The Epiphany is the 12th day of Christmas.
While I hope your true love gifts you 12 drummers drumming, Argentine's will leave their shoes out overnight for the three kings to fill with gifts.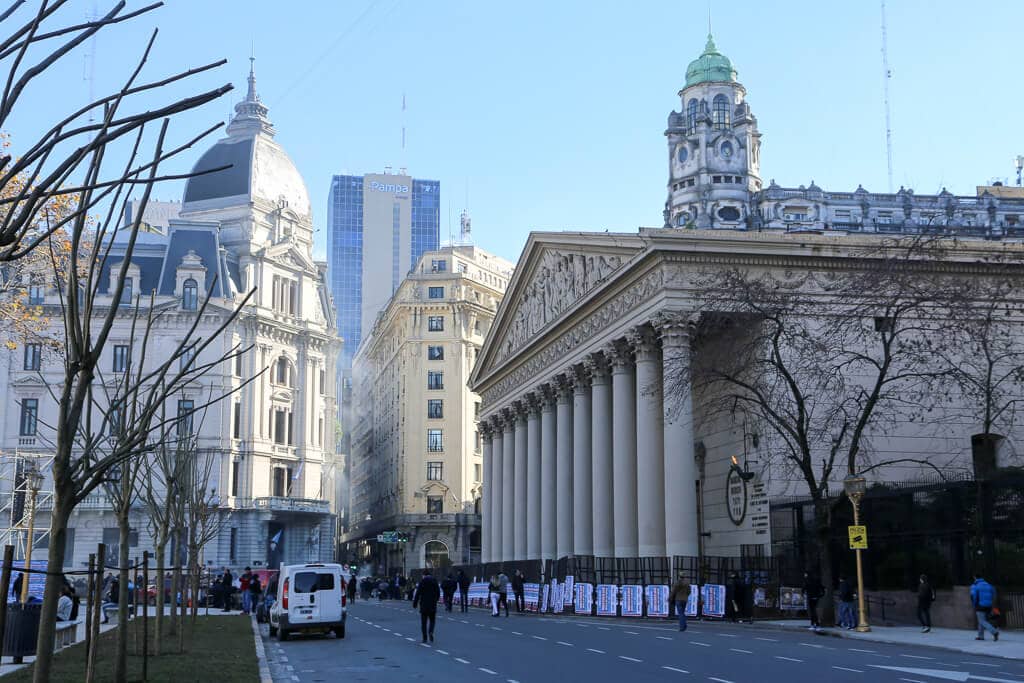 What to do to Celebrate Christmas in Buenos Aires
So you've planned your Argentina vacation for the holiday season, now what? Here's a list of ways to celebrate Christmas in Buenos Aires:
Find a Roof to Watch The Fireworks
Firework's aren't just for New Year's Eve here. At the stroke of midnight on Christmas Eve there are professional and homemade fireworks displays all over the city.
The best place to see them is from Puerto Madero.
If you have the budget, make a dinner reservation at one of the many fancy restaurants in this upscale neighborhood.
The Alvear Icon Hotel's Crystal Bar has a spectacular view, for one example.
If you're on a tighter budget, you can watch the fireworks from the Puente de la Mujer or the many benches in front of the water in Puerto Madero.
You may not have the privileged view of a roof or terrace, but it will be a special experience all the same.
Go to a Tango Show
A tango show that includes dinner is a wonderful way to make your Argentine Christmas Eve a special one.
For more information read my list of the best tango shows in Buenos Aires.
If you want a tango show with a view though, you have to go to Madero Tango in Puerto Madero. They offer a spectacular view of city and an excellent show.
Click here to reserve.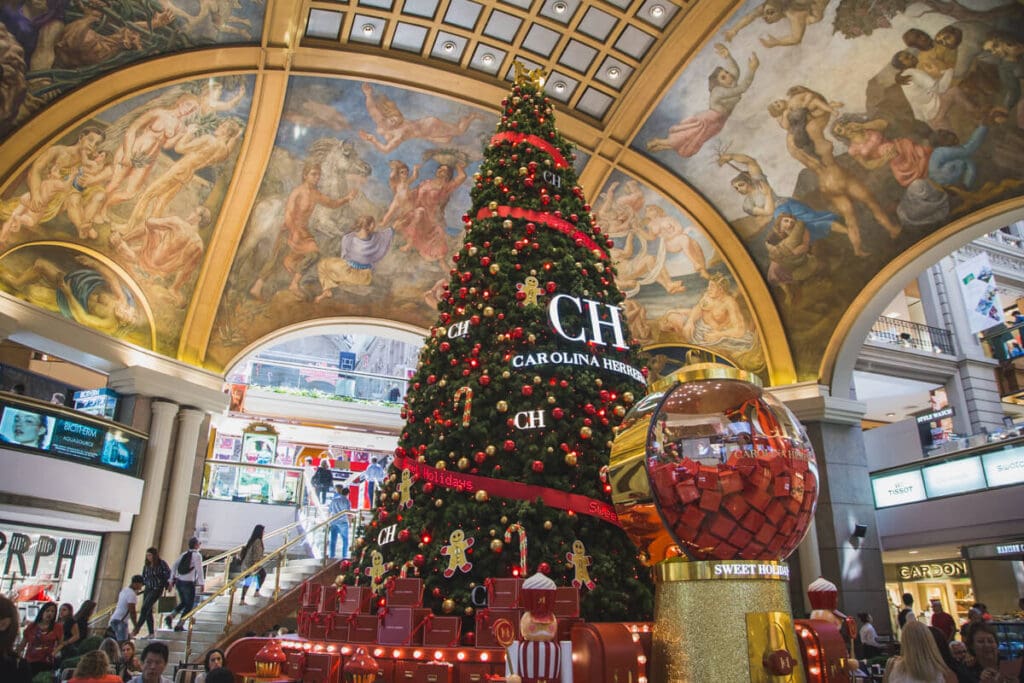 See the Tree at Galerías Pacífico
The tree and decorations at the Galerías Pacífico mall (at the intersection of Cordoba Avenue and Florida Street) are the most beautiful in town.
This mall goes all out in December, if you want a Christmas themed family photo, this is the place to go.
And if the air conditioning is cranked high enough, maybe you can pretend you're experiencing Christmas in winter.
BONUS TREE: The tree tucked away in Galería Güemes, seen below, (at Florida St. 165) may be smaller than in Galerías Pacífico but it's in an absolutely gorgeous setting.
It's worth a visit for some great Christmas in Buenos Aires family portraits!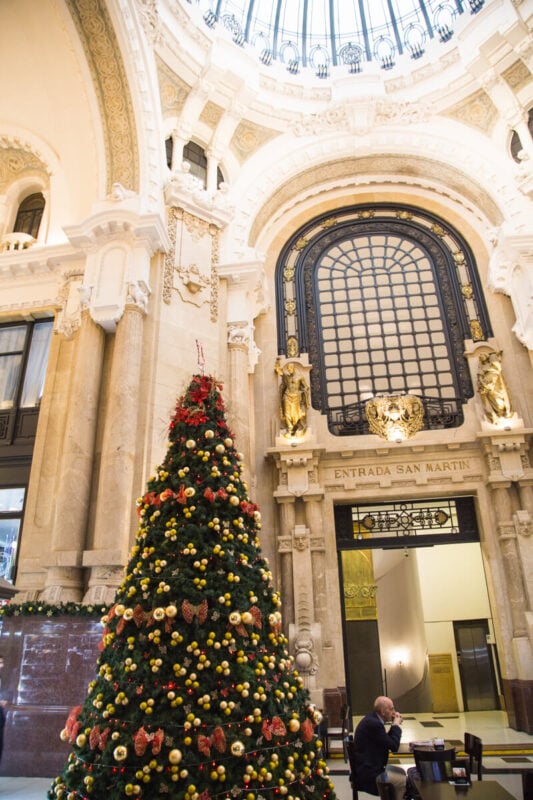 Midnight Mass
Argentina is largely Roman Catholic, although the locals aren't extremely religious.
So while most Argentinians will be drinking Malbec at midnight rather than attending mass, the city is home to beautiful churches if you'd like to experience Midnight Mass in Buenos Aires.
The best option is the cathedral in Plaza de Mayo, the Catedral Metropolitana de Buenos Aires.
It's stunning inside (despite having an exterior that better resembles a military building than a cathedral).
Celebrate Christmas surrounded by Argentine history.
The famous liberator of Argentina, San Martín, is interred here and Pope Francis performed mass here as Archbishop Jorge Bergoglio.
Eat Pan Dulce from Plaza Mayor
If you want to eat like a local this Christmas, that means one thing: pan dulce.
Pan dulce is similar to panettone in Italy, where most of Argentina's immigrants originated.
You'll see them for sale in all of the supermarkets (not great) and every bakery worth their salt sells their own house-made pan dulce (better).
But the end all be all of pan dulce in Buenos Aires is the one from Plaza Mayor in the Cristobal neighborhood downtown.
The days leading up to Christmas bring lines around the block as locals queue up to buy the country's best fruitcake. The lines get to so extreme they make the local news!
But there's a secret to avoiding these lines…
The owners of Plaza Mayor also own the Italian restaurant across the street, Campo di Fiori, which is excellent (I'm biased, my husband and I had our first date there).
If you eat at Campo di Fiori, ask the waiter to add a pan dulce or two to your bill.
He or she will scurry across the street and get them for you, skipping the long queue! You're welcome and buen provecho.
Navidad en Buenos Aires
Spending the holiday season far from home can be both exciting and homesick-inducing. I hope this post helps you enjoy your Buenos Aires Christmas to the fullest.
In summary: eat all the pan dulce, drink all the Malbec, and for the love all things holy, find a swimming pool! Feliz navidad!!
Pin It For Later