When I had more or less plotted out our South African road trip itinerary I stepped back and took a look at the map.
I was looking for the large swaths of green that designated a national park and did what I could to include as much as I could in our trip.
When I saw the green patch that was Addo, an Addo National Elephant Park safari was a given.
Who doesn't love elephants? And the change to see a park that was dedicated specifically to them!?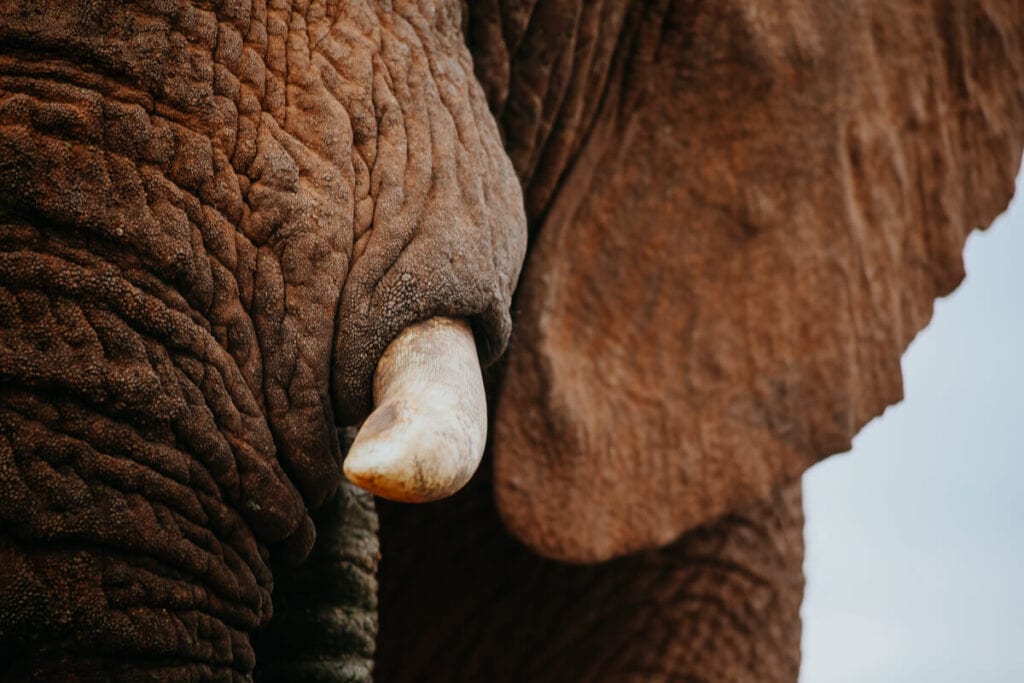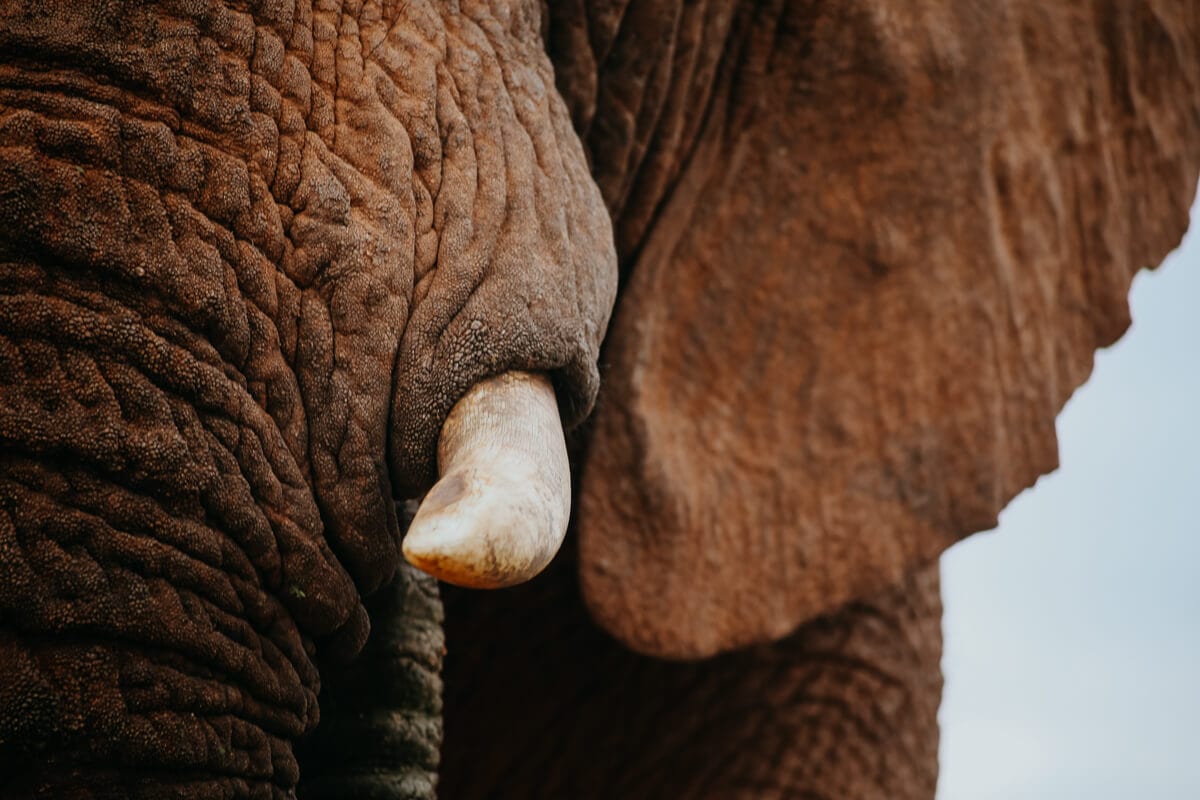 QUICK NOTE: This post contains affiliate links and Sol Salute may receive a commission for purchases made through these links, at no extra cost to you.
An Addo Elephant Park Safari: Everything You Need to Know
This post is a complete guide to planning your safari in Addo Elephant Park.
We spent three days in this relatively small game park and thoroughly enjoyed every minute.
Here's how to best explore Addo, whether you visit on a day trip or hunker down for two nights like we did.
An Addo Safari on the Garden Route
Addo Elephant Park is less than an hours drive from Port Elizabeth so it's easily added to any trip along the Garden Route.
We chose to stay inside the park for two nights, but most people we came across were passing through just for the day en route to their next Garden Route destination.
So if you're tight on time in South Africa but want to squeeze in a safari, this is a very easy option.
Kruger National Park (being larger than Belgium) is a larger time commitment, but you can easily cover most, if not all, of Addo in a day.
Addo Elephant Park Day Trips from Port Elizabeth
Addo's proximity to Port Elizabeth means you can easily take an Addo Elephant Park day trip along the Garden Route.
This is particularly ideal if you don't have a car.
This Addo Safari is the most popular day tour by far but here are a few other interesting options (including some multi-day itineraries) to choose from as well: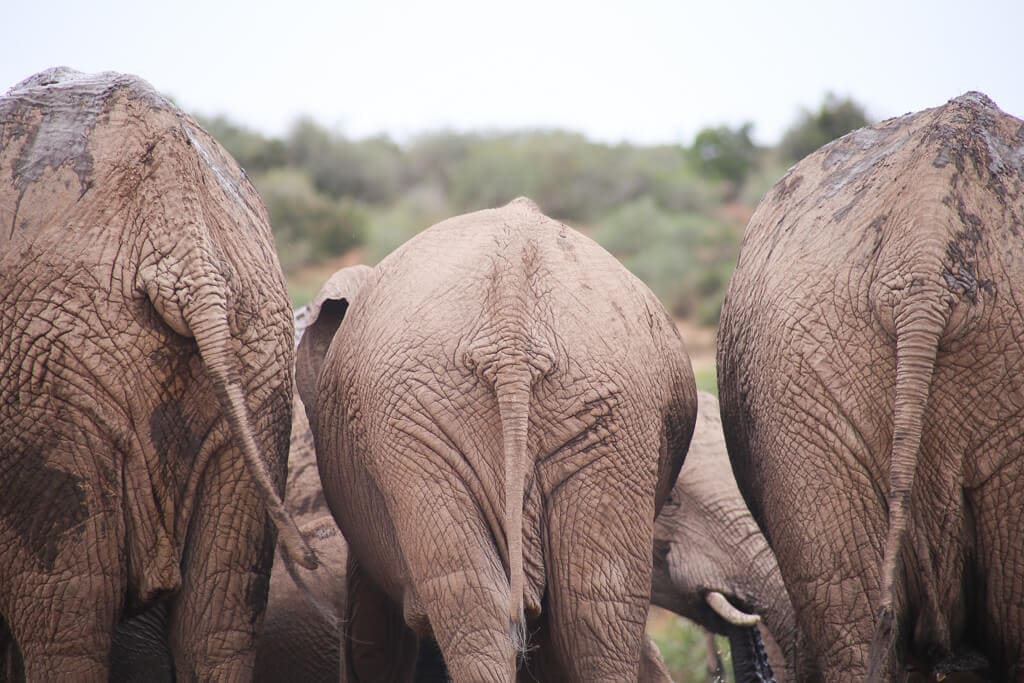 Read Next | The Benefits of a Self-Drive Safari
Our Two Days in Addo Elephant Park
Just because you CAN do this park in a day doesn't mean that you necessarily should.
If you have more time, give yourself at least two days in Addo Elephant Park to really enjoy it.
South Africa's national parks are each so different and offer completely unique experiences due to differing topography and game.
In Addo, we saw a lot of Black Back Jackals, which we hadn't seen in Kruger.
We also listened to them from the deck of our cabin in the evenings as they howled to each other.
We saw quite a few Red Hartebeest (antelope pictured below) that we hadn't come across in Kruger. W
e were even lucky to see lions twice, even though Addo has a relatively small lion population.
Take your time in South Africa.
Every destination is beautiful and deserves more than a quick glance. So while Addo is popular day trip, try to spend a couple days here if your itinerary allows.
You won't regret gifting yourself the time.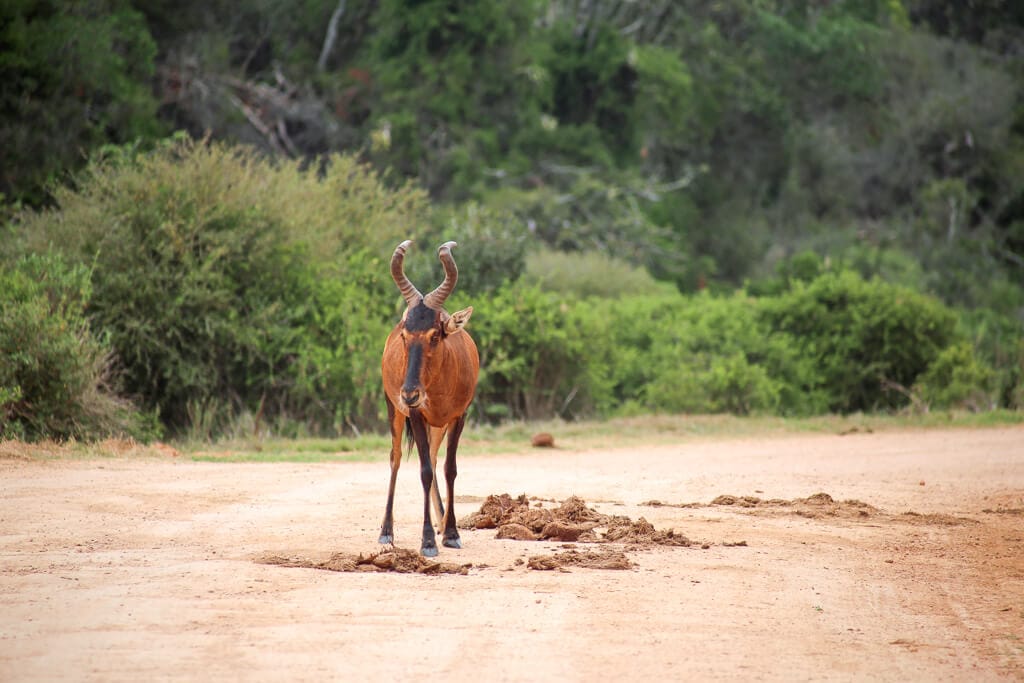 Addo Elephant Park Entrance Fee
The entrance fee for Addo goes towards conservation costs for the park, therefore it's referred to as the Conservation Fee.
You'll pay this fee for every day you spend in the park.
If you're staying outside of the park or are only visiting for a day you'll pay when you enter.
If you're staying at one of the rest camps inside the park, you'll pay at check-in for all of the days you'll be in the park.
The rate for foreigners is R344 per day for adults and R172 for children.
Rates for South African citizens are much lower.
For more information, check the official site here.
Read Next | How We Spent 5 Days in Kruger National Park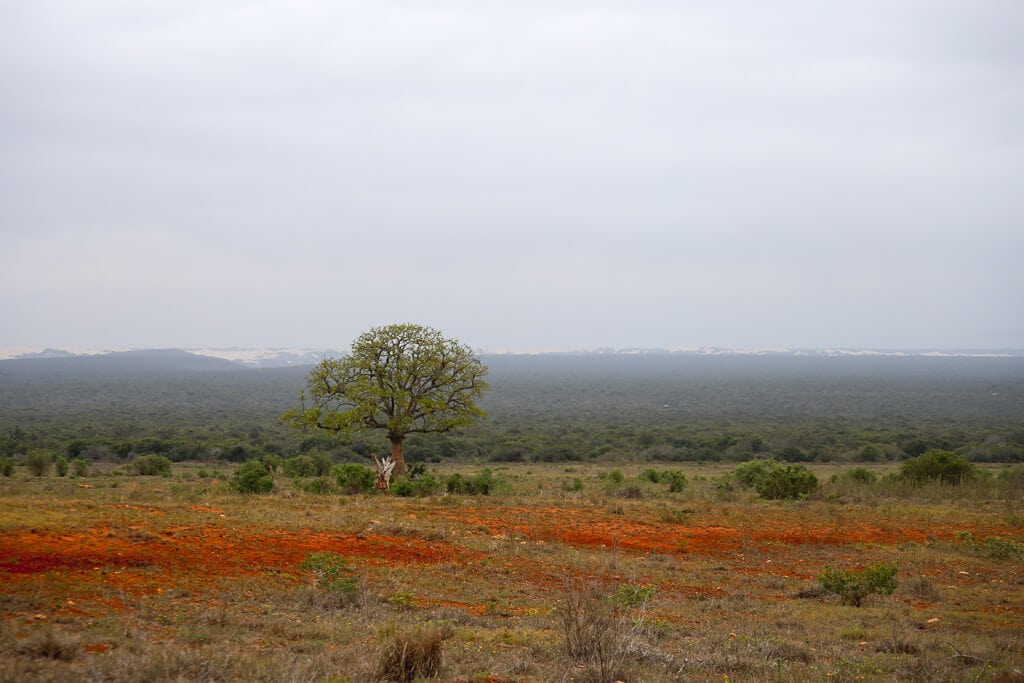 Addo Elephant Park Accommodation
We chose to stay in the park itself, in the Addo Main Rest Camp. I really enjoyed our two nights there.
However, if you're wanting a more resort feel or prefer to stay in the area nearby there are a lot of options for accommodation nearby.
Addo Elephant Park Accommodation | Comfort Near the Park
Proof of how you can truly get nice accommodation for cheap in South Africa is Camp Figtree, a luxury property under $200 a night in Addo.
You can also stay in the town of Colchester to be closer to the N2 highway, the main route crossing South Africa.
Colchester is at the southern tip of the park near the Mathyolweni Gate.
Sundays River weaves through the town, so stay at the Dungbeetle River Lodge or the Happy Jackal Guest House to have a view of the river.
A fun fact I didn't know before I visited is that a large portion of the park is the coastline of the Indian Ocean and it's filled with sand dunes. You'll be close to that in Colchester.
Addo Rest Camp | Stay inside the park
We spent two nights in Addo, staying at a cabin in the Addo Rest Camp. Here are some of the benefits of staying inside the park:
Comfortable Accommodation |Before the trip, I had envisioned staying inside the parks as some sort of rustic, camping experience. It was actually extremely comfortable. We spent two nights in a forest cabin at around $60 US a night, we slept like babies with air conditioning and an en-suite bathroom. There are also tents and plenty of other options (including large houses for those traveling with family).
Dining |There's a restaurant in the camp with excellent meals priced around $10 US each. There's a curio shop that also has basic grocery items or snacks for those preferring to cook. There were full kitchens available for self-catering and our cabin had all of the utensils and dishes we needed.
Convenience | Being able to roll out of our bed and into the car at 5:30 when the gates opened was priceless. There's a lot more action in the park before the heat of the day, so the earlier you start the better.
For more information about options and prices or to make a reservation go to their official site here.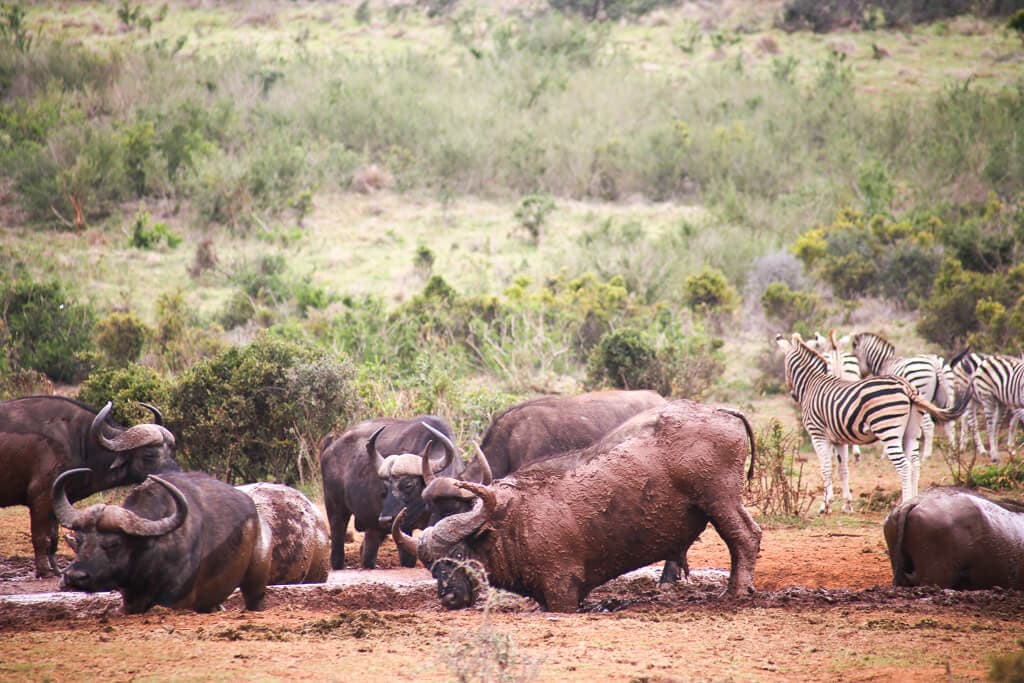 Best places to spot game in Addo
Here are some tips to spotting wildlife while in Addo Elephant National Park.
Watering Holes
There are quite a few watering holes right next to the road.
Find them on the map and plan your drive around these. You should definitely see some action this way.
You'd be surprised how long you can spend staring in awe. I particularly enjoyed the hierarchy.
We pulled up to Carol's Rest and saw the buffalo above enjoying a mud bath.
The zebras sauntered up but kept their distance, waiting their turn. The warthogs didn't give a shit about anything or anyone, darting underfoot.
Eventually, a group of elephants came in and stole the playground from everyone.
The real victims here: the zebras, will they ever get a turn?
Main Camp's Underground Hide
At the Main Camp, there's an area with benches overlooking a watering hole where you can rest your bones and see some game. Underneath this is a hidden blind.
Go there whenever you're passing through the camp.
Be silent, just opening the zipper of my bag to get my camera brought me dirty looks, so be prepared before going down there.
Silence matters because you are literally meters from the watering hole.
You'll get some up close and personal views here (photo below for proof).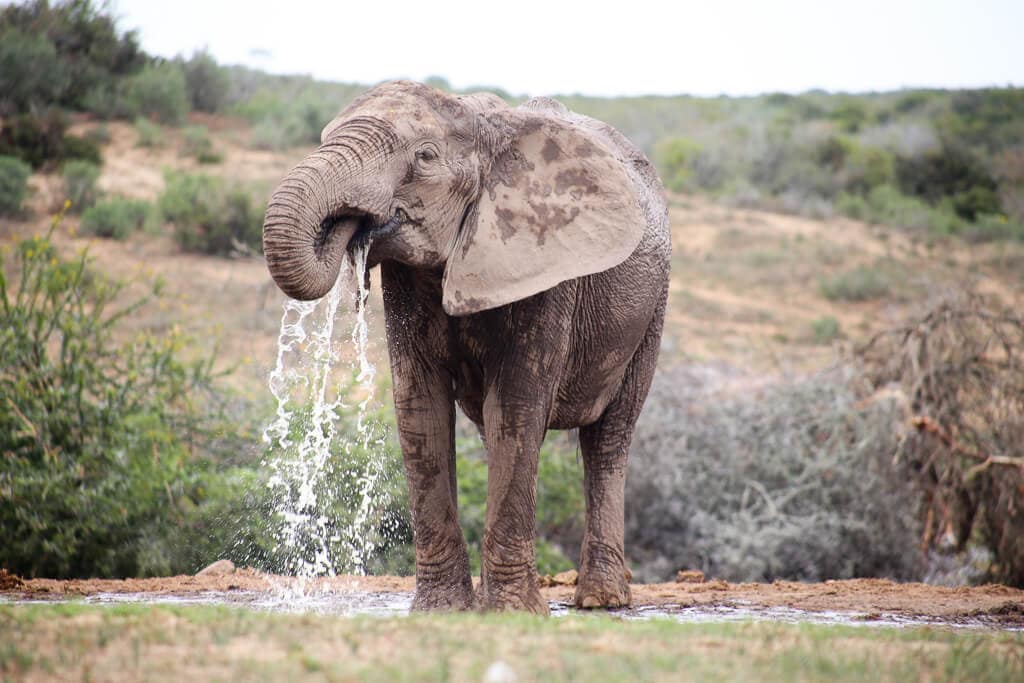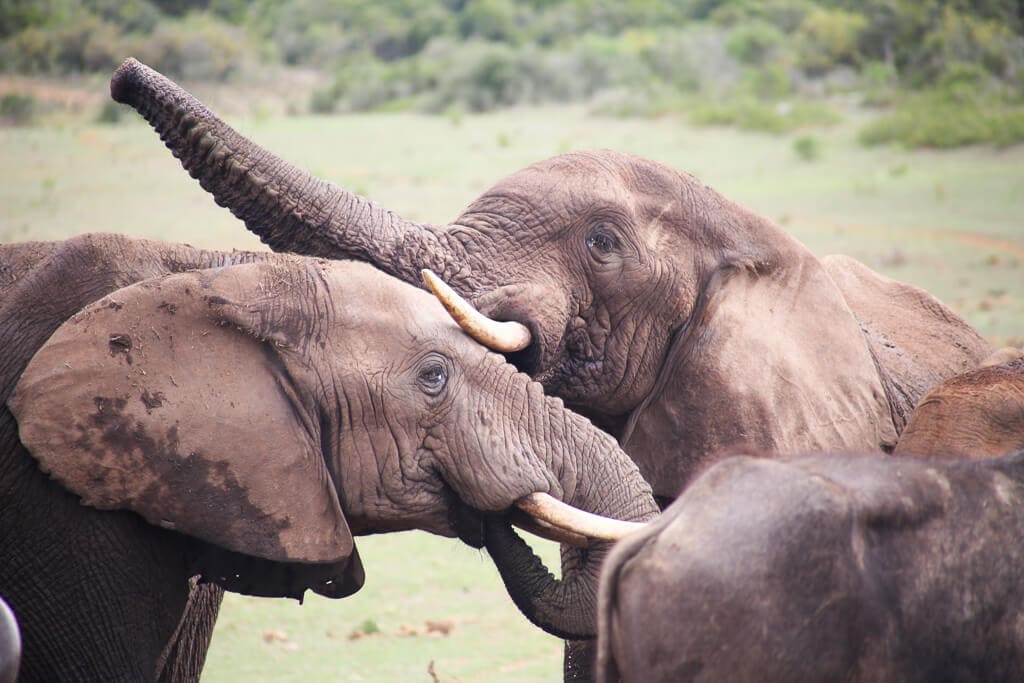 Tips for a Successful Addo Elephant Park Safari
Obey the speed limit.
Never drive over the dung in the road. Endangered dung beetles breed in it, weave around
Never get out of your vehicle (except at specified locations). We saw one man who seemed to think the buffalo 50 meters away was just not quite close enough. He got out of his car, brandishing his cell phone, and walked closer and closer before a guide finally screamed at him to get back in his car, probably saving his life. Don't be that stupid. Worst case, you'll get killed. Best case, you'll get slapped with a large fine and have your photo displayed at headquarters (shame!)
What to Pack: Sunscreen (you will burn sitting in your car all day), safari binoculars, sunglasses and/or hat, snacks, LOTS of water, camera & SD card with a lot of available storage. For a complete packing list, read my post about what to take to South Africa.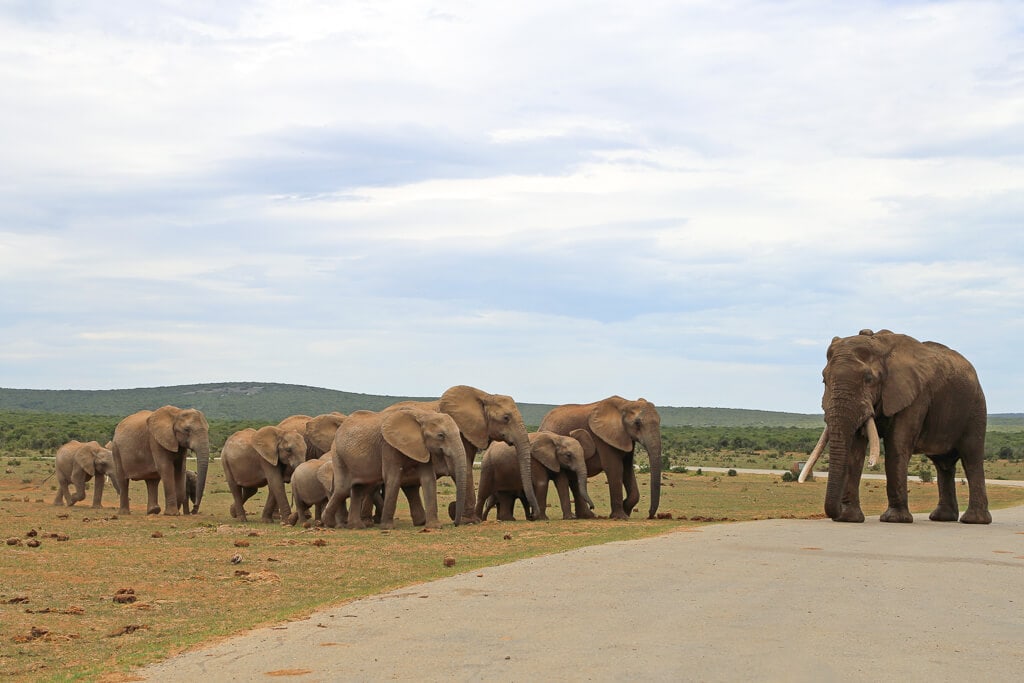 An Elephant Swimming Party
The highlight of our time Addo happened one afternoon at Harpoor Dam. We saw (no exaggeration) hundreds of elephants surrounding the watering hole and more on their way. 
An enormous bull worked as a crossing guard (seen above).
He stood guard on the road while family after family crossed to reach the watering holes. A
nd when I say enormous, I mean it. He made the others seem petite!
He was wearing something that looked like a tracking collar so he must be important.
We stayed here for nearly two hours. First, watching them cross.
Then we moved the car to have a view of the watering hole itself. After the final elephant crossed the road the big guy went to join them.
When we turned our view to the water it felt like we were watching an everyday scene at a city public pool.
Adolescent elephants slid into the water and swam, splashed and play-fought.
There was a tiny puddle of a pool that baby elephants splashed in, and the mothers all stood guard on the edge watching carefully.
Elephants, they're just like us!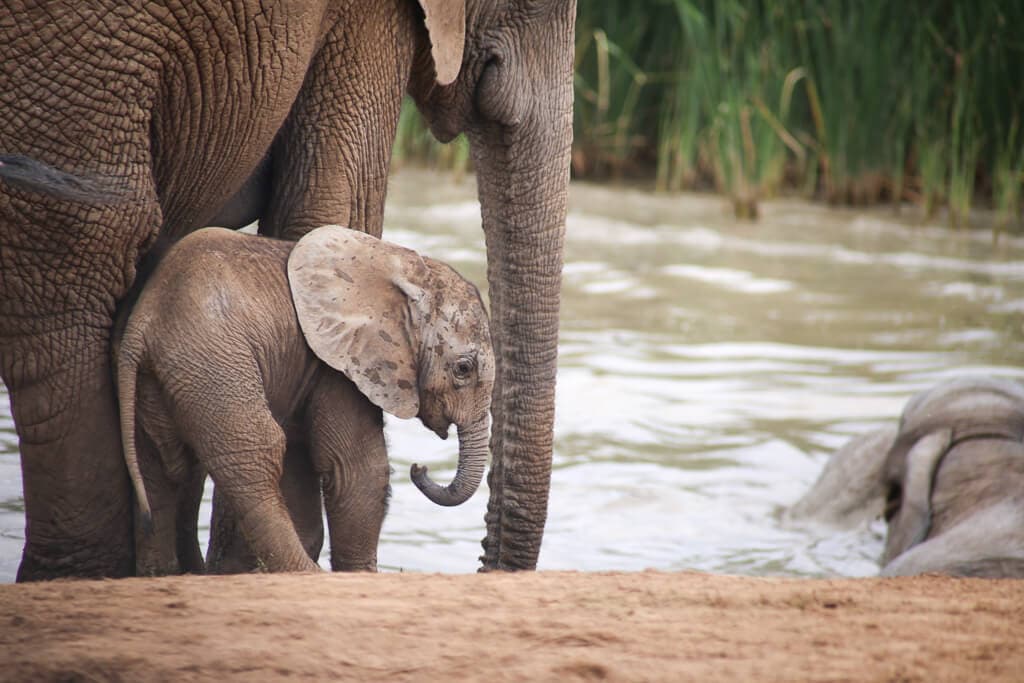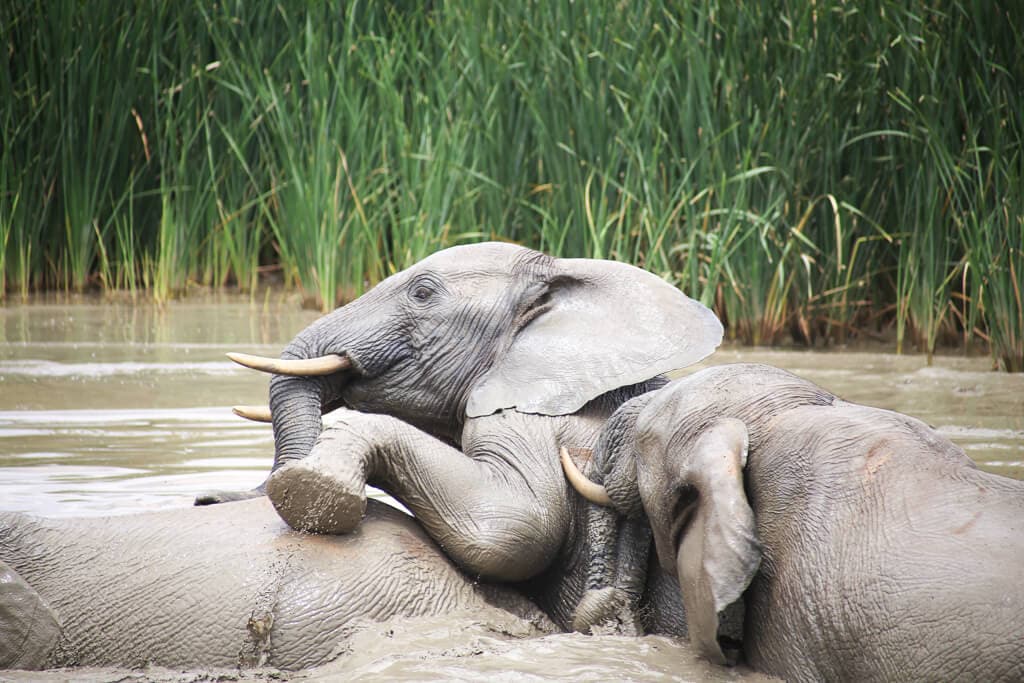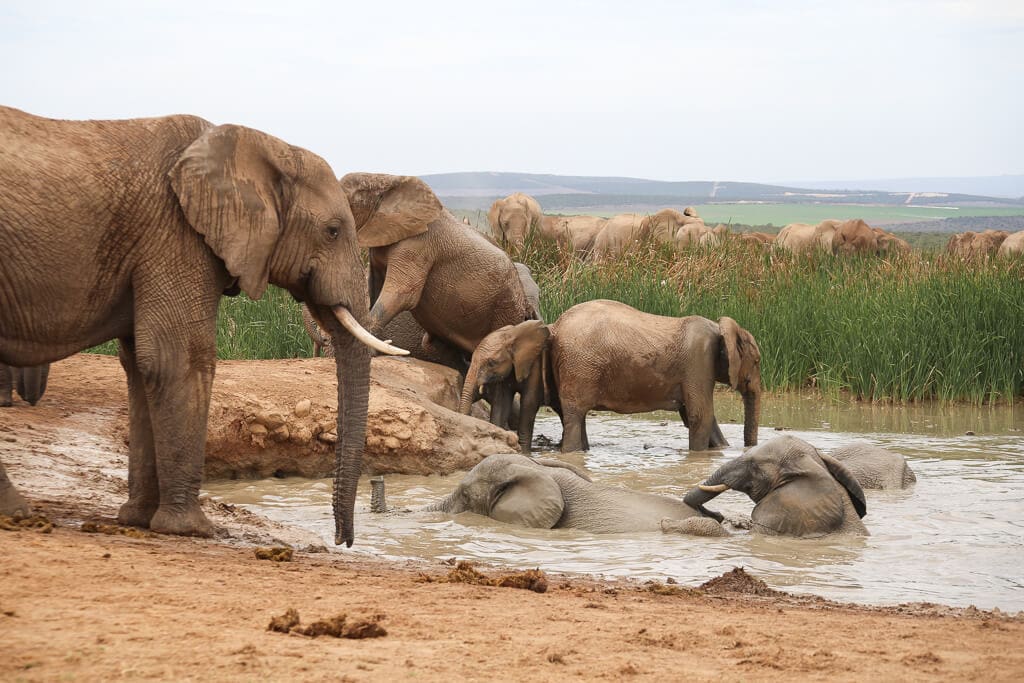 An Addo Elephant Park Safari in South Africa's Elephant Paradise
If you've made it this far and you're still wondering, "Is Addo worth it?", then there is nothing I can do for you.
It was such a fantastic experience!
We loved our two days in Addo Elephant National Park, and if I find myself on the Garden Route in the future I will gladly return for more.
If you've been and loved it, or have any questions about planning you trip, comment below!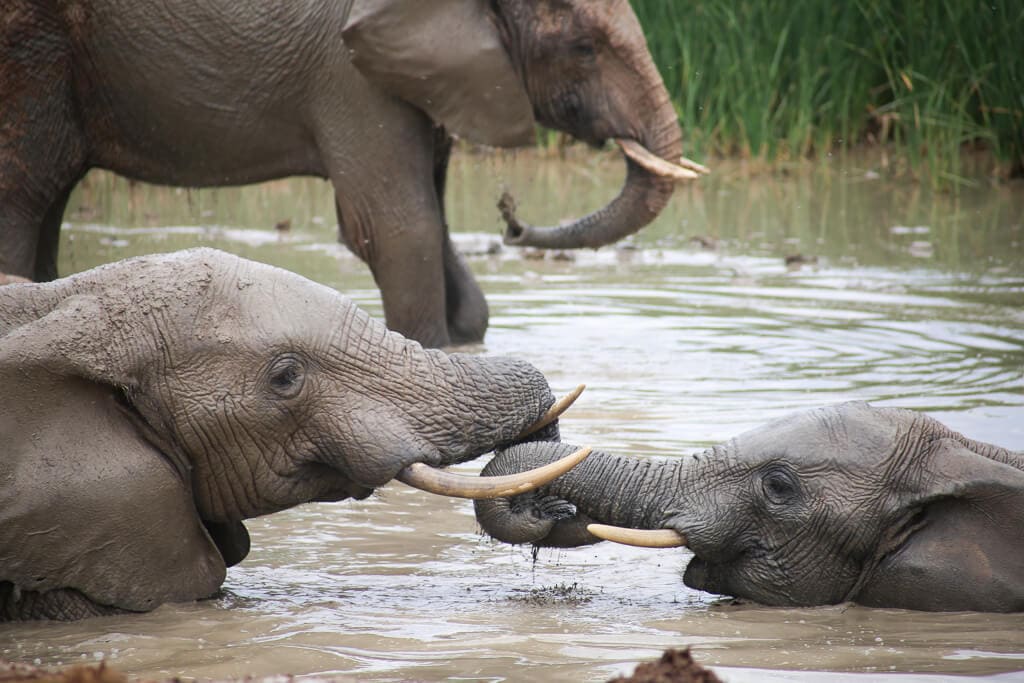 PIN THIS FOR LATER