Buenos Aires is a large city, massive really.

You can easily spend a week or two here and never get bored.

When I came for the first time in 2009 I booked two weeks here thinking I would explore more of Argentina.

I ended up spending all fourteen days falling in love with Buenos Aires.

After making the rash decision to simply never leave, I have spent over 13 years here.

And after more than a decade here there are still corners of the city I have yet to discover.

So is just a weekend in Buenos Aires enough?

Simply put, no. But you can cover the highlights in three days in Buenos Aires if you take full advantage of every day here.

This post is my ideal Buenos Aires itinerary for you to get the most out of your short time here, plus suggestions at the end for more things to see if you have more time.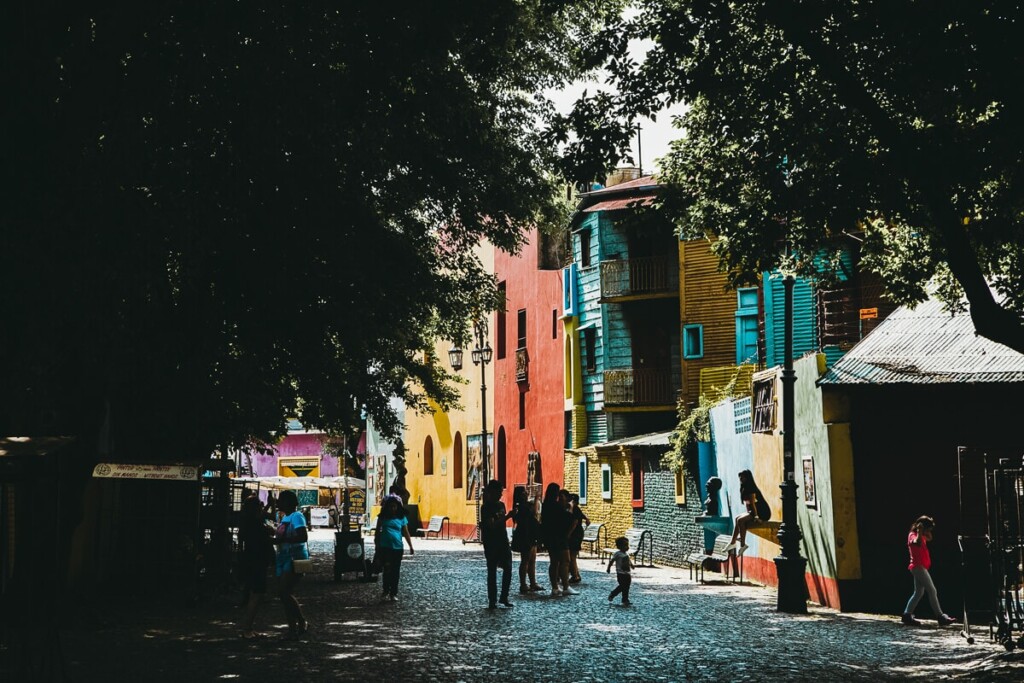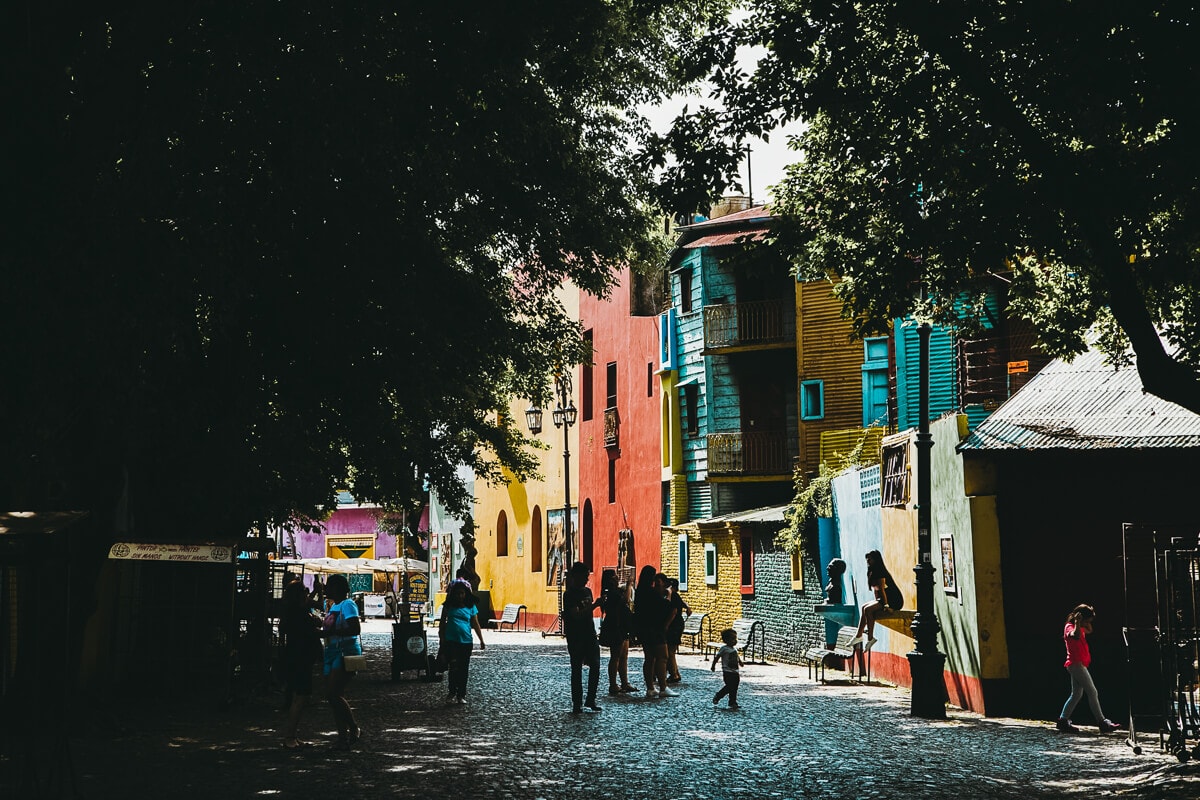 QUICK NOTE: This post contains affiliate links and Sol Salute may receive a commission for purchases made through these links, at no extra cost to you.
3 Days in Buenos Aires Itinerary
Planning your perfect itinerary for Buenos Aires?
Keep the following tips in mind to help you plan.
Want to see it all in even less time? While not recommended it IS doable, read my one day in Buenos Aires walking tour to see most of the sites in one busy day.
Buenos Aires Itinerary Tips
Don't underestimate the time this city deserves. Many use it as a jumping off point for Patagonia or Iguazu, but ideally you'd spend a week here. The city is huge.
Don't discount the benefit of a guided tour. Whether it's a hop on hop off bus, a walking tour, or a food tour, going on a tour with an informed local will cover a LOT of ground in less time than going alone and you'll learn about this country's complicated history along the way.
Day trips add a lot to the experience. If you can spend more than just 3 days in BA, you'll get a lot out of the day trips to local estancias (ranches), the Tigre delta, or crossing the river for a day in Uruguay, read about the best Buenos Aires day trips.
The early bird gets the worm. The city is sleepy but that doesn't mean you need to be. Getting up early allows for fun people watching as locals head to work, emptier streets for photos (if you love photography), and making the most out of your short time.
Itinerary Planning Resources
Don't miss reading these other articles that will help you plan your Argentina itinerary.
Where to Stay in Buenos Aires
First, let's talk about Buenos Aires accommodation. In such a big city, choosing where to stay can be overwhelming.
I recommend basing yourself in Palermo Soho or Palermo Hollywood, two of the coolest neighborhoods in Buenos Aires.
These two areas are home to the city's cutest boutiques and best restaurants and nightlife. By staying here, you'll be able to return to your hotel or Airbnb to freshen up and rest before heading back out to dinner nearby.
Airbnb is really a great option in Buenos Aires. You can get an apartment all to yourself for as little as $30-50 US a night.
If you'd rather stay in a hotel (because sometimes having breakfast prepared for you while housekeeping makes up your room is just too good to pass up).
I always recommend Home Hotel in Palermo Hollywood or BE Jardin Coppola (yes, that Coppola) in Palermo Soho.
They both have beautiful gardens and patios to relax in after a day in the chaotic streets of the city.
For more information, read my complete guide on where to stay in Buenos Aires. I break down all the best neighborhoods and accommodation options in each.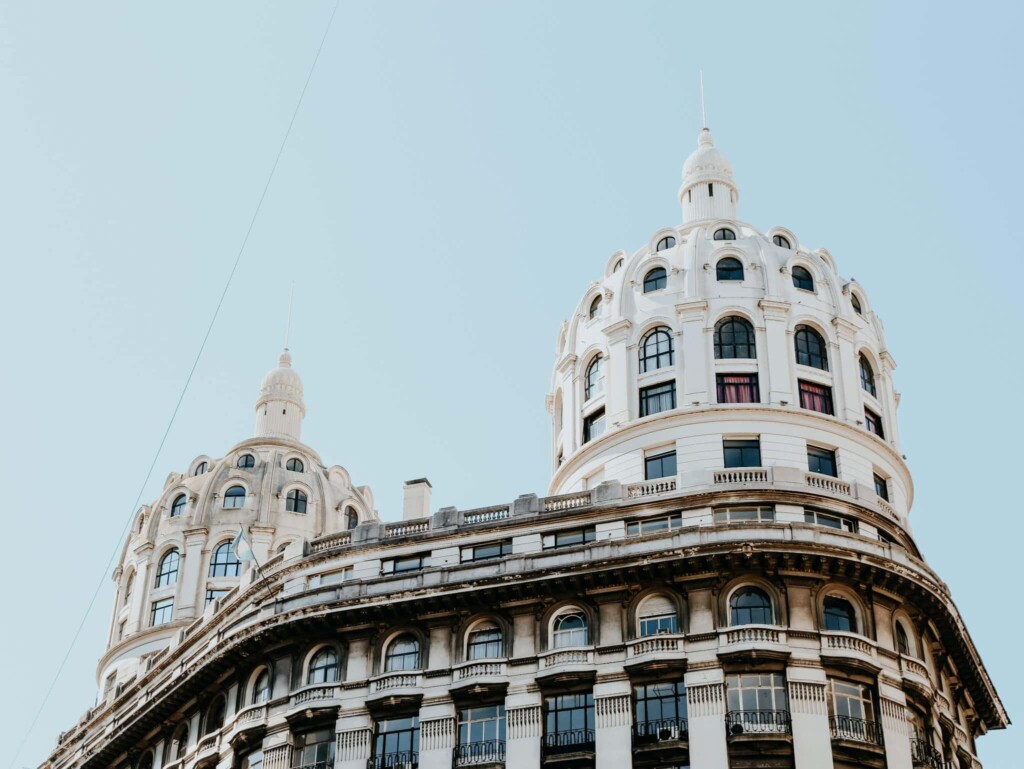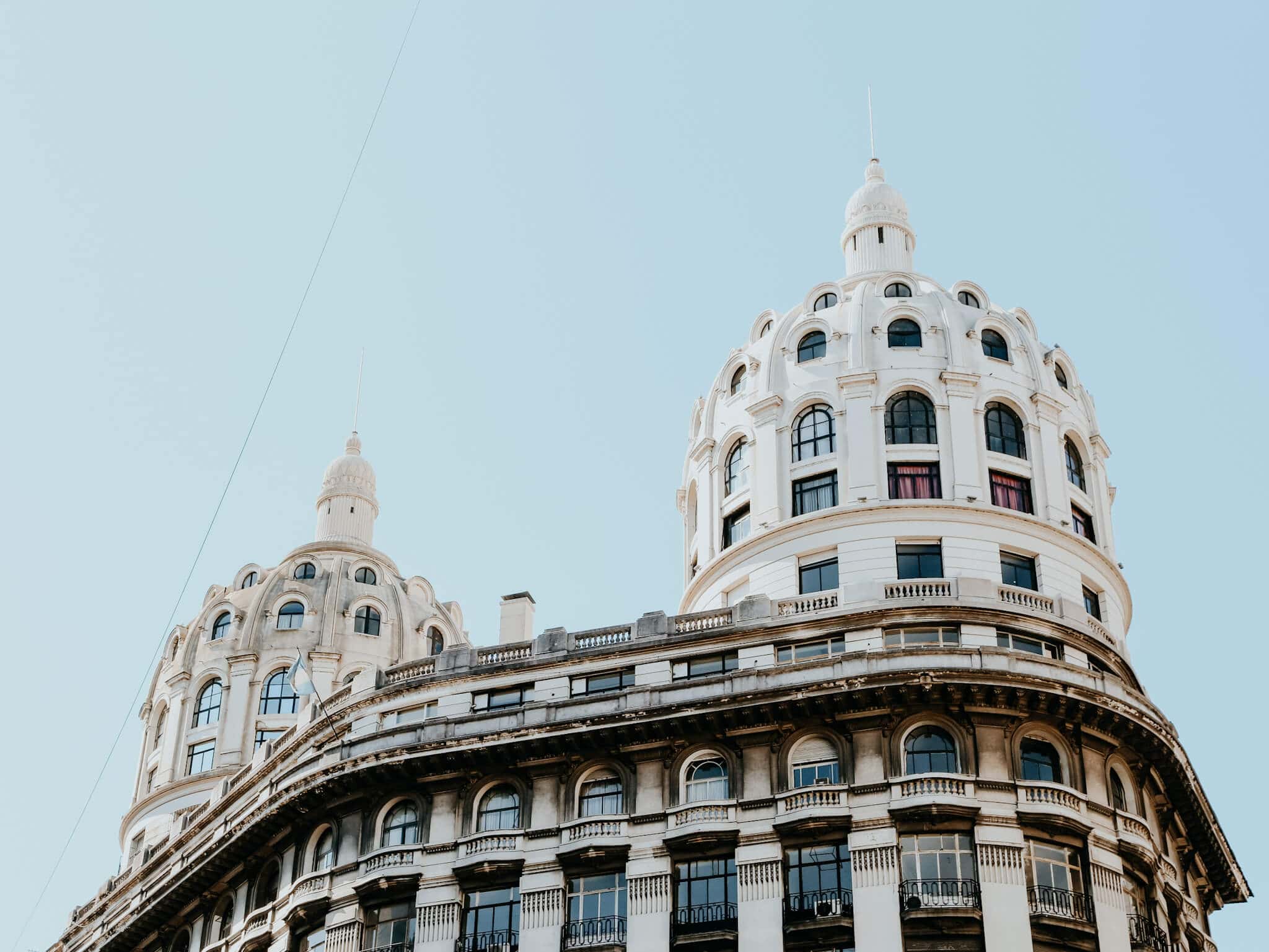 My Favorite 3 Days in Buenos Aires Itinerary
When my best friend visited me in 2018, we only had a little over 3 days in Buenos Aires before we jetted off to the Mendoza wineries to drink our weight in Malbec.
I wanted her to see everything.
When I first wrote this post in 2018 it was the itinerary I created for her, step by step. Since then I've regularly updated it with new things to see along the way, ensuring that this Buenos Aires itinerary stays up to date and inclusive.
Warning: Be prepared for a lot of walking. Bring comfortable shoes for walking and for cobblestone.
Buenos Aires Itinerary Map
I've marked out all of the sites and restaurants mentioned in this itinerary on the map below. It's color coordinated by day.
Day 0: Relax, Shop and Parks in Palermo
Confession, I'm cheating a bit with this Buenos Aires in 3 days itinerary because I'm not counting the day you arrive. It's arrival plus three full days.
Most flights into Buenos Aires are overnight, arriving in the morning or midday, so you'll actually have quite a bit of daylight to take advantage of.
Since you'll be understandably tired from your long trip, take it easy today.
I recommend exploring the shops and cafes of Palermo Soho.
The cobblestone streets of Soho are filled with restaurants and coffee shops to ease you into your vacation.
If you were wanting to eat in the wildly popular restaurants Don Julio or El Preferido de Palermo, you can do that today for lunch.
Be sure to reserve well in advance as they fill up. You can make reservations easily on their websites, they open dates up 3 months in advance and book up fast.
If the weather is sunny, take a taxi to the Bosques de Palermo after lunch and enjoy the beautiful parks of Buenos Aires.
You can rent roller blades, lounge on the grass or stop to smell the roses in the Rosedal rose garden.
For logistical information on how to get to your hotel from the airport, exchanging money, and more, read my Buenos Aires city guide.
Day 1: Plaza de Mayo, Downtown, Teatro Colon, & More
I hope you slept well for your first full day in the city because we're going to hit the ground running.
If you love tours, and I know I do (not sarcasm), this is the best morning for a walking, bike, or history tour.
Starting any new city with a tour is ideal because you'll have the rest of your time to revisit any spots that interest you most.
Here are the best tours to pick from: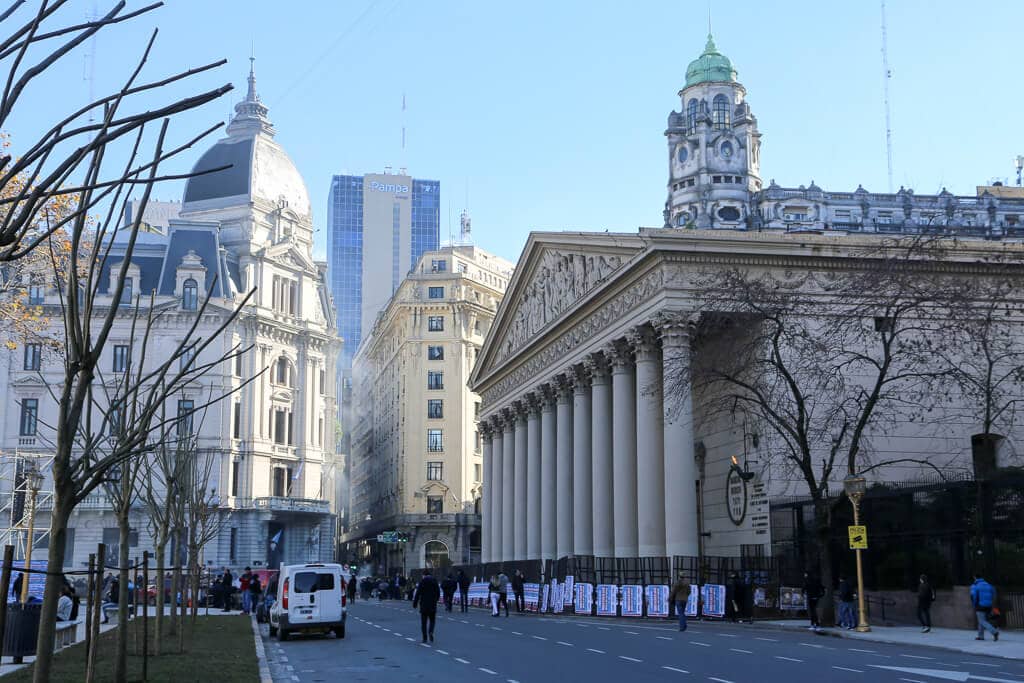 Breakfast and Plaza de Mayo
Whether you decide to go on a tour or follow this DIY itinerary, head to downtown to start your day.
Cafe Tortoni is the obvious and popular choice for your morning coffee. This is the oldest cafe in the entire city and oozes European charm. 
For an alternative choice (my favorite) head to Confitería Ideal. This historic cafe was closed for just over a decade and reopened in 2023 pristine and polished. It's even more beautiful than Tortoni, I think, and I know the food is better.
Go early (they open at 7) and you'll have the place nearly to yourself.
People watch locals on their way to work in the morning over your café con leche and medialunas (Argentina's gooey dense answer to the croissant). 
After breakfast, if you're going on a tour make your way to your starting point.
If you're deciding to do it on your own by following this itinerary, find your way to Plaza de Mayo.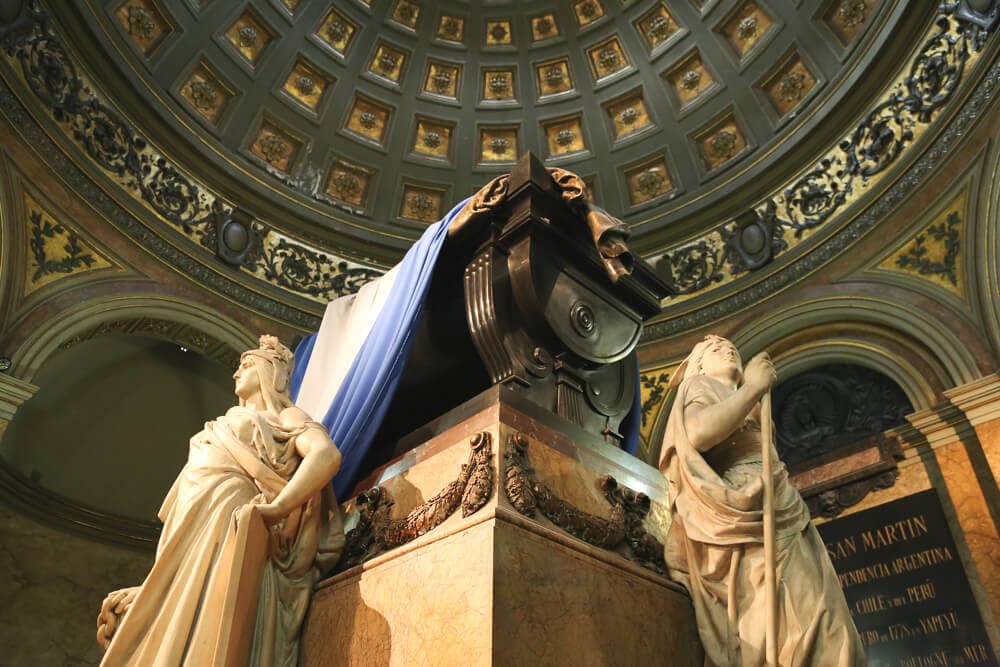 We'll start our tour right here in Plaza de Mayo.
This main square is home to many iconic Argentina landmarks and has set the stage for most of Argentina's history.
The Metropolitan Cathedral is stoic, looking much more like the Roman Pantheon than a place of worship.
Inside, however, it very much resembles a cathedral and is worth going inside for a look around.
San Martin's remains are buried in a side chapel.
The Granaderos stand guard at his grave, a cavalry unit founded by General San Martin himself. 
TIP: You can watch the changing of the guard in the Cathedral every two hours from 7 am until 9 pm (every 2 hours on the odds). They will march from the Cathedral to the Casa Rosada, with the new guard doing the same march in reverse.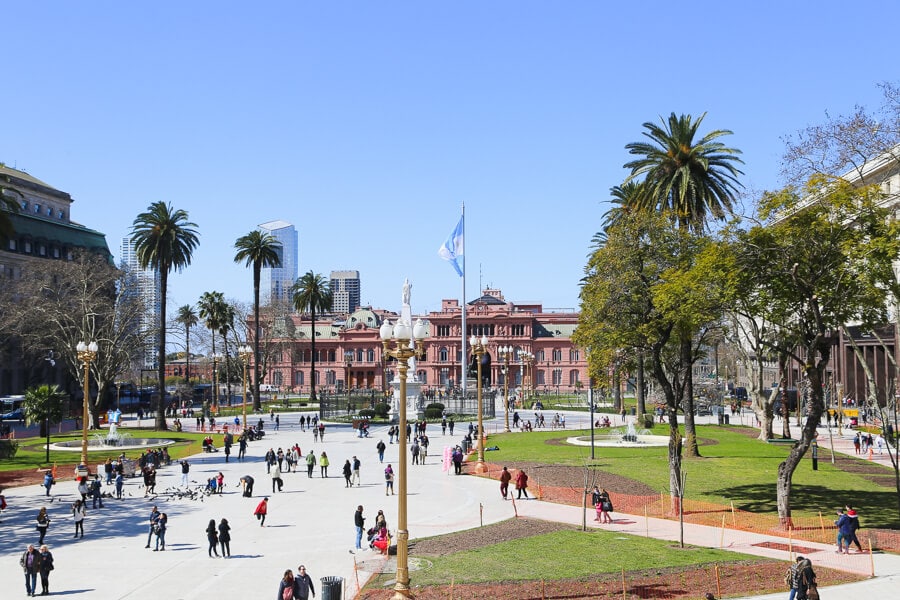 The Cabildo sits on the end of the plaza opposite the Casa Rosada.
You'll see a Cabildo on the main square in every major Argentine city. They were the seats of government while the country was under Spanish colonial rule.
The museum here is free to visit and has some interesting artifacts to see if you're interested in Argentine history. 
TIP: Cabildo's second-story balcony offers the best view of Plaza de Mayo from above.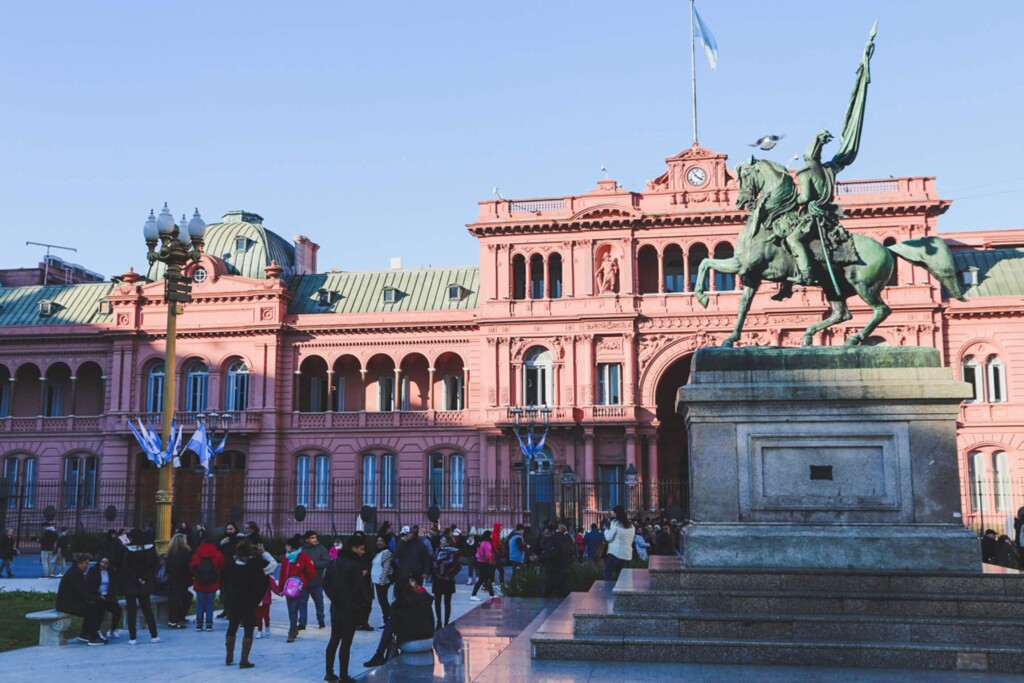 The Casa Rosada at the front of the plaza is the star of the show.
The pink government house, famous for Madonna singing not to cry for her Argentina from its main balcony.
It used to be open for guided visits on Saturdays but it seems to have been paused for a few years now, if anyone hears anything different please comment below!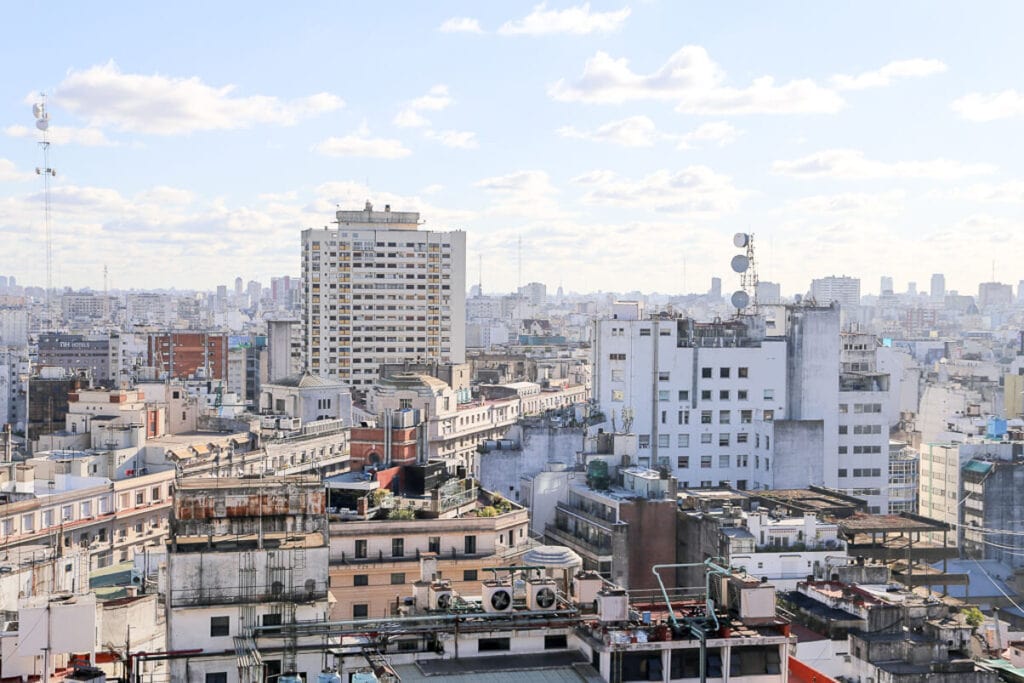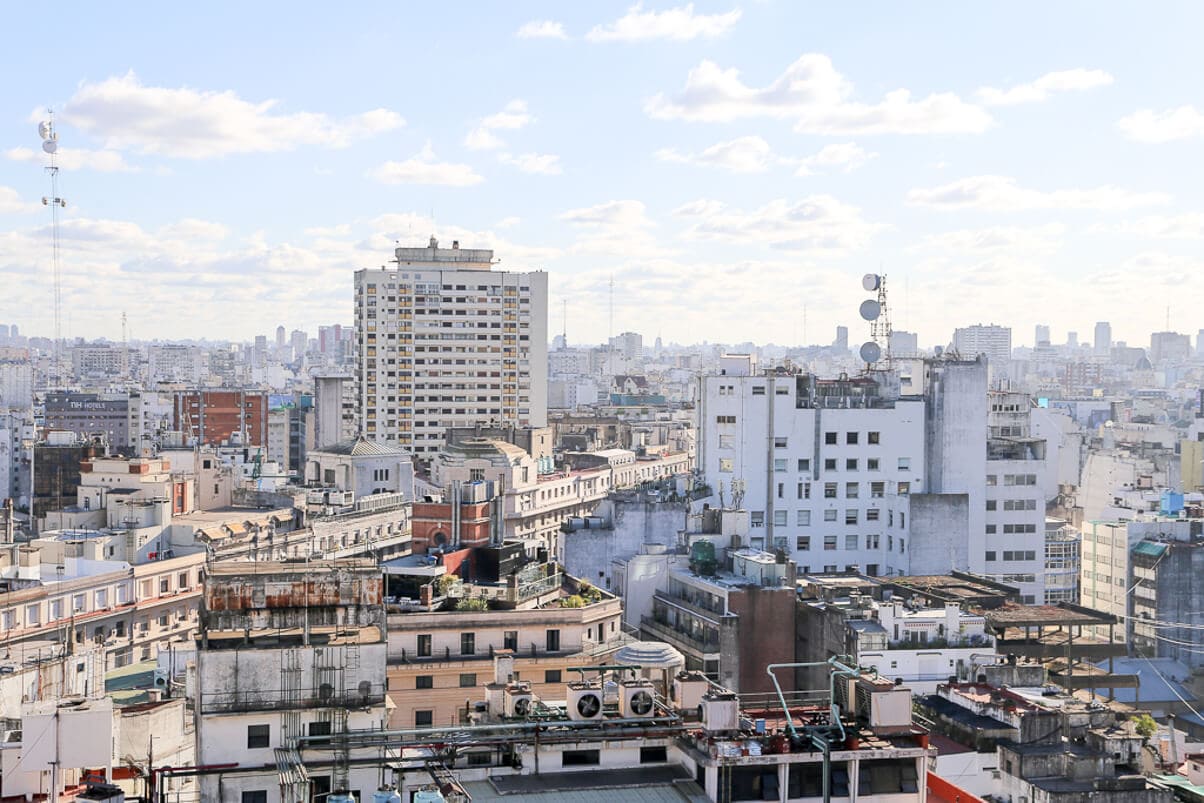 Calle Florida & Mirador Güemes
From Plaza de Mayo, find Calle Florida.
This heavily commercial street lined by shops has been a street in one form or another since the 1500's when it started as a muddy footpath from the river.
Walk to Galería Güemes at Florida 165. Find the elevators to take you to the viewpoint terrace on the fourteenth floor.
Prices tend to change often in Buenos Aires but it should cost more or less between the equivalent of $2-3 US.
This is one of the cheapest panoramic views in town!
You'll pay your entrance fee at the top.
Before going, confirm hours and price on their official site here.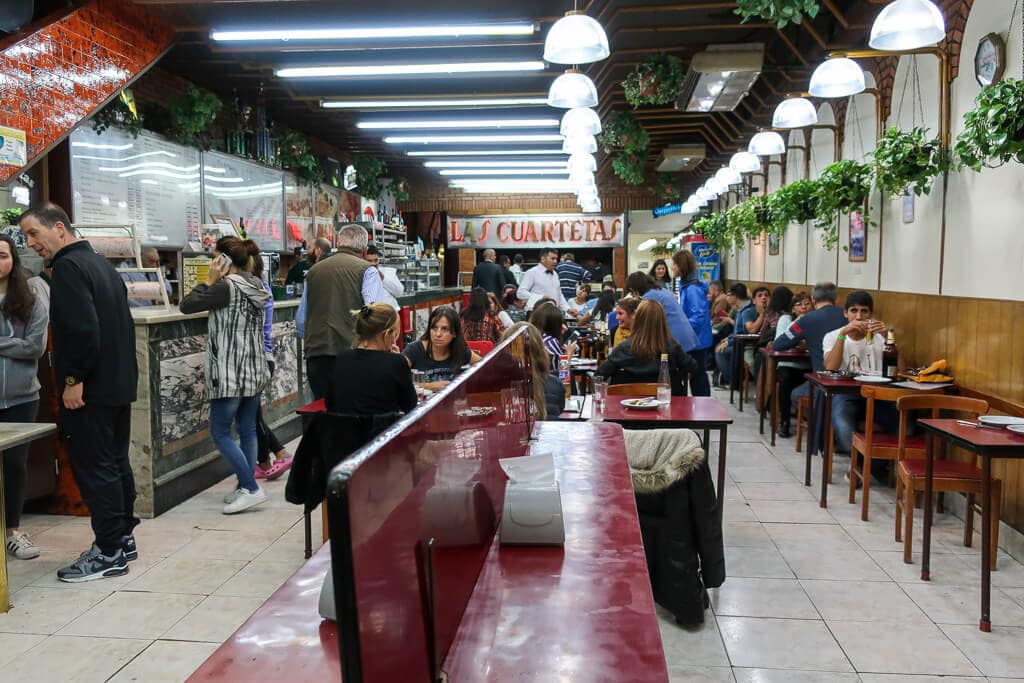 Pizza for Lunch
Explore the hectic streets of downtown and make your way to Avenida Corrientes for a lunch of decadent pizza.
After exploring the Calle Florida and Avenida de Mayo, make your way to Las Cuartetas at Av. Corrientes 838.
This is also Buenos Aires' answer to Broadway and people tend to hit up the pizzerias before and after the shows at night.
There are a number of pizzerias on Corrientes, all serving pizza by the slice to busy locals eating lunch in a hurry.
You can order a slice from the cashier and sit at one of the tiny tables up front or sit at a table in the back and order from a waiter.
The pizza here is thick, heavy on the cheese and light on the sauce, so come hungry!
Still hungry?
Make it a pizza crawl and visit Pizzeria Güerrin on the other side of 9 de Julio after seeing the obelisk.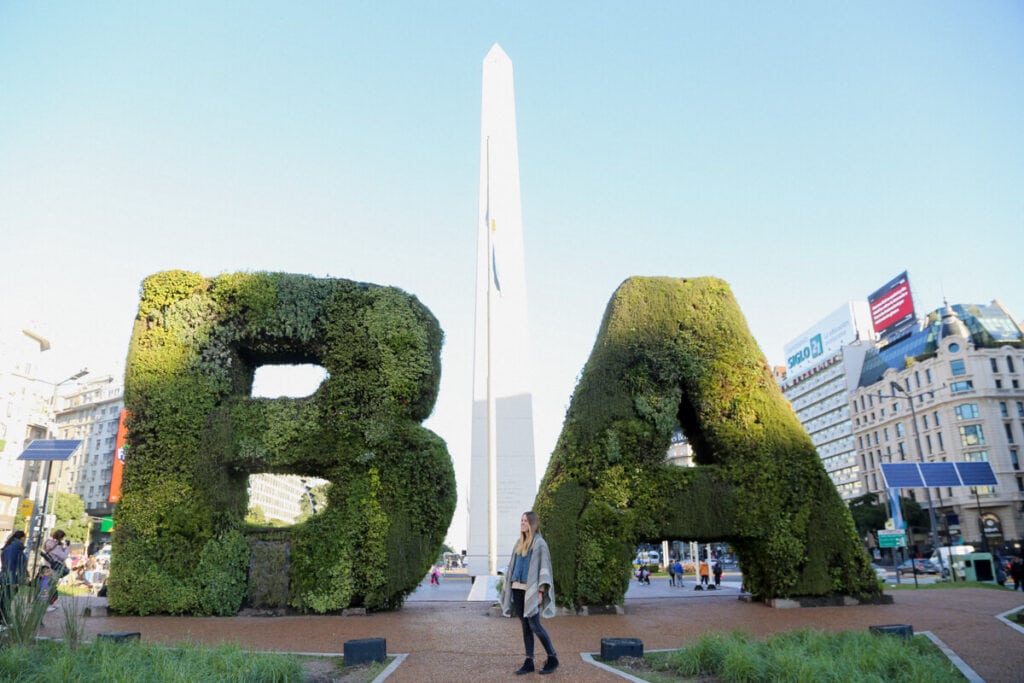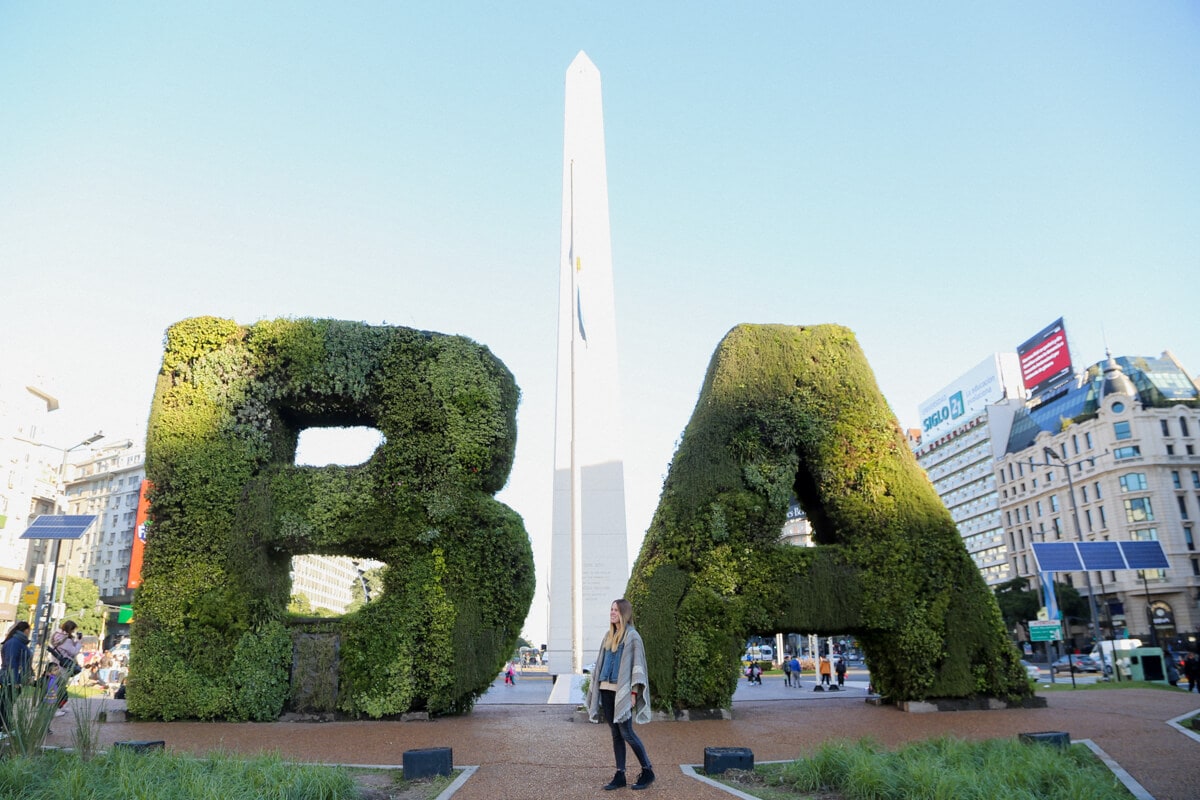 9 de Julio and El Obelisco
After lunch, walk down Avenida Corrientes towards El Obelisco.
Cross 9 de Julio to take a photo in front of the ivy-covered BA in the middle of the avenue in front of El Obelisco. 
For more photos and the best view, continue crossing 9 de Julio to the staircase viewpoint on Diagonal Norte. 
This massive avenue was named after Argentina's independence day.
This is one of the widest avenues in the world (the Eixo Monumental in Brasilia recently stole the world record away from us).
While it may not be the world's widest, it's still impressive.
Avenida 9 de Julio is wider than a city block at 110 meters and has as many as 7 lanes in each direction. 
And in true Buenos Aires fashion, this avenue hasn't always been a part of the cityscape.
Many city blocks, a beautiful church, and countless historic buildings were demolished to create this avenue.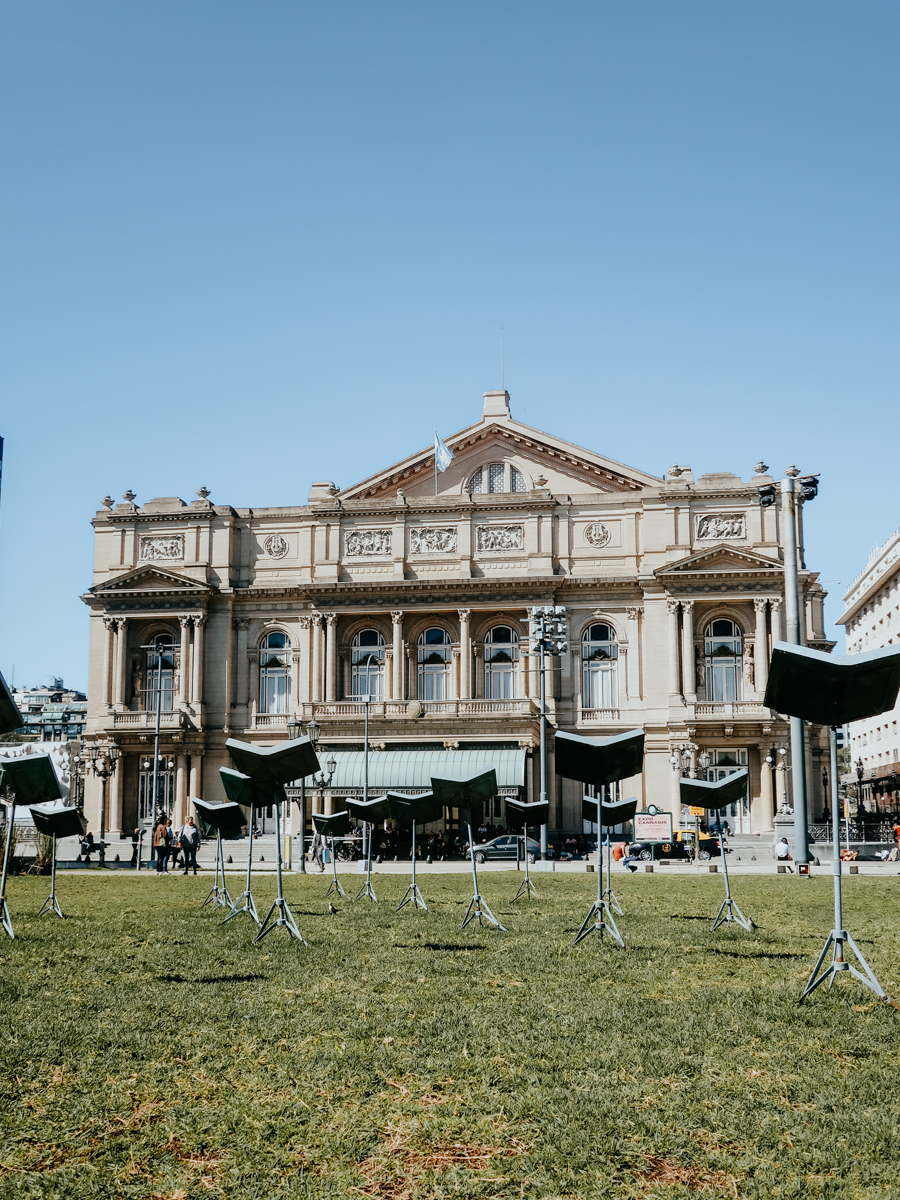 Pick your Palace: Teatro Colon or Palacio Barolo
From here, choose your own adventure for the afternoon.
You can tour one or both of two of the city's most impressive buildings: Palacio Barolo and/or Teatro Colon.
At the moment you are standing just one block from the city's palatial opera house, Teatro Colon.
At the moment (as of September 2023), Teatro Colon's guided tours are offered from 11 am to 4:45 pm, but English language tours are only at 11 am, 12 pm and 3 pm.
Double check current hours on their official site here. 
Whether you tour the theater or simply admire the façade, take a few moments to visit the square where it's located: Plaza Lavalle.
You'll see the Tribunales courthouse and the theater, the plaza's two main highlights.
The cafe Petit Colon would fit right in in Europe and is a great spot to rest your feet.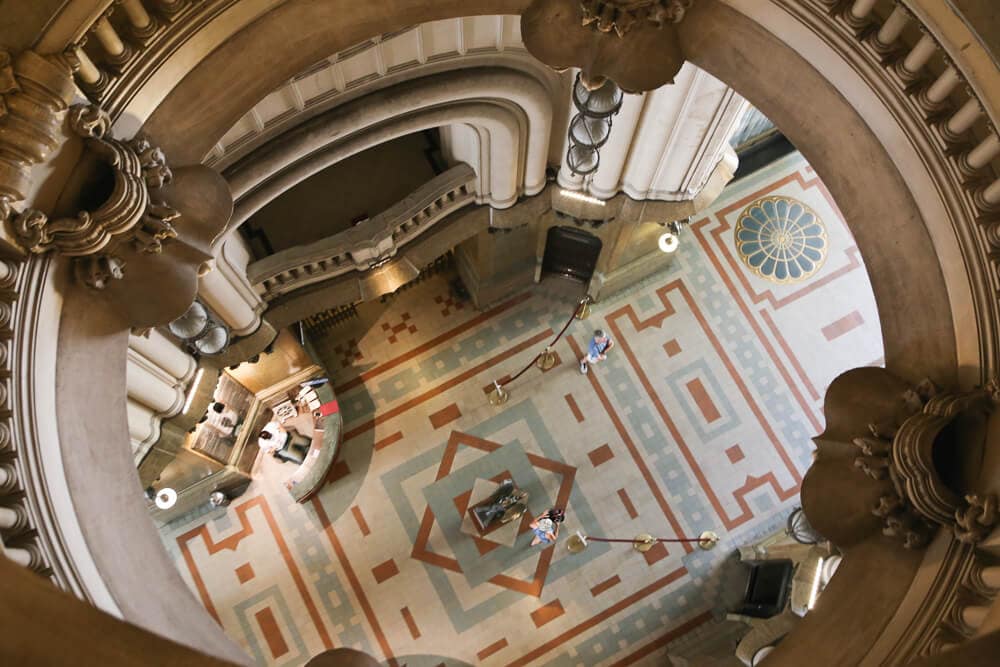 Palacio Barolo Tour & Sunset
After (or instead of) your tour of the Teatro Colon, go on a guided tour of Palacio Barolo on Avenida de Mayo. 
This building, inspired by Dante's Divine Comedy, is worth every second you dedicate to it thanks to its beautiful interior and incredible view.
Guided tours are offered in both languages throughout the day.
I HIGHLY recommend timing your tour with sunset to see the sunset behind the Congress from Palacio Barolo's lighthouse.
Check here for tour options and times, there are plenty of different tours to choose from.
Want some cocktails to end your day?
There's a rooftop bar inside Palacio Barolo called Salon 1923, click here for information and reservations.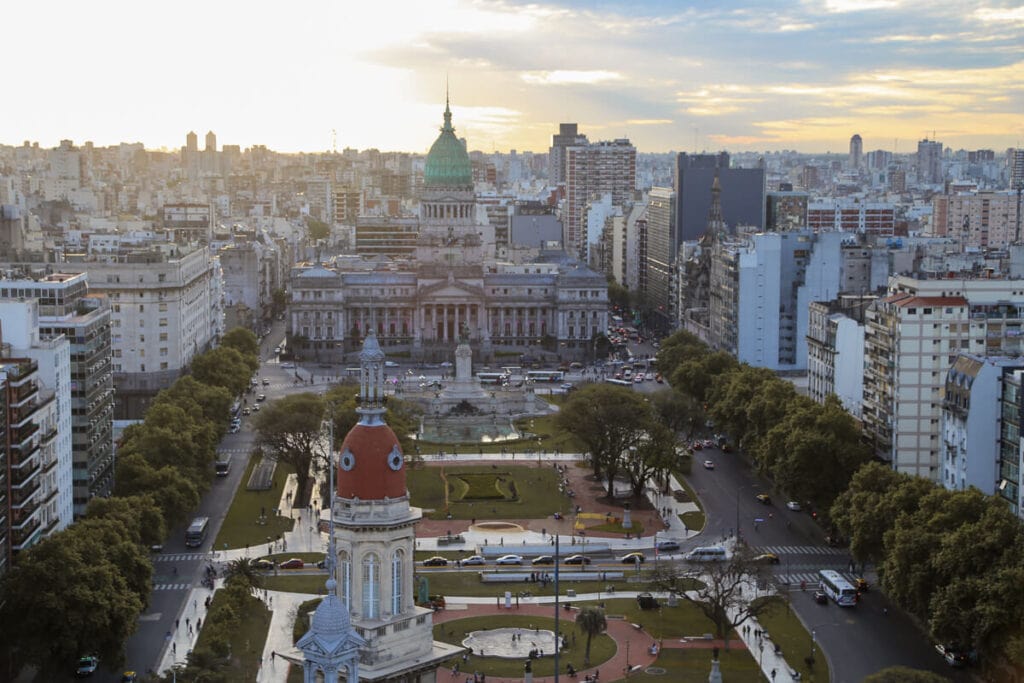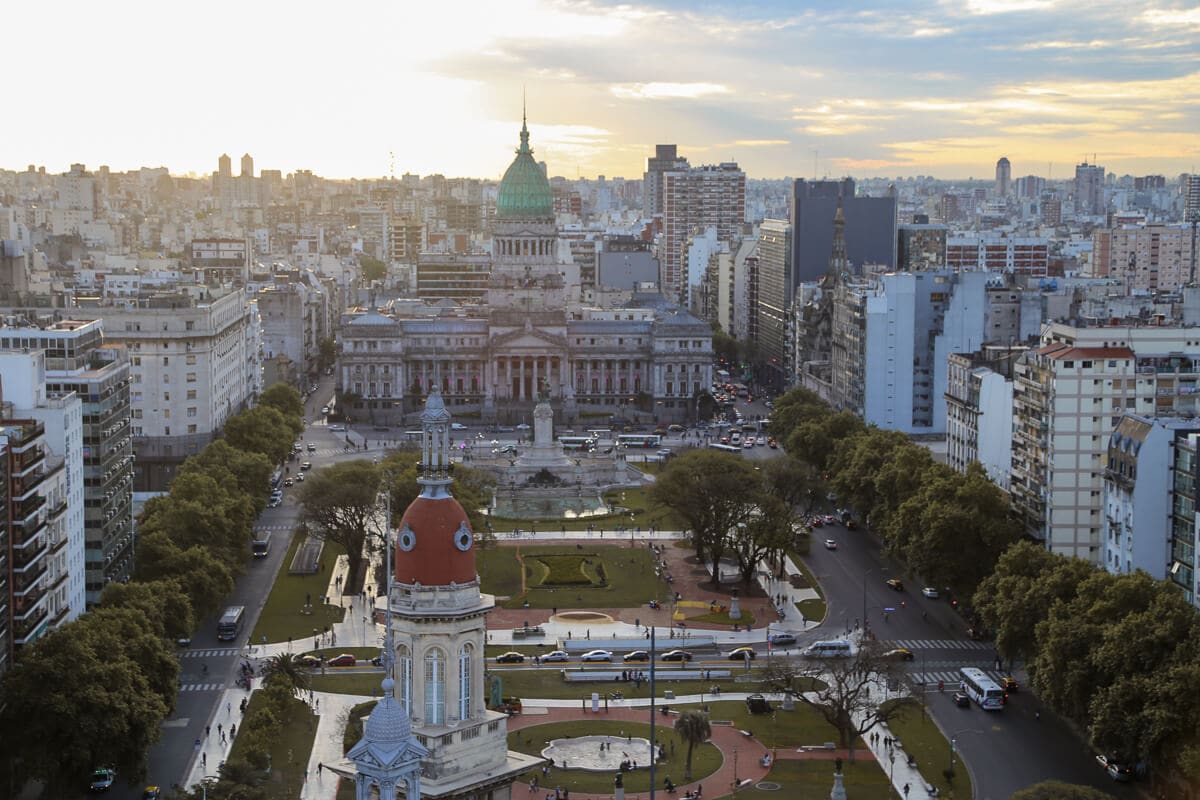 Dinner Options
After a brief rest at your hotel, it's time for dinner. And after pizza for lunch it is time for what Argentina does best, steak.
There are two great dining options where you can try the best of all aspects of Argentine's asado culture.
FOGON Asado – This one is my favorite, it's an interactive chef's table tasting menu, turning the traditional Argentine asado into an 8 course meal. It's truly decadent and one of the best meals I've had in Buenos Aires. Great for foodies, couples, or a few friends going out for the night.
The Argentine Experience – Much more laid back than FOGON, this night feature family style tables and a more comical interaction with the staff. It's a fun night out and great for meeting fellow travelers (our entire table went out for drinks after when I went).
Day 2: Paris of South America in Recoleta
Buen dia, I hope you're rested for day two of this Buenos Aires itinerary because it's another full day!
Today we'll be exploring Recoleta, the neighborhood of the city that is the most Paris of South America of them all.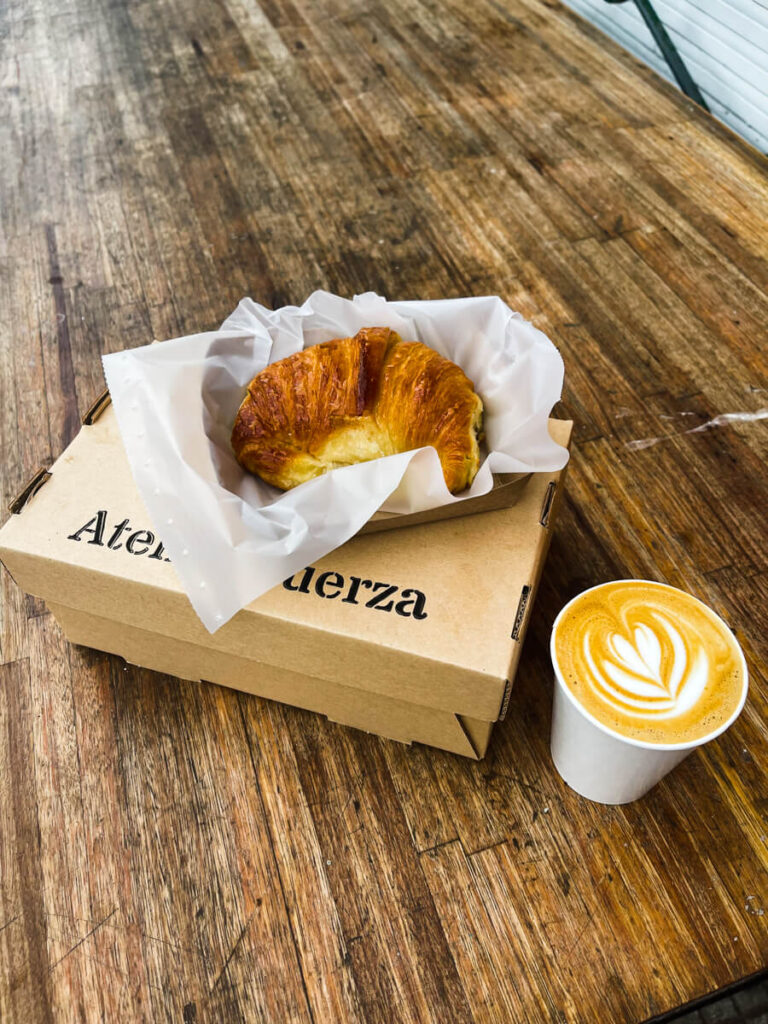 Breakfast: Coffee and Medialunas
Wake up for a sleepy breakfast in your hotel or head to one of the many cafes offering "cafe de especialidad."
In a city infamous for overly sweet toasted coffee, it's a welcome change.
Pastries have also been a major focus ever since 2020 turned us all into sourdough (masa madre) bread snobs, making breakfast (and mid-day merienda tea time) an elevated, enjoyable experience.
Hit up Google Maps to find a great café nearest your rental apartment or hotel, you won't have a hard time finding one. 
But if you're looking for a personal recommendation, Atelier Fuerza makes the best medialunas and pastries in the city.
Go right when they open to make sure you get one of their famous Medialunas de Grasa, made with Wagyu fat (drool), before they sell out.
Cuervo is another favorite café of mine with a few locations throughout the city. They have the best avocado toast and excellent coffee.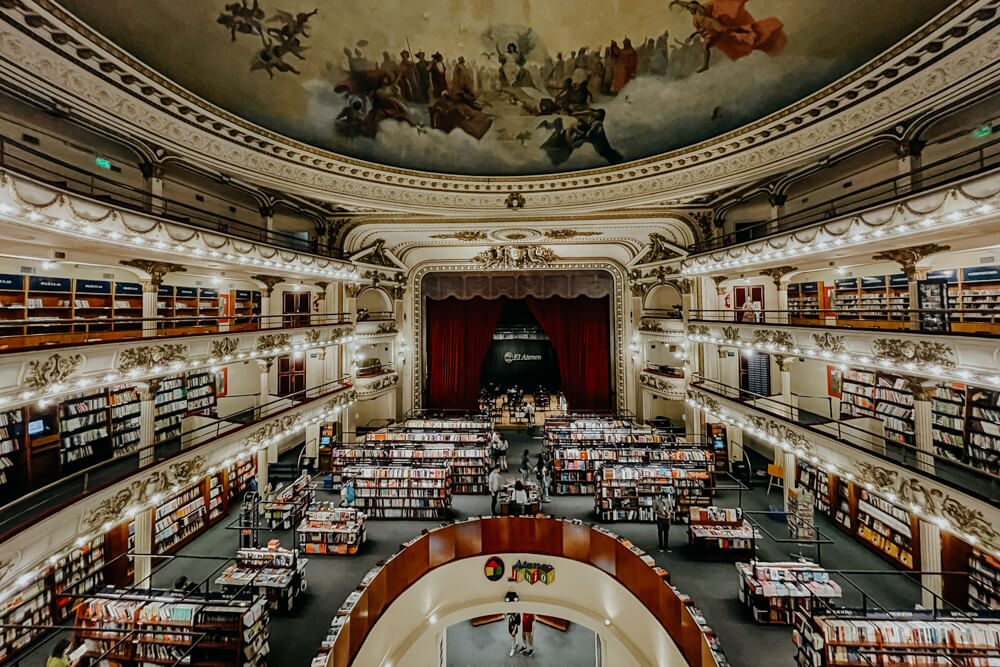 El Ateneo Grand Splendid 
Buenos Aires has more bookstores per capita than any other city in the world.
Among the hundreds of bookstores to discover here, El Ateneo Grand Splendid is one that's received international recognition as one of the most beautiful in the world (according to those who know at National Geographic and The Guardian).
Start your day of touring here. Take a taxi or the subway to Av. Santa Fe 1860. 
This breathtaking bookstore is housed in a historic theater. Take in the views from the ground floor then head upstairs to the second and third floors for the best views from above.
If you haven't had breakfast yet grab a coffee and pastry from the café on the stage.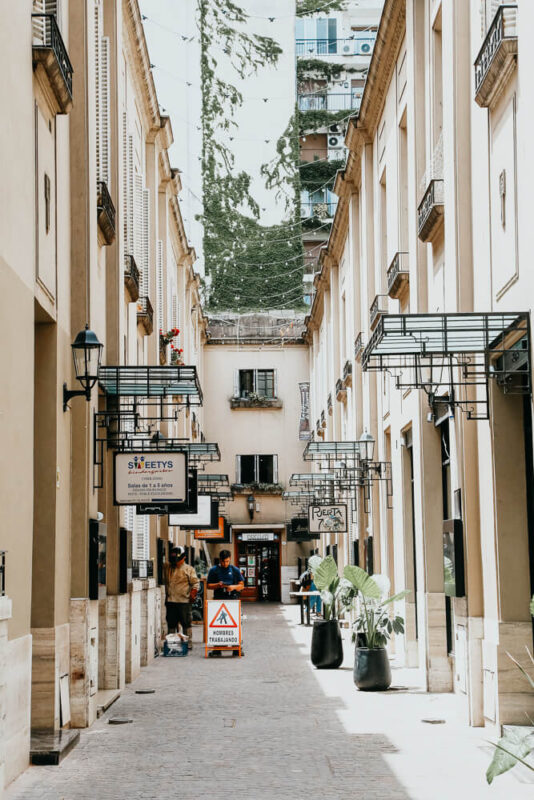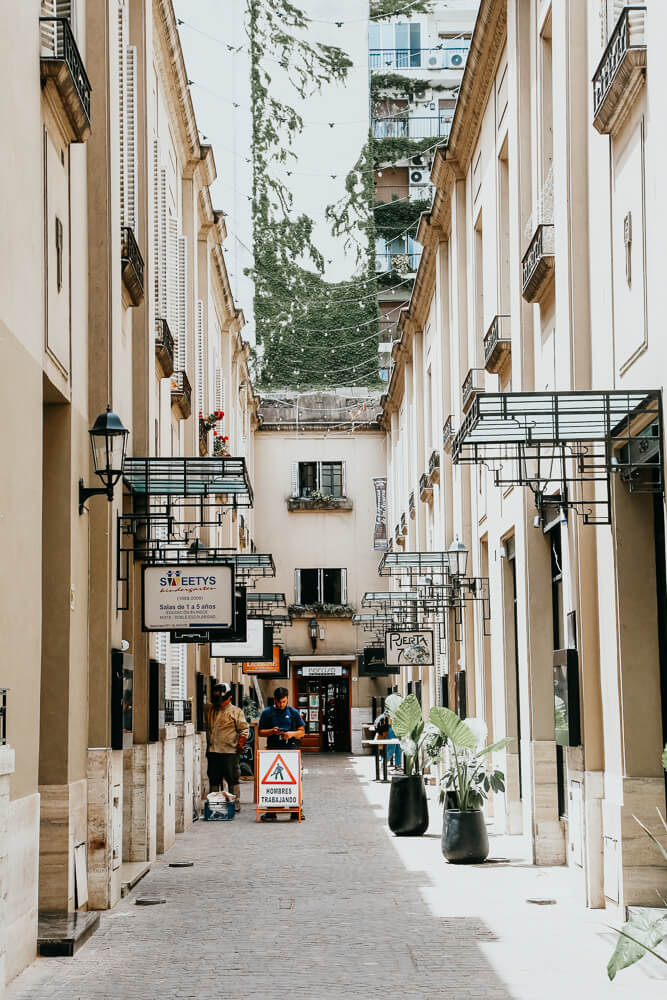 Pasaje del Correo
One of the unexpected beauties of Buenos Aires are the many alleyways, or pasajes. 
The Pasaje del Correo, also known as Pasaje Suizo, in Recoleta is particularly beautiful.
It's only a few blocks from El Ateneo Grand Splendid so walk there, passing through leafy Plaza Vicente Lopez on the way.
In the Pasaje del Correo there are restaurants and cafes worth a stop if you're still hungry. 
Warning: I will be suggesting a lot of dining stops along the way today, far more than you can possibly take advantage of. Research them ahead of time to see which looks more interesting to you or just stop at the ones that you happen to be at when hunger strikes! 
If you're not hungry, simply take a photo and wander the surrounding streets.
They are typical of residential, non-touristy Recoleta. 
From here you are only a few blocks from the Recoleta Cemetery, our next stop.
Meander down to Av. Alvear to see the mansions on your walk to the cemetery.
Palaces & Wealth on Av. Alvear
There are plenty of ways to get to the cemetery from here and all will be beautiful, but I recommend walking down Avenida Alvear.
This wide avenue is lined with some of the city's most impressive mansions.
You'll see the Vatican Embassy, the Palacio Duhau, and Palacio Alvear.
One block before reaching the plaza where the cemetery is located you'll cross Ayacucho street.
Hang left one block to shop in Arandu.
This saddle shop is housed in a beautiful three story home.
You can pick up high quality leather bags and belts, alpargarta shoes (real deal Tom's), clothing, and authentic souvenirs.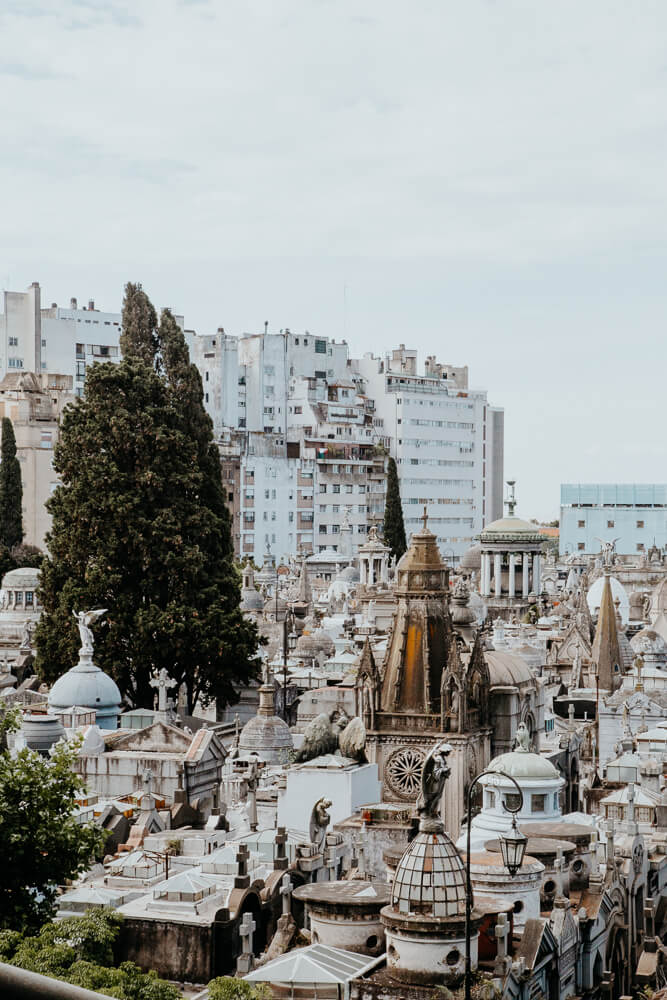 Recoleta Cemetery & Surroundings
You've now made it to one of the most important Buenos Aires landmarks.
The Recoleta Cemetery's beautiful tombs are a veritable who's who of Argentine history.
You'll see the names of all the streets you've been walking on repeated here as past presidents, generals, and all around important historical figures are all buried in this aristocratic cemetery.
The most sought after grave is Evita's. She's buried with her family so you'll see her family's tomb under the name Duarte.
It's on a narrow passageway but once you know where you're going it's easy to find, thanks to the crowds and walking tours that typically visit her.
NOTE: The cemetery is no longer free of charge for foreign tourists. As of Sept. 2023, it costs $2,834 pesos to enter, only by credit card (in person or in advance online). You can pay in advance here if you want, but it's not required or really necessary. You wouldn't be reserving a time slot, just paying in advance and can visit one time any time during the selected month. 
Around the cemetery you can see the massive gum tree, supposedly planted in 1823 by the religious order that inhabited the church you also see here. 
La Biela is a classic cafe here with a beautiful outdoor setting for a coffee, but in full disclosure, I find it a bit overpriced for the quality and the grumpiness of the waiters.
The Recoleta Cultural Center is located right next door to the church and always features a beautiful, modern mural, which is changed regularly, on its otherwise classic façade.
Artisan Market 
Here on a weekend?
The square in front of the cemetery is home to a weekly market every Saturday and Sunday.
It's one of the best markets in Buenos Aires and a great place for souvenir shopping!
In the afternoon, musicians perform at the base of the grassy hill making it the perfect place to lay back and relax if the weather is sunny.
It takes place on both Saturday and Sunday, with artisans selling anything and everything. Since most markets take place only on Sundays (like San Telmo), I recommend visiting here on a Saturday.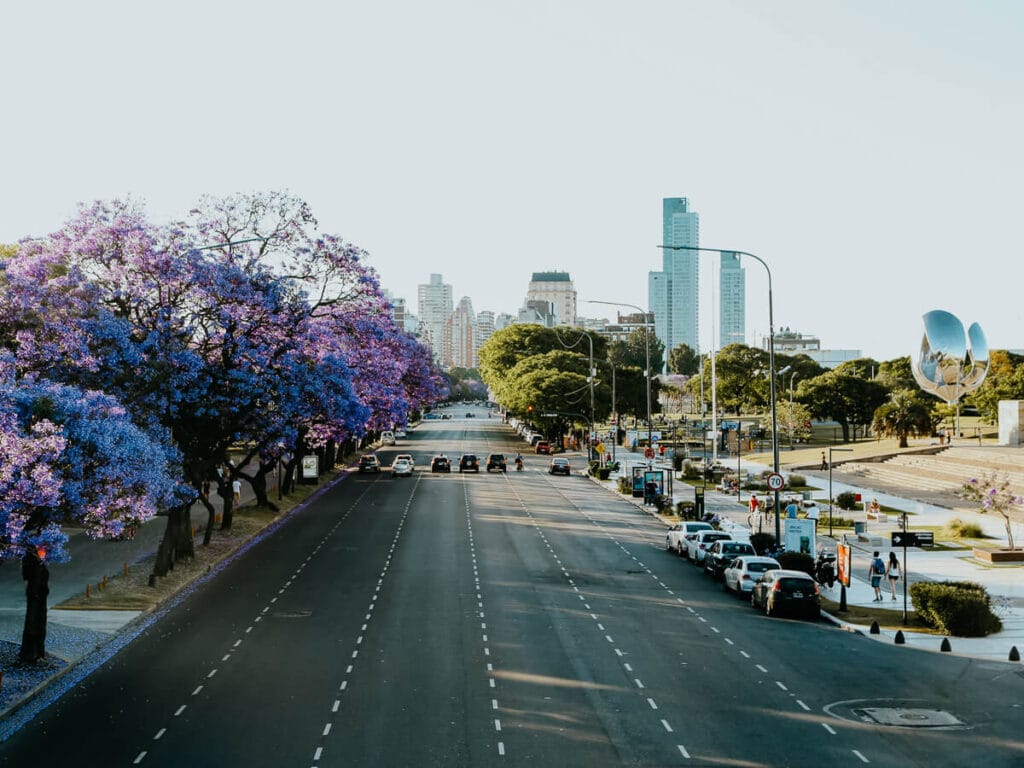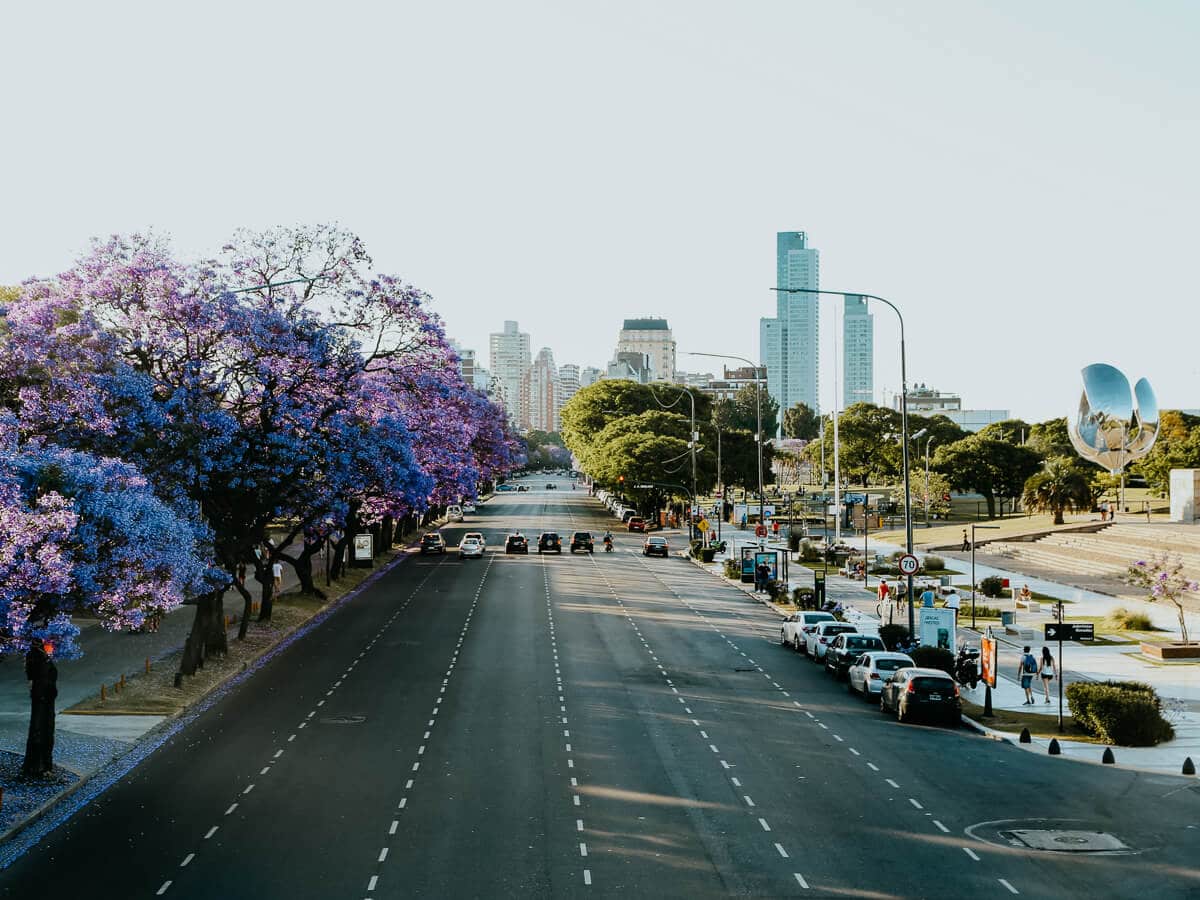 Pedestrian Bridge, the Law School, and the Floralis Generica
Don't leave Recoleta without taking a look at the larger than life metal flower across Alcorta Avenue next to the columned Law School building in United Nations Square.
This large aluminum flower was gifted to the city by an architect as a show of appreciation for the city that made him who he was.
To get there, take the pedestrian bridge that crosses Av. Alcorta.
Stop for a perfect panoramic view of the law school, the flower, and the avenue below (seen in the photo above). In November, this is the best view of purple jacaranda blooms in the entire city.
Recoleta Lunch/Foodie Options 
Hungry? Because I have even more lunch and food options coming your way.
El Sanjuanino – Traditional empanadas from the province of San Juan at Posadas 1515, these are some of my favorite empanadas in the city. You can get baked or fried, fried both tastes better and is often quicker with shorter wait if you're hangry. It can get crowded so if there aren't tables or the day is beautiful, get them to go and take them for a picnic by the Floralis Generica.
La Rambla – Old school cafe at Posadas 1602. Their lomito (steak sandwich) is a classic.
La Cocina – A further walk down Puerrydon but these Catamarcan empanadas are said to be among the best in the city, get the pikachu.
Confiteria Caren – This is a bakery at Av. Pueyrredón 1881 that makes the best sandwiches de miga (white bread sandwiches similar to a tea sandwich from the UK). These are another excellent picnic option, grab a few to go. Don't miss the pastries made with berries brought in straight from El Bolson in Patagonia for dessert.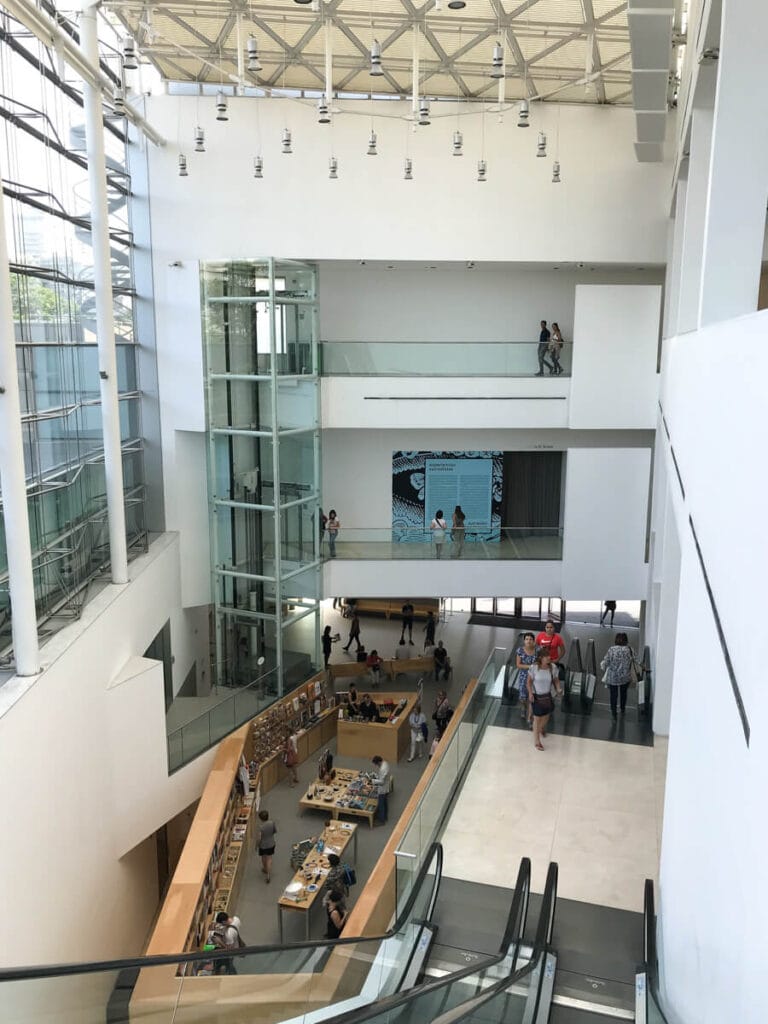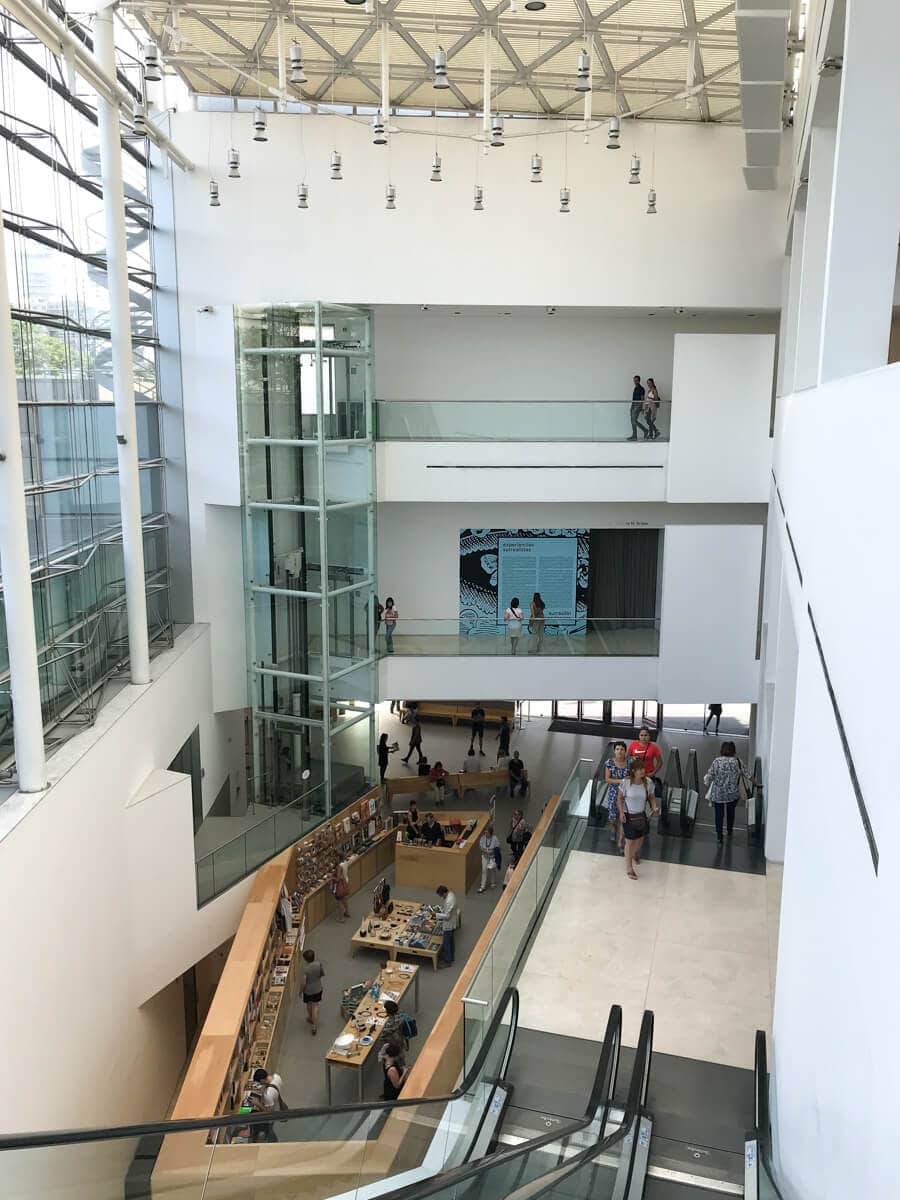 Museum Options to Extend the Day
From the area around the Recoleta Cemetery you can extend your day in the city's many art museums.
Bellas Arts, the city's Fine Art museum, is right here across the street from Floralis Generica.
The Museo Nacional de Bellas Artes is a 15 minute walk away (hop in a taxi if your feet can't take any more). Entrance to this palatial single family home is free of charge and a look into Buenos Aires' wealthy past.
Walk another 15 minutes (or take a taxi directly) to MALBA, the Museum of Latin American Art of Buenos Aires. This museum has an impressive permanent collection and interesting temporary exhibits. 
Visit all of, one of, or none of the above museums to round out your day in Recoleta.
Experience Tango with a Show or a Milonga
Tonight (or one of your other evenings) book a tango show.
In the past year I was surprised to receive a lot of questions from readers who want to avoid tango shows because "they're too touristy."
If this is you, forget that, tango shows may be "touristy" but they are fabulous.
The levels of production, the quality of the dance, the music (often performed live with an orchestra)… it is 100% worth going to a tango show during your stay.
Here is a list of the 10 best tango shows in Buenos Aires to choose from.
Personally, I love El Querandi for a smaller venue. To see folkloric music along with tango, book La Ventana. For a beautiful venue and costume, Café de los Angelitos never disappoints.
If you're still balking at the idea of going to a "touristy" show, then you need to book this milonga tour.
Milonga's are where to locals go to dance tango. This is a proper dance hall, not a show.
A tour is the best way to see milongas as they're not typically meant for you to just watch, you are meant to go and dance.
Tours with a local will show you a unique side to the city you won't see otherwise.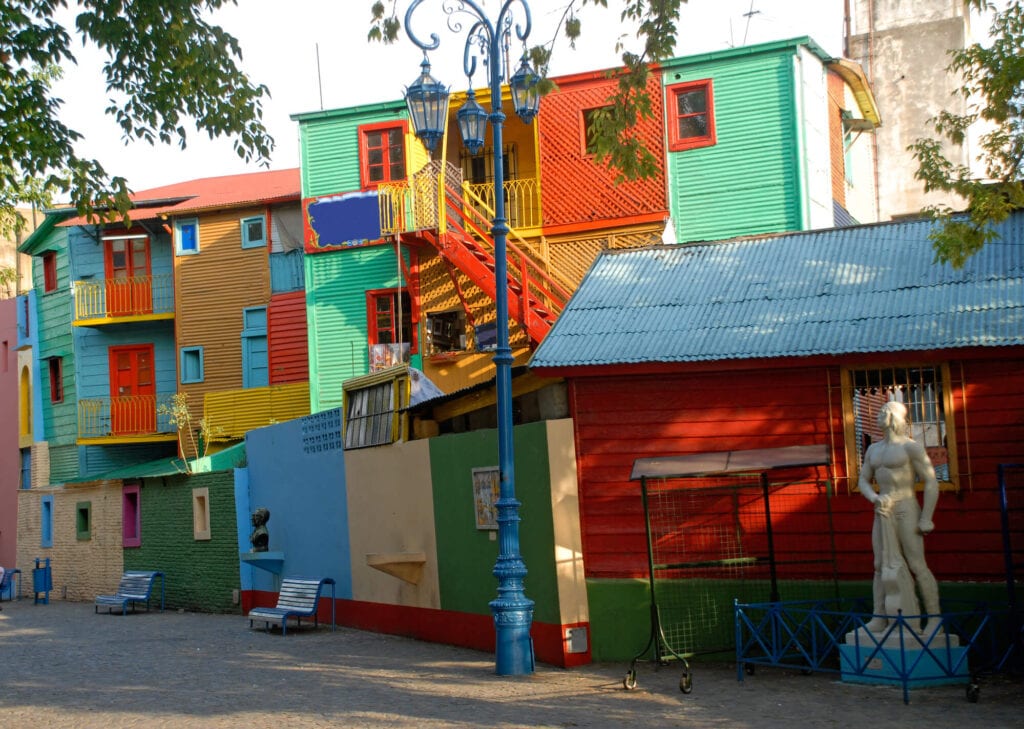 Day 3: La Boca & San Telmo
If you itinerary allows, try to do this final day of this Buenos Aires itinerary on a Sunday. The weekly San Telmo Market takes place every Sunday.
San Telmo's eclectic market is one of the city's best highlights and a must-visit if you're spending a weekend in Buenos Aires.
Sleep in and enjoy a leisurely start to the day.
The market doesn't really get moving until the afternoon and the Caminito in La Boca doesn't require too much time to explore.
Have a relaxing breakfast or brunch then take a taxi to La Boca to begin your day.
Aim to start your day in La Boca at around 11 am.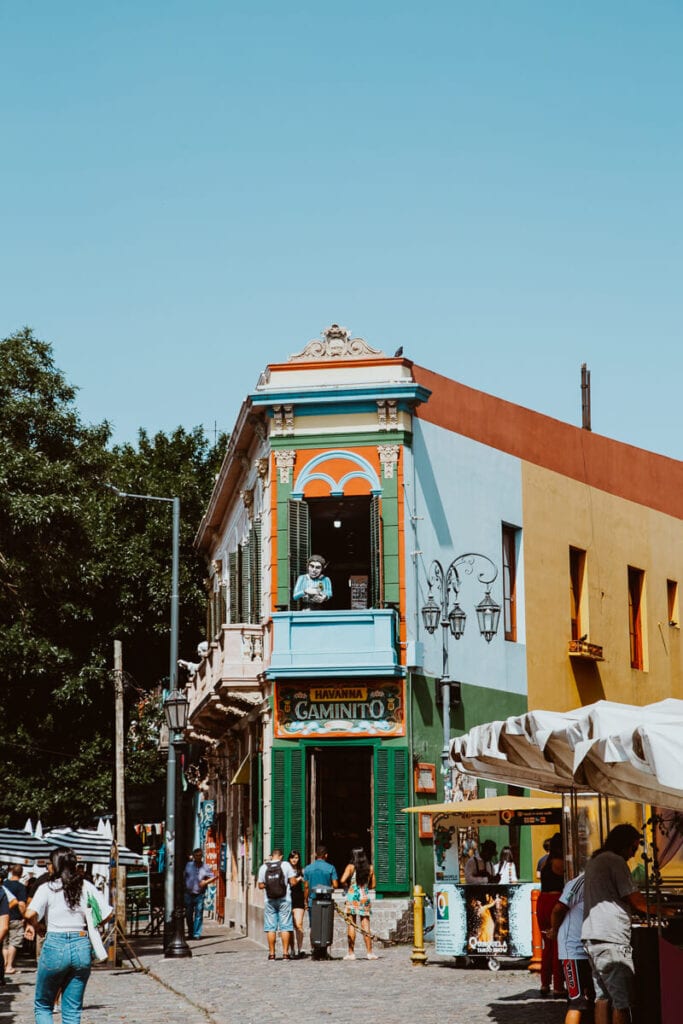 Caminito in La Boca
Since La Boca is on the southern outskirts of the city, hail a cab on the street or take an Uber or Cabify (Cabify is one of the best apps to download in Argentina).
This open-air museum is colorful, lively and likely what's on the cover of your copy of Lonely Planet.
Take a stroll on the few blocks that make up the Caminito, taking photos of the colorful walls and tango dancers.
Arriving early will make for better photos as you'll beat the crowds.
You can even take your own tango photo with one of the performers for a small price (a cheesy but fun souvenir).
Don't miss the conventillo style homes turned souvenir shops. These former multi-family dwellings are iconic to La Boca.
Wealthy families fled to the northern suburbs during the yellow fever outbreak in the 1700's.
Less fortunate families were left behind in southern neighborhoods like La Boca.
Previously single family homes became conventillos: multi-family tenement housing.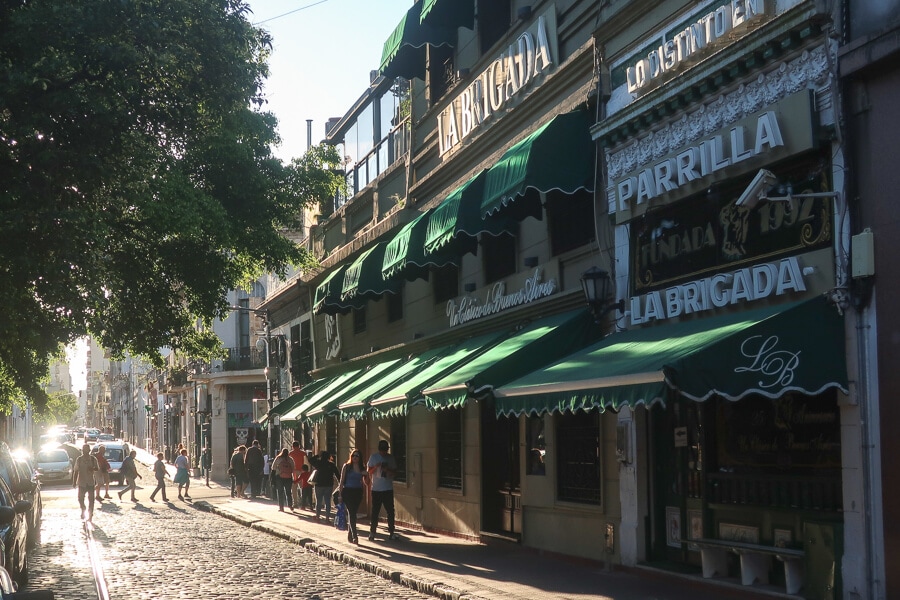 Lunch Options: San Telmo or La Boca
If you're hungry while in La Boca, find El Gran Paraiso.
Most restaurants in the Caminito are tourist traps but El Gran Paraiso is a great parrilla located in a convent (you may see a nun or two weave through the tables!). You won't be disappointed here.
Alternatively, you can wait to eat until your next stop, San Telmo. The dining hall in the indoor Mercado de San Telmo is filled with lunch options. I love the choripans at Juan Bautista.
Traditional parrilla La Brigada in San Telmo is decked out with futbol memorabilia and serves steak so tender they cut it with a spoon.
Desnivel is another parrilla here and is one of my favorites with juicy empanadas and great lomo dishes (I live for their lomo a la mostaza, tenderloin in a creamy mustard sauce).
El Federal is yet another lunch option, grab a greasy milanesa or plate of raviolis in this bar that oozes history.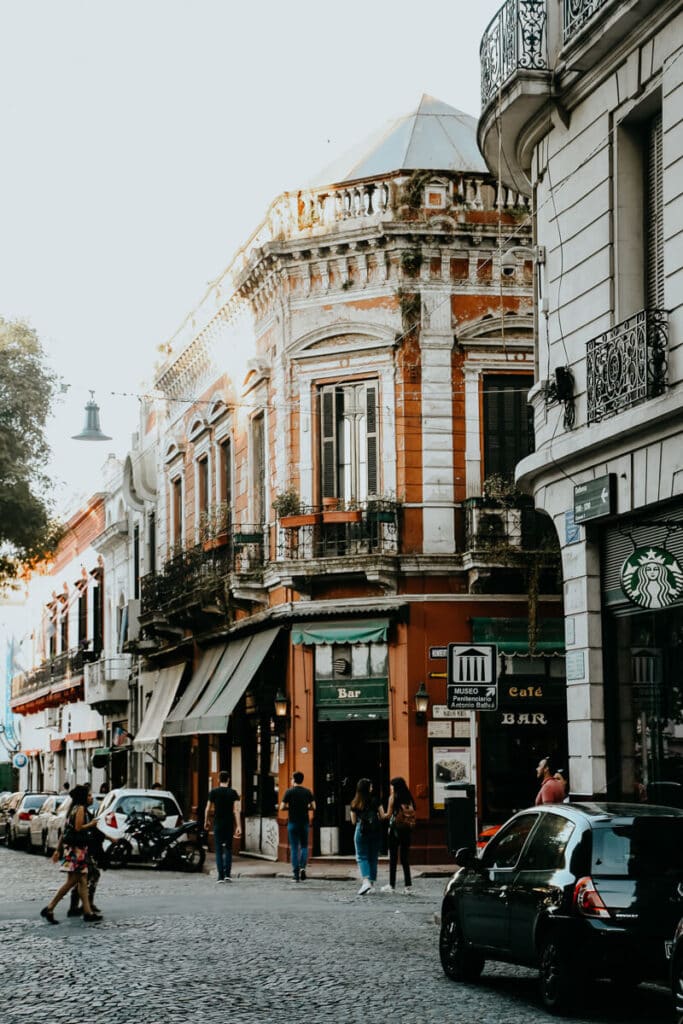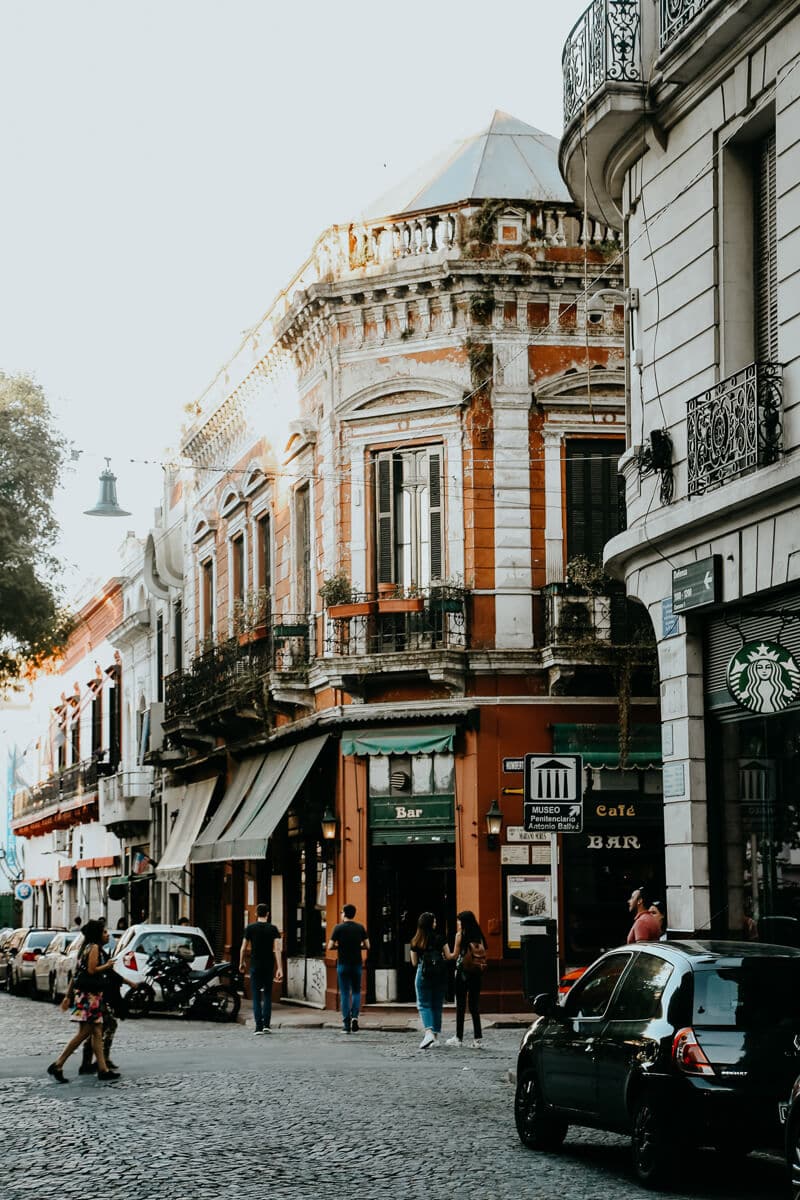 San telmo
If you're visiting on a Sunday for the market, I recommend starting at Plaza de Mayo, right at the beginning.
From here, walk down Defensa towards Plaza Dorrego.
If you're tight on time, you can start directly in Plaza Dorrego (especially if you already saw Plaza de Mayo on Day 1).
This is also the best idea if you're hungry as most of the food recommendations above are near here.
The San Telmo Market takes place every Sunday and really gets going in the afternoon (this is not a city meant for the early riser).
There are stalls covering this street for ten blocks, with the antiques located mainly in Dorrego Square.
Don't miss Casa Ezeiza at Defensa 1179.
This is the classic example of a wealthy single family home that became tenement housing after the yellow fever outbreak.
It is gorgeous inside and offers a peaceful respite from the weekend crowds.
The little shops inside are great for treasure hunting.
Not here on a Sunday? No worries.
San Telmo has even more charm without the market, when you can wander here without the crowds.
In fact, I always recommend those with more time to visit San Telmo both on a Sunday and a weekday to see both sides to this barrio.
Read More: A complete guide on things to do in San Telmo
Dinner in San Telmo
Still find yourself in San Telmo after sundown, hit up one of the parrillas I mention in the lunch recommendations.
Desnivel or La Brigada will give you a steak you'll never forget to round out this whirlwind three days in Buenos Aires.
Otherwise, find a restaurant near your accommodation, this city has no shortage of dining. Allie Lazar (the resident food expert of Buenos Aires) writes this yearly restaurant round up filled with the best restaurants.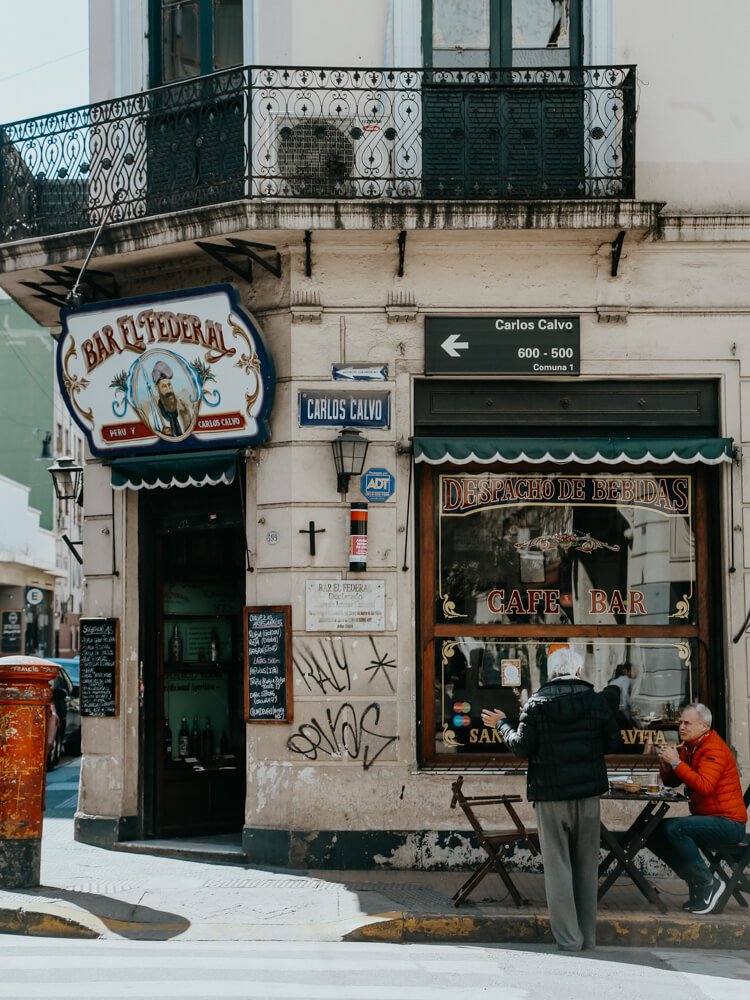 Buenos Aires Itinerary: More than 3 Days
I hope this sample itinerary helps you organize your time in Buenos Aires.
I've written and re-written this many times, making it the best possible way to see all the highlights in only three days.
It's a bit nonstop and you will cover a LOT of ground.
If you have more time consider one of these add-ons to round out your Buenos Aires itinerary:
Concerned about safety? Read my guide to Safety in Buenos Aires.
Buenos Aires F.A.Q.
Here's a few frequently asked questions to help you plan your trip.
How to Get To Buenos Aires
While it's easy to get to Buenos Aires with the numerous direct flights from major cities in North America and Europe every single day, it's not cheap.
Argentina is far and flights are often upwards of ten hours!
This also means that they're costly. While it's affordable to navigate Buenos Aires as a foreigner, it's not cheap to get here.
I recommend using miles or rewards points to get a free flight. I do this all the time for expensive flights to cheap destinations!
I use Travel Freely online to sign up for credit card sign up bonuses.
Travel Freely is a free website that recommends the absolute best bonuses and gets me up to $1,500 US in free travel (keep in mind that it's for US audiences only, unfortunately).
For more information read my review of Travel Freely here or go ahead and sign up here.
How many days should you spend in Buenos Aires?
While you can do a lot with just 3 days in Buenos Aires, a week is ideal.
This allows more time to see not only the highlights of the city along with a few day trips to the countryside, Tigre's river delta, and Uruguay.
Is it safe to walk in Buenos Aires at night?
Buenos Aires is as safe as any large, metropolitan city.
Take care at night as you would anywhere, when in doubt, take a taxi or an Uber.
Leave valuables in a safe in your hotel and take just what you need. Avoid wearing expensive jewelry that calls too much attention.
Is Buenos Aires walkable?
YES! This city is best seen on foot so pack comfortable shoes. Get into the streets and explore the neighborhoods, the sidewalk cafes, and the shops.
Is Buenos Aires expensive for tourists?
It can really depend on when you are visiting, the instability of the economy here can make things very expensive or incredibly affordable.
Luckily, right now (updated September 2023) is a VERY affordable time to visit Buenos Aires if you're used to North American or European prices.
You can enjoy steak dinners, fine wines, and shop for leather without breaking the bank.
What should I pack for Buenos Aires?
Buenos Aires is European and stylish. Dress smart but casual and wear shoes for walking. Pack one night outfit for a tango show and a comfortable pair of jeans for horseback riding at an Estancia.
For more packing help read my Argentina packing list.
Argentina Travel Resources
Pin It For Later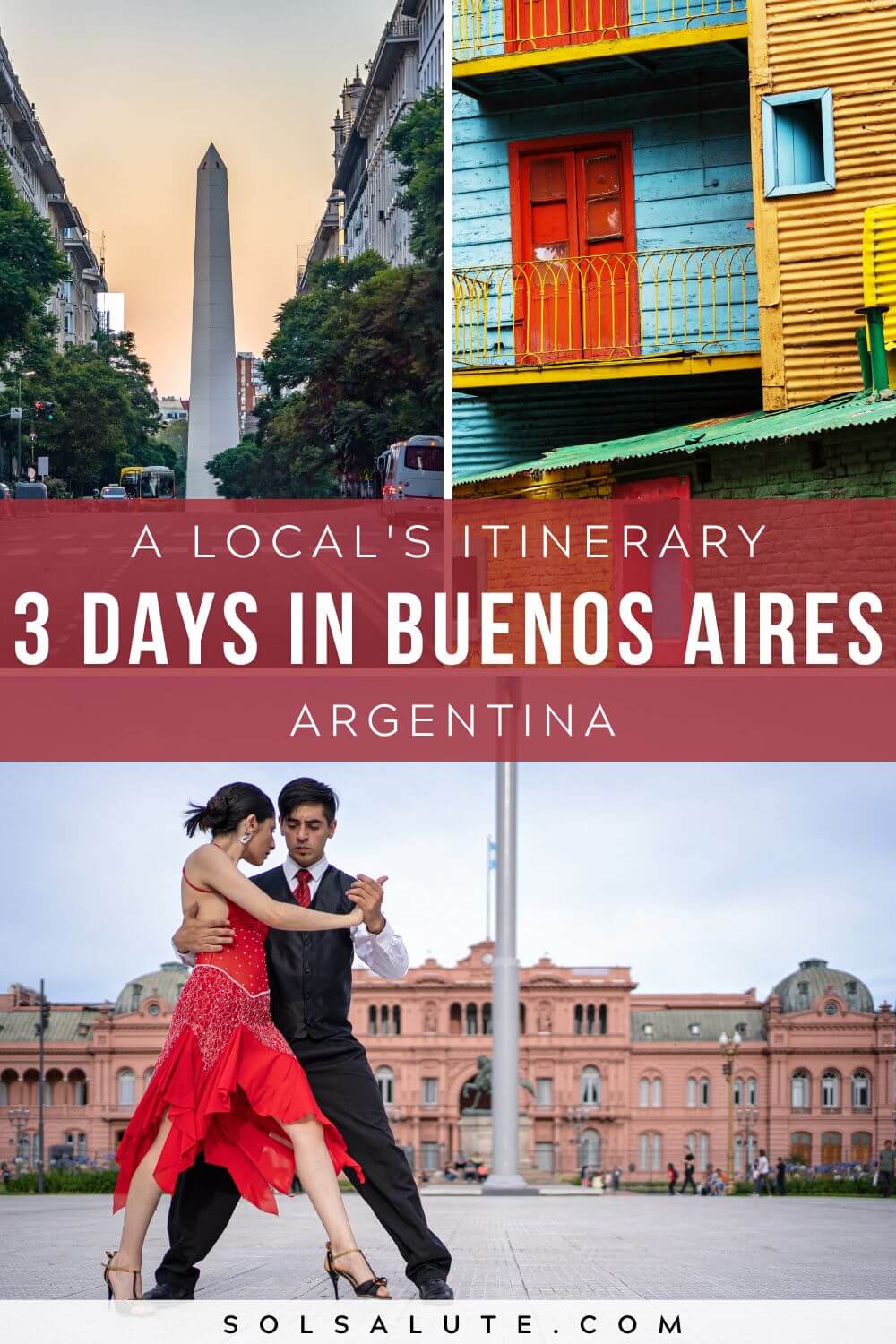 ]]>